THAI MOVIE
Increase or decrease font size for easier reading : A+ A-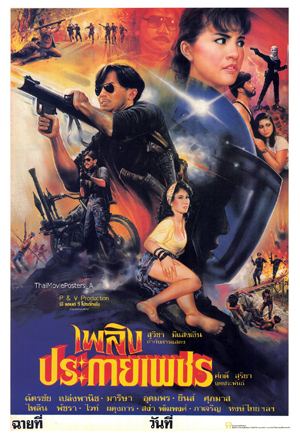 Year

: 1989



Thai title

:

เพลิงประกายเพชร




English title

:



Rating

: 3/5


Director

:



Main actor

: Chatchai Plengpanich,Pao Porapak


Main actress

:
Thai movie เพลิงประกายเพชร was released in year 1989 and lasts 1h25mn. It is a full action-packed movie but unfortunately the transfer from 35mm film to VHS was poorly done. Main actor is Chatchai Plengpanich. Additional actresses and actors featured are มาริษา อุดมพร, ไพลิน พัชรา, ยีนส์ ศุภมาส, male actor ไวท์ ผดุงการ. Two ruffians leaders, i.e. Sia (เสี่ย) Boonsung and Sia Pheum, are destroying the local forest. The ruffians' leaders know it is a bad job destroying forests (ทำร้ายป่า) and against the law but it allows then getting rich fast. A man called เพลิงประกายเพชร is wearing an opaque helmet and is protecting the forest in Isan region while riding a motorbike around. He is also putting some posters to warn people damaging the forest. Hired by Sia Boonsung, Dot, a hitman, tries to kill policeman Moo Daeng (Chatchai Plengpanich) but shoots other policemen instead. Moo Daeng catches him and sends back the bones to Sia Boonsung as a warning. The ruffians' leaders suspect Moo Daeng to be เพลิงประกายเพชร. Everybody wants to know who is เพลิงประกายเพชร. Young lady Duang Kaew meets Chat Chaiyaphum (Chatchai Plengpanich), unwilling to unveil he is a policeman. Chat kills three men attacking Duang Kaew. Moo Daeng releases Dam, captured by ruffians. Duang Kaew is his sister. Puangkae, sister of Sia Pheum, is captured by Moo Daeng's team and used as a bait (ตัวประกัน). The ruffians' leaders hire additional hitmen (มือปืนรับจ้าง) to fight back. Moo Daeng like Duang Kaew and visits her often so Pao Porapak (นักบู๊พเนจร) tries to trap him there. Soi is Sia Boonsung's sister. The hitmen storm Moo Daeng's base and kill many of his teammates. Meanwhile Wai (ไวท์ ผดุงการ) brings Puangkae out of danger and another man brings Soi out of danger also. Moo Daeng and his two last colleagues succeed to kill the ruffians but more are still left around a hangar (โกดัง). Puangkae breaks her lover's promise to Wai (ทรยศ). Duang Kaew is taken as hostage by Puangkae. Sia Boonsung refuses to listen to his sister Soi asking him to surrender and flees to take refuge in Sia Pheum's home. Moo Daeng and Dam decide to storm the place. War weapons are used such as shoulder-fired missiles and M16 rifles. นักบู๊พเนจร shots Dam. Through a daring finale, Moo Daeng kills both ruffians leaders and gets his life saved thanks to Wai who diverts Puangkae about to kill Moo Daeng and sacrifice his life to protect the forest (รักษาป่า). Without people like Moo Daeng and Wai, Thailand will be a desert (ประเทศของเราจะเป็นทะเลทราย).
ThaiWorldView film database contains 1519 movies.
---