THAI MOVIE
Increase or decrease font size for easier reading : A+ A-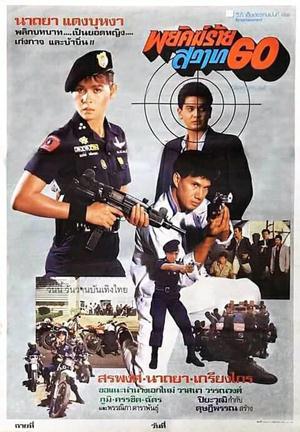 Year

: 1987



Thai title

:

พยัคฆ์ร้ายสวาท 60




English title

:



Rating

: 3/5


Director

:



Main actor

: Sorapong Chatree,Kriengkrai Unhanan,Kanchit Kwanpracha,Pumi Patanayut,Chat Mongkolchai,White Padungkan


Main actress

: Nardtaya DaengBunga



Buy now

:

Thai movie พยัคฆ์ร้ายสวาท 60 was released in year 1987 and lasts 1h32mn. It was released under VCD format by Lepso company. It is a small Police movie with Sorapong Chatree and three subordinates (ลูกน้อง) with highlights on policewomen. James Bond movie is used as soundtrack. Three overseas gangs from Hong Kong, Japan and Thailand gather for business. Police inspector (สารวัด) Toma It (Sorapong Chatree) has to work with policewoman Nee (Nardtaya DaengBunga) to neutralize those gangs. Two other assistants including Oratai (วาสนา วรรณวงศ์) join them. Policewoman Oratai is acting as a singer. Drug exchange occurs outside the club. Shootings happen. White Padungkan has a short role and gets killed. Police intervenes and drug is seized. Amnat (Kanchit Kwanpracha) is the Thai mafia boss. Hiu (Kriengkrai Unhanan) is the Japan mafia boss. Wang Kae (Pumi Patanayut) is the Hong Kong mafia boss. Amnat has betrayed the other mafia leaders. Wang Kae and Chat Mongkolchai arrive in Thailand. Amnat's team fail to kill them. They bring diamonds. Hiu asks all mafia leaders to put disagreements aside and focus on Thai police first as the dirty business is endangered. Nee's younger sister Prissana wished to go overseas for work and suddenly disappears. Nee wants to know where she found a job. She is aware of a hairdresser shop proposing easy overseas job, It is owned by Amnat's girlfriend, Chamfa. Chamfa introduces Nee to the Japanese manager Saekino, who invites her to a restaurant. It is his tactic to kidnap girls and then send them overseas for prostitution. Police teammates come to help. Nee releases the girls kidnapped in a warehouse. Ashamed, Prissana gets suicide. The mother wishes Oratai to leave Police as she doesn't want to lose another daughter. Nee cannot disappoint her father already dead. Police are aware of a drug exchange, so Toma It and his team trap the ruffians. Ruffians suspect there is a traitor among them. Police use Oratai to infiltrate ruffians. Saekino has been released from jail. Ruffians capture Nee's mother. Nee succeeds to release her mother and kills Saekino. Oratai is part of the new batch of women brought by Champa. Ruffians have identified that Oratai is a policewoman. Song, the traitor among the ruffians, helps Oratai to flee. Police start to surround the warehouse. Ruffians start to evacuate ladies. Oratai releases the ladies captured in a bus. Ruffians' leaders try to flee. Thai Police succeed to neutralize all of them and all leaders are killed or captured.
ThaiWorldView film database contains 1519 movies.
---