THAI MOVIE
Increase or decrease font size for easier reading : A+ A-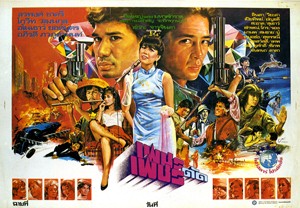 Year

: 1984



Thai title

:

เพชรตัดเพชร




English title

: Diamond vs Diamond



Rating

: 4/5


Director

: สักกะ จารุจินดา



Main actor

: Sorapong Chatree,Kowit Wattanakul,Somchai Samipak,Paen Pleumsachai,Krai Kanchit,Pipop Pupinyo,Manop Aussawathep,Boo Wibunnan,Pao Porapak,Rong Kaomulkadee,Lak Apichat,Sahat Piempongsan,Thep Po-ngam,Suchao Pongwilai


Main actress

: Apiradee Pawaputanon,Piathip Kumwong,Wiyada Umarin,Anchalee Chaisiri,Linda Khatancharoen,Janthana Siriporn,Suphanee Jitthieng



Buy now

:

Thai movie เพชรตัดเพชร was released in year 1984 and lasts 2h07mn. It was released under VCD format by Solar company and under VHS format. A remastered HD version was released during decade 2010s by Five Star Production. This movie features an impressive number of famous Thai actors and actresses from decade 1980s including less known actors หมอซ้ง, พุนสวัสดิ์ ธีมากร, วุมิ คงคาเขตร, ชูศักดิ์ สุธีรธรรม, ดาดา. Movie director is สักกะ จารุจินดา. Thai movie เพชรตัดเพชร was originally released in the year 1966 with Mitr Chaibancha, Luechai Natnat and Petchara Chaowarat. It was also released as Thai TV series in the years 2011 and 2016. Suchao Pongwilai is drunk inside a disco with a partner (Linda Khatancharoen). Mo Sing (หมอซ้ง) tries to seduce the partner so it makes Suchao angry and a fight erupts. Mo Sing loses a two colours denture and gets angry. He shoots Suchao and flees. The partner is found back by Mo Sing, but she claims she doesn't have the denture. Pailin (Piathip Kumwong) is the gang's leader. Yot (Kowit Wattanakul) is her right hand. During a drug exchange, Cheut (Sorapong Chatree) is killed by Yot keeping both drugs and money. Head of police Somchai Samipak talks to police officer Naresuan (Sorapong Chatree). He needs him to neutralise a drug gang working in Thailand, Hong Kong and Macau. Cheut is Naresuan's twin. They were separated when they were 12 years old. Naresuan wishes to revenge his dead brother. Naresuan accepts the mission and will act as Cheut in order to catch Yot. In a bar, Cheut meets Paen Pleumsachai, Pipop Pupinyo as he is looking for Yot. Cheut meets his previous girlfriend Yoi (Wiyada Umarin) having Manop Aussawathep as new husband. Fighting occurs in the bar. Back to Yaowarat district, Cheut ends up in Boo Wibunnan's entertainment centre and meets Anchalee Chaisiri. She suggests him to go to Jumbo bar to find Yot. There, Cheut is facing Pao Porapak. Cheut finally finds Yot with his girlfriend, then steals his suitcase full of drugs and gives it back to the police. Cheut flies to Hong Kong. He meets Pailu (Apiradee Pawaputanon), a singer. Pailu introduces him to Cheng (Krai Kanchit). On a boat in Sai Kung, Cheut meets Cheng again. Coming for a drug exchange, Cheut steals money from Cheng. He gets help from Jo (อโนเชาว์ ยอดบุตร), an undercover HK policeman. HK Police recommends to Cheut to leave Hong Kong as soon as possible for his own safety. Rong Kaomulkadee and Lak Apichat are working for Sahat Piempongsan, former boss of Cheut. Sahat thought Cheut was dead. Knowing Cheut is still alive, he decides to help him. Yot sends a killer to get rid of Cheut but he fails. Cheut learns from head of Police Somchai that Pailu is from Interpol. Another tentative to kill Cheut fails again. Cheut gets help from Rong. Thai police uses a stratagem for Jo to join Cheng's team. Facing a fight with ruffians, Cheng is helped by Jo in a bar. Convinced by his skills, Cheng asks him to join his team. Pailin is business partner with Cheng. Per Pailin's order, Yot captures Cheut. Cheng wants to get back his money. Meanwhile, Sahat captures Pailin's men in order to know where they keep Cheut. Cheut claims the money was confiscated by the HK Police but the drug is still stored in a suitcase hidden in Pailu's home. Pailu gets help from Somchai so that drug is given back to ruffians. Cheng starts to suspect Pailu also. She fails to escape. Meanwhile Thai police surrounds the ruffians' den. Yot plans to kill Cheut but it fails through a final epic fight between Cheut and Yot. Finally Thai police arrests all ruffians. Sahat fails to flee.
ThaiWorldView film database contains 1519 movies.
---