THAI MOVIE
Increase or decrease font size for easier reading : A+ A-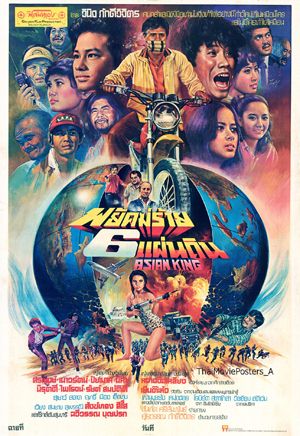 Year

: 1982



Thai title

:

พยัคฆ์ร้าย 6 แผ่นดิน




English title

: Asian King



Rating

: 3/5


Director

:



Main actor

: Sorapong Chatree,Sahat Piempongsan,Suchao Pongwilai,Songthong,Rith Luecha,Phairoj Jaising,Somchai Samipak,Nirut Sirijanya


Main actress

: Naowarat Yooktanun,Piyamas Monayakol,Suphanee Jitthieng,Chaweewan Boonprok



Buy now

:

Thai movie พยัคฆ์ร้าย 6 แผ่นดิน / Asian King was released in year 1982 and lasts 1h48mn (Thai PBS version is only 1h42mn as reduced version with smoking / drinking sequences blurred and violent or sexy sequences cut). It was released under VCD format by Lepso Studio. The movie was also released overseas under the name "Top Team Force" by Filmark movie. It was also released under the name "Deadly Hunt" under VHS format in Sweden by company Video World. An international police squad (Thailand, Indonesia, Malaysia, Hong Kong, Korea and Philippines) investigates on a crime ring called "Asian King". The Police squad (ตำรวจสากล) is led by Somchai Samipak. The "Asian King" gang is led by Bulap (Sahat Piempongsan) and เมือง อพอลโล่. In Hong Kong, Rith Luecha performs a robbery inside a jewellery. The owner is shot by Rith. David is against the shooting so he gets knockout by Rith. Rith and his men flee and meet with their local boss, Suchao Pongwilai. Police chase them but they succeed to escape by boat. David, arrested by Hong Kong police, is accused of international diamond robbery but released as proofs are not enough. Thai police follows him to spy his activities as they still have doubts on him. A whole international Police team is gathering to fight the Asian King gang. Win (Sorapong Chatree) is one of the Police team leader. Lady Napossa (Naowarat Yooktanun) joins the team as her jeweller father was killed by Asian King gang. David is back to Thailand as he wants to get revenge over the "Asian King" gang, who killed his family as retaliation. Diamonds are stolen again during a Bangkok diamond show despite the police presence. David saves Suwana's life (Piyamas Monayakol) by being shot instead of her. Catherine (Chaweewan Boonprok), part of Asian King team, gets the tasks to kill some male policemen. She targets David first but fails. Songthong is part of Thai police also. Rumours are heard that Asian King team needs to gather in Pattaya. Asian King team tries all ways to get rid of the special police force but to no avail. Asian King team's cache entrance is hidden under a hotel swimming pool. Two members are captured and Songthong is shot dead. Win and Napossa are also captured. The other members localise also the cache. All members succeed to escape. The Thai army comes to help the policemen to neutralize the Asian King tean. Through a final battle, many characters are injured or killed while assaulting the Asian King gang's fortress. Win's self sacrifice inside the fortress succeeds to destroy it. A Thai TV serie or Lakorn (ละคร) based on this story was also done in 2003. Despite a classic scenario, the highest value of this movie is to include the finest bunch of Thai actors from beginning of 1980s decade.
ThaiWorldView film database contains 1519 movies.
---