THAI MOVIE
Increase or decrease font size for easier reading : A+ A-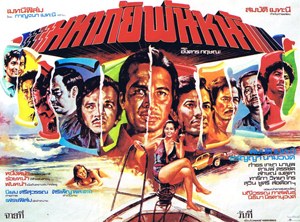 Year

: 1978



Thai title

:

มหาภัยพันหน้า




English title

:



Rating

: 3/5


Director

: Sombat Methanee



Main actor

: Sombat Methanee,Lak Apichat,Kecha Plianvithee,Dam Datsakorn,Rujira Isarangkul,Thep Thienchai,Kanchit Kwanpracha,Manop Aussawathep,Kamthorn Suwanpiyasiri,Pan Borapet,Paen Pleumsachai,Krai Kanchit,Sawin Sawangrat,Wittaya Sukdamrong,Pumi Patanayut


Main actress

: Aranya Namwong,Tharika Thidathip,Metta Roongrat,Orasa Isarangkul



Buy now

:

Thai movie มหาภัยพันหน้า was released in year 1978 and lasts 2h06mn. It was released under VCD and VHS formats. It is a Methanee film production with กาญจนา เมทะนี (Sombat Methanee's wife) as movie producer. Sombat Methanee is movie director. James bond style music is featured. Multiple famous Thai actors and actresses are featured in this movie such as Sombat Methanee, Aranya Namwong, Lak Apichat, Kecha Plianvithee, Dam Datsakorn, Rujira Isarangkul, Thep Thienchai, Kanchit Kwanpracha, Manop Aussawathep, Tharika Thidathip, Metta Roongrat, Kamthorn Suwanpiyasiri, Pan Borapet, Paen Pleumsachai, Krai Kanchit, Orasa Isarangkul, Sawin Sawangrat, Chosri Misommon, Lor Tok, Wittaya Sukdamrong. Multiple murders are committed in various places such as golf club... Each time the killer has a different face, i.e face of Kecha Plianvithee, face of Dam Datsakorn... The killer is having an assistant, i.e. Lak Apichat. The murders are committed by มหาภัยพันหน้า as those men were harmful to Thai society such as corrupted politicians or ruffians trafficking drugs or weapons. The killer is Sakao (Sombat Methanee) with his assistant Wai (Lak Apichat). Sakao is using different masks so he gets called the "great danger with thousand faces" (มหาภัยพันหน้า)! Thep Thienchai and Wai suggest to Sakao to have a lady joining their team. Their boss is Rujira Isarangkul. Det (Kanchit Kwanpracha) is also part of the team. The boss has an important work for them. They have to neutralize Sia Bancha (Kamthorn Suwanpiyasiri). Pho Lieng Boonta (Kecha Plianvithee) and Plaem (Dam Datsakorn) are working with Sia Bancha's team. Sakao and Wai go to Valentino club, where multiple Japanese and Hong Kong singers are working. This is Sia Bancha's usual place. Sakao meets Japanese singer Misiko (Tharika Thidathip). Sakao helps also Sai (Metta Roongrat) beaten by Klang (Krai Kanchit). Sakao has then arguments with Peter (Manop Aussawathep). Fighting occurs in Valentino club. Pho Lieng Boonta asks for an enquiry on Sakao. Sakao changes his face to be similar as Sia Bancha. Ratree, Bancha's girlfriend, is played by Orasa Isarangkul. Sakao enters in Sia Bancha's bedroom to steal documents. Khun Deu (Aranya Namwong) is welcome at the airport by Sakao, Wai and Det. Ruffians recognize Sakao's car and follow it. They aggress Deu being the driver as they believe she is Sakao's wife. Luckily, they flee as police is around. Sakao and Wai disguise themselves as plumbers so that Sakao can listen to Pho Lieng's plans. He meets Misiko again. Peter recognises him so Sakao has to flee on a small motorbike. Deu discovers that Sakao is มหาภัยพันหน้า. Deu finally joins them. Sakao and Klang meet Thongkam (Pumi Patanayut) that recommends them to follow Dr Singhon (Sawin Sawangrat). Ruffians fail to get rid of Sakao. Misiko asks to meet Sakao again and warns him (เล่นกับความตาย) that ruffians are trying to kill him. Sakao is finally captured. Deu uses Dr Singhon's signature to enter in their hidden place and install a microphone under the table. Sakao is beaten but refuses to disclose who he is. Ruffians are doing a weapons traffic to disrupt Thailand. Deu gathers information and informs the Police. Thai Police, led by Wittaya Sukdamrong, are ready to surround the house where ruffians are hiding. House is stormed and all ruffians are neutralized. Misiko was finally an inspector from Japanese Police.
ThaiWorldView film database contains 1519 movies.
---