THAI MOVIE
Increase or decrease font size for easier reading : A+ A-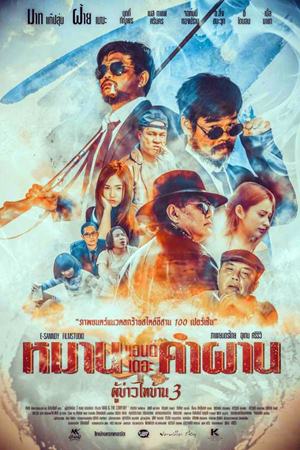 Year

: 2018



Thai title

:

ผู้บ่าวไทบ้าน 3




English title

: Man and the Company



Rating

: 3/5


Director

: อุเทน ศรีริวิ



Main actor

: Nattawut Sanyabut,Chatchai Chinsri


Main actress

:
Thai movie ผู้บ่าวไทบ้าน 3 / Man and the Company was released in year 2018 and lasts 1h35mn. It was released under DVD format. This movie is an Isan movie, so language used is Isan language. Movie director is อุเทน ศรีริวิ. Movie ผู้บ่าวไทบ้าน อีสานอินดี้ ภาค 3 has limited success and made only 1M THB in Bangkok. A local influential man is promoting sugar cane instead of rice to Thai farmers. His right hand is hitman Johnny. To cultivate sugarcane, farmers need expensive fertiliser. Many of them have to mortgage their land to buy fertiliser. Young lad Man even gets 1M THB instead of 300,000 THB he was hoping for. He plans to marry lady Porn. Thibaan The Series' famous actors (ณัฐวุฒิ แสนยะบุตร and ชาติชาย ชินศรี from ไทบ้าน เดอะซีรีส์) are playing two funny characters doing nothing except sniffing glue. Ruffians lend money and then grab the land when farmers are unable to pay back the debts. Due to card games, the 1M THB is lost by Man (หมาน) and his close friend Kam Phan (คำผาน) during one night. His girlfriend Porn is upset and chases him away. Finally, they are hired by Tak to do own business (รวยๆ) and to sell a medicine that cure everything! A bottle costs 1500 THB. They have to wear suits. Girlfriend Porn is now with another man, so Man is disappointed and heartbroken. Man wishes to kill himself. Hitman Johny shoots a man having the same suitcase as Man. Wrong suitcase are exchanged as Man and Kam Phan tries to help. The suitcase contains money. They hide the suitcase in a rice bag. Words "Man and Company" is written on the bag. Nattawut and Chatchai steal the bag of rice. Johny finds Man and Kam Phan, and ask for his money. They have one day to find back the money. Leader is shot by Tak. Chot shots finally Johnny. All land titles are given back to villagers that were abused by the ruffians thanks to Nattawut Sanyabut and Chatchai Chinsri. Small characters finally are the smarter people.
ThaiWorldView film database contains 1519 movies.
---