THAI MOVIE
Increase or decrease font size for easier reading : A+ A-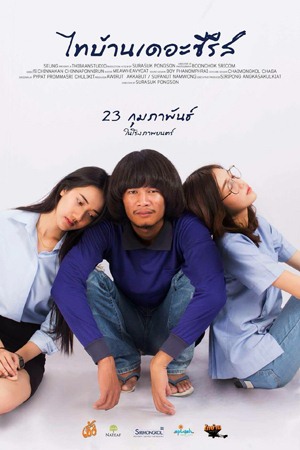 Year

: 2017



Thai title

:

ไทบ้านเดอะซีรีส์ 1




English title

: Thibaan 1



Rating

: 4/5


Director

: Surasak Pongsorn



Main actor

: Nattawut Sanyabut,Chatchai Chinsri


Main actress

: Tunwaporn Nasombat,Siriamorn Ornkoon



Buy now

:

Thai movie ไทบ้านเดอะซีรีส์ 1 / Thibaan 1 was released in year 2017 and lasts 2h07mn. Isan music, Isan traditions (บุญบังไฟ, getting frogs at nighttime, respect to spirit in a small shrine) are featured. Many stories happen in the village and characters interact through them. Chieng (เชียง)(Chatchai Chinsri) has multiple girlfriends. His friend Lot is not able to find a girlfriend despite all his efforts. Chieng does a relooking for Lot (ลอด)(Nattawut Sanyabut). Lot likes the lady doctor. A new female teacher, named Kaew, is arriving in the village. She is looking for a helper to clean her room. Chieng recommends Lot to take the job as the teacher looks beautiful. Pong (ป่อง) has finished his studies and is back from Bangkok. He wishes to open 7-Eleven but his father asks him to help in the rice fields first. Pong uses a two wheeled, motorized stand-on device to go to the rice field. Lot has some dating meetings. It is first time in KFC for Lot. Lot is helping Pong to plow the rice field. Teacher Kaew is jogging inside the Isan village. Knowing Lot helped Pong, Pong's father finds a job for Lot as school cleaner. Pong wishes to simplify the rice field planting process. Chieng pushes Lot to seduce girls. Lot tries during Makha Bucha day, traditional ceremony where people walk three times around the Buddhist chapel. He also goes with the doctor to see the Aquarium and observation deck in Khon Kaen. It shows Isan region is prosperous. Lot continues to try seducing the teacher Kaew. Thai lady Suey, married to a foreigner called Hop, is worried about her younger sister's studies as a pizza delivery boy is dating her. Lot prefers the teacher to the doctor. Another lady is also wandering around Lot. Lot helps the teacher Kaew (แก้ว) for many things. Lot tries to announce his love to teacher Kaew. As the other girls he was trying to seduce continue to contact him, Lot is in a bad situation. Chieng recommends him to announce to all the girls that he has to break and to remain friend only. Wishing to excuse himself, he finds a policeman offering flowers to Kaew. Meanwhile Pong has arguments with his father accusing him to be lazy and to be a dreamer about opening a 7-Eleven in the village. Kaew quits the village to follow the policeman, her fiance but she feels bad to leave Lot. Lot is heartbroken. The doctor lady is also heartbroken as she knows Lot loves another woman. Finally, the policeman breaks with Kaew. Kaew is back to Isan but Lot is not willing to forgive her. Chieng has to tell Lot to be smart as love is always complex. Romance can finally start between Lot and Kaew. Meanwhile Chieng receives a wedding invitation letter...
ThaiWorldView film database contains 1519 movies.
---