THAI MOVIE
Increase or decrease font size for easier reading : A+ A-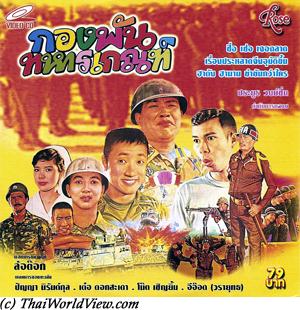 Year

: 1984



Thai title

:

กองพันทหารเกณฑ์




English title

:



Rating

: 4/5


Director

:



Main actor

: Lor Tok,Rith Luecha,Note Chernyim,Der Doksadao,Sawin Sawangrat


Main actress

:



Buy now

:

Thai movie กองพันทหารเกณฑ์ was released in year 1984. It was released under VCD format by Rose company and lasts 1h36mn. The original movie is certainly longer than that as some missing sequences can be seen in the damaged 35mm film. The movie features singer ปัญญา นิรันดร์กุล, Note Chernyim, Lor Tok, Der Doksadao, Rith Luecha, Sawin Sawangrat, วรายุฑ มิลินทจินดา, อำนวย ศิริจันทร์, ชลิดา เสาวดี as main actors and actresses. ชลิดา เสาวดี was only 17 years old when playing in this movie. Movie director is ประยูร วงศ์ชื่น. This popular movie started a trend of Thai military comedy movies. It features a mix of action and comedy. Chatree, a singer, is having his last concert as tomorrow he needs to do military service for two years. Various other characters must join also such as Noo Daeng (Der Doksadao), Note Chernyim, Pan (วรายุฑ มิลินทจินดา playing กะเทย role), Lor Tok as a policeman also sent to military service as he escaped it during many years. Soldiers have duty to protect nation (ป้องกันประเทศชาติ), Buddhism and the King. Rith Luecha is their instructor putting the stress on discipline (ระเบียบวินัย). Head of the training camp is อำนวย ศิริจันทร์. New recruits get bags and need to train. Chatree (ปัญญา นิรันดร์กุล) is enamored with a nurse, named Chatlalai (ชลิดา เสาวดี), but she has a doctor boyfriend already. To calm Chatree down, the doctor gives him a big injection shot. Training with weapons, rifle, grenades occur (ทหารใหม่). As Chatree keeps trying to seduce Chatlalai, the doctor gives him a heavy laxative. The nurse's father is playing by Sawin Sawangrat. Lor Tok warns Chatree that Sawin is off to the border for a few days. Chatree befriends with an uncle and he doesn't know that the uncle is Chatlalai's father and military camp big boss! Chatlalai discovers that the doctor is already married so she is very disappointed and ends up at hospital. Chatree keeps visiting her and comforts her. Comic sequence when Note is visiting Pan to tease him but Rith is hiding under the blanket. Thai soldiers also protect citizen as they have issues with ruffians harassing a lady so fighting occurs. Lor Tok proposes that Chatree sings at the Thai Army day (วันกองทัพไทย) to apologize to Sawin. During the Thai Army day, parade and orchestra with Chatree singing are featured. Thai soldiers need to go to Burmese border. Tanks and troop transport vehicles are sent. This movie probably acted as a showroom for Thai army to show its capabilities in 1984. Rith dies during fighting. Having walked on a mine, he wanted his men to avoid being injured. Chatree is back from war, having arm and leg. He claims to be disabled (พิการ) to ensure Chatlalai has pity on this but he is lying. The movie ends up with Chatlalai chasing Chatree to kick him.
ThaiWorldView film database contains 1519 movies.
---