THAI MOVIE
Increase or decrease font size for easier reading : A+ A-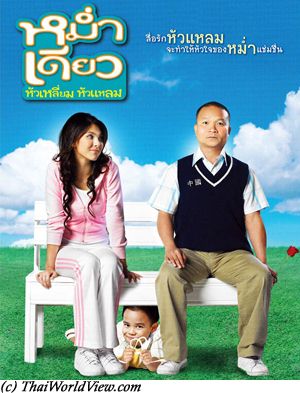 Year

: 2008



Thai title

:

หม่ำ เดียว หัวเหลี่ยม หัวแหลม




English title

: Mum Deaw



Rating

: 3/5


Director

:



Main actor

: Mum Jokmok,Akom Preedakul,Chusak Aiemsuk


Main actress

: Benjawan Artner



Buy now

:

Mam comes to Bangkok for the first time to search for a work. He can stay in the house of a relative. He come from Isan area and loves to eat Mama noodles. He wishes to learn Chinese language. One evening he found a child ghost called Dio in the house! He claims to be his son (ลูกพ่อ) but not yet born. In order to be born, he needs his father to seduce his mother! The future mother is as beautiful (งาม) as a model and is working as Chinese teacher in a language centre. Her name is Fa. Hopefully the son is helping with love letter, flowers but to no avail. Mam finally finds a job but only as manual people counter. If he doesn't succeed to seduce the mother, his son will be reincarnated into a dog. Mam tries to be a hero by helping Fa assaulted by ruffians but she punched them before he can help. He buys new clothes to be more modern. Fa only calls him "uncle" (ลุง). He is lucky to win a gold ingot thanks to Mama noodles. With the money he buys a motorbike to impress Fa and brings her home after work but as he doesn't know to drive well so she has to drive herself! One day he gives her drugged orange juice as her mother suggests her father has done this way 40 years ago to seduce her mother. Anyway when she is asleep he doesn't dare to do anything and gets drugged also by drinking the orange juice. When he wakes up, he gets punched by Fa. He finally realizes that Dio lied to him. Dio is a kid from a rich family (ลูกเศรษฐี) living in the neighbourhood and playing tricks to everybody. Mam forgives him as Dio's parents have no time to take care about him. After a Chinese opera performance, Fa's boyfriend wishes to bring her back home and tries to drug her. Hopefully Mam and Dio were passing by and help Fa. The movie finishes on good mood with Dio getting sincere interest from his busy parents and Mam having Fa as girlfriend. Mum Jokmok has already tried romantic comedies with movie "midnight love" in 2005. The issue regarding the orange juice to force a woman might prevent it to be a real family comedy.
ThaiWorldView film database contains 1519 movies.
---