THAI MOVIE
Increase or decrease font size for easier reading : A+ A-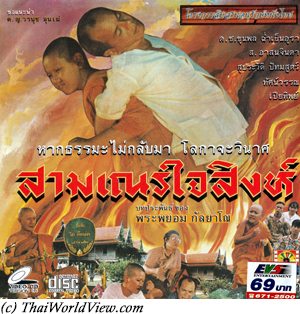 Year

: 1985



Thai title

:

สามเณรใจสิงห์




English title

:



Rating

: 5/5


Director

:



Main actor

: Sor Asanajinda,Pao Porapak


Main actress

: Tasawan Saneewong,Piathip Kumwong



Buy now

:

Thai movie สามเณรใจสิงห์ was released in year 1985 and lasts 1h38mn. It is available under VCD format. Some of the actresses and actors are ด.ช.ขุนพล ฉ่ำเย็นอุรา, สุประวัติ ปัทมสูตร, วรนุช ลุนเผ่, โชติช่วง พุทธสิน. Thai movie สามเณรใจสิงห์ is a powerful movie about Thai Buddhism and people greediness. The story was written by a Thai monk. A family has four kids. The wife Sae (Tasawan Saneewong) is managing a small restaurant selling food and drinks. The husband is a drunkard. He has a group of 4 friends (including Pao Porapak) always drinking together. He keeps asking money to his wife to buy alcohol. The grandmother is rich and keeps supporting her daughter. One son called Sing Chai is still going to school. Two other daughters and another son are not doing much except asking for money, partying, taking drugs. One day, one of the son's friend tries to steal money from the grandma by threatening her with an artisanal bomb. It ends badly as the grandma dies and the son loses his leg in the explosion. Sing Chai believes there is a waste of money and injuries as a huge and expensive funeral is organised with outdoor movies, firecrackers... Luang Ta (Sor Asanajinda) is always around. It is Buddhist lent (เข้าพรรษา) coming and Sing Chai is sad to see his family going towards this wrong path. Sae and her husband argue on money, so she gets beaten and then asks for divorce. Sae then keeps playing cards. One day one of the daughter Usa is found dead having been raped by thugs but her parents don't care. Unable to support this anymore, Sing Chai enters monkhood as novice. Sae has a new lover, i.e. the village leader, who keeps borrowing money from her. Sai, one of Sae's daughter, is also his mistress. Luang Ta keeps smoking and delivers sermons in old fashioned way. Novice Sing Chai delivers sermon in a modern way. It makes Luang Ta upset as a novice becomes more popular than him. Even Piathip Kumwong is not visiting Luang Ta anymore but novice Sing Chai to get advice. Sae, knowing that the villager leader and her daughter Sai betrayed her (คนทรยศ), wishes to get suicide. Novice Sing Chai helps her on time and the mother becomes a nun. Young teen girl Chantana is back to the village and invites novice Sing Chai to get alms everyday (รับบาตร). Sing Chai is feeling awkward caught by human feelings toward Chantana. Luang Ta tries to catch him doing improper things (ศึกแน่ๆ). Sing Chai is even accused of committing a murder. Village leader Gneun, father of Chantana, is causing troubles. Luang Ta recognizes he was wrong to try to accuse Sing Chai. Gneun is finally shot by Sai as he was refusing to recognize his paternity. Sing Chai rejects his mother due to bad feeling but recognizes his mistake. He still hopes to convince his father to stop drinking alcohol. On the way to his father's home, a fire occurs. Sing Chai saves his father but the handicapped son is unable to flee. Mother Sae (ยอมแม่) is sick and dies while listening sermon. The father (ยอมพ่อ) becomes a monk also. The movie ends up on Sae's funeral where Sae's voice in background regrets to have led such a bad life.
ThaiWorldView film database contains 1519 movies.
---