THAI MOVIE
Increase or decrease font size for easier reading : A+ A-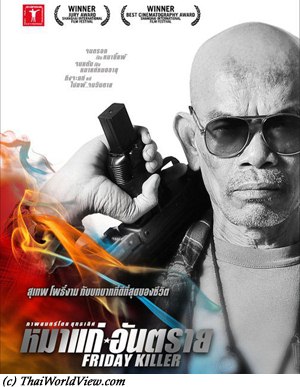 Year

: 2011



Thai title

:

หมาแก่อันตราย




English title

: Friday killer



Rating

: 4/5


Director

: Yuthlert Sippapak



Main actor

: Thep Po-ngam,Kowit Wattanakul,Sithao Petcharoen,Choomporn Theppitak


Main actress

: Wiyada Umarin,Ploy Jindachot



Buy now

:

P Uzi (Thep Po-ngam) is released from prison and injured by a blade expert (มือมีด). Dao (Ploy Jindachot) visits her dying mother Deuan (Wiyada Umarin) at the hospital. She announces to her daughter that her father is a hitman (มือปืน) just released from prison. Deuan accepted to be a hitman's wife but didn't want her daughter to be a hitman's daughter. While recovering at the hospital, P Uzi receives also a letter from the mother announcing his real paternity. Dao's stepfather (Kowit Wattanakul) tries to rape her sister Phet. P Uzi, trying to contact Dao, helps to prevent the rape by hitting strongly the stepfather but finally gets accused of the murder. Dao is a policewoman and wishes to revenge her stepfather. P Uzi's house in Chantaburi is occupied by a small man wearing same clothes as "Kill Bill" movie and acting very weirdly so he has to retreat. Ong (Choomporn Theppitak) is P Uzi's former boss. While withdrawing money from ATM machine, P Uzi is threatened by 5 gangsters with deformed face reminding of famous actor Songthong and promoting a politician who believes he can buy all Thai people (ซองเงิน) to be elected and then gets back his money through overpriced commissions during public tenders. Hitman myth is demystified in Yuthlert Sippapak's movies. P Uzi has even vision problems. Dao arrives in Chantaburi to look for P Uzi but finally arrests the blade expert and crazy "Kill Bill". P Uzi is recruited to get rid of one corrupted politician's helper. Meng, a corrupted politician, is looking for P Uzi's head. Reusi does an eye chirurgical operation but the doctor, friend of Meng, makes it a failure on purpose. P Uzi wishes to kill Meng. Ed Carabao is even having a small cameo role. Meng is still not dead so P Uzi continues to chase him as Meng's men have butchered his old friend Ong. Dao chases P Uzi and shoots him while he was trying to get something from his jacket. It was not a gun but a letter. At the last minute, he finally replaces the touching letter with full explanations by a laconic letter asking for funerals. Sometimes it is better not disclose the truth. Movie "Friday Killer" (2011 ~ 3M baht revenue) is part of a trilogy including "Sunday Killer" and "Saturday Killer" (2010 ~ 15M baht revenue). "Sunday Killer" was not released in 2012. Maybe due to bad revenue results of "Friday Killer"? As usual there is a great soundtrack. This Yuthlert Sippapak movie mixes action, social messages and great humor. This movie has won the best cinematography and jury awards at the Shanghai International Film Festival.
ThaiWorldView film database contains 1519 movies.
---