THAI MOVIE
Increase or decrease font size for easier reading : A+ A-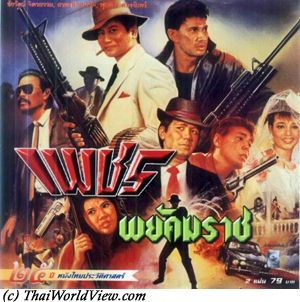 Year

: 1988



Thai title

:

เพชรพยัคฆราช




English title

:



Rating

: 3/5


Director

:



Main actor

: Sombat Methanee,Sorapong Chatree,Krailat Kriengkrai,Krung Srivilai,Tuanton Kammeesri


Main actress

: Pumpuang Duangchan,Apiradee Pawaputanon



Buy now

:

Chat (Sorapong Chatree) and Thanong (Sombat Methanee) are mafia members (นักเลง) and friends. Thanong is a mafia head (เจ้าพ่อ). There are always internal fights with other mafia leaders. Nancy (Apiradee Pawaputanon) is Chat's girlfriend. Chat and Thanong are dressed like Chicago gangsters and are always smoking cigars. Thanong's younger brother, Rut, is a policeman but he is not fully aware about his brother's activities. Pen (Pumpuang Duangchan) is a nurse. Thanong likes her a lot (นักรัก). Thanong wishes to change his job but he cannot leave his subordinates (ลูกน้อง). Thanong asks Pen for wedding. A shooting happens during the wedding but none is injured. Chat escapes to Shing, who is now a traitor and wishes to get rid of Thanong to take his position (บ้าอำนาจ). Thanong, through a Typical Rambo 2 scene with big guns, wishes to punish Shing. Thanong is captured by the police following a rampage at Shing's home and sent to jail. Chat needs to send Nancy away so that he can handle the situation. She is finally killed. Chat wishes to revenge her. There is a famous scene featuring a killing rampage by Chat in a restaurant with guns hidden in each flower pot. Three years have passed. Thanong is released from prison but he doesn't want to return to underworld mafia. Chat was injured to the ankle so he cannot walk properly anymore. Chat is now a car glass washer. Without their boss, Thanong's men are wrecked (กูรอมึง). Thanong is accused of Rut's sister murder. Rut is upset because his brother is a ruffian (เป็นพี่เป็นโจร) so his management doesn't trust him. Thanong's men including Chat are disappointing that Thanong wants to be out of mafia business (วางมือจากวงการ) and doesn't want to give a lesson to Shing. Shing wants Thanong to be back in business as partner but Thanong refuses. Shing's men beat severely Chat and also threaten Rut to convince Thanong to change his mind. Chat succeeds to get proofs regarding Shing's illegal activities. Those proofs are given to Rut. Before fleeing, Chat and Thanong wish to face Shing a last time for an ultimate revenge. It is the last movie where Sombat Methanee had the leading role. This Thai movie is based on the Hong Kong movie "A Better Tomorrow" (1986) shot by John Woo. The scenario is very similar. It involves strong action and some comedy. Sorapong Chatree plays same role as Chow Yun-Fat. The movie is entertaining but the realisation is not as good as the one from John Woo. The end of the movie is very weird. It stops abruptly when Thanong is going to face Shing. Thanong is expected to die. There is unfortunately a weird movie abrupt ending.
ThaiWorldView film database contains 1519 movies.
---