THAI MOVIE
Increase or decrease font size for easier reading : A+ A-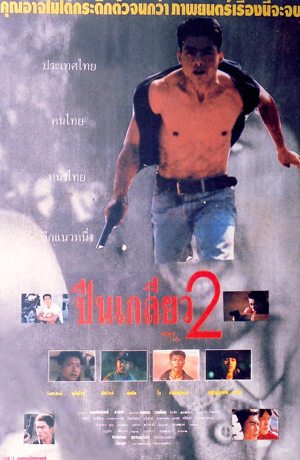 Year

: 1995



Thai title

:

ปีนเกลียว 2




English title

:



Rating

: 4/5


Director

:



Main actor

: Krissanapong Rachata,Jai Juntamooltree,Sompop Wong Ko


Main actress

:
ปีนเกลียว 2 is a Thai movie released in year 1995. This movie is a full packed action film. It was filmed in Khon Kaen area. The movie lasts 1h32mn. Such action movies were very popular in Isan area. Such movies are coming from Panna Rittikrai's trend. Action scenes are always real such as big jars broken on heads. Wut (Krissanapong Rachata / กฤษณะพงษ์ ราชธา) kills a ruffian per accident in a factory. His colleagues are chasing him by motorbikes and pickup car. Meanwhile the factory owner lies to the police telling them that Wut is a man addicted to drugs (ยาบ้า) so being a dangerous man. The chase starts in the forest and ends up in a market (หนีไม่รอด). Despite a rampage with shot guns, ruffians fail to kill him. Finally Wut surrenders to the police, who believes he is crazy with drugs. But the factory is in fact the one selling drugs! Wut finally flees by taking a policeman (สุรินทร์ สุขศีล / พัชรวัชร์ สุขศีล) in hostage. Wut tells the policeman that the factory ruffians have killed his friend and now want to get rid of him. He frees the policeman. Ruffians decide to follow Pom, Wut's girlfriend (ธัญญาลักษณ์ ราชธา), as Wut may takes refuge with her. Wut meets his girlfriend in a discotheque but ruffians led by Tom (Jai Juntamooltree) fail to kill him (ตามฆ่ากู) inside the discotheque. Some action even takes place in a theater (โรงภาพยนตร์แก่นคำ). The policeman follows them but the girlfriend helps Wut to neutralize him. Wut asks the policeman to check the factory as he is saying the truth. In fact Wut discovered that the factory where he was a truck driver was transporting drugs. Wishing to resign, the boss ordered to kill him but he succeeded to flee. Wut wishes to surrender (มอบตัว) but Tom tries to kill him. Tom kills Wut's girlfriend. Looking for revenge, Wut does a rampage in the factory and meets the policeman there. They are chasing the leader Sia (สมภพ วงศ์ก่อ) in his factory. The movie ends up with multiple shootings and hand-to-hand combats. Sia wishes to corrupt them through money but they are looking for justice (ความยุติธรรม). Sia ends being captured by the policeman and Wut doesn't do self justice.
ThaiWorldView film database contains 1519 movies.
---