THAI MOVIE
Increase or decrease font size for easier reading : A+ A-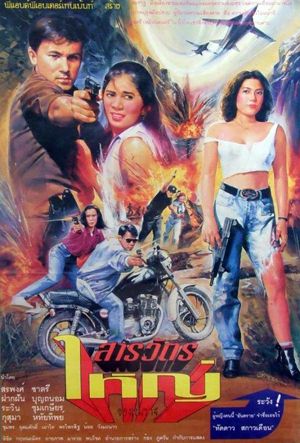 Year

: 1994



Thai title

:

สารวัตรใหญ่ ของเขมราฐ




English title

:



Rating

: 3/5


Director

: ก้อง ภูตวัน



Main actor

: Sorapong Chatree,Pao Porapak


Main actress

:
Thai movie สารวัตรใหญ่ ของเขมราฐ was released in year 1994 and lasts 1h17mn. Fighting scenes are played in accelerated motion. Actresses and actors include Sorapong Chatree, ระวิน ชุมเกษียร, เผ่าไท พรพิสิฐ, ระวิน ชุมเกษียร, ทัดดาว สกาวเดือน, ฝากฝัน บุญถนอม, Pao Porapak, กุสุมา หทัยทิพย์, ชุมพร อุดมศักดิ์, น้อย วังมะนาว. Movie director is ก้อง ภูตวัน. Police catch ruffians dealing with war weapons. Policemen, who caught ruffians, are then killed by hitmen. Police inspector Tak (เผ่าไท พรพิสิฐ) is killed. Village is waiting for a new Police inspector. Three ruffians attack a lady merchant and his brother. Luckily Sorapong, passing by, helps them. He is looking for a job and is recommended to policeman Jakinsak. Chinese big businessman Hong is looking to buy the school land from headmaster (ครู) Yai but Yai refuses. Hong is involved in many dirty businesses (drugs, gold smuggling...). Sorapong is the new Police inspector but he doesn't disclose his identity. Jakinsak (ระวิน ชุมเกษียร) is suspected to divulge information to ruffians so Sorapong has to investigate on him. Sorapong befriends with Jakinsak and his sister. Kanya (ทัดดาว สกาวเดือน), Chinese big businessman's daughter, is aggressed by two thugs working for her father but a young lad, called Sai and also working for her father, helps her. Later on, Sorapong helps Kanya as a thug steals her necklace. Sai betrays his regular associates and gives the drugs to Pao (Pao Porapak). Sorapong catches a thug selling drugs (ขายยา) and has to shoot him. Phi Eum is leading the ruffians' team and reports to Hong. Kanya proposes to Sorapong to work for her father Hong. Knowing that ruffians saw him, Sorapong declined the offer. Eum's team plans to burn the school but it fails. Pao buys gold and resells it to Hong. Phi Eum's men try to kill Sorapong (คนแปลกหน้า) but fail. Things turn worse when Eum kills Pao and Hong (เถ้าแก่) to steal the gold. Kanya is kidnapped. Sai tries to help but gets shot. Meanwhile Eum's ruffians shoot the headmaster Yai and kidnap Jakinsak's sister being a teacher. Alerted, Jakinsak and Sorapong follow ruffians and succeed to release the teacher. They force a ruffian to bring them to the ruffians' campement. Seeing Kanya being captured, Sorapong tries to release her but ruffians see him. Shooting occurs between ruffians and Thai police. Sorapong and Kanya are injured but they succeed in getting rid of Eum. It is disclosed that Sorapong is the new police inspector (สารวัตรใหญ่) and Sai is also a policeman.
ThaiWorldView film database contains 1519 movies.
---