THAI MOVIE
Increase or decrease font size for easier reading : A+ A-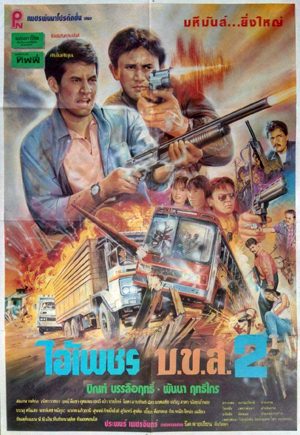 Year

: 1992



Thai title

:

ไอ้เพชร บขส. 2




English title

:



Rating

: 3/5


Director

: ประพนธ์ เพชรอินทร์



Main actor

: Bin Banleurit,Chat Mongkolchai,Panna Rittikrai,Krissanapong Rachata,Sompop Wong Ko,Rith Luecha,Pao Porapak


Main actress

:



Buy now

:

Thai movie ไอ้เพชร บขส. 2 was released in year 1992 and lasts 1h19mn. It was released under VCD format by Lepso company and VHS format. Thai actors and actresses featured are Bin Banleurit, Chat Mongkolchai, Panna Rittikrai, Krissanapong Rachata, กิม , เตี่ย แจ่วบอง, Sompop Wong Ko, Rith Luecha, อุดมพร, โอดา, Pao Porapak, น้อย, เจริญ. Movie director is ประพนธ์ เพชรอินทร์. This movie is an action movie with comedy sequences. Panna's team is fully present, and each team member has a role. Rith Luecha is the ruffian's leader. Rith wants to dominate the songthaew and motorbike (รับจ้าง) markets in Khon Kaen. His idea is to request a protection fee from all drivers as he would oversee the whole market (ดูแลคิ้ว). Phet (Bin Banleurit), a young strong man, is always helping other drivers. เจริญ สาดา refuses to sell his business to Sia Rith but he is forced. Ruffians threaten and hit drivers. Pao Porapak is the owner of a local restaurant. Friends fight back the ruffians so Rith decides to bring a hitman (มือปืน) (Sompop Wong Ko) to get rid of Phet. There is even a sequence happening in a Buddhist temple fair featuring Chinese opera. Chat claims he can handle by himself so there is no need for the professional hitman to intervene. He shoots Phet but only injures him but young lady Wan, part of Phet's friends, is shot dead. Her brother, Pao, promises to take revenge. As Chat failed, Rith sends Sompop to kill Phet. Phet neutralizes Sompop and spares his life so Sompop owns one life to Phet. Panna's younger sister is kidnapped by ruffians. Pao kills Chat but gets shot by Rith. Panna succeeds in releasing his sister from the ruffians. Meanwhile Phet blocks the road with a bus to prevent Rith from fleeing. Rith shoots Phet first but Sompop shoots Rith as Sompop owns one life to Phet. Then as he has no more debt towards Phet, Sompop can finish his job…
ThaiWorldView film database contains 1493 movies.
---