THAI MOVIE
Increase or decrease font size for easier reading : A+ A-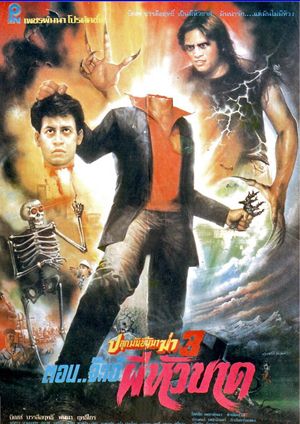 Year

: 1990



Thai title

:

ปลุกมันขึ้นมาฆ่า 3 ตอน จ๊ะเอ๋ผีหัวขาด




English title

:



Rating

: 3/5


Director

: ประพนธ์ เพชรอินทร์



Main actor

: Bin Banleurit,Panna Rittikrai,Pao Porapak,Chat Mongkolchai,Sompop Wong Ko,Krissanapong Rachata,Jai Juntamooltree


Main actress

:



Buy now

:

Thai movie ปลุกมันขึ้นมาฆ่า 3 ตอน จ๊ะเอ๋ผีหัวขาด was released in year 1990 and lasts 1h27mn. It was released under VCD format by Lepso Company and under VHS tape. Movie director is ประพนธ์ เพชรอินทร์. Thai actors and actresses featured are Bin Banleurit, Panna Rittikrai, นริศรา นามมงคล, Sompop Wong Ko, เผ่าไท พรพิสิฐ, Chat Mongkolchai, Pao Porapak, บรรลุ, สุพจน์, Krissanapong Rachata, Jai Juntamooltree. Thai movies serie ปลุกมันขึ้นมาฆ่า has four opus (1987, 1989, 1990, 1994) and focus on ghost (ผีดิบ) having strong fighting skills. Shaman (หมอผี) Bin Banleurit is performing a ceremony with a sacred black ginger root. Suddenly Chat Mongkolchai and Pao Porapak disrupt the ceremony. Bin is killed and beheaded. The sacred black ginger root (ขิงดำ) is stolen. Thanks to Kim (กิม), another strange shaman, Bin is resurrected and has to get back the black ginger root. Bin goes inside the city. A gang, led by young lady Sopha, is featuring a few members including เตี่ย แจ่วบอง and นริศรา นามมงคล. They steal Sompop's money. As he fights back, Bin helps to defeat him as Sompop is wrongly accused of being a robber. A Japanese buyer is ready to pay 50M THB for the black ginger root. Chat agrees. The bigger ruffians' group led by Chat wants to get rid of the small group led by Sopha. Chased by Chat and his ruffians, Sopha lies again to get help from Bin. Chat realizes that Bin is a ghost (ปีศาจ). Chat is waiting for his master Phao Tai (อาจารย์ เผ่าไท พรพิสิฐ) to fight against Bin. Kim helps Sompop. Sopha is in love with Bin (พี่ชาย) but it is an impossible love as he is dead already (ตายแล้ว). His friends are captured so it forces Bin to act again. Through mismatch, the sacred black ginger root (ขิงดำ) is finally inside Bin's bag. Bin cannot fight on holy day (วันพระ) so its opponents take advantage of this. Kim intervenes to help and Chat flees. Master Phao Tai sends a new ghost (Panna Rittikrai) to fight Bin. Master Phao Tai and his new ghost are defeated. Bin gets back the black ginger root and can leave with Kim.
ThaiWorldView film database contains 1493 movies.
---