THAI MOVIE
Increase or decrease font size for easier reading : A+ A-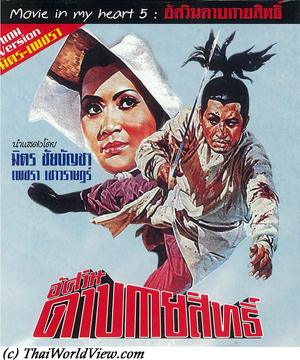 Year

: 1970



Thai title

:

อัศวินดาบกายสิทธิ์




English title

: Flyer and Magic Sword



Rating

: 4/5


Director

:



Main actor

: Mitr Chaibancha


Main actress

: Petchara Chaowarat



Buy now

:

Thai Chinese movie อัศวินดาบกายสิทธิ์ - 飛俠神刀 - "Flyer and Magic Sword" lasts 1h20mn and was released in year 1970. It was released under 35mm, VHS, VCD and DVD format. It was shot in Hong Kong. It was the first international movie in which Mitr Chaibancha took part. Two versions of the movie were shot, one with Hong Kong Chinese star (กว่าง หลิน / Ling Fan) as the leading actress for the international version and one with Petchara Chaowarat as leading actress for the Thai version. As Mitr Chaibancha died in an accident in 1970, an actor from Chaiyaphum province called Chat Chaiyaphum (ชาติ ชัยภูมิ) was used in order to finish the movie. Mitr also started playing in another Chinese movie จอมดาบพิชัยยุทธ (1971) but was replaced by another actor called Luechai Natnat (ลือชัย นฤนาท). The movie includes flying acrobatic fights shot in Hong Kong's Sai Kung country park. The DVD/VCD includes the Hong Kong version featuring Ling Fan as main actress. The DVD/VCD also includes 52 minutes of old damaged footage with Thai actress Petchara Chaowarat playing Lan Choo. This movie is also known under the name "อภินิหารดาบทองคำ" or "Hooded Swordsman". Lan Choo, her father and his guards are attacked in their home by a group of armed men led by another clan. Wai Ching (Mitr Chaibancha) saves Lan Choo (คู่รัก). She leaves upset as Wai Ching is still angry against her father. She then meets a mysterious man expert in blade, Phi Lun, who declares his love to her. The two clans are fighting over a salt mine. Lan Choo's father stole the salt mine from Wai Ching's father. He has issues with Phi Lun, the mysterious expert in blade, so the two clans decide to support each other. Lan Choo's father expects help from Wai Ching by promising a wedding with his daughter but Wai Ching refuses as he cannot forget the past. Lan Choo's father killed Wai Ching's father. Phi Lun is half crazy and a rivality emerges with Wai Ching as they both love Lan Choo. Phi Lun has become crazy (คนบ้าฆ่าคน) as his mother was raped and killed in front of him. Phi Lun kills people that Wai Ching loves. So Wai Ching chases Phi Lun for a fight. Wai Ching has special skills such as flying jumps. Phi Lun is using small blades behaving like boomerang. Wai Ching is defeated but Phi Lun spares his life this time. Wai Ching uses a stratagem to defeat Phi Lun through a revenge fight. Phi Lun is left as dead. Then the two clans make alliance against Wai Ching. Wai Ching is welcomed by the father, who organises a big feast. This is a trap and Wai Ching is captured. Phi Lun, who didn't die yet, helps Wai Ching to escape. Phi Lun helps as he wishes to kill Wai Ching by himself. Finally Wai Ching defeats Phi Lun again. Seeing Wai Ching being weaker due to the fighting with Phi Lun, the father is about to kill him but Phi Lun saves his life for a last time. Wai Ching flees thanks to Lan Choo and the two clans kill each other to get the salt mine. In year 1992, there was discussion to project the Thai version in Ambassador theater (แอมบาสเดอร์). It didn't happen as the film was incomplete. Finally อัศวินดาบกายสิทธิ์ movie was released a second time in year 1998. It was released in theater by movie director Khun To Pantamit as an homage for Mitr Chaibancha birthday. Khun To Pantamit ordered a new copy of the 35mm film from Hong Kong and had it dubbed in Thai language. Thanks to his later release, the movie is still available in HD colorful version. If it was the original 1970 film, the 35mm film would be red already and damaged similar to the Thai release. It was shown in theater เฉลิมกรุง 20 times. It was also released nationwide in Thailand.
ThaiWorldView film database contains 1519 movies.
---