THAI MOVIE
Increase or decrease font size for easier reading : A+ A-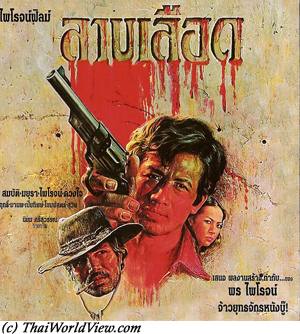 Year

: 1979



Thai title

:

ลาบเลือด




English title

:



Rating

: 3/5


Director

:



Main actor

: Sombat Methanee,Phairoj Jaising,Manop Aussawathep,Sawin Sawangrat,Rith Luecha,Pipop Pupinyo


Main actress

: Piathip Kumwong,Mayura Thanabutr,Duangjai Hathaikarn



Buy now

:

Drunk ruffians are terrorizing a shop while listening to an old Boney M song. Sukol gives them a lesson. Seuabin (Rith Luecha) is the leader of the ruffians. They kidnap villagers and force them to work as slaves (ทาส). Sukol (Sombat Methanee) is working in a gambling den (บ่อน). He meets his old friend Phairoj Jaising. They were former Thai soldiers during the war in Laos. Both of them have been requested to meet in this remote Isan city by their old friend Siaw (Manop Aussawathep). Siaw requests help as his two sisters, Bao (Mayura Thanabutr) and Mon (Duangjai Hathaikarn), have disappeared. They are part of the working slaves (ทำไร่กัญชา) and have been lured by fake job offers. Bao is sick but to get medicine from the guards, women have to offer their body. No problem (มาเลย) for Chai (Piathip Kumwong), who is a former kind hearted prostitute, in order to help Bao. As usual Pipop Pupinyo is playing the ruthless ruffian also. Sukol loves to eat Larb Luat dish (ลาบเลือด). Phairoj, simulating to be an up country bumpkin, is recruited as worker by the agency offering expensive fake jobs. Seua Ling (Sawin Sawangrat) is the big boss. Meanwhile showing his fighting and shooting skills, Sakol is recruited by Seua Ling. Rivalry happens between Sakol and Seuabin as both are skilled gunman (มือปืน). When Chai is sick, nobody is helping her (ใจหมา). She dies during the night refusing Mon to sacrifice herself for her. Sakol asks Siaw to provide explosives. Sawin has an important 500 kg shipment to be done so extra ruffians come. New plan is to release all inmates and not only the two sisters. Seuabin prepares a putsch against Seua Ling as he is upset that Seua Ling is too friendly with Sakol and also wishing to get a bigger share of money. The plan seems to go wrong when Seuabin captures and tortures Sakol to know the truth. Phairoj organises the inmates uprising and uses weapons hidden by Siaw in the field. Through a thrilling and explosive final, all ruffians are defeated or killed. Finally Siaw offers his two sisters to Sakol and Phairoj as rewards. ลาบเลือด is a 2h08mn Thai western.
ThaiWorldView film database contains 1519 movies.
---