THAI MOVIE
Increase or decrease font size for easier reading : A+ A-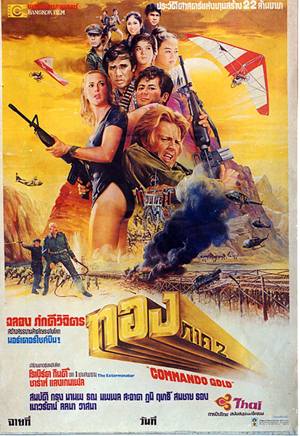 Year

: 1982



Thai title

:

ทอง ภาค 2




English title

: Commando Gold



Rating

: 3/5


Director

: Chalong Pukdeewichit



Main actor

: Sombat Methanee,Krung Srivilai,Sahat Piempongsan,Robert Ginty,Rith Luecha,Somchai Samipak,Manop Aussawathep,Ron Rittichai,Rong Kaomulkadee


Main actress

: Wassana Sitthiweth,Naowarat Yooktanun,Lalana Sulawan,Sarah Langenfeld



Buy now

:

ทอง ภาค 2 / Goldraider is a sequel of ทอง ภาค 1. It was released in year 1982. It lasts 1h33mn. It is a DVD featuring English language with Thai subtitles. The plane leaving Laos with gold bars is shot down. There is a stock valued 200M USD on board. Cheut (Sombat Methanee) and Satra (Krung Srivilai), both present in first sequel, succeed to jump by parachute. Cheut ends in a mountain village where Wassana Sitthiweth is a teacher. Satra ends in another village led by Somchai Samipak and is accused of being a spy. As one leader wishes to marry Naowarat Yooktanun, Satra's life is spared as he needs to offer gold for the wedding. So Satra must lead them. Another team led by Mark (Robert Ginty) and including Cordelia (Sarah Langenfeld), Penpoin (Lalana Sulawan) - explosive expert -, Rith Luecha – knife expert - and others is on the way to the border to prevent communists to grab the gold bars. The commando has to get back three big boxes containing weapons and delivered by planes. The Laotian leader is a general (Manop Aussawathep), who has a crippled leg. He has to catch the gold raiders and find the gold bars to give back to his commander Sahat Piempongsan. While crossing a ravine, the gold raiders get reunited with Satra and Naowarat, who were fleeing from the Laotian soldiers. They finally all get captured except Mark, who flees through his flying motorcycle. Penpoin recognises her former Thai boyfriend, who is now a captain in the communist army. At night time, Mark releases them and they storm the ruffians' camp. As the village chief was killed, Naowarat guides them to the plane. They succeed to steal the gold bars from the laotian soldiers and rush to the Mekong river to wait for US helicopters. Manop Aussawathep tries to steal the gold from his own commander Sahat Piempongsan. Laotian army reinforcement arrives but the gold raiders succeed to slow them down. Gold is finally extracted but 5 of the gold raiders have lost their lives during the expedition.
ThaiWorldView film database contains 1519 movies.
---