THAI MOVIE
Increase or decrease font size for easier reading : A+ A-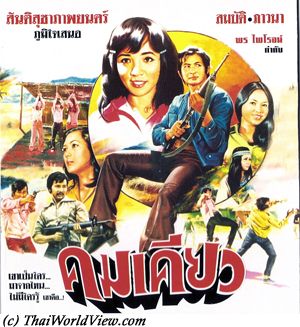 Year

: 1974



Thai title

:

คมเคียว




English title

:



Rating

: 3/5


Director

:



Main actor

: Sombat Methanee,Dam Datsakorn,Lak Apichat,Choomporn Theppitak


Main actress

: Pawana Chanajit



Buy now

:

Thai movie "คมเคียว" image and sound are quite poor and damaged. Phanmitr company issues a warning that they have used the last known copy of the movie to release this VCD (สภาพฟิล์ม 16 ม.ม.สโคป เรื่อง คมเคียว). So movies fans should be happy to watch it before the last copy disappears from our world. This movie was very popular in 1970s. Hang Seuk, a ruffian leader, and his band are terrorizing villagers. Hang Seuk (Dam Datsakorn) wishes to kidnap Kathin to have her becoming his wife. Kwan (Lak Apichat), her fiance, tries to oppose them but to no avail. Kwan is buried except his head. If he survives 7 days then he will be released. A mysterious man coming through a raft helps to release Kwan and promises to help the villagers. Choomporn Theppitak is the village doctor and helps another lady called Chaba to recover after being assaulted by ruffians. The mysterious man names himself "small red mouse" (หนูแดง)! He trains the villagers with weapons. Hang Seuk doesn't touch Kathin but she doesn't dare going back to the village as nobody would believe her so she stays with him. Hang Seuk's sister, Siroon (Pawana Chanajit), promises things will get better. Nai Seua is a ruffian leader controlling a territory near Hang Seuk's area. Putao is a village leader having a beautiful daughter called Saeng Sao. The mysterious man is recommended as Putao's nephew and is renamed Kachen. Hang Seuk and Seua are friends but in fact a competition is happening between them. Hang Seuk promised his sister Siroon's hand to Seua before so he needs to find a way to break the promise. Hang Seuk needs a strong man to get rid of Seua. Putao recommends his mute nephew Kachen. If Kachen defeats Seua then the wedding promise is cancelled. Seua doesn't wait for the fight and sends ruffians to kidnap Siroon. Hopefully Kachen is around but is injured while protecting Siroon. The mysterious man's real name is Diaw Khom Thong. He realises that Hang Seuk is not that bad. The real bad ruffian is Seua. The village doctor helps Saeng Sao who was bitten by a snake. Kwan has to warm her body as she has a cold fever. Villagers start to rebel such as Kwan. Kachen defeats Seua in one to one fight with knife. Hang Seuk knows that Kachen is not mute as he heard Siroon's love declaration to him. A fight happens between Kwan and Hang Seuk. Kathin convinces Kwan and Hang Seuk to pacify as Hang Seuk will be father soon. Meanwhile the three ladies get captured by Seua. All gather to fight back Seua and defeat him following strong gun fights. The movie ends happily as Kwan will marry Saeng Sao, Hang Seuk with Kathin and Diaw Khom with two ladies, i.e. Siroon and Chaba! Thai movie "คมเคียว" is a typical movie action from 1970s decade with a hero taking justice into his own hands to protect villagers against ruffians.
ThaiWorldView film database contains 1519 movies.
---