THAI MOVIE
Increase or decrease font size for easier reading : A+ A-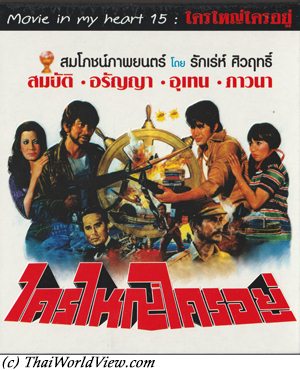 Year

: 1976



Thai title

:

ใครใหญ่ใครอยู่




English title

: The great outlaw



Rating

: 4/5


Director

: เสนีย์ โกมารชุน



Main actor

: Sombat Methanee,Uten Boonyong,Dam Datsakorn,Taksin Jampol,Kecha Plianvithee,Tat Ekathat,Pan Borapet


Main actress

: Aranya Namwong,Pawana Chanajit,Moeifa



Buy now

:

Thai movie ใครใหญ่ใครอยู่ / The great outlaw was released in year 1976 and lasts 2h08mn. The movie was released on VCD format in Thailand by company XxX (Triple X). Movie director is เสนีย์ โกมารชุน. Lom is having a boat transportation business on the river. Nai Prakit's ruffians (including Pan Borapet and เมือง อพอลโล่) are threatening Lom's team (Tat Ekathat). Nai Prakit (Kecha Plianvithee) wishes to marry Lom's daughter, i.e. Nam Rong (Aranya Namwong) but Lom refuses. Nai Prakit's team shoots Lom's boats and crew. Lom's staff decides to leave as they are afraid to be killed. Nam Rong proposes to talk to Nai Prakit in order to find a solution. Threatened by ruffians, Nam Rong gets help from an unknown man named Chuey (Sombat Methanee). She hires him! Peace is proposed to Nai Prakit but he is refused. Chuey is the son of an old friend of Lom. Lin See Thong (Uten Boonyong) arrives in the city and comes to eat sweets at Sida's shop (Pawana Chanajit). Fighting occurs with ruffians as one of them dislikes Lin See Thong trying to seduce Sida. Lin See Thong asks to join Nai Prakit's team. Rampeung (Moeifa) is Prakit's girlfriend. Prakan (ลูกรัก)(Dam Datsakorn) is back per his father's request. Prakit needs his help to destroy Lom's business and gets rid of Chuey. A new policeman (Taksin Jampol) arrives also in the city. He is a strong punch man and trashes ruffians lacking respect to him. Prakan, using small speed boats, disrupts Lom's boat fleet and prevent Lom's goods to be sold on the market. Two ruffians, Mek and Sing, intend to get rid of Lin See Thong as he is getting too close to Nai Prakit. Rampeung seduces Lin See Thong. Mek and Sing ask Nai Prasit to beware Rampeung and Lin See Thong. Ruffians try to storm Lom's house at night time. Shooting happens. Police arrive very fast and ruffians have to retreat. Nai Prakit suspects there is a traitor among them. Even Taksin dares to enter in Nai Prakit's house (บ้านเจ้าพ่อ). Speed boat fighting occurs as Chuey prepares resistance to the ruffians. Action scene is managed as well as in James Bond movies. Chuey defeats Prakan. Nai Prakit kills Rampeung as she sacrifices her life mentioning the police radio found belongs to her despite it belongs to Lin See Thong. Lin See Thong is kept prisoner in his room as Nai Prakit isn't sure he is innocent or not. Ram Rong is kidnapped by Prakan. Lom and Chuey enter Nai Prakit's home. Meanwhile Thai police is informed, and they arrive by boat. To win time and to allow Thai police to come, Lin See Thong asks for a fight one to one with Chuey to show his sincerity to Nai Prakit. Heavy shootings occur. Lom is shot. Nai Prakit and Prakan are captured. Both Chuey and Lin See Thong are undercover policemen. Policeman Taksin mentions that nobody is big enough to be above the law!
ThaiWorldView film database contains 1519 movies.
---