Increase or decrease font size for easier reading : A+ A-
Yuranan PamornMontri
Yuranan PamornMontri (1963) - ยุรนันท์ ภมรมนตรี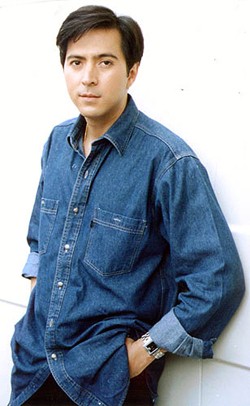 Yuranan PamornMontri is a Thai movie, singer and TV series actor. His surname is "Sam". In year 2008, he run for Bangkok Governor post
This Yuranan PamornMontri movie page contains 18 records.
---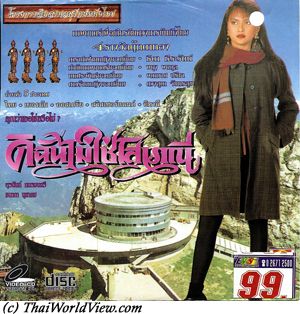 Year

: 1993



Thai title

:

ดิฉันไม่ใช่โสเภณี




English title

:



Rating

: 3/5


Director

: Payoong Payakul



Main actor

: Yuranan PamornMontri


Main actress

: Thida Thidarat



Buy now

:

It is about a young Thai lady leaving her country and going to Germany in order to find a husband through a wedding agency. It shows the harsh life of those ladies dreaming of a prince, the abuse of such wedding agency, the bad behavior of those foreigners wishing to "try" their wives before any wedding. This movie has got four Thai awards and was shot in five countries, i.e. Thailand, Germany, Italy, Switzerland and Austria. Thida Thidarat got the best actress award for this movie.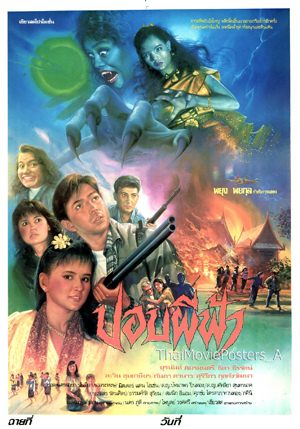 Year

: 1991



Thai title

:

ปอบผีฟ้า




English title

:



Rating

: 3/5


Director

: Payoong Payakul



Main actor

: Yuranan PamornMontri


Main actress

: Thida Thidarat
Thai movie ปอบผีฟ้า was released in year 1991 and lasts 1h24mn. It was released under VCD format by Lepso company. A cable TV version lasts 1h32mn. Thai actors and actresses include Yuranan PamornMontri, Thida Thidarat, รวิน ชุมเกษียร, กันตา ดานาว, สุริวิภา กุลตังวัฒนา, ยอด นครนายก, นันทิกา นวลระหงษ์, Mr แดน โอเซ่น, ด.ญ.ปัทมาพร ปิ่นทอง, ด.ญ.คัทลียา สุนทรนาค, ประภัสสร รัตนศิลป์, ธรรมศักดิ์ สุริยน, สมนึก อีแอม, ศุภชัย ไตรลาภ, ทวนทอง, ภคินี. Movie director is Payoong Payakul. Young villager Manoo (Yuranan PamornMontri) is back to his village with his Bangkokian friends. Villagers respect local spirit Phi Fa (ผีฟ้า). Young ladies Malee (Thida Thidarat), daughter of Malai, and Nuan, daughter of Pa Noi, like Manoo. Pa Noi is a kind of medium (หมอญา / แม่หมอ) and can cure local villagers. At nighttime Phi Fa visits Manoo and asks his help to release her. The next night, spirit Phi Fa visits Pa Noi and possesses her after biting her like a vampire. The next day, many animals are found killed in the village. Pa Noi says she cannot help as spirit Phi Fa needs blood. The Bangkokian people don't believe in this story. Phi Fa kills lady Malai as she was causing troubles to her. Her daughter Malee stays with the village leader family until the situation is better in the village. Nuan sees her mother, Pa Noi, eating human intestines with Phi Fa. One villager sees Pa Noi killing his chicken. Villagers know Pa Noi is a Phi Pop ghost (ผีปอบ) and chase after her. Phi Fa protects Pa Noi and kills two villagers. Villagers flee. Villager Boonting wishes to warn Nuan about her mother but he gets killed before. As Boonting has disappeared, then at nighttime, a big group of villagers and the bangkokian friends surround Pa Noi's home. Villagers search for Boonting. Spirits attack villagers but Malee pushes them back thanks to a sacred amulet. A small group of villagers led by Malee and Manoo gets a mission from the village leader to neutralize Phi Fa. The village leader gives them special knives to kill Phi Pop ghosts. They enter into the deep forest. Luckily, they get help from another spirit lady disapproving Phi Fa behavior. Phi Fa and Pa Noi are defeated.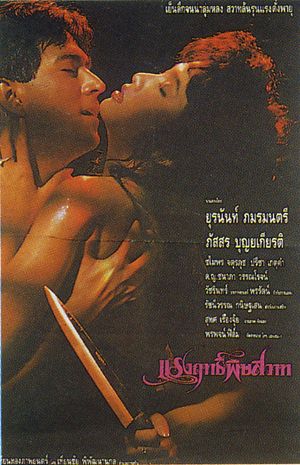 Year

: 1990



Thai title

:

แรงฤทธิ์พิษสวาท




English title

:



Rating

: 3/5


Director

:



Main actor

: Yuranan PamornMontri


Main actress

: Passorn Boonyakiat,Chamaiporn Jaturaput
Narit and Pat are a happy family with one daughter. They have a trip to Pattaya. There Narit meets Jenjira, a lonely beautiful young girl. Narit is doing commercial advertisements. As looking for a model for sport car advertisement, he meets Jenjira again. She seduces him. He starts to party. He was a good husband but starts to misbehave. Jenjira never had a father and her mother died when she was 12. Jenjira is too possessive and crazy. She hurts herself in order that Narit stays longer and takes care about her. Narit and Pat move to a new home. Jenjira wants to see Narit again but he prefers to break up in order to focus on his family and job. Jenjira is heart broken. She starts to call at his home. She announces that she is pregnant and that she will keep the baby. Jenjira shows up at Narit's apartment, which is for sale, and meets his wife feigning interest as a buyer. She blames Narit for having no responsability same as her father. She puts a snake inside their daughter's bird cage. Narit has to say the truth about Jenjira to Pat. Jenjira kidnaps their daughter O but finally releases her. Pat is hurt by a car. Jenjira starts to be violent and try to kill Narit as she is afraid to lose him to Pat. Through a final confrontation, Pat has to shot Jenjira in self-defense. It is the Thai remake of Fatal Attraction with Michael Douglas and Glenn Close.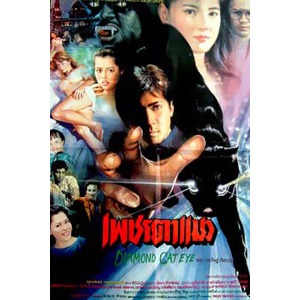 Year

: 1989



Thai title

:

เพชรตาแมว




English title

: Diamond Cat Eye



Rating

: 3/5


Director

:



Main actor

: Apichat Halamjiak,Dam Datsakorn,Yuranan PamornMontri


Main actress

: Thida Thidarat
Thai movie เพชรตาแมว (1989) lasts 1h34mn. Chai (Apichat Halamjiak), Chat coming with his daughter, Dam (Dam Datsakorn) are involved to catch a mystic cat spirit (แมวดำตาเพชร). They wish to get a diamond located in the cat's eyes. Some hunters fail to kill it so they are going in a remote mountain to catch it in his cave. The cat makes the hunters to kill each other. Chat finally gets the diamond and before dying, he asks Chai to give it to his daughter when she is adult. Years have passed. Kong Yot (Yuranan PamornMontri) is a policeman (หมวด) and Chai's good friend. Busarat (Thida Thidarat), Chat's daughter, is the real owner of the diamond. She was raised by Dam. Sia, older man, wishes to marry Busarat but she doesn't love him. Niphon uses a professional masseuse (หมอนวด) as a fake nurse to take care about Chai. He wishes to get the diamond also. But the nurse is thinking about a wedding being interested by the heritage but Kong Yot is around. Kong Yot hires real Busarat as nurse as he knows she is dedicated as he met her before in hospital. Three ladies now claim to be Busarat. One dies by falling in the stairs being shocked seeing somebody disguised like a ghost. Niphon (Kowit Wattanakul) gets blamed as he guaranteed she was real Busarat. Another supposed young lady, foreigner Natalie, asks for the diamond also. She is lover with the house driver. They end up in jail as identified as dishonest people by Kong Yot. Chai finally gives the diamond to another Busaba following nightmares. Chai wishes Busaba's father to be with her. Back to her province, gun shooting happens with Sia as he still wants Busaba to be his wife. Dam is injured during the shooting and Busaba realises she is the real daughter of Chai as she doesn't have the same blood group as Dam. Niphon and fake Busaba are lovers. Finally Niphon's wife, Niphon and fake Busaba kill each other due to greed. Only the real owner can keep the diamond safely. Busaba, identified as Chat's daughter, receives the diamond and following a dream involving the spirit (วิญญาณ), she brings it back to the cave. She can have now happiness with Krong Yot. A former version of this movie was released in year 1972 featuring Phairoj Jaising and Naiyana Shewanan. A TV adaptation through a ละคร was released in year 1999.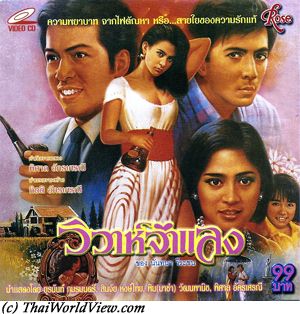 Year

: 1988



Thai title

:

วิวาห์จำแลง




English title

:



Rating

: 3/5


Director

:



Main actor

: Yuranan PamornMontri


Main actress

: Sinjai Hongthai,Marsha,Marasri Bangchang
Two students shall marry when their studies are finished. The boy is going abroad to finish his studies. A nasty teacher drugs and abuses the fiancee in order to force her to marry him. When he is back, his fiancee is married to the nasty teacher. The marriage is a disaster as it is not based on reciprocal love. In order to forget his marriage failure, the nasty teacher seduces the fiance's sister. This is too much for the former fiance...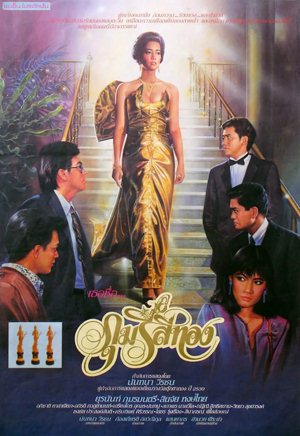 Year

: 1988



Thai title

:

ภุมรีสีทอง




English title

:



Rating

: 3/5


Director

:



Main actor

: Yuranan PamornMontri,Kriengkrai Unhanan,Apichat Halamjiak,Wittaya Sukdamrong


Main actress

: Sinjai Hongthai,Apiradee Pawaputanon,Natanee Sitthisaman,Sarinthip Siriwan
Nam Pheung (Sinjai Hongthai) and Payon are in love. Payon needs to go overseas to study. While rowing on a lake, a storm happens so they take refuge in a small cabana. They become lovers. On the day of leaving overseas, while meeting Nam Pheung at the train station, Payon is hit by a train and dies. Veteran actress Natanee Sitthisaman is the one who warns Nam Pheung. Shocked and while walking along the path, she is kidnapped by two songthaew drivers and raped. Shortly after their wrongdoing, they both die in a traffic accident. Nam Pheung's father is played by veteran actor Wittaya Sukdamrong. The movie ภุมรีสีทอง (the golden queen bee) is narrating the story of a woman that causes the death of all her lovers. Will she ever find true love? This movie received three Thai awards.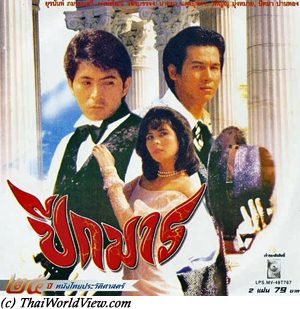 Year

: 1987



Thai title

:

ปีกมาร




English title

:



Rating

: 3/5


Director

:



Main actor

: Yuranan PamornMontri,Phongphat Wachirabanjong


Main actress

: Nardtaya DaengBunga
Salai is in her thirties. She is pregnant and is about to deliver. Her husband Phu is staying with his mother. His mother is very possessive and doesn't like Salai. She even don't trust her to educate her own baby. She makes life a hardship for everybody up to the point Salai is fed up and asks for divorce. She finally takes a break and goes back to Isan to work as archaeologist at an old Khmer temple (Prasat Hin Khao Phanom Rung). She meets a young man in his twenties called Laiseu, who immediately loves her. He is courting her but she refuses. She comes back to Bangkok. The mother wants to force the divorce. Phu is weak with his mother and always listen to her. Laiseu continues his courtship with Salai but nothing happens between both. One day, Phu sees Salai and Laiseu together so believes she is unfaithful to him. Phu hits Salai very hard and rapes her. She is sent to hospital. Her lawyer friend suggests her to sue her husband. In 1980s Thai society it was unbelievable to sue a husband for such motives as it was considered as private couple issues. Only in 2007, The Thai national assembly has passed into law the nation's first marital rape bill. Salai now carries a gun to protect her-self. Laiseu also asks Phu to leave Salai alone and without troubles. Finally for the sake of their child, they reunite and Phu finally speaks strongly with her mother in order to get his independance. This movie was adapted later to a Thai TV serie (ละคร).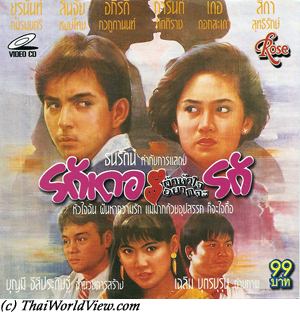 Year

: 1987



Thai title

:

รักเธอถ้าหัวใจอยากจะรัก




English title

:



Rating

: 2/5


Director

:



Main actor

: Yuranan PamornMontri


Main actress

: Sinjai Hongthai,Apiradee Pawaputanon
A woman becomes suddenly very rich after a legacy. Many men are trying to seduce her. A notorious womaniser is also trying and almost win her heart. But the woman discovers this bad reality and breaks up. The man decides to change his behavior and tries to reconquest her. Will he succeed?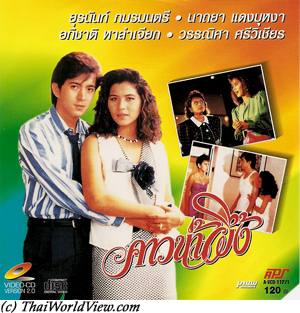 Year

: 1987



Thai title

:

คาวน้ำผึ้ง




English title

:



Rating

: 2/5


Director

:



Main actor

: Yuranan PamornMontri,Apichat Halamjiak


Main actress

: Nardtaya DaengBunga,
After a few years abroad, a man is coming home to Thailand. His former fiancee is now married to another man but the marriage is a failure. Will they ever find happiness together?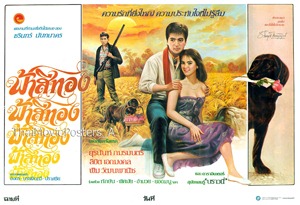 Year

: 1987



Thai title

:

ฟ้าสีทอง




English title

:



Rating

: 3/5


Director

: Charin Nantanakorn



Main actor

: Yuranan PamornMontri,Likit Eakmongkol,Taksin Jampol


Main actress

: Marsha,Pissamai Wilaisak
Thai movie ฟ้าสีทอง was released in year 1987 and lasts 1h48mn. The movie was shown on True Thai film cable TV channel. Movie is directed by Charin Nantanakorn. Young man Yothin is taking care of a huge agricultural domain. His dream is to have it becoming prospere (สีทอง) instead of being barren. His dog is even named as Si Thong. His parents (including Pissamai Wilaisak) are leaving in the city. Yothin is waiting for his brother Yuratit (Yuranan PamornMontri) to be back from England to help him. Pho Lieng Panat (Taksin Jampol) and his daughter Nit (Marsha) are living in the opposite domain. PhoLieng Panat and Yothin have often being in conflict before. Yothin is found shot dead. Yot (Likit Eakmongkol), domain intentant, suspects Pho Lieng Panat but he has no proof. Yuratit promises to continue what his brother started and to find who killed his brother. Yuratit helps young lady Nit whose vehicle is stuck in mud but Yot and also the father Pho Lieng Panat disapprove as each side sees each other as enemy (ศัตรู). The father Panat goes overseas for two weeks so Yuratit and Nit sympathise. A fire is lit in Nit's farm. Yuratit comes to help and saves a kid being endangered during a fire. Yot is the one, who started the fire, as he still believes Pho Lieng Panat killed his boss Yothin. Romance starts between Nit and Yuratit. Yot looks like not being happy with this relationship. Three ruffians tried to steal the money inside the safe of Nit's company. Nit suspected that those ruffians also lit the fire but finally she learns that Yot started fire in her farm's hangar. Nit believes orders are coming from Yuratit. The father is back and forbids to Yuratit to enter his farm (ไร่) anymore. Yuratit's parents visit the farm while Yuratit is away in the farm fixing the domain. While visiting the farm by carriage, the horse gets nervous as Nit uses her riffle to chase cattle away. The father is injured by falling from the carriage. Nit visits him every day as she feels guilty. Later, on Panat, Nit's father, is shot and injured. Panat believes Yuratit and his father are behind this shooting. Yuratit and his father visit Pho Lieng Panat to clear all the misunderstandings. Panat assures he has nothing to do with Yothin's death. Yuratit then suspects Yot. The two men fight as Yot is willing to get the whole domain for himself. Yot kept pushing both domains against each other. Yuratit is injured but Nit also injured him before he can kill Yuratit. Yot flees but the dog Si Thong revenges his master Yothin. Peace is back in both domains.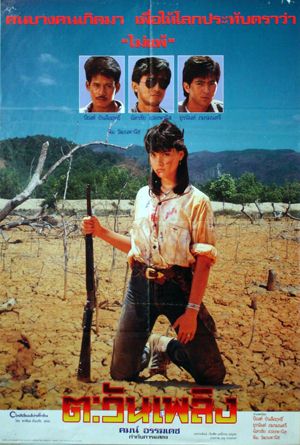 Year

: 1987



Thai title

:

ตะวันเพลิง




English title

:



Rating

: 4/5


Director

: Kom Akadej



Main actor

: Chatchai Plengpanich,Yuranan PamornMontri,Bin Banleurit


Main actress

: Marsha
Thai movie ตะวันเพลิง was released in year 1987 and lasts around 1h44mn. Movie is available under VHS format. Movie director is Kom Akadej. Vin (Chatchai Plengpanich) is a hunter group leader. They hire Chon as a driver but Chon (Bin Banleurit) is upset with the hunters' behavior as they shoot cattle. Young lady Rung Tawan (Marsha), owner of a ranch and raising cattle, is leaving alone. Patana (Yuranan PamornMontri) is her former husband and business partner but they split. Patana is alcoholic and useless. Rung Tawan finds that people went on her domain as she finds beer cans, cigarette packets and one cattle was killed. Police is not helping. She suspects a group of hunters led by Vin. She has strong arguments with them as she asks for compensation. No weapons are found in their car as they were hidden in their camp. Following a car chase with Rung Tawan, one ruffian is slightly hurt so they take revenge by putting snakes and mice in her home. But one of the hunters wants a bigger revenge. Chon tries to calm them down but to no avail. So at nighttime, they use fireworks to frighten her and break her windows. She runs away but they chase her by motorbike. Chon rescues her. On the next day, Patana is surprised to find Chon being at Rung Tawan's side. Being drunk, he did not help and is now jealous. Hunters chase her again and try to rape her. Patana takes a rifle but as he is shaking and is afraid, he flees away. Hopefully, Chon helps Rung Tawan again. Rung Tawan slaps Patana for being a useless drunkard and coward. Hunters are upset by Chon's behavior. Vin's girlfriend tries to entice Chon by provoking him. Being upset, Vin has a fight one to one with Chon. Chon is chased from the group and has to leave his knife, shoes behind per Vin's threat. Rung Tawan, taking her rifle, storms the hunters' camp. Shooting occurs. Rung Tawan shoots their car tank reservoir and it explodes. She flees away. Chased by hunters, she gets help from Chon. They get split inside a hangar. Police announces that the hunters left the area. Patana tries to stop drinking alcohol and finally succeeds. Chon is back and Rung Tawan takes care of him as he is weak. Rung Tawan has to choose between Chon and Patana. Hunters are back (คิดบัญชี). Epic final fighting does occur between Chon, Rung Tawan, Patana and the ruffians led by Vin...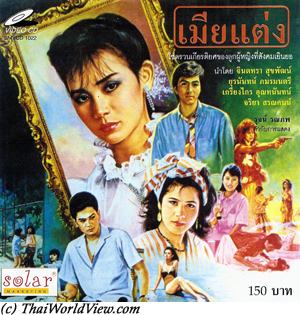 Year

: 1986



Thai title

:

เมียแต่ง




English title

:



Rating

: 4/5


Director

: Ruj Ronnapop



Main actor

: Kriengkrai Unhanan,Yuranan PamornMontri


Main actress

: Jintara Sookkapat,Pissamai Wilaisak,Sarinthip Siriwan,Phong Lada Pimolpan,Wilaiwan Watthanaphanit,Anchalee Chaisiri
Thai movie เมียแต่ง was released in year 1986 and lasts 1h53mn. It was released under VHS format and also under VCD format by Solar. Movie director is Ruj Ronnapop. Guest stars are Phong Lada Pimolpan and Wilaiwan Watthanaphanit. KongKrai (Yuranan PamornMontri) and Plung (จริยา สรณคมน์), liberale and modern lady, are having a relationship. Plung doesn't want to marry despite KongKrai's request. She enjoys free sex. KongKrai's mother is Pissamai Wilaisak. Prai (Jintara Sookkapat), young lady, and Plung know each other. The mother chooses Prai as wife for her son KongKrai. Plung is going to America. Chom (Kriengkrai Unhanan), ปลัดอำเภอ, wished to marry Prai. Prai doesn't want to break Chom's wedding. Chom's wife is pregnant despite they are separated. Aunt Lam (Sarinthip Siriwan). KongKrai doesn't want to marry Prai but wedding happens due to gratitude obligation (บุญคุณ) between families. Clash occurs between KongKrai and Prai. They finally marry. KongKrai keeps drinking on the wedding day. Chom wishes the best to the newlyweds. First night is a disaster. Back from America, Plung learns that KongKrai is married. Back to his work, Plung kidnaps KongKrai. It is traditional wife versus modern wife. Prai prepares clothes, does the cooking. It is an arranged wedding but the mother Pissamai tried to find the best wife for her son. Plung is acting for a divorce. Prai and Plung meet for the first time officially since Prai is married. Plung brings drunk KongKrai back home and stays over night! Pissamai calls her นางบำเรอ. It is เมียแต่ง versus เมียไม่แต่ง. Progressively KongKrai starts to see Prai's kindness and endurance. Being often drunk, he forces his way to his Prai's room during the night. Chom has divorced. Pissamai refuses a divorce between Prai and KongKrai. The mother finally accepts but she asks KongKrai to give her 5M Baht! While KongKrai being drunk again, he is offered the virginity of a poor student for 10k baht (ความบริสุทธิ์). Realizing his mistake, he gives 10k Baht to the student for her to recover her debts and pay her final studies quarter. KongKrai is old sin (กรรมเก่าของ) of Prai. KongKrai brings Plung to Japan. KongKrai starts to be jealous of Chom. Willing to improve situation with Prai and fed up by Plung's continuous jealousy crisis, KongKrai brings his wife Prai out for diner. Plung erupts on the house and announces she is pregnant. Prai agrees to divorce for Plung's child to have a father. Prai doesn't want a single baht as compensation. KongKrai is unable to take a decision. He doesn't want to divorce his good wife but is pushed by his responsibilities of future father. Seeing Prai being sick, Chom brings her to hospital and Prai is diagnosed as pregnant. Meanwhile after enquiries, KongKrai finds that Plung is lying. She is not pregnant. Willing to announce the good news to Prai, he is rejected by her and learns from Chom that she is pregnant! Despite knowing she was pregnant, Prai (เมียแต่ง) sacrificed herself towards Plung (เมียน้อย). Knowing she is losing KongKrai, Plung rushes and brings a gun. KongKrai interposes to protect Prai and is shot. Prai forgives to KongKrai and they can have a happy married life.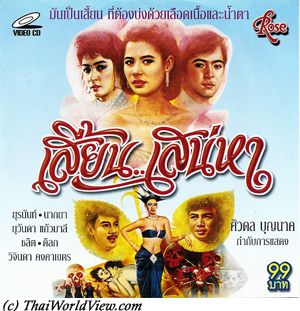 Year

: 1986



Thai title

:

เสี้ยนเสน่หา




English title

:



Rating

: 1/5


Director

:



Main actor

: Yuranan PamornMontri


Main actress

: Nardtaya DaengBunga
An Asian young woman is working as a maid for a Thai man. He finally wants to marry her and recognizes her daughter as his daughter. Due to problems, he has to flee and disappears. Before he organizes a false wedding with his associate in order for him to take care of his new family. The former associate finally tries everything to get all his whole wealth, even by pushing the daughter against the mother.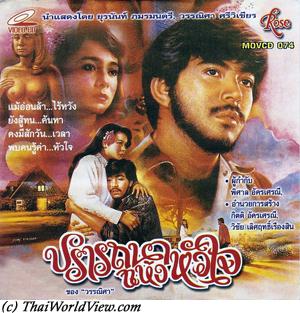 Year

: 1986



Thai title

:

ปรารถนาแห่งหัวใจ




English title

:



Rating

: 2/5


Director

:



Main actor

: Yuranan PamornMontri,Pisarn Akraseranee


Main actress

:
A mother-in-law gets rid of her daughter-in-law by pushing her in a waterfall. She wants to promote her lazy son as company CEO. But the daughter-in-law is rescued by an artist, who is heart-broken. Love emerges between both and wrong doers get punished.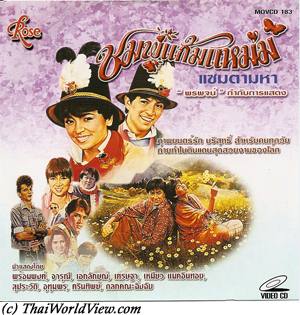 Year

: 1986



Thai title

:

ชมพู่แก้มแหม่ม




English title

:



Rating

: 3/5


Director

:



Main actor

: Yuranan PamornMontri,Lor Tok,Settha Sirachaya


Main actress

: Jarunee Sooksawad
A mother is separated from her Thai husband and move to Austria with her daughter. During her childhood, the daughter has also a half-Thai friend. When growing up, the daughter wants to know her Thai father and decide with her best friend to gather the money to buy the air ticket to Thailand. They try different opportunities (play Molam, simulate red cross helpers, get money from wish fountains).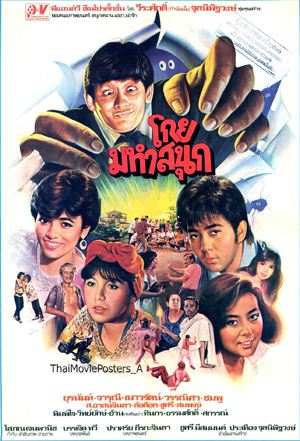 Year

: 1986



Thai title

:

โกยมหาสนุก




English title

:



Rating

: 3/5


Director

:



Main actor

: Yuranan PamornMontri,Sompong Phonmitr,Lor Tok,Sor Asanajinda


Main actress

: Naowarat Yooktanun,Jarunee Sooksawad,Chosri Misommon
Thai movie โกยมหาสนุก was released in year 1986 and lasts 1h42mn. It was shown on True Thai Film cable TV. Actors and actresses are Sompong Phonmitr, Yuranan PamornMontri, Naowarat Yooktanun, Jarunee Sooksawad, Chosri Misommon, วรรณิศา ศรีวิเชียร, ชมพู ฟรุตตี้, พิมพ์ใจ พรหมมาลี, วิทย์ยักษ์, อ้วน (หงจินเป่า), ทินกร, ธรรมศักดิ์, สกรรณ์.. This movie is a mix of light horror and comedy. An antic shop is managed by Sompong Phonmitr with Nat (Yuranan PamornMontri) support. Nat meets customer Sopha (Naowarat Yooktanun). Nat's girlfriend is Devalee (Jarunee Sooksawad). Aunt Chosri Misommon doesn't like Nat as he is a bit awkward and he is only a seller of old stuff. Sopha comes to consult master (อาจารย์) Lor Tok. Master Lor Tok claims Nat is her soulmate (เนื้อคู่) so she decides to seduce him. Sopha invites him for dinner so he has to run between Devalee's birthday party and Sopha. Nat has to go as Sopha is a good customer of the antic shop. She calls him boyfriend (แฟน). Devalee follows Nat to know the truth. Undertaker Sor Asanajinda warns Sopha not to disturb Nat anymore but she refuses. Sopha hires thugs to threaten Devalee. Krieng (ชมพู ฟรุตตี้), her younger brother, is shot while trying to protect her. Thugs decide to burn the body to avoid any revenge from the spirit but they have to flee as Sor and Devalee arrive. Krieng, as a ghost, visits her sister. Sopha hires thugs to kidnap Devalee but Krieng spirit stops them. Announcing they are facing a ghost, Sopha agrees to hire master Lor Tok. Lor Tok fails and gets stabbed by Krieng. Devalee refuses to incinerate Krieng's body until he gets his revenge. Devalee and Nat meet Krieng but uncle Sor refuses to believe them. Sor checks the body while all friends are going to the disco. Krieng punches some ruffians. Finally Sor understands that Krieng's spirit is around! As ruffians wish to get rid of the family and Krieng by burning the house to prevent the spirit from harassing them, Krieng has to intervene and to kill the ruffians by burning them alive. Police suspect uncle Sor. Ruffian's head and Sopha hire a new occult master (หมอผี). They kidnap Devalee to attract Krieng. Nat and his friends succeed to release Devalee. Meanwhile Krieng kills the remaining ruffians and Sopha becomes crazy. Krieng can leave (ลาก่อน) as he has taken his revenge.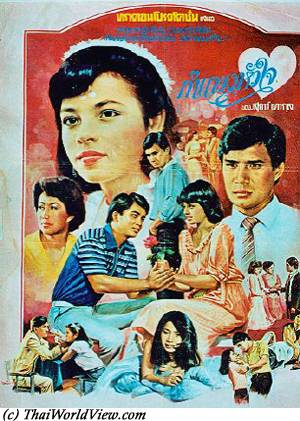 Year

: 1981



Thai title

:

กำแพงหัวใจ




English title

:



Rating

: 3/5


Director

: Sor Asanajinda



Main actor

: Sorapong Chatree,Sor Asanajinda,Yuranan PamornMontri,Sukon Koewliam


Main actress

: Jarunee Sooksawad,Thitima Sangkapitak,Pissamai Wilaisak,Metta Roongrat,Chosri Misommon
A theater (โรงละคร) employing veteran actors is closing. One of the main actress, Valla, finds herself out of job. Uncle Pongpat (Sor Asanajinda), one of his fan, asks Walla (วัลลา) for wedding. Valla (Pissamai Wilaisak) has already two young children, i.e. Viraya (วีรยา) (Jarunee Sooksawad) and Chat. Pongpat has also two young children already, i.e. Tor (Sorapong Chatree) and Athon (อาทร). Valla was an actress (เล่นลาคร) so Athon always underestimated Viraya and Chat. They never got along. Children have now grown up. Athon has studied overseas and developed a passion for painting. Back to Thailand, he meets a young lady and loves her immediately. He is not aware that she is Viraya! He keeps chasing her. In fact Athon and Tor love the same woman, Viraya. Ton has its own gallery and insists to make a painting (เขียนภาพ) of Viraya. Tor is not aware who Athon is now painting. Busamalee (บุษมาลี) (Thitima Sangkapitak) is another lady fond of Athon also. Athon now believes Tor and Viraya are already sweethearts (คู่รัก) so he wishes to go back studying abroad as soon as possible. Busamalee is disappointed when realizing Athon doesn't love her. Ton is now aware that Viraya is Valla's daughter. Athon has often craziness crisis. So Athon is violent with Viraya believing she lied to him on purpose. He rapes her in his painting gallery. Busamalee also goes to study abroad. Viraya tries to get suicide. Tor suspects a man behind but Viraya refuses to tell who by refusing to disclose what is deep buried in her heart (กำแพงหัวใจ). To avoid any further suicide tentatives, Tor decides to marry Viraya as soon as possible. Tor discovers Viraya's portrait in Athon's room so now understands the truth. Pongpat has a heart attack when learning this and dies. Athon becomes the new house owner. Viraya delivers a boy but the child dies during the delivery. Tor asks Viraya to forget the past but she cannot. Athon is back from overseas with Busumalee. They are engaged. The painting gets an award so Busumalee knows something has happened between Athon and Viraya. She is upset and spent the night out. She spends the night with Chat, Viraya's brother, who revenges her sister by sleeping with Athon's fiancee. Viraya and Athon finally meet. Athon tries to abuse Viraya again, claiming he always loved her, but she fights back successfully. She can now really forget Athon and enjoy happiness with Tor. The movie กำแพงหัวใจ is Yuranan PamornMontri's first movie.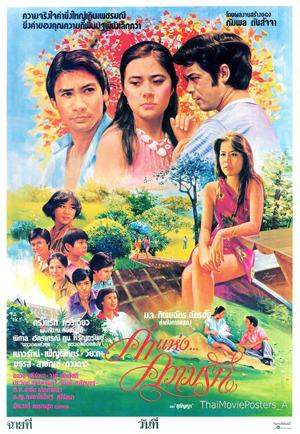 Year

: 1981



Thai title

:

ค่าแห่งความรัก




English title

:



Rating

: 3/5


Director

: ม.จ.ทิพยฉัตร ฉัตรชัย



Main actor

: Toon Hiransap,Pisarn Akraseranee,Sayan Chantaraviboon,Yuranan PamornMontri


Main actress

: Penpak Sirikul,Naowarat Yooktanun,Wiyada Umarin,Duangdao Jarujinda
Thai movie ค่าแห่งความรัก was released in year 1981 and lasts 1h36mn. Movie director is ม.จ.ทิพยฉัตร ฉัตรชัย. Actors and actresses featured are Toon Hiransap, Penpak Sirikul, Naowarat Yooktanun, Wiyada Umarin, Pisarn Akraseranee, Sayan Chantaraviboon, Duangdao Jarujinda, Yuranan PamornMontri, มธุรส รัตนา, ฉลวย ศรีรัตนา, วงศ์ ศรีสวัสดิ์, ประวิตร สุจริตจันทร์, จันตรี สาริกบุตร. Doctor Kengkrai (Toon Hiransap) is always drunk. This is due to his wife Pakpong (Penpak Sirikul) having external affairs but he is unable to divorce her as they have two kids. Sura (Naowarat Yooktanun) is Pakpong's younger sister. Piplin (Wiyada Umarin) is the eldest sister. Sut (Pisarn Akraseranee) helps Kengkrai as he has a car accident and is unable to drive drunk. Sut and Sura have arguments. Sut is hired by Kengkrai as driver and as a helper for his children. Kengkrai has two children but his wife is not taking care of them. Uncle Sut becomes a second father for the children, Moo and Maew. Arguments happen between Sut and Pakpong as she is jealous of him, being loved by her children. Sayan Chantaraviboon, from a rich Thai southern family, greets Sut. Doctor Kengkrai still has a big domain. The doctor has to sell his land as he needs money to pay his wife's debts. Phi Luang, brother in law, wishes to buy the land. Kengkrai has concerns selling the land as it belongs to his children. A mysterious rich man from south of Thailand, Khun Paradon, buys the land for 5M THB by offering higher bid than Phi Luang. The land will remain under Moo and Maew names. The brother in law is upset. Sut is upset against the rich people (ผู้ดี) as Sura listens to him (สัตว์ป่า) talking to Yot. A lost letter indicates Pakpong's bad intentions towards the doctor. Her lover finds the letter and threatens to disclose everything as she wishes to break up. Sut forces the lover to give back the letter and to disappear. Sut has a strong character. He succeeds to clear all issues and problems. Pakpong promises to change (แม่ที่ดีต่อไป). A romance between Sut and Sura is about to start (ไม่กลัวแต่ไม่ไว้ใจ). Paradon (Yuranan PamornMontri) is coming to meet Sura and asks her hand. Piplin gets beaten by her brother and the mother is upset as Pakpong didn't privilege her own family for the land sales. The mother thinks about money only. Paradon challenges Sura on the land. The real Paradon is Sut, who is doing tricks to check Sura's real heart. Sut's secret is finally disclosed and romance can blossom.
---