Increase or decrease font size for easier reading : A+ A-
Yotsoi Komarachoon
Yotsoi Komarachoon (196x) - ยอดสร้อย โกมารชุน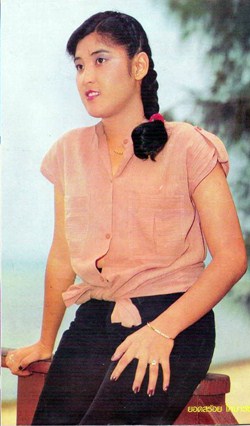 Yotsoi Komarachoon played in 11 movies. She is the daughter of actress Preeya Roongrueng and director Sen Komarachoon (เสน่ห์ โกมารชุน). She played in movies ครูขาหนูเหงา (1978), พรุ่งนี้ฉันจะรักคุณ (1980), มันมือเสือ (1980), ค่าน้ำนม (1981), นักเลงโตเมืองอีสาน (1982), พยัคฆ์ทมิฬ (1983), พลิกแผ่นดินล่า (1984), เปิดโลกมหาสนุก (1985), ขบวนการคนใช้ (1986), ไอ้งอดยอดทหาร (1986), เรารักกันนะ (1989)
This Yotsoi Komarachoon movie page contains 3 records.
---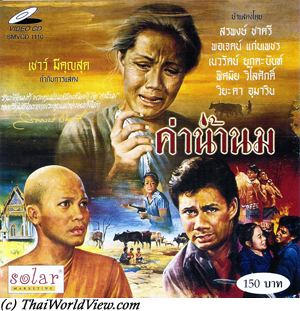 Year

: 1981



Thai title

:

ค่าน้ำนม




English title

:



Rating

: 5/5


Director

:



Main actor

: Sorapong Chatree,Porjed Kaenpetch


Main actress

: Pissamai Wilaisak,Naowarat Yooktanun,Wiyada Umarin,Yotsoi Komarachoon



Buy now

:

It is a remake of the movie ชายผ้าเหลือง shot in 1974. The story is about the love of a mother towards her two sons, Khun Thong and Salika. Khun Thong, in self defense, shots Na khan, who previously killed his father 10 years ago and also injured his mother during a recent raid. The mother's love becomes painful because Khun Thong has become an outlaw. This movie has similar scenario to the version shot in 1974 but it focus more about the mother suffering. Na Khan's son used Khun Thong's name to raid other houses so Khun Thong has no way to quit. Khun Thong is a Thai Robin Wood and gives help to the poorest. Khun Thong is still a good son and keeps the money he robs for his mother and for his younger brother to enter monkhood. Rejected by both his mother and brother who refuse dirty money, Khun Thong decides to work as a peasant and carpenter to earn money from his hard work. But fate is against him. His girlfriend is trapped by Na khan son's gang, raped and killed. Khun Thong is accused again. His mother is disappointed by his behavior, saying it was not worth to educate him for becoming an outlaw and that feeding milk to him (ค่าน้ำนม) was such a waste. He becomes an outlaw again to catch Na Khan's son. He wants his teammates to surrender and become good people. Finally he catches Na Khan's son, who recognizes all the evil he has done over Khun Thong's name. It is too late as her mother doesn't want to talk to Khun Thong anymore. Willing to die, he misbehaves a last time to force his mother to shoot him. Before dying, Khun Thong and his mother confirm their filial love and Khun Thong can grab Salika's yellow robe as his brother has become a monk. It is certainly one of the best role of Sorapong Chatree.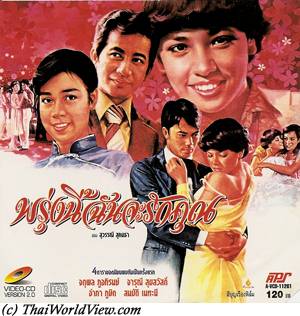 Year

: 1980



Thai title

:

พรุ่งนี้ฉันจะรักคุณ




English title

:



Rating

: 3/5


Director

: Phan Kam



Main actor

: Sombat Methanee,Jatuphol Poopirom


Main actress

: Jarunee Sooksawad,Ampha Pusit,Yotsoi Komarachoon



Buy now

:

A man called Non helps a woman, called Oon, drugged by a taxi driver, who wants to rape her. Oon believes that Non raped her and flees. Non loves Oon but cannot find her anymore as she leaves for France. Oon's sister meets Noon and is fond of him. Non asks her in marriage. When Oon comes back from France, many confusions happen until love emerges between Non and Oon.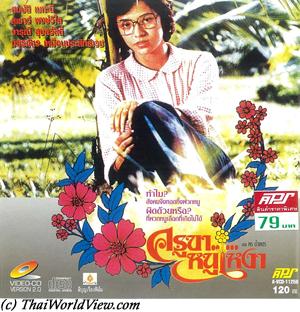 Year

: 1978



Thai title

:

ครูขาหนูเหงา




English title

:



Rating

: 3/5


Director

: Phan Kam



Main actor

: Sombat Methanee,Suchao Pongwilai


Main actress

: Jarunee Sooksawad,Mayurachath Muarnprasitivej,Yotsoi Komarachoon
Wannee is a ลูกครึ่ง or "luk kreung", i.e. half Thai and half foreigner. Her mother is Thai but she doesn't know who is her father. She is staying in an internship who other girls. Her mother, who is a "rented wife" (เมียให้เช่า), visits her from times to times. She is often seen with a different foreigner so many teens laugh at Wannee. Wannee's mother is doing such job to pay for her daughter school. Some of Wannee's friend have also problems, one girl has no official parents, one is half Thai half American from a black US sailor that quit Thailand after Vietnam war. Thirty years ago, half Thai / half foreign kids were not as popular as nowadays. Another girl seems to have a normal family but her parents don't love each other, have no time to get interest in their daughter and just stay together for appearance. Fed up by mockeries, Wannee rejects her mother. Later on, Wannee starts to get blind. She realizes that her mother was finally a good caring mother. Her mother is now dying of an uterus cancer. Why children have to bear with their parents' decisions and mistakes?
---