Increase or decrease font size for easier reading : A+ A-
Wittaya Sukdamrong
Wittaya Sukdamrong (19xx) - วิทยา สุขดำรงค์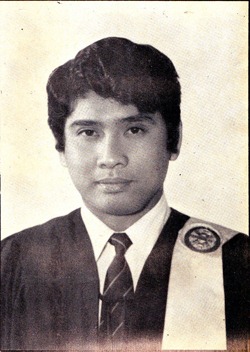 Wittaya Sukdamrong
This Wittaya Sukdamrong movie page contains 6 records.
---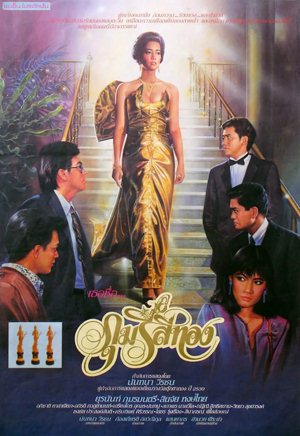 Year

: 1988



Thai title

:

ภุมรีสีทอง




English title

:



Rating

: 3/5


Director

:



Main actor

: Yuranan PamornMontri,Kriengkrai Unhanan,Apichat Halamjiak,Wittaya Sukdamrong


Main actress

: Sinjai Hongthai,Apiradee Pawaputanon,Natanee Sitthisaman,Sarinthip Siriwan
Nam Pheung (Sinjai Hongthai) and Payon are in love. Payon needs to go overseas to study. While rowing on a lake, a storm happens so they take refuge in a small cabana. They become lovers. On the day of leaving overseas, while meeting Nam Pheung at the train station, Payon is hit by a train and dies. Veteran actress Natanee Sitthisaman is the one who warns Nam Pheung. Shocked and while walking along the path, she is kidnapped by two songthaew drivers and raped. Shortly after their wrongdoing, they both die in a traffic accident. Nam Pheung's father is played by veteran actor Wittaya Sukdamrong. The movie ภุมรีสีทอง (the golden queen bee) is narrating the story of a woman that causes the death of all her lovers. Will she ever find true love? This movie received three Thai awards.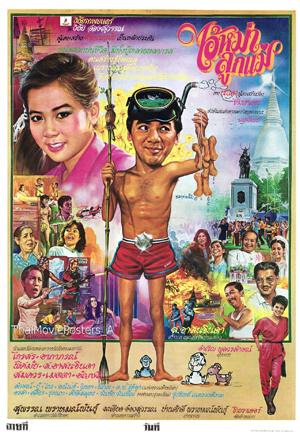 Year

: 1984



Thai title

:

ไอ้หม่าลูกแม่




English title

:



Rating

: 5/5


Director

: Sor Asanajinda



Main actor

: Somkuan Krajangsat,Lak Apichat,Boo Wibunnan,Sor Asanajinda,Pipop Pupinyo,Krai Kanchit,Wittaya Sukdamrong


Main actress

: Pissamai Wilaisak,Orasa Isarangkul,Metta Roongrat,Apaporn Kornthip,Malee Wetpraseri,Anchalee Chaisiri
Thai movie ไอ้หม่าลูกแม่ was released in year 1984 and lasts around two hours. The TV cable version lasts 1h40mn and the VHS version lasts 1h42mn. They include various different sequences so the original movie should last around two hours. Sor Asanajinda is movie director. This movie is a drama comedy movie. This movie features many actors and actresses including ด.ช.ไอ้จุก (แห่งขวานฟ้าหน้าดำ), ศศิธร, รุ่งนภา กลมกล่อม, ศักดิ์สมุทร, วันชัย วันเพ็ญ, new actress รุ่งทิพย์ เนตรวงศ์งาม. Father Nio (Somkuan Krajangsat) is married to Yui (Pissamai Wilaisak). They have two children, i.e. a daughter called Nuan (Orasa Isarangkul) and a boy called Neun (ไกรสร แสงอนันต์). Nio is very avaricious and complains that his wife is doing temple donations too often (ทำบุญ). Another family has lady See (Metta Roongrat) as family leader. She has two children i.e. Oi (Lak Apichat) and Pae (Apaporn Kornthip). Neun is going to temple fair with Pae. See wishes her daughter Pae to marry Boo (Boo Wibunnan), a rich but old bachelor. The two families are always in conflict so a wedding between Neun and Pae is a challenge to happen. Sor Asanajinda and Malee Wetpraseri visit relatives with their daughter Kaet (Anchalee Chaisiri). Kaet (นางฟ้า) shall stay in countryside a few months as she is pregnant... Pae is also pregnant with Neun. Father Nio refuses to pay the dowry (สินสอด). See asks for 10,000 THB. Nio only offers 1 baht! Finally, Yui steals 5,000 THB from her husband. Oi steals 5,000 THB from his mother See. So, wedding can happen. But due to Nio and See conflicting, it fails and both Neun and Pae are chased away from their families as they stole money from their parents. Thanks to a recommendation, Neun finds a job by working for Pipop Pupinyo. Kaet goes back for Bangkok and leaves the child behind. As there is a need for money to pay for house windows, Neun asks Pipop for money advance. His wife agrees but she asks for endearment from Neun. Pipop comes back home and fighting occurs with Neun. The wife tries to interpose and gets stabbed by accident. Pipop accuses Neun of having murdered his wife. Neun must flee. Pae and Neun's child is born. Krai (Krai Kanchit) and Pipop commit burglary and murders under the name of Neun. See, Pae's mother, is indebted by playing cards. See and Oi arrange a wedding with Boo. They lie that Neun has a new wife to convince Pae. It makes Neun upset. Wittaya Sukdamrong recommends him to calm down. Neun needs to flee police called by Oi. Neun takes refuge in Bangkok in Kaet's family as a car driver. Kaet's husband, Anoon (อนันต์ สัมมาทรัพย์), has another wife so Kaet is heartbroken and Sor recommends her to build a new life (ตั้งต้นไม้). Oi sympathises with Kaet's husband being a teacher. หมอเสน่ห์ is hired by Pae's family so Boo fires them. A romance between Kaet and Neun happens. Grandma Malee doesn't accept it. Nio is killed by Krai following an external affair. Yui's house is burgled. Neun arrives too late but hopefully Nio's money was well hidden. Neun meets Pipop and Krai fleeing after the robbery. They finally shoot each other unable to share the money. Yui, Neun's mother, sends a parade to ask for Kaet's hand. Neun gives 100,000 THB as promised for Kaet's hand and builds a big house on the land given by Sor. During a drinking session, Anoon discloses to Oi, that Neun is a stupid countryside man as he is marrying Kaet while both of her children are from himself! Despite having university diploma, Anoon behaves badly and the diploma has no value (กระดาษชำระ) as it didn't teach him to behave correctly in life. Informed by Oi, Neun keeps drinking and meets Pae, working in a club as partner. Pae ended up as Prostitute (กะหรี่) and lost her childcare. Anoon even receives 100,000 THB from Sor to keep quiet. Anoon gets beaten by Neun but is only worried about the money. Upset that Kaet lied to him (หลอกลวงเขา), Neun burns the new house (ไฟไหม้เรือนหอ) and surrenders to the Thai Police. Before being arrested, Neun asks Kaet to give money to Pae every month so that she can stop working and take care about their child. This movie highlights poor people versus rich people. Poor people have better heart than rich people.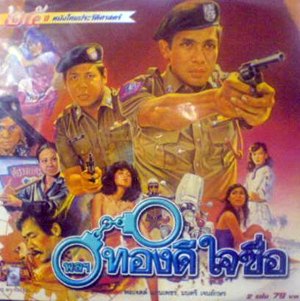 Year

: 1982



Thai title

:

พลฯ ทองดีใจซื่อ




English title

:



Rating

: 5/5


Director

: ยอด มาลา



Main actor

: Porjed Kaenpetch,Tuanton Kammeesri,Somchai Samipak,Krailat Kriengkrai,Wittaya Sukdamrong


Main actress

: Moeifa,Anchalee Chaisiri
Thai movie พลฯ ทองดีใจซื่อ was released in year 1982 and lasts 1h43mn. It was released under VCD format by Lepso company. Movie director is ยอด มาลา. This is a social movie about Thai police (หนังสะท้อนชีวิต). Actors and actresses are Porjed Kaenpetch, Tuanton Kammeesri, Somchai Samipak, Krailat Kriengkrai, Moeifa, Montree Jenuksorn (มนตรี เจนอักษร), Wittaya Suk Damrong, Anchalee Chaisiri. The movie took place during Bangkok 200 years anniversary. Somchai Samipak welcomes a new promotion of fresh policemen including Thongdee, Samak, Krailat. They work in parallel with experienced policemen. Three addicts kidnap a child and ask for a car to flee. Child is released and Thongdee (Porjed Kaenpetch) even saves one of the ruffians jumping from the bridge. One policeman has seventeen years' experience but never took bribes to make additional revenue (มือสะอาด) or additional job to make ends meet. Some policemen accept bribery and let truck drivers to go even if they committed infraction. Police inspector's wife (Anchalee Chaisiri) doesn't follow law. Thongdee and his colleague have issues with her but her husband Tuanton Kammeesri agrees with the policemen's actions. Tuanton Kammeesri got his position thanks to his wife. She is upset and is having an affair with drug addict. Krailat Kriengkrai is a policeman drinking alcohol. Thongdee and his colleague have issues with a child of a deputy. Rich kid believes relations can help them to avoid police. His mother is Moeifa (คุณหญิง). Even Thongdee's boss is on Moeifa's side and is blaming his own men. The deputy finally forces his wife and son to apologize. He blames the police boss saying that people, who build the country, are not the police inspector who stays in the air-conditioned room. Thongdee and nurse Duangjai are going to marry. Unfortunately, Thongdee is shot while police is trying to catch some robbers. Thongdee cannot speak anymore due to the injury and has to leave Thai police. Policeman salary (เงินเดือนหลวง) is very low. Two policemen families are living in a slum. One policeman, Samak, is fair. The other one is corrupted and gets extra money by getting money from citizen. Samak's wife is fed up with her poor life and is seeing the corrupted policeman enjoying good life. Thai police help citizen and ensure law is applied (ระเบียบกฎหมาย). Police catches one deputy's wife who was playing cards. Thai police helps a pregnant woman and a birth happens in a police car. Two Thai policemen save a lady wishing to get suicide as her husband has a minor wife. Finally, the corrupted policeman gets caught by his wife as he was having a minor wife, i.e. rich people problems... Samak is shot during a last mission before heading to his wife's birthday. Krailat is also killed in front of Thongdee while trying to stop an altercation between small ruffians. This movie shows that they are good and dedicated Thai policemen to do their duty also and not only corrupted ones.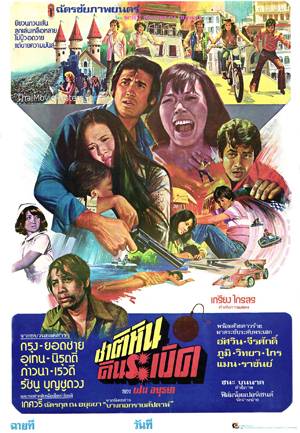 Year

: 1979



Thai title

:

ชาติหินดินระเบิด




English title

:



Rating

: 3/5


Director

:



Main actor

: Krung Srivilai,Yodchai Meksuwan,Nirut Sirijanya,Uten Boonyong,Doo Dook Kradon,Krai Kanchit,Pumi Patanayut,Wittaya Sukdamrong


Main actress

: Pawana Chanajit,Rewadee Pattaphong,Ratchanoo Boonchuduang
Thai movie ชาติหินดินระเบิด was released in year 1979. Main actors and actresses include Krung Srivilai, Yodchai Meksuwan, Pawana Chanajit, Nirut Sirijanya, Rewadee Pattaphong, Ratchanoo Boonchuduang, Uten Boonyong, Doo Dook Kradon, Krai Kanchit, Pumi Patanayut, อัศวิน รัตนประชา, จิระศักดิ์ ปิ่นสุวรรณ, Wittaya Sukdamrong, ราชันย์ กาญจนมาศ. Movie director is เกรียง ไกรสร. The film is lost in Thailand but a sequence in 35mm format can still be seen. The picture is very damaged and reddish. It lasts ten minutes. During the remaining sequence, Nirut and Doo Dook Kradon are in prison. Pumi Patanayut is about to burn Nirut's wife and her child. Policeman Krung tries to help but he is finally captured. Police surrounds the school where ruffians are hiding and having kids as hostages. Yodchai Meksuwan is playing a blind man. Pumi Patanayut is the head of ruffians. Krung and Nirut enter the school to release Nirut's son. It is successful.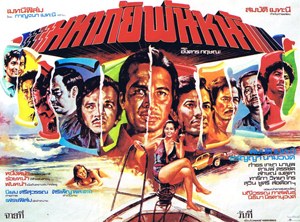 Year

: 1978



Thai title

:

มหาภัยพันหน้า




English title

:



Rating

: 3/5


Director

: Sombat Methanee



Main actor

: Sombat Methanee,Lak Apichat,Kecha Plianvithee,Dam Datsakorn,Rujira Isarangkul,Thep Thienchai,Kanchit Kwanpracha,Manop Aussawathep,Kamthorn Suwanpiyasiri,Pan Borapet,Paen Pleumsachai,Krai Kanchit,Sawin Sawangrat,Wittaya Sukdamrong,Pumi Patanayut


Main actress

: Aranya Namwong,Tharika Thidathip,Metta Roongrat,Orasa Isarangkul



Buy now

:

Thai movie มหาภัยพันหน้า was released in year 1978 and lasts 2h06mn. It was released under VCD and VHS formats. It is a Methanee film production with กาญจนา เมทะนี (Sombat Methanee's wife) as movie producer. Sombat Methanee is movie director. James bond style music is featured. Multiple famous Thai actors and actresses are featured in this movie such as Sombat Methanee, Aranya Namwong, Lak Apichat, Kecha Plianvithee, Dam Datsakorn, Rujira Isarangkul, Thep Thienchai, Kanchit Kwanpracha, Manop Aussawathep, Tharika Thidathip, Metta Roongrat, Kamthorn Suwanpiyasiri, Pan Borapet, Paen Pleumsachai, Krai Kanchit, Orasa Isarangkul, Sawin Sawangrat, Chosri Misommon, Lor Tok, Wittaya Sukdamrong. Multiple murders are committed in various places such as golf club... Each time the killer has a different face, i.e face of Kecha Plianvithee, face of Dam Datsakorn... The killer is having an assistant, i.e. Lak Apichat. The murders are committed by มหาภัยพันหน้า as those men were harmful to Thai society such as corrupted politicians or ruffians trafficking drugs or weapons. The killer is Sakao (Sombat Methanee) with his assistant Wai (Lak Apichat). Sakao is using different masks so he gets called the "great danger with thousand faces" (มหาภัยพันหน้า)! Thep Thienchai and Wai suggest to Sakao to have a lady joining their team. Their boss is Rujira Isarangkul. Det (Kanchit Kwanpracha) is also part of the team. The boss has an important work for them. They have to neutralize Sia Bancha (Kamthorn Suwanpiyasiri). Pho Lieng Boonta (Kecha Plianvithee) and Plaem (Dam Datsakorn) are working with Sia Bancha's team. Sakao and Wai go to Valentino club, where multiple Japanese and Hong Kong singers are working. This is Sia Bancha's usual place. Sakao meets Japanese singer Misiko (Tharika Thidathip). Sakao helps also Sai (Metta Roongrat) beaten by Klang (Krai Kanchit). Sakao has then arguments with Peter (Manop Aussawathep). Fighting occurs in Valentino club. Pho Lieng Boonta asks for an enquiry on Sakao. Sakao changes his face to be similar as Sia Bancha. Ratree, Bancha's girlfriend, is played by Orasa Isarangkul. Sakao enters in Sia Bancha's bedroom to steal documents. Khun Deu (Aranya Namwong) is welcome at the airport by Sakao, Wai and Det. Ruffians recognize Sakao's car and follow it. They aggress Deu being the driver as they believe she is Sakao's wife. Luckily, they flee as police is around. Sakao and Wai disguise themselves as plumbers so that Sakao can listen to Pho Lieng's plans. He meets Misiko again. Peter recognises him so Sakao has to flee on a small motorbike. Deu discovers that Sakao is มหาภัยพันหน้า. Deu finally joins them. Sakao and Klang meet Thongkam (Pumi Patanayut) that recommends them to follow Dr Singhon (Sawin Sawangrat). Ruffians fail to get rid of Sakao. Misiko asks to meet Sakao again and warns him (เล่นกับความตาย) that ruffians are trying to kill him. Sakao is finally captured. Deu uses Dr Singhon's signature to enter in their hidden place and install a microphone under the table. Sakao is beaten but refuses to disclose who he is. Ruffians are doing a weapons traffic to disrupt Thailand. Deu gathers information and informs the Police. Thai Police, led by Wittaya Sukdamrong, are ready to surround the house where ruffians are hiding. House is stormed and all ruffians are neutralized. Misiko was finally an inspector from Japanese Police.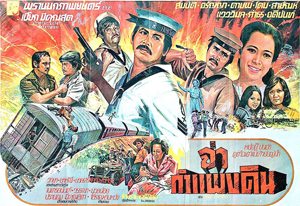 Year

: 1978



Thai title

:

จ่ากำแพงดิน




English title

:



Rating

: 3/5


Director

:



Main actor

: Sombat Methanee,Dam Datsakorn,Adinan Singhiran,Sayan Chantaraviboon,Kamthorn Suwanpiyasiri,Rong Kaomulkadee,Chanee Yotchai,Wittaya Sukdamrong,Dom Singmoli


Main actress

: Aranya Namwong
Thai movie จ่ากำแพงดิน was released in year 1978. It lasts 1h28mn but the sound is partially inaudible. Dam Datsakorn is playing a role on the main actor side. It is pretty rare as most of the time, he is playing a thug leader. Mariners (ทหารเรือ) including Sombat Methanee (with a moustache and always eating betel), Dam Datsakorn and Adinan Singhiran are back to their home town. University student (Sayan Chantaraviboon) is involved in a brawl with thugs and gets support from mariners and Rong Kaomulkadee. Mariners are going back home. Aranya Namwong is a teacher. She is Sombat's girlfriend. The head of the ruffians (Kamthorn Suwanpiyasiri) is upset as his thugs were defeated. Among his ruffians, Chanee Yotchai (ชาณีย์ ยอดชัย) can be seen. Another brawl in a pub happens between mariners and thugs. The university student brings trouble to ruffians as he is catching a pickpocket in a market. Ruffians kidnap Aranya and her friends to work as prostitutes. Her mother is stabbed. The mariners storm the ruffians headquarters to rescue the ladies (น้องเอาคืนมา). They then search them into local brothels (อาละวาดบ่อน). The head of ruffians (พ่อเลี้ยง) is upset that his business is disrupted by those three guys. Two groups of ruffians then unify their efforts. The leader of the second group is played by Dom Singmoli (โดม สิงห์โมฬี). They keep kidnapping young girls or buying them from their parents promising fake jobs in Bangkok. They are also involved in drugs trafficking. Meanwhile the mariners unify their efforts with local police also. The university student is killed by ruffians while trying to stop the ruffians transporting the ladies in a train. Sombat and Dam chase the train. Fighting happens on the moving train. The head of the police is played by Wittaya Sukdamrong (วิทยา สุขดำรงค์). Finally following intense fightings, ruffians are neutralised by the three mariners and the police.
---