Increase or decrease font size for easier reading : A+ A-
Witoon Karuna
Witoon Karuna (1955) - วิฑูรย์ กรุณา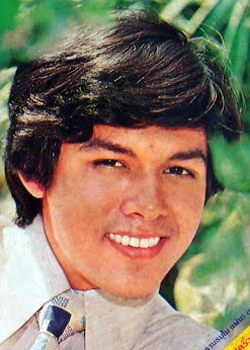 Witoon Karuna played in around 20 movies
This Witoon Karuna movie page contains 5 records.
---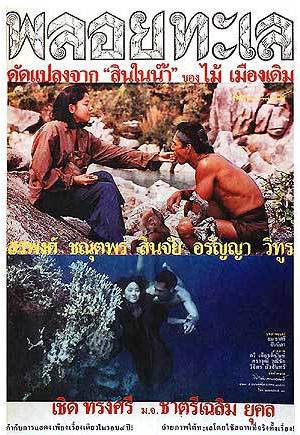 Year

: 1987



Thai title

:

พลอยทะเล




English title

: The Gem from the Deep



Rating

: 5/5


Director

: Cherd Songsri



Main actor

: Sorapong Chatree,Witoon Karuna


Main actress

: Sinjai Hongthai,Aranya Namwong,Juree Osiri,Chanutporn Wisitsopon
Thai movie พลอยทะเล was released in year 1987 and lasts 1h55mn. Movie director is famous director Cherd Songsri. Sorapong Chatree with his short haircut, killing smile and strong body really shines and plays in a great movie compared to the many average action flicks he played in 1980s. Happiness is present on a small island between Kratin (กระถิน), young lady (Sinjai Hongthai), and Rung (รุ่ง) a young man (Sorapong Chatree). They love each other but any wedding decision is linked to their parents. Kratin's parents reject this love. Rung is a diver, collecting seashells and fishies for a living. The movie shows nicely life of island, people collecting coconuts thanks to monkeys, collecting eggs from giant turtles. Beautiful landscapes are shot. Kratin is jealous of Sangpao (สำเภา), another young woman (Chanutporn Wisitsopon) that Rung considers as a sister only (น้องสาว). As Kratin's parents cannot accept such love and wedding, they consider fleeing to the city. While diving, Rung finds a red pure gem (พลอยทะเล, น้ำดี). He plans to sell it to cure his mother (Juree Osiri) but makes the mistake to show it to another villager, father of Kratin. This one and his sons, arguing that Rung behaves badly with his daughter, try to kill him to steal the gem. Rung gives the jewel to Kratin and fights back. In front of Kratin's eyes, he is left for dead. He is only injured and succeeds to reach his mother's home where Sangpao rescues him. Kratin is sent to the city. She meets Sieng, the fishery lady boss (นาย)(Aranya Namwong), who recruits her as domestic helper. Rung recovers slowly and is still upset that the gem is not anymore with him. Sangpao takes care about Rung. A love story is about to start but it doesn't bloom as Rung and Sangpao still have Kratin in mind. Kratin really believes Rung is dead so she is sad. Sieng's brother, Samrien (Witoon Karuna), likes Kratin a lot and starts to seduce her. They become lovers. Kratin shows him the gem. Samrien decides to keep it until their wedding in order to avoid it is stolen by somebody else. One day, Sangpao finds Kratin in the city and informs her that Rung is not dead. Samrien refuses to give back the gem, refuses to let Kratin go and promises her that she will become the fishery owner. The movie shows the fishery work from a cultural point of view. It is bad fate (เวรกรรม) that Kratin saw Rung dead but now it is too late as she needs to have gratitude over the boss and her family. Finally Rung discovers the truth about Kratin and Samrien. Sangpao has to intervene to avoid Rung becoming violent. Sangpao and Kratin have arguments as Kratin cannot give the gem back. Rung also asks Kratin as he needs to cure his mother but she tries to manipulate him. Samrien refuses to give it back to Rung as he believes half of it belongs to him. The fisherman, who brought Rung and his mother to the city, asks for his money but Rung cannot pay him as he hasn't got the gem yet. During a fight the mother is stabbed and dies. A big storm is now happening. Samrien is endangered on a boat. Kratin asks Rung to help Samrien as his boat is stuck. Samrien encourages him not to go but Rung accepts as he is kind hearted so he releases the boat but disappears in the sea. Countryside people have often bigger heart than city people. This gem has caused many people to die. In the morning, the sea sends back Rung's body. He is still alive and Sangpao had been waiting the whole night for him praying. Kratin finally finds Rung stranded on the beach. They promise love to each other. Kratin goes back to Samrien's home to get the gem from a safe but it is no longer in the box. Rung doesn't care about it anymore but Kratin refuses to follow him as she doesn't want to live poorly on the island. It causes Rung's ire as it shows she is more interested by the gem than Rung. He understands that only Songpao really loves him. Sangpao is the one, who gets the gem. A fight between Samrien and Rung occurs as Samrien still wants the gem. Rung defeats him and decides to go back to his island. Sangpao goes back with him. Samrien breaks up with Kratin. Rung sends the gem back in deep sea.



Year

: 1980



Thai title

:

พ่อจ๋า




English title

:



Rating

: 3/5


Director

:



Main actor

: Sorapong Chatree,Settha Sirachaya,Sor Asanajinda,Witoon Karuna


Main actress

: Nanthida Kaewbuasai,Ratanaporn Intarakamhaeng,Thitima Sangkapitak,Chosri Misommon,Tukata Jindanuch
Yen (Thitima Sangkapitak) flees her family as her father wants to force her to marry a man she doesn't love. She wants to commit suicide. Yen is saved by Pon (Sorapong Chatree), a poor young man living in a slum. They live happily a few months and she gets pregnant. Her father finally finds her. She has to go back with him and leaves Pon. On her wedding day, Pon appears to take back his new born daughter to bring her up. Her name is Yuwadee. During many years, he works very hard to pay for her education and keeps secret his low society level status. Having financial problems following an accident, his daughter Yuwadee has to go back in Yen's family but she is not happy. He finally succeeds to get Yuwadee back. Now becoming a TV serie star, her career is endangered by rumours about her father. Forced to appear on the stage, Pon insults and dishonors himself to avoid that his daughter career is damaged. Will Yuwadee reject her father? Yuwadee character is played by actress and singer Nanthida Kaewbuasai. A few songs are featured in the movie. Thai cinema often uses young actors and make them look older instead of using real veteran actors. This movie highlights the strong bonds between a father and his child. A first version of this movie was directed by Sor Asanajinda in 1957. Sor Asanajinda is playing Yen's father in this 1980 version! Ratanaporn Intarakamhaeng, who played as leading actress in the 1957 version, is also playing in the 1980 version.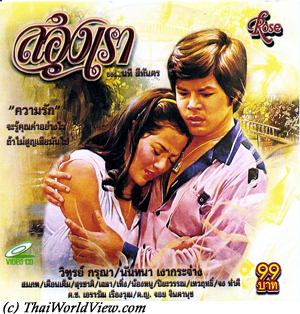 Year

: 1979



Thai title

:

สองเรา




English title

:



Rating

: 3/5


Director

:



Main actor

: Witoon Karuna,Somphob Benjatikul


Main actress

: Nantana Ngao Krajang,Deuan Tem Salitul
Teewa (Witoon Karuna) is a photographer and writer. He is also a butterfly hopping from one woman to another (น้ำผึ้งดวงตา) such as Tuk. He is sweet talker (ปากตรงกับหัวใจเสมอ). It is lust (ความใคร่) before real love (ความรัก). He meets one of his books fan called Rat (Nantana Ngao Krajang) at the party. They get on well but she asks more time to be ready as Teewa was heading directly to a motel. Romantic scenes with Teewa and Rat are shot partially in Ancient City (เมืองโบราณ). Rat's friends warn her about Teewa (เจ้าชู้ที่สุด). Rat's father wishes to send her to America to study. Separation is very difficult (ไม่อยากห่างคุณ). Rat needs to study four years. They see each other a last time in Ayutthaya, symbol of eternal love (เจ้าฟ้ากุ้ง). They promise to wait each other. Teewa has opportunity to go to America for business trip but he is not able to find Rat as she changed address. He doesn't receive news anymore. Teewa starts to indulge in alcohol and finally quits his job. Teewa has a car accident. Tuk gives her blood to save him. They marry and have a child. Four years have passed. Rat finally comes back and contacts Teewa. She also married in America with a fellow Thai student and didn't dare to tell it to Teewa. It is painful (ทรมานใจ) to see other during social parties as love is still here. They secretly meet in Sukhothai. A difficult choice between love and society dictates has to be done. Teewa is thinking to divorce Tuk and marry Rat. Finally seeing their current families wrecking away, they decide it is wiser to stop their impossible love. Movie สองเรา ("two of us") was released in 1979. Same as character Rat, actress Nantana Ngao Krajang stopped her career in 1980 and went to America with her family.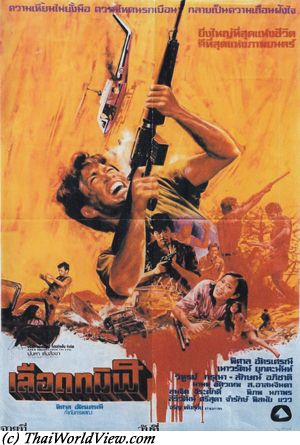 Year

: 1979



Thai title

:

เลือดทมิฬ




English title

: Revenge



Rating

: 4/5


Director

: Pisarn Akraseranee



Main actor

: Pisarn Akraseranee,Lak Apichat,Witoon Karuna,Pipop Pupinyo,Sor Asanajinda,Manop Aussawathep


Main actress

: Naowarat Yooktanun,Somjit Sapsamruey
Thai movie เลือดทมิฬ was released in year 1979 and lasts 2h04mn. The movie was never released in Thailand but a VHS with Swedish subtitles was released in decade 1980s in Sweden. This movie was also shown on Thai TV cable under a 1h32mn short version. Movie director is Pisarn Akraseranee. Movie starts with a speech about Thai soldiers protecting Thailand, Buddhism, the King and sacrificing their life to perform their duty. Da (Lak Apichat), Tong (Pisarn Akraseranee), Witoon (Witoon Karuna) are three soldiers and friends. The three friends end up in a bar during a recreation. Da fight against Wang (Pipop Pupinyo) regarding a lady. Tong is back to countryside to meet his parents Sor Asanajinda, Somjit Sapsamruey and his sister Prang. He meets Song (Naowarat Yooktanun), daughter of local mafia leader (เจ้าพ่อ) Boonleut. Boonleut wishes to get their land. Yord (Manop Aussawathep) is used as ruffian to force them. Yot (จีรศักดิ์ ปิ่นสุวรรณ) is another tough guy working for Boonleut. Sri Thong has become Yot's wife but she still loves Tong as she was forced by Yot. Today is Naowarat's birthday party. Upset that Sri Thong told the truth to Tong, Yot decides to send her working to a brothel (เข้าซ่อง). Sri Tong hangs herself following multiple rapes by Yot's men. While Tong is guarding Sri Thong's body, Boonleut, Yot and his men storm Tong's home, killing his parents and raping Prang. Tong kills two men and is now aware that Boonleut, Yot and Yord are behind. Police cannot help. Tong refuses to incinerate his parents' bodies until he has done justice himself. Prang, following shame and her parents' death, also hangs herself. Tong's life is in havoc. Tong wishes to revenge. He storms the ruffians' place and axes many of them. He then chases Yord by car and speed boat but Boonleut and his men embuscade him. Tong escapes death as police arrives at the right time. Tong flees from hospital and takes refuge in North of Thailand in Da's home. Da, Tong and Witoon are back with war weapons. They storm the ruffians' home and perform a rampage. Yot is hanged by Tong. Tong loses sanity as he shoots unarmed members of Boonleut. Yord is also killed and Song, Boonleut's daughter, is captured. Tong behaves badly with Song (เหมือนคนบ้า, สัตว์นรก, ไม่ใช่คน) but finally recognizes he is wrong as she is not responsible of her father's behavior. Song understands Tong and flees with him. Romance start between Tong and Song. Meanwhile police is chasing them as Boonleut believes Tong forces his daughter to follow him. About to be captured by Police, Thong asks Song to shoot him as he doesn't want to end up all his life in jail. Song follows him… เลือดทมิฬ is a powerful and violent movie.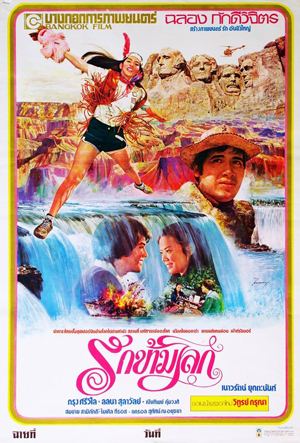 Year

: 1978



Thai title

:

รักข้ามโลก




English title

:



Rating

: 3/5


Director

: Chalong Pukdeewichit



Main actor

: Krung Srivilai,Somchai Samipak,Witoon Karuna


Main actress

: Naowarat Yooktanun,Piathip Kumwong,Lalana Sulawan,Juree Osiri



Buy now

:

Thai police inspector (สารวัตร) Ton (Krung Srivilai) is chasing drug traffickers. Heroin traffickers are shot dead by a mysterious helicopter while trying to flee police in USA. 20M baht are lost. To compensate their loss, traffickers need to get drugs directly from Golden Triangle in Thailand. Anong (Piathip Kumwong) is married to a drunkard foreigner. Nit (Naowarat Yooktanun) is her daughter. The husband Mike has a secret arrangement with the US ruffians as he becomes rich suddenly. They all travel to USA. The drug traffic is coming from Thailand to USA through antics. Maem Clara is a small antics shop's owner. She is working with Pai (สมชาย สามิภักดิ์ - Somchai Samipak), who is the driver, and with Fon (Witoon Karuna). Noon (Lalana Sulawan) is Pai's daughter. Even Osiri, veteran actress and Somchai Samipak's wife, has a small role. Pai's van is followed up by Mike. Mike tries to stop Pai's van. Finally Ton helps to push back the ruffians but they all have to flee. Unfortunately Anong is captured by Mike (เป็นตัวประกัน) while fleeing. While running away from the ruffians, romance starts between Noon and Ton, between Fon and Nit. Ton fails to find heroin in uncle Pai's van. Maem Clara is the real master behind the traffic. As usual, Krung can defeat his opponents thanks to his powerful kicks. Heroin is finally hidden inside the teak wood that uncle Pai ordered from Thailand. Mike is dropped and shot by his friends. Nit and Noon are also captured. Before dying, Mike discloses to Ton where the ruffians are heading to. Police is then chasing their boat. Through final shootings and bombings, ruffians are all killed, Mit and Noon are released but Nit's mother is losing her life. Thai movie รักข้ามโลก, directed by Chalong Pukdeewichit, was mainly shot in USA in 1978. This romance and action movie includes one love song by Witoon Karuna. Another movie called ล่าข้ามโลก directed by Chalong Pukdeewichit was also shot in USA in 1983.
---