Increase or decrease font size for easier reading : A+ A-
Wichit Khunawut
Wichit Khunawut (1922-1997) - วิจิตร คุณาวุฒิ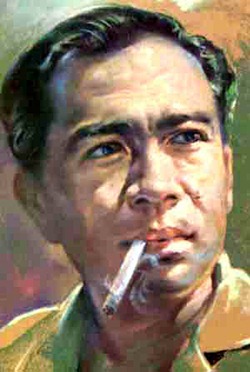 There have been attempts by movie directors to produce more films with a social message, but these have not been very successful money-making ventures. One such director is film maker Wichit Khunawut. Among his works are a movie which dealt with the northern hilltribes, a movie about the hard life in Thailand's northeast, a movie about prostitution around an American military airbase during the Vietnam War, a movie about the custom of men taking "second wives" or "MIA NOI" (เมียน้อย)
This Wichit Khunawut movie page contains 19 records.
---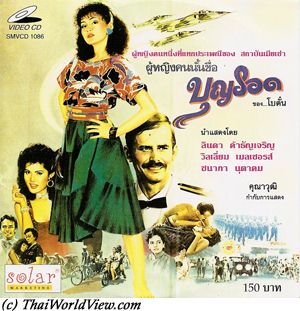 Year

: 1985



Thai title

:

ผู้หญิงคนนั้นชื่อบุญรอด




English title

: Her name is Boonrawd



Rating

: 4/5


Director

: Wichit Khunawut



Main actor

:


Main actress

: Linda Khatancharoen,Sarinthip Siriwan
Boonrawd is coming from a poor Isan family but she is proud and wants to succeed in work and family. During Vietnam war she works in a Pattaya restaurant and also opens a small bakery. An American officer, who speaks Thai language, wants to become her friend as he appreciates her strong spirit and mind. She faces the discrimination of prostitutes (Boonrawd is strong minded and refuses to become a prostitute for easy money), American GIs (they think all Thai women can be bought), Thai people (discrimination when she is seen with the American officer). Boonrawd faces pressure from her mother who wants her to become a prostitute (same as her sister) in order to pay her mother's lottery bills. She finally overcomes all difficulties and marries her American officer.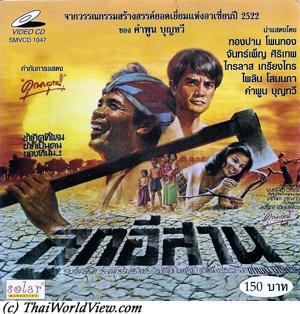 Year

: 1982



Thai title

:

ลูกอีสาน




English title

: Son of the Northeast



Rating

: 4/5


Director

: Wichit Khunawut



Main actor

: Krailat Kriengkrai,Tongchai Prasongsanti


Main actress

: Sarinthip Siriwan,Sulaleewan Suwanthat



Buy now

:

It is about "ISAN" (อีสาน), area in the Northeast of Thailand. This is the poorest area in Thailand. This movie relates the life of Koon, a small boy living in a village. It is based on the book "A Child of the Northeast" ("LUK ISAN" - ลูกอีสาน) written by Kampoon Boontawee. It has won Thailand's first SEAW ite Award in 1979. The film is shot in Lao language. It shows the harsh life of Isan farmers. Some villagers are leaving the area due to drought. Remaining villagers have to quest for water every day. Raining is not coming so a cat ceremony is organized. Water is thrown to an encaged cat in order that his shouts make the rain deity to take pity on him. Monks are the advisors of the communauty and children go to schools located inside temples. Village shops are held by Vietnamese and Chinese people who argue together to sell goods to local people. Koon's family is setting up a caravan to go to the Mun river and stock fishes for a few months. Koon learns hunting skills from his father. Koon's cousin has to marry swiftly as her parents found she spent a whole night with one young man. Molam singers visit the village bringing joy and news from the outside world. An old woman is lamenting on her future as her husband is dead and her daughter only wishes to quit the village and its harsh life. This movie is winner of several international awards and was selected for the 1983 Berlin Film Festival. This movie is part of the first 25 films heritage list announced on October 4 2011, which is Thai Movies Conservation Day.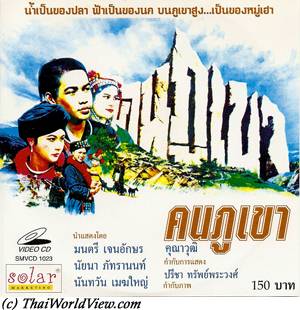 Year

: 1979



Thai title

:

คนภูเขา




English title

: Mountain People



Rating

: 5/5


Director

: Wichit Khunawut



Main actor

:


Main actress

: Nunthawan Mekyai



Buy now

:

It is about life of a highlander. Chased from his village, it narrates his struggling life. This movie shows hilltribes life (Yao, Akkha, Lao), customs and animist beliefs. It also shows the way that Thai people treat them (cheating them, corrupting them by selling them goods they don't need, encouraging them to produce opium). A VCD released by Solar Company lasts 2h05mn. A recent remastered version on VCD and DVD lasts 2h12mn.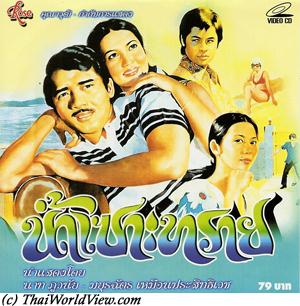 Year

: 1973



Thai title

:

น้ำเซาะทราย




English title

:



Rating

: 5/5


Director

: Wichit Khunawut



Main actor

: Nard Poowanai,Sayan Chantaravi​boon


Main actress

: Mayurachath Muarnprasitivej,Wandee Sritrang,Marasri Bangchang



Buy now

:

This movie about two couples interaction. Pim (ภีม), a white-collar, and Wan (วรรณรี), a teacher, are married. Pukrong (พุดกรอง) is a rich and lonely widow (ว้าเหว่). Pong (พงษ์), a bachelor, tries to be Pukrong's sweet heart boyfriend but he is a butterfly. Pim often argues with his wife and Wan feels neglected (น้อยใจ) with Pim. Pim and Pukrong love each other secretly (รักกัน). Wan is too well-mannered (เรียบร้อย) and strict (เคร่งครัด) so Pim is fed up despite she gave her two beautiful children and takes well care of the home. They still use the polite word "ค่ะ" at the end of each sentence. Life is scheduled as a clock with Wan so Pim is fed up. Pim is a frustrated husband and arguments occur with Wan. Pim and Pukrong continue to see each other secretly in Bangkok. Pim needs to lie to Wan (ของขโมยอร่อยกว่า). As Pong continues to be her faithful admirer, he becomes annoying as Pukrong doesn't have full freedom to see Pim. Pukrong has to involve her well-off friend (ผู้ดี - คุณผู้หญิง). It highlights that Thai high society people also plays cards and have same sins. Her friend has to be involved in the lies. Pim rents a house for them to see each other freely (ความสุขของเรา) in order to avoid busy hotels and frequented restaurants. Pukrong spends a lot of money to decorate the house as she wishes a forever love. Pong knows that Pukrong flees behind the house. Pukrong wishes to see Pim every day. Wan knows her husband went out as his clothes smell perfume. Wan and Pong starts to notice. Pong is informed about the truth through a friend who saw them in a bar (เล่นรัก). Wan refuses to believe that her best friend (สุภาพบุรุษ) steal her husband love. Pukrong doesn't want a hidden love. Wan fights back to keep her husband. Can money buy everything including love? There is insinuation (พูดประโชด) between the two women and then a real verbal fight (บาปตื่นเต่น). Wan knows the truth now (ใจเป็นทรายศ). Pukrong is the bad rich high society girl versus Wan, the good teacher worried about position girl and strict mother / wife. Pukrong tells the truth to Wan. Pim has to go back to Wan due to the children. Pakrong feels left over. But it is not as easy. Wan wishes to divorce with Pim and chases him away. Finally Pim goes back to Pakrong. It is now the main wife versus the minor wife (เมียน้อย / เมียหลวง). Pong pushes Wan to fight (สู่). Pong tries to break the relationship as Pim is fed by Pukrong. Wan refuses to see a shaman (หมอผี) to help her to have Pim back. Meanwhile Pim and Pakrong are enjoying their romance. Pukrong is pregnant. Pong presents a military officer Neephon to Wan. If Pim can have a new love, why Wan cannot have one? It creates jealously on Pim's side as he doesn't want his kids to have a new father. This time Pim refuses to divorce. Pukrong has another child in America from a previous relation. She understands Pim's feelings towards his previous family and also understands he will never be able to choose so leaving things unsettled forever so Pukrong decides to go to America with her new born baby. Pim tries to resume relationship with Wan but it is too late. Wan refuses. Pim ends up alone. It is a long movie as it lasts 2h37 with a dubbed soundtrack. This movie highlights Thai society hypocrisy, i.e. Thai men can have a minor wife but the main wife cannot do anything except to complain in silence. Classical music is used in tragic moments. The scenario is inspired from a book written by author Krisna Asokesin (กฤษณา อโศกสิน), who has won the SEAWRITE prize for literature. Another movie remake was done in 1986. It was adapted as Thai TV serie many times also.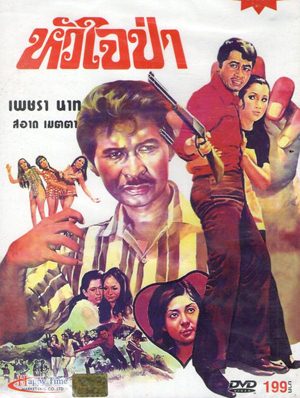 Year

: 1972



Thai title

:

หัวใจป่า




English title

:



Rating

: 3/5


Director

: Wichit Khunawut



Main actor

: Nard Poowanai,Sithao Petcharoen,Sahat Piempongsan


Main actress

: Petchara Chaowarat,Prim Praphaporn,Chosri Misommon,Metta Roongrat



Buy now

:

Thai movie หัวใจป่า was released in year 1972. It features 8 songs. Saeng (Petchara Chaowarat) is working in a nightclub as manager secretary (เลขา). Suda (Prim Praphaporn) is her close friend. The manager (เห็นใจ) tries to abuse her so she has to use a gun to protect herself. The driver accuses her of being a minor wife (เมียเก็บ) and to be responsible to have planned to kill the club manager. As police is looking for Saeng, Suda helps her to leave Bangkok. She goes in a remote area of northeast Thailand. While going to Krating, she meets Wissanoo (Nard Poowanai) with who she sympathizes. A music orchestra including Chosri Misommon joins them. On the way, some thieves including Sithao Petcharoen and led by Sahat Piempongsan stops their truck. Identifying Wissanoo as a doctor, Phi Ann (Sahat Piempongsan) orders him and Saeng, believed to be his wife, to follow them. The three ladies of the orchestra are also kidnapped. Phi Ann's wife (Metta Roongrat) called Yom is sick due to malaria (ไข้ป่า). Wissanoo gives her medicine. Phi Ann is not a bad thief as he stops his guys harassing the three ladies. Finally the three ladies have to choose by themselves their husbands! Police is coming so thieves have to move away. One of the rogue ruffians knowing that Saeng is not Wissanoo's wife harasses her. Wissanoo has to fight against him to protect Saeng. Yom wishes Phi Ann to stop being a thief. At nighttime, the rogue ruffian tries to steal Phi Ann's bounty. Following a deadly shooting, Phi Ann is injured in the leg. As the ruffians go to find food, Wissanoo and Saeng take profit to flee with Yom as Phi Ann is injured. Yot and the three ladies join them. While chased by Phi Ann, Yot is shot. Yom decides to go back to Phi Ann to ensure her child can get a father. Getting back Yom, Phi Ann stops chasing the doctor. Finally Wissanoo dismisses in order to join Saeng in Bangkok. This movie is a remake of มือโจร by director Wichit Khunawut in year 1961. The 1972 version lasts 2h22mn.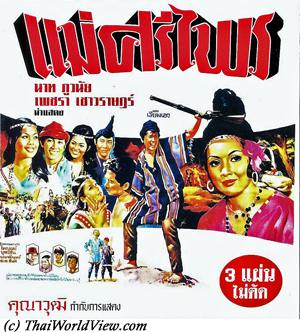 Year

: 1971



Thai title

:

แม่ศรีไพร




English title

:



Rating

: 4/5


Director

: Wichit Khunawut



Main actor

: Nard Poowanai,Sahat Piempongsan,Songthong,Sithao Petcharoen


Main actress

: Petchara Chaowarat,Metta Roongrat



Buy now

:

Celebration of the wedding day between Chan (Sahat Piempongsan), District Chief Officer (นายอำเภอ), and Konthong (Petchara Chaowarat) is ongoing but on nuptial night, the husband is drunk. Konthong is then kidnapped and transported on an elephant into the mountains. She is no idea why she has been kidnapped as her abductor refuses to disclose the truth (แล้วก็รู้เอง). The abductor is called Inton (Nard Poowanai). Aratae (Metta Roongrat) is taking care of Konthong (ผู้หญิงไทยดื้อ). Hillside villagers (คนดง, คนป่า) are very cheerful to Konthong. Inton is called father (พ่อ) as he takes care of the village. Chan is on the way to get back his wife using jeep to go through the mountains and being accompanied with a bunch of ruffians. The kidnapping is in fact Inton's revenge over Chan. Inton, Chan and Taptim were children who shared friendship during childhood. On Inton and Taptim's wedding day, Chan takes advantage that Inton is drunk to rape Taptim as he was jealous Taptim didn't marry him. Willing to kill Chan with a gun, Inton argues with Taptim and a lost bullet kills Taptim. Inton has to flee in the mountains. Inton finally doesn't rape Konthong (เห็นกับตาของจะเสียได้อย่างไร) as he has pity on her and proposes to send her back. How can Konthong go back? Who will believe she is still pure? She acknowledges she doesn't love Chan. So a romance starts between Inton and Konthong. One of the villagers, Tasuey, is chased by Inton from the village following a rape on a girl refusing to love him and her fiance's murder. The stranded villager meets Chan and his ruffians. He decides to lead them to the village to take his revenge on Inton. The movie features alternate sequences of fun, romance and sequences of the ruffians approaching the mountain village. It is a very long movie 2h54 released by company Phanmitr, who used the latest film reels available. The image is very damaged, red and green color with many vertical lines (เส้นฝนตกมาก) but still a pleasure to watch Petchara Chaowarat. To avoid endangering the villagers, Inton decides to flee temporary before Chan and his ruffians led by Tasuey reach the village. Konthong is following up. Aratae loves secretly Inton. Villagers refuse to disclose where Inton and Konthong are hiding. Chan uses persuasion to convince Aratae to tell the truth. If Chan gets back Konthong, his wife, then Aratae can get Inton, her secret love, back. Chan gets Aratae's virginity (ความสาว) as Inton gets his wife also. The ruffians chase Inton and Konthong inside the deep forest (ป่าลึก). As Konthong catches malaria and they run out of food, Inton has no other choice but surrender to Chan. Chan thinks of shooting Inton like a dog but finally changes his mind reminding their former friendship. He even forgives him (ให้อภัย) but Konthong shall stay with him. While Inton is going to the village with the mountain villagers, Konthong lies she is already pregnant so asks Chan to release her so her child can stay with her real father. While Inton and Konthong can have happiness together, Aratae has no choice but to stay with Chan (คนที่แพ้ต้องอยู่ด้วยกัน). A dozen of songs are performed including by famous singer Songthong, singers สมัย อ่อนวงศ์ and กิ่งดาว จันทร์สวัสดิ์. A funny comic encounter happens between comic actors Songthong and Sithao Petcharoen. Movie แม่ศรีไพร by famous director Wichit Khunawut was released in year 1971. It was adapted as Thai TV serie in 2010. It is the first played by Nard Poowanai. Mitr Chaibancha should have been the main actor but his accidental death prevented this.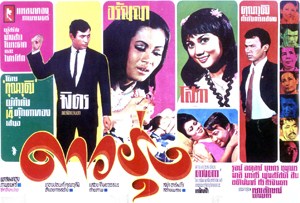 Year

: 1969



Thai title

:

ดาวรุ่ง




English title

:



Rating

: 3/5


Director

: Wichit Khunawut



Main actor

: Mitr Chaibancha,Ruj Ronnapop,Adul Dulyarat,Adinan Singhiran,Choomporn Theppitak


Main actress

: Aranya Namwong,Malee Wetpraseri,Sopha Sataporn,Marasri Isarangkul
Thai movie ดาวรุ่ง was released in year 1969. It features Mitr Chaibancha as main actor and Aranya Namwong as main actress. The movie is lost in Thailand but a sequence of 19 minutes is still left to be seen. The movie is 16mm format so it is in mute state as such format requires live dubbing. There is an animated discussion between Mitr, Ruj Ronnapop, Malee Wetpraseri, Adul Dulyarat and Marasri Isarangkul. Aranya sees Mitr enlacing Sopha Sataporn so it creates misunderstanding. Disappointed, Aranya accepts to be engaged with Adul. Sopha and Ruj marry. Sopha loves secretly Mitr. Wishing to leave Thailand, Sopha tries to prevent him and gives him a goodbye kiss. Ruj seeing this takes a gun to shoot Mitr. Following a fight with Sopha, Ruj falls in the stairs. The sequence ends up by Mitr giving respect to a Buddha statue and Sopha being just behind suddenly. The movie is directed by famous Thai director Wichit Khunawut presented on the poster as the director with 14 Thai cinema rewards. Adinan Singhiran is playing a major d'homme.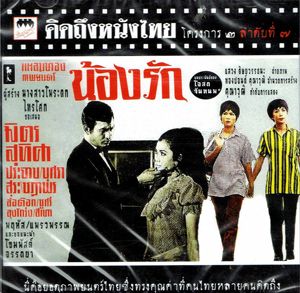 Year

: 1969



Thai title

:

น้องรัก




English title

:



Rating

: 3/5


Director

: Wichit Khunawut



Main actor

: Mitr Chaibancha,Prachuap Ruekyamdee,Lor Tok,Sithao Petcharoen,Preuhat Boonlong


Main actress

: Suthisa Putnuch,Chosri Misommon,Boosara Narumit,Chadaporn Wachirapranee,Khomapat Attaya,Marasri Bangchang



Buy now

:

Thai movie น้องรัก was released in year 1969 and lasts 1h13mn. It is available under VCD format by famous company XxX owned by Toh Pantamit. The original movie is certainly longer as movies in decade 1960s could last up to 2h30mn. It is probably the last 3 reels of the film. Movie director is Wichit Khunawut. One 35mm reel is also still available. Sri (Chadaporn Wachirapranee) brings her niece Kate (Boosara Narumit) in a massage parlour for work but arguments occur as other masseuses complain she is too beautiful so she will take away their customers such as Lor Tok. Sithao Petcharoen is the parlour manager. Fight occurs between Chosri Misommon and Sri. Young lady Dao (Suthisa Putnuch) meets doctor Wut (Mitr Chaibancha) in Neramit's house. Khomapat Attaya is the niece. Shot (Prachuap Ruekyamdee), car driver, knows Kate and loves her. Shot punches his own boss after seeing him with Kate in the massage parlour. She works to be able to raise her younger sister Dao. Marasri Bangchang is playing the owner of rental house. Lying to Shot, Kate has to prostitute herself (ทำงานพิเศษ) in order to find money to pay the rent. Meanwhile Dao tries everything to meet Preuhat Boonlong, her lost grandfather. Neremit proposes to pay Dao's birthday party as he knows she is not rich. It causes the mother and niece's ire. They ruin the party. To help her, Wut pays for the expense and proposes to transform her into an ugly nurse so she can be close to her grandfather. Meanwhile Kate is abused by another man at night time believing it was her lover. She feels so ashamed (ความชั่ว). Thanks to a ring, the grandfather identifies Dao as his granddaughter. Meanwhile Kate is arrested by Police and sent to prison for rehabilitation. Everybody is looking for Kate but she forbids her aunt to tell the truth to anybody. Kate gets seriously sick in the prison. Doctor Wut is the one to treat her. He identifies an incurable cancer (มะเร็งมดลูก). Kate was behaving same as a mother for Dao. Before dying, Kate asks to give her blessings (อวยพร) to the future wedding of Dao and Wut.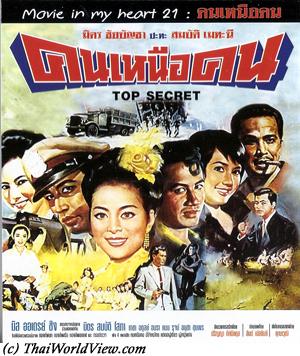 Year

: 1967



Thai title

:

คนเหนือคน




English title

: Top secret



Rating

: 3/5


Director

: Wichit Khunawut



Main actor

: Mitr Chaibancha,Sombat Methanee,Adul Dulyarat,Kecha Plianvithee,Boo Wibunnan,Choomporn Theppitak,Ruj Ronnapop,Man Teeraphol


Main actress

: Sopha Sataporn,Amara Asavananda



Buy now

:

A mysterious Dakota airplane drops a big parcel in the sea, containing in fact the ruffians leader (หัวหน้าใหม่) called Adamcha (Kecha Plianvithee). Meanwhile two Royal Thai airplanes intercept the plane forcing it to land at Don Meuang airport. Thai Army is then aware that a mysterious organisation is preparing plans to harm Thailand so Thai army chief asks his officers to do their best to protect Thailand, Buddhism and the King. Police inspector (สารวัตร) Chet (Mitr Chaibancha) needs to help also and to find an agent called double X. Double X is in fact a police woman called Chin Chin. Adul (Adul Dulyarat) steals some documents in governmental building. Amara (Amara Asavananda), a young lady, supports Adul as part of the organisation. The secret organisation (ผู้ก่อการร้าย) brings disorder in Thailand through bombs and Thai police seems unable to stop them. Chet follows Adamcha's car but gets captured when entering in Adamcha's house. The police chief asks another policeman to help, i.e. Chet's younger brother called Sombat (Sombat Methanee). Real actor names are used in this movie as anyway it was a 16mm movie with dubbing. During an evening party to celebrate their bad achievements, double X's team kidnaps Amara and asks for a ransom. Adul follows the police ladies and after being summoned by Chin Chin (Audrey Sing) regarding his treacherous behavior over Thailand, he accepts to change side. He works for the organisation because of his love for Amara. Sombat helps to release Amara and shoot some policemen (แสดงหนัง). Sombat is finally accepted in the secret organisation following a test. A bank attack turns to a fiasco as police was aware. Sopha (Sopha Sataporn), Sombat's love, is injured. It seems there is spy in the organisation. Sombat helps his brother Chet to flee. Chet is back to the house with full Police squad but Adamcha and his clique have already left. Chet succeeds to get the plan of their new retreat but the ruffians, seeing army soldiers, retreat to a well hidden place. Adul provides the location to the police but is identified as traitor. He is imprisoned and refuses any help from Amara, his former love. Police and army storm the hidden place of their organisation. Following various shootings and Adul's sacrifice, the secret organisation is vanquished. It is another nationalist 1960s movie with police and army protecting Thailand against external threats. The picture quality features many red and green lines (เส้นฝนตกมาก) as company Phanmitr has used the latest film reels available for this movie, which was very popular in 1960s. คนเหนือคน (Top Secret) is a 2h15mn movie. It is also features a few popular songs including a duo Sombat and Sopha.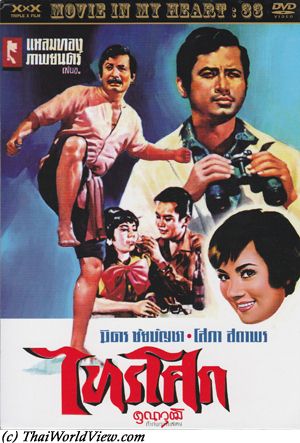 Year

: 1967



Thai title

:

ไทรโศก




English title

:



Rating

: 5/5


Director

: Wichit Khunawut



Main actor

: Mitr Chaibancha,Adul Dulyarat,Adinan Singhiran,Choomporn Theppitak


Main actress

: Boosara Narumit,Namgneun Boonnak,Marasri Bangchang,Sopha Sataporn
Thai movie ไทรโศก was released in year 1967. It is directed by Wichit Khunawut. It lasts 2h06mn. Yen (Boosara Narumit) is being raised since childhood by a stepfather but was never officially adopted. Bai (Mitr Chaibancha) is a dumb and a bit retarded adult (เด็กวัด) accompanying the monk during morning alms. Kitty (Adul Dulyarat) is the real son. Adinan Singhiran is helping for everything in Thorasok domain. The father is sick. Urai (Namgneun Boonnak) is pregnant with Kitty. Usa (Marasri Bangchang) is Urai's mother. Bai is named as ผีทะเล. Kitty is always upset with Yen. The father finally dies and the testament is opened. It is a shock for the family to learn that no money is given to Kitty if he doesn't marry Yen and have a child with her! The mother and Urai are upset. The mother prepares the wedding of Yen and Kitty to follow the testament. But it is a forged plan. They drunk Bai so that Bai enters in Yen's bedroom at nighttime. Yen becomes pregnant. Kitty goes to live with Urai in Bangkok. A child is born from Yen. The mother names it as Ying Yong and takes it to Bangkok to raise it. Meanwhile on countryside, some ruffians shot a couple and a baby is left behind. Yen decides to adopt and raise the baby. Many years have passed. Kittikorn, son of Urai and Kitty, tries to seduce Dao (Sopha Sataporn), Yong Yot's daughter. Ying Yong (also played by Mitr Chaibancha) is younger brother (น้อง) of Kittikorn. Kittikorn is insolent (ทะลึ่ง) and lazy. The daughter of Yen, called Srai Gnam (รักชนก จินดาวรรณ), is now a doctor. The man who killed the two parents many years ago is now released from jail. His son is Thep (Choomporn Theppitak). He spent 20 years in jail. He wishes to get revenge over Yong Yot who sent him to jail. Dao sees that Srai Gnam is wearing same pendant as her. Ying Yong and Dao are close together so Kittikorn realises he has no chance with Dao so his parents think about Srai Gnam who is a doctor. Thep befriends with Kittikorn. Ying Yong meets Bai but doesn't realize Bai is his father. Kitty wishes his son Kittikorn to marry the daughter of Yen. Yen refuses. Kitty loses his nerves so hits both Yen and Ngam Sai. Before Ying Yong can do anything, Bai intervenes and punches violently Kitty. Kitty becomes half paralyzed due his fall. Ngam Sai as doctor treats him. Ying Yong realises the kindness of Ngam Sai. The grandmother now wants to have Ying Yong to marry Ngam Sai. Urai cannot support this and tells the truth about Ying Yong to her son Kittikorn. She then quits Kitty and goes back to Bangkok. With the help of Kittikorn and Thep, the ruffians wish to storm Thorasok domain and gets the 200 000 baht stored there. Kittikorn wants them to kill Ying Yong also. Kittkorn hits Dao (หลานสาว Yong Yot) and kidnaps her. Meanwhile ruffians attack the house at nighttime (ถูกปล้น). Bai is killed by Kittikorn (ชาติชั่ว). Kitty is shot during the fighting and discloses the truth to Ying Yong before dying. Ngam Sai is identified as second daughter of Yong Yot. As it turns badly, Kittikorn escapes and wishes to flee with Dao. Dao shots Kittikorn and becomes crazy. Peace can finally happens in Srai Sok domain. Some mute sequences lasting 16 minutes haven't been released on the DVD. Maybe because the dubbing was missing for those parts? Maybe the VCD and DVD versions had to last the same time? Those sequences show the baby found by Adinan, Kitty having heated discussion with his mother and Adinan, Yen treated as a domestic helper by Kitty and Urai, Bai carrying big jar, Urai and Kitty showing their son to the mother, Kitty and her mother in front of the father's corpse, Kittikorn punching Ying Yong.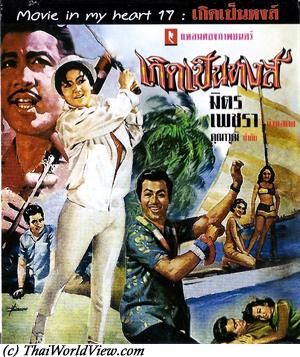 Year

: 1966



Thai title

:

เกิดเป็นหงส์




English title

:



Rating

: 4/5


Director

: Wichit Khunawut



Main actor

: Mitr Chaibancha,Prachuap Ruekyamdee,Adul Dulyarat


Main actress

: Petchara Chaowarat,Prim Praphaporn,Uamdeuan Uttsada



Buy now

:

Thiyu, a gruff cowboy, falls from his horse as it is frightened by Thula's car klaxon. So Thiyu meets with Kramon (กระหม่อม) Thula, member of Thai aristocracy. Thiyu also meets Saengson, who is Thula's faithful admirer. Thula's mother pushes her to meet rich bachelor Saengson as she has debt 2 millions baht due a failed automotive business. Thiyu's mother is dead. Pathet, his half brother, has already three wives, i.e. Kwanta, Pom and Puang. Kwanta is having an affair with Viwat, house attendant. Thiyu and Kwanta are former sweethearts (แฟน) but he broke up with her as she is only interested in money and has bad behavior (หัวใจชั่ว). Pathet saw a beautiful high society lady in Bangkok and wishes her to become another of his wives (เมียใหม่). This lady is Thula... The minor wives decide to help each other (ร่วมมือ). A friendship starts between Thiyu and Thula. Saengson wishes to marry Thula but Thula chases him away and reminds him to verify with his mum first! Rumors spread by Saengson's mother mention that Thula is bankrupted. Kwanta is pregnant and wishes to flee with Viwat. Viwat doesn't want to be responsible of this kid. Viwat resigns from his job (ลาออก). Pathet is infertile (เป็นหมัน) so others know Viwat is the father. There is an heritage issue as Thiyu never got anything when his father died. He now wishes to fight back for this heritage. Pathet offers a high salary to Thula and also offers to buy back the mother's debt. As Thula's father dies in a plane crash in Hong Kong, she accepts Pathet's offer believing it is a job offer only. Pathet believes his money will help him to get Thula's love. So the new member in Pathet's house is Thula! Thiyu is so surprised. Kwanta's parents complain to Pathet about her pregnancy. Kwanta claims Thiyu is the father! Thiyu has to accept to be the father. Both are upset. Pathet believes in money power (บูชาเงิน). There is a severe misunderstanding between Thula and Thiyu. Thula is upset Thiyu has hidden to her he has a pregnant wife already. Thiyu is upset Thula accepted to be Pathet's fourth wife. Pathet took his heritage now his love. It is more than he can endure. To make Pathet jealous, Pom and Puang claims that Thiyu and Thula love each other behind his back. His money cannot buy Thula's love and he starts to be violent with Kwanta and Puang. The house becomes a hell (เป็นนรก). Fed up being Pathet's slave, Thiyu forces Thula to flee with her. Thula is upset as it is not a situation matching her position (ฐานะหญิง). Pathet chases after them. Finally all misunderstandings are cleared between Thiyu and Thula. Pathet knows he cannot get Thula's love. Through a final gun duel with Thiyu, Pathet is shot by Puang. Pathet has paid for all the bad deeds he caused to others. It is a beautifully colorful remastered 2h22 movie.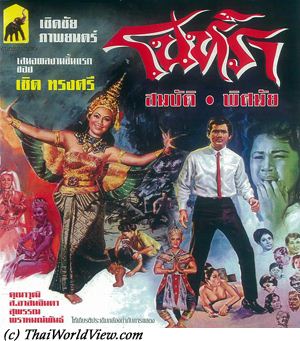 Year

: 1966



Thai title

:

โนห์รา




English title

:



Rating

: 4/5


Director

: Cherd Songsri,Wichit Khunawut,Sor Asanajinda



Main actor

: Sombat Methanee,Lor Tok


Main actress

: Pissamai Wilaisak,Preeya Roongrueng,Ratanaporn Intarakamhaeng
Tiew is a young man performing Nora (รำโนราห์ใต้) dance in Nakhon Sri Thammarat. The Nora is a traditional dance of South Thailand. In South Thai language it is called the "Chatri" (ชาตรี). Tiew is in love with a lady called Pimpa (Ratanaporn Intarakamhaeng). Pimpa is pregnant with him but her grandmother refuses this love. She drugs Pimpa with a sleep potion in order that a Bangkok lawyer becomes her husband instead of a Nora dance performer. Pimpa wishes to get suicide but her aunt convinces her to tell the truth to Tiew. She doesn't dare and Tiew rejects Pimpa. Pimpa decides to keep the child and gives her child the name "Nora". 18 years passed. Pimpa is only a minor wife (เมียน้อย) and works as a domestic helper to pay for Nora studies. The lawyer's daughter, called Kaekae (Preeya Roongrueng), dislikes Nora (Pissamai Wilaisak) and likes to spread rumours that Nora's mother works as prostitute. Other students mock Nora. Nora and her real father miss each other. Nora sells sweets in school to help her mother. Kanchit (Sombat Methanee) is Kaekae's boyfriend. Kanchit is seeing many girls as he is rich, single and handsome. Nora learns to perform Nora dance. Kanchit gets interest in Nora despite Nora has already a boyfriend called Sompop. Kanchit is fed up with hi-so girls (ร่างกายสวยแต่ใจไม่สวย). Kaekae's mother hires a ruffian to hurt Nora after a performance. He throws some acid on her face. Sompop is not willing to visit Nora anymore due to her ghost (ผี) face. Hopefully Nora succeeds to recover. Kanchit plans to marry Nora. Following Kaekae's mother orders, Nora is kidnaped. Kanchit follows up the kidnapers and the Thai police is giving a hand. Kaekae got punished as being raped instead of Nora and she becomes crazy. The mother is jailed. Tiew still performs Nora but gets no more interest from the public (โนราห์สมัยเก่า - โนราห์สมัยใหม่). Tiew dies on the stage following a lost bullet. Art (ศิลป์) needs to be kept. Nora needs to perform to honour her father's memory. There is a conflict with Nora and Kanchit wedding day. Kanchit cannot change the date and threaten to cancel the wedding. Nora chooses to go to Nakhon Sri Thammarat. The movie highlights cultural aspects, arts protection and conservation. It is a cherished theme by director Cherd Songsri. This movie is Cherd Songsri's first movie and has still an excellent color conservation. As often, Preeya Roongrueng plays the bad girlfriend. It is a typical 1960s movie with leading actor (พระเอก) coming from rich background, leading actress (นางเอก) coming from a poor background, villains (ตัวกง) wishing to hurt Nora, funny comedians supporting the leading actor (ตัวตลก - Lor Tok as Kanchit's driver), bad girls (นางอิจฉา) played by Kaekae and her mother. It mixes action, love, comedy and drama. It was the most successful Thai movie in 1966. This movie has also been adapted as a Thai TV serie (ละคร).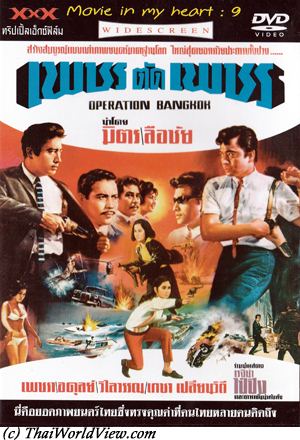 Year

: 1966



Thai title

:

เพชรตัดเพชร




English title

: Operation Bangkok



Rating

: 5/5


Director

: Wichit Khunawut



Main actor

: Mitr Chaibancha,Luechai Natnat,Adinan Singhiran,Choomporn Theppitak,Kecha Plianvithee,Adul Dulyarat,Sompol Kongsuwan,Chao Klaewklong,Lor Tok,Tat Ekathat


Main actress

: Petchara Chaowarat,Regina Pai Ping,Chadaporn Wachirapranee,Wilaiwan Watthanaphanit,Kaenjai Meenakanit,Malee Wetpraseri,Yaowaret Nisakorn



Buy now

:

Movie Operation Bangkok / เพชรตัดเพชร was released in year 1966 and lasts 1h50mn. It is a HK Thai co production managed by three film directors including Wichit Khunawut. Mitr Chaibancha meets Yot (Luechai Natnat). An exchange of suitcases happens over a bridge. Adinan Singhiran is Yot's acolyte. Yot betrays Mitr and tries to keep the two suitcases. Shooting happens and Yot flees. Choomporn Theppitak is part of a gang led by Kecha Plianvithee. Yot belongs to the same gang also. Luechai arrives in Hong Kong. He meets Adul Dulyarat on a boat to exchange drugs against money. The drug is fake and he steals the money by punching Adul. He flees to Bangkok and escapes to Choomporn, who tries to shoot him with a long range rifle. Yot has betrayed (ทรยศ) Kecha. Yot meets singer Pai Lu (Hong Kong actress Regina Pai Ping) in the plane and sympathizes. Mitr disguises himself as Chat, a tough ruffian, to infiltrate Kecha's gang. Chadaporn Wachirapranee is Chat's old wife so he punches Sompol Kongsuwan to show he is back. Chao Klaewklong introduces Chat to Kecha. Kecha is looking for a new right-hand man (แขนขวาคนใหม่) as Yot betrayed him. Kecha wishes Chat to get rid of Yot. Ratsamee (Petchara Chaowarat) loves Yot but Yot also loves Pai Lu, who is in fact an undercover policewoman from Hong Kong. Ratsamee warns Yot that Adul is around looking for him. Pai Lu and Ratsamee escape from Adul but get arrested by policeman Lor Tok, who ignore they are from Interpol Police (ตำรวจสากล). A painting called เพชรตัดเพชร is purchased by Wilaiwan Watthanaphanit bidding against Kecha. Miss Boran (Kaenjai Meenakanit) is the sexy painter. Adul wishes to buy the jewel hidden in the painting but this one is now always worn by Miss Boran. The jewel contains a password (รหัด). Choomporn kills Miss Boran to get the jewel but Yot and his team steal it from him also. Pai Lu is surnamed HK 16. Mitr is surnamed BKK 38 (ตำรวจไทยเจ้าชู้อย่างนี้ทุกคนหรือค่ะ?). Mitr helps Pai Lu chased by two ruffians including Choomporn. Chat brings Pai Lu himself to Kecha. Understanding that she is an enemy (ศัตร)ู, she is condemned to be shot by Choomporn but Chat succeeds to charge the gun with blank bullets. Yot falls in a trap prepared by Adul to steal the diamond but it fails and Adul dies. Yot wishes to make peace with Kecha. Kecha wants only one right-arm man so both Chat and Yot have to fight against each other. Pai Lu and Petchara ask them to stop fighting. They are all captured by Kecha. Part of the movie is then lost here. Wilaiwan shots Ratsamee. Hopefully Pai Lu shots Wilaiwan and can help Ratsamee on time. Thai police attack the ruffians. All are killed or captured but Kecha succeeds to flee. Kecha refuses to surrender to the Thai police and prefers to explode his boat. The movie ends up on a sad note as Pai Lu has to leave Chat to go back back to Hong Kong, Ratsamee is separated from Yot as he has to go to jail. This movie is still available in Hong Kong under title 諜海蛟龍 and was shown on cable TV. The famous song of this movie is ดวงใจ by singer สวลี ผกาพันธุ์. This movie is one of the best confrontations between Thai superstars Mitr Chaibancha and Luechai Natnat. As it is a HK Thai co production, it is interesting to find that the Chinese version poster features Chinese actress Regina Pai Ping's head in big size. Mitr Chaibancha and Petchara Chaowarat are displayed in small size. But the Thai poster displays more prominently Mitr Chaibancha and Petchara Chaowarat. In the Chinese synopsis, Mitr Chaibancha is written as mi-tsai- wan-chai (Thai detective No 78) and called as Ah Tsai in the movie. Regina Pai Ping (Hong Kong agent No 113) is called as Pai Lu in the movie. Petchara Chaowarat is written as Pi-chai-la and called as Sha Mei in the movie. The movie was so famous that it was released once in year 1966 and then reshown again in year 1975. The original version lasts 2h20mn but the 1975 version was reduced to less than 2 hours as both movies เพชรตัดเพชร and คนเหนือคน were shown together. The DVD released by company Pantamit is based on the 1975 version. It took five years for company Pantamit to convince the film owner to lend it in order to make a digital copy. Another film copy remains in the Thai Film archives.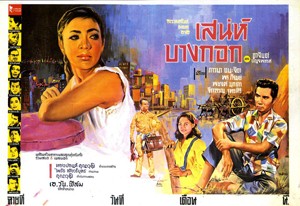 Year

: 1966



Thai title

:

เสน่ห์บางกอก




English title

:



Rating

: 5/5


Director

: Wichit Khunawut



Main actor

:


Main actress

: Pawana Chanajit
เสน่ห์บางกอก (Charm of Bangkok) is a Thai movie released in year 1966. It has still a colorful image. It was never released officially in any video format such as VHS, VCD or DVD. So luckily in year 2013, it was released on Thai TV CH7 during the program อมตะหนังไทย. It lasts 1h35mn. Originally the movie lasts 2h20mn. It remains famous as one of the first song movies (หนังเพลง) in Thailand. It featured 8 songs. It received three golden statuettes during Thai cinema awards. The main actor is a real Thai singer (นักร้องลูกทุ่ง พร ภิรมย์). A Thai collector still has the full length movie but in mute mode as it is a 16mm movie so it needs to get dubbed. He shared an additional 19 minutes extract with songs on Internet. Too sad that the movie from director Wichit Khunawut (วิจิตร คุณาวุฒิ) cannot be seen in its original state. Sabai (สไบ) (Pawana Chanajit) is riding bicycle and gets hit by Plae's (แพร) car. Animosity happens immediately between them (เครียดกัน). Sabai is friend with Tong, Plae's sister. Plae wishes to continue his studies but his father Kamnan wants him to ordain as a monk and then to marry Sabai! Dance (รำวง) happens in the village. The dancing ends up in a fighting between Plae and a ruffian trying to seduce Sabai. Plae is bitten by a snake. While he is recovering, his father already asked Sabai's parents for her hand through a procession ceremony (พิธีแห่ขันหมาก). Sabai claims she doesn't love him (แต่งแล้วจะรักกันเอง). Later on they even argue strongly (คนผีทะเล). Ordination ceremony happens. Plae's father intends to have a lakorn to entertain guests. Some guests from Bangkok are coming. Khun Luang and a star (ดาราละคร) are coming. Plae falls under the charm of the actress. Khun Luang wishes to rent the Buddha image (พระองค์งาม) but Kamnan refuses as it protects the family happiness. Still under the charm, Plae hits his own brother to steal the Buddha and flees to Bangkok (หนีบวจ) hoping to become rich (ความเจริญในเมืองบางกอก). Losing face, the father decides to look for his son in Bangkok. Many comic situations happen as Kamnan has never been in big city like Bangkok (บ้านนอก). There are amazing sequences showing Bangkok and its famous tourist spots 50 years ago. Plae goes to Khun Luang and the actress house. He meets Sabai there as she knew he will come here! The actress already forgot him. Disappointed, he leaves. Khun Luang (หัวหน้าร้าย) sends thugs to find Plae. Meanwhile Plae befriends with a Thai boxing ring owner and leaves the Buddha statue at his home. Plae gets kidnapped by the thugs. Kamnan needs to give the Buddha statue in exchange. Finally Kamnan, the Thai boxing ring owner and the police neutralise the ruffians. Through a thrilling Thai boxing match, Plae beats his opponent and wins enough money to bring everybody back to the village. He will fulfill his promise to ordain and then marry Sabai. Many Thai movies are about the theme of the up country guy coming to Bangkok and hoping to become rich but only facing disillusion. This story has been readapted a few times, i.e. in years 2011 and 1996 for Thai TV series and in year 1981 for a Thai movie with Sorapong Chatree and Naowarat Yooktanun.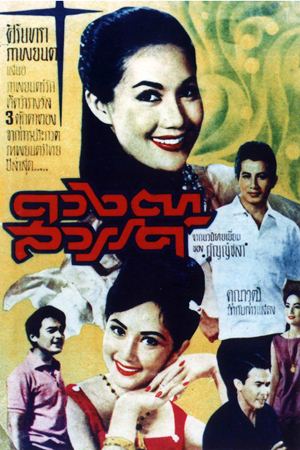 Year

: 1964



Thai title

:

ดวงตาสวรรค์




English title

:



Rating

: 4/5


Director

: Wichit Khunawut



Main actor

: Sombat Methanee,Adul Dulyarat,Prachuap Ruekyamdee,Preuhat Boonlong,Sukon Koewliam,Daonoi Duangjai


Main actress

: Pissamai Wilaisak,Sopha Sataporn,Sarinthip Siriwan
Thai movie ดวงตาสวรรค์ was released in year 1964. Director is Wichit Khunawut. Main actor is Sombat Methanee and main actresses are Pissamai Wilaisak and Sopha Sataporn. Other actors / actresses include Adul Dulyarat, Prachuap Ruekyamdee, Preuhat Boonlong, เชาว์ , Sarinthip Siriwan. Sukon Koewliam and Daonoi Duangjai are playing as domestic helpers roles. Pissamai Wilaisak got a Thai cinema award (ตุ๊กตาทอง) for this movie. Wichit Awut also got a Thai cinema award for his directing skills for this movie. This is the first movie played by Sopha Sataporn. This movie is lost in Thailand and only a sequence of 23 minutes is left to be seen. Pissamai is coming from countryside but changed her name ("อีแพน") as she wants to increase her status in Bangkok society ( สาวสังคม / นักเที่ยว). She is now a cinema star (ดารา). She likes Rawin (Sombat Methanee) but he is already engaged with Sopha. Teun (Prachuap Ruekyamdee) is disappointed that Pissamai finally married with Chai (Adul), a teacher training painting arts. Pissamai marries with Adul to have opportunity to be closer to Rawin. Teun and Pissamai know each other since they were youngsters in the countryside. They were lovers before. Before the wedding, Rawin congratulates Pissamai but gets slapped as she tells him she doesn't love Chai. Teun keeps drinking alcohol as he is disappointed. Pissamai's father visits her knowing she is now a star and married to a rich man. Pissamai is very bad (ร้าย) as she chases away her father and younger brother by trying to give them money. The left sequence ends here. Another recent version was shot in 1981 and features Sorapong Chatree and Pisarn Akraseranee. Thai TV series were also released.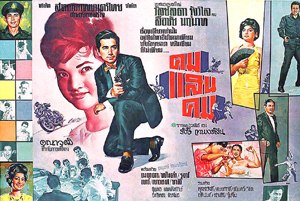 Year

: 1964



Thai title

:

คมแสนคม




English title

:



Rating

: 3/5


Director

: Wichit Khunawut



Main actor

: Luechai Natnat,Adinan Singhiran,Adul Dulyarat,Ruj Ronnapop,Man Teeraphol,Choomporn Theppitak


Main actress

: Metta Roongrat,Yaowaret Nisakorn
Thai action movie คมแสนคม was released in year 1964. It features Luechai Natnat as main actor. The movie is lost in Thailand but a 3mn30s trailer remains to be seen. Wichit Khunawut is one of the most famous Thai director. Songs were written and sung by Charin. Various short sequences are showing new actress Warada Wongwilai (วัลย์ลดา รุ้งวิไล), Adinan Singhiran, Adul Dulyarat as head of the ruffians, Ruj Ronnapop, Man Teeraphol, Metta Roongrat as a singer. A few fights and gun shootings happen. Old views of Bangkok can be seen. Luechai was a famous main actor before the arrival of Mitr Chaibancha and Sombat Methanee.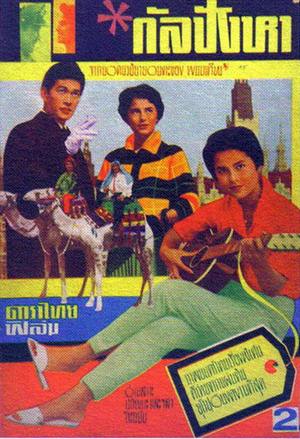 Year

: 1962



Thai title

:

กัลปังหา




English title

:



Rating

: 3/5


Director

: Wichit Khunawut



Main actor

: Chana Sriubon,Ruj Ronnapop,Sukon Koewliam,Preuhat Boonlong,Boo Wibunnan


Main actress

: Kesarin Patamawan,Amara Asavananda,Manat Boonkiet
Thai movie กัลปังหา was released in year 1962. It features Chana Sriubon as main actor and Kesarin Patamawan as main actress. Back from overseas, Kung (Kesarin Patamawan) doesn't want to study anymore as she is old enough. His parents are worried she just wants to have fun with friends. Kung has met Chris (Chana Sriubon) in Italy. Back to Thailand, she meets a fisherman called Naemai (also played by Chana Sriubon) near her home and sympathizes with him. Other actors are Ruj Ronnapop and Boo Wibunnan. She even forces her way (คนดือ) on his boat to see how the life on a boat is. But she takes unreasonable risks. Romance starts between them. Kung receives a request for engagement from Chris. Naemai is arrested by the police. Naemai is Chris' younger brother. Finally aware of the love between Naemai and Kung, Chris breaks his engagement with Kung and lets them having happiness. A VHS from the 16mm film was released in 1992 at the same time as Thai movie สาวน้อย. Director of this movie is famous director Wichit Khunawut. Thai actress Kesarin Patamawan (เกศริน ปัทมวรรณ) played in less than 10 movies before moving to USA. Chana Sriubon played in many other movies with various famous actresses such as in แม่ (with Ratanaporn Intarakamhaeng), ยอดพิศวาส (with สุทิน บัณฑิตกุล), จอมใจเวียงฟ้า (with Metta Roongrat), ก่อนอรุณจะรุ่ง (with Prapan Narkthong), โรงแรมนรก (with Sarinthip Siriwan), สองฝั่งฟ้า (with Pissamai Wilaisak), หมอกสวาท (with Petchara Chaowarat). A remake of movie กัลปังหา with Jarunee Sooksawad, Sorapong Chatree and Nirut Sirijanya was released in year 1985.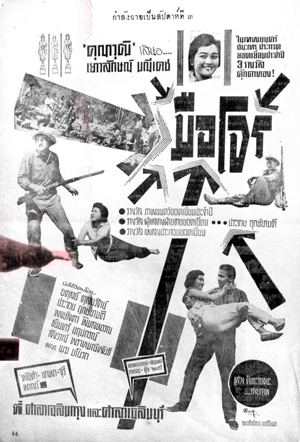 Year

: 1961



Thai title

:

มือโจร




English title

:



Rating

: 3/5


Director

: Wichit Khunawut



Main actor

: Adul Dulyarat,Prachuap Ruekyamdee


Main actress

: Ratanaporn Intarakamhaeng,Usa Atcharanimit
Thai movie มือโจร is a Thai movie released in year 1961. Main actors are Adul Dulyarat and Prachuap Ruekyamdee. In year 1961, Adul is still the main actor. Soon he got only second role as Mitr Chaibancha, Sombat Methanee and Chaiya Suriyun became new favorite actors. Main actress is เยาวลักษณ์ มณีเดช, a new comer. Only 54 minutes is left to be seen. It has been remastered so it has a colorful and sharp picture. This movie got three Thai cinema rewards. Younger sister Saen borrows necklace of 40000 baht (สร้อยเพชร) from her elder sister to go to a party. She lost it. Worried to be accused of stealing the necklace, she flees in another city. She meets Adul there. While travelling, their vehicle has a technical issue. The driver walks away to get another car. Meanwhile they are attacked by robbers led by Yot (Prachuap Ruekyamdee). Discovering that Adul is a doctor, Yot (Prachuap) kidnaps both Adul and the young lady. Yot's wife is sick. She got malaria. Yot has finally a good heart. He was forced by life events to become a ruffian. The ruffians' troupe needs to flee to another place as police is chasing them. Sampan, Yot's wife, asks him to surrender (มอบตัว). Yot has arguments with one of his ruffians trying to steal his bounty. Yot is injured in the leg. While the troupe goes to find food, Sampan, the doctor and the young lady Saen flee. Knowing that she is pregnant, Sampan finally goes back to Yot to ensure her child has a father. Saen understands the doctor is a good man. Saen has to leave for Bangkok. Finally the doctor quits his job and joins her. Ratanaporn Intarakamhaeng and Usa Atcharanimit have two small roles as cameo. Famous director is Wichit Khunawut. He made a remake of his own movie in year 1972. It was then called หัวใจป่า.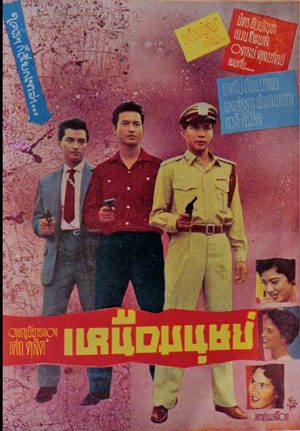 Year

: 1959



Thai title

:

เหนือมนุษย์




English title

:



Rating

: 3/5


Director

: Wichit Khunawut



Main actor

: Mitr Chaibancha,Adul Dulyarat,Man Teeraphol,Sompong Phonmitr,Sukon Koewliam


Main actress

: Rewadee Siriwilai,Kesarin Patamawan,Phong Lada Pimolpan
Thai movie เหนือมนุษย์ was released in year 1959 and lasts 1h26mn. The picture is still colorful. Director is Wichit Khunawut. Mitr Chaibancha was only 25 years old. This is oldest movie still featuring Thai superstar Mitr Chaibancha. Highlight of the movie is Mitr Chaibancha playing with 3 famous main actresses of decade 1950s. Sarawat Cheut (Adul Dulyarat) and Man Teeraphol are policemen. Mitr is playing a bad ruffian, called Krieng, flirting with ladies. Krieng succeeds to win the trust of a gang. The leader sends him in south of Thailand. Sompong Phonmitr follows Krieng as he is impressed by him. Krieng meets Saen, local leader in Pattalung. A local lady called Lada (Rewadee Siriwilai) follows Krieng. Krieng intercepts a truck driven by Saen and containing illicit goods. He joins the Thai police (เจ้าหน้าที่) to catch Saen. Krieng infiltrates another ruffians group and keeps in sync' with Thai police. He meets another lady called Apson (Kesarin Patamawan). Lada is shot while fleeing with Krieng. Businessman Pong asks help from inspector Cheut. Saen kidnaps inspector Man. Krieng helps to release him while ruffians are busy transporting goods. Nit (Phong Lada Pimolpan) is raped by a ruffian. Krieng and Apson joins their efforts to protect Thailand against people trying to hurt the country. Nit steals a document from the ruffians. Undertaker (สัปเหร่อ) kills Saen and Go. Ruffians are aware Krieng betrayed them (ทรยศ). Krieng and Apson are identified as traitors and are attached. Police, called previously by Apson, disturb the ruffians allowing Krieng to escape. Phi Cheua and Nit die during the fightings but Nit shoots Go before dying. Apson is a uncovered policewoman called Achala. It discovered that Krieng's real name is Chet and he is the elder brother of Cheut! Cheut and Chet love the same woman, i.e. Achala. The leader still tries to kill Krieng as revenge. The real leader is Businessman Pong! Krieng succeeds to neutralize the ruffians and escape before the building collapses. He gets Achala's love.
---