Increase or decrease font size for easier reading : A+ A-
Wassana Chalakorn
Wassana Chalakorn (1948) - วาสนา ชลากร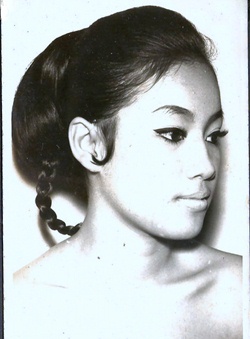 Wassana Chalakorn played in more than ten movies. After 34 years interruption she finally played again in some recent Thai movies. Wassana Chalakorn played the bad girl (ดาวโป๊ ดาวยั่ว) in 35mm movies. She played with Krung Srivilai
This Wassana Chalakorn movie page contains 17 records.
---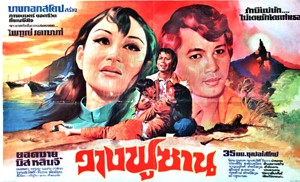 Year

: 1973



Thai title

:

วางฟูซาน




English title

:



Rating

: 3/5


Director

:



Main actor

: Yodchai Meksuwan,Sukon Koewliam,Lor Tok,Pipop Pupinyo,Thep Thienchai,Man Teeraphol,Joomjim Khemlek


Main actress

: Ling Yin,Metta Roongrat,Sisala Thongtara,Wassana Chalakorn
Thai movie วางฟูซาน was released in year 1973. The movie is lost in Thailand but a sequence of 19 minutes remains to be seen. Main actor is Yodchai Meksuwan and main actress is a Hong Kong actress named Miss Ling Yin (มิส หลินจี). Other actors and actresses include Sukon Koewliam, Metta Roongrat, Joomjim Khemlek, Sisala Thongtara, พนม นพพร, Man Teeraphol, Wassana Chalakorn, พูนสวัสดิ์ ธีมากร, Pipop Pupinyo, Lor Tok, สีเผือก, ศรีสุริยา, Thep Thienchai. Men (Yodchai Meksuwan) comes to Hong Kong to perform Thai boxing fighting matches. He is also a gambler. Men is not allowed to enter a casino anymore as he is responsible of the pregnancy of the owner's daughter called Lin. So he has to go back to Thailand. Meanwhile Lin is waiting for him. Later on Men meets Lin again in a Bangkok bar where she is a singer. Seeing she is pregnant, Men brings her in a rented house for her to deliver the baby. He uses Lin's money to indulge other women. Men is seen with Sisala Thongtara and is carrying her packets. Lin is the one supporting financially Men. As the money is running out, Lin is expelled from the house. She ends up in Phetburi and gives birth to a little girl called Liu. Many years later Liu, now a young girl, finds Men full of blood as he has been beaten by local ruffians. She brings Men to her mother Lin. Lin finally forgives Men. Men becomes finally a good guy. One day while he goes to the market, he finds Thai police in his home arresting Lin as her visa is over. Back to Hong Kong, Lin goes back to the place called Wang Fu San. Seeing no hope in her future, no hope to see again Men and her daughter, she decides to jump from a cliff. Hopefully Men and Liu arrive just in time to stop her.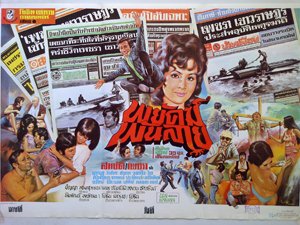 Year

: 1973



Thai title

:

พยัคฆ์พันลาย




English title

: Tiger Fighting / MAGNUM KILLERS



Rating

: 3/5


Director

:



Main actor

: Sombat Methanee,Lor Tok,Dam Datsakorn,Choomporn Theppitak,Adinan Singhiran,Tawan Siriwat,Phirapon Piyawan


Main actress

: Petchara Chaowarat,Wassana Chalakorn
พยัคฆ์พันลาย or Tiger Fighting / MAGNUM KILLERS is a 1973 Thai movie. Pan (Sombat Methanee) has a fight in an illegal casino as his brother was cheated of 500 usd. The casino owner, MengYu, offers him a deal, i.e. accept to go to prison for 10 000 USD in order to contact one of his teammates jailed for life. Only this inmate knows where Wang Piu, nicknamed as King Cobra, is. Veteran actor Lor Tok is playing the jail keeper. The inmate is killed just after telling to Pan that King Cobra is located in Pu Geng area and after giving a letter of introduction. Pan teams up with Lor Tok. They are both threatened by ruffians also looking for King Cobra. Pan asks his friend Chumporn to look after his home and his brother while he is away looking for King Cobra. Around Pu Geng area, Pan meets the local owner (Adinan Singhiran) of a mine. He is hired as a tough man after showing up his skills to knock out four guys and even helps the mine owner's daughter who was kidnapped. Meanwhile Pan's brother is kidnapped by a team of ruffians led by a fierce young lady called KenYouSee (Wassana Chalakorn). To get his brother back, Pan needs to bring Wang Piu to the young lady. She has a revenge to take as Wang Piu caused her parents to die 10 years ago. Pan locates the King Cobra or Wang Piu thanks to the letter of introduction but the young lady KenYouSee is following just behind them. Pan finally meets a noble man looking for his lost princess daughter. Meanwhile KenYouSee captures King Cobra and tortures him as revenge. MengYu, the casino owner, KenYouSee and other thugs were all looking for King Cobra. MengYu double crosses Pan. The princess is in fact Peng, KenYouSee's sister. Everybody is looking for her jewels box as it includes a list of political insurgents. The list is for sale. Finally the princess is kidnapped by MengYu while storming KenYouSee's camp to try getting King Cobra. Through a daring operation, Pan and his friends release the princess. During the movie shooting, long trail boats run over each other and actress Petchara Chaowarat falls in the river. MengYu's team and the thugs willing to buy the list kill each other believing the other party breaks the deal. It is a full packed action movie. Unfortunately the Thai movie is cut into an international version lasting only 1h33mm instead of two hours so those cuts make the movie directing and scenario sometimes weird. It is a IFD movie and luckily it is not merged with Ninja sequences as the original Thai movie is lost in Thailand. During year 1976, this movie was famous as famous veteran actress Petchara Chaowarat falls in the water following a dangerous action scene between two long trail boats. It appears on all Thai newspapers and those newspapers are even featured on the movie poster! The other event was related to sexy actress (ดาวยั่วเซ็กซี) Wassana Chalakorn who dares playing naked in a shower scene. The IFD movie has been redubbed in Thai language in Thailand recently.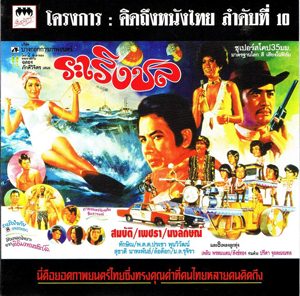 Year

: 1972



Thai title

:

ระเริงชล




English title

: Ra Rueng Chon



Rating

: 5/5


Director

: Chalong Pukdeewichit



Main actor

: Sombat Methanee,Songthong,Rujira Isarangkul,Lor Tok,Pan Borapet,Taksin Jampol,Paen Pleumsachai


Main actress

: Petchara Chaowarat,Somjit Sapsamruey,Marasri Isarangkul,Orasa Isarangkul,Wassana Chalakorn
Thai movie ระเริงชล was released in year 1972 and lasts 2h07mn. It was released under VCD format by XxX company in year 2001. Director is Chalong Pukdeewichit. The movie was found overseas and the picture is sharp and colorful. Unfortunately the first part of the movie (around 20 minutes) was missing. So in order to be able to release the movie, a remaining 35mm film was digitized. As the film reel was almost 30 years old, the colors were gone and scratches could be seen. But at least the first 20 minutes were recovered and VCD was released. Eight songs are featured including the group "Impossible" (วงดิอิมพอสซิเบิ้ล), Songthong and เพลิน พรหมแดน... Petchara wears extraordinary hats in this movie. Pak (Sombat Methanee) is back from overseas. Per his parents' arrangement, he needs to marry a young lady called Rareung (Petchara Chaowarat). His father (Rujira Isarangkul) and his mother (Somjit Sapsamruey) have a debt towards Thon (Lor Tok) and his wife (Marasri Isarangkul), who helped them financially. They must have gratitude (บุญคุณ) towards this family. It is the overseas student versus the upcountry lady (เด็กบ้านนอก). Pak is not willing to marry Rareung and wishes to break the engagement (ถอดหมั้น) as he has a fiancee, called Sopha (นงลักษณ์ โรจนพรรณ), still being overseas. The young lady, Rareung, is behaving like a hippy. If no wedding, Pak's father has to pay back the debt but he doesn't have the money. Pak agrees to work for Thon one year in order to pay back his father's debts. The engagement is maintained. They have to move back to Rayong. Pak met Pleun (เพลิน) as local architect and Sang (Songthon). Plaem (Orasa Isarangkul) is aggressed by ruffians including Pan Borapet. Pleun and Rareung help her on time. Sopha is back from USA and is willing to pay the 1M Baht debt. Pak refuses as he is not a thing that can be purchased. Rareung calls him "golden pimp" (แมงดาปิดทอง)! Pak is authorised by Thon to go to Sopha's birthday. A fight occurs during Sopha's birthday. Bouleu (พ.ต.ต.ประชา พูนวิวัฒน์) hires ruffians to beat Pak as he sees him as a rival. Rareung and his friends help him. Sopha's mother (ประพิศ พราวพรรณ) wishes her daughter to marry Bouleu, a rich businessman. Bouleu has a mistress already (Wassana Chalakorn). Den (ปรีดา จุลละมณฑล) has a car accident with Sopha so he tries to seduce her and comes to her house. Rareung's mother is suddenly dead. Thon has a mistress. Her brother Chu (Taksin Jampol) pushes her to become official wife. Pak refuses that Rareung's breaks her debt contract. Rareung is aggressed by three ruffians but Pak helps her on time. Bouleu hires Chu to recover some drugs fallen in the sea. A party (งานฉลอง) is organised to celebrate new bungalows opening so many families are gathering. Sopha knows she lost to Rareung. Bouleu proposes to help her by damaging the parachute. While Rareung is parasailing, Paen Pleumsachai shoots the parachutes and ruffians kidnap the ladies. They ask for 1M baht ranson to Thon. Bouleu is the mastermind behind. The ransom fails as the police intervenes. Chu is involved but he is doubled. Plaem (sister of policeman Den) and Thon's mistress are also captured. Police is about to storm the island where Bouleu and his team is hiding. Wassana is disappointed that Bouleu still loves Sopha. She warns Pak and the police regarding mines hidden under the beach. Bouleu shoots her. Police led by Den and Pak succeed to storm the HQ and to release the ladies. They have to flee as a time bomb shall destroy the HQ. A final fight occurs between Pak and Bouleu. Wassana harpoons Bouleu. Happy romance can happen between Pak and Rareung, between Den and Sopha, between Pleun and Plaem.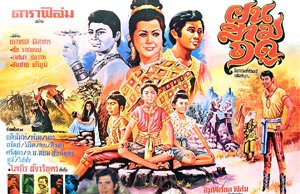 Year

: 1972



Thai title

:

ฝนสามฤดู




English title

:



Rating

: 3/5


Director

:



Main actor

: Adinan Singhiran,Tawan Siriwat,Thuam Thoranong


Main actress

: Yaowaret Nisakorn,Wassana Chalakorn
ฝนสามฤดู is a Thai movie released in year 1972. Only a 1 minute 30 seconds sequence is left. Actors / Actresses playing in this folklore movie are Adinan Singhiran, Yaowaret Nisakorn, Wassana Chalakorn, ชัย ราชพงษ์, สมชาย ศรีภูมิ, Thuam Thoranong (ท้วม ทรนง). It was originally a TV serie. As it was popular, the episodes were shrinked in order to fit into a movie length.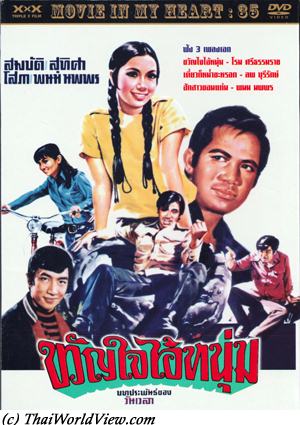 Year

: 1972



Thai title

:

ขวัญใจไอ้หนุ่ม




English title

:



Rating

: 3/5


Director

:



Main actor

: Sombat Methanee,Anucha Ratanaman,Man Teeraphol


Main actress

: Suthisa Putnuch,Sopha Sataporn,Wassana Chalakorn



Buy now

:

Thai movie ขวัญใจไอ้หนุ่ม was released in year 1972 and lasts 1h45mn. It is available under DVD format by famous company XxX owned by Toh Pantamit. Num (Sombat Methanee) is a truck driver (สิบล้อ). He is working for Tia. Raemjai (Suthisa Putnuch) is harassed by ruffians. ปากหวานกับเด็กบ้านนอก. Anucha Ratanaman, driver of minibus (สองแถว), loves Raemjai also so there is jealousy between the two men. The movie features a few songs. Those songs are shot in 35mm format as this format allows image and sound together. The 35mm image is more damaged than the 16mm image as the film is less resistant to time damage. The movie itself is in 16mm format so in the past, dubbers were needed. Such 1970s decade movie include various style to please the whole audience such as action, romance and a bit of spice with a typical waterfall scene where the actress Wassana Chalakorn swims in the water. Head of ruffians (นักเลง) Sakda loves Raemjai also. As Phaen, Raemjai's brother, has debts in Sakda's underground casino, Sakda is pushing him for a wedding with Raemjai. Num punches Sakda's ruffians being irrespectful with Raemjai. Tia's daughter (Sopha Sataporn), called Deuan, doctor student, is back from Bangkok. Ponsak (Man Teeraphol) is Sakda's son. Taking profit that Num is working in Bangkok and the brother Phaen away, Sakda rapes Raemjai at nighttime. Ponsak harasses Deuan so Anucha intervenes. As he is about to be defeated, other minibus drivers help him. Back from Bangkok, Raemjai announces that she is breaking up with Num as she is not suitable anymore. Only Raemjai's brother knows the truth. Shocked, Num leaves very angry. Drinking alcohol, Num is informed by his friends that Raemjai has been kidnapped by Sakda. Num storms Saksa's house with the help of Anucha and minibus drivers. Hopefully Thai Police arrives on time as ruffians have guns. Shootings happen. Phen and Saksa shoot each other. Before dying, Saksa announces that he didn't touch Raemjai that night due to his heart decease (โรคหัวใจ). Num and Raemjai can have happiness. Deuan goes back to Bangkok as she knows she cannot get Num's love.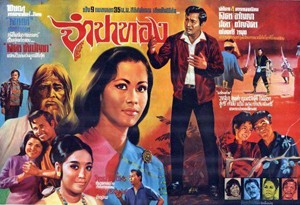 Year

: 1971



Thai title

:

จำปาทอง




English title

:



Rating

: 4/5


Director

:



Main actor

: Mitr Chaibancha,Chat Mongkolchai


Main actress

: Aranya Namwong,Wassana Chalakorn
A mother talks to her son Virathep (วีระเทพ) (Mitr Chaibancha). She tries to convince him to marry a young woman called Soraya (โสรยา) (Wassana Chalakorn) coming from a rich family also. Virathep is reluctant and flees from the house. Virathep is a former art student graduated in painting. Having a sip in a bar with a friend, Virathep helps a man (Chat Mongkolchai) beaten by a few ruffians as he was protecting a mother and his daughter. Virathep is welcomed in the mother's house. Virathep's mother is upset that he left the house. Around the forest near the house some tree nymphs (น้างไม้) wearing traditional Thai dresses and living in trees. While painting, Virathep hears Aranya (จำปาทอง) singing so he asks to do her portrait. Virathep's mother is still pushing him to marry. The original film is mute as it is in 16mm format but some songs can still be heard a bit as those parts were recorded in 35mm format. Virathep goes back to Bangkok and misses Aranya. They pray and go back to the past during Ayuthaya period. They loved each other but Virathep was killed during a fight with Burmese soldiers. Learning Virathep's death, Aranya died on the spot and her spirit (วิญญาณ) became a tree nymph. Will their love be successful this time? The mother and the girl fiancee to Virathep meet Aranya. Issues happens between them. The fiancee follows Aranya up to the forest but Aranya chases her away by making her clothes fly away. The fiancee realizes she is a ghost. As usual there are second comic relief roles in Mitr Chaibancha's 1960 movies. The mother and fiancee hire an expert (อาจารย์) to chase Aranya away. They put some magic cloth (ยันต์) on her tree to prevent her to enter it again. Aranya becomes invisible and plays tricks to the mother and fiancee. Afraid, the mother orders to cut all trees near Aranya's refuge. Meanwhile Virathep gets from another magic expert a potion. A fight erupts as Virathep tries to prevent ruffians to cut trees. Invisible tree nymphs help him as ruffians are numerous. After pouring the sacred water on Aranya, she becomes visible again. Aranya is now a human being also. First the mother rejects this union as she has a promise to fulfill with the fiancee's mother. But finally their love will win. The movie is 1h32mn left only as the last movie reel is missing. When Mitr Chaibancha came back from Hong Kong on 05 Oct 1970, a few sequences (when wearing old Ayuthaya soldier clothes) for this movie were filmed on the 06 October. Mitr Chaibancha died during an accident on 07 Oct during movie Insee Thong shooting.



Year

: 1971



Thai title

:

น้องนางบ้านนา




English title

:



Rating

: 3/5


Director

:



Main actor

: Chaiya Suriyun,Chat Mongkolchai,Choomporn Theppitak,Op Boonthit,Anucha Ratanaman,Sawin Sawangrat,Sompong Phonmitr


Main actress

: Aranya Namwong,Wassana Chalakorn,Chosri Misommon,Khomapat Attaya
Thai movie น้องนางบ้านนา is a Thai movie released in year 1971. It features Chaiya Suriyun as main actor and Aranya Namwong as main actress. The movie was started with Mitr Chaibancha but it was incomplete due to his premature death. So the main actor was replaced by Chaiya Suriyun. The movie features nine songs but none are left. Many famous singers from beginning of 1970s decade are acting in this movie. No movie summary is available anymore. The movie is lost in Thailand but luckily an extract of 56 minutes is still left. Other actors are Chat Mongkolchai, Choomporn Theppitak, Wassana Chalakorn, Khomapat Attaya, Anucha Ratanaman, Sawin Sawangrat, Marasee (มารศรี), Sompong Phonmitr, Chosri Misommon, Op Boonthit. Without a summary and the movie being in mute state as it is in 16mm format, the story is difficult to understand. Aranya Namwong receives a letter from her fiance studying at university. Wassana Chalakorn is jealous and steals the photograph. Op Boonthit and his daughter Chosri Misommon are bar owners. Sompong is their regular customer. Choomporn Theppitak is agressed by a ruffian, who is finally an old friend. Sawin Sawangrat and Rujira (ม.ล. รุจิรา) seem to have bad plans but are spied by Choomporn and Anucha. Chaiya is back from his studies. Chaiya and Wassana Chalakorn are in a rice field having romantic talk. Khomapat Attaya is with them. Wassana Chalakorn tries to prevent Chaiya to meet Aranya. Anucha is trying to abuse Wassana Chalakorn. Heated arguments happen during a wedding colorful procession. This movie reminds of famous movie "Mon Rak Luk Thung" (มนต์รักลูกทุ่ง - 1970) as it features many songs and various couples involving romance and jealousy. Following movie "Mon Rak Luk Thung" success, many romantic song movies (หนังเพลง) were released in the following months and years trying to surf on a similar popular wave.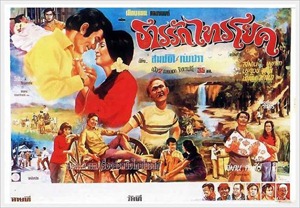 Year

: 1971



Thai title

:

ธารรักไทรโยค




English title

:



Rating

: 3/5


Director

:



Main actor

: Sombat Methanee,Prachuap Ruekyamdee,Paen Pleumsachai,Sawin Sawangrat,Pan Borapet,Songthong,Tat Ekathat


Main actress

: Petchara Chaowarat,Metta Roongrat,Wassana Chalakorn
Thai movie ธารรักไทรโยค was released in year 1971. Main actors and actresses are Sombat Methanee, Petchara Chaowarat, Prachuap Ruekyamdee, Paen Pleumsachai, Sawin Sawangrat, Metta Roongrat, Wassana Chalakorn, Pan Borapet, singer Songthong, Tat Ekathat. The movie is lost in Thailand but a dubbed sequence in 16mm format lasting 1h30mn was shown in Thai Film Archives. The movie takes place in Saiyok area, Kanchanaburi province. Multiple songs are featured. Trailer sequences show various action and romance scenes. The remaining film is in 16mm format but songs are in 35mm format so songs sequences have poor quality as 35mm film degrades faster in time. Prachuap is trying to seduce Metta. Petchara's father, Sawin, doesn't like people from Bangkok. Sombat and Prachuap are accused to be robbers.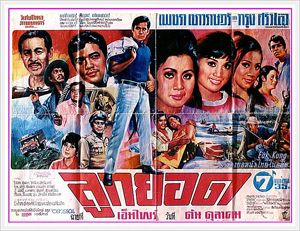 Year

: 1971



Thai title

:

ลูกยอด




English title

:



Rating

: 3/5


Director

:



Main actor

: Krung Srivilai,Sithao Petcharoen,Choomporn Theppitak,Boo Wibunnan,Pisarn Akraseranee,Preuhat Boonlong,Sukon Koewliam,Krai Kanchit


Main actress

: Petchara Chaowarat,Wassana Chalakorn,Sopha Sataporn
Thai movie 'Luk Yot' (ลูกยอด) was released in year 1971 and features Thai film superstars Krung Srivilai and Petchara Chaowara. It was Krung Srivilai's first movie. Krung was 4 years younger than Petchara so from being the younger sister (น้อง) with Mitr, Petchara becomes the older sister (พี่)! After Mitr Chaibancha's tragic death in year 1970, the Thai cinema needed new faces, new main actors to replace the void caused by Mitr's premature death. Only a two minutes trailer is remaining as the movie is lost in Thailand. A full movie summary is still available as some old Thai movie stars magazines can still be found nowadays. Various sequences can be seen during those two late minutes : Sithao Petcharoen paddling a small boat on a river and watching young ladies, shootings. Other actors / actresses include Pisarn Akraseranee, Choomporn Theppitak, Boo Wibunnan, Wassana Chalakorn, Sopha Sataporn, Preuhat Boonlong,Sukon Koewliam. 7 songs are featured in 35mm format.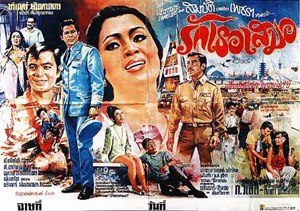 Year

: 1970



Thai title

:

รักเธอเสมอ




English title

:



Rating

: 3/5


Director

: Charin Nantanakorn



Main actor

: Sombat Methanee,Taksin Jampol,Prachuap Ruekyamdee,Adul Dulyarat,Lor Tok,Charin Nantanakorn


Main actress

: Petchara Chaowarat,Wassana Chalakorn
รักเธอเสมอ is a Thai movie released 1970. The movie is lost in Thailand except the last reel of the film, which lasts 35 minutes. The last reel is in 16mm format so it is mute as 16mm movies require to have live dubbing. When songs happen, the format is then changed to 35mm as this format allows image and sound together. It looks like a Western type movie and featuring 9 songs. Song รักเธอเสมอ remains famous and was sung many time by various singers. The movie features เพลงลูกกรุง. Sombat (Sombat Methanee) is visiting a police station to inform them about his friends kidnapping. Adul Dulyarat is police leader. Taksin (Taksin Jampol) and Wassana (Wassana Chalakorn) have kidnapped Petchara (Petchara Chaowarat) and Prachuap (Prachuap Ruekyamdee). Police is surrounding the ruffians. Police cannot attack as they have hostages. Shootings start and Sombat helps to release them. Taksin and Wassana try to flee. Adul is injured. Wassana is shot by Taksin as she tries to flee on her own. Petchara gives comfort to Adul as he is injured but her heart is split between Sombat and Adul. Taksin comes back for revenge. Following an ultimate fight with Sombat, he falls and dies in a hot spring water. Charin Nantanakorn produced and directed the movie. During a final engagement, Petchara shall choose between Adul or Sombat.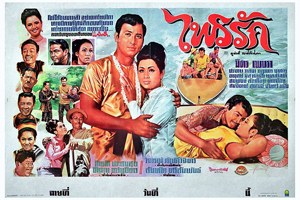 Year

: 1969



Thai title

:

ไพรรัก




English title

:



Rating

: 3/5


Director

:



Main actor

: Mitr Chaibancha,Adul Dulyarat,Prachuap Ruekyamdee,Daonoi Duangjai,Sukon Koewliam,Lor Tok,Sompong Phonmitr


Main actress

: Petchara Chaowarat,Wassana Chalakorn,Chadaporn Wachirapranee,Boosara Narumit,Somjit Sapsamruey
Thai movie ไพรรัก was released in year 1969. This movie features Mitr Chaibancha as main actor and Petchara Chaowarat as main actress. The movie is lost in Thailand but a four minutes trailer is left to be seen. The remaining sequences allow seeing various other actors and actresses such Adul Dulyarat offering flowers to Wassana Chalakorn, Prachuap Ruekyamdee, Somjit Sapsamruey, Sukon Koewliam, Lor Tok, Chadaporn Wachirapranee, Daonoi Duangjai, Boosara Narumit, Sompong Phonmitr.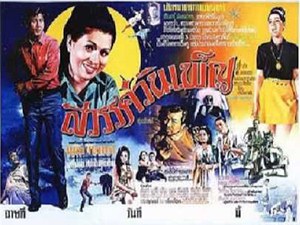 Year

: 1969



Thai title

:

สวรรค์วันเพ็ญ




English title

:



Rating

: 3/5


Director

: Charin Nantanakorn



Main actor

: Mitr Chaibancha,Lor Tok,Adinan Singhiran,Sithao Petcharoen,Charin Nantanakorn,Sukon Koewliam


Main actress

: Petchara Chaowarat,Somjit Sapsamruey,Wassana Chalakorn,Chadaporn Wachirapranee,Malee Wetpraseri
Thai movie สวรรค์วันเพ็ญ was released in year 1969. It features Mitr Chaibancha as main actor and Petchara Chaowarat as main actress. Other actors and actresses include Lor Tok, Somjit Sapsamruey, Adinan Singhiran, Sithao Petcharoen, Charin Nantanakorn. The movie is lost in Thailand but a sequence of 90 minutes and a song lasting 2mn30s remain to be seen. The song is in fact in 35mm format and the movie is in 16mm format. The song features Sithao Petcharoen and some dancers. The image has poor quality. The movie featured six songs written by Charin Nantanakorn. A dubbed version lasting 90mn was shown in Thai Film Archives in year 2017. A movie summary from old Thai magazines is still available. The movie director was Charin Nantanakorn. Wan Pen (Petchara Chaowarat) and Kwan (Adinan Singhiran) are close friends. Wan Pen's mother, Somjit Sapsamruey, is married to a drunkard. As her husband is trying to abuse Wan Pen, Somjit kills him by accident and ends up in jail. The family house burns in a fire. Having nowhere to go, she decides to go to Bangkok to search for her real father. She goes alone as Kwan misses the train. Mitr Chaibancha and Lor Tok are policemen in Bangkok. Wan Pen is looking for food. Having pity on Wan Pen, she becomes domestic helper in Mtr's house and takes good care of the house and children. Previously Charin Nantanakorn was the one helping to take care of two kids and the house. Wan Pen wins trust and love from Mitr. Mitr claims Wan Pen is his wife in front of his mother (Malee Wetpraseri). He said they have two children. Soi (Wassana Chalakorn), Mitr's fiancee, is upset. The mother finally realises everybody lied to her. Wan Pen decides to leave this crazy house (ดูถูก) and goes back to her home in Sukhothai. Soi is still pushing Mitr to marry but he is still pushing back. Soi and her mother (Chadaporn Wachirapranee) prepare a bad plan against Mitr. Aware, Wan Pen and Kwan inform him. Shootings happen during a concert. The kidnapping foils as Thai police shoot the ruffians. Mitr is now aware that Wan Pen helped him as she was worried and concerned. Seua Pon kidnaps Wan Pen and uses her as a bait to shoot Mitr. Seua Pon doesn't shoot after hearing her name. Seua Pon and Mitr have a final duel. Knowing that Mitr is injured at the hand, he has no chance against Seua Pon so Wan Pen shoots him with a rifle. Realising she killed her own father, Wan Pen feels bad and flees. Kwan acknowledges he was the one to shoot Seua Pon as both him and Wan Pen shot at same time. Mitr doesn't arrest Kwan as Seua Pon was a bad man. The movie ends up with a romance between Mitr and Wan Pen.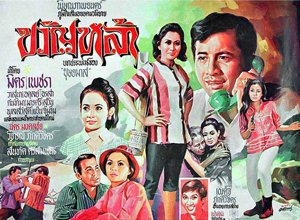 Year

: 1969



Thai title

:

ขวัญหล้า




English title

:



Rating

: 3/5


Director

:



Main actor

: Mitr Chaibancha,Adul Dulyarat,Op Boonthit,Chat Mongkolchai,Adinan Singhiran


Main actress

: Petchara Chaowarat,Orasa Isarangkul,Wassana Chalakorn,Marasri Isarangkul
Thai movie ขวัญหล้า was released in year 1969. It features Mitr Chaibancha as main actor and Petchara Chaowarat as main actress. The movie is lost in Thailand but a sequence of six minutes is left to be seen. Mitr is not seen in the remaining sequence. New star in this movie is Chat Mongkolchai. Other actors are Adul Dulyarat, Op Boonthit, Orasa Isarangkul, Wassana Chalakorn, Adinan Singhiran, ขอใจ ฤทัยประชา, กัณฑิมา ดาราพันธ์. Summary is still available from Thai star magazines. A family has a very cute daughter called Pan Kaew (Petchara). She never saw her parents as she was raised by Pa Puang. Her aunt Pa Puang is sick and so sent her to Chiang Mai in Nai Sarapee's home to be a domestic helper. In fact Pa Puang sold her! But Nai Sarapee likes her so much that she treats her like a daughter. One day when walking near the house, she hears an old man voice crying and asking for food / water. She gives him food and promises to help him again. Nai Sarapee announces to Pan Kaew that she will send her to Bangkok. In fact she is sold to a brothel (ซ่องโสเภณี / ซ่องนางโลม) for 6000 Baht. In the past, Pa Puang used to love Pan Kaew's father. But this love was not reciprocal. When Pan kaew was born, Pa Puang promised to make Pan Kaew's life as miserable as possible as a revenge against her father. Saying goodbye to the old man, he tells her to dig for an old jar and take the bracelet inside. If somebody sees this bracelet, she shall answer she is ขวัญหล้า! If this somebody has a red taint, Pan Kaew shall bring him to help the old man. In Bangkok, Pan Kaew meets Bua Riaw (Orasa). Understanding they have been sold, they try to flee. One day while the brothel owner brings Pan Kaew for her first customer, a man named Sun called her as Kwan La. Knowing Pan Kaew's father, Sun decides to help her. Meanwhile the brothel owner's son also decides to help Pan Kaew to flee. The summary ends up here.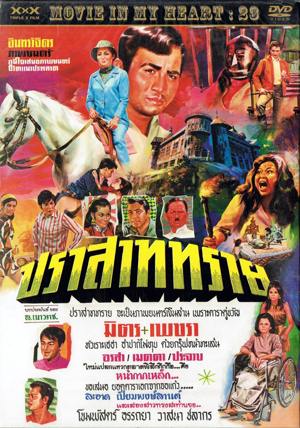 Year

: 1969



Thai title

:

ปราสาททราย




English title

: Sand Castle



Rating

: 4/5


Director

:



Main actor

: Mitr Chaibancha,Sawin Sawangrat,Sukon Koewliam,Sahat Piempongsan,Prachuap Ruekyamdee,Adul Dulyarat


Main actress

: Petchara Chaowarat,Metta Roongrat,Chadaporn Wachirapranee,Khomapat Attaya,Wassana Chalakorn



Buy now

:

A testament is written by an aging father. Everything will be given for the granddaughter, Rung Na Pha (รุ่งนภา), i.e. money and the family house called Sand Castle (ปราสาททราย). So his two sons (คนเลว), aware of this decision, are unhappy. The uncles want to force Rung Na Pha to sign a property transfer. She refuses to do so she is locked inside a hidden room and is put an iron mask on the face (หน้ากากเหล็ก). In Bangkok Ang Madison, young man, meets inadvertently a young student girl called Dao. Ang Madison is neighbor of the Sand Castle (วัง). One of the uncles, Sulasit, also finds Dao, who is having the same face as Rung Na Pha. He brings her back to the family house but villagers and other family members start to notice that she (คุณหนู) has changed a lot. Back to his home, Ang Madison meets Dao but she tells him there is misunderstanding as she is Rung Na Pha and not Dao. Sulasit's daughter likes Ang Madison a lot and wishes to marry him as he is coming from a rich family. Sulasit is friend with Det, a local ruffian head (เจ้าพ่อ). Both uncles don't want half of the house but the whole house including Ang Madison's land. Both uncles' daughters fight to get interest from Ang Madison. They are jealous about Dao as Ang Madison has more interest in her. Ang Madison wishes to share his land with poor villagers to help them. Ang Madison refuses to sell his land to Sulasit, so Sulasit asks Det to kill Ang Madison. Dao and her friends find the real Rung Na Pha in her hidden cell. There are nice old Fx twin effects as Dao and Rung Na Pha both played by Petchara Chaowarat appear on the screen. Dao and her friends cannot release Rung Na Pha on time. Sulasit hits Rung Na Pha harshly causing her death. Sulasit forces Dao to be present as the official opening of the testament. Det is ready to act following Sulasit's order but wishes to play his own plan to get all money and diamonds. Sulasit's son helps and Dao tells the truth about her real identity during the testament opening. Det's irruption brings a mess. Fights happen. Family members fight for pink Diamond. Tragedy happens. The two daughters drown. Sulasit fights with Ang Madison. Finally the father's crazy daughter, mother of Rung Na Pha, puts the fire inside the palace and it explodes. Dao and Ang Madison are safe. In year 1969, this movie became famous. Phanmitr (พันธมิตร) company got the last film copy and shared it with all Thai movies fans.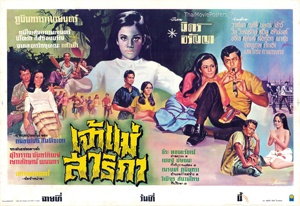 Year

: 1969



Thai title

:

เจ้าแม่สาริกา




English title

:



Rating

: 3/5


Director

: เชษฐ ชัยชนะ



Main actor

: Mitr Chaibancha,Chao Klaewklong,Sawin Sawangrat,Adinan Singhiran,Sukon Koewliam,Krong Kangkengdaeng


Main actress

: Aranya Namwong,Wassana Chalakorn
Thai movie เจ้าแม่สาริกา was released in year 1969. Thai actors and actresses featured in this movie are Mitr Chaibancha, Aranya Namwong, Wassana Chalakorn, ฤทธี นฤบาล, อุไรวรรณ จันทร์ทิพย์, บุษกร, Chao Klaewklong, วิน, Sawin Sawangrat, Adinan Singhiran, ขอใจ, Sukon Koewliam, Krong Kangkengdaeng. Movie director is เชษฐ ชัยชนะ. The movie is lost in Thailand but a sequence lasting 47 minutes (2 first reels only so the movie is incomplete) remains to be seen. The image is colorful and sharp. The remaining film is in 16mm format, so it is in mute state as such format requires live dubbing. A dubbed version was shown in Thai Film Archives in 2020. The story is a bit similar to to เจ้าแม่ตะเคียน or แก้วกาหลง. Kaew (แก้ว - Mitr Chaibancha) and Sarika (สาริกา - Wassana Chalakorn) marry as they love each other since a long time. Wit (วิทย์ - ฤทธี นฤบาล), local ruffian, is upset as he also loves Sarika but nothing he can do. On Sarika's side, her younger sister Ranjuan (รัญจวน - Aranya Namwong) also likes secretly Kaew. After the wedding, Kaew receives a government assignment to be a soldier in Vietnam. Kaew goes fighting in Vietnam with his friend Pai (ไผ่ - วิน วิษณุรักษ์). Sarika is pregnant. One day she heard that through a letter that Kaew had disappeared during fighting in Vietnam. It makes Sarika very worried as she doesn't know if Kaew is still alive or not. To change her mind, she goes wandering around the waterfall. Wit and Pikun (พิกุล - อุไรวรรณ จันทร์ทิพย์), a young lady loving Kaew, put in place a plan to get rid of Sarika. While Sarika is walking near the waterfall, an acolyte working for Wit pushes her. She falls and dies. Everybody thinks it is a suicide as Sarika was depressed after learning sad news about Kaew. While the funeral ceremony is happening, Kaew and Pai are coming back from Vietnam. Kaew meets a friend coming back from the ceremony. The friend is about to say that Sarika has died but her ghost appears, and the friend doesn't dare to say anything to Kaew. Sarika behaves as if she was still alive. She brings Kaew to her parents' house and pretends there is a relative's funeral ceremony. Everybody is surprised as they thought Kaew died in Vietnam. Nobody dares to tell the truth to Kaew. Kaew goes back home and sleeps. Sarika and his baby are there. In the morning Kaew doesn't see Sarika and his baby so he visits Ranjuan, who disclosed the truth to Kaew. The remaining film is ending there. The remaining part of the story can be found in old Thai cinema magazines. When Pikun knows that Kaew is back, she asks a shaman to make a love philter to seduce Kaew. She plans to kill him and to get his heritage. Ranjuan helps Kae. Gradually love merges between Kaew and Rajuan. It makes Sarika to be very upset (ออกอาละวาด) as she is afraid to lose Kaew. Villagers use a shaman to calm down Sarika but the sham has pity for Sarika. The shaman asks Kaew and Rajuan to talk to Sarika so that she can understand. Sarika finally understands and requests that a spirit house be built near the waterfall where she died so that there is proof of her love towards Kaew.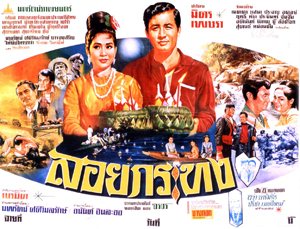 Year

: 1969



Thai title

:

ลอยกระทง




English title

: Loy Krathong



Rating

: 3/5


Director

: Neramit



Main actor

: Mitr Chaibancha,Adul Dulyarat,Boo Wibunnan,Adinan Singhiran,Prachuap Ruekyamdee,Lor Tok,Tat Ekathat,Sukon Koewliam,Adul Dulyarat,Joomjim Khemlek,Pipop Pupinyo


Main actress

: Petchara Chaowarat,Metta Roongrat,Wassana Chalakorn,Tukata Jindanuch,Mom Chan Phuangwan
Thai movie ลอยกระทง was released in year 1969. It is a 16mm film so in mute state and no complete summary of the movie is left. The movie is incomplete as only 2h08mn is left. Mitr Chaibancha, Adul Dulyarat, Boo Wibunnan are watching ladies Petchara Chaowarat, Wassana Chalakorn, Metta Roongrat launching krathongs in the river during Loy Krathong festival. A speed boat makes Petchara fall in the water. Mitr rescues her. The speed boat is driven by Petchara's brother. As he dislikes his sister meeting the three young men, fighting happens. The father Tat Ekathat interposes himself but he doesn't like Mitr either. The father forbids them to meet. The movie is named Loy Krathong but the movie is about Loy Krathong festival only at the beginning of the movie when both Mitr and Petchara initially met. The movie is then more an action movie. Mitr and Petchara try to help a young kid tentatively treated by a tribe shaman (Lor Tok). Other villagers interpose as they are not used to western medicine. At nighttime one of the villagers (Pipop Pupinyo) brings the kid for injection. Finally Mitr sympathizes with the shaman and ends up taking care of several children! Metta is aggressed by three ruffians and gets help from Mitr and also a group of children (including famous child actress Tukata Jindanuch). Those children are mischievous. Disappointed not to get Mitr's love, Metta ends up to be drunk. Metta does use a trick on Petchara in order for Mitr to be disappointed by her. Metta prevents her to see Mitr. Mitr and Lor Tok have arguments with policemen and end up in jail. Prachuap Ruekyamdee releases them by using violence and threatening policemen. Mitr injures by the accident a policeman. Arguments are happening between tribe kids and Thai local kids. Petchara is their teacher. Adul Dulyarat, a policeman officer, tries to seduce Petchara. The father Tat Ekathat threatens his daughter of closing the school. Tat Ekathat is aggressed by thieves on a mountain road. Luckily Mitr, Prachuap, Lor Tok are around and chase away the thieves. The three friends realise that Boo Wibunnan is trafficking drug. Behind this traffic, there is involvement of Tat Ekathat and ruffians leader. Fist fighting erupts involving Adinan also. Tat Ekathat stops everybody. It is discovered that the candles on the krathong contain explosives. It looks like Boo Wibunnan and Lor Tok die in an explosion. Mitr and Prachuap are arrested by Adul and Sukon Koewliam, a policeman. They get transfered under military authority, who releases them. Metta is captured with ruffians. Two policemen gets captured also. Meanwhile Mitr follows up Adinan but gets injured by Ekathat's fellow worker. Mitr hides in the school and is treated by Petchara. Adul discovers Mitr in Petchara's room. Things get worse as Petchara is kidnapped and Mitr and Adul are locked in a room with Prachuap. They succeed to flee. Meanwhile Petchara is crucified by hill tribe villagers. Mitr fails to help her and is also crucified. Meanwhile Prachuap follows the ruffians leader and tries to prevent Adinan to rape Wassana Chalakorn. Adul with a bunch of policemen try to release Mitr and Petchara. Finally Prachuap and Wassana Chalakorn flee and release all the hill tribes children. Hill tribes villagers change side seeing their children now released. Ruffians blaze the village. A four minutes trailer is still available and showing some final scenes not present in the 2h08mn left to be seen. A final fight happens between Mitr and the ruffians leader.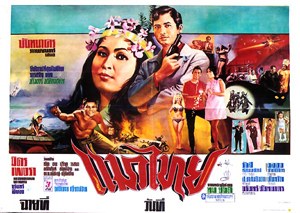 Year

: 1968



Thai title

:

แมวไทย




English title

:



Rating

: 3/5


Director

:



Main actor

: Mitr Chaibancha,Lor Tok,Adul Dulyarat,Charin Nantanakorn,Adinan Singhiran,Tat Ekathat,Somkuan Krajangsat


Main actress

: Petchara Chaowarat,Wassana Chalakorn,Preeya Roongrueng
Thai movie แมวไทย was released in year 1968. Main actors are Mitr Chaibancha and Petchara Chaowarat. Other side actors include Adul Dulyarat, Charin Nantanakorn, Tat Ekathat, Preeya Roongrueng, Wassana Chalakorn, Adinan Singhiran, Lor Tok, Somkuan Krajangsat. It is a spy movie. The movie is lost in Thailand and only a three minutes sequence remains to be seen. It still has a colorful picture. There is a famous sequence with Mitr Chaibancha talking over the phone to Wassana Chalakorn being in a lascivious pose on her bed. The story summary is still available from old Thai movie stars magazine but the available scans are in bad conditions. Rawin is played by Mitr Chaibancha. Rawin is back from overseas and spends his time partying with Ai Kha (Adinan Singhiran) and Ai Kruk (Lor Tok).
---