Increase or decrease font size for easier reading : A+ A-
Wanna SaengChanThip
Wanna SaengChanThip (194x) - วรรณา แสงจันทร์ทิพย์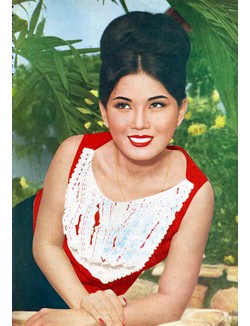 Wanna SaengChanThip was a Thai actress from 1962 to 1968
This Wanna SaengChanThip movie page contains 3 records.
---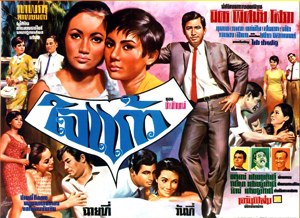 Year

: 1968



Thai title

:

ใจแก้ว




English title

:



Rating

: 3/5


Director

:



Main actor

: Mitr Chaibancha,Choomporn Theppitak,Somkuan Krajangsat,Tat Ekathat,Sithao Petcharoen


Main actress

: Pissamai Wilaisak,Sopha Sataporn,Kaenjai Meenakanit,Wanna SaengChanThip
Thai movie ใจแก้ว was released in year 1968. Main actor is Mitr Chaibancha and main actress is Pissamai Wilaisak. The movie is lost in Thailand but a 4 minutes trailer remains to be seen. Other actors are Sopha Sataporn, Choomporn Theppitak, วรรณา แสงจันทร์ทิพย์, Kaenjai Meenakanit, Somkuan Krajangsat, Tat Ekathat, วงทอง ผลานุสนธิ, Sithao Petcharoen, วิเชียร นีลิกานนท์, ไสว ประเสริฐ. Movie director is รัตน์ เศรษฐภักดี. A movie summary extracted from Thai stars magazines is still available to be read. Probably ใจแก้ว movie was a dramatic love story (ชีวิตรัก) as both Pissamai Wilaisak and Sopha Sataporn love Mitr Chaibancha. Pissamai decides to sacrifice herself for her daughter Sopha. Pissamai flees and is severely ill but Sombat is looking for her and finally finds the place where she is hiding. The trailer shows a few sequences, i.e. Sopha playing the daughter of Pissamai, Pissamai loving Mitr, Pissamai being aggressed by Tat Ekathat, Kaenjai Meenakanit being stabbed by Pissamai, Pissamai climbing stairs for suicide, Sopha crying over her mother's body.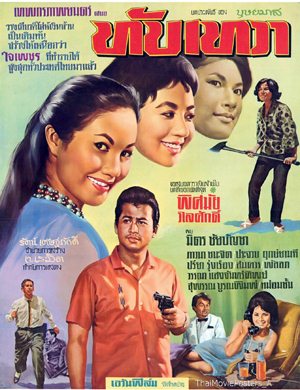 Year

: 1964



Thai title

:

ทับเทวา




English title

:



Rating

: 3/5


Director

: Neramit



Main actor

: Mitr Chaibancha,Prachuap Ruekyamdee,Somkuan Krajangsat


Main actress

: Pissamai Wilaisak,Pawana Chanajit,Preeya Roongrueng,Wanna SaengChanThip,Mom Chan Phuangwan
Thai movie ทับเทวา was released in year 1964. Main actors and actresses include Mitr Chaibancha, Pissamai Wilaisak, Pawana Chanajit, Prachuap Ruekyamdee, Preeya Roongrueng, Somkuan Krajangsat, พัลลภ พรพิษณุ, Wanna SaengChanThip, สุพรรณ บูรณพิมพ์, Mom Chan Phuangwan. The film was never released on VHS / VCD / DVD format but the movie in 16mm format can still be seen in Thailand. It lasts 1h15mn (3 reels in bad state especially reel number 2) and a dubbed version was shown in Thai Film Archives in 2020. It is still colorful. Movie director is Neramit. Visanoo (Mitr Chaibancha) and Chan (Pissamai Wilaisak) have not met for 10 years. Thep (Prachuap) tries to seduce Chan but to no avail. Mitr Chaibancha is playing two roles, i.e. Theva and Visanoo. Visanoo is Chan's fiance. Preeya tries to break this relationship in order to marry Visanoo. Her mother uses Prachuap to force Chan but Theva intervenes and punches Prachuap. A famous sequence is when ruffian สุพรรณ บูรณพิมพ์ is chasing Pissamai with an axe. It was the last movie where Mitr Chaibancha and Pawana Chanajit played together. The legend said that in a romantic scene Mitr has to hug Pawana. Pawana was concerned so she deflected. It makes Mitr upset as he has always been a gentleman with actresses when playing movies. Mitr never played again with Pawana. Pawana then played in movies with Sombat Methanee and Chaiya Suriyun. A movie remake was released in year 1989 with Bin Banleurit, Ekapan Banleurit, ขวัญฤดี กลมกล่อม, Apiradee Pawaputanon. A TV serie was released in year 2003 on CH7 with จอนนี่ แอนโฟเน่ and เอมี่ กลิ่นประทุม.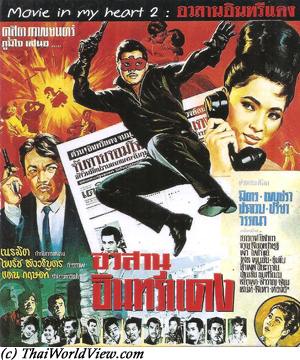 Year

: 1963



Thai title

:

อวสานอินทรีแดง




English title

:



Rating

: 4/5


Director

: Neramit



Main actor

: Mitr Chaibancha,Prachuap Ruekyamdee,Sithao Petcharoen,Phirapon Piyawan


Main actress

: Petchara Chaowarat,Preeya Roongrueng,Yaowaret Nisakorn,Wanna SaengChanThip
Thai movie อวสานอินทรีแดง was released in year 1963. The movie under VCD format lasts 1h38mn. Parts of the movie are missing but it still has a colorful and sharp picture. Insee Daeng (Mitr Chaibancha) always provides useful information to the police inspector (สารวัตร). But one inspector called Chat still wishes to catch him. Tamrong (Prachuap Ruekyamdee) following a stage with Scotland Yard also wishes to capture Insee Daeng (อินทรีแดง). In public life Insee Daeng is Rom (Mitr Chaibancha), a journalist a bit coward and often drunk so that nobody could think both men are the same! Wassana (Petchara Chaowarat) is his journalist girlfriend. Chat is captured by an evil organisation (กลุ่ม Bodam) who tries to bribe him (พวกขายชาติ) but he refuses so gets imprisoned. The main police inspector and Song try to release Chat. Meuan gives the code to enter the house to them through coercion. They get captured also and meet Chomchai (Preeya Roongrueng) imprisoned by Phi Decha. Hopefully Insee Daeng helps them on time. Wassana gives support to Chomchai. Suthee (Yaowaret Nisakorn) is Tamrong's sister. Tamrong fails to catch Insee Daeng. Meuan gets killed by one hitman from the organisation. As the hitman is caught by police inspector, the organisation also shots him to avoid he reveals any information to the police. Veteran comic actor Sithao Petcharoen as a photographer succeeds to take a picture of Insee Daeng without his mask (ชมหน้าอินทรีย์แดง). Insee Daeng fails to take back the film. Rom tries to get it back from the newspapers but Decha steals it first. Chomchai is captured back by Bodam organisation. Rom fails to get the film back from Decha as he is lying mentioning he is part of Bodam. Bodam now thinks Rom could be Insee Daeng as he is putting so much efforts to get back the film. Insee Daeng finally escapes from the ruffians and Daeng meets miss TinYong (Wanna SaengChanThip) from Hong Kong. She tries to persuade him to join Bodam organisation. Finally Insee Daeng steals the film back from Tamrong following a fist fighting. Tamrong suspects Rom could be Insee Daeng as he has many bruises supposed to be due to a fall in the stairs. Rom simulates a love story with TinYong to enter in Bodam organisation's hidden place. Police is warned also. Wassana frees TinYong seen as traitor, Suthee and Chomchai attached to a pile of dynamite. Once again, Insee Daeng helps Tamrong stuck in difficult situations. Once the ruffians are defeated, the corpse of Insee Daeng is found by Tamrong. Of course, it is only a simulacre put in place by Rom to ensure Tamrong stop looking for him.
---