Increase or decrease font size for easier reading : A+ A-
Wandee Sritrang
Wandee Sritrang (1950-1975) - วันดี ศรีตรัง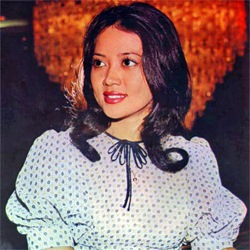 Wandee Sritrang won a beauty contest. Director Piak Poster was looking for a new main actress. he decided to use Wandee Sritrang. Her first movie was ชู้. Wandee Sritrang played movies 16 movies in four years during 1972-1975
This Wandee Sritrang movie page contains 5 records.
---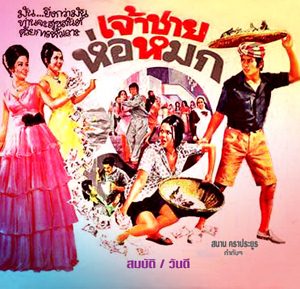 Year

: 1974



Thai title

:

เจ้าชายห่อหมก




English title

: Curried fish prince



Rating

: 3/5


Director

:



Main actor

: Sombat Methanee,Thuam Thoranong


Main actress

: Wandee Sritrang,Khomapat Attaya,Jomchai Jarintorn,Viphavadi Triyakul,Chosri Misommon,Malee Wetpraseri,Metta Roongrat
Thai movie เจ้าชายห่อหมก (Curried fish prince) was released in year 1973. The movie was never released in Thailand under VHS or VCD format. Nevertheless the 35mm film was recorded by a collector and lasts 2h08mn. Chosri Misommon is playing a domestic helper. Mom Pa is waiting for her lost son, Kinarin, who had gone to study abroad and didn't send any news for years. Many years passed and she is getting severely sick. To please her and to speed up her recovery, Metta announces that her son is coming back very soon so she has to organize an event (งานต้อนรับ). The father (Thuam Thoranong) and Metta Roongrat have idea to find a man with a similar face in order to please Mom Pa. The father remembers to have seen such man (พ่อค่า) in Ayutthaya selling curried fish (ห่อหมก). His name is Cheui (Sombat Methanee). His sister, Khomapat Attaya, is also playing a market merchant (แม่ค่า). The grandmother is played by Malee Wetpraseri. Cheui accepts under the pressure of his sister wishing to change her life. He has to learn with moult difficulty good manners from high society (สังคมผู้ดี). Cheui disappears the day before as being caught by a former girlfriend. Seeing her son again, Mom Pa recovers. Mom Pa wishes her son to marry Kantima (Wandee Sritrang). Kantima is upset with Cheui as he is playing too well his role and she refuses to sacrifice herself as she is part of those who paid to hire Cheui. She knows he is coming from a low background (คนจร) so he should behave and not try to abuse about his position of being the fiancé. Real Kinarin (also played by Sombat Methanee) is back but he lost his arm due to airplane accident. Cheui's self declared girlfriend tries to bring a mess but it fails. Cheui is back home as his seven days contract is over. Kinarin, seeing that his mum is happy and Kantima loving Cheui, decides to go back to England to let others having happiness. The rich family still needs Cheui so they use his mother Malee Wetpraseri to convince him again. Kinarin will go back to England and needs Cheui to replace him. Metta is going to England with Kinarin (ท่านพี่). Finally Cheui and Kantima marry. In this romantic comedy movie actor, Sombat Methanee is playing two roles, i.e. Cheui and Kinarin.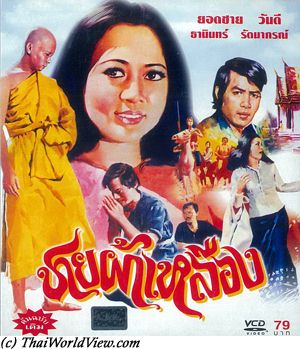 Year

: 1974



Thai title

:

ชายผ้าเหลือง




English title

:



Rating

: 3/5


Director

:



Main actor

: Yodchai Meksuwan


Main actress

: Wandee Sritrang,Metta Roongrat,Ratanaporn Intarakamhaeng
Thong and Boon Yen have two boys, called Phet and Ploy. Phet is the elder. Robbers, lead by Yoi, kill Thong when raiding his house. Twenty years later, following her mother's wish to see him in yellow robes (ชายผ้าเหลือง) as a monk, Phet goes to Bangkok with his uncle to buy materials. Every Thai mother expects his son to become a monk before being married. It bring many Buddhist good deeds to the parents. Meanwhile robbers, lead by Yoi, injure Ploy when raiding the family house. Phet, discovering that Yoi killed his father and injured his brother, shoots him and then becomes an outlaw. Yot, Yoi's son, uses Phet's name to commit more burglaries. Phet's mother convinces Phet to surrender to the district officer. Yot and his robbers team fires at Phet's team and at the district officer so bringing a misunderstanding between Phet and the officer. if nobody can let Phet becomes good, he will then be an outlaw forever. His mother is disappointed by his behavior, saying it was not worth to educate him for becoming an outlaw and that feeding milk to him (ค่าน้ำนม) was a waste. Ploy is preparing to become a monk. Phet finally catches Yot and brings him to the district officer. Phet refuses to stop being an outlaw and grabs a girl to live with him. His mother shoots at him. Before dying, Phet and his mother confirm their filial love and Phet can grab Ploy's yellow robe as his brother has become a monk.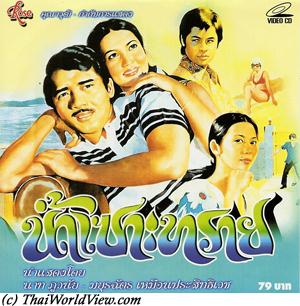 Year

: 1973



Thai title

:

น้ำเซาะทราย




English title

:



Rating

: 5/5


Director

: Wichit Khunawut



Main actor

: Nard Poowanai,Sayan Chantaraviboon


Main actress

: Mayurachath Muarnprasitivej,Wandee Sritrang,Marasri Bangchang



Buy now

:

This movie about two couples interaction. Pim (ภีม), a white-collar, and Wan (วรรณรี), a teacher, are married. Pukrong (พุดกรอง) is a rich and lonely widow (ว้าเหว่). Pong (พงษ์), a bachelor, tries to be Pukrong's sweet heart boyfriend but he is a butterfly. Pim often argues with his wife and Wan feels neglected (น้อยใจ) with Pim. Pim and Pukrong love each other secretly (รักกัน). Wan is too well-mannered (เรียบร้อย) and strict (เคร่งครัด) so Pim is fed up despite she gave her two beautiful children and takes well care of the home. They still use the polite word "ค่ะ" at the end of each sentence. Life is scheduled as a clock with Wan so Pim is fed up. Pim is a frustrated husband and arguments occur with Wan. Pim and Pukrong continue to see each other secretly in Bangkok. Pim needs to lie to Wan (ของขโมยอร่อยกว่า). As Pong continues to be her faithful admirer, he becomes annoying as Pukrong doesn't have full freedom to see Pim. Pukrong has to involve her well-off friend (ผู้ดี - คุณผู้หญิง). It highlights that Thai high society people also plays cards and have same sins. Her friend has to be involved in the lies. Pim rents a house for them to see each other freely (ความสุขของเรา) in order to avoid busy hotels and frequented restaurants. Pukrong spends a lot of money to decorate the house as she wishes a forever love. Pong knows that Pukrong flees behind the house. Pukrong wishes to see Pim every day. Wan knows her husband went out as his clothes smell perfume. Wan and Pong starts to notice. Pong is informed about the truth through a friend who saw them in a bar (เล่นรัก). Wan refuses to believe that her best friend (สุภาพบุรุษ) steal her husband love. Pukrong doesn't want a hidden love. Wan fights back to keep her husband. Can money buy everything including love? There is insinuation (พูดประโชด) between the two women and then a real verbal fight (บาปตื่นเต่น). Wan knows the truth now (ใจเป็นทรายศ). Pukrong is the bad rich high society girl versus Wan, the good teacher worried about position girl and strict mother / wife. Pukrong tells the truth to Wan. Pim has to go back to Wan due to the children. Pakrong feels left over. But it is not as easy. Wan wishes to divorce with Pim and chases him away. Finally Pim goes back to Pakrong. It is now the main wife versus the minor wife (เมียน้อย / เมียหลวง). Pong pushes Wan to fight (สู่). Pong tries to break the relationship as Pim is fed by Pukrong. Wan refuses to see a shaman (หมอผี) to help her to have Pim back. Meanwhile Pim and Pakrong are enjoying their romance. Pukrong is pregnant. Pong presents a military officer Neephon to Wan. If Pim can have a new love, why Wan cannot have one? It creates jealously on Pim's side as he doesn't want his kids to have a new father. This time Pim refuses to divorce. Pukrong has another child in America from a previous relation. She understands Pim's feelings towards his previous family and also understands he will never be able to choose so leaving things unsettled forever so Pukrong decides to go to America with her new born baby. Pim tries to resume relationship with Wan but it is too late. Wan refuses. Pim ends up alone. It is a long movie as it lasts 2h37 with a dubbed soundtrack. This movie highlights Thai society hypocrisy, i.e. Thai men can have a minor wife but the main wife cannot do anything except to complain in silence. Classical music is used in tragic moments. The scenario is inspired from a book written by author Krisna Asokesin (กฤษณา อโศกสิน), who has won the SEAWRITE prize for literature. Another movie remake was done in 1986. It was adapted as Thai TV serie many times also.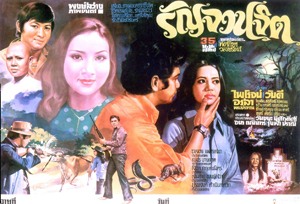 Year

: 1973



Thai title

:

รัญจวนจิต




English title

:



Rating

: 3/5


Director

:



Main actor

: Phairoj Jaising,Surasit Sattayawong,Sawin Sawangrat


Main actress

: Wandee Sritrang,Orasa Isarangkul,Marasri Isarangkul
Thai movie รัญจวนจิต was released in year 1973. The movie is lost in Thailand but a few minutes trailer remains to be seen. Main actor is Phairoj Jaising and main actress is Wandee Sritrang. Other actors are Orasa Isarangkul, Surasit Sattayawong, Sawin Sawangrat, Marasri Isarangkul, สุพรรณ, วันชนะ, อมร, ขวัญฤดี, รุ่งฟ้า. This is a sad drama movie with a bit of action.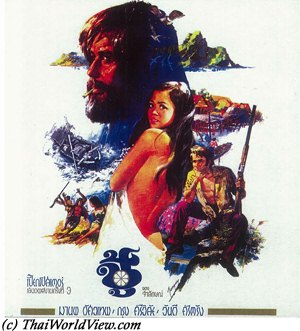 Year

: 1972



Thai title

:

ชู้




English title

: The Adulterer



Rating

: 3/5


Director

: Piak Poster



Main actor

: Krung Srivilai,Manop Aussawathep


Main actress

: Wandee Sritrang



Buy now

:

Thai movie ชู้ / The Adulterer was released in year 1972. It was released under VCD format by company XxX (Triple X). Movie director is Piak Poster. Movie ชู้ is his third movie. Piak Poster used a new unknown main actress called Wandee Sritrang. A boat is caught in a storm. The only survivor is a young lady (Riem) that is stranded on a remote island. A strong but lonely man (Cheung) rescues her. The man, who didn't have contact with any woman for years, forces her to have a relationship with him. They finally become wife and husband. Their first child is a boy. One day, Cheung gets fish poison into the eyes. Riem has to go to nearest fishing village to look for the doctor. The doctor is away but a young man (Thep) is replacing him. Riem and Thep have been lovers before. Thep is a seductive guy and a womaniser. He is aware that beautiful and expensive white pearls can be found in Cheung's island. He manipulates Riem saying that Cheung has many pearls, whose he doesn't want to share with Riem for the good sake of their child's future. He resumes his relationship with Riem. He cures slowly Cheung and drugs him every night to search for his pearls chest with Riem. Forgetting to eat drugs one night, Cheung starts to be aware of the situation. He knows that his wife Riem and her lover Thep want to get his pearl treasure and get rid of him. So lying to them that he needs to dive to get the pearls to share with them, Riem and Thep feed him that so he can recover fast. Simulating blindness, he is aware of everything. He brings them to a remote island where he reveals his secret and perforate the boats preventing any return. Riem has late sorrows, i.e. she was dumped by Thep before getting on the fishing boat caught in the storm and then raped by Cheung, so unlucky she is. Cheung looses his anger and wishes to let them go. He leaves to bring her son to Riem but Thep wishes to take revenge and tries to kill him. Finally while trying to protect Cheung and his son, Riem is shot by Thep. Cheung leaves the island with a dying Riem and Thep is left alone on the remote island where nobody never stops... This movie is about adultery described in a non conventional way with action and stage setting reduce to the minimum on a remote island. It is far from Bangkokian romantic drama with palatial suburban estate house. Krung Srivilai received a Thai award for his performance. This movie was so successful that it was screened again in 1975. The Culture Ministry registers 25 Thai classic films each year at the National Film Heritage Registry. This movie is part of the 25 films heritage list announced on 04 October 2015, which is Thai Movies Conservation Day.
---