Increase or decrease font size for easier reading : A+ A-
Viphavadi Triyakul
Viphavadi Triyakul (1947) - วิภาวดี ตรียกูล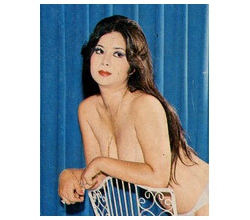 Viphavadi Triyakul is the older sister of Thai famous actress Wiyada Umarin. Her surname was ดารารัญจวนใจ. She often played the actress "ดาว ยั่ว" (actress who always played the girl friend of the Mafia boss, the jealous woman, the temptress, the prostitute or the woman who dressed in sexy clothes)
This Viphavadi Triyakul movie page contains 3 records.
---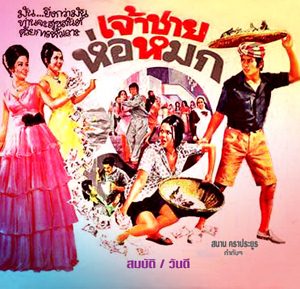 Year

: 1974



Thai title

:

เจ้าชายห่อหมก




English title

: Curried fish prince



Rating

: 3/5


Director

:



Main actor

: Sombat Methanee,Thuam Thoranong


Main actress

: Wandee Sritrang,Khomapat Attaya,Jomchai Jarintorn,Viphavadi Triyakul,Chosri Misommon,Malee Wetpraseri,Metta Roongrat
Thai movie เจ้าชายห่อหมก (Curried fish prince) was released in year 1973. The movie was never released in Thailand under VHS or VCD format. Nevertheless the 35mm film was recorded by a collector and lasts 2h08mn. Chosri Misommon is playing a domestic helper. Mom Pa is waiting for her lost son, Kinarin, who had gone to study abroad and didn't send any news for years. Many years passed and she is getting severely sick. To please her and to speed up her recovery, Metta announces that her son is coming back very soon so she has to organize an event (งานต้อนรับ). The father (Thuam Thoranong) and Metta Roongrat have idea to find a man with a similar face in order to please Mom Pa. The father remembers to have seen such man (พ่อค่า) in Ayutthaya selling curried fish (ห่อหมก). His name is Cheui (Sombat Methanee). His sister, Khomapat Attaya, is also playing a market merchant (แม่ค่า). The grandmother is played by Malee Wetpraseri. Cheui accepts under the pressure of his sister wishing to change her life. He has to learn with moult difficulty good manners from high society (สังคมผู้ดี). Cheui disappears the day before as being caught by a former girlfriend. Seeing her son again, Mom Pa recovers. Mom Pa wishes her son to marry Kantima (Wandee Sritrang). Kantima is upset with Cheui as he is playing too well his role and she refuses to sacrifice herself as she is part of those who paid to hire Cheui. She knows he is coming from a low background (คนจร) so he should behave and not try to abuse about his position of being the fiancé. Real Kinarin (also played by Sombat Methanee) is back but he lost his arm due to airplane accident. Cheui's self declared girlfriend tries to bring a mess but it fails. Cheui is back home as his seven days contract is over. Kinarin, seeing that his mum is happy and Kantima loving Cheui, decides to go back to England to let others having happiness. The rich family still needs Cheui so they use his mother Malee Wetpraseri to convince him again. Kinarin will go back to England and needs Cheui to replace him. Metta is going to England with Kinarin (ท่านพี่). Finally Cheui and Kantima marry. In this romantic comedy movie actor, Sombat Methanee is playing two roles, i.e. Cheui and Kinarin.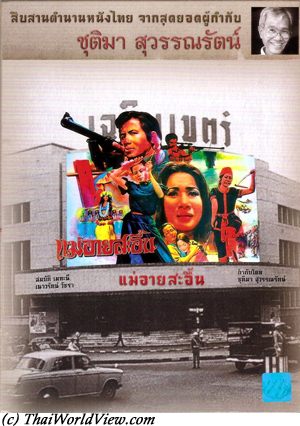 Year

: 1972



Thai title

:

แม่อายสะอื้น




English title

:



Rating

: 5/5


Director

: Chutima Suwannarat



Main actor

: Sombat Methanee,Kamthorn Suwanpiyasiri,Sahat Piempongsan,Jamroon Nuatjim


Main actress

: Naowarat Watchara,Tasawan Saneewong,Metta Roongrat,Viphavadi Triyakul,Malee Wetpraseri



Buy now

:

A subdistrict headman is almost blind but still performs traditional arts. His daughter Dao Lin (Naowarat Watchara) can do traditional spade dance. They are living in a Northern village specialised in making traditional colorful umbrellas. Mem (Malee Wetpraseri) recommends Dao Lin to a Bangkokian lady for a job in Bangkok (เสริมสวย). Dao Lin accepts as she needs money to cure her father's eyes. The second daughter is played by Tasawan Saneewong, who is acting for the first time. No further study for her as they are too poor. In Bangkok, Dao Lin realises the job is in fact acting as a prostitute (โสเภณี / ฉันไม่ใช่สินค้า). Dao Lin cannot send news. She ends up in pregnancy and succeeds to flee the brothel (กลุ่มนรก). She delivers a baby, who is unfortunately disabled. The hospital doctor (Kamthorn Suwanpiyasiri) finds her a job as a model (นางแบบ) but she needs to hide her baby (สังคมทุกวันนี้จำเป็นต้องสวมหน้ากากเข้าหากัน). She gives her baby to her sister lying it is a friend's baby. Dao Lin meets Songpon (Sombat Methanee) in Penang. They finally get engaged (หมัน). Dao Lin discovers that the doctor is Sombat's brother but he promises to disclose nothing. She forgets her family so her father decides to come to Bangkok with her sister Chaeung and disabled son to find Dao Lin. Ten (Metta Roongrat) becomes Chaeung's friend in Bangkok. Chaeung recognises her sister on TV. When meeting together, Dao Lin is ashamed (ลืมตัว) as she doesn't want anybody to know her poor background so she chases away her younger sister. Disappointed, Chaeung runs away and is hit by a car. She is cured by the same doctor, who cured her elder sister. Having pity on her, the doctor recruits her as domestic helper. Dao Lin is surprised to see Chaeung in the doctor's house and asks her not to reveal their family links until she is married with Songpon. Pi (Sahat Piempongsan) is having an affair with Songpon's mother. He always asks for money. They all go to Southern island to help poor children. Songpon's brother called Songyut lives there and takes care of the family domain. Songyut falls in love with Chaeung. Songpon also loves Chaeung but just got engaged with her sister... The mother asks Songyut to stop seeing her as she is a poor girl. Chaeung is kidnapped per the mother's orders. Ten asks Songyut for help. A boat chase is happening in Phuket near the James Bond island. Pi, wishing to get the family domain, shots Songyut through a long range gun but falls from the cliff and dies. The mother is horrified and crossed against Chaeung (เด็กเวร) but she is indirectly responsible of her lover's acts. Meanwhile Dao Lin warns Songpon who finally rescues Chaeung after an impressive car chase. Songyut's mother asks Dao Lin to get rid of Chaeung as she takes her as responsible of her son's death. Dao Lin accepts. Chaeung hears this conversion and arguments happen between the two sisters. Dao Lin's father hears his two daughters arguing and now is aware that Chaeung hides the reality about Dao Lin forgetting her own family. Chaeung, the father and the disabled son leave for Mae Sai. Da Lin follows them there but her father is already dead. He got suicide because of disappointment with his daughter. Songpon is here also blaming Dao Lin not to have told him the truth about her background as he is comprehensive and it would have saved her father's life. Nobody in the village wishes to talk to Dao Lin. To pay respect to her father a last time, she performs the traditional spade dance and finally cuts her throat during the dance. She entrusts Chaeung and her son to Songpon. It is a sad family drama with a rich mother causing her son's death and a poor daughter causing her father's death. The DVD แม่อายสะอื้น (1972) lasts 1h55mn but some parts are missing as it is a copy from U-matic tapes.. Famous director is Chutima Suwannarat (ชุติมา สุวรรณรัตน์) well known for sad movies.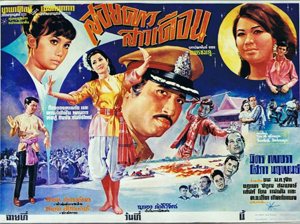 Year

: 1969



Thai title

:

สอยดาวสาวเดือน




English title

:



Rating

: 3/5


Director

: Chalong Pukdeewichit



Main actor

: Mitr Chaibancha,Chana Sriubon,Sorapong Chatree,Jamroon Nuatjim


Main actress

: Petchara Chaowarat,Sopha Sataporn,Viphavadi Triyakul
Saming (สมิง) is a local ruffian. He loves a young lady called Srinuan (ศรีนวล) (Petchara Chaowarat). While trying to get back a necklace belonging to his family, Saming is injured so he cannot stay close to Srinuan. Neung (หนึ่ง) (Mitr Chaibancha), a Bangokian young man, comes to visit the village one week for a local yearly dance contest festival. Saming loves Srinuan but Srinuan is more interested in Neung. It is reciprocal. Saming is unhappy with Neung. During the dance contest, competitors try to hurt Srinuan but Neung protects her and gets injured. Srinuan spends the night with Neung. As Srinuan's father, Kamnan Tong (กำนันธง), is aware, Neung needs to take responsability (ต้องรับผิดชอบ). Neung is coming from a rich family. His father is disappointed by his son's behavior but wants his son to finish his studies first and get approval from the grandmother. Neung needs to leave. Srinuan promises to wait (ค่อยพี่นะ). Behind the curtain, Neung's father promises land and money to Srinuan's father to forget about this union. 18 years have passed. A daughter is born from their brief union. Her name is Soi (สอยดาว), who is now a beautiful teen. Neung's father sends his grand children to check the land he gave to subdistrict headman Tong. It includes Deuan (สาวเดือน ) and Kla (ลูกเมียแต่ง / ลูกเมียหลวง). Saming (โจร เสือ) is now the ruffians leader. Srinuan doesn't want Soi to meet the Bangkokian people as they might have bad intentions. Soi helps Deuan, her half sister, who falls in the river (ด้วยน้ำใจ). She is sad that her real father never visited her. Kla, the brother, has a bad mindset denigrating countryside people and gets smacked by Soi. Neung wishes to know who hit Kla. Neung meets Soi and understands she is her daughter. Neung wishes to know the truth about Soi. The father, subdistrict headman Tong, doesn't wish to let Neung meet Srinuan again but Neung insists. After 18 years passed Srinuan doesn't want to meet him again also (ไม่อยากเป็นเมียที่สอง! ไปขอทานที่อื่น!). Finally Neung recognizes officially Soi as her daughter and she moves to Bangkok to become an upper class lady (เลือดควาย / เลือดผู้ดี). Neung's wife, Soi Phet, doesn't accept this as it means to share heritage with another family member. Many troubles happen. Kla sends two ruffians to rape Soi. The grandmother falls from stairs while trying to help. Soi is accused and goes back to countryside with her mother. Neung's wife wishes to get back the land. Following a boat assault, Neung's wife is shot. Saming is responsible. Following gun fights between Police and ruffians, a final duel happens between Neung and Saming. Neung wins. Kla is injured and is forgiven by his father and Soi. Neung and Srinuan can now live happily together. Interesting to find that Sorapong Chatree, Thailand's most famous actor, is playing a young stunt during a few minutes at the beginning of the movie.
---