Increase or decrease font size for easier reading : A+ A-
Vinai Kraibutr
Vinai Kraibutr (1970) - วินัย ไกรบุตร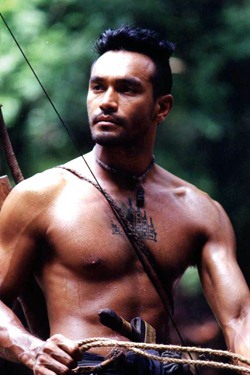 Vinai Kraibutr
This Vinai Kraibutr movie page contains 11 records.
---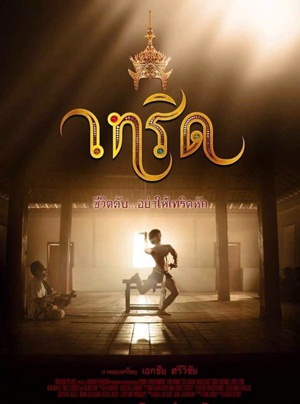 Year

: 2016



Thai title

:

เทริด




English title

: Terd



Rating

: 4/5


Director

: Ekkachai Srivichai



Main actor

: Ekkachai Srivichai,Vinai Kraibutr


Main actress

:
Thai movie เทริด was released in year 2016 and lasts 1h39mn. A father Satta (Ekkachai Srivichai), almost blind, is a Manora teacher (ครู). He gives high respect to the Manora crown (เทริด). He has serious arguments with his son Sing as this one prefers guitar to Manora art (มโนราห์) and doesn't involve in heritage transmission. The son finally quits the home. Sing survives by playing music on the street and joins a group. He meets a young lady called Saithip, who is a Manora / Nora (โนราห์) dancer. Saithip's mother Mae Duangjai would like to marry her daughter to a rich man but she refuses. Meanwhile Sing also refuses to go back with his father. This causes a malaise and the father ends up at hospital. The father of the fiance Prap is Vinai Kraibutr. He is involved in dirty business. If everybody thinks same as Sing, only the name of Manora art will remain. Romance starts with Saithip but Sing gets punched by the father and slapped by mother as Saithip is going to marry soon Prap. The father Satta is getting sicker but still has to perform as the troupe is lacking money. Two ladies, part of his troupe, now are coyote dancers as it brings more money. Sing learns Thai boxing to be able to defend himself. Things get worse as Sing punches Prap trying to kidnap Saithip. A friend reminds Satta that a body can be raised but a heart cannot be raised (ตัวเลี้ยงได้ หัวใจเลี้ยงไม่ได้). As the father is very sick, Sing goes back home and accepts to be a Norah dancer (หนีโนราห์ไม่ได้). Prap and his father still chase Sing and Saithip. As Saithip is pregnant with Sing, the father Vinai accepts to cancel the wedding but his son Prap remains unhappy. A "Wat Takae" ceremony (crowning initiation ceremony) is happening with Sing to be certified as Manora leader by wearing the Manora crown. Satta is transmitting the power and knowledge of Manora tradition to his son Sing. Vinai is also watching proudly the ceremony. The movie ends up tragically with Prap, as a masked killer, shooting Sing, while he receives the crown. The father Vinai shoots Prap unaware that the man behind the mask is his own son. Vinai becomes a monk. A long story unifies Satta and Vinai. Satta married Vinai's former girlfriend, a Nora dancer, who was pregnant. Sing was in fact Vinai's son. Saithip transmits Nora traditional to her young son... Ekkachai Srivichai is a famous singer from the South of Thailand. His songs are often sad romances. His movie shows the great culture of Manora art and spirit possession.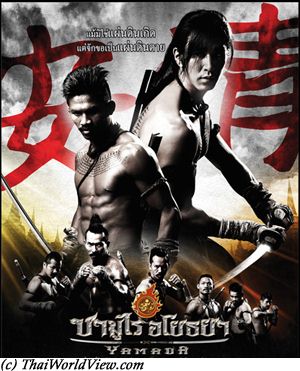 Year

: 2010



Thai title

:

ซามูไร อโยธยา




English title

: Yamada The Samurai Of Ayothaya



Rating

: 4/5


Director

:



Main actor

: Sorapong Chatree,Vinai Kraibutr,Bin Banleurit


Main actress

: Kanokkorn Jaichuen



Buy now

:

Yamada is a Japanese samurai living in Thailand during Ayutthaya period. This movie praises the diplomatic relationships between Thailand and Japan. Some Japanese and Thai soldiers assure the protection of King Naresuan. Yamada, following a feast in Ayutthaya former Japanese village (หมู่บ้านของชาวญี่ปุ่น), is betrayed and attacked by some Japanese ninjas led by traitor Kaito. He was about to be killed when Siamese warriors rescue him. Japanese sword skills are not enough versus Thai boxing skills! Injured, Yamada is cured in Phitsanulok. Traditional medicine, done by the local abbot (Sorapong Chatree), helps him to recover fast. Kaito sends his ninjas to find him as Yamada knows his betrayal. Local Thai people call Yamada as "white face" (หน้าขาว) or "I jipun" (ญี่ปุ่น)! The local abbot is very active to protect Ayutthaya and teaches to Thai soldiers the art (ศิลปะ) of Thai boxing (มวยไทย) with the support of strong warrior Aikham. Champa is the young lady taking care of Yamada during his recovery. Old Thai traditions are nicely shown such as eat betel, big protective tattoos on the body, charming scenes with boats and rivers (คลอง), representation of old traditions and old games. Yamada is very thankful for the cure received. So he wishes to help Ayutthaya kingdom to pay his debt back. A love story also starts with Champa. The Japanese ninjas finally find him but fail to kill him. The villagers now understand Yamada must have an important secret. Yamada wishes to learn Thai boxing but it is an art dedicated to Thai people only. He wish to become the abbot disciple (ลูกศิษย์) and convinces him by proving he is now an Ayutthaya citizen in his heart also. The training starts and despite difficulties, he is finally accepted by other Thai boxing fighters and wins their friendship. Nation love is not only for born citizen but for everybody who has it in his heart. He offers his samurai sword to Aikham (พี่น้อกัน). Following a sacred tattoo session, Yamada has now Ayutthaya blood in his veins. He is accepted inside the King's private guards. 200 Burmese soldiers enter the Thai Kingdom. The King sends ten of his best fighters including Yamada to neutralize them. They succeed. Thematic regarding "Love the King, love the nation" is highlighted. Nationalism is often seen in Thai movies with historical theme. Yamada has to leave the Thai village and to go back to Japan but in fact he wishes to get revenge over Kaito. Yamada has to fight against 100 warriors to reach Kaito but hopefully Aikham helps him. Kaito uses a gun to shoot Yamada but Aikham is the one injured and dies. Yamada takes revenge over Kaito and stays in Thailand. It is based on the real historical character Yamada Nagamasa, who was a Japanese adventurer who gained considerable influence in Thailand at the beginning of the 17th century and became the governor of the Nakhon Si Thammarat province in southern Thailand. This movie uses many strong CGI effects to show the bloody fights. Buakaw Por Pramuk (บัวขาว ป. ประมุข), real Thai kickboxer, starred as a Thai soldier. The movie was also shown in Japan.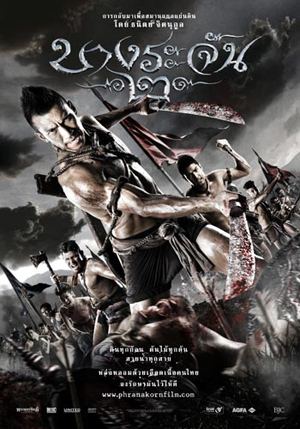 Year

: 2010



Thai title

:

บางระจัน 2




English title

: Bang Rajan 2



Rating

: 3/5


Director

: Thanit Jitnukul



Main actor

: Chatchai Plengpanich,Vinai Kraibutr,Choomporn Theppitak,Bin Banleurit,Paradorn Srichaphan


Main actress

:



Buy now

:

After the fall of Bang Rajan, a group of Thai warriors is left and settle a remote hidden village. With the help of a charismatic Buddhist abbot (หลวงพ่อ), they decide to fight back. Burmese army is looking for them. It results in embuscades. Bloody sequences with CGI similar to US movie "300", head cuts, blood splitting on the screen are featured. This is a nationalist trend movie as Thai people cannot let Burmese army occupies their land (แผ่นดินของเรา). They all think about their life when the war will be over. Currently food is not enough in the village (ชุม) as many people take refuge there (คนเยอะ). Chatchai Plengpanich is playing a soldier (ทหาร), i.e. Phaya. His group is overwhelmed by Burmese soldiers in the forest but he gets help from the former Bang Rajan soldiers. Ayutthaya capital (กรุงศรีอยุธยา) is burning in the background. Tensions happen between soldiers and villagers (ชาวบ้าน). Burmese use some villagers through coercion to try to kill the Buddhist abbot (บารมีหลวงพ่อ). As they fail, all their relatives are killed by Burmese. Phaya asks for a revolt to end the everyday deaths. They have to choose between hide or fight. Two profiles of collaborators with Burmese are shown, a woman (being a courtesan with the Burmese leader in order to get food for her captive mother) and a slave (being passive in front of Burmese soldiers in order to save his life). The Burmese soldiers steal a huge Buddha statue from Ayutthaya to bring it back home. Thai warriors defeat the Burmese soldiers and succeed to save the Buddha statue (so huge that CGI effects have to be used). The courtesan and the slave being deceived by the Burmese change side. The spirits of Bang Rajan fighters (veteran actors from Bang Rajan movie part 1 : Vinai Kraibutr, Choomporn Theppitak, Bin Banleurit) give to the fighters additional strength. A bigger army comes. The abbot accepts to surrender to spare the villagers lives. The monk announces to the Burmese general that they will never win as long as there are warriors like Bang Rajan villagers in Thailand. The abbot is sentenced to death. The Thai warriors seem to face a too big army to be able to win. But Bang Rajan spirit is on forever. Former Thai tennis star Paradorn Srichaphan played in this movie. The movie lasts 2h02mn.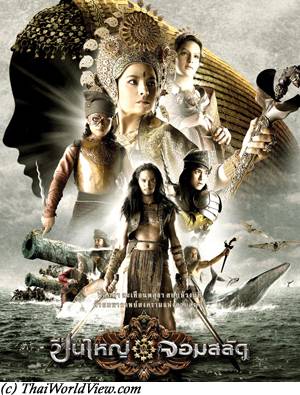 Year

: 2008



Thai title

:

ปืนใหญ่จอมสลัด




English title

: Queens of Langkasuka



Rating

: 3/5


Director

: Nonzee Nimitbut



Main actor

: Ananda Everingham,Jesdaporn Pholdee,Sorapong Chatree,Vinai Kraibutr


Main actress

: Jarunee Sooksawad



Buy now

:

Langkasuka is a small kingdom in South of thailand during Ayuthaya period. A Queen is managing the city as the King of Langkasuka was assassinated. The Queen is under threat as several assassination tentatives are performed. She wants her daughter to marry the Prince of Pahang to get more protection for Langkasuka city. Her daughter is not willing to marry the Prince of Pahang but finally accepts. Langkasuka is under threat and the Queen is looking for big cannons to protect the city. Pari is a young skilled man that has been trained since his chilhood in order to swim fast under the sea, to able to breathe under the sea and listen to noise under the sea. With local villagers, he has to often confront pirate boats. In their village a Chinese cannon expert is living. One day, all villagers are killed by Black Raven pirates who kidnap the Queen's daughters coming to convince the Chinese expert to make cannons for Langkasuka city. Pari, whose wife has been killed, follows the pirates and help to free the Queen's daughters. Pari and one daughter are separated from the group and then rescued by Master White Ray, who teachs him some black magic and to be able control sea creatures. The master has a white and black personalities. Black Raven pirates succeeds to make cannons and through an alliance with other local kings decide to take over Langkasuka. A Langkasuka soldiers team tries to destroy the cannons but fails. The Master, under his black personality, helps the pirates to retrieve a big cannon under the sea to destroy Langkasuka. Hopefully the intervention of Pari will be decisive during the battle.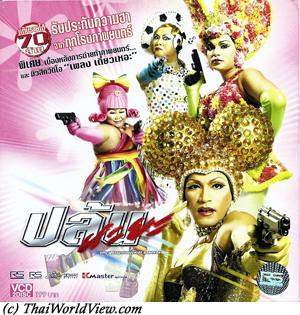 Year

: 2004



Thai title

:

ปล้นนะยะ




English title

: Spicy Beautyqueen of Bangkok



Rating

: 2/5


Director

:



Main actor

: Vinai Kraibutr,Jaturong Mokjok


Main actress

:
4 travesties in desperate need of money decide to rob a bank in order to achieve their dream. Unfortunately the bank they started to rob is also the target of professional robbers. Who will get the money?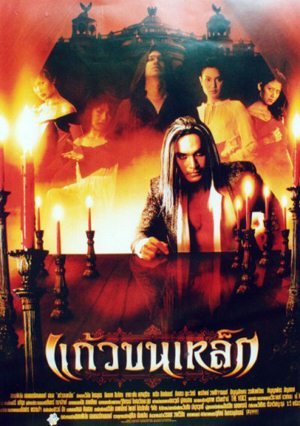 Year

: 2003



Thai title

:

แก้วขนเหล็ก




English title

:



Rating

: 3/5


Director

:



Main actor

: Vinai Kraibutr,Kowit Wattanakul,Choomporn Theppitak,Rith Luecha,Sombat Methanee


Main actress

:



Buy now

:

Thai movie แก้วขนเหล็ก was released in year 2003. It lasts 1h33mn. Previous versions were released in year 1971 and 1983. Thai movie แก้วขนเหล็ก with Kanchit Kwanpracha and Petchara Chaowarat was released in year 1971 and was still in 16mm format. It was very popular and even earns more money than other 35mm movies. Mekin (Vinai Kraibutr) is playing with black magic (เล่นของ). He kidnaps a young lady but his own father stops him on time. His father (Kowit Wattanakul) imprisons him. Mekin finally disappears from the jail. Decades passed. Uncle Jaem (Choomporn Theppitak) is guiding Dom in his new home. The previous house's owner was Mekin... Dom and his girlfriend Rose visit the scary cellar of the inhabited house. Dom is versed in Tibetan old lecture. Wat and his girlfriend Ning are close friends with Dom and Rose. Wat helps an older man aggressed by ruffians. He gives him a ring (แหวนแก้วขนเหล็ก) able to chase away bad spirit. They are linked to previous lives. Dom wakes up Mekin through summon magic. Rose finds that Dom changed a lot (ผีเข้า). Mekin takes uncle Jaem's daughter as a vampire. Master (อาจารย์) Yong (Rith Luecha) tries to interpose... Dom and Mekin come to Rose's birthday party. Rose's father is played by Sombat Methanee. Mekin loved Ning in a previous life. Wat uses a sacred book with prayers to get rid of Maekin but Dom steals it. Aware that Wat has a sacred ring (แหวนศักสิท), Mekin and Dom have to get rid of him. The ring is stolen and Ning is kidnapped. Mekin succeeds to create zombies (ปลุกผี). Thai police intervenes but zombies are hard to stop. Through a daring final, Master Yong and Wat defeat Mekin.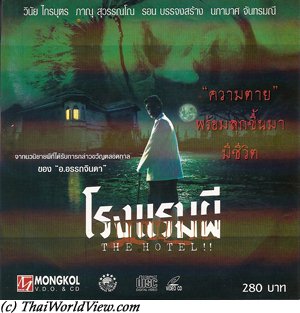 Year

: 2002



Thai title

:

โรงแรมผี




English title

: The hotel



Rating

: 2/5


Director

:



Main actor

: Vinai Kraibutr,Supakorn Srisawat


Main actress

:
It is about an evil spirit located in an old hotel. Accomplishing an old vengeance, he is killing the members of a family. Will they succeed to stop him? It is a remake of the movie โรงแรมผี shot in 1975. Morality of this movie is "Revenge doesn't undo what was done, it just adds to your sin"!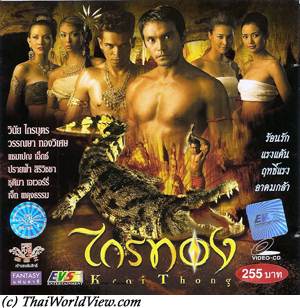 Year

: 2001



Thai title

:

ไกรทอง




English title

: Kraithong



Rating

: 2/5


Director

:



Main actor

: Vinai Kraibutr


Main actress

:



Buy now

:

This movie is a modern remake of "Kraithong".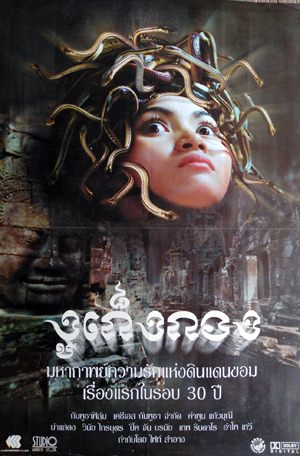 Year

: 2001



Thai title

:

งูเก็งกอง




English title

: Ngu Keng Kong



Rating

: 2/5


Director

: Fai Sam Ang



Main actor

: Vinai Kraibutr


Main actress

: Pich Chanboramey
Ngu Keng Kong is actually a joint production between Khmer and Thai. It was directed by Fai Sam Ang, who is Khmer, but was filmed by a Thai production. The main actor, Vinai Kraibutr, in the movie is Thai. In 2001, it was the first full-length feature film to be produced in Cambodia since the Khmer Rouge era (first movie in 30 years). The film was said to be the remake of the 1970s film. In 1970 Cambodia released a movie, starring Mr. Chea Yuththorn and Mrs. Dy Saveth, based on a folk legend in which a woman is courted by a giant snake. The baby born from their love has hair made of small snakes. Local villagers disdain the mother and her daughter. It was a big hit in Cambodia and Thailand. Later on, a few Thai movies (งูเก็งกอง) were 'remakes' of the original Cambodian movie. Nee and Manop are married together and have a daughter. Nee is having a lover, who has a snake shape (งูเจ้า), while her husband, Manop, is out to town. She finally gets pregnant. The husband comes back and is informed about the snake by his daughter. Manop kills the snake thanks to his daughter's feedback. In anger, he then cuts his wife's stomach and snakes go out of it. He also kills them except one. He then slips and dies. The survival baby snake is rescued by a Brahmin. It becomes an human and is named Suriya (โสรยา). When growing up, Suriya has snake hairs. The brahmin gives her a magic ring to transform her snake hair into normal hair. If she loses her virginity, she will become a snake again. With being an adult, she meets a nice and handsome man called Veaha (เวหา). Love merges between Suriya and Veaha but Ranee (รานี), Veaha's fiancee, and her mother try to stop Suriya by all means such as using a ruffian to rape her, filter potions or a sorcerer (หมอผี) to fight the brahmin. This movie is similar to 1980s Thai movies with a handsome leading actor, a beautiful leading actress, the jealous girl and her mother intriging to break the relationship with them. The movie of course ends happily with the bad people being punished. Suriya and Veaha can live in peace.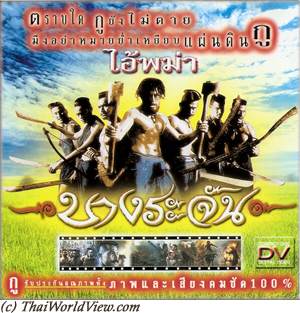 Year

: 2000



Thai title

:

บางระจัน




English title

: Bang Rajan



Rating

: 4/5


Director

: Thanit Jitnukul



Main actor

: Bin Banleurit,Vinai Kraibutr,Choomporn Theppitak


Main actress

:
In 1766 the Burmese were moving close to Ayutthaya. But before they could reach the capital, the Burmese soldiers had to pass through Bang Rajan, a town northwest of Ayutthaya. Led by a few brave souls, the Bang Rajan villagers put up a strong fight against an entire Burmese army. During several months and many assaults, the villagers stood strong, until finally they were overwhelmed. The movie was Thailand's biggest box office hit ever until movie Suriyothai was released. Bang Rajan 2 is on the way for 2010! This historical epic is based on the theme of ancient rivalry with Burma and ferocious patriotism. The Culture Ministry registers 25 Thai classic films each year at the National Film Heritage Registry. This movie is part of the 25 films heritage list announced on 04 October 2015, which is Thai Movies Conservation Day.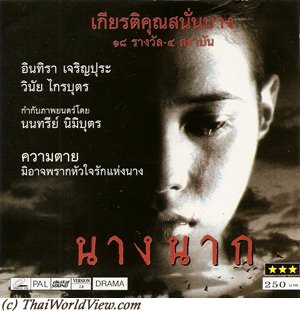 Year

: 1999



Thai title

:

นางนาก




English title

: Nang Nak



Rating

: 5/5


Director

: Nonzee Nimitbut



Main actor

: Vinai Kraibutr


Main actress

: Intira Jaroenpura



Buy now

:

Last century, during the reign of King Mongkut (1851-1868), a woman called "NAK" was married to a man called "TID MAK". They moved into a house in Bangkok's Phra Khanong district. After a while her husband was called off to war. Alas she was already pregnant. While her husband was away, she died with the baby still inside her body. So as Thai people believe, a woman who died with her baby creates a powerful spirit called "PHI TAI HONG THONG KLOM" (ผีตายโหงทองกลม). She became a ghost. As she still loved her husband deeply, she took a form of human being and waited for "Tid Mak" to return. Her husband didn't know anything about his wife's death. So when he came back home, his wife was waiting for him. Many persons did warn him that his wife was dead and that he was living with a ghost but he did not believe them. One day when "MAE NAK" was preparing the dinner and her husband bathing himself in the bathroom, a lemon fell from her hand. As the house was a Thai traditional house, it was built on piles and so the lemon fell on the ground 2 meters lower than the house's floor. So the ghost "MAE NAK" made her arm longer in order to get it. But her husband saw that, he understood that his wife was now a ghost. He managed to flee from the house and took refuge inside a Buddhist temple. "MAE NAK" terrorised the local population as an expression of her anger with them for helping her husband. Thanks to a monk, the spirit was imprisoned in an earthen pot and thrown in the river. It is one of the the biggest success in Thai cinema (it grossed more than 150 million baht in Thailand). It is the story of "MAE NAK PHRA KHANONG" (แม่นาคพระโขนง). The spirit "MAE NAK" (แม่นาก) is not a dreadful spirit. She kills only to keep her husband. The love of "MAE NAK" towards her husband is beyond death. Many scenes are shot at night time with no additional lighting so making an eerie atmosphere. This movie has won awards for the best director, best art director, and best sound at Asia-Pacific Film Festival in 1999. Since the beginning of the Thai movie industry in 1923, the story of "MAE NAK" has been made and remade 15 times over. It is a modern remaking of a traditional tale, which evokes nostalgia (traditional house, buffaloes in field, quiet river...). The Culture Ministry registers 25 Thai classic films each year at the National Film Heritage Registry. This movie is part of the 25 films heritage list announced on 04 October 2014, which is Thai Movies Conservation Day.
---