Increase or decrease font size for easier reading : A+ A-
Usa Atcharanimit
Usa Atcharanimit (1936) - อุษา อัจฉรานิมิต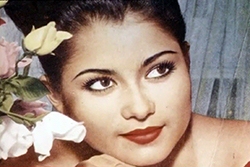 Usa Atcharanimit
This Usa Atcharanimit movie page contains 3 records.
---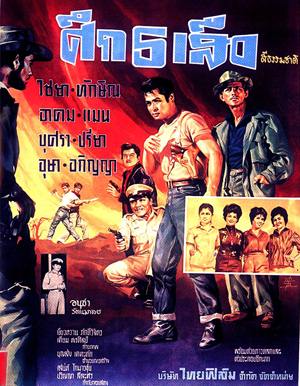 Year

: 1963



Thai title

:

ศึก 5 เสือ




English title

:



Rating

: 3/5


Director

:



Main actor

: Chaiya Suriyun,Taksin Jampol,Sukon Koewliam,Man Teeraphol,Anucha Ratanaman


Main actress

: Preeya Roongrueng,Boosara Narumit,Usa Atcharanimit
Thai movie ศึก 5 เสือ was released in year 1963. It features Chaiya Suriyun as main actor. The movie is lost in Thailand but eleven minutes of various sequences remain to be seen. 4 ladies are featured in this movie, i.e. Preeya Roongrueng, Boosara Narumit, Usa Atcharanimit and อภิญญา วีระขจร. Other actors featuring in this movie are Taksin Jampol, Sukon Koewliam, Man Teeraphol, Anucha Ratanaman as policeman. The movie is in 16mm format so no sound is available as this format requires live dubbing. There is a sequence when Chaiya Suriyun's character is still a kid. Preeya Roongrueng is then the mother. A man is worried in his home despite being protected by police. Taksin Jampol is shot by the police while he was threatening this man (อาคม มกรานนท์) in his house. Chaiya visits Usa Atcharanimit in her room but gets pushed back. He kidnaps two ladies. Shootings with police happen. One of the lady trying to protect him against the shots but dies in his arms. Chaiya finally dies also following a duel with Man Teeraphol. This is mainly a story of police catching thieves but it involves some police-thief couple. In one case, the father is a policeman and the son is a thief. In another case the father is a thief and the son is a policeman! It can only end sadly... Another version of ศึก 5 เสือ was released in year 1977 with Sombat Methanee.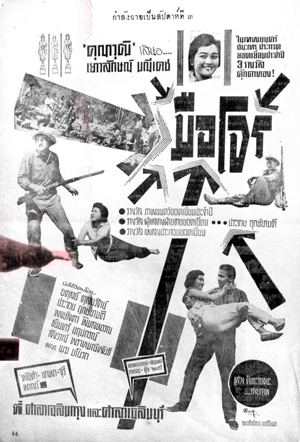 Year

: 1961



Thai title

:

มือโจร




English title

:



Rating

: 3/5


Director

: Wichit Khunawut



Main actor

: Adul Dulyarat,Prachuap Ruekyamdee


Main actress

: Ratanaporn Intarakamhaeng,Usa Atcharanimit
Thai movie มือโจร is a Thai movie released in year 1961. Main actors are Adul Dulyarat and Prachuap Ruekyamdee. In year 1961, Adul is still the main actor. Soon he got only second role as Mitr Chaibancha, Sombat Methanee and Chaiya Suriyun became new favorite actors. Main actress is เยาวลักษณ์ มณีเดช, a new comer. Only 54 minutes is left to be seen. It has been remastered so it has a colorful and sharp picture. This movie got three Thai cinema rewards. Younger sister Saen borrows necklace of 40000 baht (สร้อยเพชร) from her elder sister to go to a party. She lost it. Worried to be accused of stealing the necklace, she flees in another city. She meets Adul there. While travelling, their vehicle has a technical issue. The driver walks away to get another car. Meanwhile they are attacked by robbers led by Yot (Prachuap Ruekyamdee). Discovering that Adul is a doctor, Yot (Prachuap) kidnaps both Adul and the young lady. Yot's wife is sick. She got malaria. Yot has finally a good heart. He was forced by life events to become a ruffian. The ruffians' troupe needs to flee to another place as police is chasing them. Sampan, Yot's wife, asks him to surrender (มอบตัว). Yot has arguments with one of his ruffians trying to steal his bounty. Yot is injured in the leg. While the troupe goes to find food, Sampan, the doctor and the young lady Saen flee. Knowing that she is pregnant, Sampan finally goes back to Yot to ensure her child has a father. Saen understands the doctor is a good man. Saen has to leave for Bangkok. Finally the doctor quits his job and joins her. Ratanaporn Intarakamhaeng and Usa Atcharanimit have two small roles as cameo. Famous director is Wichit Khunawut. He made a remake of his own movie in year 1972. It was then called หัวใจป่า.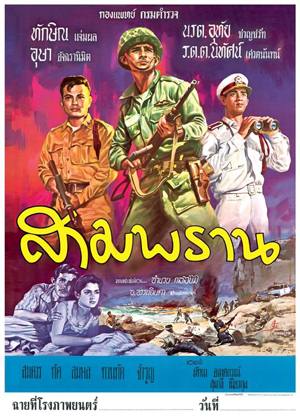 Year

: 1960



Thai title

:

สามพราน




English title

:



Rating

: 3/5


Director

: Neramit



Main actor

: Somkuan Krajangsat,Taksin Jampol,Tat Ekathat,Sompol Kongsuwan,Jamroon Nuatjim


Main actress

: Usa Atcharanimit
Thai movie สามพราน was released in year 1960. Main actors and actresses are are Somkuan Krajangsat, Taksin Jampol, Usa Atcharanimit, รต.อุทัย ชาญชวัท, ร.ต.ต.นิทัศน์ เศวตนันทน์, Tat Ekathat, Sompol Kongsuwan, Jamroon Nuatjim, มัทนา อลงศกรณ์, สุมาลี เนียวกุล. Movie director is Neremit. The story was written by อ.อรรถจินดา. The movie is lost in Thailand but a sequence in 16mm format can still be seen. It lasts fifteen minutes. The movie takes place during a period when movies against communist threat were popular. The colorful and sharp remaining sequence shows a lady holding a gun towards Somkuan Krajangsat. Finally, she is releasing him after his explanation. Two ladies are fleeing from a cell after neutralizing the guard. Tat Ekathat is having a fight with Somkuan Krajangsat. The first lady helps the other ones to flee. A dancer is performing in a club. Two ruffians are looking for troubles. The lady owner cannot stop them. Somkuan Krajangsat intervenes and fighting occurs. Policeman Jamroon Nuatjim arrives when fighting is over. The lady takes care of Somkuan Krajangsat's injuries. The owner invites him for talking. A Buddhist ceremony, where Tat Ekathat is present, occurs. The poster was drawn by Piek Poster. Somkuan Krajangsat is well known for his roles as father in Thai movies but he was even a main actor and a movie director in some 1950s and early 1960s decades movies. With the rise of Mitr Chaibancha, Chaiya and Sombat Methanee, he had to focus on second roles.
---