Increase or decrease font size for easier reading : A+ A-
Uamdeuan Uttsada
Uamdeuan Uttsada (1946) - เอื้อมเดือน อัษฎา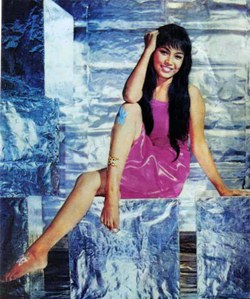 Uamdeuan Uttsada has played in around 15 movies. She was the main actress in six movies then became a second role
This Uamdeuan Uttsada movie page contains 4 records.
---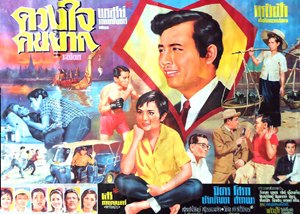 Year

: 1968



Thai title

:

ดวงใจคนยาก




English title

:



Rating

: 3/5


Director

: Sulaleewan Suwanthat



Main actor

: Mitr Chaibancha,Sompong Phonmitr


Main actress

: Sopha Sataporn,Sulaleewan Suwanthat,Kingdao Daranee,Uamdeuan Uttsada
Thai movie ดวงใจคนยาก was released in year 1968. Main actor is Mitr Chaibancha and main actress is Sopha Sataporn. It is a lost movie in Thailand but a sequence of 50mn is still available to be seen. It is a 16mm movie format so it is in mute state. No movie summary is available. Sulaleewan Suwanthat is the movie producer. Duangjai (Sopha Sataporn) is watching the Royal barges procession in Bangkok. Sompong Phonmitr remembers to have seen Duangjai somewhere. Duangjai's mother is living in a shantytown (สลัม). She is a street vendor (แม่ค้า) but is now sick. Her daughter Duangjai has disappeared. Pa asks her sons to find her missing daughter. Duangjai is wandering around and steals food as she is hungry. She shares with another poor young boy. She takes refuge in a hut with as there is no roof so she gets wet when a storm happens. Meanwhile as the mother cannot pay her debts, the creditor (เชาว์) also takes the rugged roof as payment so the mother gets wet also when it is raining. She has 3 sons. Two of her sons finished university and the third one is a tuk tuk driver but he is the one helping the mum in case of problems. Finally they all gather to visit the mum and learn bad news from the doctor regarding her health. The mother wants to see her daughter a last time. Duangjai and the poor boy surprise robbers sharing money from a stolen bag. They catch Duangjai and the young boy flees away to ask for help. He stops a car with Mitr inside! Mitr chases away the three ruffians and helps Duangjai. Duangjai just comes back home but her mother dies in her arms. Mitr gets blamed by Duangjai and the three brothers as his family is the land owner of the slum. Kingdao Daranee is playing Mitr's younger sister. In real life, she was his wife. Mitr decides to fire the creditor and changes the rules regarding the slum management. He succeeds to get back Duangjai and his brothers' trust. He finally marries with Duangjai. Two songs are featured in this movie. Band Samsak (วงดนตรีสามศักดิ์) is performing and their members are acting in this movie as Duangjai's brothers.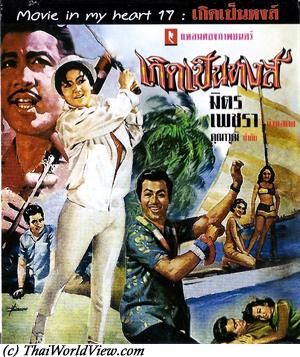 Year

: 1966



Thai title

:

เกิดเป็นหงส์




English title

:



Rating

: 4/5


Director

: Wichit Khunawut



Main actor

: Mitr Chaibancha,Prachuap Ruekyamdee,Adul Dulyarat


Main actress

: Petchara Chaowarat,Prim Praphaporn,Uamdeuan Uttsada



Buy now

:

Thiyu, a gruff cowboy, falls from his horse as it is frightened by Thula's car klaxon. So Thiyu meets with Kramon (กระหม่อม) Thula, member of Thai aristocracy. Thiyu also meets Saengson, who is Thula's faithful admirer. Thula's mother pushes her to meet rich bachelor Saengson as she has debt 2 millions baht due a failed automotive business. Thiyu's mother is dead. Pathet, his half brother, has already three wives, i.e. Kwanta, Pom and Puang. Kwanta is having an affair with Viwat, house attendant. Thiyu and Kwanta are former sweethearts (แฟน) but he broke up with her as she is only interested in money and has bad behavior (หัวใจชั่ว). Pathet saw a beautiful high society lady in Bangkok and wishes her to become another of his wives (เมียใหม่). This lady is Thula... The minor wives decide to help each other (ร่วมมือ). A friendship starts between Thiyu and Thula. Saengson wishes to marry Thula but Thula chases him away and reminds him to verify with his mum first! Rumors spread by Saengson's mother mention that Thula is bankrupted. Kwanta is pregnant and wishes to flee with Viwat. Viwat doesn't want to be responsible of this kid. Viwat resigns from his job (ลาออก). Pathet is infertile (เป็นหมัน) so others know Viwat is the father. There is an heritage issue as Thiyu never got anything when his father died. He now wishes to fight back for this heritage. Pathet offers a high salary to Thula and also offers to buy back the mother's debt. As Thula's father dies in a plane crash in Hong Kong, she accepts Pathet's offer believing it is a job offer only. Pathet believes his money will help him to get Thula's love. So the new member in Pathet's house is Thula! Thiyu is so surprised. Kwanta's parents complain to Pathet about her pregnancy. Kwanta claims Thiyu is the father! Thiyu has to accept to be the father. Both are upset. Pathet believes in money power (บูชาเงิน). There is a severe misunderstanding between Thula and Thiyu. Thula is upset Thiyu has hidden to her he has a pregnant wife already. Thiyu is upset Thula accepted to be Pathet's fourth wife. Pathet took his heritage now his love. It is more than he can endure. To make Pathet jealous, Pom and Puang claims that Thiyu and Thula love each other behind his back. His money cannot buy Thula's love and he starts to be violent with Kwanta and Puang. The house becomes a hell (เป็นนรก). Fed up being Pathet's slave, Thiyu forces Thula to flee with her. Thula is upset as it is not a situation matching her position (ฐานะหญิง). Pathet chases after them. Finally all misunderstandings are cleared between Thiyu and Thula. Pathet knows he cannot get Thula's love. Through a final gun duel with Thiyu, Pathet is shot by Puang. Pathet has paid for all the bad deeds he caused to others. It is a beautifully colorful remastered 2h22 movie.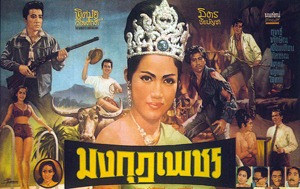 Year

: 1965



Thai title

:

มงกุฎเพชร




English title

:



Rating

: 3/5


Director

: Sor Asanajinda



Main actor

: Mitr Chaibancha,Sukon Koewliam,Adul Dulyarat,Taksin Jampol,Kokheng


Main actress

: Pissamai Wilaisak,Wilaiwan Watthanaphanit,Chadaporn Wachirapranee,Uamdeuan Uttsada
Thai movie มงกุฎเพชร was released in year 1965. It features Mitr Chaibancha as main actor and Pissamai Wilaisak as main actress. The movie is lost in Thailand but there is a partial sequence of 50 minutes left to be seen. The sequence is in mute state as such 16mm film requires live dubbing. Sor Asanajinda is the movie director. Somebody gives a letter to Pissamai. Mitr arrives and is upset with Pissamai. Wilaiwan Watthanaphanit puts a crown on Pissamai's head. Mitr decides to paint her portrait. He acts like crazy causing Pissamai to cry. Wilaiwan has to interpose herself. A young man (ฤทธี นฤบาล) punches Mitr to calm him down. Sukon Koewliam is playing a father's role. Mitr brings Pissamai in a cave. Mitr wishes to paint her portrait again. He becomes crazy again. The young man tries to interpose again but this time he is punched by Mitr. Chadaporn Wachirapranee is seen in bed with her lover or husband, i.e. an older man (Adul Dulyarat). Uamdeuan Uttsada is interested in the young man. Pissamai decides to quit this house. Chadaporn welcomes her to leave the house. But Chadaporn's older husband is unhappy with Chadaporn about this. Pissamai takes refuge in her friend's place. Wilaiwan and Uamdeuan Uttsada follow her up to here. But Mitr arrives first and kidnaps Pissamai. Mitr and Pissamai help each other as they are stuck in moving sand. Mitr being sick is visited by Pissamai and her mother Wilaiwan. Mitr gives them a letter. Mitr is becoming crazy again and flees through the hospital window. Taksin Jampol and Chadaporn flirt. Mitr is running like a worn guy in the mountains. Taksin threatens Pissamai but Mitr is here to help. Mitr brings Taksin in his secret cave. Mitr keeps the crown that Taksin conveits. He informs a ruffian leader. Meanwhile the young man talks to Pissamai again. Weird sounds are heard in the ceiling. Sukholiem is hiding here. Everybody ends up in Mitr's secret cave. Fighting happens as Taksin and the ruffian leader want the crown. Taksin changes side. During the fight, the ruffians' leader hits Mitr's head again the rocky wall and dies by falling in a cave hole. Mitr recovers his memory and he is not crazy anymore. Mitr and Pissamai can then marry.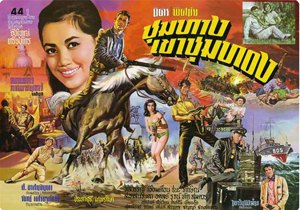 Year

: 1965



Thai title

:

ชุมทางเขาชุมทอง




English title

:



Rating

: 3/5


Director

: Sor Asanajinda



Main actor

: Mitr Chaibancha,Taksin Jampol,Adinan Singhiran,Adul Dulyarat,Tat Ekathat,Chanee Yotchai


Main actress

: Pissamai Wilaisak,Sulaleewan Suwanthat,Wilaiwan Watthanaphanit,Chadaporn Wachirapranee,Uamdeuan Uttsada
ชุมทางเขาชุมทอง movie with Mitr Chaibancha and Pissamai Wilaisak was released in year 1965. The movie director is Sor Asanajinda. The movie is lost in Thailand but a short extract was found in year 2013 thanks to a ThaiCine fan. The extract has still a colorful image and is only three minutes left. A few sequences are showing an ordination procession, a woman kidnapping, ruffians arguing, a few ruffians (ดาราร้าย) appear including Taksin Jampol, Tawan Siriwat (ถวัลย์ คีรีวัตร), Tat Ekathat and Chanee Yotchai (ชาณีย์ ยอดชัย). It is a romantic drama movie (หนังชีวิตรัก) with a bit of action. Mitr and Pissamai are also playing the parents role. Other actors are Sulaleewan Suwanthat, Adinan Singhiran, Adul Dulyarat, Taksin Jampol, Uamdeuan Uttsada, Wilaiwan Watthanaphanit, Chadaporn Wachirapranee, ประภาศรี เทพรักษา. ชุมทางเขาชุมทอง movie was a famous and popular release in year 1965. Another famous film with both Mitr Chaibancha and Pissamai Wilaisak is มงกุฏเพชร (1968) by director Sor Asanajinda again. Mitr Chaibancha and Pissamai Wilaisak played only a few movies together. Mitr also plays the main actor called Keng (เก้ง). He has a child with Pissamai called Kwang (กวาง). Mitr as father comes back looking for his son without knowing that ruffians follow to kill them.
---