Increase or decrease font size for easier reading : A+ A-
Tukata Jindanuch
Tukata Jindanuch (1961) - ตุ๊กตา จินดานุช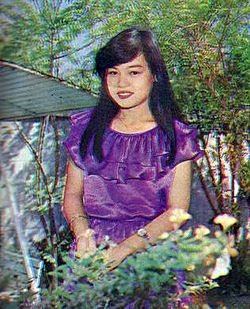 Tukata Jindanuch remains famous for her roles as a little girl during the first half of 1970s decade. She plays the little girl in movies with Petchara Chaowarat and Suthisa Putnuch. Her parents were both artists. One of her most famous role was in "ผีเสื้อ" (1969). Her surname was "นางเอกวัยเด็ก" (Child Actress). Tukata Jindanuch got two awards (ตุ๊กตาทอง) for her role in the movies "นางละคร" (1968), her first movie, and "ถ้าเธอยังมีรัก" (1981)
This Tukata Jindanuch movie page contains 5 records.
---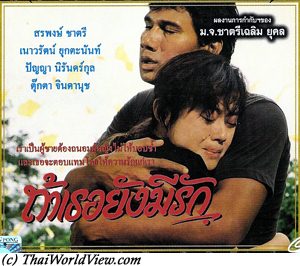 Year

: 1981



Thai title

:

ถ้าเธอยังมีรัก




English title

:



Rating

: 3/5


Director

: ChatriChalerm Yukol



Main actor

: Sorapong Chatree


Main actress

: Naowarat Yooktanun,Tukata Jindanuch
Cheut is a man deceived by love and women. He buys a car to go to South of Thailand with two friends he met by chance. One lady is called Nut, who has been deceived by a man also. Reung is a man who just exits from prison and goes back to the South, hoping his former wife is still loving him. Many funny experiences happen to them during their journey. During the progress of the journey, they start to forget the past and look to the future with hope.



Year

: 1980



Thai title

:

พ่อจ๋า




English title

:



Rating

: 3/5


Director

:



Main actor

: Sorapong Chatree,Settha Sirachaya,Sor Asanajinda,Witoon Karuna


Main actress

: Nanthida Kaewbuasai,Ratanaporn Intarakamhaeng,Thitima Sangkapitak,Chosri Misommon,Tukata Jindanuch
Yen (Thitima Sangkapitak) flees her family as her father wants to force her to marry a man she doesn't love. She wants to commit suicide. Yen is saved by Pon (Sorapong Chatree), a poor young man living in a slum. They live happily a few months and she gets pregnant. Her father finally finds her. She has to go back with him and leaves Pon. On her wedding day, Pon appears to take back his new born daughter to bring her up. Her name is Yuwadee. During many years, he works very hard to pay for her education and keeps secret his low society level status. Having financial problems following an accident, his daughter Yuwadee has to go back in Yen's family but she is not happy. He finally succeeds to get Yuwadee back. Now becoming a TV serie star, her career is endangered by rumours about her father. Forced to appear on the stage, Pon insults and dishonors himself to avoid that his daughter career is damaged. Will Yuwadee reject her father? Yuwadee character is played by actress and singer Nanthida Kaewbuasai. A few songs are featured in the movie. Thai cinema often uses young actors and make them look older instead of using real veteran actors. This movie highlights the strong bonds between a father and his child. A first version of this movie was directed by Sor Asanajinda in 1957. Sor Asanajinda is playing Yen's father in this 1980 version! Ratanaporn Intarakamhaeng, who played as leading actress in the 1957 version, is also playing in the 1980 version.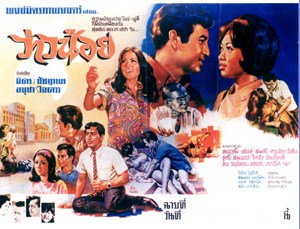 Year

: 1970



Thai title

:

ว่าวน้อย




English title

:



Rating

: 3/5


Director

: Sompong Phonmitr



Main actor

: Mitr Chaibancha,Anucha Ratanaman,Daonoi Duangjai,Sompong Phonmitr,Op Boonthit


Main actress

: Tukata Jindanuch,Chatchadaporn Laksanawed,Chosri Misommon
Thai movie ว่าวน้อย, shot in year 1970, is a romantic comedy featuring Mitr Chaibancha and Chatchadaporn Laksanawed. The film is complete (2h20mn) but was never released in VCD as there is no dubbing script left. It is one of the last complete movies played by Mitr Chaibancha. Actress Chatchadaporn Laksanawed (ชัชฎาพร ลักษณาเวช) is a former Miss Thailand (นางสาวไทย). As it is a 16mm movie, the movie needs to be dubbed. As there is no dubbing script left, the movie is mute. Anucha loves secretly Chatchadaporn. Chatchadaporn is the daughter of a rich family. Mitr and Chatchadaporn know each other while playing kite. Argument between Mitr and Anucha happens as Mitr's kite causes Chatchadaporn's kite to fall. On the next day, kite playing continues and Mitr's kite causes Chatchadaporn to fall in a pond. Daonoi (ตลกตามนาง) and Sompong (ตลกตามพระ) are playing support role actors accompanying the main actor (Mitr) / main actress (Chatchadaporn). Old maiden Chosri Misommon tries to seduce Mitr through delicious dishes. During nighttime Mitr dreams about Chatchadaporn. Chatchadaporn's father (Op Boonthit) is the house owner where Mitr and Sompong live. As they have no money to pay the rent, they have to work as gardeners in Chatchadaporn's house. Mitr is useless and is fired. While going back home, Mitr helps Chatchadaporn aggressed by three ruffians. She starts to appreciate Mitr. Mitr tries to see Chatchadaporn in her house and disguise himself as lion dancer but he is discovered by the father. Mitr and Chatchadaporn spend one night together. Finally their relationship is accepted as Mitr is a good young man. Mitr is also the son of a rich family. Mitr's mother accepts reluctantly the engagement. Mitr needs to go to countryside for business purpose. Chatchadaporn is pregnant. On the countryside a young lady is fond of Mitr but in fact she is sent by Mitr's mother in order to drunk him and take advantage of him at bedtime. Mitr's mother convinces her that Mitr will not marry her. Chatchadaporn's father is sick. They have to sell their house. As her father dies, Chatchadaporn goes to Bangkok to find a job. Chatchadaporn ends up in jail after stabbing her employer trying to rape her. Anucha is now a policeman. Chatchadaporn gives her child to Anucha to ensure it can get a good future. Mitr's mother, being sick, dies also. Before her death, she tells the truth about Chatchadaporn. So Mitr looks for her. Meanwhile with no goal in her life, Chatchadaporn tries to get suicide but a nun prevents to do so. Mitr finally finds her but she refuses to disrobe. Mitr then educates his daughter. Sompong Phonmitr (สมพงษ์ พงษ์มิตร) is the director and is also playing a comic role in his own movie.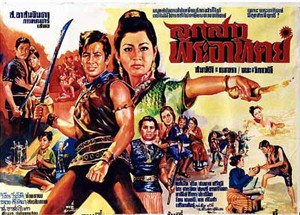 Year

: 1969



Thai title

:

ลูกสาวพระอาทิตย์




English title

:



Rating

: 2/5


Director

:



Main actor

: Sombat Methanee,Sor Asanajinda,Krai Kanchit


Main actress

: Petchara Chaowarat,Tukata Jindanuch,Prim Praphaporn



Buy now

:

A robber has a young son, called Praiwan. They save one young woman and her baby girl. In parallel, her husband, who is a king, is expelled from his kingdom and imprisoned. The baby girl is called Suriya Noi (daughter of the sun) and has a powerful necklace. Whoever wants to catch her will suffer heat and be burnt. Praiwan and Suriya Noi sympathize and have supernatural powers (ผู้วิเศษ). Finally Suriya Noi and her mother go back to the kingdom. But the mother is imprisoned and the daughter is given to another family, where she is treated as a slave. A few years have passed, Praiwan has become an adult. He searches for Suriya Noi. He is trapped by the king and his mistress, who pretends to be Suriya Noi. She wants to become the queen but the imposture is uncovered. Praiwan makes Suriya Noi pregnant. Suriya Noi has a child called Suriyan. Despite Praiwan bad behavior, Suriyan keeps gratitude (กตัญญู) over her father. A sorcerer (แม่มด) wishes to help the imposter king in order to defeat Suriya Noi and Suriyan. They can be only defeated if their husband / father kills them. The plan fails and the movie ends happily with the right king reinstalled and Praiwan, Suriya Noi and Suriyan reunited as a family. A remake was done in 1986 with Sorapong Chatree. The remake takes place in 20th century and machine guns fights have replaced sword fighting.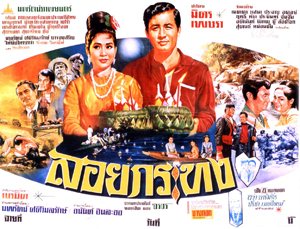 Year

: 1969



Thai title

:

ลอยกระทง




English title

: Loy Krathong



Rating

: 3/5


Director

: Neramit



Main actor

: Mitr Chaibancha,Adul Dulyarat,Boo Wibunnan,Adinan Singhiran,Prachuap Ruekyamdee,Lor Tok,Tat Ekathat,Sukon Koewliam,Adul Dulyarat,Joomjim Khemlek,Pipop Pupinyo


Main actress

: Petchara Chaowarat,Metta Roongrat,Wassana Chalakorn,Tukata Jindanuch,Mom Chan Phuangwan
Thai movie ลอยกระทง was released in year 1969. It is a 16mm film so in mute state and no complete summary of the movie is left. The movie is incomplete as only 2h08mn is left. Mitr Chaibancha, Adul Dulyarat, Boo Wibunnan are watching ladies Petchara Chaowarat, Wassana Chalakorn, Metta Roongrat launching krathongs in the river during Loy Krathong festival. A speed boat makes Petchara fall in the water. Mitr rescues her. The speed boat is driven by Petchara's brother. As he dislikes his sister meeting the three young men, fighting happens. The father Tat Ekathat interposes himself but he doesn't like Mitr either. The father forbids them to meet. The movie is named Loy Krathong but the movie is about Loy Krathong festival only at the beginning of the movie when both Mitr and Petchara initially met. The movie is then more an action movie. Mitr and Petchara try to help a young kid tentatively treated by a tribe shaman (Lor Tok). Other villagers interpose as they are not used to western medicine. At nighttime one of the villagers (Pipop Pupinyo) brings the kid for injection. Finally Mitr sympathizes with the shaman and ends up taking care of several children! Metta is aggressed by three ruffians and gets help from Mitr and also a group of children (including famous child actress Tukata Jindanuch). Those children are mischievous. Disappointed not to get Mitr's love, Metta ends up to be drunk. Metta does use a trick on Petchara in order for Mitr to be disappointed by her. Metta prevents her to see Mitr. Mitr and Lor Tok have arguments with policemen and end up in jail. Prachuap Ruekyamdee releases them by using violence and threatening policemen. Mitr injures by the accident a policeman. Arguments are happening between tribe kids and Thai local kids. Petchara is their teacher. Adul Dulyarat, a policeman officer, tries to seduce Petchara. The father Tat Ekathat threatens his daughter of closing the school. Tat Ekathat is aggressed by thieves on a mountain road. Luckily Mitr, Prachuap, Lor Tok are around and chase away the thieves. The three friends realise that Boo Wibunnan is trafficking drug. Behind this traffic, there is involvement of Tat Ekathat and ruffians leader. Fist fighting erupts involving Adinan also. Tat Ekathat stops everybody. It is discovered that the candles on the krathong contain explosives. It looks like Boo Wibunnan and Lor Tok die in an explosion. Mitr and Prachuap are arrested by Adul and Sukon Koewliam, a policeman. They get transfered under military authority, who releases them. Metta is captured with ruffians. Two policemen gets captured also. Meanwhile Mitr follows up Adinan but gets injured by Ekathat's fellow worker. Mitr hides in the school and is treated by Petchara. Adul discovers Mitr in Petchara's room. Things get worse as Petchara is kidnapped and Mitr and Adul are locked in a room with Prachuap. They succeed to flee. Meanwhile Petchara is crucified by hill tribe villagers. Mitr fails to help her and is also crucified. Meanwhile Prachuap follows the ruffians leader and tries to prevent Adinan to rape Wassana Chalakorn. Adul with a bunch of policemen try to release Mitr and Petchara. Finally Prachuap and Wassana Chalakorn flee and release all the hill tribes children. Hill tribes villagers change side seeing their children now released. Ruffians blaze the village. A four minutes trailer is still available and showing some final scenes not present in the 2h08mn left to be seen. A final fight happens between Mitr and the ruffians leader.
---