Increase or decrease font size for easier reading : A+ A-
Tuanton Kammeesri
Tuanton Kammeesri (195x) - ทวนธน คำมีศรี
Tuanton Kammeesri played in around 20 movies. He often played the ruffian, hitman or policeman
This Tuanton Kammeesri movie page contains 10 records.
---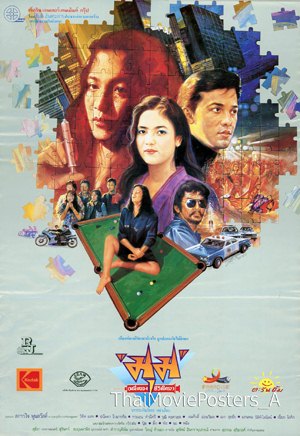 Year

: 1995



Thai title

:

มุม (หนึ่งของชีวิตใคร)




English title

:



Rating

: 4/5


Director

: สุธรรม สุริยวงศ์



Main actor

: Tuanton Kammeesri


Main actress

: Sakaojai Poonsawat
Thai movie มุม (หนึ่งของชีวิตใคร) was released in year 1995 and last 1h39mn. Movie director is สุธรรม สุริยวงศ์. It is Sakaojai Poonsawat's first movie. Teenager Mum (Sakaojai Poonsawat - สกาวใจ พูนสวัสดิ์) receives award of best student in her school, but she always looks sad. Even the Police inspector (สารวัตร), who gives her the award, notices it. Mum does not have a father and her mother Vilai (ปนัดดา โกมารทัต) is a nighttime singer. She did not come to the ceremony. She is often busy meeting Tuanton Kammeesri. She has no time for her daughter. It causes Mum to be very sad. Mum has one close friend called Ann. Ann invites Mum to a party. Mum is reluctant to go as she did not get her mother's authorization, but Ann promises to be back before midnight. Ann has already a boyfriend (แฟน). Mum meets Tom (วิทิต แลท) at the party. Meanwhile Tuanton recommends the mother to spend more time with Mum. Tom complains about adults imposing constraints to them. Everything adults do is good. Everything teens do is wrong. Those parties bring freedom to teens as there are no adults to forbid. Mum, Ann, and friends go to Pattaya. Mum drinks and smokes. A girl gives her an illicit substance. Mum starts to be addicted as her hands shake during school lessons. Tom is lazy and pushes his father (วุฒิ คงคาเขต), being a simple policeman, to give him more money. Tom and Mum become lovers. Tom joins a dance contest with a price of 50,000 THB. He wins as his teammates hit the main dancer opponent in the restroom. A photographer takes a picture of Mum kissing Tom holding the prize. The school headmaster complains to the mother Vilai as it gives a bad image of the school. The policeman warns Vilai about losing Mum (เสียคน). Vilai complains she has limited time as she is working at nighttime. Mum is jealous to see her mother giving all her love to Tuanton and none to her. She flees to another party while her mother is out. During the party, Ann sees Tom's former girlfriend, Pat, giving substance to Mum. She accuses her of trying to kill her friend Mum. A fight occurs between the two girls. Police are called by neighbors fed up with noise. The headmaster has to come as the mother Vilai is unreachable. The name of the school is tarnished two times. Vilai complains to her daughter, but Mum argues her mother is responsible for this situation as she never gave her love. She flees and takes refuge in Tom's place who quits his father. Vilai does not know how to contact her daughter. Mum is addicted and needs drugs (ติดยาเสพติด). She meets Pat to buy drugs, but the price has increased. As Mum does not have enough money, she asks Mum to become a prostitute (ขายตัว). She also gets revenge toward Mum by showing that Tom is selling himself to a foreigner to pay the drugs for his junky girlfriend. In fact, Tom and his friend rob the foreigner and flee. Meanwhile Police intervene and the drug dealer cuts Pat's throat believing she betrayed them. Meanwhile Mum flees home as she has a crisis. She does an injection, but it is an overdose. Ann discovers it and calls the mother Vilai. Mum is rushed to the hospital. It is too late as she dies from overdose. The mother blames Tom, Ann, and their friends, but she also owns her part of responsibility. The movie ends up with a message for parents to take care of their children.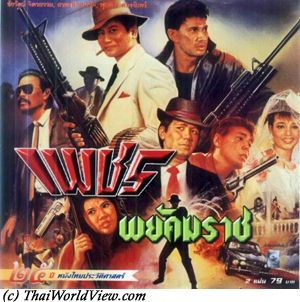 Year

: 1988



Thai title

:

เพชรพยัคฆราช




English title

:



Rating

: 3/5


Director

:



Main actor

: Sombat Methanee,Sorapong Chatree,Krailat Kriengkrai,Krung Srivilai,Tuanton Kammeesri


Main actress

: Pumpuang Duangchan,Apiradee Pawaputanon



Buy now

:

Chat (Sorapong Chatree) and Thanong (Sombat Methanee) are mafia members (นักเลง) and friends. Thanong is a mafia head (เจ้าพ่อ). There are always internal fights with other mafia leaders. Nancy (Apiradee Pawaputanon) is Chat's girlfriend. Chat and Thanong are dressed like Chicago gangsters and are always smoking cigars. Thanong's younger brother, Rut, is a policeman but he is not fully aware about his brother's activities. Pen (Pumpuang Duangchan) is a nurse. Thanong likes her a lot (นักรัก). Thanong wishes to change his job but he cannot leave his subordinates (ลูกน้อง). Thanong asks Pen for wedding. A shooting happens during the wedding but none is injured. Chat escapes to Shing, who is now a traitor and wishes to get rid of Thanong to take his position (บ้าอำนาจ). Thanong, through a Typical Rambo 2 scene with big guns, wishes to punish Shing. Thanong is captured by the police following a rampage at Shing's home and sent to jail. Chat needs to send Nancy away so that he can handle the situation. She is finally killed. Chat wishes to revenge her. There is a famous scene featuring a killing rampage by Chat in a restaurant with guns hidden in each flower pot. Three years have passed. Thanong is released from prison but he doesn't want to return to underworld mafia. Chat was injured to the ankle so he cannot walk properly anymore. Chat is now a car glass washer. Without their boss, Thanong's men are wrecked (กูรอมึง). Thanong is accused of Rut's sister murder. Rut is upset because his brother is a ruffian (เป็นพี่เป็นโจร) so his management doesn't trust him. Thanong's men including Chat are disappointing that Thanong wants to be out of mafia business (วางมือจากวงการ) and doesn't want to give a lesson to Shing. Shing wants Thanong to be back in business as partner but Thanong refuses. Shing's men beat severely Chat and also threaten Rut to convince Thanong to change his mind. Chat succeeds to get proofs regarding Shing's illegal activities. Those proofs are given to Rut. Before fleeing, Chat and Thanong wish to face Shing a last time for an ultimate revenge. It is the last movie where Sombat Methanee had the leading role. This Thai movie is based on the Hong Kong movie "A Better Tomorrow" (1986) shot by John Woo. The scenario is very similar. It involves strong action and some comedy. Sorapong Chatree plays same role as Chow Yun-Fat. The movie is entertaining but the realisation is not as good as the one from John Woo. The end of the movie is very weird. It stops abruptly when Thanong is going to face Shing. Thanong is expected to die. There is unfortunately a weird movie abrupt ending.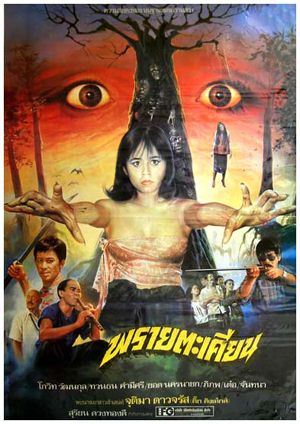 Year

: 1987



Thai title

:

พรายตะเคียน




English title

:



Rating

: 3/5


Director

:



Main actor

: Kowit Wattanakul,Tuanton Kammeesri,Pipop Pupinyo


Main actress

:



Buy now

:

Thai movie พรายตะเคียน was released in year 1987 and it lasts 1h31mn. Young lady Lam Duan (จุติมา ดาวจรัส) wants to marry with พี่ Tien (Kowit Wattanakul) but he is poor, so her parents push her towards another wedding with Leut. Leut (Tuanton Kammeesri) fights with Tien as he asked for her hand so he cannot bear that she keeps seeing Tien. A one to one fighting happens and Tien defeats Leut. Leut has to cancel his wedding with Lam Duan. A few months later, while Lam Duan is pregnant, Leut and his ruffians see her buying groceries. They kidnap her and rape her. Ashamed, she hangs herself (ผูกคอตาย) in front of a Takhian tree. Lam Duan is dead but her spirit still wants to stay with Tien. As usual, such Thai old movies feature comic sequences to relief from scary sequences. Comic roles are played by various second roles. Uncle Hin (Pipop Pupinyo) is a spirit doctor (หมอผี). He has to stop Lam Duan (ผีตะเคียน) before she becomes too dangerous (ออกอาละวาด). Lam Duan threatens to kill anybody, who would disclose her secret to Tien. As she was pregnant, Lam Duan has become a fearful spirit (ผีตายโหง). Tien is finally aware as his friends disclose the secret. She gets revenge over Leut and his ruffians by killing them. Uncle Hin builds a new spirit house (ศาลพรายตะเคียน) so she accepts to stop her killings and also to accept her death. Lam Duan accepts Oi, daughter of uncle Hin, to take care of Tien. The movie was also sold under the name "อภินิหาร เจ้าแม่ตะเคียน".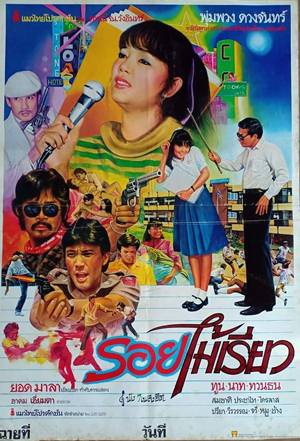 Year

: 1984



Thai title

:

รอยไม้เรียว




English title

:



Rating

: 3/5


Director

:



Main actor

: Toon Hiransap,Nard Poowanai,Tuanton Kammeesri


Main actress

: Pumpuang Duangchan
Thai movie รอยไม้เรียว was released in year 1984. Main actors and actresses are Toon Hiransap, Pumpuang Duangchan, Nard Poowanai, Tuanton Kammeesri… The movie was released under VHS format many years ago. It was never released later under VCD format. The movie is currently lost in Thailand. A sequence of 4 minutes and 30 seconds is left to be seen and was found at the end of a VHS tape. Unfortunately the movie was erased by another movie so only a short sequence is left to be seen. According to the poster, the movie features seven songs. In the remaining sequence being the end of the movie, Mali (Pumpuang Duangchan) and Yot (Toon Hiransap) arrive to a school by car. A teacher, played by Nard Poowanai, helped her to build a new life. Mali is going overseas and comes a last time to pay her respect to her teacher.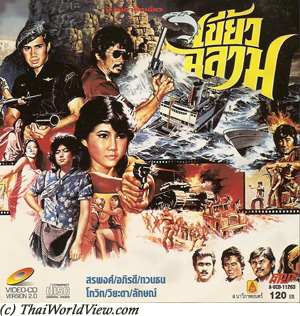 Year

: 1984



Thai title

:

เขี้ยวฉลาม




English title

:



Rating

: 2/5


Director

:



Main actor

: Sorapong Chatree,Rith Luecha,Lak Apichat,Pipop Pupinyo,Tuanton Kammeesri,Kowit Wattanakul


Main actress

: Apiradee Pawaputanon,Wiyada Umarin
A policeman's wife and son are killed during a gun fight. The policeman enquires and discovers that a mysterious organization, which is going to betray Thailand, is responsible of their deaths.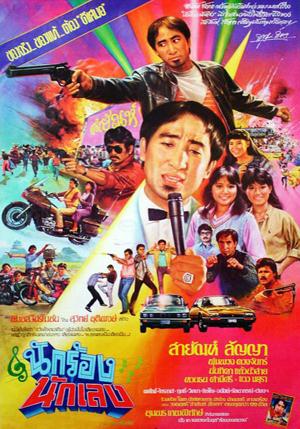 Year

: 1984



Thai title

:

นักร้องนักเลง




English title

:



Rating

: 2/5


Director

:



Main actor

: Sayan Sanya,Rith Luecha,Tuanton Kammeesri,Krailat Kriengkrai


Main actress

: Pumpuang Duangchan,Nanthida Kaewbuasai,Ratanaporn Intarakamhaeng



Buy now

:

The story script relates the conflicts between a singer and bad tough guys. Many songs are featured during the story. Both main actors are famous Luk Thung (ลูกทุ่ง) or Thai country music singers.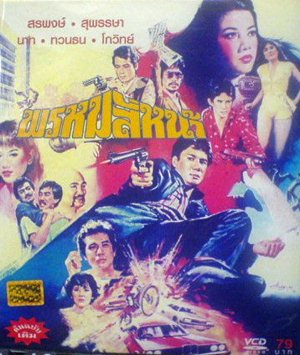 Year

: 1984



Thai title

:

พรหมสี่หน้า




English title

:



Rating

: 3/5


Director

:



Main actor

: Sorapong Chatree,Pumi Patanayut,Nard Poowanai,Tuanton Kammeesri,Kowit Wattanakul,Krai Kanchit,Pipop Pupinyo,Rith Luecha,Chat Mongkolchai,Paen Pleumsachai,Somsak Chaisongkram,Pao Porapak


Main actress

: Supansa Nuengpirom,Piathip Kumwong,Wiyada Umarin
Thai movie พรหมสี่หน้า was released in year 1984 and lasts 1h44mn. It was released under VCD format and also under VHS format. สุรพล กรสวัสดิ์ is the movie director. Many actors and actresses are featured in this movie such as Sorapong Chatree, Pumi Patanayut, Nard Poowanai, Tuanton Kammeesri, Kowit Wattanakul, Krai Kanchit, Pipop Pupinyo, Rith Luecha, Chat Mongkolchai, Paen Pleumsachai, Somsak Chaisongkram, Supansa Nuengpirom, Piathip Kumwong, Wiyada Umarin, โสธรณ์ รุ่งเรือง, วรารัตน์ เทพโสธร. Wan (Sorapong Chatree) calls from Germany for his father's birthday party. A bomb, hidden in the birthday cake, explodes. The whole family almost dies. His elder sister (Piathip Kumwong) and also the family car driver (โสธรณ์ รุ่งเรือง) survive. Teen Ta (ด.ญ. กระแต) has also survived but she is now paralyzed. Wan, a former soldier, is back from Germany. Police is too slow for Wan so he decides to manage by himself. His father was a businessman. Wan watches the birthday video and identifies a man offering a gift and leaving soon. He is a ruffian living in Chiang Mai. Wan learns through that ruffian that Pumi Patanayut is involved and was the one to order to bring the cake. Pumi Patanayut is working for mafia leader (พ่อเลี้ยง) Nard Poowanai. Noun (Tuanton Kammeesri) is a journalist refusing corruption and doing inquiries on Nard. Mai (Supansa Nuengpirom) is a young lady, whose mother was also killed by Nard due to business conflict. Kowit Wattanakul is close friend of Wan and introduces him to Mai. Mafia leader Nard Poowanai is trying to become member of parliament and is supported by Wiyada Umarin, his girlfriend. Wan starts to get revenge. Nard's right hand is first killed by Wan. Nard suspects Mai. Then Wan shots Kamlee (Paen Pleumsachai) and warns Nard that soon it will be his turn. Wan is introduced to the ruffians as new shareholder with Mai. It is a trick to be close to the ruffians and the next one to be killed is Pumi Patanayut. Noun is investigating on those killings. Wan and Kowit are identified to be behind the murders. Kowit is shot by ruffians while visiting uncle Sai (Pipop Pupinyo). Wan has no choice but to continue in order to get rid of mafia leader Nard. Nard hires a hitman to get rid of Wan but it fails. Chat Mongkolchai kidnaps โสธรณ์ in order to find where Wan is hiding. As Mai is passing, she is kidnapped and โสธรณ์ is killed. Chat (หน้าตัวเมีย) wants to force Mai to sign documents. Wan successfully releases Mai and chases after Nard until he kills him. Wan is finally pardoned by Thai police thanks to Mai's plea.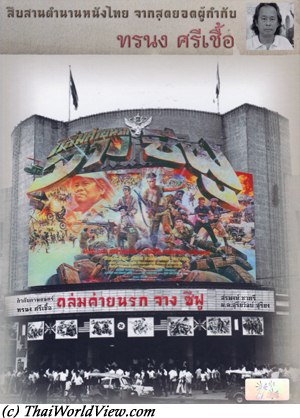 Year

: 1982



Thai title

:

ถล่มค่ายนรกจางซีฟู




English title

: KHUN SA THE OPIUM EMPEROR



Rating

: 3/5


Director

: Toranong Srichua



Main actor

: Sorapong Chatree,Joomjim Khemlek,Tuanton Kammeesri,Manop Aussawathep,Somjin Thammatat,Nirut Sirijanya,Pinyo Parnnui,Somsak Chaisongkram,Pumi Patanayut


Main actress

: Nanthida Kaewbuasai
Thai movie ถล่มค่ายนรกจางซีฟู / 'KHUN SA' THE OPIUM EMPEROR was released in year 1982 and lasts 1h45mn. The DVD soundtrack is quite bad with sound going up and down. The DVD image has also a poor quality. This is a VHS ripped and put on a DVD. Movie director is Toranong Srichua. This movie is about Chang Chi-fu (จางซีฟู) or Khun Sa, famous opium warlord. In January 1982 a Thai Ranger squad, together with units from the Border Patrol Police and the Royal Thai Army, was used to force Khun Sa to move his headquarters from Thailand across the border into Burma. Sorapong Chatree recalls war and is stressed. He is sent to spy Khun Sa. Twenty men, including Tuanton Kammeesri / Pumi Patanayut / พยัคฆ์ รามวาทิน, arrive in the camp led by Khun Sa. Their trainer is Joomjim Khemlek. Khun Sha (Somjin Thammatat), drug warlord, sells drugs to buy weapons. Manop (Manop Aussawathep) has conflicts with Khun Sha. Manop is attacked on his way back by Burmese soldiers but gets help from Nirut (Nirut Sirijanya). Manop is back to his mountain village with Nirut. His younger sister Rungfa (Nanthida Kaewbuasai) welcomes him. A journalist Pinyo Parnnui is arrested by Somsak Chaisongkram. He wishes to interview khun Sa. Sorapong, disguised as a fleeing prisoner, is attacked by a plane and then is arrested by Khun Sa's men. Siriporn (ศิริพร เอี่ยมสุนทร), daughter of Khun Sa, saves his life but he remains tied. Manop learns that the Burmese soldiers who attacked him are in fact soldiers linked to Khun Sa as real Burmese soldiers would not dare entering Thai soil. Upset, Manop and Nirut storm Khun Sa's HQ but get captured. Sorapong wins Siriporn's trust. Khun Sa believes there is a traitor in the camp. Sorapong sympathizes with other men, who are part of the government. Siriporn complains her father produces too much drugs. Drug is given to prisoners to keep them under control. Sorapong succeeds to have his friends escaping but he is then captured. About to be hanged, Sorapong is released by his teammates. Thai forces' attacks against the camp happen. Many people die but Khun Sa succeeds to flee in Burma. This movie is often considered as Thai remake of US movie "Apocalypse Now" by Francis Ford Coppola.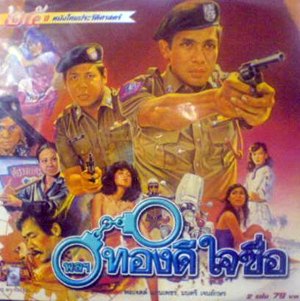 Year

: 1982



Thai title

:

พลฯ ทองดีใจซื่อ




English title

:



Rating

: 5/5


Director

: ยอด มาลา



Main actor

: Porjed Kaenpetch,Tuanton Kammeesri,Somchai Samipak,Krailat Kriengkrai,Wittaya Sukdamrong


Main actress

: Moeifa,Anchalee Chaisiri
Thai movie พลฯ ทองดีใจซื่อ was released in year 1982 and lasts 1h43mn. It was released under VCD format by Lepso company. Movie director is ยอด มาลา. This is a social movie about Thai police (หนังสะท้อนชีวิต). Actors and actresses are Porjed Kaenpetch, Tuanton Kammeesri, Somchai Samipak, Krailat Kriengkrai, Moeifa, Montree Jenuksorn (มนตรี เจนอักษร), Wittaya Suk Damrong, Anchalee Chaisiri. The movie took place during Bangkok 200 years anniversary. Somchai Samipak welcomes a new promotion of fresh policemen including Thongdee, Samak, Krailat. They work in parallel with experienced policemen. Three addicts kidnap a child and ask for a car to flee. Child is released and Thongdee (Porjed Kaenpetch) even saves one of the ruffians jumping from the bridge. One policeman has seventeen years' experience but never took bribes to make additional revenue (มือสะอาด) or additional job to make ends meet. Some policemen accept bribery and let truck drivers to go even if they committed infraction. Police inspector's wife (Anchalee Chaisiri) doesn't follow law. Thongdee and his colleague have issues with her but her husband Tuanton Kammeesri agrees with the policemen's actions. Tuanton Kammeesri got his position thanks to his wife. She is upset and is having an affair with drug addict. Krailat Kriengkrai is a policeman drinking alcohol. Thongdee and his colleague have issues with a child of a deputy. Rich kid believes relations can help them to avoid police. His mother is Moeifa (คุณหญิง). Even Thongdee's boss is on Moeifa's side and is blaming his own men. The deputy finally forces his wife and son to apologize. He blames the police boss saying that people, who build the country, are not the police inspector who stays in the air-conditioned room. Thongdee and nurse Duangjai are going to marry. Unfortunately, Thongdee is shot while police is trying to catch some robbers. Thongdee cannot speak anymore due to the injury and has to leave Thai police. Policeman salary (เงินเดือนหลวง) is very low. Two policemen families are living in a slum. One policeman, Samak, is fair. The other one is corrupted and gets extra money by getting money from citizen. Samak's wife is fed up with her poor life and is seeing the corrupted policeman enjoying good life. Thai police help citizen and ensure law is applied (ระเบียบกฎหมาย). Police catches one deputy's wife who was playing cards. Thai police helps a pregnant woman and a birth happens in a police car. Two Thai policemen save a lady wishing to get suicide as her husband has a minor wife. Finally, the corrupted policeman gets caught by his wife as he was having a minor wife, i.e. rich people problems... Samak is shot during a last mission before heading to his wife's birthday. Krailat is also killed in front of Thongdee while trying to stop an altercation between small ruffians. This movie shows that they are good and dedicated Thai policemen to do their duty also and not only corrupted ones.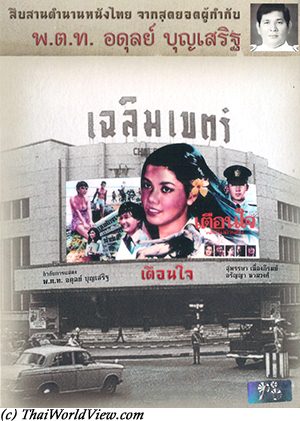 Year

: 1979



Thai title

:

เตือนใจ




English title

:



Rating

: 4/5


Director

: Adul Phijit



Main actor

: Tuanton Kammeesri,Surasit Sattayawong,Lor Tok,Thep Thienchai


Main actress

: Supansa Nuengpirom,Aranya Namwong,Monrudee Yamaphai,Ratanaporn Intarakamhaeng



Buy now

:

Surasit (Surasit Sattayawong) and Ratanaporn (Ratanaporn Intarakamhaeng) have a teenage daughter called Teuan Jai (Supansa Nuengpirom). New soldiers selection (ทหาร) is happening. Lor Tok is their instructor. Strong regulation (ระเบียบ) is taught to them. Young lady Teuan Jai meets one cadet in the bus while going to university. Monrudee Yamaphai as student is her close friend. Tuanton (Tuanton Kammeesri) is married to Aranya Namwong (เมียตำรวจ). He has often nightmares. He is still a low rank policeman making his wife unhappy about his status. Suphansa receives a love letter from one of the soldier. Finally a group of five young soldiers cadets and five young ladies students including Teuan Jai meet each other. They all go to Pattaya. All boys have same goal to serve their country. There are drunkard ruffians at the street entrance leading to Teuan Jai's home. Arguments happen with the young soldiers cadets (นักเรียนเป็นทหาร). One evening, Teuan Jai is raped and killed (มนุษย์ใจสัตว์). A wallet is found with prints on it. The police officer Tuanton investigates on the issue. He visits by night the murdering place and the corpse storeroom (ห้องเก็บศพ) to look for evidences. Thep Thienchai is arrested but he is not the culprit. This murder has caused big emotion and Thai police has to broadcast a message encouraging young ladies to wear appropriate clothing. There is a comparison of young Thai people doing sacrifice to become soldiers and other young people behaving very badly. People having usefulness for the country versus people being a burden. Finally the policeman catches the killer thanks to scratches proofs in his shoulder. As he refuses to acknowledge the murder despite proofs found, the policeman has to force him by using some beatings. Tuanton is finally expelled from the police. This movie is based on a real story, which happened in 1961, where a group of hooligans raped and killed a young student called Teuan Jai PhuangNak. The DVD lasts 1h32mn but the original film is longer. The movie director is Adul Phijit (อดุล พิจิตต์).
---