Increase or decrease font size for easier reading : A+ A-
Toranong Srichua
Toranong Srichua (1951) - ทรนง ศรีเชื้อ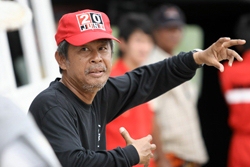 Toranong Srichua is sometimes known as a local war and erotic film director. Having disappeared from the movie industry for 10 years, he announced in 2007 the construction of the Entertainment Complex Toranong Studio, largest film studio in Asia
This Toranong Srichua movie page contains 10 records.
---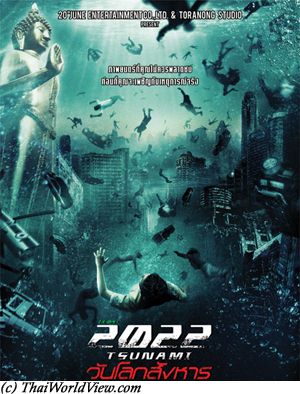 Year

: 2009



Thai title

:

2022 สึนามิ วันโลกสังหาร




English title

: 2022 Tsunami



Rating

: 3/5


Director

: Toranong Srichua



Main actor

: Suchao Pongwilai,Choomporn Theppitak


Main actress

:



Buy now

:

This movie takes place in 2022 eighteen years after the 2004 Tsunami. Three young people, i.e. Phu, Cindy and Phi Phi, are working with Dr Siam. The three young people participate to events and demonstrations to enhance population awareness regarding the worrying climate changes. Doctor Siam has lost his son during 2004 tsunami. Since he has worked on an alarm system to detect tsunami and earthquakes. Phu and Cindy are traumatised by 2004 tsunami events. In 2022, the climate has changed a lot. Thailand is no more safe regarding earthquakes. Three false alarms have been already raised by Dr Siam so the prime minister is in difficult position towards his coalition partner complaining that population evacuation hurts Thailand business. His main coalition partner wishes to replace the current prime minister and his son is a corrupted real estate investor only seeing his own interest. He is selling drugs also and wishes to expel Moken people from his paradise island. Nobody can stop him as he is the son of a politician. Rawai, a Moken, warns Dr Siam, regarding separations under the sea announcing underwater volcanoes explosions. Despite the danger Doctor Siam goes to his underwater lab to get important data and sacrifices his life. There is an urgent need to evacuate Bangkok due to coming 30m high tsunami waves. The mother nature takes revenge. The movie includes references to monarchy, Buddhism and Thai nation in a way similar to 1970s movies. Big earthquakes happen. Bangkok is submerged. The Prime minister is a modern politician capable of sacrifice for his nation and people. From his helicopter, he saves children from drowning but remains stranded on their school bus as the helicopter is overloaded already. A miracle happens as the giant Buddha statue in front of Bangkok gets detached from its pedestal, floats and gets the Prime Minister in its hand preventing him from drowning. The coalition partner dies as his luxury boat is overwhelmed by the huge waves (ความดีต้องชนะความชั่ว). The Doctor Siam body is wrapped into a Thai flag. The movie plays on the environmental and disaster films wave in 2009 (Home, 2012...). It has an environmental message that we all need to change our behavior to save the planet. It raises various issues (corrupted politicians, business interest versus citizen interest, sea-based Moken minority situation, society debauchery). Effective Fx are used but not good enough to make it believable.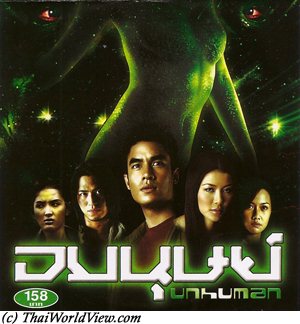 Year

: 2004



Thai title

:

อมนุษย์




English title

: Unhuman



Rating

: 3/5


Director

: Toranong Srichua



Main actor

:


Main actress

:



Buy now

:

When a huge meteor falls to earth in Surin provice, San and his school friends went to the site to take pictures. At the evening that meteor falls, three workmen whom fleed from a mysterious laboratory were killed, and their muscles had been torned out. Police and genetics experts started the investigation to find the truth of the death, and they found out the meteor has nothing to do with their deaths. The investigation leads to a secretive scientist who is conducting experimental work with human organs and working with a Cambodian witch.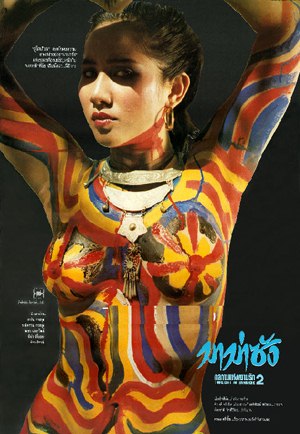 Year

: 1990



Thai title

:

มาม่าซัง กลกามแห่งความรัก 2




English title

: Twilight in Bangkok



Rating

: 1/5


Director

: Toranong Srichua



Main actor

:


Main actress

: Darin Kornsakoon
This is the second opus of "Twilight in Tokyo". The Thai lady is not dead but only hurt. Back to Bangkok, she takes revenge over her previous pimp by having her own business.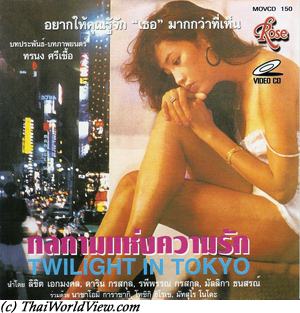 Year

: 1989



Thai title

:

กลกามแห่งความรัก




English title

: Twilight in Tokyo



Rating

: 3/5


Director

: Toranong Srichua



Main actor

: Likit Eakmongkol


Main actress

: Darin Kornsakoon
It deals about a young Thai lady, Waew, sent to Japan to become an escort girl (โสเภณี). Her parents are poor farmers. Waew is the elder sister and has decided to sell her body in Tokyo in order to support her parents and younger sister (น้องสาว). She discovers the sad life there, the huge debt to pay back. Anyway she supports her family by sending money back home. She wishes her father to build a new house instead of the shack, in which they are living. Homesick, she goes back home and discovers that her father has lost all the money she has sent due to unscrupulous investments and gambling (การพนัน), her mother has become a nun (บวชชี), her sister is partying everyday after learning that Waew is a prostitute. The younger sister's moraly is tarnished by living in Bangkok. Money has destroyed her family (เสียผู้เสียคน). Fed up by her family who doesn't understand and compassionate about her burden, she goes back to Japan. Disappointed by her pimp's selfishness, she kills herself. In 1989, the movie got Thai movie "best scenario" award (รางวัลตุ๊กตาทอง). In 1980s many Thai girls went to work as prostitutes in Japan so director Toranong Srichua wanted to show their fate through his movie. He went to Japan with a 32 people team during 15 days to shoot the movie. Even a Yakusa gang (แก๊งยากูซ่า) helped to close Shinjuku street (ถนนชินจูกุ) for 5 hours. Actress Darin Kornsakoon became famous thanks to this role. In 1980s, movies were shown in a limited number of cinemas in Bangkok. Toranong Srichua's movies often got only secondary grade cinemas but thanks to "Twilight in Tokyo" movie, the film was released in first grade cinemas and it was full at each session.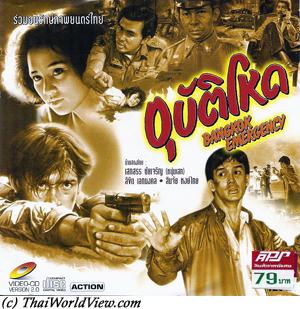 Year

: 1988



Thai title

:

อุบัติโหด




English title

: Bangkok Emergency



Rating

: 3/5


Director

: Toranong Srichua



Main actor

: Likit Eakmongkol


Main actress

: Sinjai Hongthai
A young postman dreams he will become famous. His dreams become true but not the way his policeman father was expecting as he gets twisted in mafia rivalries with a gunman causing his life and his family to be destroyed.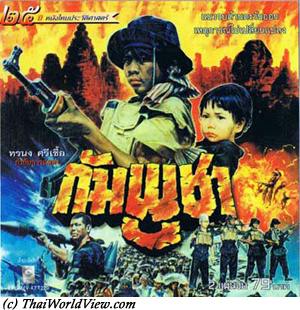 Year

: 1985



Thai title

:

กัมพูชา




English title

: Kampuchea



Rating

: 3/5


Director

: Toranong Srichua



Main actor

:


Main actress

:



Buy now

:

This story takes place in Cambodia in year 1979. It deals about the story of a young boy called Som Bak (ซอม บัค) whose life is impacted by war. Many wars were suffered by his village through French, US bombs, Red Khmer (เขมรแดง), Vietnamese invasions. Villagers are fleeing to Thailand. His father wishes to train his young son to fight and be able to kill people. The movie takes place the year Vietnam invaded Cambodia / Kampuchea to chase the Red Khmers. Vietnamese are using tanks and strong artillery so Khmer soldiers are wiped away. No prisoners are spared. Gas is used. Som Bak is now able to use a M16. As Vietnamese soldiers are coming close to the village, the family needs to flee to the border. Som Sak's parents die during the village attack. Vietnamese soldiers are shown as ruthless soldiers killing civilians and applying torture to get information from prisoners. Som Bak needs to bring his young sister at the Thai border (ชายแดนไทย) as Thailand is a land where peace is present. Som Bak and his sister are captured by Vietnamese soldiers but released as they are only children. There is an impressive reminder of the killing fields with a temple full of skulls. Som Bak then recalls atrocities told by his father regarding civil war in Cambodia and what Khmer red soldiers have done to civilians. On the way to the border he meets some children soldiers (สหาย). They are going to battle field refusing to leave Kampuchea. Feeling ashamed, Som Bak gives her sister to an aunt and goes to battle field. He helps to contact the HQ by going around enemy lines so that they can send some troops to help defending a strategic bridge. Thanks to those additional troops, the Khmer soldiers push back the Vietnamese soldiers. As a retaliation, they shell the civilians fleeing to Thailand. Som Bak's young sister is part of them. Knowing that her young sister is now out of danger in Thailand, Som Bak stays in Cambodia to fight against invaders as it is his duty to protect his own land. This movie was released overseas in few countries like Spain under the name " Kampuchea La Historia jamas contada". It is often wrongly dated as year 1974. This movie has of course some nationalist traces. This movie is often considered as Thai remake of movie "Killing Fields" by Roland Joffe.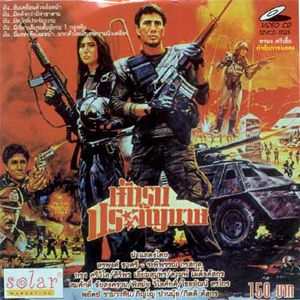 Year

: 1984



Thai title

:

นักรบประจัญบาน




English title

: Cobra Thunderbolt



Rating

: 4/5


Director

: Toranong Srichua



Main actor

: Sorapong Chatree,Krung Srivilai,Chaiyan Sorakrai,Dam Datsakorn,Somsak Chaisongkram,Pinyo Parnnui


Main actress

: Pissamai Wilaisak
Thai movie นักรบประจัญบาน was released in year 1984 and lasts 1h47mn. Toranong Srichua is the movie director. The Thai VCD has a good image quality but is 4:3 format. A Japanese VHS version is in 16:9 format but only lasts 1h29mn. It is a Sahamongkol production. A group of heavily armed Thai terrorists (including Dam Datsakorn, Somsak Chaisongkram, Pinyo Parnnui) are trained in Thailand. The Thai army commander asks to neutralize them asap. Tet (Krung Srivilai), previous military officer and now disabled, is sitting on a wheelchair and is pushed by his wife (Pissamai Wilaisak). He is providing advices to Thai army commander. Det (Sorapong Chatree) is Tet's previous best fighter (นักรบ). Tet was his superior (ภูพาน) in year 1971. Both Tet and Det were the only survivors following heavy fightings at the Thai border. Tet lost use of his legs. The Daily News Press director sends his best journalist Ann (ศิริพร เอี่ยมสุนทร) to enquiry on a factory building illegally war weapons. The factory owner is Somsak Chaisongkram. The journalist receives threatening to stop her investigation on the factory. Meanwhile Tet demonstrates to Thai army commander his latest armored vehicle (รถวิเศษ). His own daughter (ระพีพรรณ กรสกุล) is the driver. Somsak is also very interested but Tet refuses to sell to him. Somsak sold weapons to communists causing Tet's former military unit to be decimated. Ruffians storm Tet's house and kidnap his wife. Police inspector (Chaiyan Sorakrai) wishes to help but Tet prefers to handle by himself as those kidnappers are not standard ruffians. Det, learning the news from a newspaper, decides to flee while doing community work in order to help his former boss. Ann helps him to find Tet. During tentative exchange with Somsak, Tet's wife is killed through a remote bomb hidden on her body. It is war. Tet provides proofs to Ann that Somsak sold weapons illegally to Cambodia, Lao and Vietnam. Tet is kidnapped. A bomb is put in Daily news' office by a renegade police officer but Police inspector Chaiyan stops it on time. Police locates the terrorist camp and tries to destroy it. Det uses the armored vehicle. Tet's daughter joins him with an individual flying machine. As policemen get difficulties, they wipe the terrorist opposition and release Tet. For this movie, Krung Srivilai made his head bald and was sitting in a wheelchair during whole movie. Toranong Srichua used his movie as a reference to show what risks could happen in Thailand in the future. Some happened (domestic terrorists, police officer betraying country, remote bombs on people…).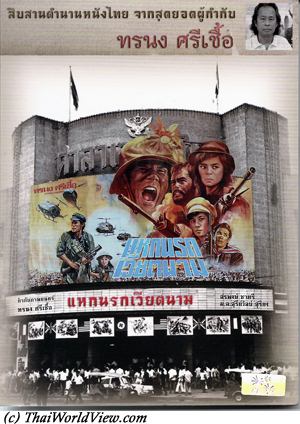 Year

: 1983



Thai title

:

แหกนรกเวียดนาม




English title

: Refugee



Rating

: 3/5


Director

: Toranong Srichua



Main actor

: Sorapong Chatree,Manop Aussawathep,Lak Apichat,Krailat Kriengkrai,Kowit Wattanakul,Somsak Chaisongkram,Chaiyan Sorakrai


Main actress

: Suriwan Suriyong
In South Vietnam, protests happen to ask for US GI departure. The movie takes place in 1975 when America was leaving Vietnam. During Vietnam war, Thailand sent soldiers to South Vietnam to support USA as a partner. Last Thai soldiers (including veteran actor Lak Apichat) are about to leave also but their leader called Cobra (Sorapong Chatree) need them to perform a last task. Cobra and his team get support from Susan, a south Vietnamese soldier. They need to extract Nai Pol from the airport. Nai Pol is an important prisoner (นักโทษสำคัญ). Thanks to Vietnamese uniforms (สหาย), they succeed to infiltrate the base and release the prisoner. Salambo (Suriwan Suriyong), daughter of Nai Pol, joins them. A boat is waiting to evacuate them from Vietnam but Vietnamese soldiers will not let them go so easily. Arrived at the beach, thousands of boat people try also to flee. Susan refuses to leave and dies there. Some boats with Vietnamese soldiers are following them. In the sea, they find 3 stranded people, a banker, a prostitute and a mercenary. To avoid being captured, they have to stop by an island and dynamite their boat to destroy the military boat chasing them. But they have no way to quit the island. Another Vietnamese boat with their tough leader (Manop Aussawathep) arrives on the island to chase the Thai soldiers. Traps are placed in the jungle. Communist soldiers are displayed as heartless, i.e. killing helpless villagers (Krailat Kriengkrai). Dissensions appear as the banker, the mercenary and the prostitute want to go their own way. Tension and stress happen in the humid jungle causing some Thai soldiers to become crazy and less aware of dangers. Vietnamese soldiers defeated America but Thai soldiers are not willing to die one by one. Pol has hidden some microfilms in his leg. It contains the list of Vietnamese sympathizers in Thailand. So it is very important to avoid Bangkok becoming another Saigon. It also contains proofs that USA considered sending a nuclear bomb on Hanoi. The movie ends with various harsh fightings between Thai soldiers and Vietnamese soldiers. Only a limited number of Thai soldiers leave the island alive. Movie แหกนรกเวียดนาม / Refugee is directed by Toranong Srichua, a Thai veteran director well known for his action movies. This movie had a 12M baht budget.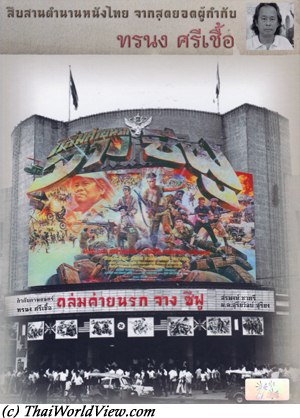 Year

: 1982



Thai title

:

ถล่มค่ายนรกจางซีฟู




English title

: KHUN SA THE OPIUM EMPEROR



Rating

: 3/5


Director

: Toranong Srichua



Main actor

: Sorapong Chatree,Joomjim Khemlek,Tuanton Kammeesri,Manop Aussawathep,Somjin Thammatat,Nirut Sirijanya,Pinyo Parnnui,Somsak Chaisongkram,Pumi Patanayut


Main actress

: Nanthida Kaewbuasai
Thai movie ถล่มค่ายนรกจางซีฟู / 'KHUN SA' THE OPIUM EMPEROR was released in year 1982 and lasts 1h45mn. The DVD soundtrack is quite bad with sound going up and down. The DVD image has also a poor quality. This is a VHS ripped and put on a DVD. Movie director is Toranong Srichua. This movie is about Chang Chi-fu (จางซีฟู) or Khun Sa, famous opium warlord. In January 1982 a Thai Ranger squad, together with units from the Border Patrol Police and the Royal Thai Army, was used to force Khun Sa to move his headquarters from Thailand across the border into Burma. Sorapong Chatree recalls war and is stressed. He is sent to spy Khun Sa. Twenty men, including Tuanton Kammeesri / Pumi Patanayut / พยัคฆ์ รามวาทิน, arrive in the camp led by Khun Sa. Their trainer is Joomjim Khemlek. Khun Sha (Somjin Thammatat), drug warlord, sells drugs to buy weapons. Manop (Manop Aussawathep) has conflicts with Khun Sha. Manop is attacked on his way back by Burmese soldiers but gets help from Nirut (Nirut Sirijanya). Manop is back to his mountain village with Nirut. His younger sister Rungfa (Nanthida Kaewbuasai) welcomes him. A journalist Pinyo Parnnui is arrested by Somsak Chaisongkram. He wishes to interview khun Sa. Sorapong, disguised as a fleeing prisoner, is attacked by a plane and then is arrested by Khun Sa's men. Siriporn (ศิริพร เอี่ยมสุนทร), daughter of Khun Sa, saves his life but he remains tied. Manop learns that the Burmese soldiers who attacked him are in fact soldiers linked to Khun Sa as real Burmese soldiers would not dare entering Thai soil. Upset, Manop and Nirut storm Khun Sa's HQ but get captured. Sorapong wins Siriporn's trust. Khun Sa believes there is a traitor in the camp. Sorapong sympathizes with other men, who are part of the government. Siriporn complains her father produces too much drugs. Drug is given to prisoners to keep them under control. Sorapong succeeds to have his friends escaping but he is then captured. About to be hanged, Sorapong is released by his teammates. Thai forces' attacks against the camp happen. Many people die but Khun Sa succeeds to flee in Burma. This movie is often considered as Thai remake of US movie "Apocalypse Now" by Francis Ford Coppola.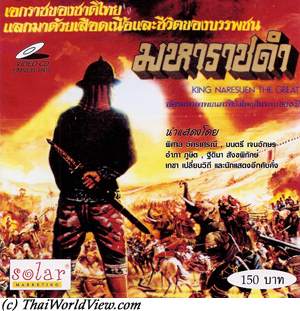 Year

: 1979



Thai title

:

มหาราชดำ




English title

: King Naresuen The Great



Rating

: 3/5


Director

: Toranong Srichua



Main actor

: Pisarn Akraseranee,Kecha Plianvithee,Somsak Chaisongkram,Pumi Patanayut


Main actress

: Ampha Pusit,Thitima Sangkapitak



Buy now

:

This movie is about King Naresuen The Great. The King Naresuan was famous for having a duel on elephants with the Burmese Crown Prince and won against him in year 1593. King Naresuan regained independence from Burma for the kingdom of Ayuthaya.
---