Increase or decrease font size for easier reading : A+ A-
Toon Hiransap
Toon Hiransap (1954) - ทูน หิรัญทรัพย์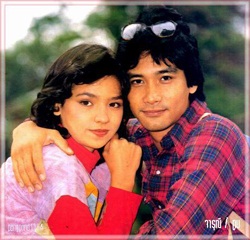 Toon Hiransap has often played a famous star duo with Jarunee Sooksawad in decade 1980s. He has then also recorded music albums
This Toon Hiransap movie page contains 34 records.
---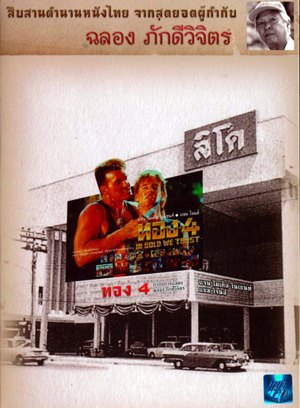 Year

: 1990



Thai title

:

ทอง ภาค 4




English title

: In Gold we trust



Rating

: 3/5


Director

: Chalong Pukdeewichit



Main actor

: Jan-Michael Vincent,Sam J. Jones,Christoph Klüppel,Toon Hiransap,Kowit Wattanakul,Rith Luecha,Boo Wibunnan,Somchai Samipak


Main actress

: Sherrie Rose



Buy now

:

Thai movie Thong 4 (ทอง 4 - In Gold we trust) was released in year 1990. The beautiful DVD version done by MGM lasts 1h13mn. The original Thai version in 35mm format lasts 1h36m. A group of foreign ruffians attack a convoy to steal the gold. Bodybuilder actor Christoph Klüppel, present in Thong 3, is back in Thong 4. They cannot open the safe. Leader of Hmong hill tribe Pol (Somchai Samipak) has two daughters. The Hmong have an agreement with the ruffians to share the gold as they need money to fight against the Vietnamese soldiers. The ruffians kill Pol betraying their promise and believing he has the key to open the safe. One of his daughter is captured. Moss is sent by US government to get back the gold and the captive US soldiers (เชลย). In fact, those US soldiers are treacherous MIA US soldiers. A team is made with foreigners and Thai actors as usual (Toon Hiransap as Yot, Rith Luecha, Kowit Wattanakul, Sherrie Rose...). Captain (ผู้กอง) Moss (Jan-Michael Vincent) is their leader. They jump by parachute near the Thai border and shall meet Pon's Hmong fighters. Enemies (ศัตรู) are waiting for them but Sai Kam, daughter of Pol, and his men help them. Hill tribe Hmong (ชาวม้ง) are suffering. The ruffians' leader sends one of his men as a bait to the Hmong village. As Vietnamese soldiers are aware of the safe, the ruffians' leader Jeff (Sam J. Jones) decide to hide it in the cave. The cave is also used as a den by Japanese soldiers. So fightings do happen. Thai veteran actor Boo Wibunnan is part of Japanese soldiers. The Thai-US team falls in the trap and they are all captured by the ruffians. The safe is now with the Japanese soldiers. The two teams have no choice but to collaborate. Jeff, the ruffians leader, is ruthless. A plane piloted by Boo Wibunnan kamikazes itself on US helicopter. Heavy fightings happen as Japanese soldiers are numerous. Almost all ruffians and soldiers die in fighting. Christoph tries to double everybody but is finally killed by the Japanese leader. Jeff shots Pol's daughter but is also killed by her. The gold is returned to the Hmong villagers. Moss decides to pass himself as dead to be able to stay with Sai Kam.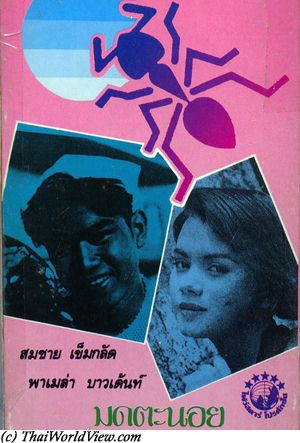 Year

: 1985



Thai title

:

มดตะนอย




English title

:



Rating

: 3/5


Director

:



Main actor

: Toon Hiransap,Settha Sirachaya,Lak Apichat,Sithao Petcharoen,Rong Kaomulkadee


Main actress

: Apiradee Pawaputanon,Pissamai Wilaisak,Thitima Sangkapitak
Young lady Tanoi comes unexpectedly in Khun Nai's house. She claims to be part of the family and wishes to get her share of heritage (มรดก). A lawyer acknowledges the fact but Tanoi will get full heritage when getting married only. Until this date, the heritage is still under Khun Nai's guidance. Tanoi is coming from countryside and is strong at boxing (ต่อย). She has arguments with the neighbour Doctor Chiwan. Tanoi's mother was chased from home twenty years ago by Khun Nai. She doesn't want to take revenge (อย่าชนะความชั่วกับความชั่ว). Tanoi decides to study abroad to show her worthiness to all including Doctor Chiwan. Chakrin, son of Khun Nai, has high interest into Tanoi. There is opposition between countryside lifestyle and Bangkok city lifestyle as Tanoi is coming from salt fields area. She goes back to visit her village with Chakrin. One of the villagers still loves Tanoi. An usual fight between ladies happen. Those fights are always a success with Thai audience with lakorn or 1960-1980s decades movies. Following a car accident, the villager and his sister Saen Dao stay in Doctor Chiwan's home to be closer to Tanoi. While Tanoi is studying abroad, the mother Khun Nai plays cards and sells the furnitures belonging to Tanoi. Khun Nai's daughter indulges herself in alcohol. The mother needs to flee as she cannot pay her debts. After five years abroad, Doctor Chiwan doesn't recognize Tanoi and is mistaken by her as a driver. She is a new Tanoi. She even forgives Khun Nai and her daughter but this latter accepts only to plan to kill Tanoi in order to get the full heritage. Tanoi is kidnapped but saved by Doctor Chiwan and the police. The movie ends happily and bad people are punished. Khun Na's daughter receives the acid she wanted to throw on Tanoi. Saen Dao and the villager have to accept that their love to the doctor and Tanoi are impossible. Doctor Chiwan recognizes his mistake to having looked down poor Tanoi. It is a typical 1980s movie with the leading actress being cross with the leading actor and facing issues with the jealous mother and her daughter. This movie shows the social ascension of a poor lady and that through education the poor lady can become a good person (ผู้ดี). Bad and rich people seem to win over good and poor people but finally there are justice and karma impacts (กรรม).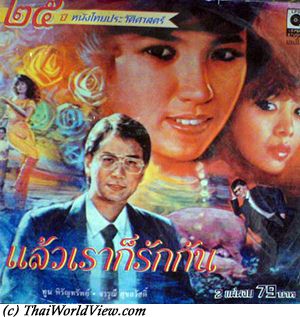 Year

: 1984



Thai title

:

แล้วเราก็รักกัน




English title

:



Rating

: 3/5


Director

:



Main actor

: Toon Hiransap,Settha Sirachaya,Pete Thongjure


Main actress

: Jarunee Sooksawad,Penpak Sirikul
Chalita (Jarunee Sooksawad) is managing an hotel. Penporn, daughter of the managing director Burin, is singing some songs with Kit, the new young singer recruited by Chalita. Chalita trusts Kit and lets him go out with Penporn to have fun. They join a car racing but have a serious accident. Penporn may not walk again. Kit is safe. The manager Burin is very upset by this accident as he has always considered Penporn as his own daughter (หลาน) as Penporn's parents die when she was still a baby. Chalita is fired as she let Penporn have fun with Kit. Chalita is upset as she is not directly responsible of the accident (เรื่องของดวง). Chalita finds a new job in another hotel. Burin, realizing his mistake, wishes to recruit Chalita again by offering a salary two times higher but she refuses. Burin has a strong character, never listens to others (ไม่เห็นใจคนอื่น) and always needs to win (ต้องชนะคนอื่น). Burin believes money can buy everything. Asunee, sexy young lady, is recruited as replacement of Chalita. Kit (ลูกผู้ชาย) affirms to be responsible and will take care about Penporn. Burin forbids Kit to see Penporn again. Kit is seen by Burin as a playboy singer (นักร้อง). There is a strong contrast between Chalita and the sexy Asunee doing Aerobic in front of Burin! Finally Chalita convinces Burin to let Kit visit Penporn. It will help to give comfort to Penporn and hopefully speed up her recovery. Penporn doesn't like Asunee as she is not sincere (จิตใจ). In fact Asunee wishes to marry Burin. The hotel managed by Chalita is much more successful than the one managed by Asunee. Despite efforts from Burin (even buying the hotels she is working in), Chalita refuses to come back to work for him. To protect Penporn and Kit against Burin's ire, Chalita finally accepts. But Burin continues to use dirty tricks (ชั่วร้าย) to try to split Penporn and Kit. Burin even asks Asunee to sleep with Kit in order to break the relationship between Kit and Penporn. But Chalita fights back. Asunee is chased away. Through collaboration (ร่วมมือ) between Burin, Chalita and Kit, Penporn succeeds to walk again! This movie is another romance movie with Toon Hiransap and Jarunee Sooksawad, famous star duo in decade 1980s.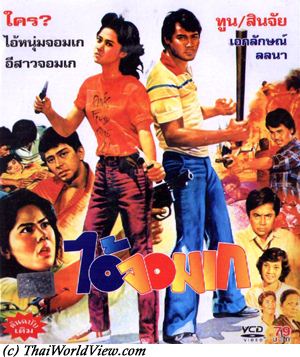 Year

: 1984



Thai title

:

ไอ้จอมเก




English title

:



Rating

: 3/5


Director

:



Main actor

: Toon Hiransap,Sayan Chantaraviboon,Pipop Pupinyo,Chat Mongkolchai


Main actress

: Sinjai Hongthai,Lalana Sulawan



Buy now

:

Keng (Toon Hiransap) is staying in relatives' rich house. The mother is not happy to see Keng at her home despite he is a relative (สอนมารยาท). The mother has two sons (Pochet and Kira) and one daughter called Chan. Chan (Sinjai Hongthai) teaches Thai boxing (สอนมวย) to Keng. Keng wishes to take revenge over ruffian Wo as he is responsible of his mother's death. Keng is Kliaw's young brother (น้องชาย). Kliaw is married to Kira (Sayan Chantaraviboon). Keng has also a school friend called Waew. Pochet loves secretly Waew (Lalana Sulawan) but Waew is already the minor wife of a rich man, i.e. Kira! Chan always protects Keng against Pochet (ลูกไม่รักดี). One day Keng sees Kira with Waew! Following the mother / Pochet's opposition and being only protected by Chan, Keng finally leaves their house. Keng finished drunk and Kliaw / Chan having pity takes care of him. Fed up, the mother decides to use Kam, a ruffian leader, to give Keng a lesson (สั่งสอน). Wo is part of Kam's team. Chan protects Keng against the ruffians as Keng is too afraid to fight. Wo is a pimp (แมงดา) as he is extorting money from Waew. Seeing Wo strangling Waew, Keng finally gets the strength to fight and gives a harsh lesson to Wo (สู้คนได้). Waew is now aware that Kira is Kliaw's husband. To revenge his mother death, Keng decides to hit Wo with Chan's help. The mother (ไม่เกรงใคร) tries to push another woman called Wan into Kira's arms to replace Kliaw. Finally Kliaw decides to leave also the house with Keng. Tired by this stressed situation, Kira stops his relationship with Waew. Pochet asks Waew's hand. As all domestic helpers have left, the mother has to clean the house and to do the cooking as Wan is useless. Wan is a rich man's mistress (เมียเก็บ) already. The mother now knows the real value of Wan and Kliaw. As Pochet is unfaithful with her, Waew shoots him accidentally. Wo, passing by, wishes to terminate Pochet but Waew protects him with her body so being the one to die. The ruffians (including veteran actors Pipop Pupinyo and Chat Mongkolchai) kidnap Chan and her mother. They request 1M baht ransom. Kliaw, Pochet, Keng and Kira storm the ruffians' place to release Chan and the mum. The ruffians are defeated. Finally the mother makes apologies regarding her behavior and the whole family can get happiness back. Thai movie ไอ้จอมเก was released in year 1984. This action romance features a leading actress practising kung fu. In many 1980s movies, actresses such as Apiradee Pawaputanon, Jarunee Sooksawad, Suriwan Suriyong played similar active roles.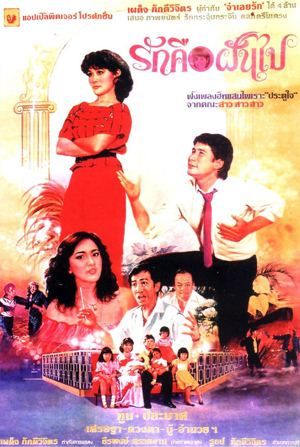 Year

: 1984



Thai title

:

รักคือฝันไป




English title

:



Rating

: 3/5


Director

:



Main actor

: Toon Hiransap,Settha Sirachaya,Boo Wibunnan


Main actress

: Piyamas Monayakol
Thai movie รักคือฝันไป was released in year 1984. It features actors / actresses Toon Hiransap, Piyamas Monayakol, Settha Sirachaya, Boo Wibunnan, ดวงตา. Director is เผด็จ ภักดีวิจิตร. It was released as VHS tape but never as VCD or DVD. The trailer is still available also. รักคือฝันไป plot is based on the music of group สาว สาว สาว, who was very famous in the early eighties. The song ประตูใจ was a big hit. It is a comic romantic movie. Of course the movie features many songs of the Thai group สาว สาว สาว.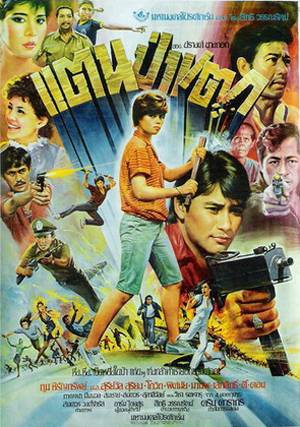 Year

: 1984



Thai title

:

แตนป่าแตก




English title

:



Rating

: 3/5


Director

:



Main actor

: Toon Hiransap,Somkuan Krajangsat,Kowit Wattanakul,Somchai Samipak,Manop Aussawathep


Main actress

: Suriwan Suriyong,Pissamai Wilaisak,Sulaleewan Suwanthat,Malee Wetpraseri
Thai movie แตนป่าแตก was released in year 1984. It features Toon Hiransap as main actor and Suriwan Suriyong as main actress. The movie is lost in Thailand but a sequence of 27 minutes remains to be seen. Other actors are Kowit Wattanakul, Pissamai Wilaisak, Manop Aussawathep, เสกสิทธิ์, กาญจนา นิ่มนวล, Somchai Samipak, Somkuan Krajangsat. Suriwan Suriyong was named as Queen of Thai action movies (นางเอกนักบู๊). Taen (Suriwan Suriyong) is very skilled in fighting. Ruffians storm a farm and steal the cattle. Somkuan Krajangsat is the local village headman but always late. Suriyong catches the killers but gets blamed by the village headman as she is doing his job! Her mother is played by Sulaleewan Suwanthat. Tim (Toon Hiransap) in a magician show. He realises Taen is part of a rich family, being the real (แท้ๆ) granddaughter (หลาน) of Yai Malee Wetpraseri. Ann and her mother Pissamai Wilaisak don't welcome Taen as they are worried about sharing heritage. The father, played by Somchai Samipak, has no issue with Taen. Kowit Wattanakul is Ann's boyfriend. Fed up by intrigues from Pissamai and her daughter, Taen wishes to go home (ไม่สบายใจ). Taen's father was a bandit (เสือ).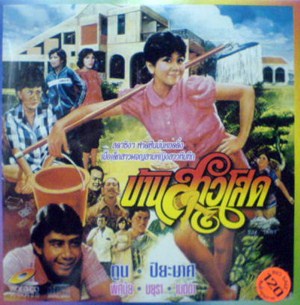 Year

: 1984



Thai title

:

บ้านสาวโสด




English title

:



Rating

: 3/5


Director

:



Main actor

: Toon Hiransap,Boo Wibunnan,Somchai Samipak,Somkuan Krajangsat,Supakorn Srisawat,Krong Kangkengdaeng


Main actress

: Piyamas Monayakol,Metta Roongrat,Pissamai Wilaisak,Mayura Thanabutr,Pornpan Ketmamatsu,Janthana Siriporn,Manat Boonkiet
Thai movie บ้านสาวโสด was released in year 1984. The TV cable version lasts around 1h55mn and is coming from channel "true thaifilm". So cigarettes, alcoholic drinks and even sexy posters on the wall are blurred. Two songs are featured in this movie. A first version of this movie was released in year 1970 with Mitr Chaibancha, Kanchit Kwanpracha and Petchara Chaowarat. Three sisters are still single, i.e. Yip (Metta Roongrat), Teuan (Pissamai Wilaisak), Waraipon (Mayura Thanabutr). One is her mid- forties, one is her mid-thirties, one is her mid-twenties. Yip likes women more than men. A lawyer (อำนวย ศิริจันทร์) discloses the father's testament. They get heritage from their father including the house to share. If they ever marry, they lose any rights to the house. Being singles, they challenge each other who will get married first. A friend will send her son Ting (หลาน) to stay in their house after having studied in Bangkok. The domestic helpers (Janthana Siriporn...) leave as there are fed up by miser Teuan. Plaew (Piyamas Monayakol) is hired as new domestic helper. The three ladies get interest into Ting (Toon Hiransap), 26 years old, as he is very handsome (หน้าหอม). Ting meets Tangwon (Boo Wibunnan) and Metti (Supakorn Srisawat). They wish to rent the house behind บ้านสาวโสด. Businessman Somchai Samipak has a new wife. His daughter is Plaew but she left home as she is unhappy with her new stepmother Vichanee (Pornpan Ketmamatsu). Plaew is suspected by Ting to be the daughter of a rich businessman. Ting's parents are played by Somkuan Krajangsat and Manat Boonkiet. Teuan is worried that Plaew will take Ting from them. Ting's father already found a fiancee for his son. Thanks to Krong Kangkengdaeng, Ting is hired as a driver (คนขับรถ) by Somchai. Plaew and her sister wonder why Ting behaves this way. The new young wife Vichanee is Metti's mistress but she asks Ting to keep quiet on this and she provides a photo album on Plaew (คุณหญิง) to Ting. Vichanee also become mistress with Ting (ความต้องการ). Ting fails to show that Plaew is in fact a rich businessman's daughter. Ting's parents are worried that their son gets enamoured with a domestic helper (เด็กคนใช้). Following a family trip to Pattaya, Ting's parents meet Plaew's parents and both of them are uncovered! Romance can finally start between Ting and Plaew.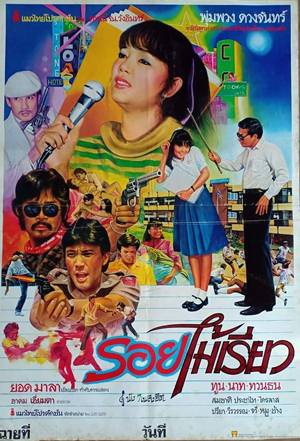 Year

: 1984



Thai title

:

รอยไม้เรียว




English title

:



Rating

: 3/5


Director

:



Main actor

: Toon Hiransap,Nard Poowanai,Tuanton Kammeesri


Main actress

: Pumpuang Duangchan
Thai movie รอยไม้เรียว was released in year 1984. Main actors and actresses are Toon Hiransap, Pumpuang Duangchan, Nard Poowanai, Tuanton Kammeesri… The movie was released under VHS format many years ago. It was never released later under VCD format. The movie is currently lost in Thailand. A sequence of 4 minutes and 30 seconds is left to be seen and was found at the end of a VHS tape. Unfortunately the movie was erased by another movie so only a short sequence is left to be seen. According to the poster, the movie features seven songs. In the remaining sequence being the end of the movie, Mali (Pumpuang Duangchan) and Yot (Toon Hiransap) arrive to a school by car. A teacher, played by Nard Poowanai, helped her to build a new life. Mali is going overseas and comes a last time to pay her respect to her teacher.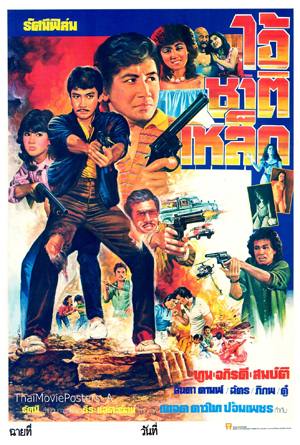 Year

: 1984



Thai title

:

ไอ้ชาติเหล็ก




English title

:



Rating

: 4/5


Director

:



Main actor

: Toon Hiransap,Dam Datsakorn,Sombat Methanee,Doo Dook Kradon,Pipop Pupinyo,Chat Mongkolchai


Main actress

: Linda Khatancharoen,Apiradee Pawaputanon
Thai movie ไอ้ชาติเหล็ก was released in year 1984 and lasts 1h50mn. It is available under VHS format. The picture quality is very sharp. Policeman Ran (Toon Hiransap) has to take over an important task, i.e. intercept a truck hiding illicit goods. Cannabis (กัญชา) is seized. The ruffians' leader Linda (Linda Khatancharoen) is upset so she wants to meet Police inspector Ra (หัวใจเป็นเหล็ก). Tanum (Dam Datsakorn) is working for her. Doo Dook Kradon and Tiu (Sombat Methanee) are playing foreign tourists and visit a gogo bar. Back to countryside, Tiu learns that his wife Jan was raped and killed while he was away. Doo discovers that his wife is living with Pipop Pupinyo now (เมียพี่มีชู้). Unable to give a lesson to Pinyo, Doo receives help from Tiu! Both Ran and policewoman Apiradee Pawaputanon are given to mission to find the drug traffickers in Isan. Waew (Chat Mongkolchai) has arguments with Ran, disguised as a ruffian (นักเลง อาละวาด). Waew receives some help from Tiu and Doo. Tanum, following a recommendation from Waew, hires Tiu and Doo as drivers. Following some shootings and fightings, Ran is framed by Waew and Tanum. As Ran's gunshot unfortunately another policeman and a ruffian, Ran is accused in front of other policemen to be a rogue policeman. Ran is arrested and dismissed as police officer. Anyway he continues his investigation in order to clean his name. Waew takes profit of the ruffian's death to abuse his wife. Tiu kills Waew as he is one, who raped his wife. Tiu and Doo flee. They take refuge in Linda's house per Tanum's advice. As Tanum fails a few times during drug transportation, a waitress played by Apiradee is suspected. She is kidnapped. Seeing Tiu and Linda close together, Tanum is upset and frames him by warning the Police regarding the next drug transportation. Ran releases Apiradee. Tiu escapes to the Police. Tiu is very upset as nobody told him what was inside the truck. This time, Tanum tries to shoot him but Doo is killed instead. Tiu kills Tanum through a fierce fight. Linda's birthday happens in weird conditions. Ran is captured and refuses to join the ruffians in drug trafficking. This time Apiradee releases Ran and they quickly go to the pier to catch all ruffians. Tiu and Linda are arrested. It is seldom seeing Sombat Methanee playing a bad guy. Life conditions push Tiu to become a bad guy as he followed Linda's asking for help. Being arrested, Linda asks Ran for compassion towards Tiu as she is the one sole responsible but Tiu will still have to answer about his acts to Thai justice.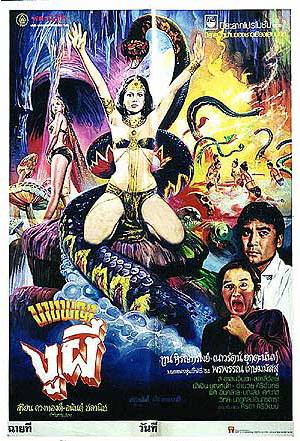 Year

: 1984



Thai title

:

นางพญางูผี




English title

: Ghost Snake Queen



Rating

: 3/5


Director

:



Main actor

: Toon Hiransap,Sor Asanajinda


Main actress

: Naowarat Yooktanun,Pornpan Ketmamatsu,Namgneun Boonnak
Some villagers are hired to catch snakes. A big snake (งูใหญ่) remains to be caught. Chat is one of the villagers. His wife is about to deliver. During a storm, Chat is killed by a huge snake and the baby girl is possessed by a snake. The little girl renamed Boonmee is rescued by a family, who also has a baby girl called Kamfa (Naowarat Yooktanun). They are now grown up beautiful women. Boonmee (Pornpan Ketmamatsu) always think her parents love Kamfa more than her. It is Songkran day. Some Bangkokian people, undercover policeman Cha (Toon Hiransap) and professor Phalat (Sor Asanajinda), come to the village. Young and old people often die in the village so they come to investigative. Nobody knows the real death cause. Some bodies are kept in Wat Khun Duang. Songkran is celebrated there so Cha meets Kamfa and Boonmee. Brother (พี่) Inta is jealous. Both ladies like Cha very much. The temple coffins only contain snakes but no corpses. Villagers afraid of the evil (งูผี). In order to get rid of the evil spirit, there is a need to identify in which body the spirit has taken refuge in. Boonmee brings jealousy in Ita's heart versus Cha. The subdistrict headman's daughter is bitten by a snake. Cha goes to city to bring back a real doctor as he doesn't trust the local shaman (หมอผี). Boonmee (นางปีศาจ) causes the spirit to possess Kamfa and to kill the subdistrict headman's daughter. Villagers now believe Kamfa is the evil spirit (งูผีร้าย). Boonmee kills her own father to prevent him to help Kamfa. Kamfa is captured and will be burnt (เผ่า) in front of the subdistrict headman's house. Cha comes on time but Inta and villagers prevent him to help. Cha and Kamfa shall die on a real stake. A forest monk (พระธุดงค์) stops the fire and announces Kamfa is not the evil spirit that villagers are looking for. The monk asks Kamfa to put a sacred necklace around Boonmee's neck to neutralize the spirit. Kamfa is concerned that her mother shall not stand losing her husband and then one daughter. Boonmee apologizes to her sister and promises not to kill anyone again. The old sorcerer spirit has to bite villagers and drink their blood to remain young. Boonmee seduces and hypnotizes Cha. Kamfa and Phalat have to find a way to release Cha. Boonmee captures her own sister to give her for sacrifice to the snake spirit showing no gratitude to her mother. At nighttime the mother sneaks in the cave and sends on time the sacred necklace on the spirit's head breaking all spells. Evil is defeated and the cave is sealed. It is a remake of 1966 Thai movie "งูผี" with Mitr Chaibancha and Petchara Chaowarat. Compared to 1966 version, Boonmee is much more temptress and is helped by a bunch of sexy amazones. Modern disco and even James Bond soundtrack are used. It is a typical horror movie from 1970-1980s mixing scaring and funny sequences. A second opus of นางพญางูผี was released in 1990 with Bin Banleurit.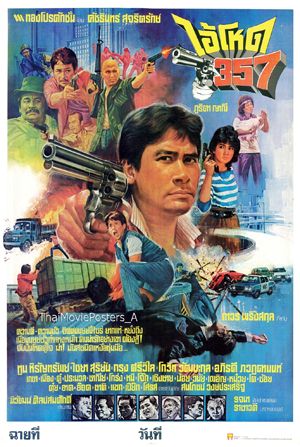 Year

: 1984



Thai title

:

ไอ้โหด 357




English title

:



Rating

: 2/5


Director

: ถาวร พริ้งสกุล



Main actor

: Toon Hiransap,Krung Srivilai,Chaiya Suriyun,Kowit Wattanakul,Kecha Plianvithee,Doo Dook Kradon,Boo Wibunnan,Chanee Yotchai


Main actress

: Apiradee Pawaputanon
Thai movie ไอ้โหด 357 was released in year 1984 and only lasts 1h13mn. It was released under VHS format. Probably some parts of the movie were lost when the movie was transferred to VHS format. As some parts of the movie are missing the storytelling is sometimes awkward. Movie director is ถาวร พริ้งสกุล. Doo (Doo Dook Kradon) is captured by a group of men and is forced for a wedding. The daughter's father, Boo Wibunnan, is the owner of a big hotel in Bangkok and wishes Doo to move to Bangkok to help take care of the hotel. The wedding is a failure. Cheut (Kowit Wattanakul) works with his father in the car repair business. The elder brother is absent. Ruffians including เมือง อพอลโล่ kill the father and mother but Cheut succeeds to flee. Bancha (Kecha Plianvithee) is the mastermind as he wants the land (ที่ดิน). Cheut's girlfriend (ทิพย์มณี ญาณี), teacher Manee, informs him. Ruffians ask him to leave the city but he refuses. Cheut's brother is Chat (Chaiya Suriyun), a small policeman. Ruffians try to kill the two brothers but fail. Linda, ผู้ช่วย (Apiradee Pawaputanon), is nominated to help Chat. Linda arrives by boat driven by Chot (Toon Hiransap). As the two brothers are surrounded by ruffians (หมาหมู), they get support from policeman Krung Srivilai. The two brothers promise to get revenge for their parents. Linda, the subdistrict officer's daughter, asks villagers not to be afraid of ruffians as Thai police are on their side. Bancha warns the sub district officer, his daughter Linda, Chot and Doo not to interfere in their business. Chot is not willing to help so he gets scolded by Chat and Cheut. Linda and Manee are kidnapped by ruffians. Cheut and Chat succeed to release Linda. Policeman Krung tries to arrest ruffians. As some ruffians are found dead, he suspects Cheut. The sub district officer is killed. Krung, Chot and Linda try to embuscade Bancha to arrest him but it fails. Somebody is shooting the ruffians with a magnum 357 but nobody knows who the shooter is. Deputy Panom is involved. Bancha is his younger brother so he protects him. Finally ruffians are neutralized and Bancha is shot dead.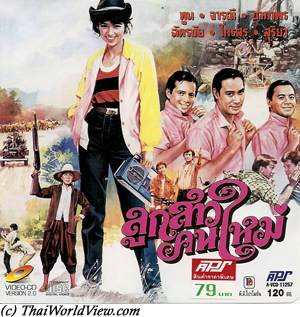 Year

: 1984



Thai title

:

ลูกสาวคนใหม่




English title

:



Rating

: 3/5


Director

:



Main actor

: Chatchai Plengpanich,Toon Hiransap


Main actress

: Jarunee Sooksawad,Apaporn Kornthip
A young poor lady Oi is leaving Bangkok and finds her-self adopted in a farmer family lead by a strong mother with her three sons. She is the new daughter. Many funny situations happen as the three sons are fond of Oi.



Year

: 1983



Thai title

:

แก้วขนเหล็ก




English title

: The Dracula



Rating

: 3/5


Director

:



Main actor

: Toon Hiransap,Somphob Benjatikul,Rith Luecha,Somchai Samipak


Main actress

: Apiradee Pawaputanon,Mayura Thanabutr,Pornpan Ketmamatsu
Thai movie แก้วขนเหล็ก / The Dracula was released in year 1983 and lasts 1h22mn. It features some background music by Jean-Michel Jarre and also from James Bond movies. Movie director is สุริยน ดวงทองดี. Wat (Toon Hiransap), Dom (Somphob Benjatikul) and Nin (Apiradee Pawaputanon) are discussing. Dom just gets a heritage (มรดก). It is an old haunted abandoned house. He decides to stay there and so starts restoring it (ตกแต่งห้อง). Rose (Mayura Thanabutr), his fiancee (คู่หมั้น), finds that he changed a lot. An old uncle tells the story of the house. Sir Maekin (ท่าน เมฆินทร์) (Rith Luecha), previous prince (ลูกเจ้าพระยา), wished to marry a young lady (played by Apiradee) but the father refused as the lady was already promised to somebody else. So Maekin kidnapped the lady. His father (Somchai Samipak) imprisoned him for a few days until the wedding was over but Maekin disappeared. Legend said that he become a ghost. Toon helps an old uncle aggressed by two ruffians. He gives him a ring supposed to push back ghosts. One night, Dom is possessed by vampire Maekin. Rose's birthday will happen soon. Dom places a transparent coffin in the house's underground (ห้องใต้ดิน). Dom becomes normal while holding a Buddha amulet, which burns his hand. Maekin possesses him again. Wat uses Tibetan prayers to neutralize the vampire (ผีดิบ). The vampire possesses Wat's young brother (ปรัชญา) in order to shoot Wat. Under Maekin's influence, Dom kidnaps Nin. Wat has no choice but to affront the vampire and use the special ring… A first version was released in year 1971 with Petchara Chaowarat and a later one in year 2003.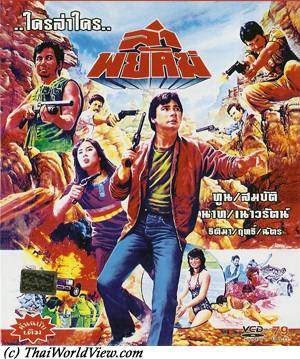 Year

: 1983



Thai title

:

ล่าพยัคฆ์




English title

:



Rating

: 3/5


Director

:



Main actor

: Sombat Methanee,Toon Hiransap,Rith Luecha,Nard Poowanai,Chat Mongkolchai,Sukon Koewliam,Paen Pleumsachai,Doo Dook Kradon


Main actress

: Naowarat Yooktanun,Thitima Sangkapitak



Buy now

:

Thai movie ล่าพยัคฆ์ was released in year 1983 and lasts 1h51mn. It was released under VHS format (1h51mn) and under VCD format (1h34mn). Cha (Sombat Methanee) and Phayak (Toon Hiransap) are soldiers (รับจ้างชายแดน). Being attacked and overwhelmed by enemies, Cha forces Phayak to flee as he has a family to take care to take care. While Phayak is away, ruffians led by Klam (Chat Mongkolchai) raid his house. They, including Paen Pleumsachai, kidnap his father Sukon Koewliam and his sister Phayao (Thitima Sangkapitak). His sister is deceived by Khun Amnat (Nard Poowanai), the local mafia leader, as he simulates a fake release. Klam shot the father but bullets cannot hurt him (ยิงไม่เข้า) as he is wearing a sacred protective Buddhist amulet so they hit him very badly. Phayak goes back home. Nuan (Naowarat Yooktanun), Phayak's friend, is also harassed by the ruffians (วันนี้ไม่อยากทำบาป) led by Phalat (Rith Luecha). Phayak's father dies. Doo Dook Kradon is the caretaker. Phayak gets the protective amulet from his father mouth and is aware how his father was killed. Meanwhile Cha is left as dead at the border. Following tortures to the head by thugs, he loses his memory and is now always drunk. Phayak decides to revenge his father. It is typical 1980s-decade movie when the main actor needs to seek revenge by himself as he cannot rely on Thai police. Khun Amnat uses bad influence and power to control the area (มีอำนาจ). Police believes him. Ruffians try to get rid of Phayak but Klam fails. Phayao sends a letter to meet her brother Phayak. Her brother is upset with her as she has a new husband (ผัว) just one day after their father died. Khun Amnat uses Cha to shoot Phayak but he survives thanks to the sacred amulet (ของดี). Phayak needs to flee as police now tries to catch him as he shot a few ruffians belonging to Amnat's team. Khun Amnat uses Phayao to convince her brother to surrender (มอบตัว) and uses Cha again to kill him. Phayao complains she has no more shelter (ไม่มีที่พึ่ง). It is a trick to steal his amulet. Menawhile Nuan's father is killed and Nuan is kidnapped. Phayak needs to face Cha in order to release Nuan. Hopefully Cha recovers his memory on time. Phayao knows now that Khun Amnat is a lier so she takes back the amulet and flees from his home but she is shot by him. As usual, bad guys are finally punished and Nuan is released. No extra judicial killing this time as Khun Amnat is handovered to the police. Thai people believe that sacred powerful Buddhist amulets from famous Buddhist monks can protect them during fighting. Such amulets were used by Thai soldiers during Vietnam war. Other Thai actions movies featuring Buddhist amulets protection are เสาร์ 5 (1976), ลำพูนดำ (1983), ลายพาดกลอน (1987), ลำพูนแดง (1988)...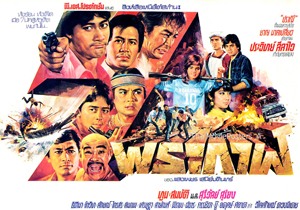 Year

: 1983



Thai title

:

7 พระกาฬ




English title

:



Rating

: 3/5


Director

: ประวิทย์ ลีลาไว



Main actor

: Sombat Methanee,Toon Hiransap,Pipop Pupinyo,Sayan Chantaraviboon,Lak Apichat,Somphob Benjatikul,Kowit Wattanakul,Settha Sirachaya,Kanchit Kwanpracha,Chat Mongkolchai,Sahat Piempongsan,Boo Wibunnan,Somchai Samipak,Adul Dulyarat,Paen Pleumsachai,Pao Porapak


Main actress

: Thitima Sangkapitak,Suriwan Suriyong
Thai movie 7 พระกาฬ was released in year 1983 and lasts 1h55mn. It was released under VHS format and VCD format. It was also released overseas by IFD under the name "US Catman 2 - Boxer Blow". Movie director is ประวิทย์ ลีลาไว. Thai movie 7 พระกาฬ was released multiple times. First time was in year 1967 with Mitr Chaibancha and Petchara Chaowarat. Second time was in year 1983. It was also released as a TV series in year 2004 on CH7. This movie features many famous actors and actresses from decade 1980s. Kanchit Kwanpracha, Sing (Chat Mongkolchai) and Reudi (Thitima Sangkapitak) are having a secret meeting. Kanchit needs to gather seven mercenaries. All of them (Han Meuang Thong - Sombat Methanee, Pipop Pupinyo, Thong Bai as Likay actor – Sayan Chantaraviboon, Boonmee - Lak Apichat, Somphob Benjatikul, Kowit Wattanakul, Settha Sirachaya...) are in jail for multiple murders. Kanchit's team attacks police vehicles during a jail transfer and all seven men can flee in various directions. Reudi receives mission from Kanchit to neutralize Police officer Sattha (ไกรสร แสงอนันต์), who shall capture back the seven inmates. Pho Lieng Saen (Sahat Piempongsan) recruits Boonmee to get rid of his enemy Han Meuang Thong! Sia Mongkol (Boo Wibunnan) wishes to recruit Kowit for a special job. Following a fighting during a Likay performance, Thong Bai has to flee again. Pho Lieng Saen accepts to freeze his revenge towards Han Meuang Thong as the big boss has a more important plan to be performed before. Somchai Samipak, father of Han Meuang Thong, refuses to meet his son anymore. Sattha and Somphob Benjatikul help him as he gets aggressed by Pho Lieng Saen's ruffians looking for his son. Soi (Suriwan Suriyong), daughter of Pho Lieng Saen, meets Prai (Toon Hiransap) and gets help from him as she is harassed by Pao Porapak. Anan (Adul Dulyarat) and his men capture Somphob Benjatikul and Settha Sirachaya. Various mafia leaders (พ่อเลี้ยง), linked to Kanchit, wish to hire the seven men. Kanchit plans to use all of them to perform special secretive actions. Pho Lieng Saen hires Bai and Boonmee. Despite his promise to put aside his own revenge, he sends Boonmee to kill Han Meuang Thong but it fails. Reudi claims to be Han Meuang Thong's wife in order to trap his father. She kidnaps Han's family, i.e his father Somchai and his sister วิไลลักษณ์ ดวงมีเดช, in order to force him to do something against Thai nation. As police disrupts their activities, Police officer Sattha is kidnapped to know who the traitor among the ruffians is. Prai releases him. Then Prai releases Han Meuang Thong's father and sister. Kanchit wishes to prepare a revolution in Thailand to take power through a new political party. Paen Pleumsachai. The seven mercenaries are supposed to do actions to disrupt Thai nation. Aware through Prai, they refuse to betray their country (ขายชาติ) and fight against the ruffians. Ruffians are neutralized. The seven mercenaries saved Thailand, but they still need to go to jail again.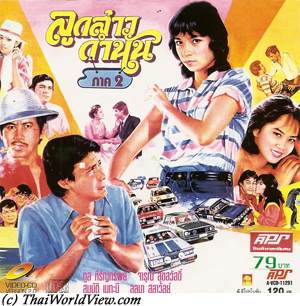 Year

: 1983



Thai title

:

ลูกสาวกำนัน 2




English title

:



Rating

: 3/5


Director

:



Main actor

: Toon Hiransap,Sombat Methanee,Rong Kaomulkadee


Main actress

: Jarunee Sooksawad,Lalana Sulawan,Ampha Pusit
This funny movie is the second opus about the daughter of a district officer. Teng Mo has just married when another woman claims that she is already the wife of her husband! Funny moments happen until Teng Mo and her husband fall in love again.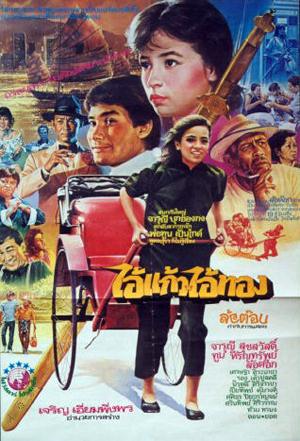 Year

: 1983



Thai title

:

ไอ้แก้วไอ้ทอง




English title

:



Rating

: 3/5


Director

: Lor Tok



Main actor

: Toon Hiransap,Songthong,Settha Sirachaya,Lor Tok,Nirut Sirijanya


Main actress

: Jarunee Sooksawad,Piathip Kumwong,Wiyada Umarin
Ai kaew Ai thong is a romantic comedy featuring Jarunee and Toon. Kaew and Thong are released from prison. Thong is 70 years old and has nowhere to go so Kaew invites him to stay together. His mother chases Kaew away as he sold old artifacts from the family home (แม่ด่า). They need to find ways to make a living such as waiters in a Chinese restaurant. They are finally expelled as food is spilled on customers. They find a new job in a house as gardeners. Maem is the house owner's beautiful daughter. The Chinese restaurant owners have a son Jun who is slightly retarted (ปัญญาอ่อน). They wish their son to marry Maem as her parents own land. So they need to teach him how to seduce a woman. It failed miserably as he falls from balcony into the pond. Kaew dives to help him and gets higher credit from Maem. Kaew and Thong simulate being prince and servant in front of other domestic helpers in order to enhance their status in the house towards Maem. Maem is a strong young lady (คนสวยปากร้าย). Kaew lies to Maem regarding a fake golden necklace in order to get a kiss. Jun parents hire a lady (Wiyada Umarin, veteran actress, often playing such role) to teach Jun how to perform husband duties on bed. As the golden necklace becomes dark after one day, their stratagem fails. Maem condemns them to dig a big hole. While digging, they find an old Chinese sword (ดาบ). The father sends Maem, Kaew and Thong to Hong Kong to sell it. As they cannot sell it, they have to find odd jobs to pay for food and accommodation. Maem is driving a rickshaw. In 1980 rickshaw usage in Hong Kong was already low. Thong is driving a kaido boat. Kaew is doing the tour guide on Cheng Chau island. They are waiting for the father to send tickets back home but the father is very avaricious and expect them to buy the tickets from the spade sale. Feelings start between Maem and Kaew. A ruffian Khun Seu (นักเลง) loves a singer (นักร้อง) and chases after her. Maem is involved as rickshaw driver and helps the singer to flee. To escape from Seu, the singer pays for their tickets back to Thailand. Jun cannot marry Maem anymore as he caught decease from little virtue woman. Knowing that they cannot sell the sword as the Chinese family linkage was broken, the father chases Kaew and Thong from his home causing Maem's despair as Kaew is a kind man (คนมีเมตตา). They finally find a last descendant in Thailand and gets 20M baht for the sword. Kaew can now ask for Maem's hand but performs a last trick to avaricious father. it is a typical good mood romantic comedy from 1980s decade featuring superstar Jarunee and Toon.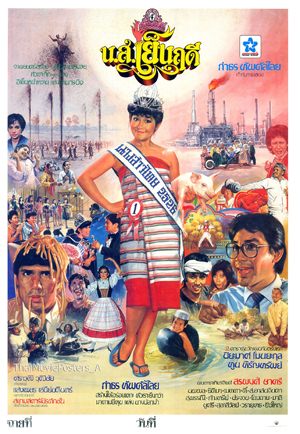 Year

: 1983



Thai title

:

น.ส.เย็นฤดี




English title

:



Rating

: 2/5


Director

: Kumtorn Tubkunlai



Main actor

: Sorapong Chatree,Toon Hiransap,Supakorn Srisawat,Sor Asanajinda,Prachuap Ruekyamdee


Main actress

: Piyamas Monayakol,Metta Roongrat,Thitima Sangkapitak,Suphanee Jitthieng,Malee Wetpraseri,Chosri Misommon,Sulaleewan Suwanthat



Buy now

:

A 70 years old man discovers he has a hidden daughter. Of course his daughter in law doesn't want to share the heritage with this girl and tries many stratagems...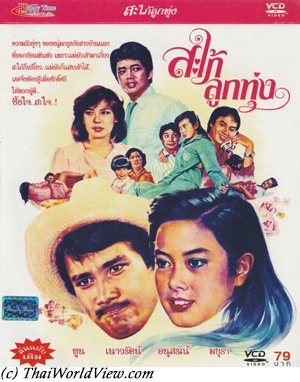 Year

: 1982



Thai title

:

สะใภ้ลูกทุ่ง




English title

:



Rating

: 3/5


Director

:



Main actor

: Toon Hiransap,Somchai Samipak,Sor Asanajinda


Main actress

: Naowarat Yooktanun,Mayura Thanabutr,Malee Wetpraseri,Janthana Siriporn,Phong Lada Pimolpan



Buy now

:

Thai movie สะใภ้ลูกทุ่ง was released in year 1982 and lasts 1h48mn. It was released under VCD format by Lepso and Happy Time companies. Movie director is ดริน ดารากร. Mui (Naowarat Yooktanun) and Khaem (Mayura Thanabutr) are sisters and have arguments with their mother Malee (Malee Wetpraseri). It seems that Malee is preparing an arranged wedding with a Bangkokian young man. It could be Ati (Toon Hiransap) or At (ยิ่งใหญ่ อายะนันท์), a gay man. Mui is upset as she read a letter sent by Ati looking down her sister (บ้านนอก, เมียลูกทุ่ง). The two young men are also upset as they don't plan to get married. Waew (Janthana Siriporn) is playing a comic domestic helper. Ati's Father is played by Somchai Samipak. Ati simulates being sick so only his mother (Phong Lada Pimolpan) and At are going to Ubon. Ati has multiple girlfriends. So being in trouble with them, he finally also goes to Ubon. Ati meets Mui as he is hurt by her motorbike. He meets her father Sor Asanajinda. When realizing that Ati is the Bangkok guy who wrote the nasty letter, she chases him away. Chok (อนุสรณ์ เดชะปัญญา), At's boyfriend (แฟน), needs 100 000 baht to finish his doctor studies. Sor has also a debt towards Somchai and his wife as he borrowed money to pay Mui's doctor studies so that is why his family has to agree to a wedding. Mui is upset with Bangkok people, who denigrate (ดูถูก) countryside people. To get the 100 000 baht from Malee, At accepts to marry Khaem but there is no love. The mother uses Khaem as her slave. At prepares to divorce by claiming Khaem has an affair with doctor Chok. Chok acknowledges due to the debt he owes to Ati. Mui, being doctor student with Chok, is upset by his behavior and discloses to the whole family that it is only a lie as Chok and At are gays. Sor has died so Mui and Khaem go back to Ubon. Chok keeps drinking as he loved secretly Mui and is ashamed of his behavior (ไม่น่าบัดซบ). Ati finally marries Mui but his mother keeps being upset having Mui as daughter in law. The mother now invents a relationship between Chok and Mui to ruin Ati's wedding. Malee, being sick, is cured by Mui (หมอเทวดา) so relationship is improved between Mui and Malee. Chok and Khaem finally marry as Chok wishes to repair his previous mistakes. Somchai forces his wife to change her behavior. At tries to shoot Chok during the wedding but Ati interposes and gets shot. Mui cures him. The mother apologizes to Mui and happiness is back in the family. Mui and Ati roam Isan remote villages to cure sick people. This comedy romantic movie also has a few social aspects such Bangkok people vs countryside people, elders deciding wedding on behalf of younger people, girls studying…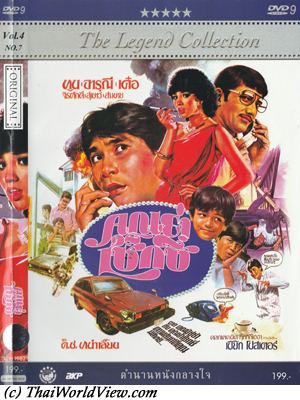 Year

: 1982



Thai title

:

คุณย่าเซ็กซี่




English title

:



Rating

: 2/5


Director

: Piak Poster



Main actor

: Toon Hiransap,Der Doksadao,Somchai Samipak,Doo Dook Kradon,Suchao Pongwilai


Main actress

: Jarunee Sooksawad,Juree Osiri,Sulaleewan Suwanthat,Chosri Misommon



Buy now

:

Thai movie คุณย่าเซ็กซี่ was released in year 1982 and it lasts 1h57mn. It is available under DVD format released by BKP. Movie director is Piak Poster. An old doctor friend visits Et (Toon Hiransap). Et asks for Thip's hand (Jarunee Sooksawad). Thip's father (Somchai Samipak) has a shock. Et visits his doctor friend to find a solution. Chosri Misommon and Doo Dook Kradon are playing crazy patients (อย่าถือคนบ้า ว่าคนเม่า). One of the kids, Mee, is kidnapped by Suchao Pongwilai. Suchao is asking for 300 000 baht as ransom. The kid succeeds to escape and even tricks his kidnappers. The kidnappers lie to Et and capture him. He still has to give a ransom to be released. Luckily the Police is passing by and he can escape. Ruffians are finally identified and jailed by Police. Et can finally marry Thip. Et and Thip are singing a song reminding of วัยอลวน movie in 1975. วัยอลวน was also director by Piak Poster. His old doctor friend (จิรศักดิ์ อิศรางกูร) asks him for help. He needs him to take care about a lady's best friend so that he can focus to seduce her without having a chaperon always around. Et teaches her tennis. Thip sees him with that lady and back home, he gets severely beaten and even falls from the stairs. Incantations (คาถา) from the grandfather are used to make people smaller or bigger so that he is not humiliated by his wife anymore but it is only a dream. Believing Et is becoming crazy as he keeps mumbling incantations, Thip calls the doctor to check his condition. The doctor asks Thip to be nice towards Et as he missed love when he was a kid. Thip announced to the head of school (Juree Osiri) that she quits her job to take care about her home. It is Thip's birthday. As Thip is wearing old style clothes so one of her friend restyles her. So she becomes sexy (คุณย่าเซ็กซี่). Love is back between Et and Thip. The movie can end happily.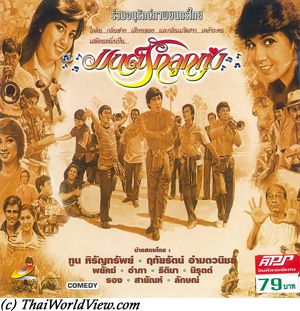 Year

: 1982



Thai title

:

มนต์รักลูกทุ่ง




English title

:



Rating

: 3/5


Director

:



Main actor

: Toon Hiransap,Nirut Sirijanya


Main actress

: Ampha Pusit,Thitima Sangkapitak,Reuthairat Amatawanit



Buy now

:

This folk-music movie is a remake of one of the most famous Thai movie (มนต์รักลูกทุ่ง) shot in 1970. It features 14 folk songs or "LUUK THUNG" songs. It is about a love story between a poor peasant, Klao, and a young woman, Thong Kwao, coming from a rich family. It includes also three other side love stories between Bupfa, Thong Kwao's sister, and Waen, Klao's friend, between Sai Chai and a policeman and between a Northeaster worker and Sai Chai's sister. Both Sai Chai and Thong Kwao are arguing over Klao as both of them love him. Klao promises to marry Thong Kwao as soon as he has enough money for the dower. A local godfather is lending money to poor peasants and get their land title when they are not able to refund the money. Klao's mother has debts with the godfather. Hopefully Tong Kwao is able to help. This upsets the godfather as he cannot get the land title. To ease the situation with the godfather, the parents send Thong Kwao and her sister to Bangkok to learn clothes fashion design. In fact Thong Kwao's parents are worried about the family assets if their daughter marries a poor man so they send her to Bangkok so that she can be far away from Klao. They promise Thong Kwao that they will accept Klao's proposal for marriage if it happens. Floods happen and rice crops is destroyed. Thong Kwao can only offer a small dower. Thong Kwao's parents refuse Klao's proposal for marriage and request an expensive dower (ค่าสินสอด), i.e. 100 000 Baht (สิบหมื่น). while in Bangkok, a bad businessman is courting Thong Kwao. He has already a girlfriend but is interested to marry Thong Kwao in order to get money to save his non prosper company. Various misunderstandings happen between Klao and Thong Kwao as they both believe they didn't keep their promise but love will win.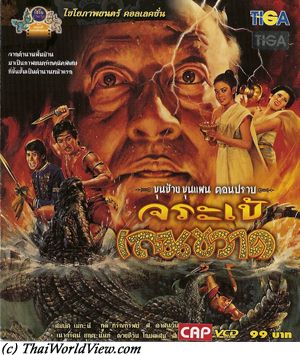 Year

: 1982



Thai title

:

ขุนช้างขุนแผน ตอนปราบจรเข้เถรขวาด




English title

:



Rating

: 3/5


Director

: Sompote Sangduenchai,Neramit



Main actor

: Sombat Methanee,Sor Asanajinda,Toon Hiransap


Main actress

: Naowarat Yooktanun,Duangcheewan Komolsen,Janthana Siriporn



Buy now

:

This movie is based on the folklore story "Khun Chang Khun Paen" (ขุนช้างขุนแผน) but only on a limited part of the whole story. During Ayutthaya period, a middle age man, Master Taen (อาจารย์เถร), has strong magic knowledge (วิชา) so can seduce women through spells and can transform himself into a ferocious crocodile. His young apprentice (ลูกศิษย์) can also become a fierce crocodile. Young ladies Simala and Soifa are the wives of noble Phra Phi but Phra Phi spends all nights with Simala. Soifa becomes very jaleous and asks Master Taen to help her. Master Taen uses black magic incantations. Simala and Phra Phi get tortured like voodoo puppets. Due to incantations (พิธี), Simala gets a defigured face so that Phra Phi goes back to Soifa. Phra Chumpoon, Phra Phi's brother, tries to defend Simila. Soifa asks Master Taen for a love filter to force Simala having an affair with Phra Chumpoon so that she can be repudiated by Phra Phi. Nothing happens but Phra Phi nevertheless chases her. Phra Chumpoon asks for his father's help. The father, Paen, sees that his son is under spell influence. Soifa starts to panic. The king orders to arrest Master Taen but Master Taen and his apprentice become crocodiles to kill the soldiers. A reward is offered to catch the crocodiles. Paen searches for evidence such as wax effigy inside the bedroom. But nothing found as Soifa hides it well but Paen succeeds to find it and breaks the spell (พิธีแก้) for Simala. Master Taen sends an evil spirit to fight Paen but Paen's baby spirit (กุมารทอง) helps him. Master Taen is arrested by Phra Chumpoon. He refuses to break the spell for Phra Pi. Simala and Soifa need to show their purity (บริสุทธิ์) by walking without pain on hot charcoal. Soifa fails (ความดีต้องชนะความชั่ว) and is chased in Northern Thailand. The two crocodiles continue their rampage until they are stopped by Paen and Phra Chumpoon. Master Taen is defeated and killed by Phra Chumpoon. Characters are similar to traditional theatre "Like" (ลิเก), i.e. the leading actor (พระเอก), the leading actress (นางเอก), the jealous girl (นางเอก), the funny and hilarious supportive maids (ตัวตลก). This is another movie from famous Chaiyo productions and produced by Sompote Sangduenchai. This is the fourth movie including crocodiles killing human again. The previous movies were Crocodile (จระเข้ - 1980), Kraithong (ไกรทอง - 1980), Kraithong 2 (ไกรทอง 2 - 1985). As often with Sompote productions, it includes light salacious content, humorous dialogues and kitsch Fx (Yak flying).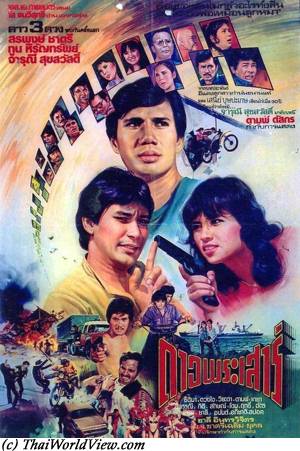 Year

: 1982



Thai title

:

ดาวพระเสาร์




English title

: The Big Deal



Rating

: 4/5


Director

: Dam Datsakorn



Main actor

: Sorapong Chatree,Toon Hiransap,Pipop Pupinyo,Rith Luecha,Lak Apichat,Dam Datsakorn,Kecha Plianvithee


Main actress

: Jarunee Sooksawad,Thitima Sangkapitak,Wiyada Umarin,Duangjai Hathaikarn
ดาวพระเสาร์ (The Big Deal) movie is gathering three main stars from 1980s decade, i.e. Sorapong Chatree, Toon Hiransap and Jarunee Sooksawad. This movie is mixing action and romance. An impressive bunch of 1970s-1980s famous Thai actors are participating. Dam Datsakorn, more known for his ruffian leader role, is also the director. Dao Prasao (Sorapong Chatree) is similar to a lonesome cowboy but he has a strong kick (ตีนแรง) whenever somebody is looking for troubles. Taen (Toon Hiransap) wishes to befriend with Dao Prasao. Taen is chased by Sing Manorom's ruffians but gets help from Dao Prasao. Taen gives him a bag with 100 000 baht as a reward. Taeng, Taen's fiancee, is promised to ruffian Sing Manorom so Taen has no wish to live anymore. The 100 000 baht were supposed to be used while fleeing with Taeng. Diaw Dai (Wiyada Umarin), prostitute with sincere heart, helps them to hide from the ruffians. Tuang (Rith Luecha) is her evil pimp and wishes to take revenge following Diaw Dai betrayal. Dao Prasao promises to help Taen. Taeng (Jarunee Sooksawad) is the daughter of sub- district headman (kamnan) called Yot. Dao Prasao arrives as a mysterious wedding gift giver in order to enter more easily in Yot's house. Causing a fire during the wedding eve, Dao Prasao takes profit of the mess to flee with Taeng. He is injured while helping her. Despite a plot from Tuang, all succeed to escape the ruffians. Diaw Dai has some feelings for Dao Prasao. Some feelings start also between Taeng and Dao Prasao. His real name is Kata. He left his home as his fiancee married his father while he was studying abroad. Meanwhile while visiting Taen's home, Taeng discovers he has already a fiancee! In fact his father wants to force him to marry a high society lady called Kaew (Thitima Sangkapitak). Feeling sad, Taeng is finally captured again by the ruffians. Aware of this, Dao Prasao with close friend Dang's support raid the ruffians nightclub. Jarunee excels in Thai boxing skill-set and they succeed to escape. Taeng is disappointed by Taen as he doesn't dare to oppose his father to protect their love (อยู่ในอำนาจบารมีของพ่อ). He is not as courageous as Dao Prasao. Taen feels hurt by Taeng's words. Chumporn, head of ruffians, is leading a prostitution ring. They capture many ladies including Taeng, Kaew, Diaw Dai to sell them to an international buyer. Tuang kills Diaw Dai as a revenge. Dao Prasao and Taen successfully release the ladies through fierce fights on moving trucks and through motorized acrobatics. Taen wishes to show he has courage also. Kaew is killed during the battle. Taen and Taeng are reunited. Dao Prasao leaves them and continues his life as a lonesome cowboy. Dao Prasao has accomplishes his mission as Taen and Taeng can be happy together now. An earlier version with Sombat Methanee was shot in 1970.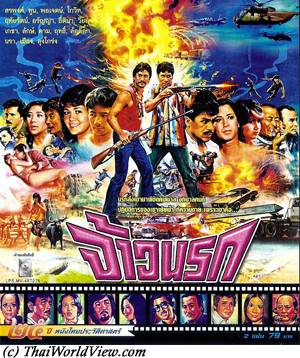 Year

: 1982



Thai title

:

จ้าวนรก




English title

:



Rating

: 3/5


Director

: Payoong Payakul



Main actor

: Sorapong Chatree,Lor Tok,Toon Hiransap,Kecha Plianvithee,Dam Datsakorn,Rith Luecha,Porjed Kaenpetch,Lak Apichat,Kowit Wattanakul,Pao Porapak,Paen Pleumsachai


Main actress

: Aranya Namwong,Wiyada Umarin,Thitima Sangkapitak,Reuthairat Amatawanit
Khongra (Sorapong Chatree) is relative (หลาน) of Am Su Ra Krai (Toon Hiransap). Khongra is coming to Phailom district to visit Am. Am's team, such as Wo (Lak Apichat), needs to carry guns as the area is full of ruffians (นักเลงบ้านนอก) such as Thaem (Porjed Kaenpetch). Mr Putr is accused to have stolen (ปล้นรถไถ) Am's tractor. Local ruffians forbid farmers to cultivate the fields but as Khongra dares to bring a tractor, he has no choice but to shoot them. Later on, he helps a young lady Chairon harassed by three ruffians. Chairon is living alone as her parents died already. Thaem is defeated by Khongra on one to one fight. Friendship starts between Thaem and Khongra. Godfather (เจ้าพ่อ) Bamjong (Kecha Plianvithee) wishes to recruit Khongra as he likes his style. Khongra discovers that the tractor was stolen by Mr Putr despite his disclaimer. Romance starts between Khongra and Chairon. All the illegal activities are handled by a local few godfathers including lady Sa (Aranya Namwong), Bamjong, Dam (Dam Datsakorn) and Reut (Rith Luecha). Chairon has been kidnapped and Khongra is ordered to leave the area within 24 hours. Meanwhile Khongra (เสียตัว) is also kidnapped by mysterious Amazons (Sopha played by Wiyada Umarin and Thitima Sangkapitak) but succeeds to escape. Gnoh (Kowit Wattanakul) is a policeman coming to arrest drug traffickers believed to be linked to local ruffians. Am, Khongra storm Putr's home to know where Chairon is. Before dying, Putr just says she is located at Beung Mai. While going to Beung Mai, they meet Sopha again. It is a trick to split Am, Wo and Khongra. In a fierce shooting, Wo is killed. Sa is suspected to have kidnapped Am. Khongra and Thaem are captured and imprisoned with Am. Chairon provides a hidden message but her behavior is noticed by the guard (ทรยศ). Chairon and Sopha are sentenced to death by Sa. Hopefully Khongra, who succeeds to escape, helps them on time. A festival for farmers is happening in Phailom district. Khongra is aware of the ruffians' plan to intimidate farmers in order to finally possess the whole land in the area. Explosions happen during the festivities. Following various shootings and car chasing, all ruffians are killed or captured by Khongra, Am and police led by Gnoh. This Thai movie จ้าวนรก, directed by Payoong Payakul, is a typical 1980s action movie involving many key leading actors from decades 1970s-1980s.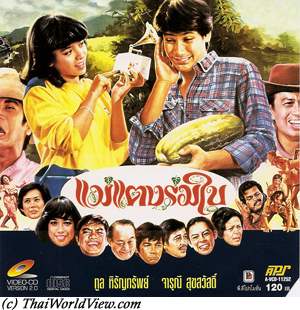 Year

: 1982



Thai title

:

แม่แตงร่มใบ




English title

:



Rating

: 3/5


Director

: Sombat Methanee



Main actor

: Toon Hiransap,Sombat Methanee,Suchao Pongwilai,Boo Wibunnan


Main actress

: Jarunee Sooksawad,Ampha Pusit,Duangdao Jarujinda
Two families making a living on agriculture don't esteem each other. They unite when some gangsters threaten them in order to buy goods at low price. Love stories happen between young people from both families.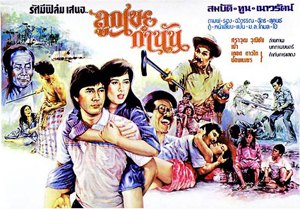 Year

: 1982



Thai title

:

ลูกเขยกำนัน




English title

:



Rating

: 3/5


Director

:



Main actor

: Sombat Methanee,Dam Datsakorn,Toon Hiransap,Sukon Koewliam,Doo Dook Kradon,Chat Mongkolchai,Paen Pleumsachai,Pao Porapak


Main actress

: Naowarat Yooktanun,Chaweewan Boonprok
Thai movie ลูกเขยกำนัน was released in year 1982. The movie is lost in Thailand but a 3 minutes trailer remains to be seen. Its image is unfortunately half damaged as the film was soaked with water and it has an inaudible sound. Various short sequences are shown in the trailer. Sombat Methanee is the subdistrict headman (กำนัน). Naowarat Yooktanun is his daughter. Dam Datsakorn and Toon Hiransap are fighting and punching each other. Naowarat is being kidnapped. Naowarat is fighting with veteran actress. It is a romantic action comedy movie. Similar to many Thai movies, it features various styles in order to please the whole family including with a hot love scene (featuring Dam and Chaweewan Boonprok). It uses the same ingredients as popular Thai movie ลูกสาวกำนัน (1981) but it was not as successful. Other actors seen in the trailer are Chat Mongkolchai and Pao Porapak, actor always playing tough ruffian roles. Other actors / actresses are รอง, Chaweewan Boonprok (ฉวีวรรณ บุญปรก), Sukon Koewliam, Doo Dook Kradon, หน่ำเลี๊ยบ, Paen Pleumsachai.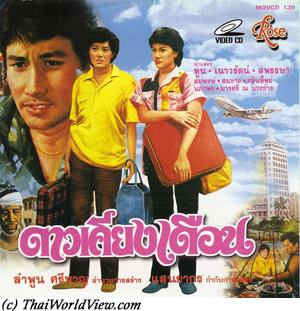 Year

: 1982



Thai title

:

ดาวเคียงเดือน




English title

:



Rating

: 3/5


Director

:



Main actor

: Toon Hiransap


Main actress

: Naowarat Yooktanun,Supansa Nuengpirom,Sarinthip Siriwan,Marasri Bangchang
Two sisters are living together with their mother in a northern village. Their friend have gone to Bangkok and are making a good living. When their mother dies, they also have to go to Bangkok to earn money but they refuse to work in entertainment business. They finally work as domestic helpers in a high end family. Both of them love the family's son. But their family love is stronger than a rivality towards a man and they finally go back to the countryside. if all rural people go to Bangkok, who will cultivate rice for Bangkok people?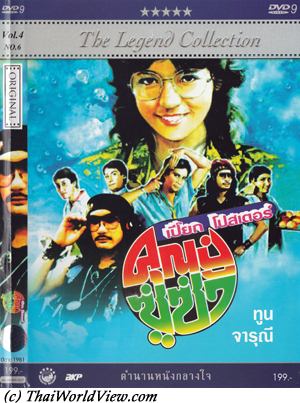 Year

: 1981



Thai title

:

คุณปู่ซู่ซ่า




English title

:



Rating

: 2/5


Director

: Piak Poster



Main actor

: Toon Hiransap,Der Doksadao,Somchai Samipak


Main actress

: Jarunee Sooksawad,Juree Osiri,Sulaleewan Suwanthat,Janthana Siriporn,Chaweewan Boonprok,Patama Panthong



Buy now

:

Thai movie คุณปู่ซู่ซ่า was released in year 1981 and lasts 1h59mn. It is available under DVD format released by BKP. Movie director is Piak Poster. Invited to a wedding party, Et (Toon Hiransap) is still single and is a playboy. He meets Juree Osiri. Et has inherited from his grandfather so he doesn't need to work. He doesn't want to marry as he likes freedom. He invites young lady Pat (Patama Panthong) to Pattaya. Kaew (Der Doksadao), his domestic helper, invites a lady (Janthana Siriporn) in his home while he is away. A little girl called Mot comes to their home. She is Et's relative daughter. As her family has financial issues, the relatives leave Mot with him. Et gets issues with police as he goes to teenager's party (ซวยจริงๆ). Mot's teacher is Thip (Jarunee Sooksawad). As there is nobody to stay with Mot, Thip stays to be her friend as both Kaew and Et are out every night. Et is going out with Chaweewan Boonprok. Enamoured with the teacher Thip (ครูสวยฉิบหาย), Kaew suggests bad ideas to Et in order to seduce Thip such as using sedative (ยานอนหลับ) or inviting her while there is nobody at home. All ideas fail and Thip is very upset with Et as she complains he lives a bad life only spending money and bringing no value to Thai society (ประโยชน์ต่อสังคม). Thip decides to change. Thip's father (Somchai Samipak) is a bakery's owner. Et succeeds to be hired in the bakery and launches successful cakes having tits shape. A co-worker (Sulaleewan Suwanthat) complains he is salacious (ลามก). Worried that Et will bring shame to his father and their business, Thip fires him. Apologizing for his behavior and feeling very sad, Et quits the bakery. While helping the father aggressed by two robbers, he is injured by them. Finally Thip understands Et is a good guy. Et promises to quit his bad behavior and acts as an adult. The second part of this Thai movie is named as คุณย่าเซ็กซี่ was released in year 1982.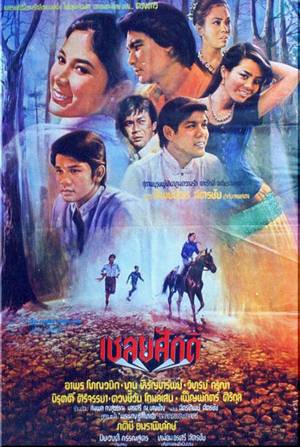 Year

: 1981



Thai title

:

เชลยศักดิ์




English title

:



Rating

: 3/5


Director

:



Main actor

: Toon Hiransap,Nirut Sirijanya,Aphorn Tonawanik


Main actress

: Penpak Sirikul,Duangcheewan Komolsen,Marasri Bangchang
Two Royal family clans (ตระกูล) have strong continuing conflicts (ความอาฆาตแค้น). One clan is อัศวราช, clan from the leading actor Yothin, and สันตติวงศ์, clan from the leading actress Alissa. M.C. , father of Alissa and Atisak, is dying. He wishes to clear up the conflicts between the two clans. Yothin (โยธิน) and Atisak (อติศักดิ์) from opposite clans have a gun duel. Yothin loses and needs to be Atisak's prisoner (เชลย) for one year. He has to stay in Atisak's estate located in countryside. He meets Alissa, Atisak's younger sister and Anoun, the younger brother. Yothin cannot get anywhere without authorization from Atisak or Alissa (เขาเป็นทาส). Prince (เจ้าแสนไทย) Saenthai, Atisak's friend, speaks sweetly with Alissa (อลิสา) but doesn't have real interest into her. Yothin becomes Anoun's personal instructor. Alissa and Atisak can force Yothin's body to execute tasks but they cannot control his spirit (จิตใจ). Yothin has a fiancee already Piromya (ภิรมยา) but he doesn't dare to see her and didn't tell her he is now under Atisak's orders. Saenthai has a high interest into Piromya. Prince Kanfa (เจ้าขวัญฟ้า) is having an affair (เมียน้อย) with Kaew, a domestic helper. He is acting as a butterfly with women but he wishes to marry Alissa. Yothin and Piromya still love each other. But Piromya is attracted by Kanfa. Piromya breaks up with Yothin when she learns that Yothin has become Atisak's slave. Piromya try to console with Kanfa. Yothin's father is sick but Yothin refuses to visit him to avoid having gratitude (บุญคุณ) to Atisak and Alissa. As Piromya is now pregnant, Kanfa needs to marry her but he cannot forget Alissa. Kanfa kidnaps Alissa to force her to become another wife. Yothin organises a hunt to find her. Piromya wishes to see the face of the traitor Kanfa (ผู้ทรยศหัวใจ) and dies in pregnancy while looking for Kanfa. Despite knowing Piromya's fate and being wrong, Kanfa refuses to let Alissa go. Though an unfortunate occurrence of circumstances, Kaew stabs Kanfa. Yothin flees with Alissa and Anoun. Love emerges between Alissa and Yothin. Unfortunately Anoun dies drowned in rapids while trying to help a dog. Atisak gives back his freedom to Yothin. Yothin leaves and promises to Alissa to come back as a friend (มิตร) and not a prisoner (เชลย) anymore. This movie is based on a story written by Princess Watnanokom Prawit (วัฒโนดม ประวิตร). It was adapted two times as movies (1959 and 1981) and three times for Thai television (1983, 1991 with Likit and Jintara, 2010).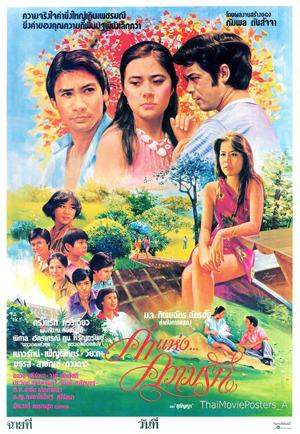 Year

: 1981



Thai title

:

ค่าแห่งความรัก




English title

:



Rating

: 3/5


Director

: ม.จ.ทิพยฉัตร ฉัตรชัย



Main actor

: Toon Hiransap,Pisarn Akraseranee,Sayan Chantaraviboon,Yuranan PamornMontri


Main actress

: Penpak Sirikul,Naowarat Yooktanun,Wiyada Umarin,Duangdao Jarujinda
Thai movie ค่าแห่งความรัก was released in year 1981 and lasts 1h36mn. Movie director is ม.จ.ทิพยฉัตร ฉัตรชัย. Actors and actresses featured are Toon Hiransap, Penpak Sirikul, Naowarat Yooktanun, Wiyada Umarin, Pisarn Akraseranee, Sayan Chantaraviboon, Duangdao Jarujinda, Yuranan PamornMontri, มธุรส รัตนา, ฉลวย ศรีรัตนา, วงศ์ ศรีสวัสดิ์, ประวิตร สุจริตจันทร์, จันตรี สาริกบุตร. Doctor Kengkrai (Toon Hiransap) is always drunk. This is due to his wife Pakpong (Penpak Sirikul) having external affairs but he is unable to divorce her as they have two kids. Sura (Naowarat Yooktanun) is Pakpong's younger sister. Piplin (Wiyada Umarin) is the eldest sister. Sut (Pisarn Akraseranee) helps Kengkrai as he has a car accident and is unable to drive drunk. Sut and Sura have arguments. Sut is hired by Kengkrai as driver and as a helper for his children. Kengkrai has two children but his wife is not taking care of them. Uncle Sut becomes a second father for the children, Moo and Maew. Arguments happen between Sut and Pakpong as she is jealous of him, being loved by her children. Sayan Chantaraviboon, from a rich Thai southern family, greets Sut. Doctor Kengkrai still has a big domain. The doctor has to sell his land as he needs money to pay his wife's debts. Phi Luang, brother in law, wishes to buy the land. Kengkrai has concerns selling the land as it belongs to his children. A mysterious rich man from south of Thailand, Khun Paradon, buys the land for 5M THB by offering higher bid than Phi Luang. The land will remain under Moo and Maew names. The brother in law is upset. Sut is upset against the rich people (ผู้ดี) as Sura listens to him (สัตว์ป่า) talking to Yot. A lost letter indicates Pakpong's bad intentions towards the doctor. Her lover finds the letter and threatens to disclose everything as she wishes to break up. Sut forces the lover to give back the letter and to disappear. Sut has a strong character. He succeeds to clear all issues and problems. Pakpong promises to change (แม่ที่ดีต่อไป). A romance between Sut and Sura is about to start (ไม่กลัวแต่ไม่ไว้ใจ). Paradon (Yuranan PamornMontri) is coming to meet Sura and asks her hand. Piplin gets beaten by her brother and the mother is upset as Pakpong didn't privilege her own family for the land sales. The mother thinks about money only. Paradon challenges Sura on the land. The real Paradon is Sut, who is doing tricks to check Sura's real heart. Sut's secret is finally disclosed and romance can blossom.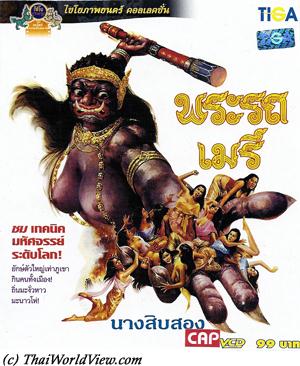 Year

: 1981



Thai title

:

พระรถเมรี




English title

:



Rating

: 3/5


Director

: Sompote Sangduenchai,Neramit



Main actor

: Toon Hiransap,Dam Datsakorn,Ron Rittichai,Sithao Petcharoen,Sompong Phonmitr,Sukon Koewliam


Main actress

: Ampha Pusit,Supansa Nuengpirom,Duangcheewan Komolsen,Janthana Siriporn,Metta Roongrat



Buy now

:

This movie is based on Southern Thai Local Literature. Twelve daughters are abandoned by their parents, who are too poor to educate so many children. The twelve daughters are rescued by a "Yak" woman who promises to take care about them as her own daughters. She deceived them and force them to drink a potion that transform the young girls into beautiful maidens. They escape and are rescued by a Prince, who falls in love with the youngest girl, called Sip Song. He agreed to marry the twelve girls. Once again, the "Yak" woman deceived and force them to drink a potion that makes them 8 months pregnant. The Prince, disappointed by this unexpected pregnancy, expels them and they are imprisoned in a cave, where the "Yak" woman has their eyes removed in order to make an ever young potion for her. Blind and with no food no eat, the ladies eat their new born babies except the son of Sip Song who is raised by a gentle "Yak". The son is called Phrae Rot Meri. Getting older he ran a cock fight to make a living for the 12 ladies. Becoming an adult, he has a deal with the Prince and goes to the "Yak" country to get more magic potions in order to get freedom for the 12 ladies including his mother. But the "Yak" woman is doing all possible tricks to stop him...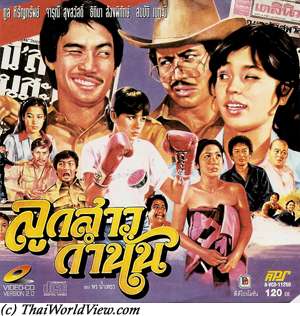 Year

: 1981



Thai title

:

ลูกสาวกำนัน




English title

:



Rating

: 3/5


Director

:



Main actor

: Toon Hiransap,Sombat Methanee,Lak Apichat,Boo Wibunnan


Main actress

: Jarunee Sooksawad,Ampha Pusit,Thitima Sangkapitak
This funny movie is about Teng Mo, the daughter of a district officer.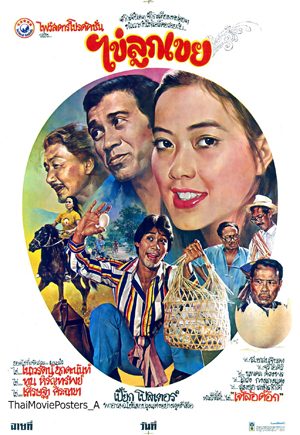 Year

: 1981



Thai title

:

ไข่ลูกเขย




English title

:



Rating

: 5/5


Director

: Piak Poster



Main actor

: Toon Hiransap,Sor Asanajinda,Lor Tok,Settha Sirachaya,Somchai Samipak,Noppadol Duangporn,Krong Kangkengdaeng


Main actress

: Naowarat Yooktanun,Juree Osiri
Thai movie ไข่ลูกเขย was released in year 1981 and lasts 1h50mn. A remastered version was released by Five Star Production (ไฟว์สตาร์โปรดักชั่น) in the decade 2010s and shown on Thai TV cable. The movie was released under VCD format by Solar company. The movie director is Piak Poster. This is a social Romantic Comedy. Mother Juree Osiri wishes to marry her daughter Rose (Naowarat Yooktanun) to Jongsak (Settha Sirachaya), a rich but insipid man. Her husband is played by Somchai Samipak. Tuan (Toon Hiransap) is going to the village to bring improvements. He meets Rose as her car splashes him with mud. As her car refuses to start anymore, he forces her to apologize before bringing her by bicycle to the village. Tieng (Sor Asanajinda) is the village leader and father of Tuan. Tuan is seen as a crazy guy by many villagers. Rose takes her revenge by taking his clothes away while he is bathing in a stream. She forces him to apologize to get his clothes back. As the school headmaster has to go to the city for a meeting, Tuan is the one to help with the children. At that time, there was one teacher for all class levels! Rose realizes that Tuan is a clever man. He is hiding his real identity. Following a conference in Bangkok, Rose's mother is charmed by a young man protecting the poor farmers rights versus the rich Bangkokian society. Turn spends time with Lok Tok to understand his tricks to beat local administration. Noppadol Duangporn wishes to become the new village leader. At nighttime, Tuan hacks Rose's radio in order to sing a song. She tries to unveil him but cannot. Finally, Rose befriends with Tuan. Noppadol informs the mother Juree. Juree complains to Rose that she is coming from a wealthy family with a high status so she shouldn't befriend a farmer. The father Somchai Samipak tries to temporize his wife. Noppadol has an objective to replace Tieng so he goes to meet the chief district officer in the city, Tuan tricks them by emptying their petrol tank and puts a laxative in their drinking water. The next day, they try to get revenge, but Tuan is good at Karate. Meanwhile Rose finds papers and pictures showing the real identity of Tuan. Tuan claims he had no choice as villagers would not trust a civil servant from Bangkok. It was the only way to see the real village problems, the good and bad things done by villagers. They go for a walk and get stuck by a storm. Juree, the mother, coming to inspect her daughter, is then very worried. On the next day, she refuses her daughter Rose to come here again. Upset, Rose claims she sees people value by their achievements and not by their money. She claims Tuan and she are now wife and husband in order to stay in the village. The mother is upset as her daughter marries a poor farmer (คนบ้านนอก). Her husband, Somchai, knows the truth, but doesn't disclose it. Juree tries to bring back her daughter to her home, but she fails. As the village leader is reaching retirement, a new village leader has to be elected. Noppadol is facing Krong Kangkengdaeng. Krong is winning by far as he is more popular. There is a new bailiff (ปลัดอำเภอ) nominated in the area. It is Tuan! Through a good speech, he reminds villagers that he, as a civil servant, is here to serve them and not the opposite! Rose goes back to her home with Tuan. The mother is upset as he keeps singing. On the next day, Jongsak comes to flirt with Rose, but Tuan exits his room wearing a bailiff uniform. Tuan apologizes to the mother and discloses his real identity. The mother is now delighted that her daughter marries Tuan.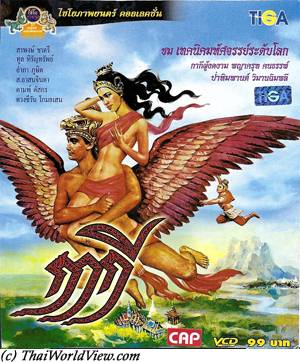 Year

: 1980



Thai title

:

กากี




English title

: Kaki



Rating

: 3/5


Director

:



Main actor

: Sorapong Chatree,Toon Hiransap,Sor Asanajinda,Dam Datsakorn,Sithao Petcharoen


Main actress

: Ampha Pusit,Duangcheewan Komolsen,Janthana Siriporn



Buy now

:

Beautiful young woman Kaki (กากี) is created from a magnolia flower by an hermit (ฤาษี) for the old King Prommathat (ท้าวพรหมฑัต). So Kaki becomes the beautiful wife of King Prommathat. One of the King's musician, Than (คนธรรพ์) (Sorapong Chatree), loves Kaki and composes songs to ease her heart. King Garuda (พญาครุฑ) comes down from his celestial residence to gamble with the King Prommathat in a dice game. King Garuda sees the beautiful Kaki and loves her immediately. King Garuda and Than love Kaki. Following a battle between Than and King Garuda, Kaki is kidnapped by King Garuda. King Garuda is a supernatural half-bird half-man creature living in a world different from the human beings world. Both the King Prommathat and the musician Than are sad. King Garuda visits again King Prommathat's palace believing nobody knows he kidnapped Kaki. King Garuda is demystified by the musician Than. Following a poetry wording fight, King Garuda is defeated. The deity needs to send Kaki back to the human world. The King Prommathat is shocked to learn that Than and Kaki love each other. Kaki is sentenced to harsh punishment. Finally Than succeeds to find Kaki and confirms his love to her despite Kaki claims that she is not worth as she had three husbands (หลายผัว, เป็นกะหรี่). It based on a great Thai classical literature written by Jao Praya Praklang Hon. Nowadays in Thai language, the word Kaki (กากี) is still used to mention a woman, who has an adulterous behavior.
---