Increase or decrease font size for easier reading : A+ A-
Tony Jaa
Tony Jaa (1976) - โทนี่ จา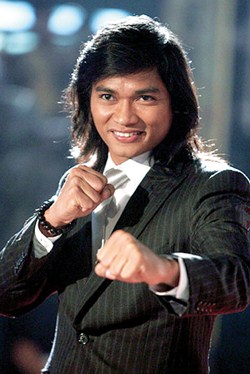 Tony Jaa is called the Thai "Jackie Chan". In a few years there has been a spectacular rise of Jaa Panom (Tony Jaa), a poor Isan boy who has become internationally known from Ong-bak and Tom Yum Goong movies. Three Tony Jaa movies, Ong-Bak (2003), Tom-Yum-Goong (2006) and Ong-Bak 2 (2008), have each of them raked in over 100 million baht at home and the same amount abroad. Tony Jaa was 27 years old when the worldwide success of Ong Bak made him famous. Before that, he had spent twelve years working hard under his mentor Panna Rittikrai
This Tony Jaa movie page contains 9 records.
---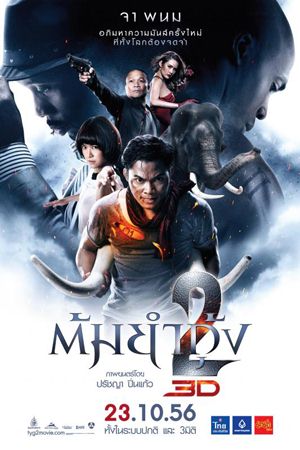 Year

: 2013



Thai title

:

ต้มยำกุ้ง 2




English title

: The Protector 2



Rating

: 3/5


Director

: Prachya Pinkaew



Main actor

: Tony Jaa,Mum Jokmok


Main actress

: Yanin Vismistananda



Buy now

:

Kham's (Tony Jaa) elephant is stolen as he refuses to sell it. His elephant is like a brother for him as they have been together since his youth. Kham follows the robbers up to Bangkok. He finds the leader but he has already been killed through a few severe hard punches. His two daughters (including Yanin Vismistananda), believing Kham killed their father, chase him. Kham meets again the Australian policeman (Mum Jokmok) but he lets him go knowing Kham is too nice to kill somebody. The ruffian having stolen the elephant is also an organiser of illegal fights. Through Bangkok, Kham is facing the ruffians through many thrilling fightings (against bikers on rooftop, in a factory, on metro railroad tracks, in a room on fire...). The ruffian leader is in fact working with some generals coming from a small kingdom. Following a rebellion in this Kingdom, a peace truce shall be signed in Phuket, Thailand. An elephant shall be given as a peace symbol. It is in fact Kham's elephant whose tusks have been filled with explosives. Many CGI are used in Tom Yam Koong 2 movie. A huge budget was spent but the box office sales were disappointing. Only 56M baht were reaped in Thailand. Even Tony Jaa didn't join the movie promotion in Thailand as he was already involved in "Fast and Furious" sequel 7. The movie was released in many other countries such as Hong Kong. Panna Rittikrai was also involved. Prachya Pinkaew was the director. It is a 1h44mn movie with non stop action. It took two years to be released.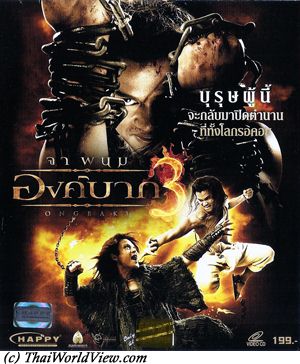 Year

: 2010



Thai title

:

องค์บาก 3




English title

: Ong Bak 3



Rating

: 3/5


Director

: Tony Jaa,Panna Rittikrai



Main actor

: Tony Jaa,Mum Jokmok,Nirut Sirijanya,Choomporn Theppitak,Saranyu Wongkrachang


Main actress

: Patama Panthong



Buy now

:

Ong Bak 3 movie is a follow up of Ong Bak version 2 where Tien was defeated and captured by King Jom Rachan soldiers. Tien (Tony Jaa) is condemned to death by the King Jom Rachan (Saranyu Wongkrachang). His body is broken and beaten harshly. Insurrection is ongoing against the King Jom Rachan (พระองค์) but this latter eliminates all his opponents (Choomporn Theppitak). On the execution day, Tien is saved at last minute and sent to Ayutthaya. Bad omens are seen by the King. To try to influence the future, he sends some ninjas to kill Tien in Ayutthaya. They fail thanks to some courageous Ayutthaya soldiers. Thanks to Buddhist prayers, offerings, casting of a Buddha statue, dances and Buddhist monk's (Nirut Sirijanya) healing skills, Tien is cured. But full recovery is difficult. He considers suicide as he is almost infirmed. Through inner peace, meditation and efforts (ฝึก), he starts to recover management of his limbs. A new fighter take over the King Jom Rachan looking for power only (อำนาจ). Aware of Tien recovery, the new King sends soldiers to catch him and burns his village. Tien is wearing white clothes (purity) while the new King is wearing dark clothes (evil). Tien has no choice but to go to the King palace to defy him in order to release the villagers and his love. Following epic fights including jumping from one elephant to another or using real elephant tusks to fly, Tien defeats the evil King. As usual in Tony Jaa's movies, actor Mum Jokmok is played a relief character. In Ong Bak 2 there was an action scene with two elephants. In Ong Bak 3, the actors were among more than 20 elephants. Tony Jaa introduces Nattayut in Ong Bak 3. It is a dharma martial art that can protect soul from bad deeds. It is a kind of meditation that can heal heart and soul.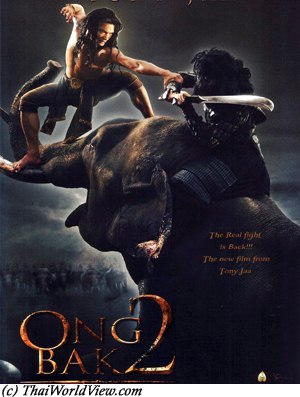 Year

: 2008



Thai title

:

องค์บาก 2




English title

: Ong Bak 2



Rating

: 3/5


Director

:



Main actor

: Sorapong Chatree,Tony Jaa,Santisuk Promsiri,Saranyu Wongkrachang,Nirut Sirijanya


Main actress

: Patama Panthong



Buy now

:

During Ayuthaya period, a teen, called Thien, following a fight with slaves merchants, is rescued by Cheu Nang. Cheu Nang is the village head of a group of warriors and fighters. Thien is the son of Lord Sihadecho, who has been assassinated by Lord Rachasena. Thien is trained to become a powerful fighter in Thai boxing and weapons handling such as sword, spike, nunchaku, rope, bomb etc... Becoming an adult, he helps to stop the former slaves merchants that held him and to release their slaves. He then succeeds to kill Lord Rachasena in his palace but when going back to Cheu Nang's village, he is attacked by score of fighters and is overcome by them. Lord Rachasena is not dead. During a final fight forced by Lord Rachasena, Thien has to compete against Cheu Nang. Ong bak 2 is not a second Opus of Ong Bak as the previous one was taking place in modern Bangkok. At the end of movie, Thien is captured and Lord Rachasena promised him a long and painful agony. Ong Bak 3 is on the way for 2010! Many incredible action scenes are involving Tony Jaa and real elephants. The 2009 Thai Films Award Best Supporting Actor for "Ong Bak 2" was for actor Sorapong Chatree.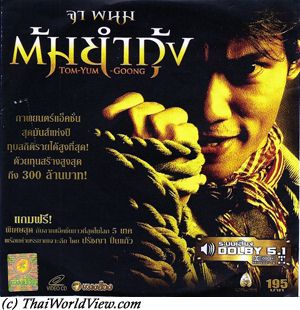 Year

: 2005



Thai title

:

ต้มยำกุ้ง




English title

: Tom Yum Goong



Rating

: 3/5


Director

: Prachya Pinkaew



Main actor

: Tony Jaa,Mum Jokmok


Main actress

:



Buy now

:

A young man named Kham faces an international mafia syndicate, that captures his two beloved elephants and smuggles them to Sydney. So he has to venture into Australia. He gets help from a Thai police Sergeant based in Australia and Pla, a Thai girl forced into prostitution. They face the gang of Madame Rose, whose staff include a Vietnamese thief and martial arts expert and some hulking bodyguards. The film reigned as the box office's champion when it grossed 200 million baht (second in history after Suriyothai).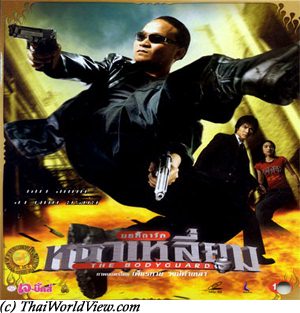 Year

: 2004



Thai title

:

บอดี้การ์ดหน้าเหลี่ยม




English title

: The bodyguard



Rating

: 3/5


Director

:



Main actor

: Mum Jokmok,Tony Jaa,Chusak Aiemsuk


Main actress

: Aranya Namwong,Pumwaree Yodkamol
After the bodyguard fails to save his father's life, a young man refuses to be protected anymore by this man. But the new bodyguard guard team is wiped out by unknown gunmen and the young man hides in a slum. Following the young man's disappearance, the bodyguard searches for him to prevent the gunmen to find him first... This movie mixes action and comedy.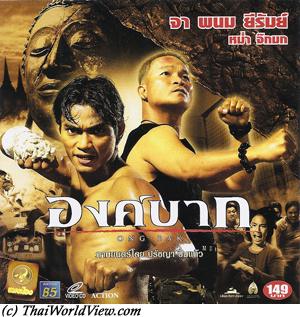 Year

: 2003



Thai title

:

องค์บาก




English title

: Ong Bak



Rating

: 4/5


Director

: Prachya Pinkaew



Main actor

: Tony Jaa,Mum Jokmok,Suchao Pongwilai


Main actress

: Pumwaree Yodkamol



Buy now

:

"Ong Bak" is a Buddha statue located in a remote northeastern Thai village. One day, the statue head is stolen. A young man is going to Bangkok in order to get back the stolen head. He is a old style Thai boxing expert. In Bangkok, he is getting the help from a teenage girl and a fellow coming from the same village. They are facing a dangerous gang specialized in stealing old Buddhist artifacts. It raises opposition between village life (peace, slowness, culture respect, local Buddhist traditional festivals, villagers unity...) and Bangkok city life (danger, drug, prostitution, gambling, materialism, foreigners...). This movie contains art martial scenes that Hong Kong movies can envy. It grossed 120 million baht in Thailand. "Ong Bak" has been awarded the Action Asia prize at France's Deauville Asian Film Festival. The Culture Ministry registers 25 Thai classic films each year at the National Film Heritage Registry. This movie is part of the 25 films heritage list announced on 04 October 2015, which is Thai Movies Conservation Day.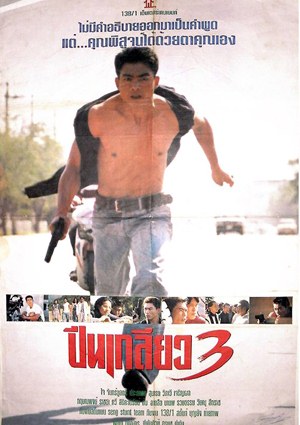 Year

: 1997



Thai title

:

ปีนเกลียว 3




English title

:



Rating

: 4/5


Director

:



Main actor

: Krissanapong Rachata,Jai Juntamooltreem,Tony Jaa


Main actress

:
Thai movie ปีนเกลียว 3 (Jai Juntamooltree, ประภาพร สุนารถ, Krissanapong Rachata) was released in year 1997. It lasts around 1h18mn. A man called Son (Jai Juntamooltree) quits the Buddhist monastery and Luang Pho tells him to always keep cool temper. A Buddhist amulet helps him to stay calm under any circumstances. He is a former Thai boxing champion. Biaw, a tough man, prevents the workers to work. He hits all the men and promises to come back. Son arrives in this company to meet an old friend called Khaek. The owner's brother is a ruffian and asks for half of the paternal house. The company owner refuses as he respects his father's decision and the brother already got a lot of money previously. Biaw is now working for the ruffians' leader. Tony Jaa, assistant of a bigger ruffian, is playing a gay fighter. Taem is the beautiful daughter of the company owner. Biaw is back to prevent workers to work again. Son refuses to fight with him. Biaw finally leaves as Taem threatens to call the police. While Taem and his friends (Kaew, Kam) are visiting a temple, Biaw intervenes again. Son get severely beaten by Biaw as he refuses to fight. Kaew or Taem both start to like Son. Who will get Son's love? Taem brings Son on her motorbike. While they are eating a noodle soup, the ruffians arrive again. Humiliation continues but as one of the ruffians tears off Son's Buddhist amulet, Son gives them a harsh lesson as he is not hindered anymore by his promise to Buddha. It is Taem's birthday. Having a small gift compared to Kam, he doesn't dare to join the birthday party. Taem asks Son to teach her Thai boxing. The ruffians intensify their attack and now use guns to shoot the workers. Khaek, Son's close friend, is killed. The business is stopped. Taem is kidnapped but Son is following the kidnappers through a motorbike. He is captured in the ruffians' den. The ruffians mock him (ดอกฟ้ากับหมาวัด). Final fighting happens with ruffians through gun, rifle shootings and Thai boxing. Son defeats Biaw, Tony Jaa and finally the big boss. As usual, there is full action in movies directed by Panna Panna Rittikrai's team (138/1 production).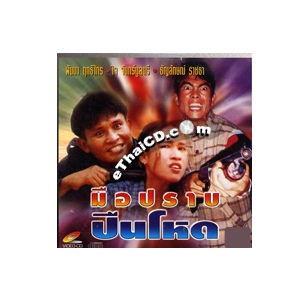 Year

: 1996



Thai title

:

มือปราบปืนโหด




English title

: Hard Gun



Rating

: 3/5


Director

: Panna Rittikrai



Main actor

: Panna Rittikrai,Tony Jaa,Jai Juntamooltree


Main actress

:



Buy now

:

Thai movie มือปราบปืนโหด (Hard Gun) was released in year 1996. It lasts 1h22mn. A group of four ruffians led by พี่ Biaw (Panna Rittikrai) needs to stay in a house until the police stops looking for them following a robbery. It shall be their last job. Nom is always complaining. Police led by inspector Phitak (Jai Juntamooltree) finds them and surrounds the house. Two ruffians get shot by Phitak including Nom, who is Biaw's younger brother. Upset that Nom is dead, Biaw shots Phitak but only injures him and flees. Phitak recovers and goes back to his uncle's home (พ่อบุญธรรม). His uncle is a local policeman. The uncle, following the death of his wife, keeps drinking alcohol. He fails to save his wife used as hostage by a ruffian. Biaw still wishes to get revenge over Phitak. He goes with Tony (Tony Jaa) up to the small city to kill Phitak. Once he finds Phitak, he shots without hurting him and kidnaps the uncle's daughter, Ann. The movie ends up with art martial fightings between Tony and Phitak as Phitak tries to release Ann. Biaw is so sure that Tony cannot be defeated but Phitak succeeds. The uncle this time doesn't fail and saves his daughter threatened by Biaw. The uncle starts a new life with confidence recovered and stops drinking alcohol. There is a mix of action and humour as Phitak is also facing local ruffians in the city. There are gags reminding Baan Phi Pop movies serie and such movies were targeted for Isan area, Northeast of Thailand.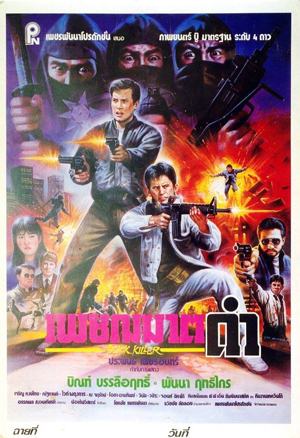 Year

: 1990



Thai title

:

เพชฌฆาตดำ




English title

: Black Killer



Rating

: 3/5


Director

:



Main actor

: Panna Rittikrai,Bin Banleurit,Tony Jaa


Main actress

:



Buy now

:

Thai full packed action movie เพชฌฆาตดำ (Black killer) was released in year 1990. The movie lasts 1h30mn. A young lady Candy is looking for uncle Chiem (เรื่องสำคัญ). Her parents have been killed in Japan. Three Thai ninjas are looking for documents showing corporate wrongdoing so are trying to catch Candy. Thanoo (Bin Banleurit) is a hitman hired to kill people but he is still having a good heart such as helping people who borrow money (กู้เงิน) at excessive rate. He normally kills only sinful people. Two Interpol policemen (ตำรวจสกล) are also looking for the young lady. Dam (Panna Rittikrai) is the leader of a small ruffians gang. Dam's team steals Candy' s bag containing important documents. Thanoo has been hired to shoot uncle Chiem. Uncle Chiem refused to sell his land to businessmen wishing to build a factory. Thanoo was lied to kill uncle Chiem presented as a corrupted village headman (กำนันอิทธิพล). Seua Leu has been hired to kill Thanoo once he completes the job. Seua Leu and Thanoo have a duel won by Thanoo but he is severely injured. Dam accepts to give the envelope against 100 000 baht. Finally all parties meet and final fightings involve the three ninjas and their boss versus Thanoo, Dam and Interpol officers. They finally win despite injuries. Seua Leu beats Thanoo in the final duel but loses to his kindness (แพ้น้ำใจ).
---