Increase or decrease font size for easier reading : A+ A-
Thuam Thoranong
Thuam Thoranong (1926-2007) - ท้วม ทรนง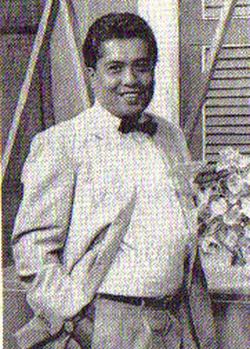 Thuam Thoranong was the main actor in the version of Thai movie "The scar" / แผลเก่า (1946) after WW2. He played in many Thai TV series also. He often played comic roles
This Thuam Thoranong movie page contains 21 records.
---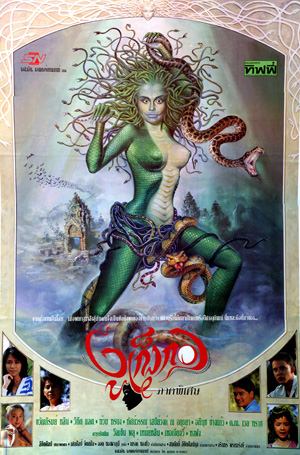 Year

: 1995



Thai title

:

งูเก็งกอง ภาคพิเศษ




English title

: Devil Medusa



Rating

: 3/5


Director

: จรินทร์ พรหมรังสี



Main actor

: Thuam Thoranong


Main actress

: Tasawan Saneewong
Thai movie งูเก็งกอง ภาคพิเศษ was released in year 1995 and lasts 1h34mn. It was released under VCD format in Thailand and under laserdisc format in Hong Kong. Chinese title is 人蛇大战之蛇魔转世 / Devil Medusa. It was released in 2001 and Hong Kong. It features the same content and lasts 1h30mn. It is Thai HK production. Thai actors and actresses include Tasawan Saneewong, Thuam Thoranong, ขวัญภิรมย์ หลิน, วิทิต แลต, miss เหม่ยหลิน, mister หงฟง. Movie director is จรินทร์ พรหมรังสี. A woman, called Suey (ขวัญภิรมย์ หลิน), helps a giant snake about to be killed by hunters. Later, as she is about to drown, the snake helps her. At nighttime, she is courted by the giant snake, so Suey becomes pregnant. The baby born from their love has hair made of small snakes. Suey is the shame of the village as there is no father. The village leader (Thuam Thoranong) wishes to know. Local villagers disdain the mother and her daughter Fa Sai. While playing with other children, she falls. Due to the pain, the snakes into her hair appear. Another child removes her bandana and her hair with snakes is disclosed (เป็นปิศาจ) to all. Villagers burn their house as they believe they are demons. The village leader tries to prevent them. Luckily, a storm occurs, so the fire is extinguished, and they can flee to take refuge in a cave. Their cave becomes full of snakes. The daughter grows and becomes a beautiful woman (miss เหม่ยหลิน). Fa Sai meets a Bangkokian young man, named Vitaya, studying forest and animals. As her mother is sick, she must go back to the city to buy medicine. Vitaya meets Fa Sai again and follows her. A snake attacks Vitaya and Fa Sai saves him. Vitaya and Fa Sai become lovers. Vitaya wishes to marry Fa Sai. Drug traffic is happening in the jungle. A Thai Chinese business is dishonest. Lakchai (วิทิต แลต), his son, likes Fa Sai. Lakchai wants the village leader to act as matchmaker (พ่อซื้อ) with Fa Sai but she is not interested. Lakchai has already three wives. He gets killed by a snake while trying to abuse Sai Fa. His father is looking for revenge. As he could not find Fa Sai, he kills her mother. This time, it is Fa Sai's turn to look for revenge. All members in the house are bitten by venomous snakes. After burying the mother, Vitaya and Fa Sai leave together.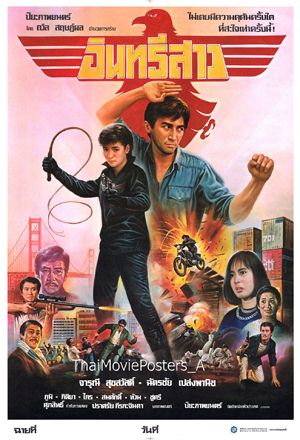 Year

: 1986



Thai title

:

อินทรีสาว




English title

: Insee Sao



Rating

: 3/5


Director

: ศุภสิทธิ์



Main actor

: Chatchai Plengpanich,Krai Kanchit,Somsak Chaisongkram,Pumi Patanayut,Thuam Thoranong


Main actress

: Jarunee Sooksawad,Chosri Misommon
Thai movie Insee Sao / อินทรีสาว was released in year 1986 and lasts 1h24mn. it was released under VCD format by Lepso Company. Movie director is ศุภสิทธิ์. Oon (Jarunee Sooksawad)'s father is killed by a hitman. Oon is back from overseas. Uncle Thuam Thoranong and aunt Chosri Misommon take care of Oon. A ruffian named Chat Thep (Chatchai Plengpanich) is suspected regarding the murder but he is innocent. Ruffians Viboon (Krai Kanchit), Somsak Chaisongkram and Pumi Patanayut wish to get rid of Oon to take over the family business. Oon claims she can get rid of them without Thep's help. Thep helps as Oon brings a mess in Viboon's club. Two of Oon's friends have opened a karate dojo for ladies. Ruffians try to get rid of Thep also but this time Oon is the one to help. At nighttime, Oon disguises herself as masked justiciary lady (อีนทรีสาว). Pumi, as hitman, tries to shoot Oon but Thep is the one injured. Oon takes good care of him at hospital. Ruffians fail to kill him at hospital. Chased by ruffians, Oon brings them to the dojo. Oon's friends neutralize the ruffians. Thep thrashes Viboon and Somsak as revenge. Pumi hires a hitman 100 000 baht to get rid of Oon (อินทรีสาว) but he fails. Pumi also fails to kill Thep. Thep promises them a bloody war (สงครามเลือด) if they continue. Thep warns Viboon and Somsak. Four hitmen are hired this time by Pumi. They also fail. Ruffians get revenge over Thep's family and capture him. They use him as bait to attract Oon. Aware that Thep is held prisoner in a hangar, Oon and three of her friends, being the karate dojo owners, join her. They storm the hangar. Fighting scenes are often played in accelerated way to make them more thrilling. Fighting and shooting occur in the hangar. Ruffians' leaders are killed but Oon's friends are also shot.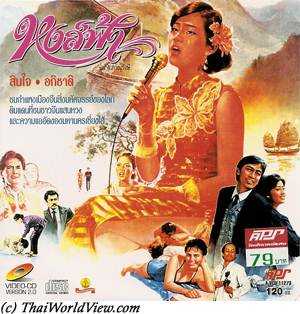 Year

: 1985



Thai title

:

หงส์ฟ้า




English title

:



Rating

: 3/5


Director

:



Main actor

: Apichat Halamjiak,Thuam Thoranong


Main actress

: Sinjai Hongthai,Piathip Kumwong
A Thai man meets a poor Chinese lady called Hong Fa during a business trip, gets married and brings her back to Thailand. But his mother has high ambition and wants him to marry a Thai influent political man's daughter. So she does everything to break the relationship and also keeps their child. Hong Fa becomes a singer and is finally sent to prison after her manager tries abusing her. The wedding with the Thai influent political man's daughter is finally a failure. After 15 years, Hong Fa is released from jail. Will she be able to see her child again?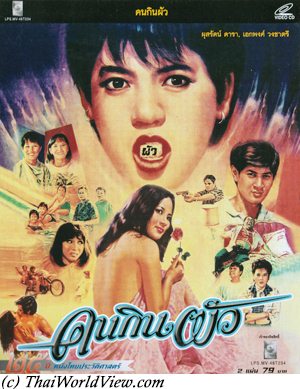 Year

: 1985



Thai title

:

คนกินผัว




English title

:



Rating

: 3/5


Director

:



Main actor

: Rong Kaomulkadee,Boo Wibunnan,Thuam Thoranong


Main actress

:
Thai movie คนกินผัว was released in year 1985 and lasts 1h46mn. The movie is available through VCD and VHS format. Movie director is พิมพานนท์. Actors and actresses featured in this movie are ผุสรัตน์ ดารา, เอกพงศ์ วงศ์ชาตรี, แข ลดา, Rong Kaomulkadee, Boo Wibunnan. Young lady Dalika (ผุสรัตน์ ดารา) is having a rich boyfriend, called Pracha, but they cannot marry as the man hasn't divorced yet. Pracha is shot by a hitman in Bang Saen. Dalika gets help from Niwat and Sampan (Thuam Thoranong). Dalika's mother (แข ลดา) always keeps trying to marry her daughter to a rich man. She has two daughters, Kim and Dalika. As Pracha is dead, the mother needs to find a rich new bachelor. Niwat finally marries with Dalika. He doesn't inform his nephew Kingpan (เอกพงศ์ วงชาตรี) currently in USA. Being already old, Niwat dies during the honeymoon due to heart disease. Rong Kaomulkadee has a comic role. Kingpan is finally back. Kingpan wishes to save money as his uncle business is losing money. So he imposes budget reduction (เศรษฐีขี้งก). Dalika has to move from Bangkok to Bang Saen in order to work in the hotel. Kongpan has bad feelings over Dalika (ดูถูกตลอดเวลา). Hotel customer Boo Wibunnan is interested in Dalika. Dalika and Kingpan will only get the heritage if they do marry (แบ่งสมบัติสักที) but Kingpan refuses. Kingpan has a wife, called Vicky, in America already. After talking to Sampan, he needs the money for the wedding. This time Dalika refuses. Upset by his behavior, she keeps refusing. Dalika asks him to pay phone bill for USA as it is personal bill. Boo Wibunnan dies following electrocution so her third wedding tentative is a failure. Dalika still refuses to marry Kingpan as she doesn't want a fourth man to die. Seeing Kingpan unhappy and drunk, she finally accepts to marry him (แต่งในนาม) for his happiness with Vicky. On the wedding night, King gets sick. Dalika takes good care of him and they become lovers. Upset with Vicky, Kim falls in the sea after trying to kill Vicky. Ready to leave Thailand, Vicky hears Kingpan and Dalika love declaration. Dalika is pregnant with Kingpan. Knowing this, Vicky has pity over Dalika and announces Kingpan she is going back to USA alone.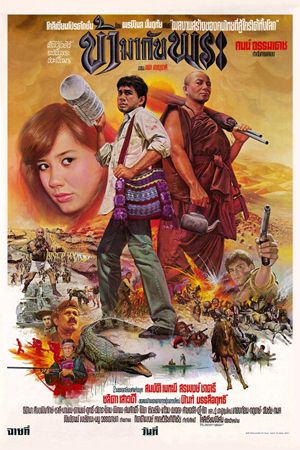 Year

: 1984



Thai title

:

ข้ามากับพระ




English title

:



Rating

: 5/5


Director

: Kom Akadej



Main actor

: Sorapong Chatree,Sombat Methanee,Bin Banleurit,Kom Akadej,Somsak Chaisongkram,Doo Dook Kradon,Pipop Pupinyo,Chat Mongkolchai,Dam Datsakorn,Rith Luecha,Manop Aussawathep,Note Chernyim,Thuam Thoranong


Main actress

: Thitima Sangkapitak
Thai movie ข้ามากับพระ was released in year 1984. It was shown on TV CH7 (ช่อง 7) and last 1h08mn as a shortened version. It was not released on VCD but was released under VHS format. Movie director is Kom Akadej. Soundtrack from band Police is used. It was the first movie for Thai actor Bin Banleurit. A TV serie ข้ามากับพระ was released in 2015. Bin (Sorapong Chatree) is chased by three men (Somsak Chaisongkram, Note Chernyim, Pipop Pupinyo). He is rescued by Luang Pho Seua (Sombat Methanee), being a wandering monk. Bin follows the monk, who wishes to stay alone. Bin wishes to become his disciple (ลูกศิษย์พระ). Doo Dook Kradon and another man are stealing buffalos. Villagers led by Thuam Thoranong are looking for their buffaloes. Luang Pho Seua is wrongly mistaken as a robber but everything is back to normal. Monk Seua and Bin cross a lake but they are attacked by a crocodile. Bin brings bad luck (ซวย) to the monk. They arrive in a ruffian's camp led by Chat Mongkolchai and Seua Noi (Bin Banleurit). Bin follows behind but is stopped by the ruffians. Monk Seua meets Thai Police, who ask him if he saw any ruffians campement. Police attack the camp and Bin can succeed to flee. Seua Noi is upset and promises revenge as he believes Luang Pho Seua and Bin are undercover policemen. Ruffians try to burn Luang Pho Seua but Bin intervenes. Luang Pho escapes to the flames but he is chased by ruffians. Hopefully, hill tribes, led by Kom (Kom Akadej), chase them away. Bin is injured and cured by beautiful doctor Khru Mo (ครูหมอ) (ชลิดา เสาวดี). The village head is worried about revenge by Seua Khaem. Bin meets again the three men chasing him and has to flee. While fleeing, he meets Luang Pho Seua again. Hilltribe lady Baan Su Thong (Thitima Sangkapitak) is fond of Bin. They spend the night together, but Bin flees in the morning, so Baan Su Thong is looking for him. Ut (Dam Datsakorn) enters in the hilltribe village. A fight occurs between Bin and Ut. Ut is defeated. Kom saves the honor of his younger sister Baan Su Thong. Ut requests help for another ruffians' leader (Rith Luecha). Ruffians storm the village. Many ruffians and villagers die in the fighting. Baan Su Thong is killed. Seua Noi is seriously injured by Bin. Khru Mo is kidnapped by Ut to cure Seua Noi. Finally, Seua Noi leaves as he feels better but as he gets sick again. Seua Noi gets help from Luang Pho Suea and is cured. He realizes that Luang Pho Suea is a real monk and a good man. Seua Noi's father is Seua Khaem. Luang Pho Seua is a former policeman. While trying to catch Seua Khaem many years ago, Luang Pho Seua shot his wife, being Seua Noi's mother, by mistake. So, the policeman became a monk. Hill tribe members and Bin surround the ruffians' camp. Seua Kaem (Manop Aussawathep) wishes to take revenge and to shoot the monk but Seua Noi intervenes and is shot instead. Devastated, Seua Kaem gives up on his revenge. Luang Pho has been carrying the wife's bones with him and has been wandering around Thailand in order to meet Seua Khaem.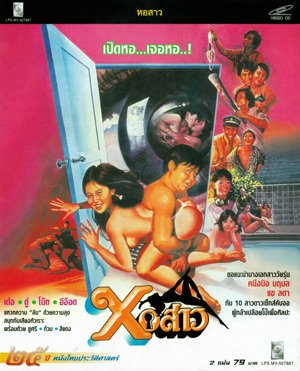 Year

: 1984



Thai title

:

หอสาว




English title

:



Rating

: 2/5


Director

:



Main actor

: Pipop Pupinyo,Doo Dook Kradon,Thuam Thoranong,Note Chernyim,Der Doksadao,Supakorn Srisawat


Main actress

: Chosri Misommon
Thai movie หอสาว was released in year 1984. The VCD lasts 1h13mn only so this version is cut or censored. All sexy scenes are removed. Choosri (Chosri Misommon) and Chat (Thuam Thoranong) are the dorm owners. Chat dislikes a young man called Sing (Note Chernyim), who visits often the young ladies in the dorm. The female dorm (หอสาว) has harsh rules to follow. Young lady Plaew needs to find fast money as she needs to support her poor parents. Doo (Doo Dook Kradon), one of the dorm guardian, is stealing bras (โรคจิต) inside the dormitory. Bantoop (Pipop Pupinyo), another dorm guardian, is forbidden by his wife to go upstairs in the dorm as she doesn't trust him. Plaew meets a movie director, who promises to make her as a star but he is just a liar. Another dorm lady proposes her to become a model (นางแบบ) first. The men are using periscope to spy ladies in their rooms (บุญตาของเรา). Plaew becomes close friend and even lover with another lady. As Plaew is alone, Choosri's son becomes close to Plaew as she feels lonely. When the lady finds that Plaew is now having a boyfriend, arguments occur (ไม่ธรรมชาติ). A new tenant called Jarunee arrives. It is a katoey so she is fired from the dorm. Two other ladies find one sponsor to pay for their rent. Chat is getting favors from one tenant as she is used to drugs (ขอยาเธอ). It ends up badly as she dies from overdose. Sing is arrested by the Thai Police as he was the one selling drugs to the ladies in the dorm. Despite being an average film, the movie highlights some challenges faced by Thai society in decade 1980s (drugs, upcountry women coming to Bangkok, homosexuality, mistress, prostitution...). Choosri decides to stop doing dorm business (ฉันไม่ทำแล้ว) as there are only problems to manage. New actresses include คนึงนิจ นฤมล and แข ลดา. The movie's selling argument highlighted on the poster is about 10 young daring ladies (10 สาวดาว).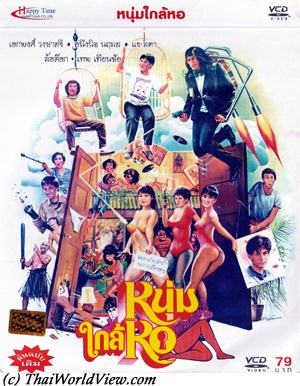 Year

: 1984



Thai title

:

หนุ่มใกล้หอ




English title

:



Rating

: 2/5


Director

:



Main actor

: Lor Tok,Pipop Pupinyo,Thep Thienchai,Doo Dook Kradon,Rong Kaomulkadee,Thuam Thoranong,Note Chernyim,Pao Porapak


Main actress

: Chosri Misommon
Thai movie หนุ่มใกล้หอ was released in year 1984 and it lasts 1h39mn. It is a light sexy comedy and it reminds of the Italian 1970s comedies. The dorm owner (หอสาวแม่) forbids her girls to approach men (สตรีที่ดี). She raises some orphan girls (เลี้ยงเป็นลูก). Pipop Pupinyo is used as a bodyguard to prevent intruders in the dorm. Doctor Lor Tok opens a dorm for men (หอชาย) on the opposite side! Among Lor Tok's disciples, there are veteran actors Doo Dook Kradon, Rong Kaomulkadee, Thuam Thoranong, Note Chernyim. The mother forces Pipop and another guard to take medicine to moderate their ardor (ไม่ไว้ใจ, อารมณ์เพศ). The young men take their revenge by giving to the mother a laxative so that they can be alone with the girls. On the following night, they even cut the water to force the girls to bathe in the swimming pool. Lor Tok tries to provide special medicine (ยาพลังเพศ) to convince Pipop to join them. The mother complains all men are dirty (ลามก). As a new male joins the dorm, the guys change their tactics and use the new handsome guy (รูปหล่อ) to seduce the mother (สุภาพ, แข็งแรง). He succeeds to be invited by the mother as an additional guard when the young ladies sunbathe (สาวอาบแดด). Basically the mother is doing the opposite she was teaching to her girls. They protest against their mother (อย่าทำผิดอีกเลย)! Lor Tok insults her as a mix of madonna (แม่พระ) and witch (แม่มด). Thep Thienchai, as a toilets cleaner, is also involved. Lor Tok is arrested by the police following complaints of Chosri Misommon. Finally the young men fall in love with the ladies. Lor Tok is released from prison and is back with two disciples (ลูกศิษย์) including Pao Porapak. As the two thugs plan to kidnap some girls, the young men intervene to catch them. The ladies dorm's owner decides to remove the fence between the male and female dorms as she recognizes that women cannot live without men. Lor Tok is finally arrested again for selling porn videos. The movie ends up with sexy sequences showing what Lor Tok has secretly filmed. Those sequences present in the 35mm film have been removed from the VCD released by Happy Time. Note Chernyim only plays in a few sequences. There was disagreement on his salary for this movie so he was replaced by Doo Dook Kradon.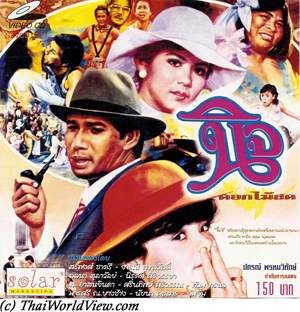 Year

: 1983



Thai title

:

นิจ




English title

:



Rating

: 3/5


Director

:



Main actor

: Sorapong Chatree,Sor Asanajinda,Joomjim Khemlek,Thuam Thoranong


Main actress

: Jarunee Sooksawad,Lalana Sulawan,Sarinthip Siriwan,Marasri Bangchang
Two young people are married following their parents agreement but the man doesn't love his wife and still continue to visit his mistress. Despite all her attemps, the young lady cannot succeed to get love from her husband and left. His husband finally understands that her mistress has an awful mind and try to get her wife's love back. Is it too late?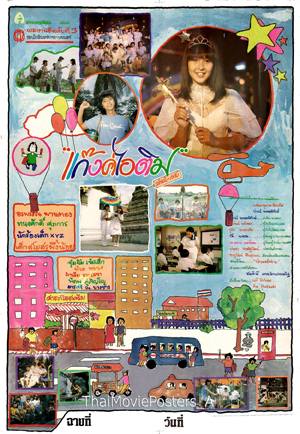 Year

: 1983



Thai title

:

แก๊งไอติม




English title

: Gang Ice-cream



Rating

: 3/5


Director

: ปกรณ์ พรหมพิทักษ์



Main actor

: Joomjim Khemlek,Thuam Thoranong,Pipop Pupinyo


Main actress

: Marasri Bangchang



Buy now

:

Thai movie แก๊งไอติม was released in year 1983 and lasts 1h38mn. It was released under VCD format by Solar company. Multiple songs are featured. Movie director is ปกรณ์ พรหมพิทักษ์. It is school time for children. Joomjim Khemlek is managing a few poor kids selling ice cream for him. Thip (อรพรรณ พานทอง), as teacher, is teaching slum children. Her mother Bangransi (Marasri Bangchang) believes it is useless. She would like her daughter to teach in rich schools. Poor kids are influenced by their parent's behavior such as illegal betting (การพนัน). The kids need to earn money to help their parents. Some kids have no more parents. An older teacher is also upset by their influence on other children. Thanks to gambling (หาเงินไม่ถูกต้อง), the kid Dam is able to fulfil his dream, i.e buy a bicycle. Thuam Thoranong, as headmaster (ครูใหญ่), is quite open minded thanks to Thip but an older lady teacher forbids some kids to sell ice cream in school as it causes children to spend all their pocket money. The poor children try to sell somewhere else, but it is not successful as competition is hard. Teacher Thip decides to help them and to buy their ice cream to support them but they refuse as teacher Thip is always nice (ใจดี) to them and trying to teach to behave properly. As teacher Thip is smart, she finds ways for them to succeed in their small business. Elder ice cream seller Chat (ทนงศักดิ์ ศุภการ) is secretly fond of teacher Thip. Teacher Thip proposes a special program to teach those kids out of scolarisation. The headmaster accepts. Thip mixes the children so they know each other better (ต้องรักกัน). Friendship occurs when Dam helps one of the children about to drown. The poor kids are not able to sell ice cream anymore as a Jumbo shop opens near the school. Thip's mother finds a new position of teacher for her daughter. The Jumbo owner refuses to join force with the slum children as he is not willing to share benefits (รวมหุน). Joomjim hires Pipop (Pipop Pupinyo) as hitman. Pipop kidnaps the ice cream shop owner's daughter and becomes uncontrollable. Chat is the one to help (ทำดี ได้ดี). Finally, all kids get a job in Jumbo shop and also some shares. Thip is back to celebrate their achievement.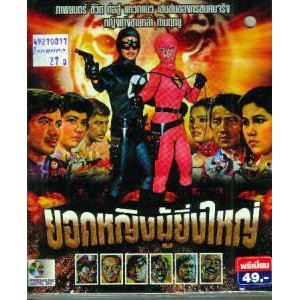 Year

: 1981



Thai title

:

ยอดหญิง ผู้ยิ่งใหญ่




English title

:



Rating

: 2/5


Director

:



Main actor

: Sombat Methanee,Yodchai Meksuwan,Kecha Plianvithee,Pipop Pupinyo,Lak Apichat,Boo Wibunnan,Thuam Thoranong,Paen Pleumsachai,Krong Kangkengdaeng


Main actress

: Wassana Sitthiweth,Piathip Kumwong,Duangcheewan Komolsen.Suphanee Jitthieng
Thai movie ยอดหญิง ผู้ยิ่งใหญ่ was released in year 1981. The version seen only lasts 1h05mn so too many scenes were cut making the storytelling bit weird. Boss (เจ้านาย) Bancha (Kecha Plianvithee) is trafficking weapons. Pipop Pupinyo is part of his team. A mysterious masked vigilante man, wearing black clothes, is trying to stop him. It is Nam (Sombat Methanee). A truck carrying weapons is stopped by Thai Police thanks to Nam. Nam warns Bancha but a fighting erupts with his tough guys. Nam gets help from a mysterious masked vigilante woman, wearing red clothes. Nam meets Nissa (Wassana Sitthiweth), daughter of the police head. Yot (Lak Apichat) helps Pat (Piathip Kumwong) kidnapped by ruffians. Ruffians kidnap Sia / เสี่ย Boo Wibunnan's child and shoot him in the shoulder. Hopefully red and black masked vigilantes follow the car but get attacked by yellow masked men (องค์การสีเลือง). Two ladies Pat and Nissa (นกสองตัว) are captured by Bancha's team, who are preparing to betray Thailand. Yodchai Meksuwan and Darlin (Duangcheewan Komolsen), from Malaysia, are police members. Bancha threatens the police head to kill his daughter Nissa if their business is disrupted again. Nam simulates joining the yellow gang in order to be able to release the ladies. Nam cannot reach agreement so a one to one (ต่อสู้แบบลูกผู้ชาย) fight must happen. Police finally arrives. Pat sacrifices her life to save Nam. Lak helps to release Darlin, who is identified to be the mysterious red masked vigilante woman. All ruffians are captured or killed. The identity of the gang leader (ลืมชาติ) is then known... Other actors are เศกสิทธิ์, Suphanee Jitthieng,โดม สิงโมฬี, Krong Kangkengdaeng.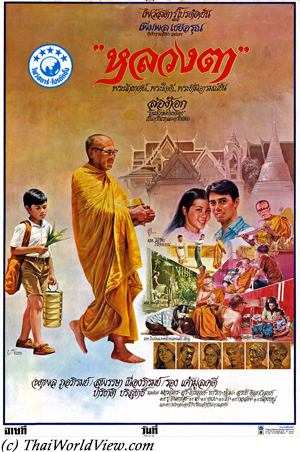 Year

: 1980



Thai title

:

หลวงตา ภาค 1




English title

: The old monk



Rating

: 4/5


Director

: Permpol Choei-arun



Main actor

: Jatuphol Poopirom,Lor Tok,Rong Kaomulkadee,Krailat Kriengkrai,Thuam Thoranong


Main actress

: Supansa Nuengpirom,Mayurachath Muarnprasitivej,Tharika Thidathip,Juree Osiri



Buy now

:

Thai movie หลวงตา ภาค 1 / The old monk was released in year 1980 and lasts 2h13mn (according to Five Star Production website). It was released under multiple formats, a beta-max version (2h01mn), VCD version by Solar (2h02mn), VCD version by BKP (2h05mn), DVD version by BKP (2h05mn), a True Thai Film cable TV version (1h48mn). A remastered version was released during decade 2010s by Five Star Production. Movie director is Permpol Choei-arun. This movie shows the importance of Buddhist abbots in Thai society. Luang Ta (Lor Tok) is an abbot in a Thai Buddhist temple. He is taking care of children (เด็กวัด) given to the temple as the parents are too poor to take care of them. During childhood, young boy Long often deal with stubborn Chuk and Ek. Long (Jatuphol Poopirom) and Ek (Rong Kaomulkadee) are now grown up. Mae Choi (Mayurachath Muarnprasitivej) is Long's mother but she is ashamed (ผู้หญิงขายคัว) so she doesn't disclose who she is. Long is like orphan (ลูกกำพร้า) under the responsibility to Luang Ta. Fighting between Long and Ek occur as Ek always tease others but they remain friends. Luang Ta teaches (สั่งสอน) them continuously. Long is accepted in school army and Ek is accepted in police school. Mae Choi dies. Luang Ta organises a funeral being the main sponsor (เจ้าภาพ). The undertaker (สัปเหร่อ) discloses she worked in a brothel (ซ่อง) before. Young lady Duangjai (Tharika Thidathip) stays in temple as she has nowhere to go. She has little education as her parents thought primary studies were enough. Luang Ta complains that girls should study also and not only do home chores. She regains trust in herself and learns new skills but after a while Luang Ta tells her it is time to leave as it is not correct for a lady to stay in a temple where only men are present. Lom, without parents and who has always lived in Buddhist temple, is in love with a young woman called Wan (Supansa Nuengpirom). Her high society parents (Thuam Thoranong and Juree Osiri) don't want a poor groom. On top of this, they are worried about impacts on their lineage. Lom decides to go at the Thai border as he knows this love is impossible. Wan clashes with her parents, who are more worried about old symbols such as status, fame, lineage instead of their daughter happiness. By reading newspapers, Luang Ta learns that Duangjai made a successful wedding. Pushed by Wan, her parents visit Luang Ta to learn more about Lom. The abbot gives them the whole story. The parents are concerned about gossip as Lom is prostitute's son but Luang Ta reminds them that skills and good personality are not linked to lineage but to own ability. Ek is proud to announce to Luang Ta that he is now police captain with 3 stars. Luang Ta complains that multiple stars don't make people more intelligent. Lom is injured at the border and is sent to hospital. Luang Ta decides to visit him but two robbers (including Krailat Kriengkrai) enter in the Buddhist temple. They kidnap Luang Ta. Surrounded by police led by Ek, they have to endure Luang Ta's sermons (โดนเทศน์ไม่ไหว) so they finally give up and surrender. Long is back to the temple to visit Luang Ta with his wife Wan as her parents have agreed to the wedding.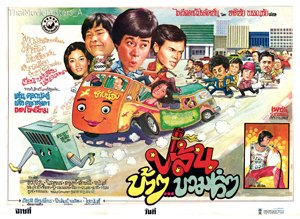 Year

: 1979



Thai title

:

ปล้น บ้าๆ บวมส์ๆ




English title

: The Mad Robbery



Rating

: 3/5


Director

: เพชร ราชภรณ์



Main actor

: Der Doksadao,Thep Po-ngam,Sithao Petcharoen,Thuam Thoranong,Sompong Phonmitr,Dam Datsakorn,Lak Apichat,Pipop Pupinyo,Somsak Chaisongkram,Boo Wibunnan,Sukon Koewliam


Main actress

: Nipaporn Nongnuch,Duangcheewan Komolsen,Malee Wetpraseri,Chosri Misommon
Thai movie ปล้น บ้าๆ บวมส์ๆ / The Mad Robbery was released in year 1979 and lasts 1h43mn. A remastered version was released by Five Star Production (ไฟว์สตาร์โปรดักชั่น) in the decade 2010s and shown on Thai TV cable. It was released under VCD format by Lepso company. Movie director is เพชร ราชภรณ์. A group of six friends (including เด่น ดอกประดู่, Der Doksadao, Thep Po-ngam) are doing magic tricks and selling medicine to cure toothache, but it fails to be a good business. Running out of money, they decide to rob a bank. Sithao Petcharoen and Thuam Thoranong are among the policemen being warned about a robbery. Sompong Phonmitr, as head of police, orders the Police to surround the bank. The six friends succeed to flee by disguising themselves as ladies. They put a fake bomb around a group of ruffians (Dam Datsakorn, Lak Apichat, Pipop Pupinyo, Somsak Chaisongkram, อนันต์ สัมมาทรัพย์...), who promised to get revenge knowing it was a trick. The bank boss is Boo Wibunnan. The police head is upset with three policemen as they let the six fake ladies escape. They must catch them back to erase their mistakes. The six friends have a car accident but get help from truck drivers led by young lady Ae (Nipaporn Nongnuch). Ae invites them to her home. There, they find Boo, Ae's father, playing cards with other men. Luckily, Boo does not recognize them. Boo is losing money. As Tok is knowing card tricks, he gets the money back. The six friends prefer to leave afraid that Boo would recognize them. They decide to look for a job in Bangkok. Ae invites them to her home in Bangkok and guarantees that her father will find jobs for them. Going to Bangkok, Tok leaves the bank bag full of money to his aunt Malee Wetpraseri. The friends then separate to avoid being caught by the police. Tok meets his old old friend Elvis (วิสูตร ตุงคะรัตน์ - Thai Elvis), who invites him. In Ae's house, the friends meet the aunt Chosri Misommon and Ae's elder sister Ann (Duangcheewan Komolsen). The ruffians try to take revenge over the six friends, but finally they give up as they see the Police chasing the friends. Back at his aunt's house, Tok finds she has died, and the money has disappeared. At the funerals, Sukon Koewliam announced to Tok that aunt Hom had used the money to donate to the local Buddhist temple to build a sacred chapel. Thai people finally catch the six friends and Boo recognizes them as robbers of his bank!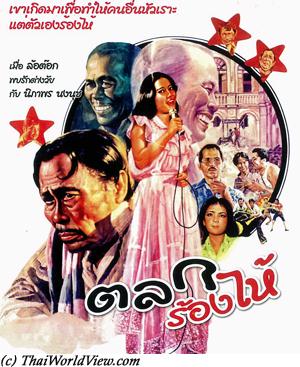 Year

: 1979



Thai title

:

ตลกร้องไห้




English title

:



Rating

: 4/5


Director

:



Main actor

: Lor Tok,Sahat Piempongsan,Sukon Koewliam,Thuam Thoranong


Main actress

: Nipaporn Nongnuch,Malee Wetpraseri,Chosri Misommon



Buy now

:

Four comics have no success as their comical shows in slums or market are failures. One of them knows famous and rich comic Lor Tok and thinks to ask him to be their teacher (ครูบาอาจารย์). During one TV show, Lor Tok sees a young beautiful lady called Kloi (Nipaporn Nongnuch) singing a song related to old men attractiveness. He wants to know more about her. Lor Tok wishes to be her sponsor (ผู้อุปการะ) to help her to become famous. Lor Tok has become a capricious star (ดาราดังมาก, ลืมตัว, สร้างบารมี) believing his fame can allow him all excesses. Lor Tok rejects the four comics' request to be their teacher and mentor. He has a wife and daughter already. His wife is unhappy as he changed a lot since being a star. Lor Tok wishes to drop everything for Kloi and promises house, car, career to her but she is afraid. His wife, fed up, considers to quit him (เลิก). Lor Tok has only Kloi in mind and refuses all movie, interview or show proposals as they are too low for a superstar like him. So he starts to alienate people around him. Lor Tok has no gratitude (ไม่มีกตัญญู) for show owners who helped him before when he was not famous (ไม่มีวันดับ). Following heavy drinking, Lor Tok has a car accident with Kloi. Lor Tok's wife flees away. His manager has to sell the house and two cars to cover the hospital expenses. He now lives with his daughter in a rented small bungalow. He keeps indulging in alcohol and had often serious pains in the chest. Finally without money, Lor Tok stops drinking and looks for show representations to pay for his daughter school fees. Nowadays people like comic groups and not anymore individual comic so he has no more success. The four guys are now a famous comic troupe in Thailand. His daughter is back with her mother. Finally Lor Tok accepts to play as a team with the four guys he denigrated before. He succeeds to regain fame (เป็นอาจารย์) and during a singing contest, Lor Tok sings a touching song regarding his life errors. At the end of the song, he dies following heart attack. On his cremation day, all his former friends including Kloi pay sincere homage to him.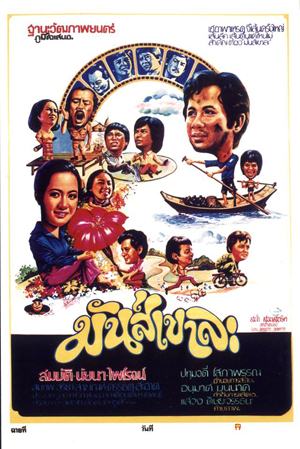 Year

: 1978



Thai title

:

มันส์เขาล่ะ




English title

:



Rating

: 3/5


Director

:



Main actor

: Sombat Methanee,Prachuap Ruekyamdee,Lor Tok,Tawan Siriwat,Suriya Chinaphan,Phairoj Jaising,Sayan Chantaraviboon,Rong Kaomulkadee,Thep Thienchai,Somphob Benjatikul,Boo Wibunnan,Kanchit Kwanpracha,Sahat Piempongsan,Thuam Thoranong


Main actress

: Naiyana Shewanan,Chosri Misommon,Nipaporn Nongnuch,Tharika Thidathip
Thai comedy movie มันส์เขาล่ะ was released in year 1978. The movie is lost in Thailand but a sequence of 1h03mn is left to be seen. Subdistrict headman (กำนัน) Lor Tok wishes to produce a movie with his daughters and his wife playing as actresses. His wife is played by Chosri Misommon. His daughters include Wassana (Naiyana Shewanan) and Nipaporn Nongnuch. Tawan Siriwat seems to oppose the Subdistrict headman's decision. A photo studio is managed by Prachuap Ruekyamdee and his two friends, i.e. Sayan Chantaraviboon and Rong Kaomulkadee. Prachuap and his friends convince Lor Tok to manage the movie for him. They are now looking for a main actor (พระเอก) for their movie but Fui (Sombat Methanee) is finally hired by mistake. Fui's close friend is Thep Thienchai. Lor Tok is the movie producer so they use the money to buy a mercedes! He wishes his family to play in the movie. Somphob Benjatikul is his assistant. Fui and Wassana like each other. Boo Wibunnan is hired as movie director. They are also looking for somebody to write the story. Tawan brings them to meet Mui (Kanchit Kwanpracha) as they are looking for a ruffian (นักเลง). A ceremony for the movie launch (เลี้ยงใหญ่โต๊ะ) is organized. Fui has to sing and does it well (it is Sombat Methanee's real voice). Thuam Thoranong as comic actor is also present. Sahat Piempongsan is used as decorator. Lor Tok always needs to protect his daughters against the young men trying to seduce them. Multiple gags happen during the shooting as Lor Tok doesn't accept any kiss to his daughters. Phairoj Jaising is involved as actor also and a few ดาวยั่ว are joining (Tharika Thidathip). The movie shooting is a disaster. Kamnan Lor Tok is back to his village and is welcomed by Tawan Siriwat and Suriya Chinaphan singing an ironic son and teasing the Subdistrict headman. This comedy is featuring many famous comic actors from 1970s and more than 18 Thai famous actors / actresses.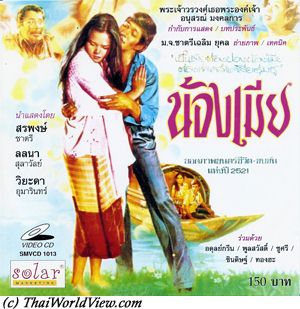 Year

: 1978



Thai title

:

น้องเมีย




English title

: Sister-In-Law



Rating

: 5/5


Director

: ChatriChalerm Yukol



Main actor

: Sorapong Chatree,Thuam Thoranong


Main actress

: Lalana Sulawan,Wiyada Umarin,Chosri Misommon
Four members of a family are living on a barge and carrying goods between provinces. Saeng, young man, is married to Plang. They have a young baby. Taptim is the young sister-in-law. Taptim is working hard but her elder sister is lazy. Saeng shouts after Taptim but remains silent with his wife. The barge arrives in Bangkok. Plang is fed up with her life on the boat. She is still young and wants to have fun. She sees herself having no future with Saeng. Taptim believes Plang doesn't love Saeng but married him to go away from her parents. Saeng doesn't believe Taptim. Saeng needs to sell 5000 watermelons. He only gets an offer of 20000 baht only. He refuses to sell. Plang believes she can be a country music (ลูกทุ่ง) singer. Plang meets in a hair-dresser shop a middle age gentle lady, who proposes to help her. Taptim refuses to join Plang as she is afraid to become a prostitute in Bangkok. Plang quits the barge. Saeng is shocked and finally sell the watermelons 12000 baht to have money and look for his wife in Bangkok. The trader knows that Saeng needs money urgently so he gives him a very low price (ขี้โกง). Bangkok is so big. He goes in every singing entertainment places to find her the whole day and night. Hopefully a taxi driver helps him (คนบ้านนอก). Saeng doesn't know how to read. He drinks too much and leaves his 12000 baht in a restaurant. Taptim has to take care of the baby as both parents are out in Bangkok. The taxi driver is a nice and honest guy as most of the taxi drivers come from Isan (อีสาน). Saeng sells his boat for a small amount and buys back a smaller boat. He finally finds Plang when she was ironically singing "chai dio rak dio" (ใจเดียวรักเดียว - one heart one love). Plang is performing in a drinking joint which offers live entertainment. Customers can invite singers to chat with them. Saeng and the taxi driver get beaten by the guards. The old woman introduces an old rich man to Plang. It is a financial transaction. Understanding that the man brings her to a hotel, she flees. Saeng loses his money again. Saeng stops looking for Plang having lost everything. The only money that is left is from Taptim as she forces the trader to give a higher compensation for the watermelons. Finally Saeng regrets not to have married Taptim as she has a better mood and behavior than Plang. Saeng wishes to get Taptim as new wife. It happens... When Plang decides to come back, it is too late to get back Saeng. She comes to get back her child. Nobody wishes to stay in Bangkok. They all go back to countryside. Bangkok is a symbol for poor up-country people, i.e. dream of wealth. Some people dream to get rich there but many of them come back home without money. Some countryside people arrive in Bangkok and get abused by Bangkokian people.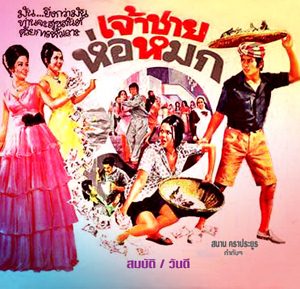 Year

: 1974



Thai title

:

เจ้าชายห่อหมก




English title

: Curried fish prince



Rating

: 3/5


Director

:



Main actor

: Sombat Methanee,Thuam Thoranong


Main actress

: Wandee Sritrang,Khomapat Attaya,Jomchai Jarintorn,Viphavadi Triyakul,Chosri Misommon,Malee Wetpraseri,Metta Roongrat
Thai movie เจ้าชายห่อหมก (Curried fish prince) was released in year 1973. The movie was never released in Thailand under VHS or VCD format. Nevertheless the 35mm film was recorded by a collector and lasts 2h08mn. Chosri Misommon is playing a domestic helper. Mom Pa is waiting for her lost son, Kinarin, who had gone to study abroad and didn't send any news for years. Many years passed and she is getting severely sick. To please her and to speed up her recovery, Metta announces that her son is coming back very soon so she has to organize an event (งานต้อนรับ). The father (Thuam Thoranong) and Metta Roongrat have idea to find a man with a similar face in order to please Mom Pa. The father remembers to have seen such man (พ่อค่า) in Ayutthaya selling curried fish (ห่อหมก). His name is Cheui (Sombat Methanee). His sister, Khomapat Attaya, is also playing a market merchant (แม่ค่า). The grandmother is played by Malee Wetpraseri. Cheui accepts under the pressure of his sister wishing to change her life. He has to learn with moult difficulty good manners from high society (สังคมผู้ดี). Cheui disappears the day before as being caught by a former girlfriend. Seeing her son again, Mom Pa recovers. Mom Pa wishes her son to marry Kantima (Wandee Sritrang). Kantima is upset with Cheui as he is playing too well his role and she refuses to sacrifice herself as she is part of those who paid to hire Cheui. She knows he is coming from a low background (คนจร) so he should behave and not try to abuse about his position of being the fiancé. Real Kinarin (also played by Sombat Methanee) is back but he lost his arm due to airplane accident. Cheui's self declared girlfriend tries to bring a mess but it fails. Cheui is back home as his seven days contract is over. Kinarin, seeing that his mum is happy and Kantima loving Cheui, decides to go back to England to let others having happiness. The rich family still needs Cheui so they use his mother Malee Wetpraseri to convince him again. Kinarin will go back to England and needs Cheui to replace him. Metta is going to England with Kinarin (ท่านพี่). Finally Cheui and Kantima marry. In this romantic comedy movie actor, Sombat Methanee is playing two roles, i.e. Cheui and Kinarin.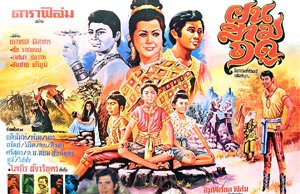 Year

: 1972



Thai title

:

ฝนสามฤดู




English title

:



Rating

: 3/5


Director

:



Main actor

: Adinan Singhiran,Tawan Siriwat,Thuam Thoranong


Main actress

: Yaowaret Nisakorn,Wassana Chalakorn
ฝนสามฤดู is a Thai movie released in year 1972. Only a 1 minute 30 seconds sequence is left. Actors / Actresses playing in this folklore movie are Adinan Singhiran, Yaowaret Nisakorn, Wassana Chalakorn, ชัย ราชพงษ์, สมชาย ศรีภูมิ, Thuam Thoranong (ท้วม ทรนง). It was originally a TV serie. As it was popular, the episodes were shrinked in order to fit into a movie length.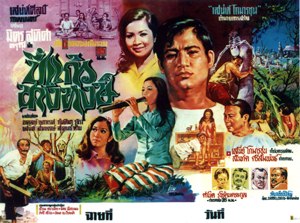 Year

: 1970



Thai title

:

ปี่แก้วนางหงษ์




English title

:



Rating

: 3/5


Director

:



Main actor

: Mitr Chaibancha,Adul Dulyarat,Sompong Phonmitr,Sukon Koewliam,Thuam Thoranong,Daonoi Duangjai


Main actress

: Suthisa Putnuch,Yaowaret Nisakorn,Kantima Daraphan
Thai movie ปี่แก้วนางหงษ์ was released in year 1970. The movie is lost in Thailand but there is a sequence of 5mn30s left to be seen. Main actor is Mitr Chaibancha and main actress is Suthisa Putnuch. Other actors and actresses are Adul Dulyarat, Yaowaret Nisakorn, Sompong Phonmitr, Sukon Koewliam, Thuam Thoranong, Kantima Daraphan (กันทิมา ดาราพันธ์). During the sequence left to be seen, it shows Mitr and Sompong boarding a plane, Mitr and Sompong discussing in an hotel room, Mitr talking to Suthisa through a door, a group gathering around a nun and performing a ceremony to chase a spirit away, funny scenes with a comic actor afraid of a talking skeleton, Mitr discussing with Kantima Daraphan at airport, Kantima talking to another lady and arguments are occurring. Thai movie ปี่แก้วนางหงษ์ is known as a horror movie. Mitr Chaibancha is playing two roles. Six songs were featured. The movie was also adapted through TV series in years 2009 and 2014. Actors Daonoi Duangjai, Sompong Phonmitr, Sukon Koewliam, Thuam Thoranong are playing comic roles adding comedy to this light horror movie. The movie starts during Rama V reign. The scene when Mitr is knocking at Suthisa's door and talking to her happens during this era. Mitr is learning music with Suthisa's father and finally he marries Suthisa. Later on, Mitr marries another lady causing Suthisa's sadness. But she still needs to play music. Suthisa plays music flute (ปี่แก้ว) until a blood vessel breaks in her neck. Mitr realizes his mistake but it is too late as Suthisa is already dead. On the way to Bangkok, the spirit of Suthisa appears causing fear to Mitr. He dies while jumping from a boat. The movie jumps to modern times. Mitr is now a rich man's son, who is back after overseas studies. It can be seen through the sequence where Mitr is boarding a plane. Mitr is back to his house, where the spirit of Suthisa is still waiting for him. Love happens between a human and a spirit. It causes fear to all people around.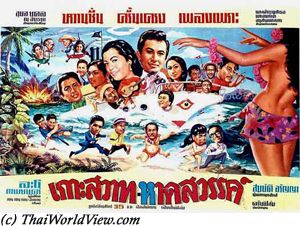 Year

: 1969



Thai title

:

เกาะสวาทหาดสวรรค์




English title

: Paradise Island



Rating

: 3/5


Director

: Prince Anusornmongkolgan



Main actor

: Sombat Methanee,Thuam Thoranong,Rujira Isarangkul,Ruj Ronnapop,Anucha Ratanaman,Op Boonthit,Sukon Koewliam


Main actress

: Aranya Namwong,Chosri Misommon,Manat Boonkiet,Metta Roongrat,Marasri Isarangkul,Sisala Thongtara
Khun Pradeun, a playboy, loves to party. He doesn't work. His father has arguments over coconuts gardens in Ko Samui with another businessman. They bet who could work more successfully, i.e. the son, Khun Pradeun, or the daughter, Khun Tum. Tum is a modern Thai lady wishing to work and with no husband. Her mother wants to find one husband for her but she prefers to go to island Sawat to help her father. If Pradeun wins, Tum must marry him. If he loses, he shall give up his business to her. Similar to many movies at the end of 1960s decade, this movie is rythmed with songs. Pradeun and Tum meet each other on the boat to island Sawat. Pradeun doesn't know the real identity of Tum as he expects somebody called Tum (ตุ่ม - pimple) to be fat, stupid. But he only shows his arrogance and suffisance. Tum and his friends try everything to have Pradeun to go back to Bangkok but to no avail. In the midst of controversy, he falls in love with her. Meanwhile, she begins to be confused because she might be in love with him as well. Pradeun tries dumping tactic to prevent sales but his three thousands coconuts have disappeared. He then needs to sort the coconuts that are mixed on purpose with those of Tum. They decide to use ruffians (นักเลง) to intimidate each other. Despite a few KO, Pradeun is the last one to stand up. Finally he knows the true regarding Tum and slaps her face for her treacherous behavior (in many Thai movies or Thai TV series, violence over women is surprisingly a way for men to show their love). Love is stronger between both of them. He saves her life during a fire in the local school and they finally marry. It is a 2h30 long lovely emotions movie. In 1960s decade, 2 hours length was frequent for many movies. This movie was then successfully updated in 2000s decade as a Thai TV serie.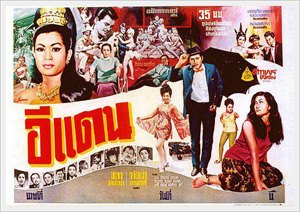 Year

: 1968



Thai title

:

อีแตน




English title

: E-tan



Rating

: 5/5


Director

:



Main actor

: Mitr Chaibancha,Sawin Sawangrat,Sukon Koewliam,Man Teeraphol,Thuam Thoranong,Lor Tok,Kokheng,Sompol Kongsuwan


Main actress

: Aranya Namwong,Chadaporn Wachirapranee,Yaowaret Nisakorn,Wilaiwan Watthanaphanit,Malee Wetpraseri,Chosri Misommon
Thai movie อีแตน was released in year 1968. The movie lasts 3 hours. This movie has a very colorful image and a DVD was released by Thai film Archives in year 2014. Five songs are featured. Kalong (Wilaiwan Watthanaphanit) is married to a chief district officer. Her father is Sawin Sawangrat. She is pregnant. While chasing traffickers, the chief district officer is injured and finally dies. Before dying, he asks his mum to send Kalong to Bangkok in order to have his child raised by his father. The baby has a scar around the ear. The father has a new wife (กันฑรีย์ นาคประภา), who is upset about losing heritage, and she prepares a plan with her lover Nipon (Man Teeraphol) to get rid of Kalong and her child. Mien (Malee Wetpraseri) hears their plan, takes the baby and flees. Shocked, Kalong has a brain attack. Tam, Mien's husband, names the baby E- tan. E-tan (Aranya Namwong) is now a grown beautiful young lady. E-tan meets Rungroj (Mitr Chaibancha) being a lawyer responsible to expel people from a slum to build a new building. E-tan, Tam (Sompol Kongsuwan) and Mien have to leave. Mien goes back to her hometown to work and to send money. Being sick, she is cheated and no money reaches E-tan and Tam. So E-tan decides to quit school in order to work. She tries to find a job as domestic helper in a rich house. But she gets issues with the owner accusing her to have stolen her necklace. She is a fighting with the daughter called Supatra. E-tan meets Phaka (Chadaporn Wachirapranee). She is a mamasan but E-tan is not aware. Tam is the old boyfriend of the mamasan Phaka so he sells E-tan for 5000 baht. Thuam Thoranong, as a customer, is severely beaten with E-Tan. Mien is back and threatens to kill Tam if E-tan is not back within seven days. As the grandfather is getting old and sick but refusing to transfer his heritage to his younger new wife, Nipon has the idea to find a 19 years old girl to pretend being the lost granddaughter. He hires E-tan from Pakha without knowing that E-tan is the real granddaughter! She is recognised by the grandfather thanks to the scar. Rungroj is engaged with Supatra (Yaowaret Nisakorn) but he doesn't love her. He thinks about the young lady beggar but doesn't realise that she is the same lady as the new granddaughter. Supatra is jealous as Rungroj spends a lot of time with E-tan as the grandfather asks him to be a teacher for her. Aware that Nipon and the mother plan to kill them once heritage has been transferred to her, E-Tan prepares a plan with her friends from the slum. A social event is organized to present E-Tan to Thai society as the official lost daughter. Nipon prepares poison for the grandfather. Mien is wishing to announce the bad plans of the new wife and Nipon but she is is killed before by Nipon. Upset by Mien's death, E-Tan shots him with a gun without knowing that he is already dead having drunk the poison by mistake. E-Tan is accused of murder by the new wife and is sent to jail. Rungroj is the lawyer for E-tan. Tam, recognizing that E-Tan has always been good with him, relates the real story to the judge and E-Tan is spared from prison. She then can marry with Rungroj.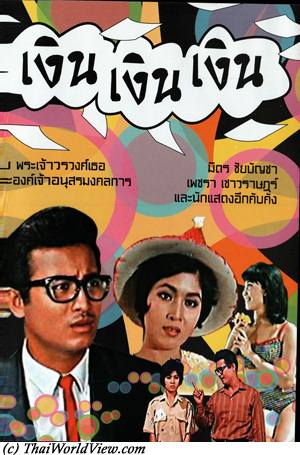 Year

: 1965



Thai title

:

เงิน เงิน เงิน




English title

: Money Money Money



Rating

: 5/5


Director

: Prince Anusorn Mongkolkarn



Main actor

: Mitr Chaibancha,Charin Nantanakorn,Lor Tok,Sukon Koewliam,Adul Dulyarat,Sawin Sawangrat,Daonoi Duangjai,Dokdin Kanyaman,Man Teeraphol,Ruj Ronnapop,Thuam Thoranong,Banglae


Main actress

: Petchara Chaowarat,Wilaiwan Watthanaphanit,Orasa Isarangkul,Chadaporn Wachirapranee,Mom Chan Phuangwan,Chosri Misommon,Sulaleewan Suwanthat



Buy now

:

The movie starts by a small introduction highlighting that everybody fights for money (เงิน เงิน เงิน). This introduction features many actors or actresses with cameo role such as Daonoi Duangjai, Dokdin Kanyaman, Man Teeraphol, Chadaporn Wachirapranee. Tu (Mitr Chaibancha) comes back to Thailand after overseas studies in USA. Tum (สุมาลี ทองหล่อ) is his sister. They are orphans. Their uncle Hirun is a creditor. Mom (Mom Chan Phuangwan) is Hirun's assistant. For Hirun, money is work and work is money. He has no feelings for his customers personal problems. Tu's uncle wants him to take over his duty but Tu doesn't like such job bringing suffering to people (สงสาร) so that is why he has done artistic studies as it can bring happiness to people. He meets Kingkaew (Petchara Chaowarat), a vagabond. Wishing to help poor people and teased by Kingkaew, he proposes to bring the A-ram boys band (เด็กวัด) in Bangkok to play music in a nightclub. His uncle chases him away as he cancelled all debt contracts. Tum is chased also. Teacher (ครู) Rangsun (Charin Nantanakorn) will help writing songs for the band. There is a crazy lady (Wilaiwan Watthanaphanit) in Hirun's house looking for her children. Tum wonders if she is her mother or not. They arrive in Bangkok but have little money. They met a restaurant owner's daughter (Chosri Misommon), willing to join them as a singer. Pa (Sulaleewan Suwanthat) is their house owner. They borrow 300 000 baht from Pa but Tu has to promise to marry her daughter (Orasa Isarangkul) Nataya. Pa knows that Tu is a potential rich heir. Lor Tok proposes ideas for their nightclub promotion. Tu's concept is that art belongs to everybody. Hirun wants to be sure his nephews will fail so he hires ruffians to destroy their nightclub. The ruffians steal their money so Tu and his friends decide to serve and cook by themselves. Hirun comes on the opening day with a bunch of tough ruffians to make noise and also kidnap the performing girls. Indian actor Banglae (บังเละ) is acting as nightclub guard. Kingkaew always find solutions to problems occurring. The ruffians drunk the cook and waiters to delay orders. Hirun takes the teacher (ครู) Rangsun's piano as he didn't pay his rent due to sickness. Adul Dulyarat is a doctor trying to save the teacher Rangsun. Hirun sends his ruffians to create a brawl in order to destroy the nightclub. Artist should be protected. The Thai King giving cinema awards inspires them not to stop fighting (ศีลปินไม่เคยตาย). By hazard, Tum and her friends have chance to release the crazy woman called Nat. Another uncle of Tu called Sompong is released from prison after twenty years. He narrates to Tu the story of his father betrayed by his own brother Hirun and who finally committed suicide. Nat is reunited with her two children, Tu and Tum. All the money of Hirun is coming from the one million baht that the father gave him to raise his children. They promise to take revenge on his 60th birthday coming soon. Hirun has to face the truth on his birthday turning to be a nightmare for him. He finally lost his whole fortune. The nightclub featuring arts becomes a huge success. This movie features 14 songs. A double DVD (3h20mn) including the 35mm movie fully restored was released by Thai Film Archives. The whole movie should even be a bit longer as the song หญ้าโลมดิน sung by Mitr and Petchara is missing. It is present on the VHS version and on a 16mm version left. Another movie version was released in year 1983. Two TV series were released in years 1997 and 2007. The producer is Prince หม่อมอุบล ยุคล. This movie includes more than 60 Thai actors, actresses and singers. Petchara got a Thai cinema reward for this movie. This movie is part of the second 25 films heritage list announced on October 4 2012, which is Thai Movies Conservation Day.
---