Increase or decrease font size for easier reading : A+ A-
Thitima Sangkapitak
Thitima Sangkapitak (1958) - ธิติมา สังขพิทักษ์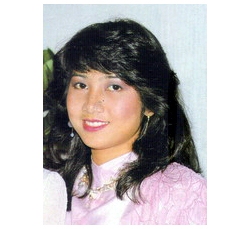 Thitima Sangkapitak played in around 60 movies and many TV series
This Thitima Sangkapitak movie page contains 29 records.
---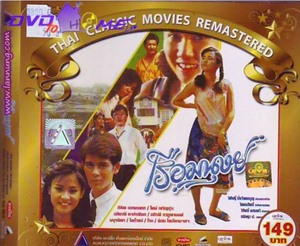 Year

: 1988



Thai title

:

เรือมนุษย์




English title

:



Rating

: 4/5


Director

:



Main actor

: Likit Eakmongkol,Apichat Halamjiak,Phairoj Jaising


Main actress

: Thitima Sangkapitak,Mai Charoeunpura,Apiradee Pawaputanon,Natanee Sitthisaman
Thai movie เรือมนุษย์ was released in year 1988 and lasts 1h57mn. This movie is a critic of Thai high society (ผู้ดี) and karmic retribution. Young lady Pim is pregnant with young lad Chayapon. Pim is the daughter of Plao (Apichat Halamjiak) and Rose (Thitima Sangkapitak). Parents never have time for their daughter so she was mainly raised by younger aunt Nitima (สรารัตน์ หรุ่มเรืองวงศ์). Parents are worried about face. A meeting occurs with Dam, uncle of Chayapon, (Likit Eakmongkol). Pim refuses to marry Chayapon as he is also issued from a sad family without love. Khiaw (Mai Charoeunpura) is hired as domestic helper by Rose. Khun Det, Chayapon's father, is currently abroad. Choo is his mistress (Apiradee Pawaputanon). Chayapon asks money to her to hire an illegal doctor to perform abortion. Rose finally is interested in pushing for a wedding as Khun Det (Phairoj Jaising) is rich. Na Feuang (Natanee Sitthisaman) helps for the abortion money as she doesn't agree with this wedding. The abortion doesn't happen. Khun Det is back and agrees to recognize the child. Det rents a house for Pim and Nitima to have them near him. Fed up with Rose, Plao takes Kiaw as mistress and they move out in a rented house. Khun Det goes to Nitima's office every day as he tries to seduce her. It makes Dam to be upset. Choo complains about Det (ความยุติธรรม - justice between man and woman) as he has many flirts, but she cannot satisfy her own desires. Dam refuses to be a proxy. Det offers a diamond ring to Nitima and gives bad rumors about Dam and Choo. Pim helps Det so Dam believes a romance has started between Nitima and Det so he gets drunk. Choo tries to take advantage of Dam being drunk. Det chases Choo and Dam, his half-brother, of his house. Rose tries to get suicide as Kiaw is pregnant, so she lost face. Nitima and Dam become friends again as misunderstanding is clarified. It is a sin (บาปกรรม) to abort so Rose authorises Kiaw to stay in their home. Pim's child is born. Det still wishes to seduce Nitima. Kiaw is feeling unwell as Plaew is split between his old (ทำตัวเป็นแม่พระ) and new wife. Det understands excession passion (กิเลส) towards Nitima was wrong and apologises. Feuang is hit by a car as she sees Choo with her husband (ทำประชด). The child born from Kiaw is infirmed. Happiness is back in all couples. Kiaw has even a new husband, i.e Chayapon!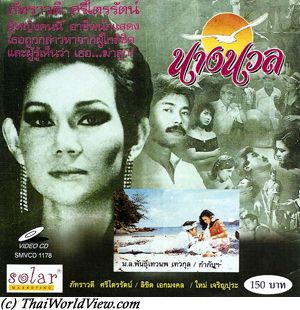 Year

: 1987



Thai title

:

นางนวล




English title

:



Rating

: 3/5


Director

: Pantewanop Tewakul



Main actor

: Likit Eakmongkol


Main actress

: Mai Charoeunpura,Thitima Sangkapitak
Thep is coming to his home in South of Thailand. He is the son of a famous TV serie star. He decides to teach students acting and meets a girl called Nuan, whose dream is to be a TV serie star. Thep's mother then comes to South of Thailand for holidays with her boyfriend, who is a famous TV serie producer. Willing to change her life, Nuan tries to seduce Thep's mother's boyfriend. She finally goes to Bangkok following his advice. There he takes care about her and she starts a TV serie star career. But being pregnant he forces her to abort and dumps her. In her foolish dream to continue to be a TV serie star, she accepts to play in porn movie. She finally comes back to South of Thailand in her hometown where this lovestory tragically ends.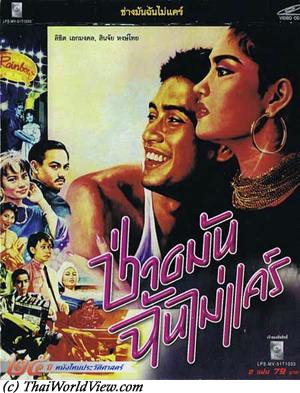 Year

: 1986



Thai title

:

ช่างมันฉันไม่แคร์




English title

: I don't care



Rating

: 4/5


Director

: Pantewanop Tewakul



Main actor

: Likit Eakmongkol


Main actress

: Sinjai Hongthai,Wiyada Umarin,Thitima Sangkapitak



Buy now

:

Pim is a very busy business woman. She is independent, smokes, drinks beer. She wears men clothes like suit and tie. She is a modern 1980s emancipated woman compared to Thai traditional standards. She only believes in herself. A young man called Bird and his friend are living together in a small flat. They have always no money. Pim needs a new model for an advertisement and is looking for one in Siam Square. She meets Bird in a cafe. Pim has a suitor called Komsan, who asks her for wedding. Pim is 30 years old already but she doesn't want to follow traditional ways, i.e. have husband, have children, stop working and stay home. So she refuses. Bird is recruited for underwear commercial shooting. Bird is younger than Pim. He follows Pim to a camping on Pattaya beach. Bird's mother needs 5000 baht. Bird needs to work again. He is Chippendales dancer in the "Rainbow" bar, a club for women, and then male prostitute for ladies. Bird is coming from Northeastern Thailand and has almost no studies knowledge. He is impressed by Pim (แม่โฆษณา) and her leadership. Pim considers herself same as prostitute selling her brain. Bird is fed up with his life as a gigolo. He only meets crazy ladies looking for sex only. One night, Komsan tries to force Pim but Bird chases him. They both tell their life. Pim has been traumatised by the Thai students massacre on 6 October 1976. Pim met Komsan during those events and loved him. But then Komsan changed a lot being mainly interested in money (เงิน) and power (อำนาจ). Regarding Bird, he is a farmer son and his real name is Wang. Pim has choice between Komsan, rich man and ละครพระเอก, and Bird. She is looking for a simple man (คนง่ายๆ). A love story starts between them. Bird is a good hearted man. Bird is often treated as a buffalo (ควาย) in his job as he is coming from countryside and doesn't have high studies knowledge. Bird leaves his job but then needs to do it again to get money to cure his sick friend. Pim's friend knows Bird. Due to jealousy, she announces Pim's relationship with Bird to Pim's boss and Komsan. But Pim doesn't care (ช่างมันฉันไม่แคร์). She quits her job and decides to stay with Bird despite society and family reprobation. The particular punch of this story, apart of from its depiction of low life in Bangkok, was provided by the fact that Pim has been a member of the young radicals in the 1970s. The 6 October 1976 students massacre in Thammasat University has never been fully investigated. When Pim meets old friends, they sing old songs for life (เพลงชีวิต) reminding them about the 1976 events.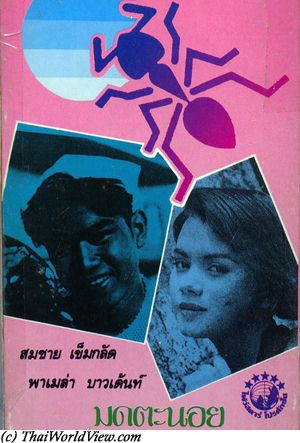 Year

: 1985



Thai title

:

มดตะนอย




English title

:



Rating

: 3/5


Director

:



Main actor

: Toon Hiransap,Settha Sirachaya,Lak Apichat,Sithao Petcharoen,Rong Kaomulkadee


Main actress

: Apiradee Pawaputanon,Pissamai Wilaisak,Thitima Sangkapitak
Young lady Tanoi comes unexpectedly in Khun Nai's house. She claims to be part of the family and wishes to get her share of heritage (มรดก). A lawyer acknowledges the fact but Tanoi will get full heritage when getting married only. Until this date, the heritage is still under Khun Nai's guidance. Tanoi is coming from countryside and is strong at boxing (ต่อย). She has arguments with the neighbour Doctor Chiwan. Tanoi's mother was chased from home twenty years ago by Khun Nai. She doesn't want to take revenge (อย่าชนะความชั่วกับความชั่ว). Tanoi decides to study abroad to show her worthiness to all including Doctor Chiwan. Chakrin, son of Khun Nai, has high interest into Tanoi. There is opposition between countryside lifestyle and Bangkok city lifestyle as Tanoi is coming from salt fields area. She goes back to visit her village with Chakrin. One of the villagers still loves Tanoi. An usual fight between ladies happen. Those fights are always a success with Thai audience with lakorn or 1960-1980s decades movies. Following a car accident, the villager and his sister Saen Dao stay in Doctor Chiwan's home to be closer to Tanoi. While Tanoi is studying abroad, the mother Khun Nai plays cards and sells the furnitures belonging to Tanoi. Khun Nai's daughter indulges herself in alcohol. The mother needs to flee as she cannot pay her debts. After five years abroad, Doctor Chiwan doesn't recognize Tanoi and is mistaken by her as a driver. She is a new Tanoi. She even forgives Khun Nai and her daughter but this latter accepts only to plan to kill Tanoi in order to get the full heritage. Tanoi is kidnapped but saved by Doctor Chiwan and the police. The movie ends happily and bad people are punished. Khun Na's daughter receives the acid she wanted to throw on Tanoi. Saen Dao and the villager have to accept that their love to the doctor and Tanoi are impossible. Doctor Chiwan recognizes his mistake to having looked down poor Tanoi. It is a typical 1980s movie with the leading actress being cross with the leading actor and facing issues with the jealous mother and her daughter. This movie shows the social ascension of a poor lady and that through education the poor lady can become a good person (ผู้ดี). Bad and rich people seem to win over good and poor people but finally there are justice and karma impacts (กรรม).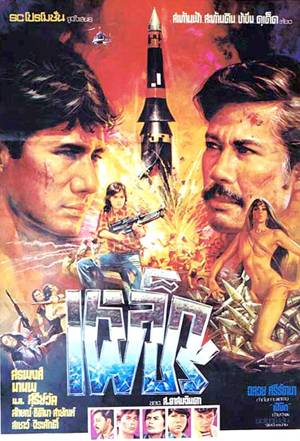 Year

: 1984



Thai title

:

เหล็กเพชร




English title

:



Rating

: 3/5


Director

: Sor Asanajinda



Main actor

: Sorapong Chatree,Manop Aussawathep,Sayan Chantaraviboon,Suchao Pongwilai,Lak Apichat


Main actress

: Suriwan Suriyong,Metta Roongrat,Thitima Sangkapitak
Thai action movie เหล็กเพชร was released in year 1984. The movie is lost in Thailand but a two minutes trailer remains to be seen. The movie producer is Sor Asanajinda. Main actor is Sorapong Chatree. Suriwan Suriyong is the main actress and Manop Aussawathep is playing her father. Other actors are Metta Roongrat, Lak Apichat, Sayan Chantaraviboon, Suchao Pongwilai, Thitima Sangkapitak… The trailer shows some fighting over a moving truck transporting tree trunks. In year 1967 Sor directed the same movie เหล็กเพชร in 16mm format. Sopha Sataporn was then the main actress. The 1967 version is still available.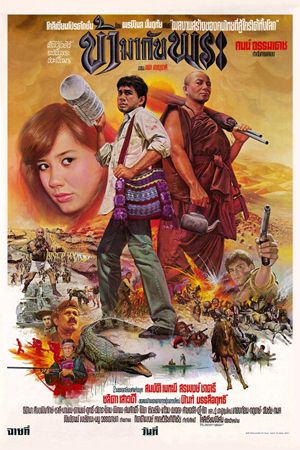 Year

: 1984



Thai title

:

ข้ามากับพระ




English title

:



Rating

: 5/5


Director

: Kom Akadej



Main actor

: Sorapong Chatree,Sombat Methanee,Bin Banleurit,Kom Akadej,Somsak Chaisongkram,Doo Dook Kradon,Pipop Pupinyo,Chat Mongkolchai,Dam Datsakorn,Rith Luecha,Manop Aussawathep,Note Chernyim,Thuam Thoranong


Main actress

: Thitima Sangkapitak
Thai movie ข้ามากับพระ was released in year 1984. It was shown on TV CH7 (ช่อง 7) and last 1h08mn as a shortened version. It was not released on VCD but was released under VHS format. Movie director is Kom Akadej. Soundtrack from band Police is used. It was the first movie for Thai actor Bin Banleurit. A TV serie ข้ามากับพระ was released in 2015. Bin (Sorapong Chatree) is chased by three men (Somsak Chaisongkram, Note Chernyim, Pipop Pupinyo). He is rescued by Luang Pho Seua (Sombat Methanee), being a wandering monk. Bin follows the monk, who wishes to stay alone. Bin wishes to become his disciple (ลูกศิษย์พระ). Doo Dook Kradon and another man are stealing buffalos. Villagers led by Thuam Thoranong are looking for their buffaloes. Luang Pho Seua is wrongly mistaken as a robber but everything is back to normal. Monk Seua and Bin cross a lake but they are attacked by a crocodile. Bin brings bad luck (ซวย) to the monk. They arrive in a ruffian's camp led by Chat Mongkolchai and Seua Noi (Bin Banleurit). Bin follows behind but is stopped by the ruffians. Monk Seua meets Thai Police, who ask him if he saw any ruffians campement. Police attack the camp and Bin can succeed to flee. Seua Noi is upset and promises revenge as he believes Luang Pho Seua and Bin are undercover policemen. Ruffians try to burn Luang Pho Seua but Bin intervenes. Luang Pho escapes to the flames but he is chased by ruffians. Hopefully, hill tribes, led by Kom (Kom Akadej), chase them away. Bin is injured and cured by beautiful doctor Khru Mo (ครูหมอ) (ชลิดา เสาวดี). The village head is worried about revenge by Seua Khaem. Bin meets again the three men chasing him and has to flee. While fleeing, he meets Luang Pho Seua again. Hilltribe lady Baan Su Thong (Thitima Sangkapitak) is fond of Bin. They spend the night together, but Bin flees in the morning, so Baan Su Thong is looking for him. Ut (Dam Datsakorn) enters in the hilltribe village. A fight occurs between Bin and Ut. Ut is defeated. Kom saves the honor of his younger sister Baan Su Thong. Ut requests help for another ruffians' leader (Rith Luecha). Ruffians storm the village. Many ruffians and villagers die in the fighting. Baan Su Thong is killed. Seua Noi is seriously injured by Bin. Khru Mo is kidnapped by Ut to cure Seua Noi. Finally, Seua Noi leaves as he feels better but as he gets sick again. Seua Noi gets help from Luang Pho Suea and is cured. He realizes that Luang Pho Suea is a real monk and a good man. Seua Noi's father is Seua Khaem. Luang Pho Seua is a former policeman. While trying to catch Seua Khaem many years ago, Luang Pho Seua shot his wife, being Seua Noi's mother, by mistake. So, the policeman became a monk. Hill tribe members and Bin surround the ruffians' camp. Seua Kaem (Manop Aussawathep) wishes to take revenge and to shoot the monk but Seua Noi intervenes and is shot instead. Devastated, Seua Kaem gives up on his revenge. Luang Pho has been carrying the wife's bones with him and has been wandering around Thailand in order to meet Seua Khaem.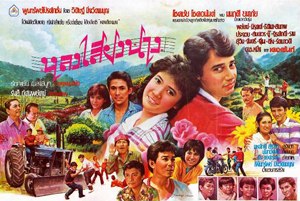 Year

: 1983



Thai title

:

หลงเสียงนาง




English title

:



Rating

: 3/5


Director

: Rangsee Thatsanaphayak



Main actor

: Sawin Sawangrat,Somkuan Krajangsat,Prachuap Ruekyamdee,Nirut Sirijanya,Chokchai ChokAnan


Main actress

: Monrudee Yamaphai,Thitima Sangkapitak
The musical movie "หลงเสียงนาง" is now very difficult to find in Thailand. It is easier to find a Cambodian copy (VHS tape only) than the Thai original version. In the Cambodian version, some songs are still in Thai language and not Khmer language! Many songs are featured including the hit "Long Sieng Nang" (หลงเสียงนาง). The movie scenario is quite similar to "Mon Rak Luuk Thung" (มนต์รักลูกทุ่ง), i.e. a romantic musical comedy. The movie director is Rangsee Thatsanaphayak (รังสี ทัศนพยัคฆ์). He directed around 100 movies! This movie features four veteran actors (Sawin Sawangrat, Somkuan Krajangsat, Prachuap Ruekyamdee, Nirut Sirijanya as Yot) and two veteran actresses, i.e. Monrudee Yamaphai as Chalita (ชลิตา) and Thitima Sangkapitak as Chontima (ชลธิมา). The main actor is seldom seen in Thai movies, i.e. Chokchai ChokAnan (โชคชัย โชคอนันต์) as he played in two movies only. Chokchai ChokAnan is a Thai country music singer, who became famous thanks to the song "หลงเสียงนาง". This song was even adapted in Khmer language (ลา..ลา..ลา.....). Chokchai ChokAnan is half Thai and half Indian. He is playing character Nat. A car from Bangkok is arriving with two young ladies in the village. Yot and Nat, two close friends, tease the two Bangkokian ladies with their motorbike. Finally the two couples tease each other. The Bangkok ladies wish to discover rural life and try to drive a tractor. Nat tries to seduce Chalita through love songs but she is reluctanct. Finally love emerges but the father forbids the young ladies to see the boys. They have to use tricks to see each other. Chalita is finally fianced by her father to an older Chinese Bangkokian businessman. Nat is upset but Chalita was forced. Nat sends a little boy to sing a song telling his disappointment. Chalita has to talk to him through songs (รักคุณคนเดียว). Finally the Bangkokian businessman cannot be trust as he steals money from Chalita's father. Thanks to Nat and Yot, through a final gunfight battle, the businessman and his ruffians are defeated. The father now recognizes the young men's value and accept their love with his daughters.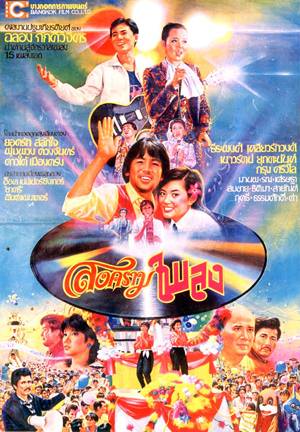 Year

: 1983



Thai title

:

สงครามเพลง




English title

:



Rating

: 4/5


Director

: Chalong Pukdeewichit



Main actor

: Krung Srivilai,Rith Luecha,Manop Aussawathep,Settha Sirachaya,Somchai Samipak,Sayan Chantaraviboon


Main actress

: Pumpuang Duangchan,Naowarat Yooktanun,Thitima Sangkapitak



Buy now

:

Kata (Krung Srivilai) / Leuachai (Rith Luecha) and Manop Aussawathep always have music orchestra (วงดนตรี) competition (สงครามเพลง). Manop's group thinks it has won by using Settha Sirachaya as singer but the group led by Kata uses singer Pumpuang Duangchan. It degenerates and brawl fighting happens between the two groups. Everybody ends up in jail. Police inspector (Somchai Samipak) summon the two orchestra leaders by telling them that music orchestra (วงการเพลง) is an art (วงการศิลาปิน) and should not end up in fighting. Apika (Naowarat Yooktanun) pays the bailing fee (ค่าปรับ). Kata wishes to have the most famous orchestra with Pumpuang as superstar. Manop's group needs to find a new singer able to compete with Pumpuang. They decide to hire heartthrob singer Yotrak salakchai. Many Luk Thung (ลูกทุ่ง) songs are featured in this movie. Sayan Chantaraviboon is featured as the owner of a recording studio. Kampi is younger brother of Kata. Kampi loves secretly a lady called Tosaen (Thitima Sangkapitak). Kampi writes love songs towards Tosaen and those songs are used by Manop's orchestra. Apika, daughter of Manop, discovers that songs are written by Kampi and refuses to buy them anymore believing it is a trick of Kata again. Tosaen becomes lover with Kata. A romance starts between Yotrak and Pumpuang, between Apika and Kampi. It causes concerns to both Kata and Manop (น้องชายของศัตรู). Pumpuang flees so Yotrak leaves the orchestra to find her. Pumpuang is indebted to Kata but she chooses freedom and love towards being a singer. Kata and Manop decide to launch strong fighting (สงครามเพลง / สงครามเลือด) against each other. Amid a battle between the two groups, Pumpuang convinces them for a truce. Tosaen tries to get back Kampi. Leuachai is not ready for truce. Apika quits Kampi as Tosaen left on purpose a bra in his car. During a concert, Leuachai tries to shoot Kata and Manop but finally gets punched by Kampi and then slot by Police. It is the end of violence in music orchestra contest. Tosaen tells the truth to Apika so she can be reunited with Kampi.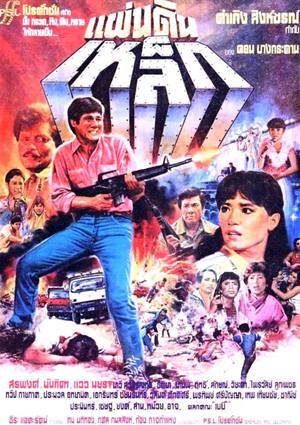 Year

: 1983



Thai title

:

แผ่นดินเหล็ก




English title

:



Rating

: 3/5


Director

:



Main actor

: Sorapong Chatree,Rith Luecha,Lak Apichat,Manop Aussawathep


Main actress

: Thitima Sangkapitak,Nanthida Kaewbuasai,Wiyada Umarin
Thai movie แผ่นดินเหล็ก was released in year 1983. It was also released under another name เสียงเพลงนักเลงโหด and using another movie poster. This movie is lost in Thailand but a sequence of 46mn is left to be seen. Kamnan is starting to prepare his birthday when ruffians come to ask for his land. Hopefully his son (Sorapong Chatree) chases them away. His friend Daeng, injured, is cured by Doctor Oon (Thitima Sangkapitak). Sorapong meets the daughter of a petrol station owner (Nanthida Kaewbuasai). Maen (Lak Apichat) makes Daeng enter as luk thung singer in Rith's nightclub. Decha (Manop Aussawathep) wishes to hire the new singer. Arguments happen between ruffians. A few luk thung songs are featured in the nightclub. Decha is looking for a hitman (มือปืน) to get rid of his enemies (ศัตรู). Sorapong being around accepts the job. Nanthida has issues with ruffians asking cover fee (ค่าคุ้มครอง) as she is going to visit her land. Hopefully Maen and his friends help her. During one evening, Sorapong shoots Rith in his nightclub but misses him. The two remaining movie reels end up here. This movie was not famous and is a kind of action / song movie (หนังเพลง).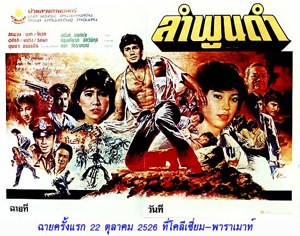 Year

: 1983



Thai title

:

ลำพูนดำ




English title

: Desconocida



Rating

: 4/5


Director

:



Main actor

: Sorapong Chatree,Nard Poowanai,Kowit Wattanakul,Suchao Pongwilai,Pipop Pupinyo,Paen Pleumsachai,Krai Kanchit,Rith Luecha,Somjin Thammatat,Pumi Patanayut,Somsak Chaisongkram


Main actress

: Apiradee Pawaputanon,Thitima Sangkapitak,Piathip Kumwong,Ampha Pusit,Mayura Thanabutr
Thai movie ลำพูนดำ was released in year 1983. The movie was also released in Taiwan under the name "Desconocida" in VHS format. This version was released by Taiwanese company New Ship Film Enterprise Co Ltd and lasts 1h26mn. The movie is in Mandarin language. The original movie has been cut to fit in standard TV format so making the story cutting to be awkward. Other versions released in Thailand last 1h30mn (Cable TV version) or 1h47mn (VHS version). This movie features many famous actors / actresses from decade 1970s~1980s. Young lad, called Paen (Sorapong Chatree), visits famous monk (หลวงพ่อ) in a local Buddhist temple to discuss about his problems. His mother and sister are treated as mistresses by local kingpin Mek. Mek (Somjin Thammatat) also tries to steal the family land. The monk gives to Paen an unique Buddhist amulet called ลำพูนดำ to protect him. Paen is arrested by four policemen led by Paen Pleumsachai. They bring him to a remote area to execute him per Mek's orders but bullets don't enter (นั่งเนี่ยว) as he is protected by the sacred amulet given by the monk. Paen shoots them back. Policeman Nard Poowanai, as หมวด, is also trying to catch him. Kingpin Mek and subdistrict headman Chat (Krai Kanchit) (ลูกน้องมือขวา) are concerned that Paen succeeded to escape. Paen has many enemies (ศัตรูเยอะ). Two ladies Lom (Piathip Kumwong) and Phit (Thitima Sangkapitak), Paen's mother and sister, are visiting the village leader. Both are the village leader's mistresses and Lom is also seduced by Chat (เป็นชู). Thai police is still looking after Paen. Paen takes refuge in a village but the village leader (Pumi Patanayut) warns the police. Paen succeeds to flee by having an hostage called Lamai (Mayura Thanabutr). Paen learns who are his enemies through Somsak Chaisongkram. Paen kills three ruffians (มือปืน). Ruffians kidnap young lady Lamai but Paen releases her and injures the village leader trying to abuse her. Young lady Booklee is kidnapped to become Mek's new minor wife. Khun Mom Sasingha (Kowit Wattanakul) meets Chaba (Ampha Pusit), niece (หลานสาว) of Kamnan Chat. He presents himself as a customer of the underground casino (บ่อน). Pipop Pupinyo is looking for troubles with Sasingha but gets beaten. Chat is then jealous that Sasingha is too close to Chaba. Seua Rit (Suchao Pongwilai) is hired by the village leader to get rid of Paen. Mek's daughter, Pumarin (Apiradee Pawaputanon), is coming back from overseas following successful studies. Her real father is Rit but he doesn't want her daughter to know that her father is a thief so the truth was never disclosed to Pumarin. Paen behaves as a Robin Wood (โจร) by giving free goods to poor villagers. A pact is agreed between Paen, Khun Mom Sasingha and Klot (Rith Luecha). Klot wishes to get revenge on Mek as he killed all his family members and kidnapped his niece Booklee. Paen refuses to meet his sister Phit anymore. Both Chat and Lom are buried alive as Mek discovers they are having an affair. Meanwhile Rit kills pregnant Lamai and her mother as they refused to disclose where Paen is hidden. Phit is having an affair with Seua Rit. Per her strategy to protect her brother, Phit claims to Mek that she has been raped by Rit so that Rit cannot harm Paen anymore. Paen releases Pumarin aggressed by ruffians kidnapping her. Klot gains the trust of Mek in order to better spy him. Paen wishes to get revenge on Mek but police surrounds him. The Buddhist amulet saves Paen one more time. Phit protects Paen a last time by shooting Mek but this latter shoots her before dying. Paen listens to Pumarin and surrenders peacefully to the police. A sequel released in year 1988 was called ลำพูนแดง.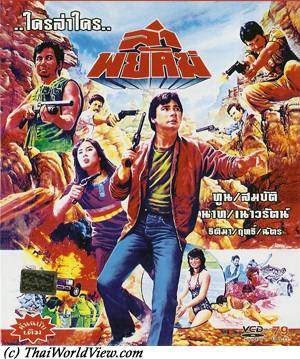 Year

: 1983



Thai title

:

ล่าพยัคฆ์




English title

:



Rating

: 3/5


Director

:



Main actor

: Sombat Methanee,Toon Hiransap,Rith Luecha,Nard Poowanai,Chat Mongkolchai,Sukon Koewliam,Paen Pleumsachai,Doo Dook Kradon


Main actress

: Naowarat Yooktanun,Thitima Sangkapitak



Buy now

:

Thai movie ล่าพยัคฆ์ was released in year 1983 and lasts 1h51mn. It was released under VHS format (1h51mn) and under VCD format (1h34mn). Cha (Sombat Methanee) and Phayak (Toon Hiransap) are soldiers (รับจ้างชายแดน). Being attacked and overwhelmed by enemies, Cha forces Phayak to flee as he has a family to take care to take care. While Phayak is away, ruffians led by Klam (Chat Mongkolchai) raid his house. They, including Paen Pleumsachai, kidnap his father Sukon Koewliam and his sister Phayao (Thitima Sangkapitak). His sister is deceived by Khun Amnat (Nard Poowanai), the local mafia leader, as he simulates a fake release. Klam shot the father but bullets cannot hurt him (ยิงไม่เข้า) as he is wearing a sacred protective Buddhist amulet so they hit him very badly. Phayak goes back home. Nuan (Naowarat Yooktanun), Phayak's friend, is also harassed by the ruffians (วันนี้ไม่อยากทำบาป) led by Phalat (Rith Luecha). Phayak's father dies. Doo Dook Kradon is the caretaker. Phayak gets the protective amulet from his father mouth and is aware how his father was killed. Meanwhile Cha is left as dead at the border. Following tortures to the head by thugs, he loses his memory and is now always drunk. Phayak decides to revenge his father. It is typical 1980s-decade movie when the main actor needs to seek revenge by himself as he cannot rely on Thai police. Khun Amnat uses bad influence and power to control the area (มีอำนาจ). Police believes him. Ruffians try to get rid of Phayak but Klam fails. Phayao sends a letter to meet her brother Phayak. Her brother is upset with her as she has a new husband (ผัว) just one day after their father died. Khun Amnat uses Cha to shoot Phayak but he survives thanks to the sacred amulet (ของดี). Phayak needs to flee as police now tries to catch him as he shot a few ruffians belonging to Amnat's team. Khun Amnat uses Phayao to convince her brother to surrender (มอบตัว) and uses Cha again to kill him. Phayao complains she has no more shelter (ไม่มีที่พึ่ง). It is a trick to steal his amulet. Menawhile Nuan's father is killed and Nuan is kidnapped. Phayak needs to face Cha in order to release Nuan. Hopefully Cha recovers his memory on time. Phayao knows now that Khun Amnat is a lier so she takes back the amulet and flees from his home but she is shot by him. As usual, bad guys are finally punished and Nuan is released. No extra judicial killing this time as Khun Amnat is handovered to the police. Thai people believe that sacred powerful Buddhist amulets from famous Buddhist monks can protect them during fighting. Such amulets were used by Thai soldiers during Vietnam war. Other Thai actions movies featuring Buddhist amulets protection are เสาร์ 5 (1976), ลำพูนดำ (1983), ลายพาดกลอน (1987), ลำพูนแดง (1988)...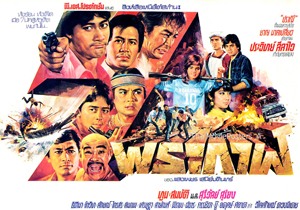 Year

: 1983



Thai title

:

7 พระกาฬ




English title

:



Rating

: 3/5


Director

: ประวิทย์ ลีลาไว



Main actor

: Sombat Methanee,Toon Hiransap,Pipop Pupinyo,Sayan Chantaraviboon,Lak Apichat,Somphob Benjatikul,Kowit Wattanakul,Settha Sirachaya,Kanchit Kwanpracha,Chat Mongkolchai,Sahat Piempongsan,Boo Wibunnan,Somchai Samipak,Adul Dulyarat,Paen Pleumsachai,Pao Porapak


Main actress

: Thitima Sangkapitak,Suriwan Suriyong
Thai movie 7 พระกาฬ was released in year 1983 and lasts 1h55mn. It was released under VHS format and VCD format. It was also released overseas by IFD under the name "US Catman 2 - Boxer Blow". Movie director is ประวิทย์ ลีลาไว. Thai movie 7 พระกาฬ was released multiple times. First time was in year 1967 with Mitr Chaibancha and Petchara Chaowarat. Second time was in year 1983. It was also released as a TV series in year 2004 on CH7. This movie features many famous actors and actresses from decade 1980s. Kanchit Kwanpracha, Sing (Chat Mongkolchai) and Reudi (Thitima Sangkapitak) are having a secret meeting. Kanchit needs to gather seven mercenaries. All of them (Han Meuang Thong - Sombat Methanee, Pipop Pupinyo, Thong Bai as Likay actor – Sayan Chantaraviboon, Boonmee - Lak Apichat, Somphob Benjatikul, Kowit Wattanakul, Settha Sirachaya...) are in jail for multiple murders. Kanchit's team attacks police vehicles during a jail transfer and all seven men can flee in various directions. Reudi receives mission from Kanchit to neutralize Police officer Sattha (ไกรสร แสงอนันต์), who shall capture back the seven inmates. Pho Lieng Saen (Sahat Piempongsan) recruits Boonmee to get rid of his enemy Han Meuang Thong! Sia Mongkol (Boo Wibunnan) wishes to recruit Kowit for a special job. Following a fighting during a Likay performance, Thong Bai has to flee again. Pho Lieng Saen accepts to freeze his revenge towards Han Meuang Thong as the big boss has a more important plan to be performed before. Somchai Samipak, father of Han Meuang Thong, refuses to meet his son anymore. Sattha and Somphob Benjatikul help him as he gets aggressed by Pho Lieng Saen's ruffians looking for his son. Soi (Suriwan Suriyong), daughter of Pho Lieng Saen, meets Prai (Toon Hiransap) and gets help from him as she is harassed by Pao Porapak. Anan (Adul Dulyarat) and his men capture Somphob Benjatikul and Settha Sirachaya. Various mafia leaders (พ่อเลี้ยง), linked to Kanchit, wish to hire the seven men. Kanchit plans to use all of them to perform special secretive actions. Pho Lieng Saen hires Bai and Boonmee. Despite his promise to put aside his own revenge, he sends Boonmee to kill Han Meuang Thong but it fails. Reudi claims to be Han Meuang Thong's wife in order to trap his father. She kidnaps Han's family, i.e his father Somchai and his sister วิไลลักษณ์ ดวงมีเดช, in order to force him to do something against Thai nation. As police disrupts their activities, Police officer Sattha is kidnapped to know who the traitor among the ruffians is. Prai releases him. Then Prai releases Han Meuang Thong's father and sister. Kanchit wishes to prepare a revolution in Thailand to take power through a new political party. Paen Pleumsachai. The seven mercenaries are supposed to do actions to disrupt Thai nation. Aware through Prai, they refuse to betray their country (ขายชาติ) and fight against the ruffians. Ruffians are neutralized. The seven mercenaries saved Thailand, but they still need to go to jail again.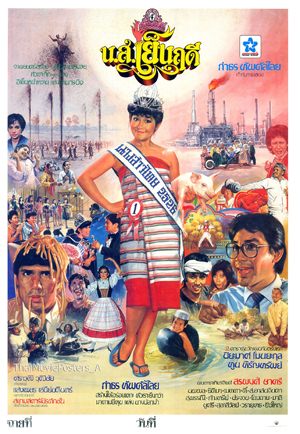 Year

: 1983



Thai title

:

น.ส.เย็นฤดี




English title

:



Rating

: 2/5


Director

: Kumtorn Tubkunlai



Main actor

: Sorapong Chatree,Toon Hiransap,Supakorn Srisawat,Sor Asanajinda,Prachuap Ruekyamdee


Main actress

: Piyamas Monayakol,Metta Roongrat,Thitima Sangkapitak,Suphanee Jitthieng,Malee Wetpraseri,Chosri Misommon,Sulaleewan Suwanthat



Buy now

:

A 70 years old man discovers he has a hidden daughter. Of course his daughter in law doesn't want to share the heritage with this girl and tries many stratagems...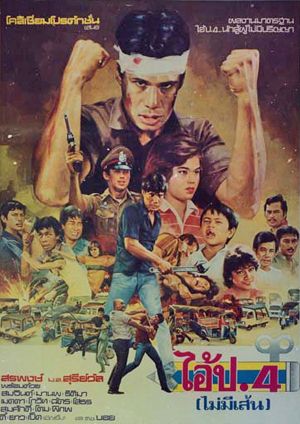 Year

: 1983



Thai title

:

ไอ้ ป.4 (ไม่มีเส้น)




English title

:



Rating

: 4/5


Director

:



Main actor

: Sorapong Chatree,Pipop Pupinyo,Kowit Wattanakul,Panna Rittikrai,Note Chernyim,Manop Aussawathep,Chat Mongkolchai,Somsak Chaisongkram


Main actress

: Suriwan Suriyong,Metta Roongrat,Sarinthip Siriwan,Thitima Sangkapitak
Leu (Sorapong Chatree) is a poor Tuk Tuk (สามล้อ) driver and has difficulties to find money to pay his son Tawan school fees. The headmaster (Sarinthip Siriwan) has limited understanding. One day fightings erupt with ruffians asking for protection fee to a Tuk Tuk driver. Leu and his friends (Panna Rittikrai, Note Chernyim) help. Leu hits violently Pipop Pupinyo. Yot (Manop Aussawathep) is head of ruffians. Kowit is a policeman but he cannot help that much. Wan (Thitima Sangkapitak) is owning a street restaurant, where Tuk Tuk drivers always eat. Tuk Tuk needs to pay a parking fee despite it is a public road. Leu is aggressed again while driving his Tuk Tuk so he is late at school to pick up his son. Teacher Panit (Suriwan Suriyong) sends his son back home. The teacher Panit complains on Leu not taking care enough of his son. Fighting erupts with ruffians looking for troubles with the teacher Panit but she has good fighting skills also. Panit is in fact the daughter of Yot. Ruffians fight again with the Tuk Tuk drivers as they refuse to pay extortion fee. They all end up in police station. Thanks to bad influence (อิทธิพล) of gangster Sia Boon Mak, ruffians are released first. The owner of Tuk Tuk cars pay finally for the release fee as the drivers are just renting the cars so they have no money. Leu is very late picking up his son so he meets the teacher again at his home. Sia Boon Mak (นักเลงใหญ่) forces Yot to work with him as he threatens his daughter. Brakes are damaged on Leu's Tuk Tuk as a warning. Tawan's mother, former teacher, died many years ago in a bus accident. Both Leu and Yot ended their studies at ป.4 level. Panit would like her father Yot to stop his dirty ways to do business (วิธีการสกปรก) by exploiting other poor people. Yot argues he had no choice as the society doesn't give a lot of opportunity to succeed for people ending their studies at low level (ป.4). Following his daughter pressure and wishing to change his life, he agrees to stop. Meanwhile Sia Boon Mak's ruffians cause Leu's Tuk Tuk to have an accident and his son dies. Leu promises to revenge and refuses to see Panit anymore. Panit proves him that her father is not involved in his son's death. Yot is now on Leu's side. Leu fails to kill Sia Boon Mak but injures him. As revenge Yot is shot and killed. Wan is kidnapped and killed by Sia Boon Mak. It is too much and Leu assisted by Panit and an army of Tuk Tuk drivers storm Sia Boon Mak's den. Police led by Kowit finally arrives. Leu doesn't perform self justice and lets police to arrest Sia Boon Mak. Justice will be performed but Leu has to lose his son for this justice to happen… Movie director is มนู วรรณายก. This movie was released in VHS format but never in VCD or DVD formats.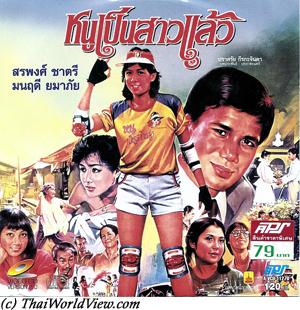 Year

: 1982



Thai title

:

หนูเป็นสาวแล้ว




English title

:



Rating

: 3/5


Director

:



Main actor

: Sorapong Chatree,Sor Asanajinda,Prachuap Ruekyamdee


Main actress

: Monrudee Yamaphai,Thitima Sangkapitak,Metta Roongrat,Linda Khatancharoen



Buy now

:

Kathon is a girl coming from a poor family in a slum. She is doing small jobs to support her aging grandparents. A supermarket owner, Pakasit, catches her stealing food cans. Following her explanations, he has mercy on her. He then understands her good heart and character. He declares his love for her. But his mother looks down people coming from slum believing that they are only interested in her son's money. Hopefully his friends are coming to help Pakasit...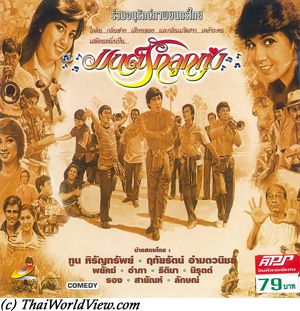 Year

: 1982



Thai title

:

มนต์รักลูกทุ่ง




English title

:



Rating

: 3/5


Director

:



Main actor

: Toon Hiransap,Nirut Sirijanya


Main actress

: Ampha Pusit,Thitima Sangkapitak,Reuthairat Amatawanit



Buy now

:

This folk-music movie is a remake of one of the most famous Thai movie (มนต์รักลูกทุ่ง) shot in 1970. It features 14 folk songs or "LUUK THUNG" songs. It is about a love story between a poor peasant, Klao, and a young woman, Thong Kwao, coming from a rich family. It includes also three other side love stories between Bupfa, Thong Kwao's sister, and Waen, Klao's friend, between Sai Chai and a policeman and between a Northeaster worker and Sai Chai's sister. Both Sai Chai and Thong Kwao are arguing over Klao as both of them love him. Klao promises to marry Thong Kwao as soon as he has enough money for the dower. A local godfather is lending money to poor peasants and get their land title when they are not able to refund the money. Klao's mother has debts with the godfather. Hopefully Tong Kwao is able to help. This upsets the godfather as he cannot get the land title. To ease the situation with the godfather, the parents send Thong Kwao and her sister to Bangkok to learn clothes fashion design. In fact Thong Kwao's parents are worried about the family assets if their daughter marries a poor man so they send her to Bangkok so that she can be far away from Klao. They promise Thong Kwao that they will accept Klao's proposal for marriage if it happens. Floods happen and rice crops is destroyed. Thong Kwao can only offer a small dower. Thong Kwao's parents refuse Klao's proposal for marriage and request an expensive dower (ค่าสินสอด), i.e. 100 000 Baht (สิบหมื่น). while in Bangkok, a bad businessman is courting Thong Kwao. He has already a girlfriend but is interested to marry Thong Kwao in order to get money to save his non prosper company. Various misunderstandings happen between Klao and Thong Kwao as they both believe they didn't keep their promise but love will win.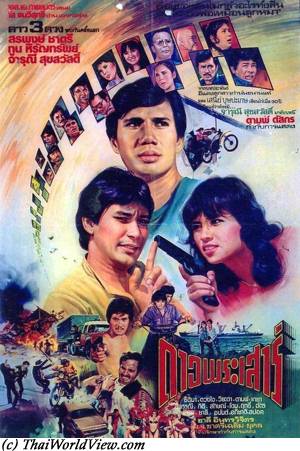 Year

: 1982



Thai title

:

ดาวพระเสาร์




English title

: The Big Deal



Rating

: 4/5


Director

: Dam Datsakorn



Main actor

: Sorapong Chatree,Toon Hiransap,Pipop Pupinyo,Rith Luecha,Lak Apichat,Dam Datsakorn,Kecha Plianvithee


Main actress

: Jarunee Sooksawad,Thitima Sangkapitak,Wiyada Umarin,Duangjai Hathaikarn
ดาวพระเสาร์ (The Big Deal) movie is gathering three main stars from 1980s decade, i.e. Sorapong Chatree, Toon Hiransap and Jarunee Sooksawad. This movie is mixing action and romance. An impressive bunch of 1970s-1980s famous Thai actors are participating. Dam Datsakorn, more known for his ruffian leader role, is also the director. Dao Prasao (Sorapong Chatree) is similar to a lonesome cowboy but he has a strong kick (ตีนแรง) whenever somebody is looking for troubles. Taen (Toon Hiransap) wishes to befriend with Dao Prasao. Taen is chased by Sing Manorom's ruffians but gets help from Dao Prasao. Taen gives him a bag with 100 000 baht as a reward. Taeng, Taen's fiancee, is promised to ruffian Sing Manorom so Taen has no wish to live anymore. The 100 000 baht were supposed to be used while fleeing with Taeng. Diaw Dai (Wiyada Umarin), prostitute with sincere heart, helps them to hide from the ruffians. Tuang (Rith Luecha) is her evil pimp and wishes to take revenge following Diaw Dai betrayal. Dao Prasao promises to help Taen. Taeng (Jarunee Sooksawad) is the daughter of sub- district headman (kamnan) called Yot. Dao Prasao arrives as a mysterious wedding gift giver in order to enter more easily in Yot's house. Causing a fire during the wedding eve, Dao Prasao takes profit of the mess to flee with Taeng. He is injured while helping her. Despite a plot from Tuang, all succeed to escape the ruffians. Diaw Dai has some feelings for Dao Prasao. Some feelings start also between Taeng and Dao Prasao. His real name is Kata. He left his home as his fiancee married his father while he was studying abroad. Meanwhile while visiting Taen's home, Taeng discovers he has already a fiancee! In fact his father wants to force him to marry a high society lady called Kaew (Thitima Sangkapitak). Feeling sad, Taeng is finally captured again by the ruffians. Aware of this, Dao Prasao with close friend Dang's support raid the ruffians nightclub. Jarunee excels in Thai boxing skill-set and they succeed to escape. Taeng is disappointed by Taen as he doesn't dare to oppose his father to protect their love (อยู่ในอำนาจบารมีของพ่อ). He is not as courageous as Dao Prasao. Taen feels hurt by Taeng's words. Chumporn, head of ruffians, is leading a prostitution ring. They capture many ladies including Taeng, Kaew, Diaw Dai to sell them to an international buyer. Tuang kills Diaw Dai as a revenge. Dao Prasao and Taen successfully release the ladies through fierce fights on moving trucks and through motorized acrobatics. Taen wishes to show he has courage also. Kaew is killed during the battle. Taen and Taeng are reunited. Dao Prasao leaves them and continues his life as a lonesome cowboy. Dao Prasao has accomplishes his mission as Taen and Taeng can be happy together now. An earlier version with Sombat Methanee was shot in 1970.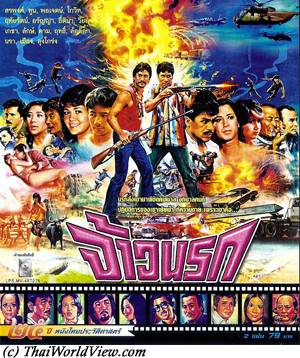 Year

: 1982



Thai title

:

จ้าวนรก




English title

:



Rating

: 3/5


Director

: Payoong Payakul



Main actor

: Sorapong Chatree,Lor Tok,Toon Hiransap,Kecha Plianvithee,Dam Datsakorn,Rith Luecha,Porjed Kaenpetch,Lak Apichat,Kowit Wattanakul,Pao Porapak,Paen Pleumsachai


Main actress

: Aranya Namwong,Wiyada Umarin,Thitima Sangkapitak,Reuthairat Amatawanit
Khongra (Sorapong Chatree) is relative (หลาน) of Am Su Ra Krai (Toon Hiransap). Khongra is coming to Phailom district to visit Am. Am's team, such as Wo (Lak Apichat), needs to carry guns as the area is full of ruffians (นักเลงบ้านนอก) such as Thaem (Porjed Kaenpetch). Mr Putr is accused to have stolen (ปล้นรถไถ) Am's tractor. Local ruffians forbid farmers to cultivate the fields but as Khongra dares to bring a tractor, he has no choice but to shoot them. Later on, he helps a young lady Chairon harassed by three ruffians. Chairon is living alone as her parents died already. Thaem is defeated by Khongra on one to one fight. Friendship starts between Thaem and Khongra. Godfather (เจ้าพ่อ) Bamjong (Kecha Plianvithee) wishes to recruit Khongra as he likes his style. Khongra discovers that the tractor was stolen by Mr Putr despite his disclaimer. Romance starts between Khongra and Chairon. All the illegal activities are handled by a local few godfathers including lady Sa (Aranya Namwong), Bamjong, Dam (Dam Datsakorn) and Reut (Rith Luecha). Chairon has been kidnapped and Khongra is ordered to leave the area within 24 hours. Meanwhile Khongra (เสียตัว) is also kidnapped by mysterious Amazons (Sopha played by Wiyada Umarin and Thitima Sangkapitak) but succeeds to escape. Gnoh (Kowit Wattanakul) is a policeman coming to arrest drug traffickers believed to be linked to local ruffians. Am, Khongra storm Putr's home to know where Chairon is. Before dying, Putr just says she is located at Beung Mai. While going to Beung Mai, they meet Sopha again. It is a trick to split Am, Wo and Khongra. In a fierce shooting, Wo is killed. Sa is suspected to have kidnapped Am. Khongra and Thaem are captured and imprisoned with Am. Chairon provides a hidden message but her behavior is noticed by the guard (ทรยศ). Chairon and Sopha are sentenced to death by Sa. Hopefully Khongra, who succeeds to escape, helps them on time. A festival for farmers is happening in Phailom district. Khongra is aware of the ruffians' plan to intimidate farmers in order to finally possess the whole land in the area. Explosions happen during the festivities. Following various shootings and car chasing, all ruffians are killed or captured by Khongra, Am and police led by Gnoh. This Thai movie จ้าวนรก, directed by Payoong Payakul, is a typical 1980s action movie involving many key leading actors from decades 1970s-1980s.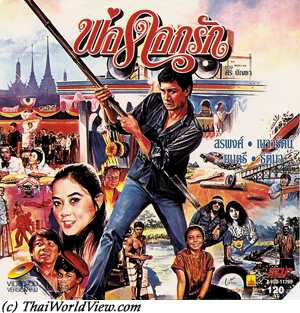 Year

: 1982



Thai title

:

พ่อดอกรัก




English title

:



Rating

: 3/5


Director

:



Main actor

: Sorapong Chatree


Main actress

: Naowarat Yooktanun,Thitima Sangkapitak
Coming from a wealthy family and fed up by his mother still looking for a mate for him, a young man decides to flee his parents' home. He is living with an uncle on a boat on the Chayo Praya and is selling goods. During his adventure, he meets a rich young woman whom father is alcoholic, a young woman whom father is a local godfather, a young poor woman. Who will he choose? This movie contains many nice "LOOK TOUNG" (ลูกทุ่ง) songs.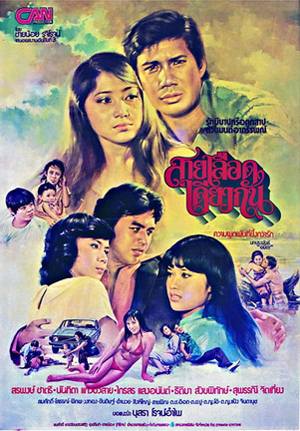 Year

: 1982



Thai title

:

สายเลือดเดียวกัน




English title

:



Rating

: 4/5


Director

:



Main actor

: Sorapong Chatree,Pipop Pupinyo,Somsak Chaisongkram,Kraison Saenganan


Main actress

: Thitima Sangkapitak,Nanthida Kaewbuasai,Suphanee Jitthieng
Yoo (Thitima Sangkapitak) and Kasem (Sorapong Chatree) love each other. Yoo's father doesn't want her daughter to meet Kasem anymore as he is coming from poor background (บ้านนอก / จน). Kasem needs to fight back (ต่อสู้) but Yoo's father refuses to see his kindness and even hits him, so Yoo flees with Kasem. They live in countryside as farmers. Ten years have passed. They have now three children, Yupa, Decha and a baby girl. Yoo keeps crying having pity on her children as they are poor. Yoo wishes to go back to Bangkok but Kasem refuses as unwilling to be despised by the father again. Yoo is tired of this life. As Yoo is sick, Kasem goes to a neighbouring town to buy medicine. When he is back, Yoo has died already. The children are also tired of this hardship and would like their father to bring them to their grandparents. One day some ruffians claim rent fee for the last ten years. As Kasem refuses, he is beaten and left for dead. The house is burnt down. The children have no choice but to go to Bangkok. They finally go by train and are lucky to have another traveller paying their tickets as he has pity of them. Decha always think of eating sweets. Arrived in Bangkok, Decha is separated from Yupa. Yupa is hit by a car. Her eye vision is altered. Meanwhile Decha is recruited in a pickpocket gang (ล้วงกระเป๋า) led by veteran actor Pipop Pupinyo. The couple who hit Yupa with their car is considering adopting the children as they don't have their own kids but the woman has a concern on Yupa as she is already old enough to understand. Knowing this, Yupa prefers to leave in order to secure her small sister's future. Finally the family has another child called Thanee but keeps the secret about the other child named Wilai. Children are now grown up. Decha is deeply involved in robbing, pickpocket activities and even heroin traffic. Yupa (Nanthida Kaewbuasai) is begging as she is almost blind. Decha tries to seduce Wilai, an university student coming from a well-off family, whose wallet has been stolen by his team. Thanee, jealous about Decha, reveals to Wilai the robber background of Decha. Decha complains that no chance is given to him like his father (อยากเป็นคนดี). Thanee (ลูกอิจฉา) also reveals to Wilai that she is not real daughter but just an adopted street child. Reading a newspaper, Wilai's stepfather finds that Wilai's real grandparents search their grandchildren to give their heritage. Hearing a little girl singing his mother lullaby, Decha is able to find back Yupa. Yupa is not aware from where Decha money is coming from. Finally through a final touching sequence Decha loses a potential love with Wilai but finds back his lost sister. This strong drama movie highlights brother-sister bonds (พี่น้องต้องรักกัน).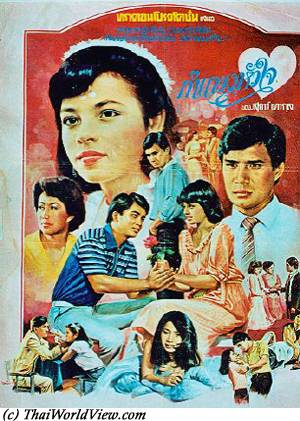 Year

: 1981



Thai title

:

กำแพงหัวใจ




English title

:



Rating

: 3/5


Director

: Sor Asanajinda



Main actor

: Sorapong Chatree,Sor Asanajinda,Yuranan PamornMontri,Sukon Koewliam


Main actress

: Jarunee Sooksawad,Thitima Sangkapitak,Pissamai Wilaisak,Metta Roongrat,Chosri Misommon
A theater (โรงละคร) employing veteran actors is closing. One of the main actress, Valla, finds herself out of job. Uncle Pongpat (Sor Asanajinda), one of his fan, asks Walla (วัลลา) for wedding. Valla (Pissamai Wilaisak) has already two young children, i.e. Viraya (วีรยา) (Jarunee Sooksawad) and Chat. Pongpat has also two young children already, i.e. Tor (Sorapong Chatree) and Athon (อาทร). Valla was an actress (เล่นลาคร) so Athon always underestimated Viraya and Chat. They never got along. Children have now grown up. Athon has studied overseas and developed a passion for painting. Back to Thailand, he meets a young lady and loves her immediately. He is not aware that she is Viraya! He keeps chasing her. In fact Athon and Tor love the same woman, Viraya. Ton has its own gallery and insists to make a painting (เขียนภาพ) of Viraya. Tor is not aware who Athon is now painting. Busamalee (บุษมาลี) (Thitima Sangkapitak) is another lady fond of Athon also. Athon now believes Tor and Viraya are already sweethearts (คู่รัก) so he wishes to go back studying abroad as soon as possible. Busamalee is disappointed when realizing Athon doesn't love her. Ton is now aware that Viraya is Valla's daughter. Athon has often craziness crisis. So Athon is violent with Viraya believing she lied to him on purpose. He rapes her in his painting gallery. Busamalee also goes to study abroad. Viraya tries to get suicide. Tor suspects a man behind but Viraya refuses to tell who by refusing to disclose what is deep buried in her heart (กำแพงหัวใจ). To avoid any further suicide tentatives, Tor decides to marry Viraya as soon as possible. Tor discovers Viraya's portrait in Athon's room so now understands the truth. Pongpat has a heart attack when learning this and dies. Athon becomes the new house owner. Viraya delivers a boy but the child dies during the delivery. Tor asks Viraya to forget the past but she cannot. Athon is back from overseas with Busumalee. They are engaged. The painting gets an award so Busumalee knows something has happened between Athon and Viraya. She is upset and spent the night out. She spends the night with Chat, Viraya's brother, who revenges her sister by sleeping with Athon's fiancee. Viraya and Athon finally meet. Athon tries to abuse Viraya again, claiming he always loved her, but she fights back successfully. She can now really forget Athon and enjoy happiness with Tor. The movie กำแพงหัวใจ is Yuranan PamornMontri's first movie.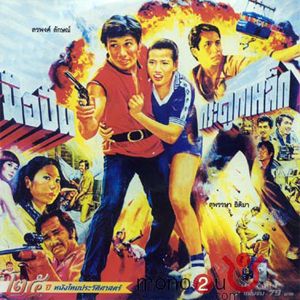 Year

: 1981



Thai title

:

มือปืน กระดูกเหล็ก




English title

: Iron Bone killer



Rating

: 3/5


Director

: Payoong Payakul



Main actor

: Sorapong Chatree,Nard Poowanai,Dam Datsakorn,Porjed Kaenpetch,Lak Apichat,Phairoj Jaising,Sithao Petcharoen


Main actress

: Thitima Sangkapitak,Supansa Nuengpirom,Moeifa
Thai movie Iron Bone killer / มือปืน กระดูกเหล็ก was released in year 1981. It is directed by famous action movie director Payoong Payakul. It lasts 1h56mn. While driving back from an underground casino, Kit Meka (Sorapong Chatree) finds a dead man lying on the road with a pod full of money. Kit gets shot and injured by two men but succeeds to flee after shooting them. Another car chases him. He takes refuge at a doctor's home but the ruffians do a rampage there. He finally ends up in a neighbouring house where a young enthusiastic lady welcomes him warmly. He leaves to go to funeral of his friend Phi Kamnan Pan. He meets Seua Tot (Nard Poowanai) and Moeifa there. Kit escapes to ruffians again and is rescued by a young lady called Pim. The ruffians' leader, Pho Luang (Dam Datsakorn), is upset that his men are not able to catch Kit named as มือปืน กระดูกเหล็ก so he has to be involved himself. Pho Luang's girlfriend is called Taorung (Thitima Sangkapitak). Porjed Kaenpetch, playing a policeman, is investigating on the ruffians' activities. Pim is the niece (หลานสาว) of Seua Tot. Lak Apichat is part of Seua Tot's team. Kit helps Tot betrayed by one of his teammates. Meanwhile Pim is disfigured and raped by Pho Luang's ruffians. Seua Tot promises revenge. Tot takes revenge on Pho Luang's mother. They also kidnap Pho Luang's wife Taorung and ask for 500 000 baht (ผู้นรก) ransom. Pho Luang and his men chase after them. They take refuge in a Christian village (หมู่บ้านศาสนา). Kit and Seua Tot's team diverge and split. Seua Tot's team falls into an embuscade and Seua Tot is left for dead. Fed up to always been chasen, Kit decides to counterattack. Kit shoots Pho Luang's men and through a final fight, both Pho Luang and Kit fall from a cliff but only Kit survives. Ot (Phairoj Jaising) takes over Pho Luang's illegal business. Some ruffians led by Ot try to kill Kit. Kit ends up facing the policeman Pat (Porjed Kaenpetch). Pat is former lover of Taorung and still loves her. Taorung's heart is still split but promises forever love to Kit (ดวงเดียว). Meanwhile Kit only sees himself as a staff of Taorung. He meets Farung (Supansa Nuengpirom) and asks her father (Sithao Petcharoen) to teach him Thai boxing. Ot and his men decide to get rid of Kit. Pat chases the ruffians and ends up in a duel with Ot. Kit helps Pat before Ot can shot him. Seua Thot also saves Kit but dies, being shot by Ot. All ruffians being neutralized, Kit ends up with both Taorung and Farung.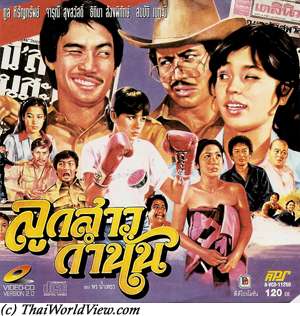 Year

: 1981



Thai title

:

ลูกสาวกำนัน




English title

:



Rating

: 3/5


Director

:



Main actor

: Toon Hiransap,Sombat Methanee,Lak Apichat,Boo Wibunnan


Main actress

: Jarunee Sooksawad,Ampha Pusit,Thitima Sangkapitak
This funny movie is about Teng Mo, the daughter of a district officer.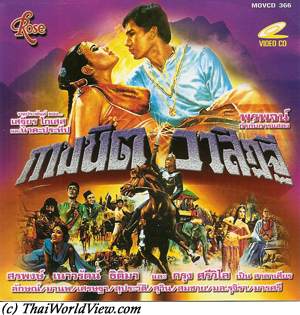 Year

: 1981



Thai title

:

กามนิต วาสิฎฐี




English title

:



Rating

: 3/5


Director

:



Main actor

: Sorapong Chatree,Krung Srivilai,Manop Aussawathep,Lak Apichat,Settha Sirachaya


Main actress

: Naowarat Yooktanun,Thitima Sangkapitak



Buy now

:

It is about the love between the young people, Kamanit and Vasinee. It takes place in India 2000 years ago and features many songs. Coming back to his city, Kamanit is captured by outlaws. While pretending that Kamanit is dead, a fellow man convinces Vasinee's parents to give him her hand. Kamanit, who searched for the Buddha, hoping the Buddha would heal his broken heart. One night he met an old monk and sat talking to him all night because the monk seemed to be able to answer all of his questions. The next morning he bid farewell to the monk and continued in his search for the Buddha, without realizing that the monk he had been talking to all night was the Buddha himself. Even when he was gored to death by a bull, he still didn't realize who he had been speaking to.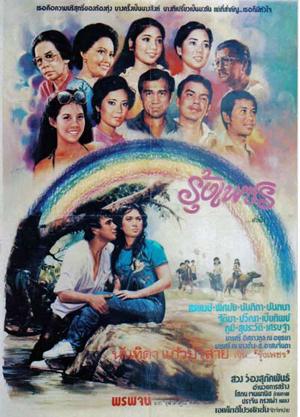 Year

: 1980



Thai title

:

รุ้งเพชร




English title

:



Rating

: 3/5


Director

:



Main actor

: Sorapong Chatree,Sor Asanajinda,Settha Sirachaya


Main actress

: Nanthida Kaewbuasai,Pissamai Wilaisak,Piathip Kumwong,Thitima Sangkapitak,Nantada Ngaokrajang
This movie รุ้งเพชร was shot in 1980. A first version of this story was released in 1961 with Sombat Methanee and Ratanaporn Intarakamhaeng. The main actress is Thai singer Nanthida Kaewbuasai, who sings the famous song "มารักกันใหม่" during the movie. Despite being a grown up teen, Rung (Nanthida Kaewbuasai) still likes children games such as riding buffalo, swimming in river, throwing rock with a sling. She is the leader of small group of friends. Her mother hates Bangkok and doesn't want her daughter to study there. But her mother is sick as she has a severe pain in the stomach. She refuses to leave her home. Rung's father died 10 years ago. The mother finally dies and Rung has to go to Bangkok to a mysterious uncle Phra's home. Her mother always recalled Rung that only uncle Phra helped her when her husband died. Uncle Phra is part of Bangkok rich society (ผู้ดี). Uncle Phra is married to Orapin. Orapin is much younger than uncle Pha and has a lover, who is bankrupted. Orapin is not very happy to see Rung arriving in their home and doesn't understand why Phra wants to take care about this orphan (เด็กกำพร้า). She suspects than Rung is Phra's daughter from a minor wife in Ayuthaya. Anong is Orapin's elder sister. Yai is uncle Phra's son. He behaves like a high society man. Yai has already a fiance. Her name is Nit and she is the second daughter of Anong. They don't get along with Rung. Yai has just finished his studies and needs to be temporary teacher for Rung per his father's request. Rung always speaks frankly (เด็กบ้านนอก). Nit and Yai consider themselves as brother - sister (พี่น้อง) but Anong has other plans in mind and wants to get them married as Yai is very rich. Orapin and Anong are worried about Rung taking a part of the heritage as Uncle Phra is getting older. Rung is doing her studies at UAU. Yai is going abroad. When he is back and while being sick, only Rung takes care about him at nighttime. Yai starts to understand and see Rung's kindness. Pricha, a family friend, has also interest into Nit and starts to seduce her. It is unveiled by uncle Phra that Rung is an hidden family member and child of a famous Thai aristocrat. Shine the jewel and its beauty is revealed... Yai asks Rung to become his fiancee by offering a ring. Anong and her daughter Nit try a last offensive to get Yai back from Rung but to no avail. Yai offers a necklace to Rung causing Orapin and Anong disappointment and ire. Phra agrees to divorce with Orapin but all his heritage is already transferred to Yai so Orapin will get nothing! Orapin and Anong decide to act. They organize Rung kidnapping. Anong tries to poison Phra's teapot but due to a maid mistake Anong finally drinks her owned poisoned tea and dies. Orapin discovers that her lover was cheating her with Anong's elder daughter. Through hate, revenge they kill each other and finally police shots Anong's lover. Yai and Rung can live happily. Nit and Pricha also. In 1980 this movie selling point was "Sorapong meets 6 leading actresses" (สรพงษ์ พบ 6 นางเอก - นันทิดา/นันทนา/พิศมัย/ธิติมา/ปวีณา/เปียทิพย์). This is typical romance movie from beginning of 1980s decade with an impossible love between a poor girl and a rich man. This movie features many famous Thai stars from 1970s-1980s.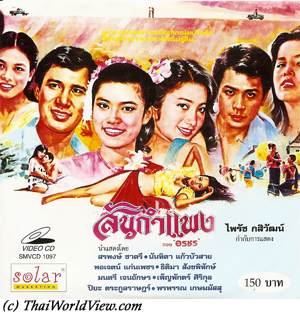 Year

: 1980



Thai title

:

สันกำแพง




English title

:



Rating

: 3/5


Director

:



Main actor

: Sorapong Chatree,Porjed Kaenpetch


Main actress

: Nanthida Kaewbuasai,Penpak Sirikul,Thitima Sangkapitak



Buy now

:

Two friends, Som living in Chiang Mai and Daeng in Bangkok, are in love with two Chiang Mai girls. Following a dramatic misunderstanding, the two friends set apart as Daeng is wrongly accused of courting Som's girl friend and being responsible of her pregnancy. Disappointed by Daeng's behavior, Som marries Daeng's girlfriend, who is also pregnant. Twenty years later, their children meet in Chiang Mai. Will they be able to have a love story after their parents' failure twenty years ago?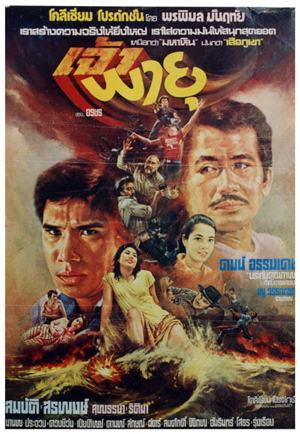 Year

: 1980



Thai title

:

เจ้าพายุ




English title

: Thunder Kid



Rating

: 5/5


Director

: Kom Akadej



Main actor

: Sorapong Chatree,Sombat Methanee,Manop Aussawathep,Prachuap Ruekyamdee,Dam Datsakorn,Somsak Chaisongkram,Lak Apichat,Choomporn Theppitak,Somchai Samipak,Chat Mongkolchai,Pipop Pupinyo,Siripong Isarangkul,Paen Pleumsachai,Pao Porapak


Main actress

: Supansa Nuengpirom,Piathip Kumwong,Thitima Sangkapitak,Duangcheewan Komolsen
Thai movie เจ้าพายุ was released in year 1980 and lasts 1h55mn. It was never released in Thailand but is still available overseas in Sweden as it was sold through VHS format. Palat (Sombat Methanee) rapes Piathip Kumwong, his former wife, as he is upset she has another lover (Manop Aussawathep). A kid is born from this relationship but it has no recognized father (ไม่มีพ่อแต่ต้องมีชื่อ). Manop is said to be Yu's father. Uncle (พ่อลุง) Jaeng (Prachuap Ruekyamdee) names the kid as Thunder (เจ้าพายุ), as he is born during a storm, but his nickname is Yu. When Yu was 3 years old, Piathip left home as Palat was having a new wife called Duangcheewan. Being adults, Eum (Thitima Sangkapitak) and Yu (Sorapong Chatree) love each other since childhood. Eum's parents promise her to another man called To (Dam Datsakorn). Palat, Somsak Chaisongkram and To try everything to break this relationship. Eum and Yu flee but are chased by Palat and ruffians led by To. Yu accepts to surrender and is sent to prison. Manop Aussawathep, father of Yu, learns that Palat has been nominated as chief district. He still has a debt to pay with Palat. While Palat is resting with his family, he does attack them. Palat's new wife (Duangcheewan Komolsen) is shot dead. Pho Seua (Choomporn Theppitak) in prison teaches Yu to master resistance and strength. Yu becomes friend with Pha (Lak Apichat) in prison. Eum, knowing that Yu's father killed Duangcheewan, cannot marry Yu anymore and accepts to marry To. Yu is devastated to learn this news. After a while, Yu is released from jail. Pha is waiting for him. Yu helps Sia Wiwat (Somchai Samipak) and his daughter Chan (Supansa Nuengpirom) Chan having issues with ruffians. He has conflicts with Chat Mongkolchai, head of workers (ป่าไม้). Meanwhile To sends some men (Somsak Chaisongkram and Pipop Pupinyo) to get rid of Yu. Siripong Isarangkul is playing the big boss. They push Manop to force his own son Pha to get rid of Yu. Pha and Yu are in fact brothers. As Pha refuses to kill Yu, To sends Paen Pleumsachai to kill him but it fails as Pha is only injured. Pha gets revenge by shooting Siripong Isarangkul. To's hidden plan is to get rid of Sia Sawat, Yu and to get the sawmill for himself and to get Chan as wife for Chat. Chat uses heavy machine to drop tree logs on the office, where Sia Wiwat and uncle Jaeng are working. Uncle Jaeng dies. Yu has to take revenge on Chat and To. Yu chases To until he can kill him. Final fighting does occur between Manop, Palat and Yu. Manop catches Yu and threatens to kill him if Palat doesn't surrender. Yu is Palat's real son! Piathip already lost one son so she cannot accept this and shoots Manop.



Year

: 1980



Thai title

:

พ่อจ๋า




English title

:



Rating

: 3/5


Director

:



Main actor

: Sorapong Chatree,Settha Sirachaya,Sor Asanajinda,Witoon Karuna


Main actress

: Nanthida Kaewbuasai,Ratanaporn Intarakamhaeng,Thitima Sangkapitak,Chosri Misommon,Tukata Jindanuch
Yen (Thitima Sangkapitak) flees her family as her father wants to force her to marry a man she doesn't love. She wants to commit suicide. Yen is saved by Pon (Sorapong Chatree), a poor young man living in a slum. They live happily a few months and she gets pregnant. Her father finally finds her. She has to go back with him and leaves Pon. On her wedding day, Pon appears to take back his new born daughter to bring her up. Her name is Yuwadee. During many years, he works very hard to pay for her education and keeps secret his low society level status. Having financial problems following an accident, his daughter Yuwadee has to go back in Yen's family but she is not happy. He finally succeeds to get Yuwadee back. Now becoming a TV serie star, her career is endangered by rumours about her father. Forced to appear on the stage, Pon insults and dishonors himself to avoid that his daughter career is damaged. Will Yuwadee reject her father? Yuwadee character is played by actress and singer Nanthida Kaewbuasai. A few songs are featured in the movie. Thai cinema often uses young actors and make them look older instead of using real veteran actors. This movie highlights the strong bonds between a father and his child. A first version of this movie was directed by Sor Asanajinda in 1957. Sor Asanajinda is playing Yen's father in this 1980 version! Ratanaporn Intarakamhaeng, who played as leading actress in the 1957 version, is also playing in the 1980 version.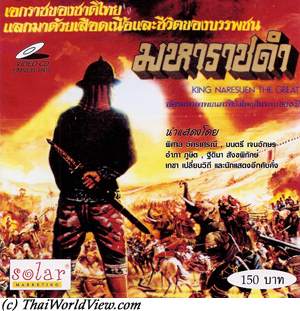 Year

: 1979



Thai title

:

มหาราชดำ




English title

: King Naresuen The Great



Rating

: 3/5


Director

: Toranong Srichua



Main actor

: Pisarn Akraseranee,Kecha Plianvithee,Somsak Chaisongkram,Pumi Patanayut


Main actress

: Ampha Pusit,Thitima Sangkapitak



Buy now

:

This movie is about King Naresuen The Great. The King Naresuan was famous for having a duel on elephants with the Burmese Crown Prince and won against him in year 1593. King Naresuan regained independence from Burma for the kingdom of Ayuthaya.
---