Increase or decrease font size for easier reading : A+ A-
Thep Po-ngam
Thep Po-ngam (1949) - สุเทพ โพธิ์งาม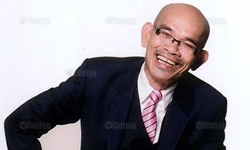 Thep Po-ngam is a comic actor who played in more than 30 movies
This Thep Po-ngam movie page contains 11 records.
---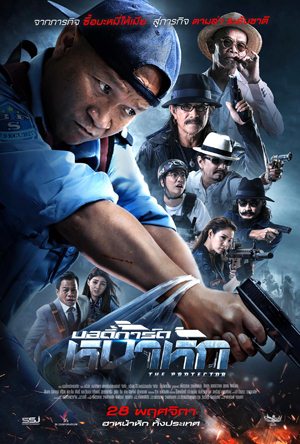 Year

: 2019



Thai title

:

บอดี้การ์ดหน้าเหลี่ยม




English title

: The Protector



Rating

: 3/5


Director

: Pipat Jomkoh



Main actor

: Mum Jokmok,Thep Po-ngam,Ekkachai Srivichai,Chusak Aiemsuk


Main actress

:
Thai movie บอดี้การ์ดหน้าหัก / The Protector was released in year 2019 and lasts 1h19mn. The movie director is Pipat Jomkoh. Mok Jokmok already played in the movies "Bodyguard" 1 in 2004 and 2 in 2007. It is a mix of comedy and action. Kam Kon (Mum Jokmok) is a guard in a bank. He is an expert with sling. Choon is an Indonesian businessman. One evening, an Indonesian man puts a USB key in Choon's pocket. Ruffians led by Ed Carabao try to kill him. Kam Kon meets Choon by luck in a noodle soup shop. As the ruffians shoot people in the shop, Kam Kon helps Choon's bodyguard to push back assaillants with his sling. As Choon's bodyguard is shot, Kam Kon becomes his protector. The ruffians, led by the Indonesian ambassador, capture Choon's daughter. Taking the profit that Kam Kon goes to buy some food, the ruffians capture Choon. Ruffians features the Carabao group members, Thep Po-ngam and singer Ekkachai Srivichai. Kam Kon meets Dim (หรินทร์ สุธรรมจรัส) and relates what happened. Mobile phones have been exchanged by mistake and the USB key is now with Kam Kon. Ruffians threaten Choon and his daughter, but the USB key is not with him anymore. The ruffians identify that Kam Kon is a former commando soldier. Both groups identify their location thanks to the phone. Kam Kon calls his friend Pai (สิตางศุ์ ปุณณภพ) to support him. The group led by Kam Kon attacks the ruffians' secret location. Ruffians are defeated and Choon agrees for his daughter to marry Dim.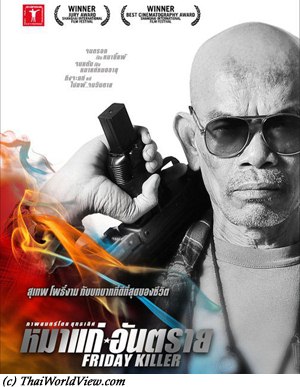 Year

: 2011



Thai title

:

หมาแก่อันตราย




English title

: Friday killer



Rating

: 4/5


Director

: Yuthlert Sippapak



Main actor

: Thep Po-ngam,Kowit Wattanakul,Sithao Petcharoen,Choomporn Theppitak


Main actress

: Wiyada Umarin,Ploy Jindachot



Buy now

:

P Uzi (Thep Po-ngam) is released from prison and injured by a blade expert (มือมีด). Dao (Ploy Jindachot) visits her dying mother Deuan (Wiyada Umarin) at the hospital. She announces to her daughter that her father is a hitman (มือปืน) just released from prison. Deuan accepted to be a hitman's wife but didn't want her daughter to be a hitman's daughter. While recovering at the hospital, P Uzi receives also a letter from the mother announcing his real paternity. Dao's stepfather (Kowit Wattanakul) tries to rape her sister Phet. P Uzi, trying to contact Dao, helps to prevent the rape by hitting strongly the stepfather but finally gets accused of the murder. Dao is a policewoman and wishes to revenge her stepfather. P Uzi's house in Chantaburi is occupied by a small man wearing same clothes as "Kill Bill" movie and acting very weirdly so he has to retreat. Ong (Choomporn Theppitak) is P Uzi's former boss. While withdrawing money from ATM machine, P Uzi is threatened by 5 gangsters with deformed face reminding of famous actor Songthong and promoting a politician who believes he can buy all Thai people (ซองเงิน) to be elected and then gets back his money through overpriced commissions during public tenders. Hitman myth is demystified in Yuthlert Sippapak's movies. P Uzi has even vision problems. Dao arrives in Chantaburi to look for P Uzi but finally arrests the blade expert and crazy "Kill Bill". P Uzi is recruited to get rid of one corrupted politician's helper. Meng, a corrupted politician, is looking for P Uzi's head. Reusi does an eye chirurgical operation but the doctor, friend of Meng, makes it a failure on purpose. P Uzi wishes to kill Meng. Ed Carabao is even having a small cameo role. Meng is still not dead so P Uzi continues to chase him as Meng's men have butchered his old friend Ong. Dao chases P Uzi and shoots him while he was trying to get something from his jacket. It was not a gun but a letter. At the last minute, he finally replaces the touching letter with full explanations by a laconic letter asking for funerals. Sometimes it is better not disclose the truth. Movie "Friday Killer" (2011 ~ 3M baht revenue) is part of a trilogy including "Sunday Killer" and "Saturday Killer" (2010 ~ 15M baht revenue). "Sunday Killer" was not released in 2012. Maybe due to bad revenue results of "Friday Killer"? As usual there is a great soundtrack. This Yuthlert Sippapak movie mixes action, social messages and great humor. This movie has won the best cinematography and jury awards at the Shanghai International Film Festival.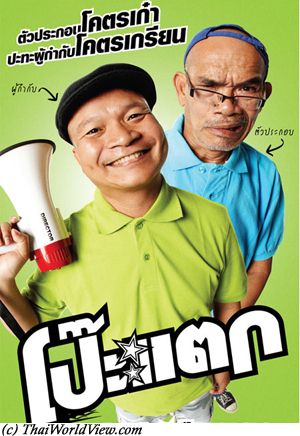 Year

: 2010



Thai title

:

โป๊ะแตก




English title

:



Rating

: 1/5


Director

: Mum Jokmok



Main actor

: Mum Jokmok,Pongsak Pongsuwan,Akom Preedakul,Thep Po-ngam,Chusak Aiemsuk


Main actress

: Tukkie



Buy now

:

This movie is a comedy that explores the lives in front and behind the camera of Thai's film industry. Mum Jokmok has invited all the comic actors from decade 2000s such as Tukkie, Pongsak Pongsuwan, Akom Preedakul, Thep Po-ngam... Certainly not a 100 millions baht movie, which is the new mark for box-office hit for decade 2000s movies. Thep Po-ngam is Mum Jokmok's mentor. In 2009, the Court of Justice of Thailand affirmed Thep Po-ngam bankrupt so there is self irony when he visits Mum Jokmok to produce a movie. He finally only gets a role as actor. Mum Jokmok is responsible of a company making movies. Same as comic TV programs, there is a funny noise at each gag. Mum Jokmok is the director (ผู้กำกับ) and faces many comic issues to have the movie shot. It includes the ceremony (งานเลี้ยงปิดกลอง) for the blessing of a new movie. Various comic sequences happing during shooting and behind the stage. This movies looks like more a succession of sketchs linked with a Thai movie shooting background. It looks like more a TV comic program put on a movie stage. There is no real story.



Year

: 2007



Thai title

:

เมล์นรกหมวยยกล้อ




English title

: Bus Lane



Rating

: 3/5


Director

:



Main actor

: Kiet Kijcharouen,Thep Po-ngam,Udom Taepanich


Main actress

:



Buy now

:

The comedy Bus Lane was a big success with 85 million baht in ticket sales. The story takes place on a Songkran festival afternoon. A Bangkok bus is piloted by an irritable driver, who is seconded by an abusive ticket collector. The assortment of passengers is a collection of characters often seen aboard Bangkok buses. When the driver, upset by some water-throwers, skips a stop, a passenger raises a tumult. The man finally pulls out a gun and forces the driver to keep driving further away from Bangkok. Funny and lively interaction then happens between passengers. The movie examines human virtues and selfishness in the face of situational crisis.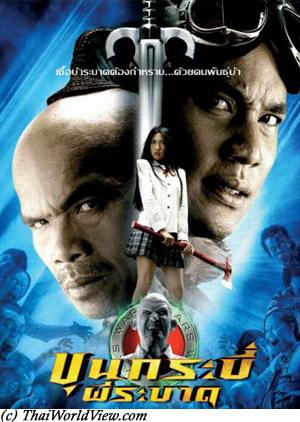 Year

: 2004



Thai title

:

ขุนกระบี่ผีระบาด




English title

: SARS Wars



Rating

: 5/5


Director

:



Main actor

: Thep Po-ngam,Somchai Sakdikul


Main actress

: Naowarat Yooktanun



Buy now

:

Sars decease spreads worldwide and reaches Thailand. The first to be contaminated is famous TV star Andrew Biggs! Andrew Biggs is television personality in Thailand. Meanwhile the daughter of a mafia leader, called Liu, is kidnapped and kept in the same building as Andrew biggs. A ten million baht ransom is requested. Police shall not be contacted to avoid the daughter facing serious trouble. The father hires a man, who recommends his best student called Nai. Nai speaks like an old style Ayutthaya soldier. Liu succeeds to escape her kidnappers and is rescued by Nai. Andrew Biggs has then become a zombie eating flesh and contaminates many other people in the building. The Thai government closes the building as the virus has spread inside. It is full of zombies. Liu and Nai cannot exit. One government doctor wishes to try her vaccin while another doctor wishes to destroy the whole building to eradicate the virus. This comedy movie mocks the infamous Thai cinema censors and OTOP products (One Tambon One Product). It features Thai classic gags including lady boys (กะเทย), flatulence, giant snake, crazy ghosts (ผีบ้า). It includes references to other foreign movies Jedi, Alien and Thai horror with baby spirits (กุมารทอง). Nai gets bitten also. His master (อาจารย์) comes to help. They suceed to defeat the giant snake and escape from the building. The kidnapper has disguised himself as Liu and so Nai has lost his virginity to a transsexual... Finally the real Liu is retrieved. The bad doctor is bitten by the zombie baby so the SARS decease is not stopped. This movie includes gore scenes with zombies and many funny gags. It really looks like a crazy sexy manga. This movie was not a big success at the Thai box office but it has become a cult movie outside Thailand.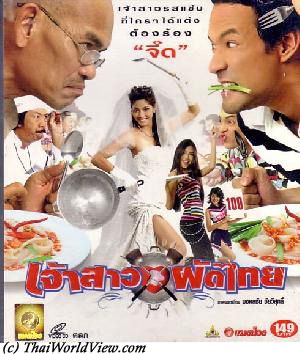 Year

: 2004



Thai title

:

เจ้าสาวผัดไทย




English title

: Pad Thai Story



Rating

: 3/5


Director

:



Main actor

: Thep Po-ngam,Somchai Sakdikul


Main actress

: Mamee Nakprasitte



Buy now

:

Phet (เพชรา) is a young lady from a Thai Chinese family. Today there is happiness as it is her younger sister's wedding. She is still single (หาผัวไม่ได้). She puts hope in an office colleague but she discovers that he is gay. Phet losts her job but doesn't dare to announce this bad news to her father. The father is having a local restaurant business specialized in Thai Fried Noodles. She meets a teacher Surachat (อาจารย์สุระชาติ) but misunderstandings happen between them. Her father finally discovers she is out of job and she accepts to work as cook (แม่ค้าผัดไทย). There is tension between Soi (ซอย) inhabitants as a multinational company wishes to buy the houses in order to build a department store. Not all accept. One of the side-street leader is played by veteran actor Thep Po-ngam. He protests every day. Phet's father has a health weakness while Phet is out to watch a movie with the teacher. She has arguments with her sister claiming that as she cannot find a husband she should better take care of their father. Phet claims that whoever will come to eat 100 times to her Thai Fried Noodles shop will become her husband. This statement makes noise in the community. A TV producer learns about this and helps to organize a TV game. There is one million baht and Phet's hand for the winner. The game name is Thai Fried Noodles love (ความรักผัดไทย)! Feminist activists complain and call it ผัดไทยขายSex. Many people join (farang, indian, gay and even a former boyfriend Surachsi). Every day, a few people give up as they cannot stand Thai Fried Noodles overdose. At the end, only 3 candidates remain, a lady boy, the teacher and the former boyfriend. The teacher loses as Surachsi gives him a bad medicine to get sick (ท้องเสีย). He is finally qualified again as it is discovered that the lady boys were twins cheating. As the TV producer is found to be out of pennies, the former boyfriend stops also as he was only interested in money prize. Only the teacher remains and wins Phet's heart. The multinational company also finally gives up.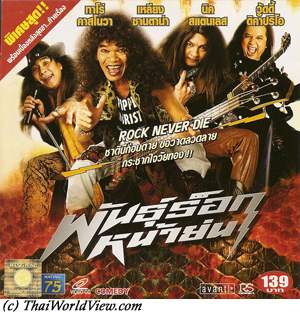 Year

: 2003



Thai title

:

พันธุ์ร็อก หน้าย่น




English title

: Rock never dies



Rating

: 3/5


Director

:



Main actor

: Thep Po-ngam


Main actress

: Penpak Sirikul
Four men who were Rock stars during their youth decide to make a comeback. A former girlfriend, who is now responsible of music marketing, threatens the success of the comeback. Will they succeed? Penpak Sirikul won best supporting actress for her role in this musical comedy.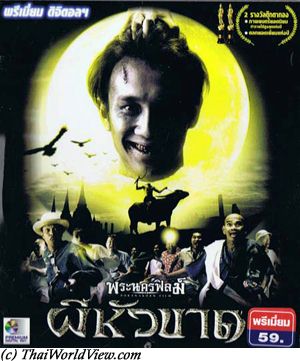 Year

: 2002



Thai title

:

ผีหัวขาด




English title

: Headless Hero



Rating

: 4/5


Director

:



Main actor

: Thep Po-ngam,Choomporn Theppitak,Jaturong Mokjok,Note Chernyim


Main actress

:



Buy now

:

Before his death, Diao's father instructed him to look for an old friend in a remote village. In this village, he became famous by winning a buffalo racing competition, the boxing competition and the attentions of the village beauty. He also managed to upset the local gangsters by protecting the poor people. After the competitions, Diao chase thiefs, who have stolen the head of a Buddha image in a temple. He managed to retrieve the relic but on his way back to the village, he was accosted by the irate gangsters, who beheaded him. Waking as a headless ghost, he's ready for revenge. It was the best comedy movie of 2002 and received a Thai Oscar award.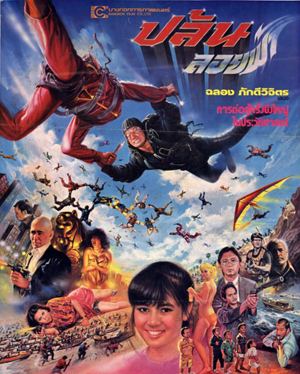 Year

: 1985



Thai title

:

ปล้นลอยฟ้า




English title

: Eye of the condor



Rating

: 3/5


Director

: Chalong Pukdeewichit



Main actor

: Sorapong Chatree,Sayan Chantaraviboon,Thep Po-ngam,Krung Srivilai


Main actress

:
Many guests including Indian merchant Imadoo (Krung Srivilai) are invited to a diamond show to see the famous Diamond Rasamee. Komkrit (Sorapong Chatree), young playboy, is also present. Following a mess during the show, the power supply is cut and Komkrit succeeds to steal the big diamond. The diamond owner dies due to heart crisis. His son promises to take revenge. Komkrit flees thanks to a delta-plane. Komkrit is always accompanied by a dwarf. Komkrit has been hired by ruffian Araki to steal the diamond. Araki is dishonest and tries to get rid of Komkrit. Following a fight, the diamond falls from the window. Two skilled policemen, Den, coming back from America, and Ms Pisawat are responsible to catch Komkrit (โจรปล้นเพชร). Den is a blunderer. Komkrit and his dwarf assistant are looking for the diamond into a slum they believe it falls in. They are aggressively welcomed by a bunch of other dwarfs. Their younger sister (น้องสาว) is Pheung. A romance starts between Pheung and Komkrit. Araki is also looking for Komkrit. The diamond is finally found on the roof of Pheung's house. Following fights and chase with ruffians and police, the diamond is lost in an ice factory. Den forces Komkrit to help the police if he wants to escape prison. The diamond is found in soft drink ice bag. One of the dwarf swallows it. Araki's team and also Imadoo's team fight each other to get the dwarf. Imadoo claims this jewel is a sacred item for his Indian religion. Komkrit finally gets back the diamond following a fight with Araki's ruffian in the air on parachute. Meanwhile Pheung and the dwarfs are taken as hostages (ตัวประกัน) and have to be exchanged against the diamond to save their life. The police and Komkrit storm Araki's secret base at nighttime. It is also storing a huge stock of weapons. Final part of the movie is a typical James Bond sequence with an impressive number of jet- skis invading the island. Traitors to Thailand are punished. Diamond is finally given back to India. As usual with director Chalong Pukdeewichit, his movies include a mix of action, comedy, a few foreign actors and a spice of sexy actress. The movie ปล้นลอยฟ้า is known overseas under the name "Eye of the condor".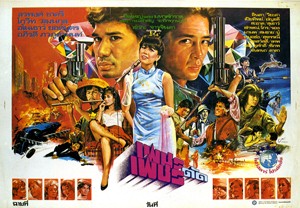 Year

: 1984



Thai title

:

เพชรตัดเพชร




English title

: Diamond vs Diamond



Rating

: 4/5


Director

: สักกะ จารุจินดา



Main actor

: Sorapong Chatree,Kowit Wattanakul,Somchai Samipak,Paen Pleumsachai,Krai Kanchit,Pipop Pupinyo,Manop Aussawathep,Boo Wibunnan,Pao Porapak,Rong Kaomulkadee,Lak Apichat,Sahat Piempongsan,Thep Po-ngam,Suchao Pongwilai


Main actress

: Apiradee Pawaputanon,Piathip Kumwong,Wiyada Umarin,Anchalee Chaisiri,Linda Khatancharoen,Janthana Siriporn,Suphanee Jitthieng



Buy now

:

Thai movie เพชรตัดเพชร was released in year 1984 and lasts 2h07mn. It was released under VCD format by Solar company and under VHS format. A remastered HD version was released during decade 2010s by Five Star Production. This movie features an impressive number of famous Thai actors and actresses from decade 1980s including less known actors หมอซ้ง, พุนสวัสดิ์ ธีมากร, วุมิ คงคาเขตร, ชูศักดิ์ สุธีรธรรม, ดาดา. Movie director is สักกะ จารุจินดา. Thai movie เพชรตัดเพชร was originally released in the year 1966 with Mitr Chaibancha, Luechai Natnat and Petchara Chaowarat. It was also released as Thai TV series in the years 2011 and 2016. Suchao Pongwilai is drunk inside a disco with a partner (Linda Khatancharoen). Mo Sing (หมอซ้ง) tries to seduce the partner so it makes Suchao angry and a fight erupts. Mo Sing loses a two colours denture and gets angry. He shoots Suchao and flees. The partner is found back by Mo Sing, but she claims she doesn't have the denture. Pailin (Piathip Kumwong) is the gang's leader. Yot (Kowit Wattanakul) is her right hand. During a drug exchange, Cheut (Sorapong Chatree) is killed by Yot keeping both drugs and money. Head of police Somchai Samipak talks to police officer Naresuan (Sorapong Chatree). He needs him to neutralise a drug gang working in Thailand, Hong Kong and Macau. Cheut is Naresuan's twin. They were separated when they were 12 years old. Naresuan wishes to revenge his dead brother. Naresuan accepts the mission and will act as Cheut in order to catch Yot. In a bar, Cheut meets Paen Pleumsachai, Pipop Pupinyo as he is looking for Yot. Cheut meets his previous girlfriend Yoi (Wiyada Umarin) having Manop Aussawathep as new husband. Fighting occurs in the bar. Back to Yaowarat district, Cheut ends up in Boo Wibunnan's entertainment centre and meets Anchalee Chaisiri. She suggests him to go to Jumbo bar to find Yot. There, Cheut is facing Pao Porapak. Cheut finally finds Yot with his girlfriend, then steals his suitcase full of drugs and gives it back to the police. Cheut flies to Hong Kong. He meets Pailu (Apiradee Pawaputanon), a singer. Pailu introduces him to Cheng (Krai Kanchit). On a boat in Sai Kung, Cheut meets Cheng again. Coming for a drug exchange, Cheut steals money from Cheng. He gets help from Jo (อโนเชาว์ ยอดบุตร), an undercover HK policeman. HK Police recommends to Cheut to leave Hong Kong as soon as possible for his own safety. Rong Kaomulkadee and Lak Apichat are working for Sahat Piempongsan, former boss of Cheut. Sahat thought Cheut was dead. Knowing Cheut is still alive, he decides to help him. Yot sends a killer to get rid of Cheut but he fails. Cheut learns from head of Police Somchai that Pailu is from Interpol. Another tentative to kill Cheut fails again. Cheut gets help from Rong. Thai police uses a stratagem for Jo to join Cheng's team. Facing a fight with ruffians, Cheng is helped by Jo in a bar. Convinced by his skills, Cheng asks him to join his team. Pailin is business partner with Cheng. Per Pailin's order, Yot captures Cheut. Cheng wants to get back his money. Meanwhile, Sahat captures Pailin's men in order to know where they keep Cheut. Cheut claims the money was confiscated by the HK Police but the drug is still stored in a suitcase hidden in Pailu's home. Pailu gets help from Somchai so that drug is given back to ruffians. Cheng starts to suspect Pailu also. She fails to escape. Meanwhile Thai police surrounds the ruffians' den. Yot plans to kill Cheut but it fails through a final epic fight between Cheut and Yot. Finally Thai police arrests all ruffians. Sahat fails to flee.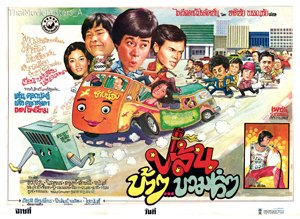 Year

: 1979



Thai title

:

ปล้น บ้าๆ บวมส์ๆ




English title

: The Mad Robbery



Rating

: 3/5


Director

: เพชร ราชภรณ์



Main actor

: Der Doksadao,Thep Po-ngam,Sithao Petcharoen,Thuam Thoranong,Sompong Phonmitr,Dam Datsakorn,Lak Apichat,Pipop Pupinyo,Somsak Chaisongkram,Boo Wibunnan,Sukon Koewliam


Main actress

: Nipaporn Nongnuch,Duangcheewan Komolsen,Malee Wetpraseri,Chosri Misommon
Thai movie ปล้น บ้าๆ บวมส์ๆ / The Mad Robbery was released in year 1979 and lasts 1h43mn. A remastered version was released by Five Star Production (ไฟว์สตาร์โปรดักชั่น) in the decade 2010s and shown on Thai TV cable. It was released under VCD format by Lepso company. Movie director is เพชร ราชภรณ์. A group of six friends (including เด่น ดอกประดู่, Der Doksadao, Thep Po-ngam) are doing magic tricks and selling medicine to cure toothache, but it fails to be a good business. Running out of money, they decide to rob a bank. Sithao Petcharoen and Thuam Thoranong are among the policemen being warned about a robbery. Sompong Phonmitr, as head of police, orders the Police to surround the bank. The six friends succeed to flee by disguising themselves as ladies. They put a fake bomb around a group of ruffians (Dam Datsakorn, Lak Apichat, Pipop Pupinyo, Somsak Chaisongkram, อนันต์ สัมมาทรัพย์...), who promised to get revenge knowing it was a trick. The bank boss is Boo Wibunnan. The police head is upset with three policemen as they let the six fake ladies escape. They must catch them back to erase their mistakes. The six friends have a car accident but get help from truck drivers led by young lady Ae (Nipaporn Nongnuch). Ae invites them to her home. There, they find Boo, Ae's father, playing cards with other men. Luckily, Boo does not recognize them. Boo is losing money. As Tok is knowing card tricks, he gets the money back. The six friends prefer to leave afraid that Boo would recognize them. They decide to look for a job in Bangkok. Ae invites them to her home in Bangkok and guarantees that her father will find jobs for them. Going to Bangkok, Tok leaves the bank bag full of money to his aunt Malee Wetpraseri. The friends then separate to avoid being caught by the police. Tok meets his old old friend Elvis (วิสูตร ตุงคะรัตน์ - Thai Elvis), who invites him. In Ae's house, the friends meet the aunt Chosri Misommon and Ae's elder sister Ann (Duangcheewan Komolsen). The ruffians try to take revenge over the six friends, but finally they give up as they see the Police chasing the friends. Back at his aunt's house, Tok finds she has died, and the money has disappeared. At the funerals, Sukon Koewliam announced to Tok that aunt Hom had used the money to donate to the local Buddhist temple to build a sacred chapel. Thai people finally catch the six friends and Boo recognizes them as robbers of his bank!
---