Increase or decrease font size for easier reading : A+ A-
Thanit Jitnukul
Thanit Jitnukul (1956) - ธนิตย์ จิตนุกูล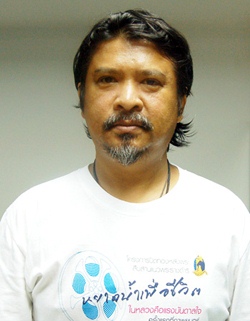 Thanit Jitnukul has made his name by doing historical battle epics (Bang Rajan, Kunpan - Legend of the Warlord and Sema - Warrior of Ayuttaya). He has tried many genres including horror (Art of the Devil and Hell), action (102 Bangkok Robbery and Crime King) and comedy (Andaman Girl). Bang Rajan was supported by Oliver Stone in a theatrical release in the United States. Oliver Stone is known to be a champion of Bang Rajan and considers Bang Rajan as a great film up with Seven Samurai
This Thanit Jitnukul movie page contains 9 records.
---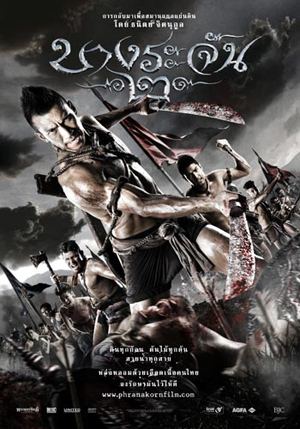 Year

: 2010



Thai title

:

บางระจัน 2




English title

: Bang Rajan 2



Rating

: 3/5


Director

: Thanit Jitnukul



Main actor

: Chatchai Plengpanich,Vinai Kraibutr,Choomporn Theppitak,Bin Banleurit,Paradorn Srichaphan


Main actress

:



Buy now

:

After the fall of Bang Rajan, a group of Thai warriors is left and settle a remote hidden village. With the help of a charismatic Buddhist abbot (หลวงพ่อ), they decide to fight back. Burmese army is looking for them. It results in embuscades. Bloody sequences with CGI similar to US movie "300", head cuts, blood splitting on the screen are featured. This is a nationalist trend movie as Thai people cannot let Burmese army occupies their land (แผ่นดินของเรา). They all think about their life when the war will be over. Currently food is not enough in the village (ชุม) as many people take refuge there (คนเยอะ). Chatchai Plengpanich is playing a soldier (ทหาร), i.e. Phaya. His group is overwhelmed by Burmese soldiers in the forest but he gets help from the former Bang Rajan soldiers. Ayutthaya capital (กรุงศรีอยุธยา) is burning in the background. Tensions happen between soldiers and villagers (ชาวบ้าน). Burmese use some villagers through coercion to try to kill the Buddhist abbot (บารมีหลวงพ่อ). As they fail, all their relatives are killed by Burmese. Phaya asks for a revolt to end the everyday deaths. They have to choose between hide or fight. Two profiles of collaborators with Burmese are shown, a woman (being a courtesan with the Burmese leader in order to get food for her captive mother) and a slave (being passive in front of Burmese soldiers in order to save his life). The Burmese soldiers steal a huge Buddha statue from Ayutthaya to bring it back home. Thai warriors defeat the Burmese soldiers and succeed to save the Buddha statue (so huge that CGI effects have to be used). The courtesan and the slave being deceived by the Burmese change side. The spirits of Bang Rajan fighters (veteran actors from Bang Rajan movie part 1 : Vinai Kraibutr, Choomporn Theppitak, Bin Banleurit) give to the fighters additional strength. A bigger army comes. The abbot accepts to surrender to spare the villagers lives. The monk announces to the Burmese general that they will never win as long as there are warriors like Bang Rajan villagers in Thailand. The abbot is sentenced to death. The Thai warriors seem to face a too big army to be able to win. But Bang Rajan spirit is on forever. Former Thai tennis star Paradorn Srichaphan played in this movie. The movie lasts 2h02mn.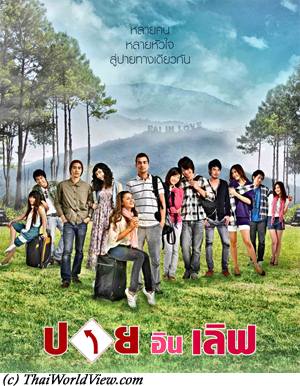 Year

: 2009



Thai title

:

ปายอินเลิฟ




English title

: Pai in love



Rating

: 3/5


Director

: Thanit Jitnukul,Prachya Pinkaew,Bongkoj Kongmalai



Main actor

: Ray McDonald


Main actress

: Supaksorn Chaimongkol



Buy now

:

Paris and Venise are well known to be romantic cities. Is Pai going to be the next romantic city? A group of teens come to Pai to shoot a movie. The young director has many original ideas about love stories in Pai and try to include touching moments. The six small stories are mainly based on succinct and brief unexpected encounters which generate love. The six stories are shot by different directors including Thanit Jitnukul, Bongkoj Kongmalai and Prachya Pinkaew. One story is about a young lady, fed up with her life on Bangkok. She notices some unread postcards in neighbour's letter box. She reads them. It is related to a man writing news about his small business in Pai to his old girlfriend. This one is not interested by the postcards anymore so the young lady decides to go to Pai. In another story, it is discovered that Koi, owner of the shop selling the postcards, writes the letter for the young man as he doesn't know how to write romantic letters. Love finally emerges between Koi and the young man. Prachya Pinkaew's short story is about a man waiting along the road and seeing life events near him. He is located at Pai's mileage stone 0 km (ปาย 0 km). Nice moments happen until it is finally discovered that the man is the spirit (เจ้าที่) of the mileage stone! Bongkoj Kongmalai's short story is about a Bangkokian backpacker coming to Pai to relax. He meets a nice girl who has just been dumped. Unfortunately he needs to go back to Bangkok. Another story if about a man, who needs to marry a young woman, living in Pai, only to share a plot of land. Once they divorce they can sell the land to a multinational corporation willing to build an hotel. As love emerges, they don't divorce and keep the land. The unity of the six stories is sometimes discutable.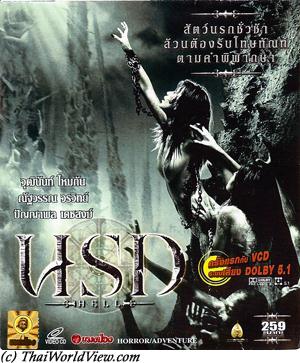 Year

: 2005



Thai title

:

นรก




English title

: Hell



Rating

: 3/5


Director

: Thanit Jitnukul



Main actor

:


Main actress

:
Some young people are on the way to film some clips. Unfortunately, a car crash takes their life away and their spirits are brought to Buddhist hell! Each bad human is sentenced to be tortured for their sins and misdeed they have done. The bad sins are Kill animal, Steal anything, Make wrong on sex, Lie, Incite quarrels among allies, Speak rude words, Revenge anyone, Mistake evil of good. Only the car driver is really dead but the other accompany unluckily him to hell. The other must escape to their own world before hell guardians could hold them back. The studio Sahamongkol Films achieved limited returns from Hell with 22 million baht.



Year

: 2004



Thai title

:

102 ปิดกุรงเทพปล้น




English title

: Bangkok Robbery



Rating

: 3/5


Director

: Thanit Jitnukul



Main actor

: Chatchai Plengpanich,Amphol Lumpoon


Main actress

:



Buy now

:

The Thai Government's declaration to settle debts with the IMF inspires a powerful secret organization to plan a robbery of the national properties. Leader Nawin, a former experienced soldier, heads up the mission, and must go head-to-head with talented undercover detective Pakorn, who's bidding to halt Nawin and his team. Both men have just 102 hours to successfully complete their respective missions.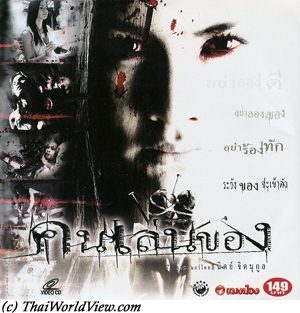 Year

: 2004



Thai title

:

คนเล่นของ




English title

: Art of The Devil



Rating

: 3/5


Director

: Thanit Jitnukul



Main actor

:


Main actress

: Supaksorn Chaimongkol



Buy now

:

A married man, Prathan, maintained an amorous relationship with a young lady called Boom. But when he learned that Boom had fallen pregnant, he dumped her. But Boom cast a black magic curse, killing Prathan while Boom reaped the profits of his wealth, as she carried his son. But when her son died during an accident, Boom's fortune went to another minor wife of Prathan, Kamala, and her children. So Boom reclaims what she believes is rightfully hers, so she uses black magic to kill them one by one to achieve her goal.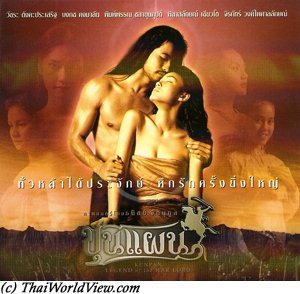 Year

: 2002



Thai title

:

ขุนแผน




English title

: Kunpan : Legend of the War Lord



Rating

: 3/5


Director

: Thanit Jitnukul



Main actor

:


Main actress

: Bongkoj Kongmalai,Supaksorn Chaimongkol



Buy now

:

It is based on old folk tale "Khun Chang Khun Paen". This is the story of Khun Chang - a tax collector - , Khun Pan - a warrior - and Nang Wantong, wife to both Khun Chang and Khun Paen.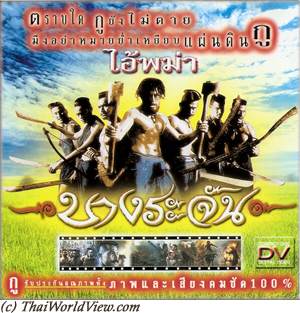 Year

: 2000



Thai title

:

บางระจัน




English title

: Bang Rajan



Rating

: 4/5


Director

: Thanit Jitnukul



Main actor

: Bin Banleurit,Vinai Kraibutr,Choomporn Theppitak


Main actress

:
In 1766 the Burmese were moving close to Ayutthaya. But before they could reach the capital, the Burmese soldiers had to pass through Bang Rajan, a town northwest of Ayutthaya. Led by a few brave souls, the Bang Rajan villagers put up a strong fight against an entire Burmese army. During several months and many assaults, the villagers stood strong, until finally they were overwhelmed. The movie was Thailand's biggest box office hit ever until movie Suriyothai was released. Bang Rajan 2 is on the way for 2010! This historical epic is based on the theme of ancient rivalry with Burma and ferocious patriotism. The Culture Ministry registers 25 Thai classic films each year at the National Film Heritage Registry. This movie is part of the 25 films heritage list announced on 04 October 2015, which is Thai Movies Conservation Day.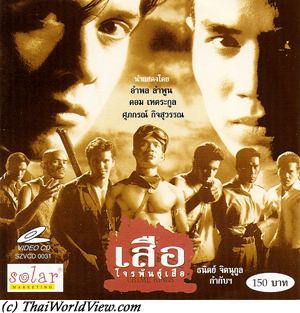 Year

: 1998



Thai title

:

เสือ โจรพันธุ์เสือ




English title

: Crime King



Rating

: 4/5


Director

: Thanit Jitnukul



Main actor

: Amphol Lumpoon


Main actress

:



Buy now

:

Thai movie เสือ โจรพันธุ์เสือ / Crime King was released in year 1998. It lasts 2h04mn. Just after World War II, many gangs were active in Thailand. One gang led by Seua Bai (เสือใบ) was robbing rich bad men to redistribute their money to poor peasants. This movie is based on a real story. This movie deals about the police chase towards Seua Bai and his gang. The former rocker turned screen star Amphol Lumpoon received a Best Actor Award for this movie. Thai Police has to catch Seua Bai (Amphol Lumpoon) and his team within 6 months. Two of his men steal villagers' money to gamble. They have to be punished. His girlfriend Lai wishes Bai to stop being given a robber and asks for their forgiveness. Police tries to locate Seu Bai and his team. Villagers don't speak as Seua Bai supports poor people. Fighting is happening in a gambling den as his men (ลูกน้อง) misbehave. Seua Bai is a smart robber so police fails to catch him. Soldiers attack a village, where they believe Seua Bai and his men are hiding during day time. Police and soldiers know the place as two members of Seua Bai's team disclosed the exact location against money. Seua Bai wishes to take revenge but he falls in a trap. During the fightings, Lai is killed. Seua Bai is finally captured while paying respect to Lai's funeral urn. Following the 1932 Thai revolution which transformed the government from an absolute to a constitutional monarchy, some people were unhappy to lose power. Some people wished to kill Bai as he was an Oxford erudite but they killed his wife instead. Bai had to become a thief to protect citizen against people abusing power. Seua Bai's teammates succeed to release him from prison following a daring escape. Seua Bai flees with Phi Bun to the South in Betong area. He tries to have a normal life but the family, who shelters him, faces issues with a local kingpin. Boolong, Phi Bun's girlfriend, is killed. Revenge is needed. Police ask Seu Bai to surrender but he doesn't want to give up as all his friends are dead...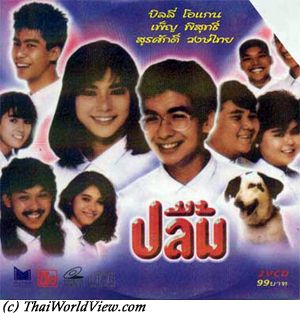 Year

: 1986



Thai title

:

ปลื้ม




English title

:



Rating

: 3/5


Director

: Thanit Jitnukul



Main actor

: Billy Ogan


Main actress

: Pen Pisut
Pleum is a teen comedy and romantic movie. It involves many male characters such as Beng, Nat, Duang (ด้วง), Somchai and a few female characters such as Ah, Parn, Fon (น้ำฝน). Waen's friends bring him for a last surprise party as he is going abroad. All remaining friends move to a new house. They have concern that the house is haunted. The rent is cheap as it is an old house. The teens experience life in community. The boys try seduction games with girls but it is a failure (ไม่กล้า). Nat tries to be Parn's boyfriend (แฟน). Friends help each other and give hints to succeed. Somchai is trying with Fon (จีบผู้หญิง) but he is too timid (ปิ๊งๆผู้หญิง). Jealousy and misunderstanding happens between Nat and Parn. Somchai needs to fight Fon's boyfriend through a Thai boxing fight to win Fon. Fon's presence dynamizes Somchai to win the match. Nat and Parn finally also reconcile. It is a good mood movie with modern 1980s songs and a succession of funny gags even if there is a lack of real scenario. This movie got success in 1980s thanks also to the song ตัดใจไม่ลง. The movie made 10M baht at the box office and got a best director award in Thai cinema ceremonies (รางวัลสุพรรณหงส์ทองคำ). It is the second part of Thai movie "ซึมน้อยหน่อย... กะล่อนมากหน่อย" which includes only new actors so new faces! So it was a new kind of comedy style for 1980s teens including jokes (หน้าแตก), language shortcuts, songs style teen public was used to. Many other similar teens movies followed up this trend but they were not as successful.
---