Increase or decrease font size for easier reading : A+ A-
Tasawan Saneewong
Tasawan Saneewong (1951) - ทัศน์วรรณ เสนีย์วงศ์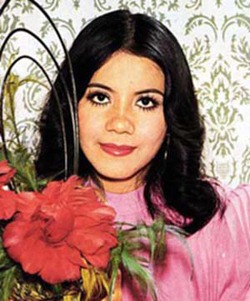 Tasawan Saneewong starred in around 50 films from 1972 to 2006
This Tasawan Saneewong movie page contains 21 records.
---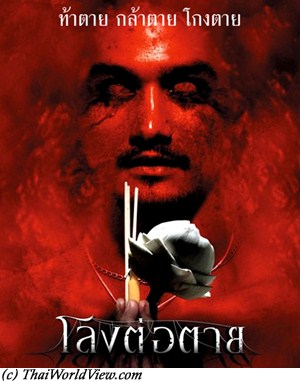 Year

: 2008



Thai title

:

โลงต่อตาย




English title

: The Coffin



Rating

: 3/5


Director

: Ekachai Uekrongtham



Main actor

: Ananda Everingham,Suchao Pongwilai


Main actress

: Karen Mok,Tasawan Saneewong



Buy now

:

This movie is inspired by the Thai Buddhist ritual of lying in coffins to get rid of bad luck (นอนโลงให้โชค). A young Thai man, Chris, and a young Hong Kong woman, Sue, decide to go through this ritual. Chris does it in the hope of saving his Japanese fiancee who is dying of terminal cancer. Sue does it to save her own life after being diagnosed with a brain tumor one week before her wedding with Jack. After the ritual, Chris and Sue experience some miracles in their respective lives. Soon they find themselves confronted by a series of scary events. Chris always see a woman and her baby. She is his ex-girlfriend who died along with her child. Sue learns that her fiancee is dead and gets haunted by him. Sue consults an expert in the paranormal and later Chris to try to solve her supernatural difficulties. Chris and Sue decide to go again a last time through the ritual to reverse the wheel of Karma...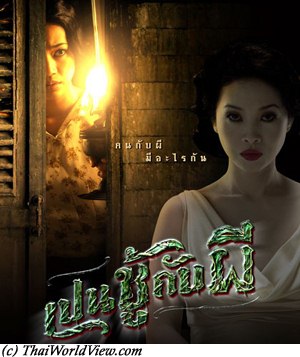 Year

: 2006



Thai title

:

เปนชู้กับผี




English title

: The Unseeable



Rating

: 4/5


Director

: Wisit Sasanatieng



Main actor

:


Main actress

: Tasawan Saneewong



Buy now

:

The action takes place around 1930's. Nuanchan is looking for her husband, who has disappeared one year ago following a business trip. She arrives in a old traditional Thai wooden house where he is supposed to have stayed. She is pregnant. The house supervisor, Somjit, allows her to stay but told her not to go in the main building house as it is forbidden as the house ruler, Run-juan, doesn't want to be disturbed. Choi, a domestic helper, mentions she has never seen the house ruler face. Every fifteen days, food is offered at the spirit shrine and she saw a hand grabbing food... Nobody dares going out at night time. There are also rumours about a lady with long hairs who hanged her-self in the garden. Nuanchan misses her husband but mysteriously his face is never shown. Nuanchan delivered the baby. Choi wants to bury the birth remains in the soil as there is an old belief that the spirit "Phi Kraseu" (ผีกระสือ) will eat such food at night time. The house ruler Run-juan has lost her husband and there are rumours she is bringing a lover at night time. The house ruler Run-juan wants to take care of the baby as she never had the occasion to have a baby before. Choi disappeared. One day Nuanchan finds her husband in the garden. He is not able to tell the whole truth but he is staying with the house ruler lady and asks Nuanchan to leave for her own safety. Finally truth is known. Chob is in fact the house ruler lady's husband, who had an infidelity with Nuanchan. So Nuanchan is the mistress! Afraid to loose him, the house ruler lady stabbed him to death. Somjit, seeing the event, fell from the stairs and died. Choi is also a ghost. All people are ghosts. Nuanchan also is a ghost as she hanged her-self before but she still refuses the truth so continues to come to the house to search for her husband. Even if the third movie of Wisit Sasanatien was not as colorful as two previous works, he received a lot of praise for the homage given to films of the 1930s.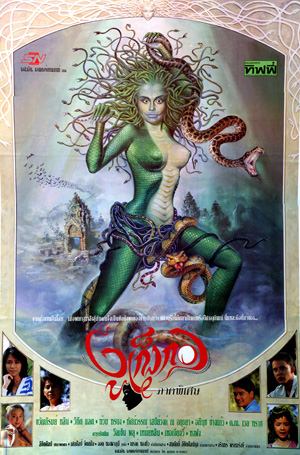 Year

: 1995



Thai title

:

งูเก็งกอง ภาคพิเศษ




English title

: Devil Medusa



Rating

: 3/5


Director

: จรินทร์ พรหมรังสี



Main actor

: Thuam Thoranong


Main actress

: Tasawan Saneewong
Thai movie งูเก็งกอง ภาคพิเศษ was released in year 1995 and lasts 1h34mn. It was released under VCD format in Thailand and under laserdisc format in Hong Kong. Chinese title is 人蛇大战之蛇魔转世 / Devil Medusa. It was released in 2001 and Hong Kong. It features the same content and lasts 1h30mn. It is Thai HK production. Thai actors and actresses include Tasawan Saneewong, Thuam Thoranong, ขวัญภิรมย์ หลิน, วิทิต แลต, miss เหม่ยหลิน, mister หงฟง. Movie director is จรินทร์ พรหมรังสี. A woman, called Suey (ขวัญภิรมย์ หลิน), helps a giant snake about to be killed by hunters. Later, as she is about to drown, the snake helps her. At nighttime, she is courted by the giant snake, so Suey becomes pregnant. The baby born from their love has hair made of small snakes. Suey is the shame of the village as there is no father. The village leader (Thuam Thoranong) wishes to know. Local villagers disdain the mother and her daughter Fa Sai. While playing with other children, she falls. Due to the pain, the snakes into her hair appear. Another child removes her bandana and her hair with snakes is disclosed (เป็นปิศาจ) to all. Villagers burn their house as they believe they are demons. The village leader tries to prevent them. Luckily, a storm occurs, so the fire is extinguished, and they can flee to take refuge in a cave. Their cave becomes full of snakes. The daughter grows and becomes a beautiful woman (miss เหม่ยหลิน). Fa Sai meets a Bangkokian young man, named Vitaya, studying forest and animals. As her mother is sick, she must go back to the city to buy medicine. Vitaya meets Fa Sai again and follows her. A snake attacks Vitaya and Fa Sai saves him. Vitaya and Fa Sai become lovers. Vitaya wishes to marry Fa Sai. Drug traffic is happening in the jungle. A Thai Chinese business is dishonest. Lakchai (วิทิต แลต), his son, likes Fa Sai. Lakchai wants the village leader to act as matchmaker (พ่อซื้อ) with Fa Sai but she is not interested. Lakchai has already three wives. He gets killed by a snake while trying to abuse Sai Fa. His father is looking for revenge. As he could not find Fa Sai, he kills her mother. This time, it is Fa Sai's turn to look for revenge. All members in the house are bitten by venomous snakes. After burying the mother, Vitaya and Fa Sai leave together.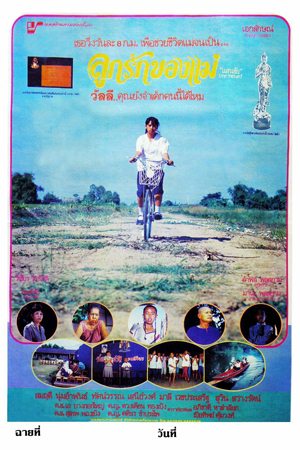 Year

: 1986



Thai title

:

ลูกรักของแม่




English title

: Walli 2



Rating

: 3/5


Director

:



Main actor

: Apichat Halamjiak,Sawin Sawangrat


Main actress

: Tasawan Saneewong,Piathip Kumwong



Buy now

:

As Wally is living without a mother and with a blind grandmother, her father stops being a monk in order to take care about his daughter. Many people gossip that he is interesting by donations given by many Thai people. Wally's sad life continues with the loss of her father and then grandmother. She finally succeeds her university graduation.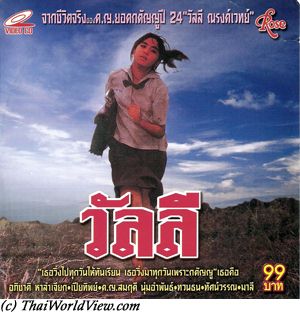 Year

: 1985



Thai title

:

วัลลี




English title

: Walli



Rating

: 4/5


Director

:



Main actor

: Apichat Halamjiak


Main actress

: Piathip Kumwong,Tasawan Saneewong,Malee Wetpraseri



Buy now

:

It is based on a true story. Wally is a girl living with her blind grandmother and mother. Her mother is sick and Wally has to run every day 8 kilometers to go to school and go back to take care of her mother. Villagers think that there is an evil spirit "PHI POP" (ผีปอบ) in the mother's body and hurt her badly. Unfortunately Wally doesn't have money to cure her mother. Wally's bad fate and gratitude ("KATANJOO" - กตัญญู) towards her mother stirs up Thai people and she receives many donations including money and bicycles. But it is too late to cure her mother...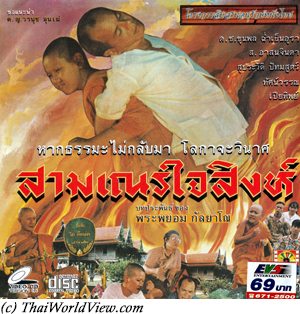 Year

: 1985



Thai title

:

สามเณรใจสิงห์




English title

:



Rating

: 5/5


Director

:



Main actor

: Sor Asanajinda,Pao Porapak


Main actress

: Tasawan Saneewong,Piathip Kumwong



Buy now

:

Thai movie สามเณรใจสิงห์ was released in year 1985 and lasts 1h38mn. It is available under VCD format. Some of the actresses and actors are ด.ช.ขุนพล ฉ่ำเย็นอุรา, สุประวัติ ปัทมสูตร, วรนุช ลุนเผ่, โชติช่วง พุทธสิน. Thai movie สามเณรใจสิงห์ is a powerful movie about Thai Buddhism and people greediness. The story was written by a Thai monk. A family has four kids. The wife Sae (Tasawan Saneewong) is managing a small restaurant selling food and drinks. The husband is a drunkard. He has a group of 4 friends (including Pao Porapak) always drinking together. He keeps asking money to his wife to buy alcohol. The grandmother is rich and keeps supporting her daughter. One son called Sing Chai is still going to school. Two other daughters and another son are not doing much except asking for money, partying, taking drugs. One day, one of the son's friend tries to steal money from the grandma by threatening her with an artisanal bomb. It ends badly as the grandma dies and the son loses his leg in the explosion. Sing Chai believes there is a waste of money and injuries as a huge and expensive funeral is organised with outdoor movies, firecrackers... Luang Ta (Sor Asanajinda) is always around. It is Buddhist lent (เข้าพรรษา) coming and Sing Chai is sad to see his family going towards this wrong path. Sae and her husband argue on money, so she gets beaten and then asks for divorce. Sae then keeps playing cards. One day one of the daughter Usa is found dead having been raped by thugs but her parents don't care. Unable to support this anymore, Sing Chai enters monkhood as novice. Sae has a new lover, i.e. the village leader, who keeps borrowing money from her. Sai, one of Sae's daughter, is also his mistress. Luang Ta keeps smoking and delivers sermons in old fashioned way. Novice Sing Chai delivers sermon in a modern way. It makes Luang Ta upset as a novice becomes more popular than him. Even Piathip Kumwong is not visiting Luang Ta anymore but novice Sing Chai to get advice. Sae, knowing that the villager leader and her daughter Sai betrayed her (คนทรยศ), wishes to get suicide. Novice Sing Chai helps her on time and the mother becomes a nun. Young teen girl Chantana is back to the village and invites novice Sing Chai to get alms everyday (รับบาตร). Sing Chai is feeling awkward caught by human feelings toward Chantana. Luang Ta tries to catch him doing improper things (ศึกแน่ๆ). Sing Chai is even accused of committing a murder. Village leader Gneun, father of Chantana, is causing troubles. Luang Ta recognizes he was wrong to try to accuse Sing Chai. Gneun is finally shot by Sai as he was refusing to recognize his paternity. Sing Chai rejects his mother due to bad feeling but recognizes his mistake. He still hopes to convince his father to stop drinking alcohol. On the way to his father's home, a fire occurs. Sing Chai saves his father but the handicapped son is unable to flee. Mother Sae (ยอมแม่) is sick and dies while listening sermon. The father (ยอมพ่อ) becomes a monk also. The movie ends up on Sae's funeral where Sae's voice in background regrets to have led such a bad life.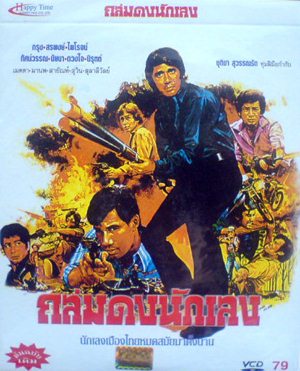 Year

: 1978



Thai title

:

ถล่มดงนักเลง




English title

:



Rating

: 4/5


Director

:



Main actor

: Sorapong Chatree,Krung Srivilai,Phairoj Jaising,Nirut Sirijanya,Manop Aussawathep,Sayan Chantaraviboon,Sawin Sawangrat


Main actress

: Naiyana Shewanan,Metta Roongrat,Tasawan Saneewong,Duangjai Hathaikarn,Sulaleewan Suwanthat



Buy now

:

Thai movie ถล่มดงนักเลง was released in 1978 and lasts 1h53mn. The movie was released under VCD format by Happy Time Marketing company. Movie director is ชุติมา สุวรรณรัต. It is a typical Thai movie from decade 1970s and featuring two top action movies actors, i.e. Sorapong Chatree and Krung Srivilai. Jane (Metta Roongrat), as countryside bus ticket receiver, has issues with four ruffians including Plaew (Manop Aussawathep) and Sayan Chantaraviboon. Ruffians complain that driver Kate (Tasawan Saneewong) is driving too fast on bad countryside roads. Kate chases them away by threatening them with a rifle. Village leader (Sawin Sawangrat) is concerned that Plaew is back after a few years in prison. Nit is the village leader's daughter (Naiyana Shewanan) (หลานสาวคนสวย). Nit warns Krieng (Sorapong Chatree), her fiance, that ruffians are back to the village. Sa (Nirut Sirijanya), a gay character, is harassed by those four ruffians and beaten severely. Reudi (Duangjai Hathaikarn) is nurse for the village and is taking care of Sa. Mun (Krung Srivilai), selling buffalos and managing a herd, is stopping in the village to buy food for his team. Mun is also beaten by the ruffians and is saved by Nit. Mun promises to come back and gets revenge. Thong Chai (Phairoj Jaising) is arriving in the village. Ruffians prepare to steal the buffalo herd to make easy money. Thong Chai is a undercover policeman. Krieng (คู่รัก) is also arriving in the village following letter sent by Nit. Other ruffians also arrive to work for Plaew. The buffalo herd guardians are attacked. All are killed except Mun being injured. Plaew is jealous to see Nit and Krieng together. He asks for a fight one to one with Krieng but gets defeated. Phairoj wishes to catch the big boss, i.e. Seua Klaew, so he needs to collect more evidences. Meanwhile Plaew's team continues to harass villagers. Mun, staying in the village to get revenge, has a fight with Plaew also. Four men and four ladies have romance, i.e. Krieng (Sorapong Chatree) - Nit (Naiyana Shewanan), Sa (Nirut Sirijanya) - Reudi (Duangjai Hathaikarn), Mun (Krung Srivilai) - Kate (Tasawan Saneewong), Thong Chai (Phairoj Jaising) - Jane (Metta Roongrat). Aunt Sulaleewan Suwanthat is found hanged as she refuses to sell rice noodles to the ruffians. Ruffians try to storm Mun's house but they fail. Plaew uses ruffians from other provinces to avoid being involved. Plaew sends bikers to storm the market. The bikers are pushed back but Sawin dies during the fightings. Plaew is fed up to lose so he decides to act under his real name, i.e. Seua Klaew! Ruffians kidnap the four ladies. It turns badly and Jane is shot. Sayan Chantaraviboon is injured by Jane before being shot. Worried to die, Sayan lets Nit and Kate to search for a doctor for him. The four friends storm the ruffians' den. Heavy shooting shootings occur. Police arrives also. Plaew, upset that Sayan let two ladies to flee, shoots Sayan and the nurse Reudi. All ruffians are killed. Sa carries the nurse body.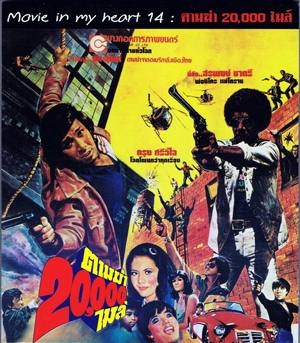 Year

: 1977



Thai title

:

ตามฆ่า 20,000 ไมล์




English title

: Project G-7



Rating

: 3/5


Director

:



Main actor

: Sorapong Chatree,Krung Srivilai,Nirut Sirijanya,Lak Apichat,Somchai Samipak


Main actress

: Pawana Chanajit,Piathip Kumwong,Tasawan Saneewong,Sasima Singsiri



Buy now

:

Thai movie ตามฆ่า 20,000 ไมล์ was released in year 1977 and lasts 1h47mn. Movie director is วินิจ ภักดีวิจิตร. The movie is taking place partly in USA. The movie was released on VCD format in Thailand by company XxX (Triple X) and Lepso Company (TV recording). It was also released overseas under VHS format as an IFD movie named Project G-7 (1h27mn), mixing some part of the original Thai movie and some new sequences shot in Hong Kong. Don (Krung Srivilai) is flying to San Francisco, USA. He met Nit (Piathip Kumwong), working as air hostess, in the plane. Plao (Sorapong Chatree), half black and half Thai man, is a FBI officer and has to work with Don. Thai drug is sold to USA and dealer Chan Sopon is suspected as big money transfers are done by him from Thailand to USA. Police is doing enquiry on a double murder, i.e. a woman and her lover were killed. The killer is Aran (มือฆ่าระดับโลก) (Nirut Sirijanya). The husband, Chan, is a rich businessman and also a generous donator to local Buddhist temple but he claims to have nothing to do with this murder. His mistress is Nit, air hostess. Sasima Singsiri and Tasawan Saneewong are lady journalists enquiring on Chan's suspect wealth. Fighting in a car dealer and a car chase occur. So Don and Plao disrupt Chan's business by catching his heroin. Chan is upset and orders his men to get rid of Don and Plao. The two lady journalists are undercover Thai policewomen. While having a break and having good time on a beach, a hitman misses to shoot Plao and one of the journalist ladies is killed. Plao's wife and his daughter are also killed per retaliation. Plao and Don storm Chan's place but he is gone overseas to Thailand already. Back to Thailand, Lak Apichat and เมือง อพอลโล่, part of Chan's team, follows them. Attacked by ruffians, Thai police woman Krissuda (Pawana Chanajit) comes on time to help Plao and Don. Aran and other ruffians fail to kill them once again but Plao is injured. Ruffians are convinced there is a police traitor among them as Thai police arrests Chan's drug traffickers. Nit is the one helping Thai police. Somchai Samipak is playing the head of police. Aware of ruffians' activities near a golf, Don and Tatsanee are captured and tortured by ruffians (ขายชาติ). Trying to warn Thai police for help, Nit is identified as the traitor. Aran loves secretly Nit since a long time. As Aran disobeys Chan's order to kill Nit, Nit is finally killed by Lak. Plao and Krissuda come to help after being informed by Nit just before her death. Police storms the place. Aran kills the leader Chan as revenge as he loved also Nit. Through a final duel, Plao kills Aran.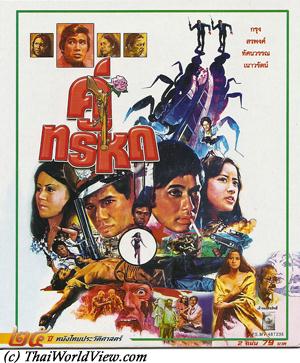 Year

: 1977



Thai title

:

คู่ทรหด




English title

:



Rating

: 4/5


Director

:



Main actor

: Settha Sirachaya,Krung Srivilai,Sorapong Chatree,Adul Dulyarat


Main actress

: Naowarat Yooktanun,Tasawan Saneewong
Ithipon (Sorapong Chatree) is a police inspector (สารวัตร). He doesn't have a car (รถแข่ง) as he refuses any corrupting money from the mafia. Yot (Krung Srivilai) is another policeman, who has a hot temper (รุนแรง) and uses easily guns to stop robbers (ผู้ร้าย). In a single day, he shot four robbers. It makes big headlines in newspapers. Ithipon always follows the law (ความยุติธรรม) and wants to give a good image of the police to Thai citizens. His family is poor. It includes his sister, Am, and his mother. Am is still a student and is addicted (ติต) to marijuana (กัญชา). Ithipon needs to solve many issues linked to the facts that policemen do not always behave well in private life also (club singer pregnant and dropped...). Ithipon sometimes acts like a social assistant. Ithipon's team deals with heroin dealing case, prostitution cases, rape case, police corruption but also everyday ordinary cases. This movie shows the kind of crimes faced by Thai society in 1970s. Yot, by killing some drug dealers, puts the mess again (มือปราบจับตาย) as no proofs and information can be got from dead bodies. Yot's behavior is linked to his past when he was ten years old. His mother was murdered by a carpenter who was acquitted due to lack of proofs despite he saw him with his own eyes! So nowadays he has become a harsh policeman. Yot has been suspended (ถูกราชการ) following the drug failure case. Rich people use their power to influence police. A businesswoman wishes to have her son released! Ithipon needs to arrest his own sister Am as she was caught smoking opium (ติตยา) in an illegal den. Ithipon remains inflexible. The law is same for all so he refuses to help his sister and has to perform his duty (นาที). Yot continues to shoot illegally some bad people and wish to clean the Thai society. Ithipon meets Eewa, his former girlfriend. Ithipon is poor so he couldn't marry with Eewa. As Eewa's parents were sick, Eewa had no choice than becoming the mafia leader Kongwan's mistress. As her parents are both dead, Ithipon proposes to take care of Eewa and hides her. Kongwan's ruffians are looking for Eewa. They storm Ithipon's home, hurt the mother and kidnap him. As Ithipon refuses to speak and to accept dirty money every month, Kongwan drugs him with heroin to make him dependent and to know where is Eewa. Finally Ithipon breaks down and tells them where Eewa is. Being inflexible with law, what did Ithipon gain? His mother is injured, his sister is in hospital and he is also addicted now (ตรงกับกฎหมายไม่ได้อะไร). His family is wrecked and his sister despises him. Eewa is kidnapped by Kongwan again. While being under treatment Ithipon flees from hospital. Being beaten by drug sellers, he is rescued by Pen. She was a prostitute Ithipon helped before to leave this profession. As a way to thank him she takes care about him until he can recover. Redemption is always possible (ยังมีทางแก้). Both his sister and mother have died. Yot continues to do his own justice by cleaning Bangkok from bad guys. Ithipon starts his own revenge by storming and burning Kongwan's heroin warehouse and by shooting ruffians. Kongwan orders to kill Ithipon. He shoots Eewa as she was going to warn Ithipon. Ithipon is injured again. The violence cycle has no end. There is a dirty policeman inside the police station, who always informs Kongwan. Kongwan does the cleaning of informants as a trial against him is ongoing. Yot won't let him go away. While leaving the hospital and going back to his slum house, Ithipon is shot by Kongwan. But this time Kongwan cannot escape his responsibilities and is caught by the police. Ithipon finally wins by following the law (ชนะตามกฎหมาย). This movie includes the 1970s top actors and features a funky "Shaft" 1970s soundtrack. This interesting movie deals about Thai police hardship and difficulty to have a clean police due to low monthly salary and extra judicial killings. It is still an issue nowadays. In 2011 senior police officers own a big illegal casino in the heart of Bangkok. It was was overseen by local police and allowed in only high-stakes gamblers.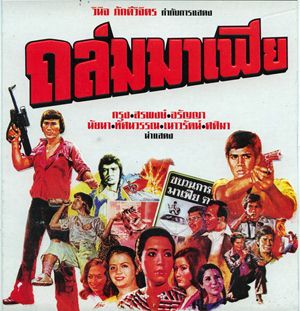 Year

: 1977



Thai title

:

ถล่มมาเฟีย




English title

: Mafia defeated



Rating

: 4/5


Director

: วินิจ ภักดีวิจิตร



Main actor

: Paen Pleumsachai,Pipop Pupinyo,Krung Srivilai,Lor Tok,Sayan Chantaraviboon,Chat Mongkolchai,Somchai Samipak,Sorapong Chatree,Sukon Koewliam,Nirut Sirijanya,Lak Apichat,Manop Aussawathep,Kecha Plianvithee,Boo Wibunnan,Kanchit Kwanpracha,Adul Dulyarat,Man Teeraphol


Main actress

: Naiyana Shewanan,Chosri Misommon,Tasawan Saneewong,Aranya Namwong,Naowarat Yooktanun,Sasima Singsiri
Thai movie ถล่มมาเฟีย (Mafia defeated) was released in year 1977 and lasts 1h54mn. It was released under VCD format by company XxX (Triple X). One song is featured. Movie director is วินิจ ภักดีวิจิตร. Thai actors and actresses featured in this movie are Paen Pleumsachai, Pipop Pupinyo, Krung Srivilai, Lor Tok, Sayan Chantaraviboon, Chat Mongkolchai, Naiyana Shewanan, Somchai Samipak, Sorapong Chatree, Chosri Misommon, Sukon Koewliam, Tasawan Saneewong, Nirut Sirijanya, Lak Apichat, Manop Aussawathep, Kecha Plianvithee, Aranya Namwong, Naowarat Yooktanun, Boo Wibunnan, Kanchit Kwanpracha, Adul Dulyarat, Sasima Singsiri, นรา นพนิรันดร์, Man Teeraphol, ชินดิษฐ์ บุนนาค, เมือง อพอลโล, จวบ, โจ๊ก, สุเทพ เหมือนประสิทธิเวช. This movie includes an impressive number of 30 Thai stars from decade 1970s. Sorapong Chatree, Nirut Sirijanya, Lak Apichat play bad guys in this movie. Normally they always play on the good guys side. Five ruffians including Paen Pleumsachai and Pipop Pupinyo are waiting (มาไม่ดี) for Yot Baramee from Suphanburi. Yot (Krung Srivilai) was just released from prison. Ruffians accuse him of murder but get defeated by Yot. Yot's friends are Lor Tok, Dip (Sayan Chantaraviboon), Han (Chat Mongkolchai) and Baan Yen (Naiyana Shewanan). Krieng (Man Teeraphol) accuses Yot to have killed his father. To avoid causing more issues in the village, Yot leaves for Bangkok with Dip and Lor Tok. Kamnan Somchai (Somchai Samipak) has three children, Mike (Sorapong Chatree), Baan Yen and Yot, being an adopted child. Somchai recommends Yot to contact Mike in Bangkok. Chosri Misommon is playing a crazy secretary, working in company Mike Engineering. Yot, Ding and Lor Tok are looking for job in Bangkok. Mike is not so willing to help as he has only low skills jobs to offer. Songtaew driver (Sukon Koewliam) and receiver (Tasawan Saneewong) have issues with ruffians asking for protection fee. Yot and Dip help and fighting with ruffians occurs. Thai mafia is very powerful and has strong influence. Yot is upset with Thai mafia and would like to stop them. Saem (Nirut Sirijanya) and Lak Apichat, mafia members, visit bars to get money donations (ทำบุญ). Saem and Lak threaten bar owner Chindit (ชินดิษฐ์ บุนนาค) so they have arguments with Yot and Dip, having a drink there and always wishing to help. Policeman Samit (Manop Aussawathep) arrests them. Chindit helps to release them from jail. Sompong (Kecha Plianvithee) is having Watanee (Aranya Namwong) as new girlfriend. His daughter Busalin is back from studying in USA. Busalin (Naowarat Yooktanun) is welcomed in Bangkok by Mike. Saem and Lak try to shoot Yot and Dip, but they succeed to flee thanks to Watanee's car passing by. Mike is part of mafia team working for Sompong. Mike orders Chindit's bar to be closed seven days but Yot and Dip interfere again. Satra (Kanchit Kwanpracha), part of mafia team, asks to kill Yot. Sompong threatens to kill Yot's friends if he refuses to work for him. Satra accuses Mike. Baan Yen is captured by ruffians, who kill her father Somchai and Han. Yot is accused of the murders. Mafia Italy Don Vito (สุเทพ เหมือนประสิทธิเวช) is visiting Thai mafia to show unification. Learning his father's death, Mike tries to shoot Yot despite they are brothers (น้องชาย). Han is not dead and discloses that Krieng is responsible of the murders. The one behind is Satra pushing Mike and Yot against each other. Baan Yen understands the truth. Surapong (Adul Dulyarat), head of police, and his team storm the mafia's den. Yot and his friends are leading. Busalin understands that his father and his ruffians are betraying Thailand (ทำร้ายชาติ). The movie ends up in multiple shootings with Mike and Satra shooting each other, Yot shooting Sompong. Mafia is defeated.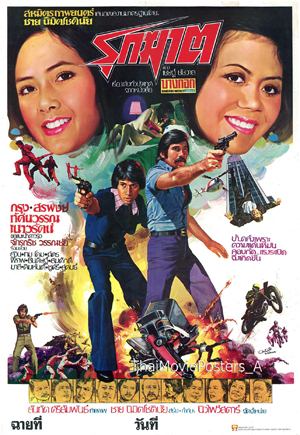 Year

: 1977



Thai title

:

รุกฆาต




English title

:



Rating

: 3/5


Director

:



Main actor

: Krung Srivilai,Sorapong Chatree,Pipop Pupinyo,Sawin Sawangrat,Sukon Koewliam,Chat Mongkolchai


Main actress

: Naowarat Yooktanun,Tasawan Saneewong
Ruffians are waiting along the road. They rob money from a police van. A young man called Thonglop (Krung Srivilai), driving a truck, is passing by and gets involved despite him. Ruffians want to get rid of him as he is a potential witness. Thonglop takes refuge at his grandmother's (ยาย) home. The grandmother is killed by the ruffians as she refuses to disclose where he is hiding. Thonglop promises to revenge her and is actively looking for the ruffians' leader (ผู้กำกับ). The leader name (หัวหน้าโจร) is Mek. Thonglop meets an old lady friend, Than. Than is Thanoo's daughter (ลูกสาว). Thonglop helps Than and this father aggressed by two ruffians. Thanoo is a business man. Than and Thonglop collaborate to catch Mek. They found that Mek is often going to Khorat in Northeast of Thailand. Thanks to the unexpected help of a taxi driver (Sorapong Chatree), Mek is captured and he discloses that the real leader is in fact Amasadon (พี่ใหญ่). Thonglop uses the taxi driver called Krongket to track Amasadon. A friendship is developing between Thonglop and Krongket. InThira is Amasadon's younger sister. Without knowing it, she is doing some money laundering for Amasadon through a company providing jobs to taxi drivers. Krongket follows Inthira and helps her as two ruffians steal her bag. Thonglop wants to use Inthira as a bait (ตัวประการ) to catch Amsadon. Thonglop keeps Inthira as hostage. Than finds Inthira's bag inside Thonglop's car. So she starts to wonder which game Thonglop is playing. Fake policemen try to catch Thonglop but they face Krongket who resists. Ruffians wish to catch Than to force an exchange with Inthira. Mek and Amasadon start to be divided. A final confrontation between all protagonists shows that Thanoo was the real mafia boss. Ruffians are caught. Both Inthira and Than are safe. At the end, it is finally disclosed that Krongket is a police inspector (สารวัตร). This 1970s movie includes action and humor. It features two 1970s keys actors, i.e. Krung Srivilai and Sorapong Chatree. โอ้มาดา and รุกฆาต movies both released on the same day in 1977. They were the first movies featuring leading actor Sorapong Chatree and leading actress Naowarat Yooktanun together. During the following years, they played 100 movies together!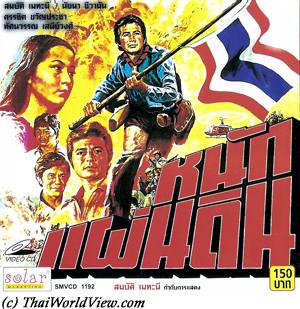 Year

: 1977



Thai title

:

หนักแผ่นดิน




English title

:



Rating

: 4/5


Director

: Sombat Methanee



Main actor

: Sombat Methanee,Prachuap Ruekyamdee,Kanchit Kwanpracha,Lak Apichat,Manop Aussawathep


Main actress

: Naiyana Shewanan,Tasawan Saneewong



Buy now

:

Ruffians attack a bus and put fire into it. Hopefully military can help on time but some passengers die. Who was behind the ruffians? A local villager Chat is having financial difficulties. Nemana and Data, owners of the local sawmills, lend money to poor people with high interest. Chat bought a truck. He is close friend with Tai (Sombat Methanee), who is a village scout (ลูกเสือชาวบ้าน). The Village scouts was a right-wing group sponsored by the King and Queen of Thailand to promote national unity in 1970s. Villagers are helping each other. Due to debts (หนี้) Chat needs to give his rice fresh crop to Nemana. Poor (จน) people just work for the rich! Nemana gives him back the truck against his wife's rice fields guarantee and allows him to cut trees in forest. He befriends with Prachan, who is Nemana's close associate. Despite Nemana's promise, some other ruffians try to catch Chat so he has to fight back for his life. As he shots two men, he has to flee to Bangkok. They lie to him as the ruffians are not dead. He is driving a taxi in Bangkok. He gets framed by Prachan who puts drugs in his car (เล่นละคร) in order to increase Chat's dependence to him as Chat needs to pay back his gratitude. He accepts to join their team. Nuan and Tai marry. Chat, due to easy money and lust, forgets his pregnant wife Bua (กรุงเทพสวรรค์คนมี นรกคนจน, คนลืมตัว). Back to the village Chat complains about the corruption of officials and how to benefit from it! Tai wishes to fight against this corruption that is bad for the country, fight against the bad parliament members. Tai and Chat disagree so fight (คนโทรยศแผ่นดิน). Nemana and Tai have a disagreement regarding rice selling. Tai pushes his democratic concept as villagers can sell to anybody (สหาย). It is democracy versus communism. Nemana proposes to share power and influence (แบ่งอำนาจ). As Tai refuses, they kidnap Nuan, his wife, who is teacher in order to force Tai to join them. Tai refuses their ultimatum and decides to act at nighttime. Faced to a Buddha statue, Tai prays in front of the Thai King and Queen pictures. Thai Buddhism, the monarchy and the nation were high symbols against Communism in 1970s. Patriotic songs are played in the background (รักชาติ). Tai has to use a floating wing similar to a hang-glider to enter silently their camp. He succeeds to release Nuan but they are captured while trying to escape from the camp. Chat's mother dies on a mine while trying to convince her son (คนขายชาติ) to release Tai. Through his treachery he loses his mother (สร้างกรรม). He changes side so frees Tai and Nuan. Chat dies while holding the Thai flag. Tai takes over the Thai flag. Meanwhile villagers holding Thai flags and singing patriotic songs go towards the camp. Thai army is joining them. The ruffians are defeated and some of them injured or killed. Through high compassion, soldiers give help and priority to treat them. Tai successfully removes the red (communist) flag and replaces it by the Thai flag generating cheers and dances. The song "Nak Phaendin" was released in 1975. It is was a patriotic song (เพลงปลุกใจ) against the communist influence (คอมมิวนิสต์). During 1975-1980 years, Thailand was surrounded by Communist countries (Laos, Cambodia, Vietnam) and was at high risk to fall also. This movie from an historical point of view shows nicely this trouble period and how the government propaganda was done.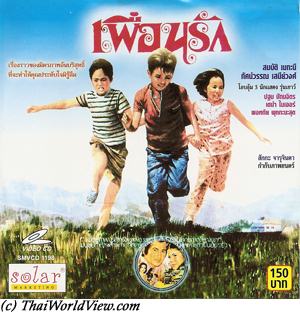 Year

: 1977



Thai title

:

เพื่อนรัก




English title

:



Rating

: 3/5


Director

:



Main actor

: Sombat Methanee


Main actress

: Tasawan Saneewong
It narrates the pure friendship story between two young boys and one young girl. They flee to Bangkok in order to try to find one of the boy's mother. During their journey, they discover the adult world, suffering, separation and death.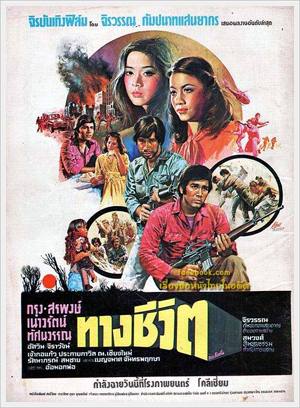 Year

: 1977



Thai title

:

ทางชีวิต




English title

:



Rating

: 3/5


Director

:



Main actor

: Sorapong Chatree,Krung Srivilai,Somchai Samipak


Main actress

: Naowarat Yooktanun,Tasawan Saneewong,Ratanaporn Intarakamhaeng
Thai movie ทางชีวิต was released in year 1977. Main actors and actresses are Krung Srivilai, Sorapong Chatree, Naowarat Yooktanun, Tasawan Saneewong, Ratanaporn Intarakamhaeng, Somchai Samipak. Movie director is สมวงศ์ ทิมบุญธรรม. The movie is lost in Thailand but a sequence in 35mm format can still be seen. The picture is very damaged and reddish. It lasts thirty seconds. During the short sequence, Krung, Sorapong and Tasawan Saneewong can be seen. There is a fighting in a club. Paratroopers are jumping from a plane. A full summary extracted from Thai movies magazines is still available.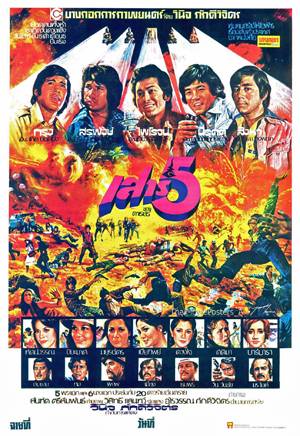 Year

: 1976



Thai title

:

เสาร์ 5




English title

:



Rating

: 2/5


Director

:



Main actor

: Krung Srivilai,Sorapong Chatree,Phairoj Jaising,Nirut Sirijanya,Pipop Pupinyo


Main actress

: Piyamas Monayakol,Tasawan Saneewong,Piathip Kumwong,Mayurachath Muarnprasitivej,Duangjai Hathaikarn



Buy now

:

5 friends are reunited for a mission in Northeast of Thailand. They were soldiers during Vietnam war. They receive sacred powerful Buddha amulets from a famous Buddhist monk in order to protect them during fighting. They have to swear, holding Thai flag, that they are willing to sacrifice their life for the nation, the religion and the monarchy. Sent on mission, they are facing a bunch of thieves, foreign people having a secret base with powerful rockets to threaten Thailand. Finally with the support of five women soldiers, they defeat the villains. Five major actors and actresses from the 1970s were featuring in this action movie.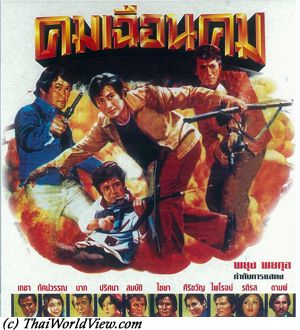 Year

: 1976



Thai title

:

คมเฉือนคม




English title

: The outlaw man



Rating

: 3/5


Director

: Payoong Payakul



Main actor

: Sombat Methanee,Phairoj Jaising,Nard Poowanai,Chaiya Suriyun,Kecha Plianvithee,Dam Datsakorn


Main actress

: Tasawan Saneewong,Prissana Chabaprai,Sirikwan Nanthasiri



Buy now

:

Three men are arrested by the Thai police following a trip to Hong Kong as they are suspected to sell drugs. They are released as no proofs are found. They met a guy called Daeng in the cell and befriended together. A young lady, Maria, Tawai's assistant, pick them up. Daeng is trying to join Tawai's secret organization, which is buying and selling weapons and drugs. Such organization undermines Thailand. As Tawai orders Daeng to kill Krit (Sombat Methanee), Daeng reveals that he is a hidden policeman and convinces Krit, who is a drug smuggler, to join his side. Policemen and gangster groups go to the golden triangle, border between Thailand, Laos and Burma. Heavy fightings happen between both groups. The country traitors are killed or captured. Some policemen are killed but they didn't die in vain as they give their life for the nation, the religion and the monarchy. It is a typical action movie of mid 1970s in which Thailand needs to be protected against external red communist threat. There is a rupture with traditional movies as Thai actors shake hands, listen to western music and kiss ladies in front of spirits shrines.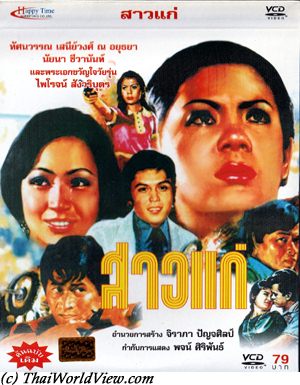 Year

: 1976



Thai title

:

สาวแก่




English title

:



Rating

: 3/5


Director

:



Main actor

: Phairoj Sangwaribut,Manop Aussawathep


Main actress

: Naiyana Shewanan,Tasawan Saneewong,Mayurachath Muarnprasitivej
Thai drama movie สาวแก่ was released in year 1976 and it lasts 1h45mn. Doctor Pim (Phairoj Sangwaribut) and nurse พี่ Yot (Tasawan Saneewong) are boyfriend / girlfriend. She is 12 years older. Her close friend is Jaem (Mayurachath Muarnprasitivej). Chaninee (Naiyana Shewana) brings her father to hospital. Pim helps to cure him. Many people in the hospital gossip (นินทา) about Pim and Yot. Jaem has even some concerns about the couple (ความเหมาะสมผู้หญิงกับผู้ชาย). Knowing he fails to be chosen to be sent overseas as doctor, Pim involves in alcohol and Yot has to bring him back home. Finally Yot and Pim become lovers as Pim is pushing for it under alcohol influence. Chalat (Manop Aussawathep), a policeman, is introduced to Yot by Jaem as she believes Pim and Yot don't go together properly as she is much older than him. The doctor opens a clinic with Yot as assistant. Yot sold her land to pay for the clinic. They are still calling each other "พี่ Yot" (Sister Yot) and doctor (หมอ). Pim meets Chaninee another time as her father is sick again. The father finally dies. He presents Yot as elder sister (พี่สาว) to Chaninee. Yot wishes to marry to stop all rumors (คนนินทาไม่มีวันหยุด). Jealousy happens as Yot is aware that Pim is seeing Chaninee. She complains Pim changed since he is meeting Chaninee. Yot announces she is pregnant since 2 months. She wishes to die! Pim goes to Pattaya beach to relax and meets Chaninee by accident there. Yot follows him there in order to know the truth. Yot keeps reminding Pim about the favors and help (ท่วมบุญคุณ) she gave him. Finally Pim accepts to marry her in order that the child has a father. Yot remains very jealous. The baby is born. Yot complains she is not happy despite performing her wife's duties (ทำหน้าที่ให้ดีที่สุด) as good as she can. Jaem recommends Yot to give him some freedom and she keeps complaining that Pim has to kindness towards her (ไม่รู้จักบุญคุณ). Jaem is now with an older man with 4 kids. She claims it is better for a woman to marry an older man than a younger man. Fed up and following arguments with Yot, Pim quits the house. Pim announces he loves Chaninee but as respect for Yot, he will not quit her. Jaem and Chalat bring Yot out. Seeing Chaninee, Yot argues with her but Chaninee claims she didn't see Pim since his wedding. Yot shoots Chaninee but hopefully Chalat is here to stop her. Chalat promises to take care of Yot so that both couples can have happiness.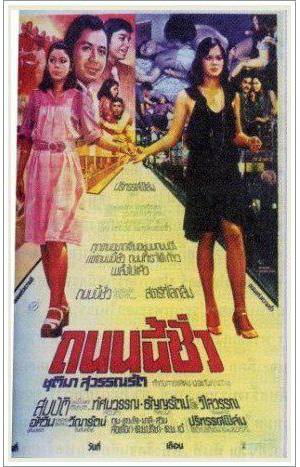 Year

: 1975



Thai title

:

ถนนนี้ชั่ว




English title

:



Rating

: 4/5


Director

:



Main actor

: Sombat Methanee,Sawin Sawangrat,Lor Tok


Main actress

: Tasawan Saneewong,Tanyarat Lohanan,Malee Wetpraseri,Wilaiwan Watthanaphanit
ถนนนี้ชั่ว is a thai movie released in year 1975. It is a social drama movie. Only 1h31mn is left so unfortunately not the movie full length. This movie was never released officially on VHS, DVD or VCD. Young kids face bad example (ถนนแห่งความชั่ว) shown by their parents featuring a drunkard father and absent mother. The children are the one to suffer the consequences (ผู้รับกรรม). Finally the mother quits the whole family. The grandmother (Malee Wetpraseri) then educates all the children, Oon (Tasawan Saneewong), Oi (Tanyarat Lohanan) and Inn. Oon has promised to buy a watch to Oi but the grandmother refuses as her salary of 800 baht for the whole family is already small. The neighbour (Lor Tok) likes Oi very much and keeps peeping. The three daughters finally find back their mother. The mother is now rich (Wilaiwan Watthanaphanit). Oi wishes to open a beauty saloon but needs to study first. The mother is married to a pimp called Banchup. The mother uses her own daughter to achieve her goals. She sends her daughter to a hotel room, where Ratapong (Sombat Methanee) is waiting (บังคับให้มา?). Purity is lost. As Oi wishes to wear beautiful clothes, have jewels, be rich so she accepts (ด้วยความเต็มใจ). It is her first time. She has to eat pills (ยาคุม) secretly. Ratapong wishes to meet her again (เด็กดี). Sawin, an older rich man, is also fond of her (ติดใจ). The mother and her new husband want Oi to go with Sawin again but she is reluctant. Arguments happen between Oi's mother (แม่ดอกทอง) and Oi's grandmother. High society (สังคมผู้ดี) takes advantage of poor people. Finally her mum convinces her to meet Sawin for his birthday. Oon is upset with her mum (ไม่เสียหายอะไร). The mother has modern conception of life and society (พ่อไม่เคยขายลูก). Oon asks to meet Ratapong as he was the first one to go with Oi. She finally starts to work in his company. Inn leaves home. Noi is pregnant with the grandfather. Wishing to rescue her sister, Oon is finally kidnapped with Oi. To avoid Banchup hurting Oon, Oi accepts to go again to Cha Am to meet Sawin. Oon finally succeeds to escape and warns Ratapong. Ratapong storms Sawin's home. Fightings happen with Banchup and his thugs. Oon shots Banchup to protect Ratapong and Sawin to revenge her sister Oi. Oon ends up in jail. Ratapong promises to Oon to marry Oi. The mother is devastated (แม่เสียใจ) and the only thing she can do is to give love (ต้องการความรัก) to her remaining children. Things she hasn't done before. This movie is a strong critic over old rich men that can afford young poor ladies in hotels.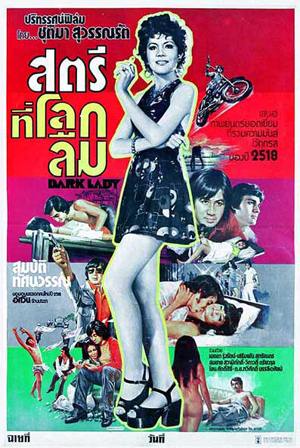 Year

: 1975



Thai title

:

สตรีที่โลกลืม




English title

: Dark Lady



Rating

: 3/5


Director

: Chutima Suwannarat



Main actor

: Sombat Methanee


Main actress

: Tasawan Saneewong,Metta Roongrat
Thai movie สตรีที่โลกลืม was released in year 1975. It only lasts 1h10mn. Some parts are missing. The DVD is made from an earlier TV recording. Thaew (Metta Roongrat) is a bus money receiver (กระเป๋ารถเมล์) but she dislikes her job. Wone (Tasawan Saneewong)'s father is killed by a hitman (พ่อถูกยิง). Her boyfriend is Athit (Sombat Methanee). Athit is learning English. Athit sells some family land. He gets cash money from a lawyer (veteran actor). While going back home with his grandmother, they are aggressed by ruffians, who steal the money. The grandmother is killed. Athit chases the ruffians and finds that the mastermind is the lawyer himself. He chases him until a bank but has to back away as the police is coming. Meanwhile while going back home, Wone finds her mother in bed with a man called Prajak (น่าสงสารวิญญาณของพ่อ). He is the one who shot the father. Won dislikes him and he tries to abuse her. Wone complains to Athit but this one is focusing on taking revenge on the lawyer. Athit doesn't want to become a bad guy but life forces him (ไม่ได้ตั้งใจทำผิด มันมาหาผมเอง). Athit teaches a lesson to Prajak and injures him. Wone is chased by her mother from the house. Wone looks for Thaew but it seems she is now a prostitute (เป็นกะหรี่) as it earns more money. There is a visit to a rogue doctor as Wone needs to abort. Later on, the doctor wishes to meet again Wone but she refuses. He tries to blackmail her at her school with a picture taken during the abortion. Thaew promises to help her. He is finally arrested by the police as abortion is illegal act. Being rich, the doctor is released and warns Wone that he will take revenge. Wone is expelled from school as they receive the bad picture. Athit robs a shop. Wone realises than doing good is not always perceived positively by people (คนดี คนเลว). Athit promises to Wone to stop. Athit kills the men involved in his grandmother's death one by one including the lawyer. Athit's men continue to steal. Wone helps a child hit by a car and brings him to the hospital. Police wished to thank her. They knock at her home and finds Athit, who is arrested. Doing good has caused her demise. Movie director is ชุติมา สุวรรณรัต. Two other actors are เสริมพันธ์ สุทธิเนตร, อัศวิน รัตนประชา.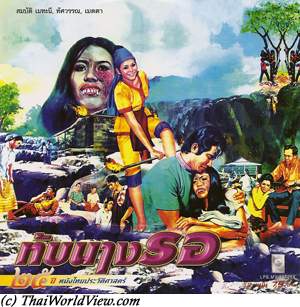 Year

: 1973



Thai title

:

ทับนางรอ




English title

:



Rating

: 3/5


Director

: Chutima Suwannarat



Main actor

: Sombat Methanee,Kamthorn Suwanpiyasiri,Jamroon Nuatjim,Tat Ekathat,Rong Kaomulkadee,Pan Borapet


Main actress

: Tasawan Saneewong,Boosara Narumit,Metta Roongrat,Malee Wetpraseri
Thai movie ทับนางรอ was released in year 1973 and lasts 1h43mn. It was released under VCD format by Lepso Company. Sombat Methanee, Kamthorn Suwanpiyasiri, Pan Borapet, Jamroon Nuatjim, Tasawan Saneewong, Boosara Narumit, Tat Ekathat, Metta Roongrat, Malee Wetpraseri, Rong Kaomulkadee are the main actors and actresses featured in this movie. Movie director is ชุติมา สุวรรณรัต. A baby girl is abandoned in the forest as she has a deformed face (ลูกผี). She is rescued by Tat Ekathat and is named Sopi. At school, she is rejected by other children. Being an adult, her face becomes normal but a awful decease endangers her (อย่าพบความรัก). If she gives life to a baby, she shall die. Her parents (played by Boosara Narumit and Kamthorn Suwanpiyasiri) prevent her from seeing any boy. Chakapan (Sombat Methanee), a Bangkok young man, falls in love with her and asks for her hand but Sopi's parents refuse (เรื่องหัวใจ). Pim (Metta Roongrat) and Rong Kaomulkadee are having a romance. They keep helping Chakapan and Sopi. Sopi is aggressed by two ruffians, including Pan Borapet, working for the village leader. She flees but falls from a cliff. Chakapan saves Sopi's life so her parents finally accept the wedding but knowing that she shall die following a pregnancy. Sopi is now pregnant. Following delivery, Sopi's deformed face is back, so she flees from home with her child. She ends up dying in Chakapan's arms per the doomed prediction.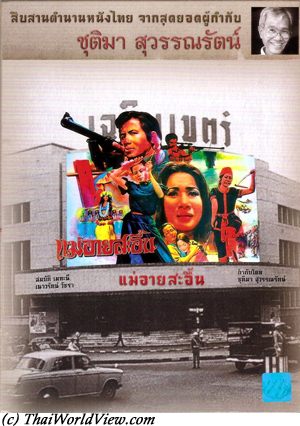 Year

: 1972



Thai title

:

แม่อายสะอื้น




English title

:



Rating

: 5/5


Director

: Chutima Suwannarat



Main actor

: Sombat Methanee,Kamthorn Suwanpiyasiri,Sahat Piempongsan,Jamroon Nuatjim


Main actress

: Naowarat Watchara,Tasawan Saneewong,Metta Roongrat,Viphavadi Triyakul,Malee Wetpraseri



Buy now

:

A subdistrict headman is almost blind but still performs traditional arts. His daughter Dao Lin (Naowarat Watchara) can do traditional spade dance. They are living in a Northern village specialised in making traditional colorful umbrellas. Mem (Malee Wetpraseri) recommends Dao Lin to a Bangkokian lady for a job in Bangkok (เสริมสวย). Dao Lin accepts as she needs money to cure her father's eyes. The second daughter is played by Tasawan Saneewong, who is acting for the first time. No further study for her as they are too poor. In Bangkok, Dao Lin realises the job is in fact acting as a prostitute (โสเภณี / ฉันไม่ใช่สินค้า). Dao Lin cannot send news. She ends up in pregnancy and succeeds to flee the brothel (กลุ่มนรก). She delivers a baby, who is unfortunately disabled. The hospital doctor (Kamthorn Suwanpiyasiri) finds her a job as a model (นางแบบ) but she needs to hide her baby (สังคมทุกวันนี้จำเป็นต้องสวมหน้ากากเข้าหากัน). She gives her baby to her sister lying it is a friend's baby. Dao Lin meets Songpon (Sombat Methanee) in Penang. They finally get engaged (หมัน). Dao Lin discovers that the doctor is Sombat's brother but he promises to disclose nothing. She forgets her family so her father decides to come to Bangkok with her sister Chaeung and disabled son to find Dao Lin. Ten (Metta Roongrat) becomes Chaeung's friend in Bangkok. Chaeung recognises her sister on TV. When meeting together, Dao Lin is ashamed (ลืมตัว) as she doesn't want anybody to know her poor background so she chases away her younger sister. Disappointed, Chaeung runs away and is hit by a car. She is cured by the same doctor, who cured her elder sister. Having pity on her, the doctor recruits her as domestic helper. Dao Lin is surprised to see Chaeung in the doctor's house and asks her not to reveal their family links until she is married with Songpon. Pi (Sahat Piempongsan) is having an affair with Songpon's mother. He always asks for money. They all go to Southern island to help poor children. Songpon's brother called Songyut lives there and takes care of the family domain. Songyut falls in love with Chaeung. Songpon also loves Chaeung but just got engaged with her sister... The mother asks Songyut to stop seeing her as she is a poor girl. Chaeung is kidnapped per the mother's orders. Ten asks Songyut for help. A boat chase is happening in Phuket near the James Bond island. Pi, wishing to get the family domain, shots Songyut through a long range gun but falls from the cliff and dies. The mother is horrified and crossed against Chaeung (เด็กเวร) but she is indirectly responsible of her lover's acts. Meanwhile Dao Lin warns Songpon who finally rescues Chaeung after an impressive car chase. Songyut's mother asks Dao Lin to get rid of Chaeung as she takes her as responsible of her son's death. Dao Lin accepts. Chaeung hears this conversion and arguments happen between the two sisters. Dao Lin's father hears his two daughters arguing and now is aware that Chaeung hides the reality about Dao Lin forgetting her own family. Chaeung, the father and the disabled son leave for Mae Sai. Da Lin follows them there but her father is already dead. He got suicide because of disappointment with his daughter. Songpon is here also blaming Dao Lin not to have told him the truth about her background as he is comprehensive and it would have saved her father's life. Nobody in the village wishes to talk to Dao Lin. To pay respect to her father a last time, she performs the traditional spade dance and finally cuts her throat during the dance. She entrusts Chaeung and her son to Songpon. It is a sad family drama with a rich mother causing her son's death and a poor daughter causing her father's death. The DVD แม่อายสะอื้น (1972) lasts 1h55mn but some parts are missing as it is a copy from U-matic tapes.. Famous director is Chutima Suwannarat (ชุติมา สุวรรณรัตน์) well known for sad movies.
---