Increase or decrease font size for easier reading : A+ A-
Surasit Sattayawong
Surasit Sattayawong (1923-1983) - สุรสิทธิ์ สัตยวงศ์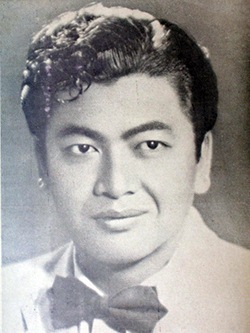 Surasit Sattayawong has played in more than 40 movies from 1949 to 1981
This Surasit Sattayawong movie page contains 24 records.
---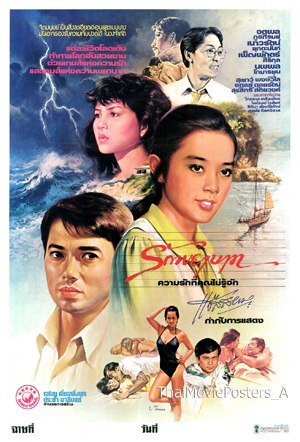 Year

: 1981



Thai title

:

รักพยาบาท




English title

:



Rating

: 3/5


Director

: แจ๊สสยาม



Main actor

: Jatuphol Poopirom,Suchao Pongwilai,Surasit Sattayawong,Krailat Kriengkrai


Main actress

: Naowarat Yooktanun,Penpak Sirikul
Thai movie รักพยาบาท was released in year 1981 and lasts 1h56mn. A remastered version was released by Five Star Production (ไฟว์สตาร์โปรดักชั่น) in the decade 2010s and shown on Thai TV cable. The movie was released under VCD format by Solar company. Movie director is แจ๊สสยาม. It was the last movie of famous Thai actor Jatuphol Poopirom, who died in a car accident on 20 March 1981. Children Pim and Paen are two close friends. They get separated as Paen is going to study in Bangkok. Reaching adult age, Pim is played by Penpak Sirikul and Paen by Naowarat Yooktanun. Both stop studies and start to work. Paen is working in Chatree (Suchao Pongwilai)'s company. Pin also finds a job in Chiang Mai. Claiming he has a letter for Pim, Pim's boss tries to rape her but he has a heart attack. Pim flees. She meets San (Jatuphol Poopirom) by hazard. He helps Pim as she does not know where to go. Finally, a romance starts between them and they become lovers. San has to go to Chiang Rai for business for three days and promises to send her to Bangkok. San has a car accident while driving to Chiang Rai. Chatree nominates Paen as his personal secretary. Pim waits but San is not coming back. She has to leave the hotel. She goes to Bangkok and faces a taxi driver, who steals her luggage. She has nowhere to go and feels hungry. She collapses and somebody brings her to hospital. The doctor (นพพล โกมารชุน) pities her and finds a job for her in his aunt's company. A romance starts. Pim is pregnant with San as father. Abortion is forbidden by law so the doctor refuses to help. He finally changes his mind but Pim has decided to do it by herself. She loses a lot of blood but luckily the doctor saves her again. She wishes to get revenge over San. Pim befriends Lin, an actress, so she wishes to become an actress. Pim meets Adul Dulyarat, a movie director, and becomes his mistress. San meets Paen. A romance starts and he wishes to marry Paen. Paen resigns from Chatree's company and gets married to San. Chatree still loves Paen but Paen considers him as a friend only. San is looking for a job but refuses to ask help from Chatree. Bancha (Surasit Sattayawong), a rich businessman, is contacted by Paen to help San. He accepts to help as he is impressed by Paen's strong love over San. Adul wishes to introduce Pim to Bancha as he plans to marry her. Pim meets San at Bancha's birthday party. Pim leaves Adul to live with Bancha and marries him. Pim does everything to make San upset. She wears the ring San offered to her and discloses who she is. They become lovers again. Pim pushes San to divorce Paen. As Paen refuses to divorce, Pim suggests to San to kill Paen. Paen announces she is pregnant, so San decides to break up with Pim. Meanwhile Bancha is also aware of the situation through Krailat Kriengkrai. Pim storms the place when San and Paen are staying. When realising that San's wife is her old friend Paen, she renounces her wish to shoot San. She wishes good luck to them. In the parking lot, she gets shot by Krailat and dies. Bancha did not forgive…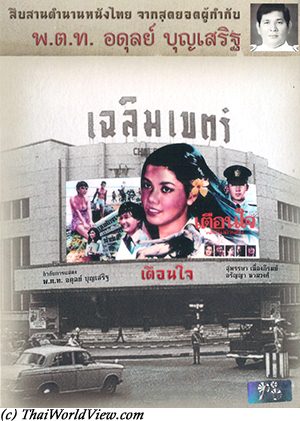 Year

: 1979



Thai title

:

เตือนใจ




English title

:



Rating

: 4/5


Director

: Adul Phijit



Main actor

: Tuanton Kammeesri,Surasit Sattayawong,Lor Tok,Thep Thienchai


Main actress

: Supansa Nuengpirom,Aranya Namwong,Monrudee Yamaphai,Ratanaporn Intarakamhaeng



Buy now

:

Surasit (Surasit Sattayawong) and Ratanaporn (Ratanaporn Intarakamhaeng) have a teenage daughter called Teuan Jai (Supansa Nuengpirom). New soldiers selection (ทหาร) is happening. Lor Tok is their instructor. Strong regulation (ระเบียบ) is taught to them. Young lady Teuan Jai meets one cadet in the bus while going to university. Monrudee Yamaphai as student is her close friend. Tuanton (Tuanton Kammeesri) is married to Aranya Namwong (เมียตำรวจ). He has often nightmares. He is still a low rank policeman making his wife unhappy about his status. Suphansa receives a love letter from one of the soldier. Finally a group of five young soldiers cadets and five young ladies students including Teuan Jai meet each other. They all go to Pattaya. All boys have same goal to serve their country. There are drunkard ruffians at the street entrance leading to Teuan Jai's home. Arguments happen with the young soldiers cadets (นักเรียนเป็นทหาร). One evening, Teuan Jai is raped and killed (มนุษย์ใจสัตว์). A wallet is found with prints on it. The police officer Tuanton investigates on the issue. He visits by night the murdering place and the corpse storeroom (ห้องเก็บศพ) to look for evidences. Thep Thienchai is arrested but he is not the culprit. This murder has caused big emotion and Thai police has to broadcast a message encouraging young ladies to wear appropriate clothing. There is a comparison of young Thai people doing sacrifice to become soldiers and other young people behaving very badly. People having usefulness for the country versus people being a burden. Finally the policeman catches the killer thanks to scratches proofs in his shoulder. As he refuses to acknowledge the murder despite proofs found, the policeman has to force him by using some beatings. Tuanton is finally expelled from the police. This movie is based on a real story, which happened in 1961, where a group of hooligans raped and killed a young student called Teuan Jai PhuangNak. The DVD lasts 1h32mn but the original film is longer. The movie director is Adul Phijit (อดุล พิจิตต์).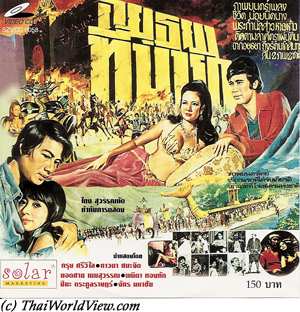 Year

: 1979



Thai title

:

อยุธยาที่ข้ารัก




English title

: The last day of Ayudhya



Rating

: 3/5


Director

:



Main actor

: Krung Srivilai,Yodchai Meksuwan,Piya Trakulrard,Surasit Sattayawong,Tawan Siriwat,Lor Tok,Pipop Pupinyo,Pan Borapet


Main actress

: Pawana Chanajit,Chosri Misommon,Somjit Sapsamruey,Marasri Bangchang,Sulaleewan Suwanthat



Buy now

:

Thai movie อยุธยาที่ข้ารัก / The last day of Ayudhya was released in year 1979 and lasts 2h18mn. The movie features many songs. The Thai chief soldier (Tawan Siriwat) is a traitor. Young lady Lam Duan (พนิดา ทองทัต) helps the Thai King (Surasit Sattayawong) to flee. Ayutthaya city is burnt and destroyed as the traitor opens the door to Burmese soldiers. Resistance is on. Lam Duan and her husband Reuang (Yodchai Meksuwan) try to kill the Burmese King but they fail and are sentenced to death. They promise to love each other every life (ทุกชาติ) and to kill the Thai traitor. 200 years have passed. Lam Duan is reborn under MouMou's name. Reuang is reborn under Decha's name. Sulaleewan Suwanthat is playing MouMou's mother. Dam (Pipop Pupinyo) kidnaps the subdistrict headman's daughter. Decha (Yodchai Meksuwan) likes painting and falls for Noi (Pawana Chanajit), a good heart prostitute. Decha is hired (นับสืบ) by a rich lady (Somjit Sapsamruey) to find her lost granddaughter (หลานสาวเศรษฐี). Dam buys a young lady called MouMou (พนิดา ทองทัต) for 3 nights from her parents but she refuses and escape after hitting Dam. Decha finally helps her but she doesn't trust believing he is another rapist. They take refuge in a cave. At nighttime, Decha dreams that MouMou is Noi and makes love to her. He promises to be responsible of his acts. Chased by Dam's ruffians including Pan Borapet, MouMou splits with Decha to attract the ruffians. She is unfortunately shot by ruffians and falls from a cliff. Toon (Lor Tok) is Decha's assistant. Lor Tok as medium (คนทรง) convinces the grandmother that Noi is her lost granddaughter. If Decha marries Noi, lost granddaughter, then they will have 1M baht to share! On the wedding day, MouMou is back. She wants to get her husband Decha back. Krung was the one to rescue MouMou when she falls from the cliff. He wishes to marry her but she refuses as she loves Decha, her husband in this life and previous life as Reuang. In order not to lose 1M baht, Noi has to accept to share Decha with MouMou. One day in alternance (โควตา) but jealousy makes it impossible to happen. Krung Srivilai has finally a small role in this movie but he is displayed on the poster as the main actor. Decha and Noi plan to send MouMou to a psychiatric hospital. She rebels and when facing Tawan Siriwat, she reminds he was the traitor in Ayutthaya and stabs him. The rich lady realises that her missed granddaughter is MouMou and not Noi! MouMou flees and reaches Ayutthaya. There, disappointed by life, she becomes a nun.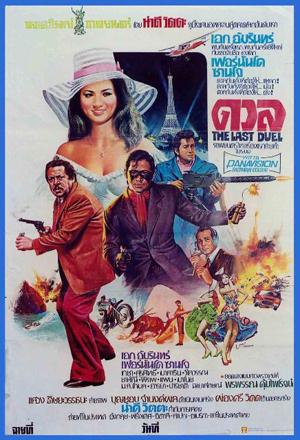 Year

: 1977



Thai title

:

ดวล




English title

: The last duel



Rating

: 2/5


Director

:



Main actor

: Ek Amarin,Kecha Plianvithee,Chanee Yotchai,Paen Pleumsachai,Pipop Pupinyo,Surasit Sattayawong


Main actress

: Wilaiwan Watthanaphanit
Thai movie ดวล (The last duel) was released in year 1977. It lasts 1h31mn. It seems that the movie was never released on VCD or DVD but only shown on Thai TV channel 11. The soundtrack is unfortunately very bad and barely audible. It features a bunch of actors always playing ruffians such as Kecha Plianvithee, Chanee Yotchai, Paen Pleumsachai and Pipop Pupinyo. Ek Amarin (เอก อัมรินทร์) is the main actor. Kecha and Surasit Sattayawong are friends with an overseas ruffian. They kill a couple to steal money and also take their daughter. Their teenage son promises to get revenge. 20 years have passed. Kecha's birthday is happening. Narin from France is present. Ek spoils the party and promises to get revenge against the ruffians one by one. He finally gets stopped by Narin (ไม่น่าเป็นโจร). Ek reverses the situation and brings Narin in a cave as a prisoner. He finds that Narin has a necklace and a birth tattoo on her back showing that she is his lost sister separated from him when their parents were killed by ruffians. Ek gets rid of Chanee and Surasit through duels. He also kills Pipop in one to one duel. One of the overseas ruffians leaders is chased by speed boat, then by car but Ek gets defeated. Ek is tortured, attached to a pole and left for dead. He is finally released by Narin. Ek is then chased by a motorcycle, a helicopter and then a F1 car but still survives! Finally Ek shots also Kecha. The movie moves to Spain into a with a five minutes corrida sequence that looks like more a documentary. He also shots the last ruffian, who was a Spanish citizen. Revenge cycle is over. This movie got limited success despite bringing some foreign stars. Ek Amarin is also less famous than other Thai cinema stars of the 1970s decade.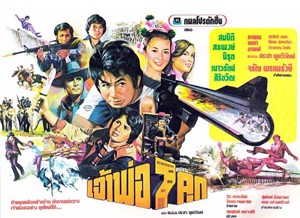 Year

: 1977



Thai title

:

เจ้าพ่อ 7 คุก




English title

:



Rating

: 3/5


Director

:



Main actor

: Sombat Methanee,Sorapong Chatree,Chaiyan Sorakrai,Kecha Plianvithee,Dam Datsakorn,Pipop Pupinyo,Manop Aussawathep,Nirut Sirijanya,Surasit Sattayawong


Main actress

: Naowarat Yooktanun,Sirikwan Nanthasiri
Thai movie เจ้าพ่อ 7 คุก was released in year 1977. It features two major Thai cinema stars together, i.e. Sombat Methanee and Sorapong Chatree. The remaining sequence lasts 1h22mn. Papum (Sombat Methanee) succeeds to escape from prison four times but he is recaptured by the Thai police each time. Sorapong is a soldier. Chaiyan Sorakrai as another soldier gets killed in the fightings. Sorapong is married and has one kid. While he is fighting at the border, his father is killed and his wife is raped by ruffians led by Jit (Kecha Plianvithee) and including Ming and Pipop Pupinyo stealing the cattles. Sorapong finds Pipop and kills him. Before he learns from Pipop that Ming is now in jail so Sorapong surrenders to police in order to be sent to jail. Sorapong ends up in same jail as Papum, who is still trying to escape (นักโทษวิเศษ). He also befriends with Ming. The three guys now prepare to escape. There is a famous scene, where Sombat as prisoner smashes a rat and eats it raw. The three men succeed to escape through some pipes thanks to a file given by Sorapong to Papum in order to cut his chains. After obtaining information on Jit, Sorapong kills the ruffian Ming following a one to one fight. Papum and Sorapong go to north of Thailand to find Jit. They join a group including พ่อเลี้ยง Chawalit (Manop Aussawathep), Nirut Sirijanya and Malee (Sirikwan Nanthasiri). They go through the mountains by small paths. Papum meets Naowarat Yooktanun. Love emerges. Surasit Sattayawong is the hill tribe village leader (ผู้ใหญ่). Two groups are exercising influence, i.e. Jit and Chawalit, around the mountains. Meiyo, Naowarat's younger brother, is shot by Jit's ruffians as he listened to them talking about Papum and Sorapong. Malee has disappeared. The two groups prepare to fight. Nirut releases Malee but they are chased by ruffians. Malee gets shot and dies. Papum and Sorapong escape murder tentative. The two groups confront each other and heavy shootings happen. Final fights between Papum and Dam Datsakorn, between Sorapong and Jit occur. Naowarat helps Papum. Sorapong kills Kecha but gets severly injured and dies. Papum ends up 10 years in prison but Naowarat waits for him. This movie features an impressive list of famous Thai actors and actresses from decade 1970s.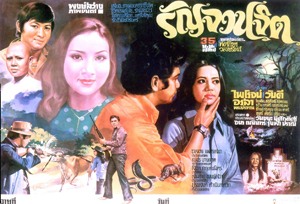 Year

: 1973



Thai title

:

รัญจวนจิต




English title

:



Rating

: 3/5


Director

:



Main actor

: Phairoj Jaising,Surasit Sattayawong,Sawin Sawangrat


Main actress

: Wandee Sritrang,Orasa Isarangkul,Marasri Isarangkul
Thai movie รัญจวนจิต was released in year 1973. The movie is lost in Thailand but a few minutes trailer remains to be seen. Main actor is Phairoj Jaising and main actress is Wandee Sritrang. Other actors are Orasa Isarangkul, Surasit Sattayawong, Sawin Sawangrat, Marasri Isarangkul, สุพรรณ, วันชนะ, อมร, ขวัญฤดี, รุ่งฟ้า. This is a sad drama movie with a bit of action.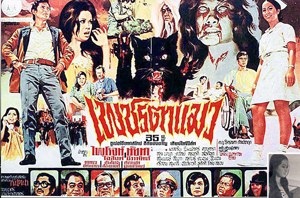 Year

: 1972



Thai title

:

เพชรตาแมว




English title

:



Rating

: 3/5


Director

:



Main actor

: Phairoj Jaising,Manop Aussawathep,Surasit Sattayawong,Tawan Siriwat,Sukon Koewliam,Sompong Phonmitr,Lor Tok


Main actress

: Naiyana Shewanan,Sisala Thongtara,Malalin Bonnak,Khomapat Attaya
Thai movie เพชรตาแมว was released in year 1972. The movie lasts 2h25mn. It seems the movie was never released on DVD or VCD. Only on cable TV so scenes involving alcohol drinking or smoking cigars are blurred. A few songs are featured in the movie similar to all movies beginning of 1970s following huge success of "Mon Rak Luk Tung". Three men are looking in a remote cave for a mystical cat having real diamond eyes. Chat is the one who finds it first but fighting happens with another man. They shoot each other. The third one being a Prince (หม่อม)(Manop Aussawathep), who finally keeps the jewel and doesn't give it back to Chat's daugher. Ten years have passed. The prince is now disabled, lost his wife and child. The jewel brought him bad luck as he is not the real owner. Niphon (Surasit Sattayawong), Tawan Siriwat, Sisala Thongtara, Sukon Koewliam are his domestic helpers. Tawan Siriwat hires a young lady to get the jewel from the Prince. Meanwhile the prince asks Yot (Phairoj Jaising), being a police inspector (สารวัตร), to look for Chat's daughter called Bussayarat. Bussayarat is now a nurse (Naiyana Shewanan). Sompong Phonmitr is her father and wishes to marry her to a local ruffian in order to get money to continue to buy alcohol. Yot helps Bussayarat aggressed by those ruffians. Yot brings Bussayarat to Bangkok in order to meet the Prince believing he found Chat's daughter. As Bussayarat has still a father, the Prince claims she is not the Bussayarat he is looking for but keeps her as a nurse. Niphon introduces to the Prince a fake Bussayarat played by Malalin Bonnak. The Prince asks for 7 days to ensure (สอบถาม) she is the real one. Meanwhile Tawan Siriwat also introduces to the Prince another fake Bussayarat played by Khomapat Attaya. The diamond is sacred (ของศักดิ์สิทธิ์) so it will bring bad luck to malevolent people. Tawan Siriwat, disguised as a ghost (ผี) frightens Malalin to chase her away. Khomapat also faces many black cats in her room and flees. Niphon is married to Nuan (สุพรรณ บูรณะพิมพ์). Nuan is elder sister of Malalin. Niphon is thinking to flee with Malalin when they get the diamond. As Khomapat is in hospital following her shock, Niphon cuts her oxygen approvisionnement to get rid of a competitor. Seeing Yot loving Bussayarat, Malalin is jealous and tries to take Yot away from Bussayarat. Meanwhile Yot is sent by the prince to meet Phra lo (Lor Tok) in order to bring back the diamond. Tawan Siriwat sends some ruffians to steal it but it fails. A ceremony to handover the diamond (มอบเพชร) to Malalin is organised. It ends badly with Tawan Siriwat trying to steal the diamond and injuring Malalin. Yot shots Tawan Siriwat. Being disfigured, Malalin asks Bussayarat to get the diamond for her so that she can have chirurgical operation. Having the diamond, Malalin prepares to flee with Niphon. Khomapat's aunt called Nathalie shots Malalin to get the diamond. Many deaths happen due to the evil power of the diamond (อำนาจของเพชรตาแมว). Nathalie becomes crazy after Niphon steals the diamond from her. Niphon is chased by the police. He shots by mistake Nuan and finally falls from a building. During an official ceremony, the Prince gives back the diamond to Bussayarat.



Year

: 1971



Thai title

:

มันมากับความมืด




English title

: Out of the Darkness



Rating

: 3/5


Director

: ChatriChalerm Yukol



Main actor

: Sorapong Chatree,Kom Akadej,Rujira Isarangkul,Dam Datsakorn,Surasit Sattayawong,Tawan Siriwat


Main actress

: Naiyana Shewanan,Chosri Misommon,Marasri Isarangkul
A mysterious object fall in the sea. Two scientifists from Bangkok come to the South of Thailand looking for the mysterious object. The local villagers worship what they believe to be a god. But a mysterious creature start to kill villagers at night time. The scientifists have to help the villagers to get rid of this mysterious objet. It was the first Thai science-fiction movie but it was not successful at the box office. In his first film, ChatriChalerm Yukol used new actors, whereas other filmmakers used established superstars.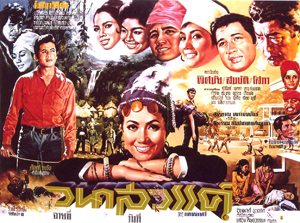 Year

: 1970



Thai title

:

วนาสวรรค์




English title

:



Rating

: 3/5


Director

:



Main actor

: Sombat Methanee,Surasit Sattayawong


Main actress

: Pissamai Wilaisak,Metta Roongrat,Sopha Sataporn,Chadaporn Wachirapranee
วนาสวรรค์ is a Thai movie released in year 1970 and featuring main actors Sombat Methanee and Pissamai Wilaisak. Other actors are Surasit Sattayawong, Metta Roongrat, Sopha Sataporn, Chadaporn Wachirapranee. The movie cannot be found in any format in Thailand. Luckily two reels are still available in Thailand belonging to two collectors groups. The two reels are unfortunately not consecutive. Thanks to a group of former dubbers performing with 16mm movies, an old reel with small parts of lost films was found in year 2013. The first reel left is 23 minutes long. Katoua (Pissamai) is a mountain people (ชาวเขา). Metta Roongrat is acting as jealous lady. As Katoua has no more relatives, Sombat agrees to send Katoua to Bangkok bringing jealousy to Metta and disappointment to Sopha. Both of them love secretly Sombat also. Katoua goes first to Bangkok but Sombat stays behind. While in Bangkok, Pissamai gets hit by a ruffian and loses memory (ความจำเสื่อม). She cannot remember Sombat and has arguments with him. Back to the mountains, she cannot eat local food anymore. The first reel is in very good condition and still colorful. The second left reel is 28 minutes long. Sombat wants to see who is the young man called Somchai (สมชาย ศรีภูมิ) trying to date Sopha. Sombat seems to be an administration officer working in the forest. Katoua (สาวกรุงเทพ) falls from the stairs. It seems that Katoua was never really a mountain people but was sent in the North of Thailand by her father in order to be safe. Somchai and his men try to force in order to enter in the forest. Following a fist fight between Sombat and Somchai, they become friends. Sombat is following a ruffian who succeeds to escape a first time but finally this latter gets strangled by a big snake. The second reel is in poor condition. There is damaged picture with many lines but luckily it is still colorful. No movie summary is unfortunately left.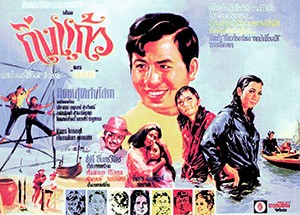 Year

: 1970



Thai title

:

กิ่งแก้ว




English title

:



Rating

: 3/5


Director

:



Main actor

: Mitr Chaibancha,Prachuap Ruekyamdee,Adul Dulyarat,Surasit Sattayawong,Adinan Singhiran


Main actress

: Suthisa Putnuch,Sopha Sataporn,Khomapat Attaya
Thai movie กิ่งแก้ว was released in year 1970. It features Mitr Chaibancha as main actor and Suthisa Putnuch and Sopha Sataporn as main actresses. Other actors featured are Prachuap Ruekyamdee, Adul Dulyarat, Surasit Sattayawong, Khomapat Attaya, Adinan Singhiran. The movie is lost in Thailand but luckily a four minutes sequence featuring a song remains to be seen. Unfortunately Mitr Chaibancha cannot be seen in the remaining four minutes sequence. The singer is ชินกร ไกรลาศ, famous singer during decades 1960s and 1970s. The whole movie features three songs. Normally songs were in 35mm format but for provinces everything was in 16mm format to avoid the pain of having to use two projectors. Three songs were featured in this movie.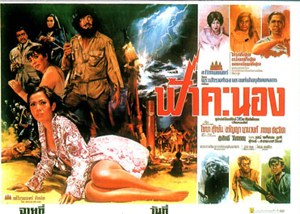 Year

: 1970



Thai title

:

ฟ้าคะนอง




English title

:



Rating

: 4/5


Director

:



Main actor

: Chaiya Suriyun,Sorapong Chatree,Sukon Koewliam,Ruj Ronnapop,Surasit Sattayawong


Main actress

: Aranya Namwong,Pawana Chanajit,Chosri Misommon,Wilaiwan Watthanaphanit
Thai movie ฟ้าคะนอง was released in year 1970 and lasts 1h22mn. It features main actors Chaiya Suriyun, Aranya Namwong and Pawana Chanajit. Movie ฟ้าคะนอง was restored and shown on Thai cable TV. It features a beautiful colorful image. Sorapong Chatree and Charika (Pawana Chanajit) take a bus to go to Fa Khanong pier. Sorapong Chatree, one of the most famous Thai actors with Mitr Chaibancha and Sombat Methanee, was still an unknown actor at that time and was playing side roles. Everybody discourages Charika to go to Fa Khanong island. People are talking about ghosts... It seems many people died before due to pirates. Spirits (วิญญาณ) are said to be around. Chosri Misommon is playing Charika's domestic helper (คนรับใช้). Mysterious deaths happened previously on the island. People, who took the job of nurse (นางพยาบาล) before Charika, all died... Ruj (Ruj Ronnapop) is playing a crazy disabled man (เล่นตุ๊กตา) always scold by the governess. Khun Phujing (Wilaiwan Watthanaphanit) is disabled. Her mother needs also to take medicine. Charika is responsible to take care of them as a nurse. Khun Lek (Aranya Namwong) is Khun Phujing's younger sister. During a storm, Charika has a vision, i.e. she sees a hirsute man entering in her room. The following day, Charika meets Turatee (Chaiya Suriyun) and believes the hirsute man and he are the same person (Chaiya Suriyun plays both roles). At nighttime, the hirsute man enters in the grandmother's room to steal a map. The hirsute man is recognized as Khun Phuchai, who died many years ago. The island superintendent Durong (Surasit Satayawong) and his mistress, the governess, are worried as it could be the map leading to the pirates' treasure of Plao island. The next day, crazy Ruj harass again Chosri and Charika. The governess scolds and beats again but it turns badly as Ruj cuts the governess head! During this messy situation, Charika loses conscience and disappears carried by the hirsute man. Durong is hoping to find a secret pirates' treasure (สมบัติ). He has also a relationship with Khun Phujing. Willing to know what is really happening on Plao island, Chaiya and Lek try to reach the island by boat. The superintendent, a few tough men, Chosri and Khun Phujing follow them by boat also. Both boats capsize but they can all avoid the sharks. Stranded on Plao island, the superintendent is trying to locate the treasure and to catch Turatee, Lek's fiance, and Lek. Durong believes Turatee has the treasure map. An old man Tao is helping Turatee about to be killed. Charika wakes up in a cave with the hirsute man. The hirsute man is Khun Phuying's younger brother, who is still alive. He mentions that Durong killed all nurses. He knows about the pirates' gold hidden in the cave. italian actor. Durong tries to abuse Khun Lek but is injured by Khun Phujing. Durong then shoots and kills Khun Phujing. Tao leads Durong and his men to the treasure. Finally, Durong and his ruffians die as they are more obsessed by collecting gold than running for their life as the cave is collapsing. Lek, khun Phuchai, Charika and Turatee succeed to escape on time. Romance can happen between Lek and Turatee, between Charika and Khun Phuchai.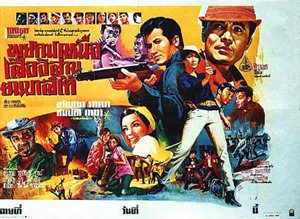 Year

: 1969



Thai title

:

พยัคฆ์เหนือ เสืออิสาน ยมบาลใต้




English title

:



Rating

: 3/5


Director

:



Main actor

: Sombat Methanee,Kecha Plianvithee,Prachuap Ruekyamdee,Surasit Sattayawong,Joomjim Khemlek,Sawin Sawangrat,Ruj Ronnapop


Main actress

: Aranya Namwong,Pawana Chanajit,Kaenjai Meenakanit,Yaowaret Nisakorn
Ruffians capture a man fleeing with a suitcase. Two important letters inside have disappeared from the suitcase when he hit a group of three people while running away. Those people are a father (Surasit Sattayawong), his daughter Fimeuang (Pawana Chanajit) and their friend (Joomjim Khemlek). Those letters are related to their plan to bring troubles from overseas into South of Thailand (คนขายชาติ). Sak (Prachuap Ruekyamdee) and inspector (สารวัตร) Cheut (Sombat Methanee) meet the 3 characters in Nakhon Sawan and sympathize. Ruffians try everything to get back those letters but Sak and Cheut support them. Cheut communicates with his Police Headquarters through young lady Nop (Yaowaret Nisakorn also called Petchara 2). Ramet (Kecha Plianvithee), undercover ruffians leader, tries to seduce Dao (Aranya Namwong) but she doesn't like him. Ramet is a good friend of Krit (Ruj Ronnapop), Dao's brother, as he can always borrow money to him for gambling (พนัน). Cheut also appreciates Dao. Fimeuang and her father take refuge in Chiang Mai. Finally Fimeuang understands that Cheut is a right and trusty man, so she gives him the envelopes. Fimeuang loves secretly Cheut and goes back to Surin. Cheut's heart is divided between Dao, Fimeuang and Nop. Cheut is captured by the ruffians. Finally Sak helps him on time. Ramet is captured but finally later on free again so it looks like a part of the movie is missing. Willing to get back the letters, the ruffians capture Fimeuang and her friend Kamoon. The father shall give back the letters back to Ramet to save his daughter's life. Policeman Cheut, Sak and Nop help to penetrate the ruffians' camp. Dao and Chris also realize who is Ramet while visiting the camp and find that Fimeuang is held captured there. During final shootings, Fimeuang is unfortunately shot. Ruffians are defeated. Movie พยัคฆ์เหนือ เสืออิสาน ยมบาลใต้ is a mix of action and comedy. This small movie really features a great bunch of Thai actors and Thai actresses from decade 1960s.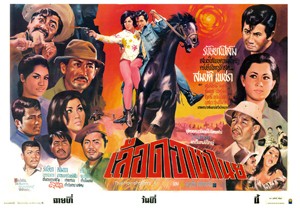 Year

: 1968



Thai title

:

เลือดอาชาไนย




English title

:



Rating

: 3/5


Director

:



Main actor

: Sombat Methanee,Surasit Sattayawong,Choomporn Theppitak,Pramin Jarujareet,Preuhat Boonlong,Joomjim Khemlek


Main actress

: Petchara Chaowarat,Metta Roongrat,Kaenjai Meenakanit,Mom Chan Phuangwan
Thai movie เลือดอาชาไนย was released in year 1968. The movie is lost in Thailand but a trailer lasting a few minutes remains to be seen. The image is very redish and damaged. The remaining film is in 16mm format so it is in mute state as such format requires live dubbing. Main actresses and actors featured in this movie are Sombat Methanee, Petchara Chaowarat, Surasit Sattayawong, Metta Roongrat, Choomporn Theppitak, Pramin Jarujareet, Kaenjai Meenakanit, Joomjim Khemlek, Mom Chan Phuangwan, Preuhat Boonlong, นุสรา แสงรัตน์. นุสรา แสงรัตน์, elder sister of Lalana Sulawan, is also having a small role in this movie. สุวีระ is the movie director. It is a Thai western movie. Various short sequences in the trailer allow seeing Sombat Methanee, Kaenjai Meenakanit, Metta Roongrat, Petchara Chaowarat, a typical waterfall scene with a lady bathing, a lady aggressed by ruffians, some shootings, some fightings between Sombat Methanee and Choomporn Theppitak, Mom Chan Phuangwan killed by ruffians and then discovered by Sombat. Normally old Thai movies always include various tastes (romance, action, drama, comedy, a mild erotism…) to raise the interest of the various spectators watching outdoor movies in Thai provinces.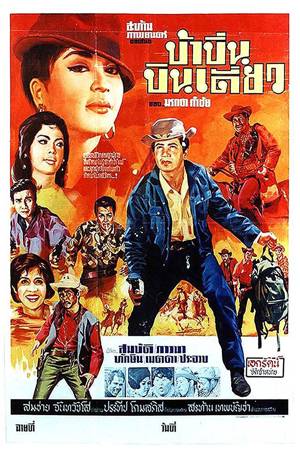 Year

: 1967



Thai title

:

บ้าบิ่นบินเดี่ยว




English title

:



Rating

: 3/5


Director

: ประทีป โกมลภิส



Main actor

: Sombat Methanee,Taksin Jampol,Prachuap Ruekyamdee,Chanee Yotchai,Surasit Sattayawong,Sawin Sawangrat,Daonoi Duangjai,Sithao Petcharoen


Main actress

: Pawana Chanajit,Metta Roongrat,Kaenjai Meenakanit,Yaowaret Nisakorn
Thai movie บ้าบิ่นบินเดี่ยว was released in year 1967. Main actors and actresses include Sombat Methanee, Pawana Chanajit, Taksin Jampol, Metta Roongrat, Prachuap Ruekyamdee, Chanee Yotchai, Kaenjai Meenakanit, Surasit Sattayawong, Yaowaret Nisakorn, Sawin Sawangrat, Daonoi Duangjai, Sithao Petcharoen, ไสล พูนชัย, เมืองเริง ปัทมินทร์, พร ไพโรจน์, อาคม มกรานนท์. Movie director is ประทีป โกมลภิส. The film was never released on VHS / VCD / DVD format and was lost in Thailand. Only a short sequence of three minutes can still be seen. The radio advertising song is still available. Thai movie บ้าบิ่นบินเดี่ยว is a Thai Western. The original film lasted 160 minutes. The three minutes extract includes several sequences. Pawana and Donoi are eating grilled chicken while Sombat is very hungry seeing them. Two ruffians are about to shoot Sombat, but Pawana shouts to warn him.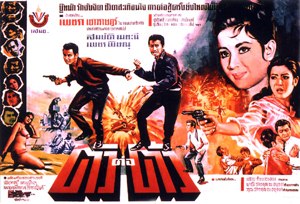 Year

: 1966



Thai title

:

ตัวต่อตัว




English title

:



Rating

: 3/5


Director

:



Main actor

: Sombat Methanee,Surasit Sattayawong,Krai Kanchit,Taksin Jampol,Pramin Jarujareet


Main actress

: Petchara Chaowarat
Thai movie ตัวต่อตัว was released in year 1966. Sombat Methanee is the main actor and Petchara Chaowarat is the main actress. This movie is lost in Thailand but a trailer of 3 minutes remain to be seen. No movie summary is left to be read. Only the poster! Other actors featured in this movie are Krai Kanchit, Taksin Jampol, Surasit Sattayawong, a veteran actress in sexy role, เพชร พิษณุ, Pramin Jarujareet (should play the bad guy as usual), จุ๋มจิ๋ม ศรทอง, ชาญ กัมปนาท, ประภาศรี เทพรักษา, เพลาพิลาศ โยธานันท์. Varun Chatkul At Ayutthaya (วรุณ ฉัตรกุล ณ อยุธยา) is the movie director. The trailer of this action movie shows fist fighting, shootings and spade fighting. As often in Thai action movies from 1960s decade, there is a masked justiciary.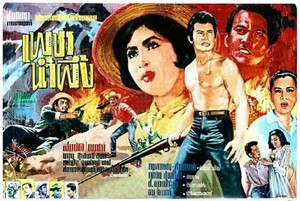 Year

: 1965



Thai title

:

เพชรน้ำผึ้ง




English title

:



Rating

: 3/5


Director

:



Main actor

: Sombat Methanee,Surasit Sattayawong,Sukon Koewliam


Main actress

: Petchara Chaowarat,Mom Chan Phuangwan,Kaenjai Meenakanit
Thai movie เพชรน้ำผึ้ง was released in year 1965 and lasts 1h06mn only. It was released by Thai company Lepso under VCD format. Half of the movie is certainly lost. The end of the movie seems accelerated as probably half of the 24 frames per second in the 16mm film were damaged so Lepso removed them. It still features a colorful image. Cheut (Surasit Sattayawong) has a 500 000 THB debt. As he cannot pay back the debt, his son Chen (Sombat Methanee) accepts to work for Nai Dusit (สิงห์ มิลินทราศัย) for 20 years to pay the debt. Lampa (จุฑารัตน์ จินรัตน์), married to Surasit, had a child with Nai Dusit. ลูก Jun (Petchera Chaowarat) surnamed as Nam Pheung is missing her mum as she went to study overseas. Nai Dusit lies to her saying she is dead already. Ah has a mistress played by Kaenjai Meenakanit. เจ้าของไร่ meets Cheun but she dislikes him. Jun plays tricks to Chen to show her displeasure but she is the one being tricked. A friendship finally starts. Dusit wishes to get rid of Lampa, Jun's mother. Lampa is invited by Nai Dusit to see her daughter but it is a trick as Jun is replaced by Kaenjai Meenakanit. Kaenjai claims she dislikes her mother as she has a new husband. Shocked, the mother wanders nowhere and is almost crushed by a train. She is saved by Chen and Jun. Jun asks help from Chen as she wishes to meet her mother. Kaenjai and Ah have a plan against Jun and Chen. Kaenjai kisses Chen to have Jun upset and Ah promises to bring Jun to see her mother. It is a trick to rape Jun. Hopefully a man called Nam Ta Dao is here to help her. Dusit forbids Jun to leave her room (พ่อใจร้าย). Ah is shot as he misbehaved with Jun. Kaenjai holds Jun responsible of Ah's death so she tries to poison her. It fails as Chen comes to help her to escape. She warns Khun Dusit to prevent an escape. Chen is outnumbered and knocked out. Seeing his wife close to death, Cheut decides it is time to rebel against Nai Dusit and his men. Other villagers agree and join him. Fighting and shooting occur. A ruffian releases Chen and Sukon as he disagrees about Nai Dusit preventing a daughter to see her mother. Kaenjai tries to kill Jun but Nam Ta Dao, an undercover policeman, prevents her. Nai Dusit is captured by Chen and Cheut. Police arrests all the ruffians. The mother Lampa recovers. Chen and Jun declare their love to each other.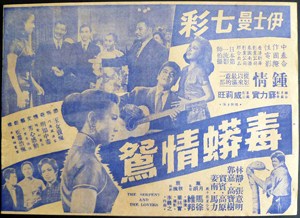 Year

: 1961



Thai title

:

งูและคนรักกัน




English title

: The serpent and the lovers



Rating

: 3/5


Director

:



Main actor

: Surasit Sattayawong,Chao Klaewklong


Main actress

: Wilaiwan Watthanaphanit
Thai HK movie 毒蟒情鴛 / "The Lovers and the Python" / "The serpent and the lovers" was released in year 1961. It features Thai actress Wilaiwan Watthanaphanit and Thai actor Surasit Sattayawong. It was shot in year 1956 but only released in year 1961. It is a Hong Kong–Thailand– Japan co-production. The movie is lost in Thailand but it still can be found in Hong Kong Film Archives. It is available in beta max format, in black and white, in mandarin language only with no subtitles. The image is a bit dark but still sharp. Wen Chai (Surasit Sattayawong), wearing a suit, sees a young lady, called Milly Ko, on a bridge wearing a Cheongsam, Chinese dress. They talk together but it seems Wen Chai is asking too much questions so she leaves. Back home he meets his sister Anne (Wilaiwan Watthanaphanit). Wen Chai is then having a picnic with friends. Wen Chai meets again the same lady on a cliff. Milly Ko wishes to suicide. He stops her. She disappears again in the forest. Wen Chai has only her scarf that she dropped. Wen Chai assists to an exotic dance in a club. The beautiful dancer is using snakes. The same mysterious lady is coming to this club also. A governess is following her. Milly Ko asks Wen Chai to meet her at the cliff. A Chinese man comes to talk to the lady so she leaves. Wen Chai is back to the cliff. The governess brings him to a neighbouring home. Milly Ko is waiting on a bed. Wen Chai is puzzled. She begins to sing holding a rose. Long dialog happens with cries. They finally become lovers. The governess brings the lady away through a car. Wen Chai is back later but Milly Ko is not here anymore despite searching the whole house. In a room, he finds a disfigured lady who chases after him. She is finally hit by a car and dies. While driving, Wen Chai hears a woman singing. It is his mysterious lady. It looks like their love is impossible due to some mysterious reasons. Later on, Wen Chai goes back to the house. It is closed. He forces his way inside but Milly Ko is no longer there. Later on, the young lady has arguments with her governess Ma. Finally Wen Chai meets Milly Ko again. They love each other. She sings for him again. Milly Ko wears many beautiful Cheongsams in this movie. Milly Ko tells him that she is a rich leper. It is the tradition of the place, a leper must have sexual intercourse with opposite sex before marriage in order to get off the disease, therefore Wen Chai has the infection. Wen Chai is willing to sacrifice for her. The father seems unhappy with his daughter. Back to her house, Wen Chai finds she is not there anymore. It looks like the father has other ideas in mind to choose a husband for her. A handicapped man seems to be the one. Milly Ko tries to flee at nighttime but her mother stops her. Wedding announcement are printed in newspaper so Wen Chai is aware. Wen Chai wishes to go back to Thailand. Milly Ko misses him as she is too late to airport. Wen Chai's friend helps. Wen Chai is back to Thailand but even Thai dances (รำวง) or Thai song cannot rejoice him. Wen Chai is unhappy and is not able to write a letter. Milly Ko arrives to Thailand by plane. She travels by taxi showing Bangkok in the 1950s through the Victory Monument, Royal Palace and airport. Wen Chai is sick. His face is swollen. He is locked but succeeds to escape. Milly Ko arrives to his house. Wen Chai's mother seems upset. Thai veteran actor (Chao Klaewklong?) welcomes her to his home. They look for Wen Chai. Wen Chai keeps hiding in the forest as he is disfigured. His body is deformed by leprosy. Milly Ko sings in the forest hoping Wen Chai will come but he flees. Coming to the houses, his face makes the servant afraid so she flees. Milly Ko runs after. In the jungle, a tremendous big snake attacks Milly Ko but Wen Chai protects her and kills the snake. Afraid to show his face, he dives in the pond, drinking the serpent's poison. Emerging from the pond, the buttons have disappeared as the poison is a medicine to cure leper. He is normal again. Milly Ko comes with help and support from Chao Klaewklong. The Chinese actress is Du Wang Wing Yuan (Chung Chin). A movie storybook of 32 pages is still available in HK film archives with text in Chinese and many pictures.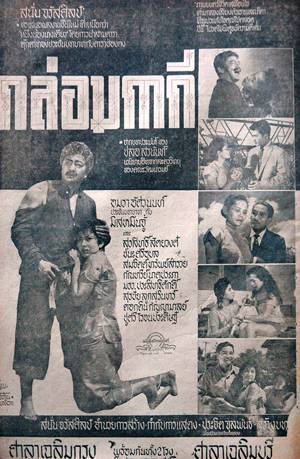 Year

: 1959



Thai title

:

กล่อมกากี




English title

:



Rating

: 3/5


Director

:



Main actor

: Chana Sriubon,Surasit Sattayawong,Dokdin Kanyaman


Main actress

: Amara Asavananda,Somjit Sapsamruey,Chosri Misommon,Sulaleewan Suwanthat
Thai movie กล่อมกากี was released in year 1959. It features Amara Asavananda as main actress and Chana Sriubon as main actor. Thong (Surasit Sattayawong) helps a pregnant woman called Yinfa (Somjit Sapsamruey). She is going to jump from a bridge. He saves her life. Her born daughter is called Buakim (Amara Asavananda) and is raised by Thong. Being adult, Buakim finds a job in an office but issues happen. Chana (Chana Sriubon), the staff manager, solves the issues. As uncle Thong is sick, Buakim asks for a three days off and salary advance to the boss (เป็นพิเศษ). Buakim ends up being domestic helper (แม่บ้าน) for Chana's family. Chana doesn't have any mother. Buakim doesn't have any father. So they have a common understanding. Buakim is poor (ยากจน / พบแค่ความทุกข์). She is accused of having stolen money in the house. It is in fact a plan by the younger wife of the boss asking Mae Nim (Sulaleewan Suwanthat) to play trick to Buakim. When Chana finishes his university degree, he wishes to marry with Buakim. Buakim is reluctant as she is only a domestic helper. Thong warns the boss' wife to stop harassing Buakim. Yinfa realises that Chana is her lost son so she asks Buakim to stop seeing Chana. Upset Chana feels betrayed and slaps Buakim. Thong protects Buakim. Chana understands the truth and visits his lost mother. Finally they are all reunited thanks to Thong. Chana loses a wife but gains a mother and sister. Part of the movie is dubbed as it was released earlier in video tape format. It was never released in another format as the movie was not successful enough in VHS format. It lasts around 1h30mn. A Hong Kong actress is also involved, i.e. Miss Minchoo (หมิ่นจู้).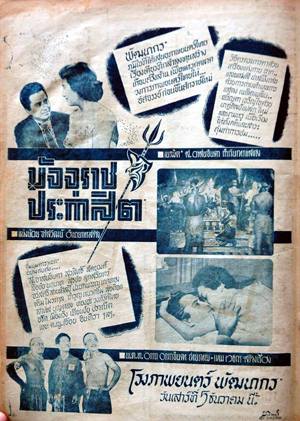 Year

: 1959



Thai title

:

มัจจุราชประกาสิต




English title

:



Rating

: 3/5


Director

: Sor Asanajinda,Neramit



Main actor

: Luechai Natnat,Sor Asanajinda,Surasit Sattayawong,Lor Tok


Main actress

: Prapan Narkthong
Thai movie มัจจุราชประกาสิต was released in year 1959. It is a lost movie in Thailand but a sequence of 26 minutes is still available. The sequence is still very colorful. It is an horror movie with a strange style. Main actor is Luechai Natnat and main actress is Prapan Narkthong. Directors are Sor Asanajinda and ครูเนรมิต. Actress จรัสศรี สายะศิลป์ also plays. It is a movie about hell mixing with human society. The god of death (ยมบาล) is played by Surasit Sattayawong. He sends to hell a wrong person (Luechai Natnat) so needs to bring him back to human world with additional power of being able to answer to various blessings. The human world being messy and deceitful (jealousy from women, lust), Luechai wishes to die again and be back to hell. Poster advertisement mentions that the movie cost 0.5M Baht to be produced in 1959.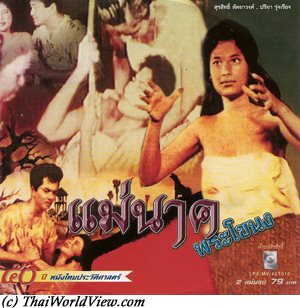 Year

: 1959



Thai title

:

แม่นาคพระโขนง




English title

:



Rating

: 3/5


Director

:



Main actor

: Lor Tok,Surasit Sattayawong,Kokheng


Main actress

: Preeya Roongrueng,Namgneun Boonnak



Buy now

:

Every man in the village loves a young lady called Nak. Young men Mak, Tit Man and the local subdistrict headman's son are part of the suitors but Nak loves Mak. Tit Man tries to forget his discomfiture with another lady called Lamchoon but to no avail so he leaves the village. During a temple festival (งานวัด), where Nak was making merit (ทำบุญ), the local subdistrict headman's son (ลูกกำนันเศรษฐี) fights over Nak with Mak. It turns to be a general fight. Mak promises to marry Nak. On the following day a wedding procession takes place. Similar to movie "The old scar" (แผลเก่า), this 1959 version highlights the rural life with fishing in rice fields and buffaloes. The main actor is the strong and muscular สุรสิทธิ์ สัตยวงษ์. When Nak is pregnant (แผลท้อง), Mak is so happy. But he does receive a letter as he has been selected by lottery to be a soldier in Bangkok. Pa is staying with Nak. The local subdistrict headman's son tries his chance again while Mak is away but Tit Man, going back from Bangkok, helps Nak to chase him. In Bangkok, a woman Chomanak tries to seduce Mak but he is faithful to Nak. Nak dies while giving birth. In this "Mae Nak" 1959 version, the part when Nak is still human is much longer (49 mn) than other "Mae Nak" movies focusing on the ghostly part. During funerals, strong wind and dog howlings happen. People are afraid of ghosts. A local master (อาจารย์) called Thong wishes to make magic filters (ยาเสน่ห์) with Nak's corpse oil (น้ำมันพราย) as it has strong power but he gets strangled while trying to get oil by putting a candle under Nak's chin. Nak is back home waiting for Mak. Nak is now a Phi Tai Hong Klom (ผีตายโหงทองกลม), powerful spirit as it is includes the spirit of unborn baby. The local subdistrict headman's son tries his chance again but this time he loses life. Lor Tok plays a dishonest sorcerer master again asking his acolytes to wear fake ghosts clothes but of course real Mae Nak ghost is coming and all flee. Mak is back home. While preparing food for Mak, a lemon falls on below floor. Mak sees Nak's arm streching out to get the lemon. His child has a demon face. The food is only made of salted fish (ปลาร้า). As he just drank alcohol, he believes his vision is altered. During night time, Nak takes appereance of an ugly ghost again. Mak flees to Tit Man's house. Tit Man confirms that Nak is now a ghost (วิญญาณแรง). Nak is unhappy with Mak's friends as she sees them as a hindrance to her love. A new master helps to neutralize Nak. She refuses to die and birth again (วิญญาณเกิดใหม่) because she loves Mak so much. Love is not possible between ghost and human. In this Mae Nak version, the master succeeds to neutralize Mae Nak and have her spirit emprisonned in an earthen jar closed by a sacred cloth. In other versions, only a Buddhist monk can stop Mae Nak as masters are always useless charlatans. Mae Nak Prakanong (1959) starred sexy actress Preeya Rungruang, while the more recent Nang Nak (1999) featured the actress Intira Jaroenpura, thus shifting the image of female ghosts to a more realistic and humanistic one. It is a typical 1960s movie with dog howling, sorcerer (หมอผี) used, rural background. The picture is decolored and as it is a former 16mm movie, it features a dubbed soundtrack. Mae Nak movie first version was played during Preeya Roongrueng's funerals as an ultimate homage.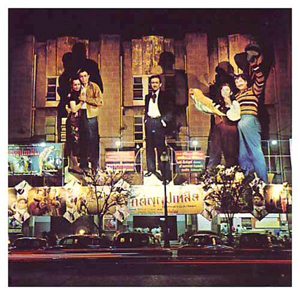 Year

: 1958



Thai title

:

กตัญญูปกาสิต




English title

: Flame in ashes



Rating

: 3/5


Director

: Wupeng



Main actor

: Surasit Sattayawong,Phan Kam,Taksin Jampol,Chao Klaewklong,Jamroon Nuatjim,Tat Ekathat


Main actress

: Wilaiwan Watthanaphanit
Thai HK movie "Flame in ashes" or "Underground Sparks" / 地下火花 / กตัญญูปกาสิต was released in year 1958. The movie lasts 1h46 min and is dubbed in Mandarin language. The movie features a colorful and sharp image. The movie is lost in Thailand but can still be seen in Hong Kong Film Archives. A still picture remains in Thailand showing huge cut outs of the actors / actresses in front of an old theater (โรงหนังเฉลิมไทย). The movie features many Thai actors / actresses including Wilaiwan Watthanaphanit, Surasit Sattayawong, Phan Kam, Taksin Jampol, Chao Klaewklong, Jamroon Nuatjim, จางจงหวัน, จินฟง, วารุณี, Tat Ekathat. This movie got awards during Thai Film Festival (1958) including Best Actor for Surasit Sattayawong, Best Screenplay, Best Set Design for director Wupeng. The high-level synopsis is approximative due to limited understanding of Mandarin language. Another high-level synopsis found in HK Film Archives mentioned that "The Green-Nail gang has long been suppressing the Chinese in Thailand. Once, a businessman Chen Hongyi is found murdered. A person identifying himself as Lung turns himself in claiming responsibility for the murder carried out at the investigation of a satanic organization. However, the case becomes more complicated after Lung and his wife are found dead. Hongyi's son Xilin (Surasit Sattayawong) investigates the case with police officer Ran. Ran penetrates the gang's lair, his life only spared by a female gangster Ling. Reinforced by gangster Abin and the defected Ling, Ran successfully exterminates the gang".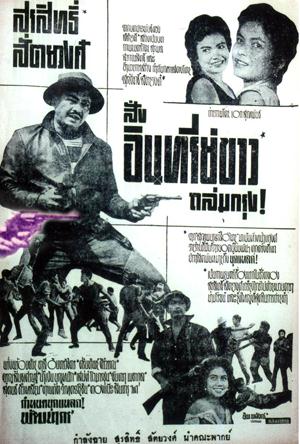 Year

: 1958



Thai title

:

สั่งอินทรีย์ขาวถล่มกรุง




English title

:



Rating

: 3/5


Director

: Surasit Sattayawong



Main actor

: Surasit Sattayawong,Sukon Koewliam,Settha Sirachaya


Main actress

: Sarinthip Siriwan,Namgneun Boonnak
Thai movie สั่งอินทรีย์ขาวถล่มกรุง was released in year 1958. It features Surasit Sattayawong as main actor. The movie is lost in Thailand but a sequence of 22 minutes is left to be seen. The movie was earlier called อินทรีย์ขาว and then renamed before the launch as สั่งอินทรีย์ขาวถล่มกรุง. But name อินทรีย์ขาว still appears in the title credits! For the screenings in Bangkok, Surasit and the team of actors did the dubbing by themselves! It was the first movie as producer for Surasit Sattayawong. Surasit was also the director of this movie. Other actors include Sarinthip Siriwan, Namgneun Boonnak, ชาลี อินทรวิจิตร, จรูญ สินธุเศรษฐ์, เสน่ห์ โกมารชุน, จันทรา เมธากุล, Sukon Koewliam, ทานฑัต วิภาตะโยธิน, ทองแป๊ะ สินจารุ. Surasit is working in a outdoor mine. A woman claiming to love Surasit also has a love affair with the mine's owner. Surasit discovers the truth. Surprising both together, he shoots his wife and the lover. Later on, a big brawl happens in a village. Surasit is now a rickshaw driver. A big street fighting erupts between two groups. After the fighting, a discussion happens in a room. While carrying rice, Surasit has arguments with others workers who makes fun of him. Another general brawl happens. There is a sequence where a child is talking to a fat guy. It looks like it is Settha Sirachaya (เศรษฐา ศิระฉายา) when he was 14 years old.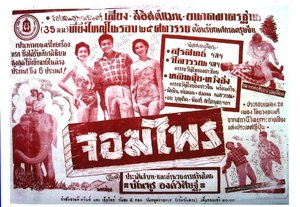 Year

: 1957



Thai title

:

จอมไพร




English title

: The Autumn Phoenix



Rating

: 4/5


Director

: Ho



Main actor

: Surasit Sattayawong,Taksin Jampol,Op Boonthit


Main actress

: Wilaiwan Watthanaphanit,Jeanette Lin Tsui
Thai movie จอมไพร (The autumn phoenix - 秋鳳 - Qiufeng) was released in year 1957. It is a Thai HK Taiwan co production. It lasts 1h18mn40s. The movie is lost in Thailand but it can still be seen at Taiwan Film Archives or HK Film Archives. A trailer lasting 1mn02s can be seen online. Thai actress Wilaiwan Watthanaphanit and Thai actor Surasit Sattayawong are playing. The director is Ho. It is Ho's first colour film, i.e. "The Autumn Phoenix" (1957) starring Jeanette Lin Tsui. Despite being a 60 years old movie, it still has a colorful and very good quality picture. It features two songs. The movie starts by showing working elephants driven by mahouts in the jungle and pushing trunks. They also get latex from tree. The characters are Op Boonthit (the father), his son Lilan (Surasit Sattayawong), his daughter Yuen Lai (Wilaiwan Watthanaphanit). Their close friends are uncle wang and his daughter Tsiu Fung (Jeanette Lin Tsui). Lilan has a lame leg and loves secretly Tsiu Fung. Yuen Lai always likes to make fun and wears always colorful nice dresses. A man wishes to become a new partner for timberland activities but the father Op refuses. Luwan, the son, (Taksin Jampol), is looking for troubles. Uncle Wang is hurt by elephants due to the mess caused by Luwan. It is Buddha day. Friends are talking about an old Chinese tragic tradition, the hanging ghost, when young ladies get suicide when raped. Friends are going out and bathing in waterfalls. Luwan is around riding a horse and is looking for trouble with Lilan. Fighting happens. Lilan is knocked out so Luwan tries to rape Yuan Lai. Tsiu Fung gets some help. Uncle Wang arrives on time and beats Luwan severely. Luwan is looking for revenge. His ruffians lock Uncle Wang's home doors and scorch the house. Uncle Wang and Tsui Fung succeed to escape. They know it is a criminal act done by Luwan. On a visit to the Duke, Yuen Lai is kidnapped. Yuen Lai is given back but she was raped. Family honor is engaged. Her father wants to avoid spreading this as Duke would learn. Uncle Wang learns it from drunkards. Uncle Wang has arguments with them and Duke's house keeper also learns it. The Duke, Yuen Lai's fiance, cancels the wedding and engagement. Tsui Fung visits the Duke's home to explain the truth to him and to beg him. He accepts. Too late as Yuen Lai has already hanged herself. The father Op has an heart attack. Both are dead. Chinese rites are performed. Uncle Wang is looking for revenge. One of the rapist was bitten severely at the hand. Uncle Wang identifies him and forces him to say the truth. Chase happens inside the temple with Luwan. Uncle Wang kills him but is severely injured. A car brings him home. He dies after entrusting his daughter Tsiu Fung to Lilan. Honor is washed. The Chinese Taipei Film Achieves said that the copyright of this movie originally belonged to a HK company but the HK company sold the rights to Taiwan Film Culture Co., which was a movie company belonged to Taiwan Provincial Government. Since there is no Taiwan province now, all the assets of Taiwan film culture Co., is now taken care of by Ministry of Culture. The Ministry of Culture authorize the Chinese Taipei Film Achieves to take care of these films, including The autumn phoenix year 1957. This movie cannot be copied or viewed online. The only way to watch this movie is to go there. The quality of this movie is not good since it is transferred from 3/4 to digital betacam.



Year

: 1949



Thai title

:

สุภาพบุรุษเสือไทย




English title

:



Rating

: 3/5


Director

: Tae Prakardwutthisan



Main actor

: Surasit Sattayawong


Main actress

:
Supha Burut Seua Thai (สุภาพบุรุษเสือไทย) is a Thai movie shot in 16mm format in 1948 and released in year 1949. It is a lost movie but in year 199x Tae Prakardwutthisan (แท้ ประกาศวุฒิสาร), famous Thai movie director and producer, gave to the Thai Film Archives a lot of documents and films. It included 'Supha Burut Seua Thai' movie behind the screen sequence. It lasts 10 minutes. 'Supha Burut Seua Thai' movie took 3 months to be filmed. The movie was shot in Ratchaburi as Tae is coming from here. One highlight is festival and boats competition shooting in เขางู. It was projected during 28 days and earnt 300k baht, a record for that time. It was one of the first Thai movie after World War 2 and is considered as the launch of Thai movies successful era in 16mm format. Movie Supha Burut Seua Thai (สุภาพบุรุษเสือไทย) includes Surasit Sattayawong as main actor and สอางค์ ทิพยทัศน as main actress. Anecdote regarding the movie is that police has to stay all the time as real gold was used during temple shots and to avoid cameras to be stolen by potential robbers. Due to a lack of dubbers, Tae and main actors have to do the dubbing by themselves in Chalem Krung theatre! One session was for the critics. Good overall critics (dramatic, first Thai movie at same level as foreign movie, usage of festival and culture) were received. Advertising was different from nowadays, i.e. big billboards on the theater, van with billboard going around the city, posters stuck on walls. It was a big success first in cinema Chalem Krung during 28 days, then it was shown in other Bangkok theaters and then in countryside. At that time, a movie included orchestra music, comic shows with Lortok, Dokdin and Somphong. For the first Thai movies oscars in year 1957, this movie received two rewards. Another movie with the same title was released in year 1979 with Sombat Methanee. Many movies about Seua Thai were then released during the next years and decades. A short summary is a below. Surasit Sattayawong is playing a subdistrict headman called Thai. He is accused of having murdered his wife. He has to flee in the forest and becomes Seua Thai, a bandit. One day, he is helping a young lady aggressed by ruffians. She then keeps following him. Seua Thai then decides to take revenge over those who accuse him of murder.
---