Increase or decrease font size for easier reading : A+ A-
Suphanee Jitthieng
Suphanee Jitthieng (196x) - สุพรรณี จิตต์เที่ยง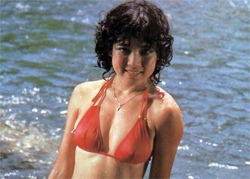 Suphanee Jitthieng played in around 20 movies
This Suphanee Jitthieng movie page contains 10 records.
---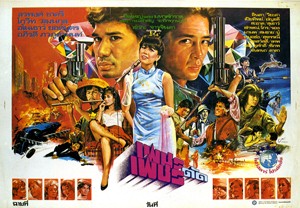 Year

: 1984



Thai title

:

เพชรตัดเพชร




English title

: Diamond vs Diamond



Rating

: 4/5


Director

: สักกะ จารุจินดา



Main actor

: Sorapong Chatree,Kowit Wattanakul,Somchai Samipak,Paen Pleumsachai,Krai Kanchit,Pipop Pupinyo,Manop Aussawathep,Boo Wibunnan,Pao Porapak,Rong Kaomulkadee,Lak Apichat,Sahat Piempongsan,Thep Po-ngam,Suchao Pongwilai


Main actress

: Apiradee Pawaputanon,Piathip Kumwong,Wiyada Umarin,Anchalee Chaisiri,Linda Khatancharoen,Janthana Siriporn,Suphanee Jitthieng



Buy now

:

Thai movie เพชรตัดเพชร was released in year 1984 and lasts 2h07mn. It was released under VCD format by Solar company and under VHS format. A remastered HD version was released during decade 2010s by Five Star Production. This movie features an impressive number of famous Thai actors and actresses from decade 1980s including less known actors หมอซ้ง, พุนสวัสดิ์ ธีมากร, วุมิ คงคาเขตร, ชูศักดิ์ สุธีรธรรม, ดาดา. Movie director is สักกะ จารุจินดา. Thai movie เพชรตัดเพชร was originally released in the year 1966 with Mitr Chaibancha, Luechai Natnat and Petchara Chaowarat. It was also released as Thai TV series in the years 2011 and 2016. Suchao Pongwilai is drunk inside a disco with a partner (Linda Khatancharoen). Mo Sing (หมอซ้ง) tries to seduce the partner so it makes Suchao angry and a fight erupts. Mo Sing loses a two colours denture and gets angry. He shoots Suchao and flees. The partner is found back by Mo Sing, but she claims she doesn't have the denture. Pailin (Piathip Kumwong) is the gang's leader. Yot (Kowit Wattanakul) is her right hand. During a drug exchange, Cheut (Sorapong Chatree) is killed by Yot keeping both drugs and money. Head of police Somchai Samipak talks to police officer Naresuan (Sorapong Chatree). He needs him to neutralise a drug gang working in Thailand, Hong Kong and Macau. Cheut is Naresuan's twin. They were separated when they were 12 years old. Naresuan wishes to revenge his dead brother. Naresuan accepts the mission and will act as Cheut in order to catch Yot. In a bar, Cheut meets Paen Pleumsachai, Pipop Pupinyo as he is looking for Yot. Cheut meets his previous girlfriend Yoi (Wiyada Umarin) having Manop Aussawathep as new husband. Fighting occurs in the bar. Back to Yaowarat district, Cheut ends up in Boo Wibunnan's entertainment centre and meets Anchalee Chaisiri. She suggests him to go to Jumbo bar to find Yot. There, Cheut is facing Pao Porapak. Cheut finally finds Yot with his girlfriend, then steals his suitcase full of drugs and gives it back to the police. Cheut flies to Hong Kong. He meets Pailu (Apiradee Pawaputanon), a singer. Pailu introduces him to Cheng (Krai Kanchit). On a boat in Sai Kung, Cheut meets Cheng again. Coming for a drug exchange, Cheut steals money from Cheng. He gets help from Jo (อโนเชาว์ ยอดบุตร), an undercover HK policeman. HK Police recommends to Cheut to leave Hong Kong as soon as possible for his own safety. Rong Kaomulkadee and Lak Apichat are working for Sahat Piempongsan, former boss of Cheut. Sahat thought Cheut was dead. Knowing Cheut is still alive, he decides to help him. Yot sends a killer to get rid of Cheut but he fails. Cheut learns from head of Police Somchai that Pailu is from Interpol. Another tentative to kill Cheut fails again. Cheut gets help from Rong. Thai police uses a stratagem for Jo to join Cheng's team. Facing a fight with ruffians, Cheng is helped by Jo in a bar. Convinced by his skills, Cheng asks him to join his team. Pailin is business partner with Cheng. Per Pailin's order, Yot captures Cheut. Cheng wants to get back his money. Meanwhile, Sahat captures Pailin's men in order to know where they keep Cheut. Cheut claims the money was confiscated by the HK Police but the drug is still stored in a suitcase hidden in Pailu's home. Pailu gets help from Somchai so that drug is given back to ruffians. Cheng starts to suspect Pailu also. She fails to escape. Meanwhile Thai police surrounds the ruffians' den. Yot plans to kill Cheut but it fails through a final epic fight between Cheut and Yot. Finally Thai police arrests all ruffians. Sahat fails to flee.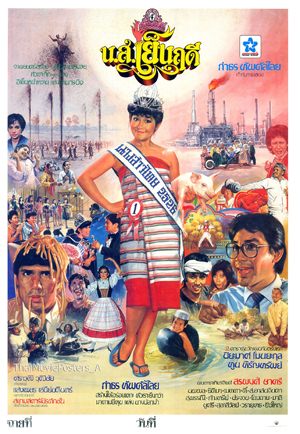 Year

: 1983



Thai title

:

น.ส.เย็นฤดี




English title

:



Rating

: 2/5


Director

: Kumtorn Tubkunlai



Main actor

: Sorapong Chatree,Toon Hiransap,Supakorn Srisawat,Sor Asanajinda,Prachuap Ruekyamdee


Main actress

: Piyamas Monayakol,Metta Roongrat,Thitima Sangkapitak,Suphanee Jitthieng,Malee Wetpraseri,Chosri Misommon,Sulaleewan Suwanthat



Buy now

:

A 70 years old man discovers he has a hidden daughter. Of course his daughter in law doesn't want to share the heritage with this girl and tries many stratagems...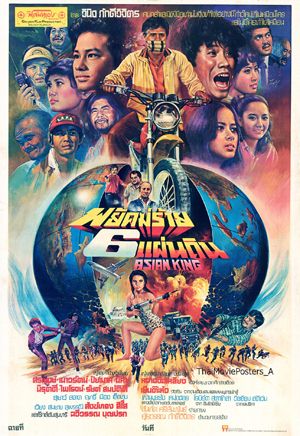 Year

: 1982



Thai title

:

พยัคฆ์ร้าย 6 แผ่นดิน




English title

: Asian King



Rating

: 3/5


Director

:



Main actor

: Sorapong Chatree,Sahat Piempongsan,Suchao Pongwilai,Songthong,Rith Luecha,Phairoj Jaising,Somchai Samipak,Nirut Sirijanya


Main actress

: Naowarat Yooktanun,Piyamas Monayakol,Suphanee Jitthieng,Chaweewan Boonprok



Buy now

:

Thai movie พยัคฆ์ร้าย 6 แผ่นดิน / Asian King was released in year 1982 and lasts 1h48mn (Thai PBS version is only 1h42mn as reduced version with smoking / drinking sequences blurred and violent or sexy sequences cut). It was released under VCD format by Lepso Studio. The movie was also released overseas under the name "Top Team Force" by Filmark movie. It was also released under the name "Deadly Hunt" under VHS format in Sweden by company Video World. An international police squad (Thailand, Indonesia, Malaysia, Hong Kong, Korea and Philippines) investigates on a crime ring called "Asian King". The Police squad (ตำรวจสากล) is led by Somchai Samipak. The "Asian King" gang is led by Bulap (Sahat Piempongsan) and เมือง อพอลโล่. In Hong Kong, Rith Luecha performs a robbery inside a jewellery. The owner is shot by Rith. David is against the shooting so he gets knockout by Rith. Rith and his men flee and meet with their local boss, Suchao Pongwilai. Police chase them but they succeed to escape by boat. David, arrested by Hong Kong police, is accused of international diamond robbery but released as proofs are not enough. Thai police follows him to spy his activities as they still have doubts on him. A whole international Police team is gathering to fight the Asian King gang. Win (Sorapong Chatree) is one of the Police team leader. Lady Napossa (Naowarat Yooktanun) joins the team as her jeweller father was killed by Asian King gang. David is back to Thailand as he wants to get revenge over the "Asian King" gang, who killed his family as retaliation. Diamonds are stolen again during a Bangkok diamond show despite the police presence. David saves Suwana's life (Piyamas Monayakol) by being shot instead of her. Catherine (Chaweewan Boonprok), part of Asian King team, gets the tasks to kill some male policemen. She targets David first but fails. Songthong is part of Thai police also. Rumours are heard that Asian King team needs to gather in Pattaya. Asian King team tries all ways to get rid of the special police force but to no avail. Asian King team's cache entrance is hidden under a hotel swimming pool. Two members are captured and Songthong is shot dead. Win and Napossa are also captured. The other members localise also the cache. All members succeed to escape. The Thai army comes to help the policemen to neutralize the Asian King tean. Through a final battle, many characters are injured or killed while assaulting the Asian King gang's fortress. Win's self sacrifice inside the fortress succeeds to destroy it. A Thai TV serie or Lakorn (ละคร) based on this story was also done in 2003. Despite a classic scenario, the highest value of this movie is to include the finest bunch of Thai actors from beginning of 1980s decade.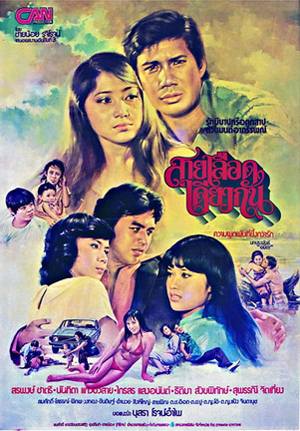 Year

: 1982



Thai title

:

สายเลือดเดียวกัน




English title

:



Rating

: 4/5


Director

:



Main actor

: Sorapong Chatree,Pipop Pupinyo,Somsak Chaisongkram,Kraison Saenganan


Main actress

: Thitima Sangkapitak,Nanthida Kaewbuasai,Suphanee Jitthieng
Yoo (Thitima Sangkapitak) and Kasem (Sorapong Chatree) love each other. Yoo's father doesn't want her daughter to meet Kasem anymore as he is coming from poor background (บ้านนอก / จน). Kasem needs to fight back (ต่อสู้) but Yoo's father refuses to see his kindness and even hits him, so Yoo flees with Kasem. They live in countryside as farmers. Ten years have passed. They have now three children, Yupa, Decha and a baby girl. Yoo keeps crying having pity on her children as they are poor. Yoo wishes to go back to Bangkok but Kasem refuses as unwilling to be despised by the father again. Yoo is tired of this life. As Yoo is sick, Kasem goes to a neighbouring town to buy medicine. When he is back, Yoo has died already. The children are also tired of this hardship and would like their father to bring them to their grandparents. One day some ruffians claim rent fee for the last ten years. As Kasem refuses, he is beaten and left for dead. The house is burnt down. The children have no choice but to go to Bangkok. They finally go by train and are lucky to have another traveller paying their tickets as he has pity of them. Decha always think of eating sweets. Arrived in Bangkok, Decha is separated from Yupa. Yupa is hit by a car. Her eye vision is altered. Meanwhile Decha is recruited in a pickpocket gang (ล้วงกระเป๋า) led by veteran actor Pipop Pupinyo. The couple who hit Yupa with their car is considering adopting the children as they don't have their own kids but the woman has a concern on Yupa as she is already old enough to understand. Knowing this, Yupa prefers to leave in order to secure her small sister's future. Finally the family has another child called Thanee but keeps the secret about the other child named Wilai. Children are now grown up. Decha is deeply involved in robbing, pickpocket activities and even heroin traffic. Yupa (Nanthida Kaewbuasai) is begging as she is almost blind. Decha tries to seduce Wilai, an university student coming from a well-off family, whose wallet has been stolen by his team. Thanee, jealous about Decha, reveals to Wilai the robber background of Decha. Decha complains that no chance is given to him like his father (อยากเป็นคนดี). Thanee (ลูกอิจฉา) also reveals to Wilai that she is not real daughter but just an adopted street child. Reading a newspaper, Wilai's stepfather finds that Wilai's real grandparents search their grandchildren to give their heritage. Hearing a little girl singing his mother lullaby, Decha is able to find back Yupa. Yupa is not aware from where Decha money is coming from. Finally through a final touching sequence Decha loses a potential love with Wilai but finds back his lost sister. This strong drama movie highlights brother-sister bonds (พี่น้องต้องรักกัน).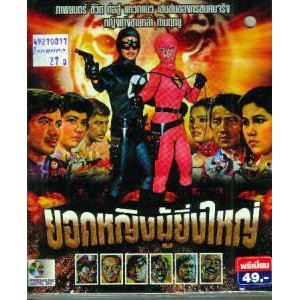 Year

: 1981



Thai title

:

ยอดหญิง ผู้ยิ่งใหญ่




English title

:



Rating

: 2/5


Director

:



Main actor

: Sombat Methanee,Yodchai Meksuwan,Kecha Plianvithee,Pipop Pupinyo,Lak Apichat,Boo Wibunnan,Thuam Thoranong,Paen Pleumsachai,Krong Kangkengdaeng


Main actress

: Wassana Sitthiweth,Piathip Kumwong,Duangcheewan Komolsen.Suphanee Jitthieng
Thai movie ยอดหญิง ผู้ยิ่งใหญ่ was released in year 1981. The version seen only lasts 1h05mn so too many scenes were cut making the storytelling bit weird. Boss (เจ้านาย) Bancha (Kecha Plianvithee) is trafficking weapons. Pipop Pupinyo is part of his team. A mysterious masked vigilante man, wearing black clothes, is trying to stop him. It is Nam (Sombat Methanee). A truck carrying weapons is stopped by Thai Police thanks to Nam. Nam warns Bancha but a fighting erupts with his tough guys. Nam gets help from a mysterious masked vigilante woman, wearing red clothes. Nam meets Nissa (Wassana Sitthiweth), daughter of the police head. Yot (Lak Apichat) helps Pat (Piathip Kumwong) kidnapped by ruffians. Ruffians kidnap Sia / เสี่ย Boo Wibunnan's child and shoot him in the shoulder. Hopefully red and black masked vigilantes follow the car but get attacked by yellow masked men (องค์การสีเลือง). Two ladies Pat and Nissa (นกสองตัว) are captured by Bancha's team, who are preparing to betray Thailand. Yodchai Meksuwan and Darlin (Duangcheewan Komolsen), from Malaysia, are police members. Bancha threatens the police head to kill his daughter Nissa if their business is disrupted again. Nam simulates joining the yellow gang in order to be able to release the ladies. Nam cannot reach agreement so a one to one (ต่อสู้แบบลูกผู้ชาย) fight must happen. Police finally arrives. Pat sacrifices her life to save Nam. Lak helps to release Darlin, who is identified to be the mysterious red masked vigilante woman. All ruffians are captured or killed. The identity of the gang leader (ลืมชาติ) is then known... Other actors are เศกสิทธิ์, Suphanee Jitthieng,โดม สิงโมฬี, Krong Kangkengdaeng.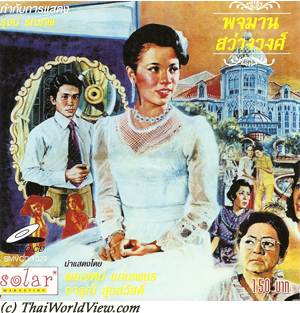 Year

: 1980



Thai title

:

พจมานสว่างวงศ์




English title

:



Rating

: 3/5


Director

: Ruj Ronnapop



Main actor

: Porjed Kaenpetch


Main actress

: Jarunee Sooksawad,Mayurachath Muarnprasitivej,Tharika Thidathip,Sarinthip Siriwan,Suphanee Jitthieng



Buy now

:

Two young new married people from Thai high society receive strong pressure from their family. The husband's mother try to persuade her son to divorce. The wife's younger sister wants to have a pleasant life without working. Will their wedding be strong enough to resist? This movie is the second part of "Baan Sai Thong".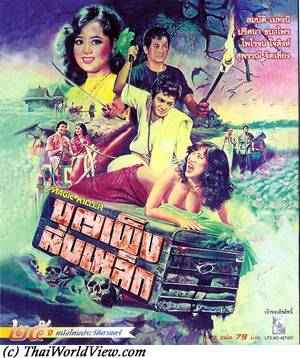 Year

: 1980



Thai title

:

บูญเพ็ง หีบเหล็ก




English title

: The Magic Killer



Rating

: 3/5


Director

: Payoong Payakul



Main actor

: Sombat Methanee,Phairoj Jaising,Lak Apichat,Sithao Petcharoen


Main actress

: Prissana Chabaprai,Suphanee Jitthieng
Boon Peng is a famous local spirit doctor (หมอชื่อเสียง) with known skills (เมตตามหานิยม, วิชา, วิเศษ). Boon Peng can see future and destiny (ชะตา, ดูจิต). Boon Peng and his clique take advantage of gullible people. Divorced ladies (แม่ม่าย) or young girls only visit him. One of them, Mae Na, disappeared. Thiu (Sombat Methanee) and lady Prin love each other but Prin's mother wants her daughter to marry Boon Peng. Mae Na's dead body is found by Thiu in a mysterious coffer (หีบเหล็ก) hidden close to the river. There is Mae Na's dead body in the chest. A Boon Peng's sbire was seen carrying the chest. Boon Peng's ruffians (ลูกน้อง) have arguments with Thiu, who distrusts Boon Peng. Thiu surveys what is happening around Boon Peng's House. Boon Peng asks to be Prin's fiance (คู่หมั้น). Boon Peng tries to use love potion (น้ำมันพราย) to win Prin's heart. Thiu becomes an adversary (รู้มากแล้ว). Prin cannot refuse as she needs to show gratitude (กตัญญู) to her mother. Boon Peng wants to accelerate the wedding date but Thiu decides to fight back (ต่อสู้สำหรับความรักของเรา). It is Thiu's real Love (ศักดิ์สิทธิ์) against Boon Peng's bad black magic. Meanwhile another Boon Peng's follower wishes to be her wife. Boon Peng has to kill her as she was threatening to announce their relationship to the whole village. The daughter is witness that her mother stopped at Boon Peng's house. Thiu arrests Boon Peng, who is condemned to death by decapitation. According to the legend swords couldn't cut his head (ดาบฟันไม่เข้า) until he accepts remorse (ชดใช้กรรม). This movie reminds of 1960s Thai horror movies ambiance mixing comedy and slight horror with frightening owl sounds. This movie is based on a real story, which happened during Rama VI period. A spirit doctor has many followers (ลูกศิษย์), who were mainly ladies. He killed some of them for their money and was throwing the bodies away hidden in a chest. He was finally captured and killed in 1919. A version of this story was done in 1967. Sombat Methanee was already the main actor.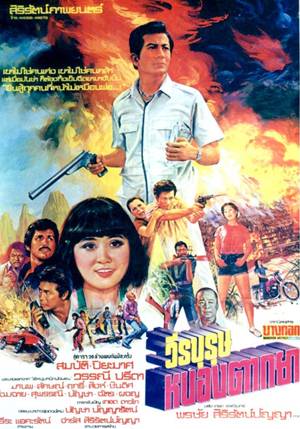 Year

: 1980



Thai title

:

วีรบุรุษหนองตากยา




English title

: Hero of Nong Takaya



Rating

: 3/5


Director

:



Main actor

: Sombat Methanee,Manop Aussawathep,Lak Apichat,Rith Luecha,Chat Mongkolchai,Boo Wibunnan


Main actress

: Piyamas Monayakol,Suphanee Jitthieng
Thai action movie วีรบุรุษหนองตากยา was released in year 1980. It features Sombat Methanee as main actor and Piyamas Monayakol as main actress. The movie is lost in Thailand but a 1mn30s trailer is still available. Other actors include Manop Aussawathep, Lak Apichat, Rith Luecha, Suphanee Jitthieng, Chat Mongkolchai, Boo Wibunnan. During the short trailer, a few sequences can be seen. They are related to some fightings involving Sombat, Manop playing a hitman again, ruffian leader played by Sing Milinsasai and scolding his teammates… A partial summary is still available. Boo Wibunnan is an influential man buying coercively sugar canes from local farmers but at a much lower price than the governmental prices. He is helped by local subdistrict headman Ying (Sing Milinsasai), who is a former ruffian leader. Sombat Methanee is a doctor working at the medical dispensary in Nong Takaya (นองตากยา) village. Seeing the ruffians bad behavior, the doctor decide to help the villagers.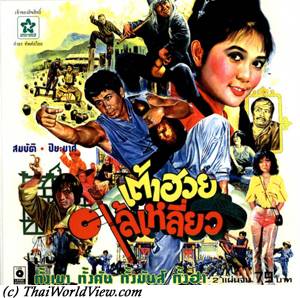 Year

: 1980



Thai title

:

เต้าฮวยไล้เหลี่ยว




English title

:



Rating

: 3/5


Director

: Kumtorn Tubkunlai



Main actor

: Sombat Methanee,Lor Tok,Boo Wibunnan,Phirapon Piyawan


Main actress

: Piyamas Monayakol,Suphanee Jitthieng



Buy now

:

This movie is a parody of Hong Kong Kung Fu movies that were popular in Thailand during 1970s decade. Thao Huay is a traditional Thai man selling healthy Chinese soups. His family is originating from China. Thao Huay's father gets beaten by some members of the Kung Fu school Snake Boxing (มวยงู) and dies. Aspiring for revenge, Thao Huay looks for a master to learn boxing and become a disciple (ลูกศิษย์). Meanwhile Thao Hua meets a young Thai lady called Waan, who is papaya salad seller (แม่ค้าส้มตำ). He has arguments with her in the local market (ตลาด) regarding a selling site location. Waan learns that her real father is Chinese so she goes to live together in his home with her mother. His Chinese father has already a wife so there are arguments who is the main wife (เมียหลวง) and who is the minor wife (เมียน้อย). The father is having a jewelry (ร้านทอง). Sompong, a rich young coming back from America, tries to seduce Waan but Waan still has a sweet spot for Thao Huay. A robbery is happening at the jewelry. Robbers hide the jewelry inside Thao Huay's palanquin. Thao Huay faces hardships during the training with the master. He learns the monkey dance (รำมวยลิง). This dance skills gets highest efficiency if the fighter is drunk also. Waan is kinadped by Kung Fu school Snake Boxing. Thao Huay is going to rescue her. With the help of his master, the Kung Fu school is defeated. Thao Huay gives back the gold and can marry Waan.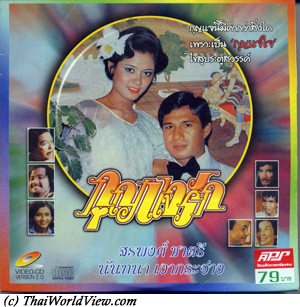 Year

: 1978



Thai title

:

กุญแจรัก




English title

:



Rating

: 5/5


Director

:



Main actor

: Sorapong Chatree,Somsak Chaisongkram,Somkuan Krajangsat


Main actress

: Nantana Ngao Krajang,Suphanee Jitthieng
Toon's former boyfriend, Bati, dies in a parachute accident. Her parents send her to study in France in order to forget this sad story. Doctor Sompong (Sorapong Chatree) is Toon's childhood friend. Both parents wish Toon (Nantana Ngao Krajang) and Sompong to marry but they don't love each other. Romance happens at Dusit zoo with Ananta Samakhom Throne Hall in the background. Sompong tries his best but Toon is not receptive (เอาใจยาก). Toon likes music and dancing. One night a biker mechanic falls in love with Toon by seeing her in a nightclub. She still cannot forget Bati (รักเดียวใจเดียว). Thongchai, friend of Rat, coming back from USA, has same look as Bati so Toon gets confused at first. Sompong decides to learn dancing. Toon likes to play fool with Sompong. One of her friend, Rat, is sponsored by Thanong (Somsak Chaisongkram). Rat acts as a matchmaker (แม่ซื้อ). Thongchai misses the USA for its sex freedom, openness, lack of conservative society but Thai culture is different. So Toon stops seeing Thongchai as she doesn't share his view. Sompong continues his best without forcing Toon. Thongchai keeps harassing Toon. Toon's hot temper causes issues in her own family and she refuses any arranged wedding with Sompong. While going out at nighttime, she falls in a trick set up by Thanong. The biker mechanic tries to help but he gets severely beaten as he is outnumbered. Thanong can then rape Toon. Toon's father (Somkuan Krajangsat) and Sompong are looking for her. She is found unanimated in a small road. Sompong helps Toon to recover and keep high spirit through touching words (เริ่มตอนชีวิตใหม่). Toon accepts to marry Sompong. Thanong is finally arrested for prostitution incitation. The mechanic guy learns about the wedding on the newspapers. His love failure remains a defeat for him amplified by the beatings on the head including sequels. On the wedding day unable to keep his frustration he shots Toon. Toon dies. Toon and Sompong are separated a last time (จากกันเพื่อไม่ต้องจากกันอีก). This movie is a strong romantic drama from decade 1970s highlighting many social issues such as women liberalization, arranged wedding... This movie features a great soundtrack with many famous decade 1970s songs. Actors are wearing great flared (pattes d'éléphants) jeans.
---