Increase or decrease font size for easier reading : A+ A-
Supansa Nuengpirom
Supansa Nuengpirom (1960) - สุพรรษา เนื่องภิรมย์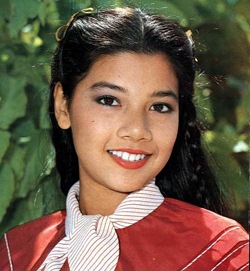 Supansa Nuengpirom's first movie was รอยลิขิต in 1979. The romantic drama movie "ไผ่สีทอง" with Sorapong Chatree in 1979 made her famous. She got a best Thai actress award in 1981 for the movie "ชายสามโบสถ์". Her cinematographic career last 9 years
This Supansa Nuengpirom movie page contains 26 records.
---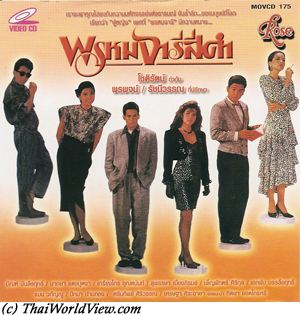 Year

: 1987



Thai title

:

พรหมจารีย์สีดำ




English title

:



Rating

: 2/5


Director

:



Main actor

: Kriengkrai Unhanan,Bin Banleurit


Main actress

: Supansa Nuengpirom,Penpak Sirikul
A young lady will soon marry a playboy handsome guy but another lady seduces him. Disappointed, the young lady tries to suicide and finally quit Thailand. Sixteen years after she comes back to Thailand and starts a revenge by luring the lady's son.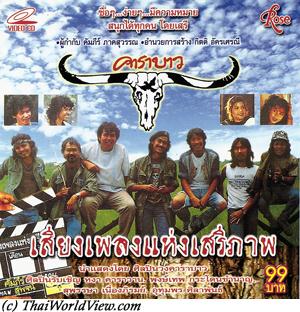 Year

: 1985



Thai title

:

เสียงเพลงแห่งเสรีภาพ คาราบาว




English title

:



Rating

: 2/5


Director

:



Main actor

:


Main actress

: Supansa Nuengpirom



Buy now

:

It deals about the creation of the famous Thai pop group Carabao. So it features many Carabao songs.



Year

: 1985



Thai title

:

ไกรทอง 2




English title

: Kraithong 2



Rating

: 3/5


Director

: Sompote Sangduenchai,Neramit



Main actor

: Sorapong Chatree,Sombat Methanee,Sor Asanajinda,Lor Tok,Lak Apichat,Der Doksadao


Main actress

: Ampha Pusit,Aranya Namwong,Supansa Nuengpirom,Duangcheewan Komolsen



Buy now

:

Thai movie ไกรทอง 2 was released in year 1985. It was released under VCD and DVD format by Tiga Company and lasts 1h33mn. The Betamax version lasts 1h49mn. The main difference is longer sequences with a Chinese master (อาจารย์). Main actors and actresses featured in this movie are Sorapong Chatree, Sombat Methanee, Sor Asanajinda, Lor Tok, Lak Apichat, Ampha Pusit, Aranya Namwong, Supansa Nuengpirom, Der Doksadao, Duangcheewan Komolsen. This time Kraithong faces a man, who has also the power to change himself into a fearful crocodile. Thong (Suphansa Nuengpirom) and Kaew (Ampha Nuengpirom) are Kraithong's wives. Wimala (Aranya Namwong) and Malaiwan (Duangcheewan Komolsen), former Chalawan's wives, are staying in a cave under the river. Sor Asanajinda is a powerful hermit. Sor asks Wimala (แม่นาง) not to disturb humans anymore. Meanwhile a crocodile takes away a baby and his father. The mother goes to Chinese shrine to ask help from a Chinese master (Lor Tok). Der Doksadao and เหี่ยว are playing medium assistants in the Chinese shrine. A funny and long sequence featuring the master showing his surnatural skills towards Der Doksadao is present in the betamax but cut in the VCD version. A government official offers a reward to kill the crocodile. The crocodile continues his rampage and attacks a floating market, humans and even a buffalo. Kraithong visits a master mentioning that crocodile Chalawan is back. The crocodile is in fact half human (Lak Apichat) half spirit (จระเข้ผีสิงห์). Lak agresses Chalawan's wives in the cave. The Chinese master, despite his supernatural skills, is killed by the crocodile. Some scenes where Lor Tok is featuring his flying skills are cut from VCD but present on the BetaMax. The crocodile then attacks the house where Thong and Kaew are living. After a rampage, Kaew is kidnapped by the crocodile played by Lak Apichat. Wimala wishes to use Lak to take revenge over Kraithong. Chalawan is back per incantations from Sor. He is upset that his wife Wimala replaces him so fast. So Wimala pushes Lak to kill Chalawan. Upset about Kaew, Kraithong heads towards the cave. He faces Lak, already injured by Chalawan, and succeeds to defeat him. Chalawan then defies him again. Following an epic fight, Chalawan is defeated again and Kraithong brings Kaew back.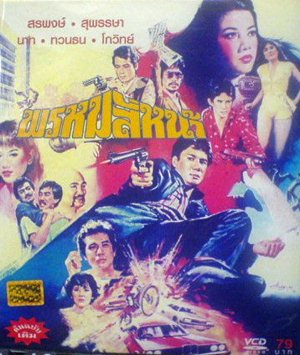 Year

: 1984



Thai title

:

พรหมสี่หน้า




English title

:



Rating

: 3/5


Director

:



Main actor

: Sorapong Chatree,Pumi Patanayut,Nard Poowanai,Tuanton Kammeesri,Kowit Wattanakul,Krai Kanchit,Pipop Pupinyo,Rith Luecha,Chat Mongkolchai,Paen Pleumsachai,Somsak Chaisongkram,Pao Porapak


Main actress

: Supansa Nuengpirom,Piathip Kumwong,Wiyada Umarin
Thai movie พรหมสี่หน้า was released in year 1984 and lasts 1h44mn. It was released under VCD format and also under VHS format. สุรพล กรสวัสดิ์ is the movie director. Many actors and actresses are featured in this movie such as Sorapong Chatree, Pumi Patanayut, Nard Poowanai, Tuanton Kammeesri, Kowit Wattanakul, Krai Kanchit, Pipop Pupinyo, Rith Luecha, Chat Mongkolchai, Paen Pleumsachai, Somsak Chaisongkram, Supansa Nuengpirom, Piathip Kumwong, Wiyada Umarin, โสธรณ์ รุ่งเรือง, วรารัตน์ เทพโสธร. Wan (Sorapong Chatree) calls from Germany for his father's birthday party. A bomb, hidden in the birthday cake, explodes. The whole family almost dies. His elder sister (Piathip Kumwong) and also the family car driver (โสธรณ์ รุ่งเรือง) survive. Teen Ta (ด.ญ. กระแต) has also survived but she is now paralyzed. Wan, a former soldier, is back from Germany. Police is too slow for Wan so he decides to manage by himself. His father was a businessman. Wan watches the birthday video and identifies a man offering a gift and leaving soon. He is a ruffian living in Chiang Mai. Wan learns through that ruffian that Pumi Patanayut is involved and was the one to order to bring the cake. Pumi Patanayut is working for mafia leader (พ่อเลี้ยง) Nard Poowanai. Noun (Tuanton Kammeesri) is a journalist refusing corruption and doing inquiries on Nard. Mai (Supansa Nuengpirom) is a young lady, whose mother was also killed by Nard due to business conflict. Kowit Wattanakul is close friend of Wan and introduces him to Mai. Mafia leader Nard Poowanai is trying to become member of parliament and is supported by Wiyada Umarin, his girlfriend. Wan starts to get revenge. Nard's right hand is first killed by Wan. Nard suspects Mai. Then Wan shots Kamlee (Paen Pleumsachai) and warns Nard that soon it will be his turn. Wan is introduced to the ruffians as new shareholder with Mai. It is a trick to be close to the ruffians and the next one to be killed is Pumi Patanayut. Noun is investigating on those killings. Wan and Kowit are identified to be behind the murders. Kowit is shot by ruffians while visiting uncle Sai (Pipop Pupinyo). Wan has no choice but to continue in order to get rid of mafia leader Nard. Nard hires a hitman to get rid of Wan but it fails. Chat Mongkolchai kidnaps โสธรณ์ in order to find where Wan is hiding. As Mai is passing, she is kidnapped and โสธรณ์ is killed. Chat (หน้าตัวเมีย) wants to force Mai to sign documents. Wan successfully releases Mai and chases after Nard until he kills him. Wan is finally pardoned by Thai police thanks to Mai's plea.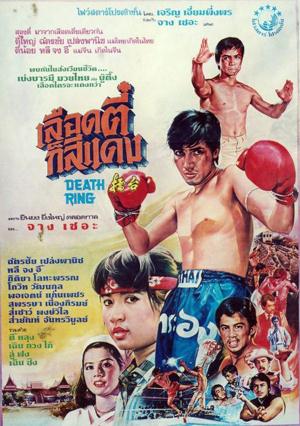 Year

: 1984



Thai title

:

เลือดตี๋ก็สีแดง




English title

: Death Ring



Rating

: 3/5


Director

:



Main actor

: Chatchai Plengpanich,Sayan Chantaraviboon,Porjed Kaenpetch,Suchao Pongwilai,Kowit Wattanakul


Main actress

: Supansa Nuengpirom
The master's daughter, In Mai, sees her lover Dialin Chi in secret. Her father already has plan to marry her to another man called Hang Fai. But he surprises them together. A fight erupts between Hang Fai and Dialin Chi as he lacks respect to his fiancee. Hang Fai uses cowardly a knife during the kung fu fight and finally gets stabbed. Dialin Chi has to run away. He takes refuge in Thailand during three years. Uncle Lu promises to revenge his son, Hang Fai. Many years have passed. In Mai has now a son called Dai Cheung. Uncle Lu's second son is still looking for Dialin. Dai Cheung is looking for his father in Thailand as he earned a living by being a boxer there. Dai Cheung contacts Miss Ko and Fan, the assistant, for boxing job opportunities. Dai Cheung finds a job as sand bag training partner but Thai boxer Salek refuses to use him. They become friends. Salek dreams about a fight with a strong Thai boxer called the leopard. Salek has recognized Dai Cheung's father picture but would not tell who he is. Following arguments, Miss Ko has barred Salek from any Thai boxing match. Dai Cheung succeeds to be recruited as sand bag training partner by the Leopard in order to work up his style but is heavily beaten. He doesn't think Salek can beat the Leopard. Finally it is discovered that Salek is also Dialin Chi's son with a Thai woman. Miss Ko accepts to organise a fight between Salek and the Leopard. The match happens despite Dai Cheung trying to prevent Salek to assist. Salek gets killed on the ring following the Leopard's hard punches. His half-brother is dead. Dai Cheung decides to become a Thai boxer to revenge his half-brother. He trains hard to be able to get a fight versus the Leopard. Finally following a difficult fight, he succeeds to defeat the Leopard but uncle Lu's family members are still around for revenge also... This Hong Kong action movie particularly shines when Chatchai Plengpanich and other Thai actors are around. Hong Kong Kung Fu actors are Lee Chung-Yat and Ti Lung.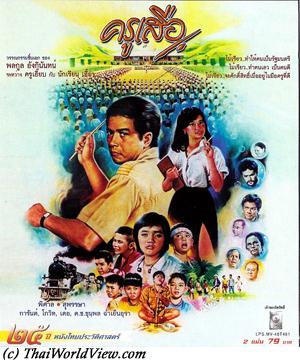 Year

: 1984



Thai title

:

ครูเสือ




English title

:



Rating

: 4/5


Director

:



Main actor

: Pisarn Akraseranee,Boo Wibunnan,Kowit Wattanakul,Der Doksadao


Main actress

: Supansa Nuengpirom
A Thai Chinese type businessman is offering land (ค่าที่ดิน) for school extension. Kru Seua (ครูใหญ่), school headmaster, is accepting on behalf of the school. Kru Seua (ครูเสือ) has a good reputation with all villagers (ครูดี). A new Bangkok sexy lady teacher Boot (ผู้ช่วย) is arriving at the school. Miss Boot has high expectations but Kru Seua reminds her that all teachers have same level, same room, same toilets as it is countryside school (โรงเรียนบ้านนอก). So all teachers have to follow the rules, show good behavior including appropriate clothing and proper speech! Kru Seua chases pupils up to the waterfall as they try to escape his mathematics lesson. Pupils are punished using the old way, i.e. beaten severely with a stick. Teacher Boot tries to intervene and to oppose but to no avail. Kru Seua is respected by the villagers but Boot believes his teaching methods are outdated (โบราณ) and promises herself to win over him. Some children behave badly, steal other people belongings or play betting games (ทำดียาก - ทำชั่วง่าย). There is even a small mafia (นักเลงแทนนักเรียน). Kru Seua encourages pupils to share food as some of them do not have enough to eat. A mother has her son Pleun, being a former convict, released from prison after three years. His wife has gone and his son is sick. He needs money. Chinese businessman's grandson comes to study at Kru Seua's school but he has a bad behavior believing he can do anything as his grandfather funds the school. Kru Seua refuses his entry as all children shall be the same in school (short hair, same uniform). The Chinese businessman argues his donations give him any right but then where is the virtue (บุญ) of doing donation if there is a hidden compensation? The child brings itching powder in the classroom. Finally unable to accept more, Kru Seua cuts himself the boy's hair very short (หน้าที่ของครู). The grandfather goes to police to fill a complain. Kru Seua refuses to bend to bad influence. Meanwhile the kid is kidnapped by Pleun. Kru Seua knows the kidnapper Pleun who is a former student in the school. Kru Seua is an easy man, eating simple food from villagers by using hands. A romance starts between Kru Seua and Boot. Boot tries to convince Kru Seua not to dismiss following the pressure he received from the Police and the Thai Chinese businessman. They finally find Pleun at old Prasat Muang Singh Khmer temple. Kru Seua convinces him to release the child and to surrender to the police. The former convict has always seen Kru Seua as his third parents (พ่อแม่ที่สาม). Kru Seua has decided to quit his job. Despite excuses from the Thai Chinese businessman and his son, despite cries from the children and Boot, Kru Seua seems inflexible. Will he change his mind? Many Thai movies produced in years 1978 to 1984 were related to teachers such as ครูชายแดน, ครูบ้านนอก, ครูสมศรี, ครูจันทร์แรม, ครูปิยะ. Teachers are always supposed to be a reference and show perfect behavior to Thai pupils.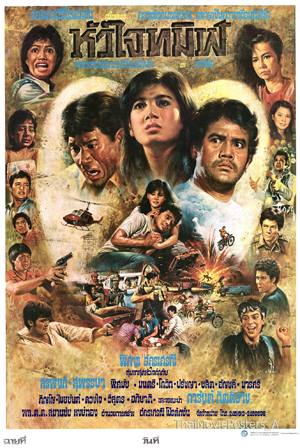 Year

: 1983



Thai title

:

หัวใจทมิฬ




English title

:



Rating

: 3/5


Director

: Pisarn Akraseranee



Main actor

: Sorapong Chatree,Kowit Wattanakul,Pinyo Parnnui,Chaiyan Sorakrai


Main actress

: Supansa Nuengpirom,Pissamai Wilaisak,Marasri Isarangkul,Duangjai Hathaikarn,Anchalee Chaisiri
Thai movie หัวใจทมิฬ was released in year 1983 and lasts 1h17mn. It was released under VCD format by Lepso Company and Rose Company. Movie director is Pisarn Akraseranee. Pissamai Wilaisak and her mother Marasri Isarangkul are heads of a drug cartel. A drug exchange occurs but it is a trick by the Thai police led by officer Kincha (Sorapong Chatree) and Kowit Wattanakul. They surround the ruffians' den. Heavy fighting occurs as ruffians are using war weapons such as machine guns. Marasri, seriously injured, takes grenades and races towards police cars. Kincha ends up at hospital and remaining ruffians flee. Kincha's wife (Duangjai Hathaikarn) asks him to stop as she is worried her children will have no father. Knowing who is the policeman leading the assault in the newspaper, Thong Kam (Pissamai Wilaisak) promises to get revenge. Sifa (Anchalee Chaisiri), Pinyo Parnnui, Montree Jenuksorn (มนตรี เจนอักษร), ปรัชญา อัครพล, ชลิต เฟื่องอารมย์, อภิชาติ อรรถจินดา and Chaiyan Sorakrai are part of the crazy ruffians. Sifa, being pregnant, gets married with วิสูตร ตุงคะรัตน์ (Thai Elvis Presley). The wedding doesn't end up well as the husband has a mistress. He sets up a bomb in the car. Both Sifa and her brother Chaiyan die. Montree gets revenge over Elvis but gets shot by Kincha. Another ruffian is captured. Mother Thong Kam is very upset. Kowit and Waen (Supansa Nuengpirom), Kincha's younger sister, are close friends. Ruffians kidnap by mistake Waen as she used her brother's car. Back home Kincha finds his family was killed. Thai police use the captured ruffian and organises a fake escape to identify where ruffians are hidden. Thai police storms the area and all ruffians are killed including the mother. One ruffian, named Karan (การันต์ กิตติราช), succeeds to escape with the younger sister Waen. He follows his mother's orders despite she is dead. He helps when Waen is bitten by a snake. Thong Kam was a raising mother, who trained them to be tamil. Waen starts to understand and to pity her kidnapper. He is injured by Kowit but still able to flee. He helps again Waen aggressed by crazy campers. Love occurs. Finally, Thai police surrounds the Buddhist cave, where they are hiding. Waen tries to convince her brother Kincha not to shoot at เจนอักษร. He doesn't understand her sister. Karan has to exit from the cave hearing Waen crying. As he is carrying a gun, Thai police shoots him. หัวใจทมิฬ is another violent movie shot by Pisarn Akraseranee.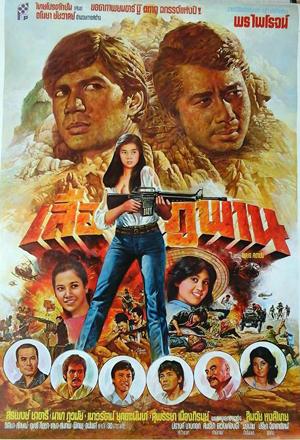 Year

: 1983



Thai title

:

เสือภูพาน




English title

:



Rating

: 2/5


Director

:



Main actor

: Sorapong Chatree,Nard Poowanai,Pipop Pupinyo,Kecha Plianvithee,Lak Apichat,Rith Luecha


Main actress

: Naowarat Yooktanun,Supansa Nuengpirom



Buy now

:

Thai movie เสือภูพาน was already released in year 1983 with another poster. This version was targeted for Thai provinces. Some investment was done with a new poster. Actors and movie director are updated (หนังรวมมิตรย้อมแมว). Similar to practices done by Lepso company, poster is changed and movie is maybe changed. It could be real movie เสือภูพาน or another one... It is a bit similar to Thai movie แผ่นดินเหล็ก, which was released again later under the name เสียงเพลงนักเลงโหด.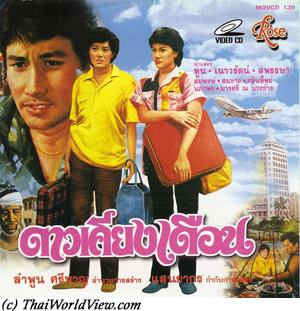 Year

: 1982



Thai title

:

ดาวเคียงเดือน




English title

:



Rating

: 3/5


Director

:



Main actor

: Toon Hiransap


Main actress

: Naowarat Yooktanun,Supansa Nuengpirom,Sarinthip Siriwan,Marasri Bangchang
Two sisters are living together with their mother in a northern village. Their friend have gone to Bangkok and are making a good living. When their mother dies, they also have to go to Bangkok to earn money but they refuse to work in entertainment business. They finally work as domestic helpers in a high end family. Both of them love the family's son. But their family love is stronger than a rivality towards a man and they finally go back to the countryside. if all rural people go to Bangkok, who will cultivate rice for Bangkok people?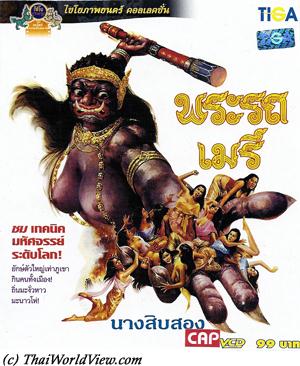 Year

: 1981



Thai title

:

พระรถเมรี




English title

:



Rating

: 3/5


Director

: Sompote Sangduenchai,Neramit



Main actor

: Toon Hiransap,Dam Datsakorn,Ron Rittichai,Sithao Petcharoen,Sompong Phonmitr,Sukon Koewliam


Main actress

: Ampha Pusit,Supansa Nuengpirom,Duangcheewan Komolsen,Janthana Siriporn,Metta Roongrat



Buy now

:

This movie is based on Southern Thai Local Literature. Twelve daughters are abandoned by their parents, who are too poor to educate so many children. The twelve daughters are rescued by a "Yak" woman who promises to take care about them as her own daughters. She deceived them and force them to drink a potion that transform the young girls into beautiful maidens. They escape and are rescued by a Prince, who falls in love with the youngest girl, called Sip Song. He agreed to marry the twelve girls. Once again, the "Yak" woman deceived and force them to drink a potion that makes them 8 months pregnant. The Prince, disappointed by this unexpected pregnancy, expels them and they are imprisoned in a cave, where the "Yak" woman has their eyes removed in order to make an ever young potion for her. Blind and with no food no eat, the ladies eat their new born babies except the son of Sip Song who is raised by a gentle "Yak". The son is called Phrae Rot Meri. Getting older he ran a cock fight to make a living for the 12 ladies. Becoming an adult, he has a deal with the Prince and goes to the "Yak" country to get more magic potions in order to get freedom for the 12 ladies including his mother. But the "Yak" woman is doing all possible tricks to stop him...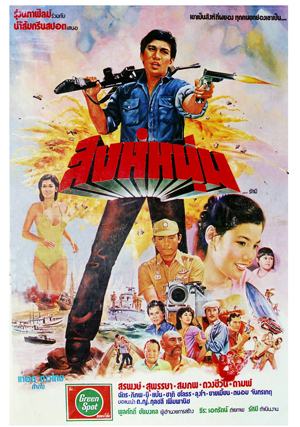 Year

: 1981



Thai title

:

สิงห์หนุ่ม




English title

:



Rating

: 4/5


Director

:



Main actor

: Sorapong Chatree,Chat Mongkolchai,Dam Datsakorn,Pipop Pupinyo,Paen Pleumsachai,Boo Wibunnan,Somphob Benjatikul


Main actress

: Supansa Nuengpirom,Duangcheewan Komolsen
Thai movie สิงห์หนุ่ม was released in year 1981. In Thailand, the movie is lost but the movie last 35mm film reel was preserved by a collector and lasts 24mn. This Thai movie was also released in Sweden by company HB Video-film. พ่อเลี้ยง Hin (Chat Mongkolchai) meets Wattana (Dam Datsakorn) for illegal business. Sakda / Sing (Sorapong Chatree), named as สิงห์หนุ่ม, a policeman, always causes them problems. He stops their drug traffic at the border. Hin decides to attack Sing through his family. His wife is raped and killed. Sing takes revenge but Hin succeeds to flee. Sing sympathized with Pipop Pupinyo and this latter helps him to be recruited by Srisuda (Duangcheewan Komolsen). Srisuda likes Sing a lot. Boo Wibunnan, Hin and Wattana build a traffic together. Policeman Tawan (Somphob Benjatikul) stops their boats trafficking in Thai waters. Srisuda is upset but she is not willing to sell her boats to Boo. Hin's ruffians are jealous to see singer Salika (Supansa Nuengpirom) talking to Tawan so a fight occurs. As Tawan is outnumbered, he gets some help from Sing and his friends. Somphob needs help from Sing and his ruffians to neutralize the ruffians. They all agree. Meanwhile ruffians plan to use the singer Salika to pressure policeman Tawan. Srisuda accepts to take care of Sing's daughter but asks Sing to move in her house... Last ruffians' operation fails again. Pipop is suspected to be a traitor and is killed. Ruffians shoot Srisuda and kidnap Sing's child. During the chase and the shootings, the child is killed. Ruffians then kidnap the singer Salika. Police storms the place but Watttana flees by boat with Salika. Sing follows and releases her.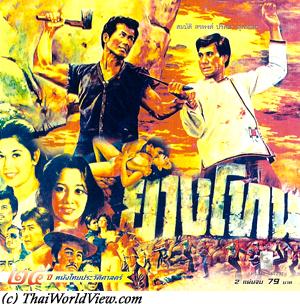 Year

: 1981



Thai title

:

ยางโทน




English title

:



Rating

: 3/5


Director

: Payoong Payakul



Main actor

: Sombat Methanee,Sorapong Chatree,Phairoj Jaising,Dam Datsakorn


Main actress

: Supansa Nuengpirom,Prissana Chabaprai
While Yot (Sorapong Chatree), young man, is away from his home, three ruffians raid his house and kill his parents. They were looking for a red jade (หยกแดง). Yot promises to punish the three robbers. Than (Sombat Methanee) is a farmer who has a family. He refuses to sell his rice to the local village headman (กำนัน) as the offered price is too low. The local village headman uses strong power (อำนาจ) and bad influence (อิทธิพล) to coerce villagers. Yot helps Than to beat the local ruffians. They sympathize. At nighttime ruffians come again but Yot shoots one of them. In the following morning, the local village headman comes with the police to arrest the two men. Following a misunderstanding between thugs, Yot and Than can flee. Yot continues his way to find the murderers of his parents. He finds two of them and learns that a rich man (เศรษฐีใหญ่) from Phrae and Nan provinces has ordered to get the red jade. Meanwhile the local village headman chases Than up to his home and shoots his wife. This is his final crime as Than shoots him also. Arrived in Nan, Yot receives help from the local mafia head Sai Wan as he had arguments with a prostitute in a local hotel. Sai Wan recruits Yot. Meanwhile Than enters Pho Liang Rak's ruffian team. Fights happen between the local mafia teams. Yot identifies that Pho Liang Rak is responsible of his parents' death. Pho Liang Rak and his team are neutralized but then Yot and Than fight over the red jade. They finally realize they are brothers. They decide to sell the red jade to build a Buddhist temple. This movie is a Thai Tom Yum (ต้มยำ) western from decades 1970s-1980s.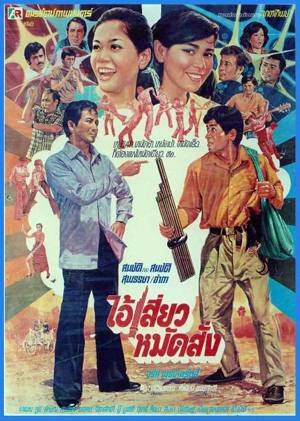 Year

: 1981



Thai title

:

ไอ้เสี่ยวหมัดสั่ง




English title

:



Rating

: 3/5


Director

:



Main actor

: Sombat Methanee,Lak Apichat,Boo Wibunnan,Adul Dulyarat,Manop Aussawathep,Sayan Chantaraviboon,Rith Luecha


Main actress

: Supansa Nuengpirom,Ampha Pusit,Chosri Misommon
Thai movie Ai Sio (ไอ้เสียวหมัดสัง) was released in year 1981 and lasts 2h03mn. Sio (Sombat Methanee) from Isan area is going to Bangkok for the first time to find a job. Some people promise him a fake job in Saraburi. They drug him with sedative pills (ยานอนหลับ) and steal his money. Sio speaks Isan language only. Sio finds the three men again and a fight erupts. Very strong, Sio kills them during the fight thanks to his strong punch. Sio ends up in jail with two other men, Lak Apichat and Boo Wibunnan, who are pickpockets. They become friends. Released from prison, Lak and Boo meet Phi Kang (Adul Dulyarat), who has serious issues with ruffians led by Boonchai (Manop Aussawathep) wishing to buy his garden. There are gems (พลอยแดง) in his garden soil. His children are Sayan Chantaraviboon, Supansa Nuengpirom and her elder sister played by Ampha Pusit. Sombat is having two roles in this movie, i.e. Sio and Sia! Sia Songsak is another local ruffian and his mother is played by Chosri Misommon. Some people confuse Sio and Sia. Sio has to punch people mistaking him as Sia. Sia finally finds Sio. Fighting erupts between both of them. Through the fight, Sio kills Sia due to his strong fist punch. Each time he gets hit below the stomach, Sio loses his temper. Afraid of being arrested by police again, both Sio and Boo leave for Chantaburi. Arriving there, they are involved in another fight and befriend with young men. Boo brings them to work with him. Sio likes fair justice (รักความยุติธรรม). Ruffians propose a 5 to 5 fight. Rith Luecha is one of the fighters. If they lose, they have to sell the garden. Thanks to Sio, they win. Trying a last solution, the ruffians kidnap the two daughters. Even Saran, now able to fight, joins them. Through final fighting, ruffians are neutralized. Sio is injured while protecting Supansa. US movie Rocky soundtrack is used.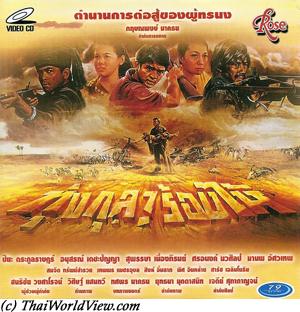 Year

: 1981



Thai title

:

ทุ่งกุลาร้องไห้




English title

:



Rating

: 3/5


Director

:



Main actor

: Manop Aussawathep


Main actress

: Supansa Nuengpirom
Some immigrants settle in a village in dry Isan (Northeast of Thailand) area. They are not welcomed by the already inhabitants. Incidents happen between the two communities. Who is responsible of these incidents?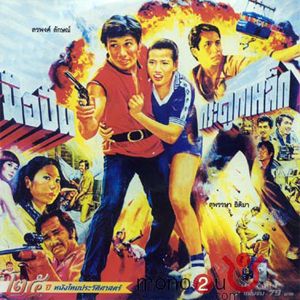 Year

: 1981



Thai title

:

มือปืน กระดูกเหล็ก




English title

: Iron Bone killer



Rating

: 3/5


Director

: Payoong Payakul



Main actor

: Sorapong Chatree,Nard Poowanai,Dam Datsakorn,Porjed Kaenpetch,Lak Apichat,Phairoj Jaising,Sithao Petcharoen


Main actress

: Thitima Sangkapitak,Supansa Nuengpirom,Moeifa
Thai movie Iron Bone killer / มือปืน กระดูกเหล็ก was released in year 1981. It is directed by famous action movie director Payoong Payakul. It lasts 1h56mn. While driving back from an underground casino, Kit Meka (Sorapong Chatree) finds a dead man lying on the road with a pod full of money. Kit gets shot and injured by two men but succeeds to flee after shooting them. Another car chases him. He takes refuge at a doctor's home but the ruffians do a rampage there. He finally ends up in a neighbouring house where a young enthusiastic lady welcomes him warmly. He leaves to go to funeral of his friend Phi Kamnan Pan. He meets Seua Tot (Nard Poowanai) and Moeifa there. Kit escapes to ruffians again and is rescued by a young lady called Pim. The ruffians' leader, Pho Luang (Dam Datsakorn), is upset that his men are not able to catch Kit named as มือปืน กระดูกเหล็ก so he has to be involved himself. Pho Luang's girlfriend is called Taorung (Thitima Sangkapitak). Porjed Kaenpetch, playing a policeman, is investigating on the ruffians' activities. Pim is the niece (หลานสาว) of Seua Tot. Lak Apichat is part of Seua Tot's team. Kit helps Tot betrayed by one of his teammates. Meanwhile Pim is disfigured and raped by Pho Luang's ruffians. Seua Tot promises revenge. Tot takes revenge on Pho Luang's mother. They also kidnap Pho Luang's wife Taorung and ask for 500 000 baht (ผู้นรก) ransom. Pho Luang and his men chase after them. They take refuge in a Christian village (หมู่บ้านศาสนา). Kit and Seua Tot's team diverge and split. Seua Tot's team falls into an embuscade and Seua Tot is left for dead. Fed up to always been chasen, Kit decides to counterattack. Kit shoots Pho Luang's men and through a final fight, both Pho Luang and Kit fall from a cliff but only Kit survives. Ot (Phairoj Jaising) takes over Pho Luang's illegal business. Some ruffians led by Ot try to kill Kit. Kit ends up facing the policeman Pat (Porjed Kaenpetch). Pat is former lover of Taorung and still loves her. Taorung's heart is still split but promises forever love to Kit (ดวงเดียว). Meanwhile Kit only sees himself as a staff of Taorung. He meets Farung (Supansa Nuengpirom) and asks her father (Sithao Petcharoen) to teach him Thai boxing. Ot and his men decide to get rid of Kit. Pat chases the ruffians and ends up in a duel with Ot. Kit helps Pat before Ot can shot him. Seua Thot also saves Kit but dies, being shot by Ot. All ruffians being neutralized, Kit ends up with both Taorung and Farung.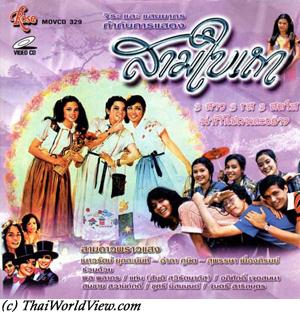 Year

: 1980



Thai title

:

สามใบเถา




English title

:



Rating

: 3/5


Director

:



Main actor

:


Main actress

: Naowarat Yooktanun,Supansa Nuengpirom,Ampha Pusit
A middle age father has three beautiful daughters, i.e. Thiep, Aew and Sa. They have been educated abroad. They get on well with Cherry, daughter of the house's maid. Happiness is daily present in the house. They play tricks to each other and rediscover Thailand (spicy food, usage of chopstick) after so many years abroad. Their father wants to send them to school to learn Thai customs and culture (เรียนเป็นคนไทย). They are not willing to go so Cherry teaches them. The father's best friend has three sons, i.e. Pol, Ten and Kiat. The three young men court the three ladies. The father decide to bring his three daughters to Chiang Mai to show them Thai countryside. The three young men also follow up. They go back together to Bangkok driving a van. A traffic accident happens. Aew is paralyzed and cannot walk again. Thiep becomes blind and cannot see again (มืดเกินไป). Sa doesn't have major injuries. The father believes it is linked to his karma and it doesn't change his love for his children. The three young men have only minor injuries. Thiep believes she has no use for society anymore. The romantic comedy evolves to a drama mixing happiness and sadness. Tensions erupt between the three sisters especially from Thiep. Before there were only smiles and laughters but now there is no more. Thiep thinks about suicide. Thiep rejects Sa as sister (เสียดวงตา - เสียดวงใจ) as she believes Sa is mean with her. The only way to cure Thiep is to find a eye donator for her. The three actresses provide an impressive dramatic performance with many teardrops. Sa wants to suicide in order that her eyes can be reused for Thiep. Thiep prevents the suicide. A donator is finally found by the hospital. The family is reunited and happiness is back. This movie is similar to a Piek poster movie with songs and reflection of Thai society with its good aspects and bad aspects.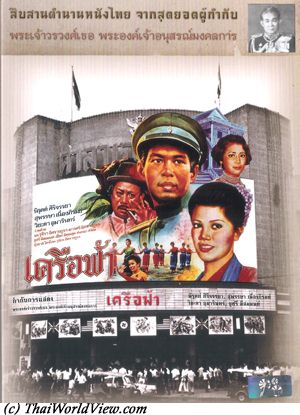 Year

: 1980



Thai title

:

เครือฟ้า




English title

:



Rating

: 4/5


Director

:



Main actor

: Nirut Sirijanya,Rujira Isarangkul


Main actress

: Supansa Nuengpirom,Wiyada Umarin,Sarinthip Siriwan,Chosri Misommon,Marasri Isarangkul,Janthana Siriporn



Buy now

:

Thai movie เครือฟ้า (สาวเครือฟ้า) was released in year 1980. It is available under DVD format (1h49mn) and VCD format (2h01mn) released by former company Solar. During World War 2, Hoi is a military officer (นายทหาร) in Chiang Mai back from overseas. Hoi (ลูกผู้ดี / ลูกพญา) is coming from a high society family (Sarinthip Siriwan). Hoi (Nirut Sirijanya) meets a young Northern lady called Kreua Fa (Supansa Nuengpirom) at a traditional dance event. Chiang Mai is famous for the beauty of its ladies (เมืองคนงาม). Kreua Fa's father raised elephants. Local North people speak local northern dialect in the movie. Kreua Fa makes Hoi discover elephants' life in the forest. A local old notable wishes to marry Kreua Fa. The notable involved in drugs trafficking wishes to get rid of Hoi. A plan is set up to have Hoi having a deadly accident in the forest with an elephant but Kreua Fa helps him on time. Romance starts between them. They finally marry following Northern traditions. As Thailand has declared war to Germany, Hoi needs to go back to Bangkok and then to fight in Europe. His plane is hit and Hoi lost his memory. Three years have passed. Champa has been taking care of him during his long recovery. Hoi's parents settle the wedding with this rich heiress (Wiyada Umarin). Meanwhile Kreua Fa has delivered a child. The evil notable kidnaps Kreua Fa's baby to force her to become his wife. Kreua Fa's friends use elephants to release her and the notable is arrested for drug trafficking. One day Hoi is invited to Chiang Mai to demonstrate Thai airplanes. Kreua Fa hearing the plane believes Hoi comes back for her. Hoi has the feeling he went to Chiang Mai before losing his memory (ความทรองจำ). The new wife is aware of Kreua Fa but hides the truth to Hoi. Officer Pla explains the truth to Kreua Fa that Hoi lost memory as his plane was hit during the war. Kreua Fa needs to wait. Kreua Fa tries to get suicide. Finally aware of a ball given by high society, she decides to find Hoi. During the ball, arguments arise between Kreua Fa and Champa but Hoi cannot remember Kreua Fa. Kreua Fa is so disappointed so she decides to kill herself. Hoi finally recovers his memory. While rushing to find Kreua Fa, he just arrives on time to have her dying in his arms. She entrusts her child to Hoi. This movie has been released in theaters before in year 1953 (Chalit Susewee and Wilaiwan Watthanaphanit) and 1965 (Mitr Chaibancha and Pissamai Wilaisak).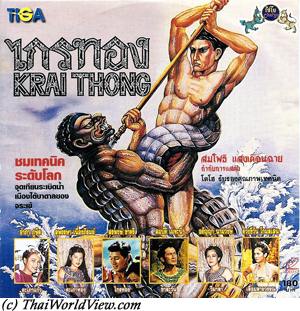 Year

: 1980



Thai title

:

ไกรทอง




English title

: Kraithong



Rating

: 3/5


Director

: Sompote Sangduenchai



Main actor

: Sorapong Chatree,Sombat Methanee


Main actress

: Ampha Pusit,Supansa Nuengpirom,Aranya Namwong,Duangcheewan Komolsen



Buy now

:

Kraithong is an old Thai tale based on an aggressive, violent and male-dominated world. Kraithong movie is based on Thai traditional folklore story relating a love story between a crocodile and human beings. A spirit living in the river has the possiblity to change himself into a crocodile. He uses his powers to terrify the population by killing inhabitants and kidnaps young girls for his harem. His name is Chalawan (ชาละวัน). One day Chalawan sees the two daughters of a rich local trader and falls in love with them. The two daughters are called Takao Kaew and Takao Thong. He kidnaps Takao Kaew and brings her to his cave under the river. The father is very angry and recruits a crocodile master (หมอจระเข้) called Kraithong. He promises to give his two daughters if Kraithong can stop Chalawan. Kraithong finds the way to Chalawan's underwater cave. A fight happens between Kraithong and Chalawan. Kraithong movie raises the Thai polygamy theme as Chalawan has already crocodiles wives in his underwater cave but still desires human being wives.



Year

: 1980



Thai title

:

สิงห์จ้าวพยัคฆ์




English title

:



Rating

: 4/5


Director

:



Main actor

: Chaiyan Sorakrai,Dam Datsakorn,Rith Luecha,Lak Apichat


Main actress

: Supansa Nuengpirom,Ratanaporn Intarakamhaeng
Lek (Chaiyan Sorakrai) asks for his father's shares from Reuang (Dam Datsakorn). Following heated arguments, Reuang claims he cannot pay now and sent his ruffians (including Rith Luecha) to kill Lek. Lek succeeds to escape. Lek learns that Reuang is the one who kills his father and drowns his mother (Ratanaporn Intarakamhaeng). Reuang and Lek's father are former business partners. Lak Apichat helps Lek to recover from his injuries. Before dying, Lek's mother asks him to find his younger brother as the same pendant was given to both children. Kao, Hong Kong art martial performer, is used by Reuang as a bait to carry diamonds. Mona (หมีเซียะ) is a Hong Kong police officer looking for proofs against Reuang. Pha (Supansa Nuengpirom), daughter of Reuang, doesn't like his father job as ruffian (นักเลง) so she flees from home. Reuang likes Kao's skills (เยี่ยมมาก / ฝีมือไม่เบา) so Kao is used as a hitman (มือสังหาร) to get rid of Lek. During the fighting, Lek and Kao realise they have the same pendant so are brothers. They try to storm Reuang home at nighttime but face strong opposition. How can Lek and Pha stay together as Lek has to take revenge on Reuang (ฉันจะทำอย่างไร)? Reuang uses money (สินน้ำใจ) to corrupt officials. The three heros (Lek, Kao and Lak)) disrupt Reuang's business. Reuang hires Keng, a strong kung fu fighter to get rid of them. Despite losing to him, keng lets them ago as he is a former friend of their father. Finally they attack directly Reuang and succeed to capture him. Unwilling to forgive, they put some explosives in the small cabana (ผีเฝ้าที่นี่) and flee the police. They finally surrender three days later and get a fair trial. The movie lasts 1h49mn. This Thai action movie mixes Thai and Hong Kong actors / actresses.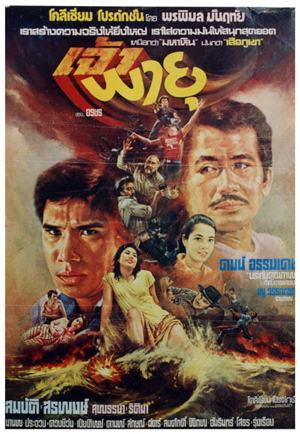 Year

: 1980



Thai title

:

เจ้าพายุ




English title

: Thunder Kid



Rating

: 5/5


Director

: Kom Akadej



Main actor

: Sorapong Chatree,Sombat Methanee,Manop Aussawathep,Prachuap Ruekyamdee,Dam Datsakorn,Somsak Chaisongkram,Lak Apichat,Choomporn Theppitak,Somchai Samipak,Chat Mongkolchai,Pipop Pupinyo,Siripong Isarangkul,Paen Pleumsachai,Pao Porapak


Main actress

: Supansa Nuengpirom,Piathip Kumwong,Thitima Sangkapitak,Duangcheewan Komolsen
Thai movie เจ้าพายุ was released in year 1980 and lasts 1h55mn. It was never released in Thailand but is still available overseas in Sweden as it was sold through VHS format. Palat (Sombat Methanee) rapes Piathip Kumwong, his former wife, as he is upset she has another lover (Manop Aussawathep). A kid is born from this relationship but it has no recognized father (ไม่มีพ่อแต่ต้องมีชื่อ). Manop is said to be Yu's father. Uncle (พ่อลุง) Jaeng (Prachuap Ruekyamdee) names the kid as Thunder (เจ้าพายุ), as he is born during a storm, but his nickname is Yu. When Yu was 3 years old, Piathip left home as Palat was having a new wife called Duangcheewan. Being adults, Eum (Thitima Sangkapitak) and Yu (Sorapong Chatree) love each other since childhood. Eum's parents promise her to another man called To (Dam Datsakorn). Palat, Somsak Chaisongkram and To try everything to break this relationship. Eum and Yu flee but are chased by Palat and ruffians led by To. Yu accepts to surrender and is sent to prison. Manop Aussawathep, father of Yu, learns that Palat has been nominated as chief district. He still has a debt to pay with Palat. While Palat is resting with his family, he does attack them. Palat's new wife (Duangcheewan Komolsen) is shot dead. Pho Seua (Choomporn Theppitak) in prison teaches Yu to master resistance and strength. Yu becomes friend with Pha (Lak Apichat) in prison. Eum, knowing that Yu's father killed Duangcheewan, cannot marry Yu anymore and accepts to marry To. Yu is devastated to learn this news. After a while, Yu is released from jail. Pha is waiting for him. Yu helps Sia Wiwat (Somchai Samipak) and his daughter Chan (Supansa Nuengpirom) Chan having issues with ruffians. He has conflicts with Chat Mongkolchai, head of workers (ป่าไม้). Meanwhile To sends some men (Somsak Chaisongkram and Pipop Pupinyo) to get rid of Yu. Siripong Isarangkul is playing the big boss. They push Manop to force his own son Pha to get rid of Yu. Pha and Yu are in fact brothers. As Pha refuses to kill Yu, To sends Paen Pleumsachai to kill him but it fails as Pha is only injured. Pha gets revenge by shooting Siripong Isarangkul. To's hidden plan is to get rid of Sia Sawat, Yu and to get the sawmill for himself and to get Chan as wife for Chat. Chat uses heavy machine to drop tree logs on the office, where Sia Wiwat and uncle Jaeng are working. Uncle Jaeng dies. Yu has to take revenge on Chat and To. Yu chases To until he can kill him. Final fighting does occur between Manop, Palat and Yu. Manop catches Yu and threatens to kill him if Palat doesn't surrender. Yu is Palat's real son! Piathip already lost one son so she cannot accept this and shoots Manop.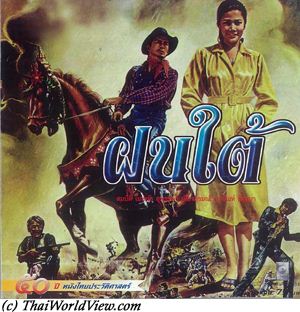 Year

: 1980



Thai title

:

ฝนใต้




English title

:



Rating

: 3/5


Director

:



Main actor

: Sombat Methanee,Sayan Chantaraviboon,Prachuap Ruekyamdee,Boo Wibunnan,Sawin Sawangrat,Pipop Pupinyo,Adul Dulyarat,Chat Mongkolchai


Main actress

: Supansa Nuengpirom,Metta Roongrat,Duangdao Jarujinda
This movie is a Thai Tom Yum (ต้มยำ) western mixing action and comedy. Following a robbery, ruffians have to stop at a house to rest at night time and repair their car. They kill the whole family living there but the kid, called Yot, is only injured and promises to take revenge. He notices that the killer is wearing particular boots. Yot is rescued and healed by a Buddhist monk and doctor Meng (Adul Dulyarat). Twenty years have passed. Yot (Sombat Methanee) is coming back in the area to sell medicine. The area is under the control of mafiosi Lit and his thugs (Pipop Pupinyo and Chat Mongkolchai). Even local subdistrict headman (กำนัน) Cha (Prachuap Ruekyamdee) has difficulty to get authority from them. The district officer (นายอำเภอ) has been killed. The doctor Meng now indulges into alcohol to forget his worries. His wife, Busuba (Metta Roongrat), was deceitful and caused the death of his best friend. She is now Lit's girlfriend. A Thai country music (ลูกทุ่ง) singer (Sayan Chantaraviboon) is coming in the village and teams up with Yot. Lit (Sawin Sawangrat) tries to get rid of Yot, the country music singer and even local subdistrict headman Cha. Yot finds the 20 years old boots in Cha's barn so he believes that local subdistrict headman Cha is responsible of his parents' death. Various events (doctor Meng, Lit and Busaba die) happen until the thugs are neutralized thanks to Yot and the singer, who is in fact an undercover military officer. Remembering the Buddhist monk's advice, Yot doesn't do self justice and becomes the new district officer. It is a typical movie of end of 1970s decade with Thai country music songs, action, comedy, romance (Yot and Chewi (Supansa Nuengpirom), local subdistrict headman Cha's daughter), revenge. A previous version of ฝนใต้ was also done in 1970 already with Sombat Methanee.



Year

: 1980



Thai title

:

ไอ้ย่ามแดง




English title

:



Rating

: 5/5


Director

: Chao Meekunsut



Main actor

: Sorapong Chatree,Manop Aussawathep,Uten Boonyong


Main actress

: Supansa Nuengpirom,Duangcheewan Komolsen



Buy now

:

Two young boys, Tom and Palad, are close friends. Following a game, one of the kid is injured. His friend Tom has to steal some medicine. The shop owner dies while trying to catch him. Palad becomes a Buddhist novice so they lose contact. Tom (Sorapong Chatree) is now a grown up adult. His girlfriend Malee is already promised to somebody else, i.e. to the ruffian Ying (Manop Aussawathep), by her father. Tom overturns ruffian Ying's boat and then announces that Malee is already his wife. Wedding is canceled but Ying promises revenge over Tom. Tom and Malee have real happiness and are living as farmers. Malee becomes pregnant (กำลังจะมีลูก). Malee is kidnapped by Ying's ruffians while Tom is working in rice fields. Tom wishes to have his child back (จะเอาลูกของกู). As Ying is good friend with the local district officer (กำนัน), nothing Tom can do. The dictrict officer's daughter called Boonlam (Supansa Nuengpirom) is upset by this. Ying has already a wife (Duangcheewan Komolsen). Malee refuses to eat. Tom starts to believe Malee abandoned him but he needs to get his child back. Tom becomes crazy due to sadness (เสียใจถึงเป็นคนบ้า). Tom with long hair is wandering around and acts like a child. As Malee's father becomes too disturbing, he gets shot by Ying's ruffians. While Ying is away, Ying's first wife stabs Malee as she complains Malee is taking Ying away from her. Being wrongly informed that Malee has delivered the baby, Tom only finds Malee's bloody corpse. He gets accused by Ying's wife regarding Malee murder. He gets the foetus baby from Malee's tummy and flees. Tom takes refuge in a Buddhist temple. Ying asks the district officer to catch Tom as he is a dangerous crazy man. Boonlam complains that her father better arrests those who made Tom become crazy. One of Ying's ruffian, a dwarf, tries to rape Ying's wife but as she resists, he stabs her and accuses Tom. Tom has become crazy and sings lullaby to the dead baby. He takes revenge over the district officer. One day, Boonlam is also agressed by the dwarf and another ruffian. Tom, mistaking her as Malee, saves her. Boonlam explains to him that the baby is already dead. She has pity of him (สงสาร) and washes his dirty bloody clothes. Due to a storm, she spends the night with Tom. Palad (Uten Boonyong), Boonlam's fiance, is an administrative officer. Palad is Tom's former friend during childhood. Boonlam wishes Tom to surrender (มอบตัว). A crime is done again by somebody wearing same clothes as Tom. Tom is accused again but finally Palad get proofs that Ying is behind everything. A tentative to arrest Ying degenerates in shootings. Finally Tom kills Ying but also cuts his own threat, unable to support anymore a life full of deaths (ในชีวิตมีแค่ความตาย). Boonlam has no time to tell him that he was declared not guilty by administration. Ai Yam Daeng (ไอ้ย่ามแดง) is a strong movie directed by Chao Meekunsut. It highlights corruption and dark influence impact on poor people like Tom. A new DVD from Happy Home was released in year 2012 but the sound is a bit unstable in volume. Sorapong delivers again great acting performance.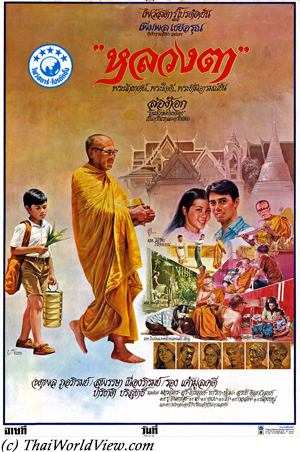 Year

: 1980



Thai title

:

หลวงตา ภาค 1




English title

: The old monk



Rating

: 4/5


Director

: Permpol Choei-arun



Main actor

: Jatuphol Poopirom,Lor Tok,Rong Kaomulkadee,Krailat Kriengkrai,Thuam Thoranong


Main actress

: Supansa Nuengpirom,Mayurachath Muarnprasitivej,Tharika Thidathip,Juree Osiri



Buy now

:

Thai movie หลวงตา ภาค 1 / The old monk was released in year 1980 and lasts 2h13mn (according to Five Star Production website). It was released under multiple formats, a beta-max version (2h01mn), VCD version by Solar (2h02mn), VCD version by BKP (2h05mn), DVD version by BKP (2h05mn), a True Thai Film cable TV version (1h48mn). A remastered version was released during decade 2010s by Five Star Production. Movie director is Permpol Choei-arun. This movie shows the importance of Buddhist abbots in Thai society. Luang Ta (Lor Tok) is an abbot in a Thai Buddhist temple. He is taking care of children (เด็กวัด) given to the temple as the parents are too poor to take care of them. During childhood, young boy Long often deal with stubborn Chuk and Ek. Long (Jatuphol Poopirom) and Ek (Rong Kaomulkadee) are now grown up. Mae Choi (Mayurachath Muarnprasitivej) is Long's mother but she is ashamed (ผู้หญิงขายคัว) so she doesn't disclose who she is. Long is like orphan (ลูกกำพร้า) under the responsibility to Luang Ta. Fighting between Long and Ek occur as Ek always tease others but they remain friends. Luang Ta teaches (สั่งสอน) them continuously. Long is accepted in school army and Ek is accepted in police school. Mae Choi dies. Luang Ta organises a funeral being the main sponsor (เจ้าภาพ). The undertaker (สัปเหร่อ) discloses she worked in a brothel (ซ่อง) before. Young lady Duangjai (Tharika Thidathip) stays in temple as she has nowhere to go. She has little education as her parents thought primary studies were enough. Luang Ta complains that girls should study also and not only do home chores. She regains trust in herself and learns new skills but after a while Luang Ta tells her it is time to leave as it is not correct for a lady to stay in a temple where only men are present. Lom, without parents and who has always lived in Buddhist temple, is in love with a young woman called Wan (Supansa Nuengpirom). Her high society parents (Thuam Thoranong and Juree Osiri) don't want a poor groom. On top of this, they are worried about impacts on their lineage. Lom decides to go at the Thai border as he knows this love is impossible. Wan clashes with her parents, who are more worried about old symbols such as status, fame, lineage instead of their daughter happiness. By reading newspapers, Luang Ta learns that Duangjai made a successful wedding. Pushed by Wan, her parents visit Luang Ta to learn more about Lom. The abbot gives them the whole story. The parents are concerned about gossip as Lom is prostitute's son but Luang Ta reminds them that skills and good personality are not linked to lineage but to own ability. Ek is proud to announce to Luang Ta that he is now police captain with 3 stars. Luang Ta complains that multiple stars don't make people more intelligent. Lom is injured at the border and is sent to hospital. Luang Ta decides to visit him but two robbers (including Krailat Kriengkrai) enter in the Buddhist temple. They kidnap Luang Ta. Surrounded by police led by Ek, they have to endure Luang Ta's sermons (โดนเทศน์ไม่ไหว) so they finally give up and surrender. Long is back to the temple to visit Luang Ta with his wife Wan as her parents have agreed to the wedding.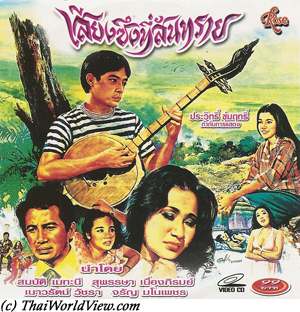 Year

: 1980



Thai title

:

เสียงซึงที่สันทราย




English title

:



Rating

: 4/5


Director

:



Main actor

: Sombat Methanee


Main actress

: Supansa Nuengpirom,Naowarat Watchara,Sarinthip Siriwan



Buy now

:

In North of Thailand, a mother has got two daughters, Pim and Kaew. Pim has been a prostitute and has now a new boyfriend. Kaew is in love with a poor peasant. The mother pushes Kaew to go to Bangkok during one year to be a prostitute in order to buy her a house and pay her debts. Pim tries to hinder her mother but has to go to Bangkok. In Bangkok, she discovers that her boyfriend is already married. She also discovers that she is sick with leprosy. Meanwhile Kaew follows her mother's order and goes to Bangkok to be come a prostitute. Pim's boyfriend left her and now takes care about Kaew. Knowing this, the boyfriend's wife throws acid on Kaew's face. Nobody becomes happy. This movie shows the good view (girls going back to their home with nice clothes, gifts to family, money to buy house) and the sad view (girls beaten by pimps, forced to have many customers and getting diseases). It also emphasizes the cruel dilemma, i.e. stays poor or loses dignity but becomes rich.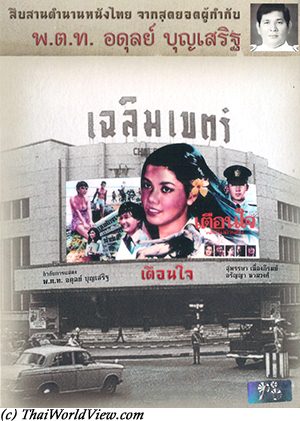 Year

: 1979



Thai title

:

เตือนใจ




English title

:



Rating

: 4/5


Director

: Adul Phijit



Main actor

: Tuanton Kammeesri,Surasit Sattayawong,Lor Tok,Thep Thienchai


Main actress

: Supansa Nuengpirom,Aranya Namwong,Monrudee Yamaphai,Ratanaporn Intarakamhaeng



Buy now

:

Surasit (Surasit Sattayawong) and Ratanaporn (Ratanaporn Intarakamhaeng) have a teenage daughter called Teuan Jai (Supansa Nuengpirom). New soldiers selection (ทหาร) is happening. Lor Tok is their instructor. Strong regulation (ระเบียบ) is taught to them. Young lady Teuan Jai meets one cadet in the bus while going to university. Monrudee Yamaphai as student is her close friend. Tuanton (Tuanton Kammeesri) is married to Aranya Namwong (เมียตำรวจ). He has often nightmares. He is still a low rank policeman making his wife unhappy about his status. Suphansa receives a love letter from one of the soldier. Finally a group of five young soldiers cadets and five young ladies students including Teuan Jai meet each other. They all go to Pattaya. All boys have same goal to serve their country. There are drunkard ruffians at the street entrance leading to Teuan Jai's home. Arguments happen with the young soldiers cadets (นักเรียนเป็นทหาร). One evening, Teuan Jai is raped and killed (มนุษย์ใจสัตว์). A wallet is found with prints on it. The police officer Tuanton investigates on the issue. He visits by night the murdering place and the corpse storeroom (ห้องเก็บศพ) to look for evidences. Thep Thienchai is arrested but he is not the culprit. This murder has caused big emotion and Thai police has to broadcast a message encouraging young ladies to wear appropriate clothing. There is a comparison of young Thai people doing sacrifice to become soldiers and other young people behaving very badly. People having usefulness for the country versus people being a burden. Finally the policeman catches the killer thanks to scratches proofs in his shoulder. As he refuses to acknowledge the murder despite proofs found, the policeman has to force him by using some beatings. Tuanton is finally expelled from the police. This movie is based on a real story, which happened in 1961, where a group of hooligans raped and killed a young student called Teuan Jai PhuangNak. The DVD lasts 1h32mn but the original film is longer. The movie director is Adul Phijit (อดุล พิจิตต์).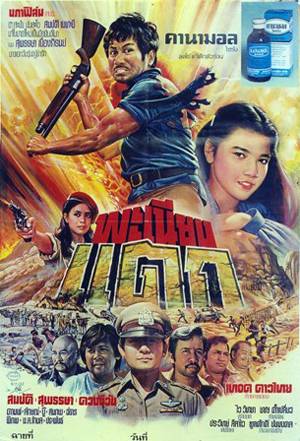 Year

: 1979



Thai title

:

พะเนียงแตก




English title

: Illegal Miner



Rating

: 4/5


Director

:



Main actor

: Sombat Methanee,Somphob Benjatikul,Boo Wibunnan,Dam Datsakorn,Chat Mongkolchai,Pipop Pupinyo,Lak Apichat


Main actress

: Supansa Nuengpirom, Duangcheewan Komolsen
Thai movie พะเนียงแตก was released in year 1979 and lasts 1h51mn. It was also released overseas in Sweden under VHS format and renamed as Illegal Miner. It was distributed by HB Video-film company. Midnight Express film music is used in this movie. A gold transfer is attacked and robbed. Police head nominates Sathan (Somphob Benjatikul) to investigate this robbery. The gold transfer was arranged by Anan, owner of a gold mine. Anan (Boo Wibunnan) is married to a new young wife called Dao (Duangcheewan Komolsen). Dao is also the mistress of ruffian Titio (Dam Datsakorn) so she keeps transferring information to him. Phaniek (Sombat Methanee), a former policeman, is now a drunkard (ขี้เหล้า). He was framed and accused of murdering his wife and her lover. He spent five years in jail. Pipop Pupinyo and Lak Apichat always push him to drink. Anan's daughter, Salika (Supansa Nuengpirom), is coming back from Penang after finishing her financial studies. Dao and Salika don't get on together as Salika starts to have a look in her father's company accounts so Dao is worried she will find the irregularities she has done. A second gold transfer is arranged but it is attacked again by ruffians led by Titio. Phaniek was part of the team protecting the gold transfer as he wanted to ensure that his good old friend Saeng was safe. Unfortunately, Saeng is killed despite Phaniek trying to help him. Lak and Pipop are aware somebody succeeds to escape but they are not aware it is Phaniek. Titio asks them to find and kill the survivor. Sathan has arguments with Lak and Pipop as they also treat Phaniek as a dog. Sathan and Phaniek become friends. Phaniek realises that Sathan is Saeng's son. Sathan is struck between taking revenge and following his duty as policeman. Salika is named as new company boss by her father. Phaniek brings Sathan to work in the mine. Salika hires them despite Titio opposing. Chat Mongkolchai is close friend (เพื่อนรัก) with Titio. Anan and Salika realize that Dao and Titio have stolen money since a long time by forging accounts. Phaniek and Sathan get rid of Chat. Titio is fired by Salika. Titio prepares a revenge and plans to attack the next gold transfer by himself. Ruffians are pushed back by police led by Phaniek and Sathan. But Salika is kidnapped by Titio… Salika is released thanks to Dao, worried that Titio wishes to harass Salika. Ruffians are neutralized. Anan forgives Dao and Phaniek stops drinking alcohol!
---