Increase or decrease font size for easier reading : A+ A-
Supakorn Srisawat
Supakorn Srisawat (1951-2009) - ดี๋ ดอกมะดัน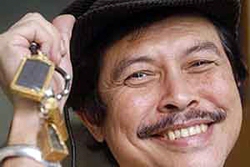 Supakorn Srisawat is a comic actor. His stage name was Dee Dokmadan. He entered in show business in year 1975
This Supakorn Srisawat movie page contains 16 records.
---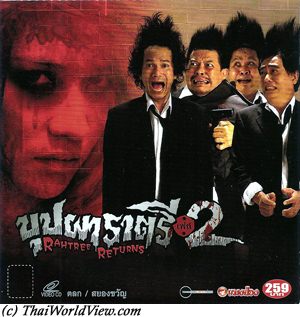 Year

: 2005



Thai title

:

บุปผาราตรี 2




English title

: Rahtree returns



Rating

: 3/5


Director

: Yuthlert Sippapak



Main actor

: Somchai Sakdikul,Doo Dook Kradon,Der Doksadao,Supakorn Srisawat


Main actress

:



Buy now

:

A group of robbers escapes from police and hides money in a haunted apartment. It is in the room 609 where Rahtree, a lovesick ghost, lives with her handicapped boyfriend. She has cut his legs to prevent him to flee. Frightened by the ghosts, the robbers flee but come back with a psychic to face the ghosts. Meanwhile, the handicapped boyfriend has given the money to a blind young girl to pay for her hospital fees to recover her sight. This causes Rahtree's wrath...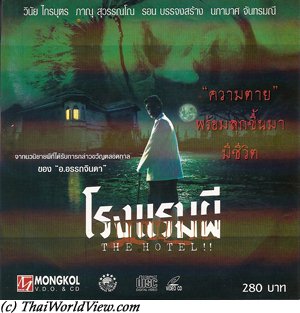 Year

: 2002



Thai title

:

โรงแรมผี




English title

: The hotel



Rating

: 2/5


Director

:



Main actor

: Vinai Kraibutr,Supakorn Srisawat


Main actress

:
It is about an evil spirit located in an old hotel. Accomplishing an old vengeance, he is killing the members of a family. Will they succeed to stop him? It is a remake of the movie โรงแรมผี shot in 1975. Morality of this movie is "Revenge doesn't undo what was done, it just adds to your sin"!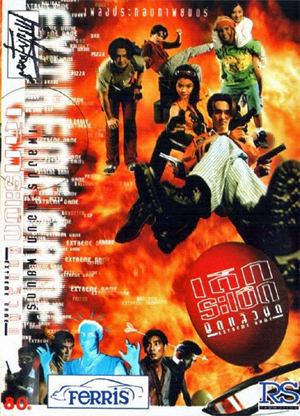 Year

: 1996



Thai title

:

เด็กระเบิดยึดแล้วยืด




English title

: Extreme games



Rating

: 3/5


Director

: คมสันต์ ศรีสวัสดิ์



Main actor

: Supakorn Srisawat


Main actress

: Naowarat Yooktanun,Nook Sutthida



Buy now

:

Thai movie เด็กระเบิดยึดแล้วยืด / Extreme games was released in year 1996 and lasts 1h45mn. It was released under VHS format, DVD format and VCD format. Movie director is คมสันต์ ศรีสวัสดิ์. Thai actors and actresses featured in this movie are Yanit Yaisamuer – ฌานิศ ใหญ่เสมอ, Nook Sutthida - สุทธิดา เกษมสันต์ ณ อยุธยา, ธนพงษ์ คล้ายพงษ์พันธ์, ธนา สุทธิกมล, Joni Anwar - จอนนี่ อันวา, ปภัสวรรณ ยอดเณร, ทองขาว ภัทรโชคชัย, Naowarat Yooktanun. This movie was a RS production. Of course, a music tape was released as many of the actors / actresses are also singers. A group of teenagers enjoys playing paintball games (การเล่นเพ้นท์บอล). The group includes Boy, Lek, Eh, Nook and Man, the son of a rich businessman. Man's mother is dead already and his businessman father has little time for him. Today is the birthday of the father. Man escapes from his father's birthday party. Man organises a paintball party in his father's new building. Meanwhile some ruffians, being former inmates, storm the building. They plan to blast it. Ruffians capture Phi Pan, the building caretaker. Ruffian Khao (ทองขาว ภัทรโชคชัย) stayed in prison for 7 years because of a disagreement with Phi Pan, his former teammate. Some teens, aware of the drama, try to contact the Police but ruffians stop the alert at the control level room. Ruffians are looking for the teens while some teens, unaware of the situation, start playing the paintball game. Luckily, ruffians are not very smart. They are looking for diamonds hidden by Pan. Meanwhile the father is celebrating his birthday through a big party. He meets a married lady looking similar to his former wife (Naowarat Yooktanun). Ruffians kill one guard and are aware teens are hiding in the building. Teens capture ruffian Malee but ruffians release her. They try a trick with ruffians, but it fails and Boy is captured. Lek is also captured. Pan accepts to bring Khao to the place where the diamonds are hidden if Khao releases the teens. Only two teens, Nook and Eh, have not been captured by the ruffians. Eh gets electrocuted by a ruffian but he survives. The father decides to go back as he is not having happiness at his birthday without his son's presence. Pan tricks Khao as there is a gun hidden among the diamonds. Treachery happens between ruffians. Finally, ruffians all die as they shoot each other. The teens and the father being back have limited time to get rid of the balloons full of gas and avoid an explosion that would destroy the building. This dramatic event renews the relationship between Man and his father.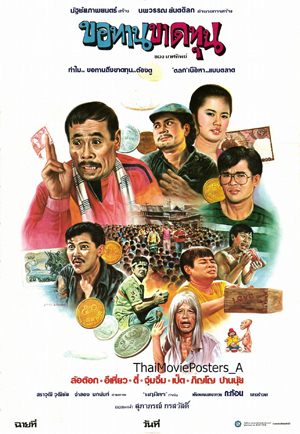 Year

: 1987



Thai title

:

ขอทานขาดทุน




English title

:



Rating

: 1/5


Director

: นฤมิตร



Main actor

: Lor Tok,Joomjim Khemlek,Pinyo Parnnui,Supakorn Srisawat


Main actress

:
Three comics are doing shows on the street and ask for tip money. They found a suitcase full of banknotes on the street. They give it back to the owner and refuse any reward. The owner, called Truat, is impressed by their kind heart, so recruits them. Truat is sick and doctor tells him he doesn't have a lot of time left to live. He asks them to get a specific medicine for him. If they don't help him, he will give all his heritage to social organizations. He has only half of the paper giving hints on this medecine. The other part is located in Pattaya with a psychic called "Chi Fat". Then they now need to find a beggar. Later on they have to find a girl named Madonna. Then they face two brigands groups (Red versus Yellow) wishing to get their money. Then they help a man following a weird operation in hospital. They find love during their quest of the medecine paper. This is a typical Thai weak comedy from 1980s decade with a "katoey" (กะเทย) in the funny and silly role.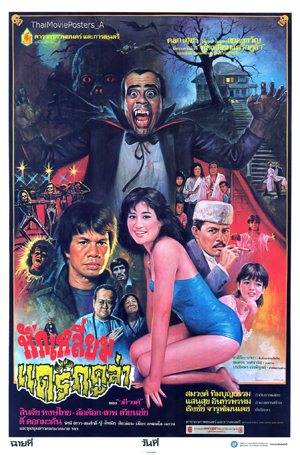 Year

: 1986



Thai title

:

หักเหลี่ยมแดร็กคูล่า




English title

:



Rating

: 2/5


Director

:



Main actor

: Lor Tok,Thep Thienchai,Boo Wibunnan,Somsak Chaisongkram,Supakorn Srisawat,Note Chernyim


Main actress

: Sinjai Hongthai
Thai movie หักเหลี่ยมแดร็กคูล่า was released in year 1986 and lasts 2 hours. It was released under VCD format by company Premium Digital. This movie is a mix of comedy, light horror and some romance. Today is Dracula (Lor Tok)'s birthday. Thep Thienchai meets Doctor Molina (Sinjai Hongthai) on the beach in Pattaya. While doing jet ski, she falls in the water. Thep wishes to help her but finally she is the one to help him as he doesn't know how to swim. Boo Wibunnan welcomes Molina in a house full of spirits. She is doing experiments there. A group of men arrive in Thailand by plane including Somsak Chaisongjram and his boss Supakorn Srisawat. They must kidnap Doctor Molina. Thep is aware as he heard them talking in a massage shop. Somsak and his friends try to kidnap Molina, but they face ghosts protecting the house and retreat. Somsak consults a shaman (หมอผี), who suggests hiring Dracula. Dracula asks for a 500 000 USD fee. Thep needs help from master Bun (Boo Wibunnan). Bun has the reputation to forget the incantation words. Thep shares the risks faced by Molina. Dracula's team attacks but they face Thep's team. Dracula flies directly to Molina's laboratory but Thep intervenes to stop him. Dracula has to retreat. Thep simulates being a vampire (ผีดิบ), but Doctor Molina can identify Thep is a human and hires him as bodyguard. Thep brings Molina around to show her Thailand. Ruffians, led by Somsak, try to kidnap Doctor Molina in a floating market but Thep helps again. Ruffians are trying to kidnap Doctor Molina as her experiments could help to build weapons. She is glad that Thep is helping her without a second thought. Wishing to get rid of Thep, Dracula attracts him in an underground den to play cards and to drink. Thep (คนหน้าผี) is drunk. When he wakes up, he tries to kill Dracula sleeping in his coffin, but he is bitten by him and becomes a vampire. Being a vampire, Thep attracts Doctor Molina in a trap and she is kidnapped. Boo helps and Thep recovers. He helps Molina to escape from Dracula. Ruffians are chasing Thep and Doctor Molina. Ruffians kidnap doctor Molina and they hide in an unfinished building. Thep and police surround the building. Ruffians ask for a plane to quit Thailand with their hostage (ตัวประกัน). Thep helps Police. Arabic men give money reward but Thep refuses as Thai people have kindness (น้ำใจ). Doctor Molina promises not to forget Thep. At the airport, Thep meets Dracula again. A first movie (แดร็กคูล่าต๊อก) with Lor Tok as Dracula was released in 1979.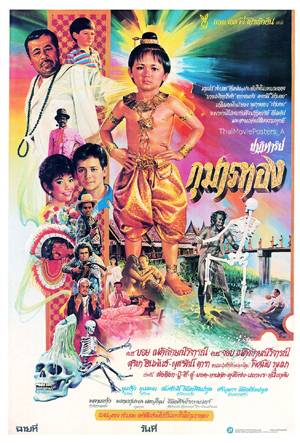 Year

: 1985



Thai title

:

ปาฏิหาริย์กุมารทอง




English title

:



Rating

: 2/5


Director

: พลายแก้ว



Main actor

: Lor Tok,Suriya Chinaphan,Supakorn Srisawat,Boo Wibunnan,Doo Dook Kradon,Krong Kangkengdaeng


Main actress

:
Thai movie ปาฏิหาริย์กุมารทอง was released in year 1985 and lasts 1h28mn. The movie was released under VHS format and VCD format by Solar. Director is พลายแก้ว. Thai actors and actresses featured in this movie are Lor Tok, Suriya Chinaphan, Supakorn Srisawat, Boo Wibunnan, Doo Dook Kradon, ทานทัต วิภาตะโยธิน, Krong Kangkengdaeng, นภาพร หงสกุล, หนึ่งฤทัย, ผุสรัตน์ ดารา, ยอด. A wandering monk, giving advice to the local community, has a magical baby spirit statuette (กุมารทอง). He leaves the statuette behind as he is entering the forest for meditation. Village leader Boo Wibunnan is having a gambling den. Boo is married to a new young wife (พิศมัย ภุมมา). Tok (Supakorn Srisawat) is Boo's right hand. A teacher (Suriya Chinaphan) is trying his best to teach children as the school lacks money. The monk leaves the statuette to an old couple. The baby spirit asks them to keep the secret. A couple is having an issue as the husband is losing a lot of money by gambling in Boo's place. The grandma and grandma are worried about their grandchild. The gambler even sells his kid on a bet. Master (อาจารย์) Lor Tok arrives in the village. He is a fake master. The baby spirit warns him to behave properly and uses him to defeat Boo, who is abusing the local community. First many villagers win money through a lottery organised by Boo. Boo then challenges Lor Tok to organise a lion dance contest to win back his money. Boo loses again a lot of money. Money is used to improve the local school facilities. The teacher and Pim (ผุสรัตน์ ดารา), Boo's daughter, get on well. Boo is upset with this relationship. Boo and his new wife believe Pim is betraying them. The teacher is beaten and captured while visiting Pim in her room. They finally succeed to escape. Boo hire hitmen (including Doo Dook Kradon) to get rid of master Lor Tok. They fail. Tok suggests a master from Malaysia. The master is resurrecting a vampire (ผีดิบ). The baby spirit and its skeleton associate defeat the vampire also. Villagers can enjoy a peaceful life without gambling. This comedy includes many comic actors from decade 1980s.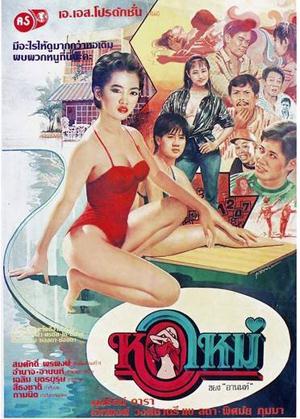 Year

: 1985



Thai title

:

หอใหม่




English title

:



Rating

: 3/5


Director

:



Main actor

: Supakorn Srisawat,Note Chernyim


Main actress

:
Thai movie หอใหม่ was released in year 1985. This is a comedy movie with a few luring scenes. It was released under VCD format by Lepso Studio Company and lasts 1h10mn. The Betamax version lasts 1h30mn. It is based on the popularity of dorms (หอพัก) during 1980s as many provincial people came to work in Bangkok. Mother Ning is married to a younger husband named Samran (Supakorn Srisawat). She has also a son named Wat (เอกพงศ์ วงชาตรี), being soon a lawyer, and an adopted daughter named Praprasee. The mother trusts Samran and Praprasee too much. Wat loves Praprasee like a sister and not like a future wife despite the mother Ning pushing for such wedding. Praprasee wishes to marry Wat to have a bigger share in the mother's fortune. The mother is having a business of room rental. Samran is very lazy and doesn't help on anything. Samran has an affair with Praprasee (ทำชั่ว). Praprasee and Samran wish to invest into a new dormitory building (หอใหม่). It is a 6M Baht investment. As the mother doesn't trust Samran, she plans to put the building under Praprasee's name. Samran is responsible to check that rents are paid on time. Various young ladies are staying in the dormitory (a beauty student, a tourist guide - ผุสรัตน์ ดารา...). Samran is having affairs with some tenants. A lady called Payong is having affair with him for money only but Samran is jealous when Payong meets other men such an older photographer (หี่ยวฟ้า) or a movie director. Payong dreams to be a cinema star (ดารา) so she is ready to do everything to reach stardom. Wat helps a tourist guide called Neeramon, who is aggressed by ruffians. She is staying in the new dormitory. They start a relationship. Samran and Praprasee try to trap Wat so that Neeramon believes he is unfaithful. It fails and the infamy between Samran and Praprasee is disclosed. Note Chernyim makes Burapa pregnant but he refuses to take responsibility. Saran takes advantage of Burapa distress. Burapa accuses Sapran to make her pregnant. Prapasee suggests to Saran to use an illegal doctor for abortion. As Burapa's abortion is a failure, police arrests Saran as abortion is illegal in Thailand. Praprasee refuses to give back the new dorm but finally dies in a car accident. After exiting prison, finally Samran is employed as a domestic helper. There is an allegory comparison between the new dormitory building (หอใหม่) and the old one (หอเก่า) and between the old lady (Mother Ning) and the young ladies (Praprasee, Payong, Neeramon, Burapa).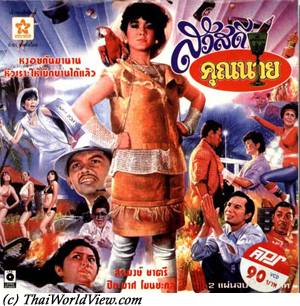 Year

: 1984



Thai title

:

สวัสดีคุณนาย




English title

:



Rating

: 3/5


Director

: Kumtorn Tubkunlai



Main actor

: Sorapong Chatree,Supakorn Srisawat


Main actress

: Piyamas Monayakol,Wiyada Umarin
A HiSo family (วงผู้ดี) has a special domestic helper (คนใช้พิเศษ) called Kaew. She can break glass with her strong pitched voice. The daughter has her fiancee (คู่หมั้นชาย), Duangtawan, studying in England. He needs to come back (ธุระสำคัญ) to Bangkok following his father's request. There was a wedding promise between the parents. But Duangtawan wants to check his future wife's mindset first so he disguises himself as the family's car driver (คนขับรถ). His own driver, Phat Thai, becomes the Mom Chao (หม่อมเจ้า) and visits the HiSo family. Kaew (นางตัวดี) simulates herself as the Madam (คุณนาย) as her boss is out for holidays. Finally Duangtawan and Kaew start to be very close as Duangtawan appreciates her simplicity and frankness despite simulating being a Madam. The movie shows Thai society equality through food, i.e. rich / poor people can also sit on the floor, eat papaya salad (ส้มตำ) and sticky rice (ข้าวเหนียว). The Madam is asking for an engagement diner. As Duangtawan's father confirms, she comes back earlier than expected. Quiproquo happens again as Madam's daughter tries to seduce the car driver as she believes he is the real Duangtawan. She brings him to a short time motel (ข่มขืนเขา). Finally Duangtawan tells to Kaew the truth about his real identity but she flees ashamed of her own condition. Through a final quiproquo, the truth is revealed to all. It is finally discovered that Kaew is also the granddaughter of rich family. It a nice small movie but it lacks the craziness and dances that can be found in Bollywood movies.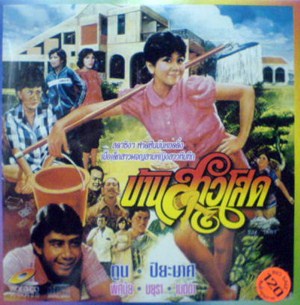 Year

: 1984



Thai title

:

บ้านสาวโสด




English title

:



Rating

: 3/5


Director

:



Main actor

: Toon Hiransap,Boo Wibunnan,Somchai Samipak,Somkuan Krajangsat,Supakorn Srisawat,Krong Kangkengdaeng


Main actress

: Piyamas Monayakol,Metta Roongrat,Pissamai Wilaisak,Mayura Thanabutr,Pornpan Ketmamatsu,Janthana Siriporn,Manat Boonkiet
Thai movie บ้านสาวโสด was released in year 1984. The TV cable version lasts around 1h55mn and is coming from channel "true thaifilm". So cigarettes, alcoholic drinks and even sexy posters on the wall are blurred. Two songs are featured in this movie. A first version of this movie was released in year 1970 with Mitr Chaibancha, Kanchit Kwanpracha and Petchara Chaowarat. Three sisters are still single, i.e. Yip (Metta Roongrat), Teuan (Pissamai Wilaisak), Waraipon (Mayura Thanabutr). One is her mid- forties, one is her mid-thirties, one is her mid-twenties. Yip likes women more than men. A lawyer (อำนวย ศิริจันทร์) discloses the father's testament. They get heritage from their father including the house to share. If they ever marry, they lose any rights to the house. Being singles, they challenge each other who will get married first. A friend will send her son Ting (หลาน) to stay in their house after having studied in Bangkok. The domestic helpers (Janthana Siriporn...) leave as there are fed up by miser Teuan. Plaew (Piyamas Monayakol) is hired as new domestic helper. The three ladies get interest into Ting (Toon Hiransap), 26 years old, as he is very handsome (หน้าหอม). Ting meets Tangwon (Boo Wibunnan) and Metti (Supakorn Srisawat). They wish to rent the house behind บ้านสาวโสด. Businessman Somchai Samipak has a new wife. His daughter is Plaew but she left home as she is unhappy with her new stepmother Vichanee (Pornpan Ketmamatsu). Plaew is suspected by Ting to be the daughter of a rich businessman. Ting's parents are played by Somkuan Krajangsat and Manat Boonkiet. Teuan is worried that Plaew will take Ting from them. Ting's father already found a fiancee for his son. Thanks to Krong Kangkengdaeng, Ting is hired as a driver (คนขับรถ) by Somchai. Plaew and her sister wonder why Ting behaves this way. The new young wife Vichanee is Metti's mistress but she asks Ting to keep quiet on this and she provides a photo album on Plaew (คุณหญิง) to Ting. Vichanee also become mistress with Ting (ความต้องการ). Ting fails to show that Plaew is in fact a rich businessman's daughter. Ting's parents are worried that their son gets enamoured with a domestic helper (เด็กคนใช้). Following a family trip to Pattaya, Ting's parents meet Plaew's parents and both of them are uncovered! Romance can finally start between Ting and Plaew.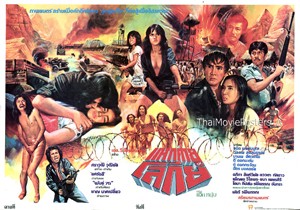 Year

: 1984



Thai title

:

แหกค่ายโลกีย์




English title

: Virgins in the Tiger Cage



Rating

: 1/5


Director

:



Main actor

: Tanit Pongmanoon,Supakorn Srisawat,Doo Dook Kradon,Manop Aussawathep,Chat Mongkolchai


Main actress

:
Thai movie แหกค่ายโลกีย์ was released in year 1984 and lasts 1h30mn (Taiwanese version). It was released in Thailand under VCD format by Lepso company. It was released in Taiwan under the name Virgins in the Tiger Cage / 玉女刧. Mandarin language is used. The VHS was probably released in Taiwan by a local company. Movie director is ศราวุฒิ วุฒิชัย. Tanit Pongmanoon, วัลลภ นพสมบูรณ์, Supakorn Srisawat, Doo Dook Kradon, Manop Aussawathep, Chat Mongkolchai are the Thai actors playing in this movie. Below summary is based on the Taiwanese version. Many ladies have been kidnapped by ruffians and are held prisoners in a remote camp in the jungle. They have to wear inmate clothes. Five more ladies have been captured. Among the ruffians, there is a ruthless lady with a whip, who like women. The ruffians disagree and fight together. Around 70 girls are held captive and are forced to work. Some conflicts erupt between girls also as the ruthless lady has a favorite. At night time, a few inmate ladies try to escape. Four succeed to go far in the jungle but ruffians are chasing them, but they are finally captured back. They are tortured in front of others to give example. Inmate ladies are forced to work hard in the camp. One of them trying to flee again and is shot dead by Chat. Supakorn Srisawat tries his luck at nighttime in the women dorm but he gets punished by the girls. Tanit starts to love one of the ladies called Chaba. He has a plan to release all ladies. He explains to them the camp details so that they can get M16 guns stored in one hut. Fightings occur between ladies and ruffians. All protagonists die except Tanit and Chaba. Tanit is finally arrested by Thai police as he was involved in the camp management. This movie reminds about movie สัตว์สาวในกรงเสือ / Girls in the Tiger Cage (1976).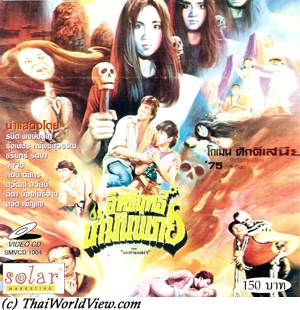 Year

: 1984



Thai title

:

อิทธิฤทธิ์น้ำมันพราย




English title

:



Rating

: 1/5


Director

:



Main actor

: Tanit Pongmanoon,Joomjim Khemlek,Somsak Chaisongkram,Supakorn Srisawat


Main actress

: Praew Mardmarud



Buy now

:

Thai movie อิทธิฤทธิ์น้ำมันพราย was released in year 1984. The VCD released by Solar Marketing Ltd lasts 1h52mn. A previous version released on VHS lasts 1h47mn. The movie mixes comedy, scary, sexy sequences. An Indian master imprisons a sorcerer, called Mae Mo (แม่มด), in a pot believing she is neutralized. Phi Chim (Somsak Chaisongkram) and Yupin are having a baby. She is pregnant for three months. An old grandmother gives a ring and transmits some power (มรดก) to young lady Yupin. At nighttime, Yupin becomes a fearful spirit (ผีกระสือ). Some animals are killed, and their blood was suck. Jim (Tanit Pongmanoon) and Nit (Joomjim Khemlek) are requested by a monk (อาจารย์) to investigate. Meanwhile a new fake master (Supakorn Srisawat) arrives in the village. Villagers ask for his help (ผีออกอาละวาด) to neutralise the spirit (ปล้ำผี). Of course, he completely fails. Mae Mo wishes Yupin to open the pot (กระบอก) in which she is held prisoner. As Yupin refuses, Mae Mo forces her and threatens to disclose the truth to her husband Chim. Only Nit can open the pot so Yupin needs to convince him. Jim and Nit meet a young lady, called Saree, at a waterfall. Nit and Jim promise to find her real father. Funny chasing sequences happen between fierceful spirit Yupin and villagers as she wishes to suck their blood. Yupin succeeds to convince Nit to open the pot and Mae Mo is released. Magical fights happen between Nit, Jim and Mae Mo. Mae Mo is finally defeated and Yupin becomes human again.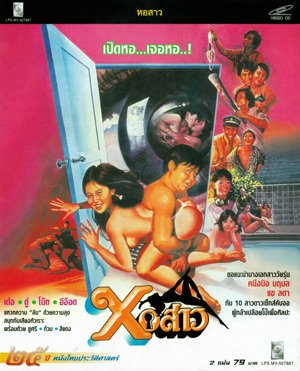 Year

: 1984



Thai title

:

หอสาว




English title

:



Rating

: 2/5


Director

:



Main actor

: Pipop Pupinyo,Doo Dook Kradon,Thuam Thoranong,Note Chernyim,Der Doksadao,Supakorn Srisawat


Main actress

: Chosri Misommon
Thai movie หอสาว was released in year 1984. The VCD lasts 1h13mn only so this version is cut or censored. All sexy scenes are removed. Choosri (Chosri Misommon) and Chat (Thuam Thoranong) are the dorm owners. Chat dislikes a young man called Sing (Note Chernyim), who visits often the young ladies in the dorm. The female dorm (หอสาว) has harsh rules to follow. Young lady Plaew needs to find fast money as she needs to support her poor parents. Doo (Doo Dook Kradon), one of the dorm guardian, is stealing bras (โรคจิต) inside the dormitory. Bantoop (Pipop Pupinyo), another dorm guardian, is forbidden by his wife to go upstairs in the dorm as she doesn't trust him. Plaew meets a movie director, who promises to make her as a star but he is just a liar. Another dorm lady proposes her to become a model (นางแบบ) first. The men are using periscope to spy ladies in their rooms (บุญตาของเรา). Plaew becomes close friend and even lover with another lady. As Plaew is alone, Choosri's son becomes close to Plaew as she feels lonely. When the lady finds that Plaew is now having a boyfriend, arguments occur (ไม่ธรรมชาติ). A new tenant called Jarunee arrives. It is a katoey so she is fired from the dorm. Two other ladies find one sponsor to pay for their rent. Chat is getting favors from one tenant as she is used to drugs (ขอยาเธอ). It ends up badly as she dies from overdose. Sing is arrested by the Thai Police as he was the one selling drugs to the ladies in the dorm. Despite being an average film, the movie highlights some challenges faced by Thai society in decade 1980s (drugs, upcountry women coming to Bangkok, homosexuality, mistress, prostitution...). Choosri decides to stop doing dorm business (ฉันไม่ทำแล้ว) as there are only problems to manage. New actresses include คนึงนิจ นฤมล and แข ลดา. The movie's selling argument highlighted on the poster is about 10 young daring ladies (10 สาวดาว).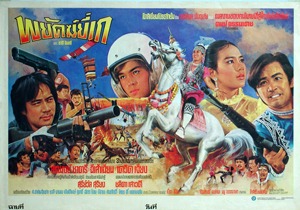 Year

: 1983



Thai title

:

พยัคฆ์ยี่เก




English title

: The Opera Hero



Rating

: 5/5


Director

: Kom Akadej



Main actor

: Sorapong Chatree,Sor Asanajinda,Manop Aussawathep,Pipop Pupinyo,Panna Rittikrai,Somsak Chaisongkram,Kom Akadej,Note Chernyim,Supakorn Srisawat,Chat Mongkolchai,Rith Luecha


Main actress

: Suriwan Suriyong,Piathip Kumwong
Thai movie พยัคฆ์ยี่เก was released in year 1983 and last 1h50mn. It was released under VHS format. A Hong Kong version, also released under VHS format, lasts 1h30mn. The movie is directed by Kom Akadej. Two Hong Kong actors are featured, i.e. David Chiang and Norman Chu. On the movie poster released in Hong Kong, they are of course shown preeminently. A Likay (Thai folk traditional theater) troupe led by teacher Pong (ครู) (Sor Asanajinda) performs in Sukhothai. The main Likay actor is played by Tuan Tong (Sorapong Chatree) and gets a lot of flowers offered especially by ladies including Piathip Kumwong, wife of the village leader (ผู้ใหญ่). It makes the village leader (Manop Aussawathep) to be very upset so he storms the Likay theater with his ruffians (Pipop Pupinyo, Panna Rittikrai and Somsak Chaisongkram) to fight with Tuan Tong as he cannot accept that his wife (แม่ตัวดี) spends money on a Likay handsome actor. Both end up at the police station but the police head (Kom Akadej) finally releases Tuan Tong as he did nothing wrong. Back to the Likay theater, Tuan Tong is beaten by ruffians. A local doctor, called Thongdee, always gives free health care to the Likay troupe. Chased again by the ruffians, Tuan Tong and Note Chernyim have to steal David Chiang's jeep to flee. David Chiang, Suriwan Suriyong and Supakorn Srisawat (ดี๋ ดอกมะดัน) are brothers and sisters. Getting back his jeep, David meets Chompoo, Tuan Tong's sister, (ชลิดา เสาวดี) so he even learns Likay skills as he is enamoured. Suriwan is expert in deltaplane. A jewellery money exchange turns badly between Manop and Sothon (โสธร รุ่งเรือง). Sothon is shot by Chat Mongkolchai but he succeeds to flee. He hides the jewellery inside the Likay theater. David is also looking for Sothon so it creates a misunderstanding between Tuan Tong and David. Sothon is killed by ruffians using a deltaplane shooting harpoons but they are still looking for the missed jewellery. They burnt the Likay theater as retaliation. Teacher Pong sells one diamond to rebuild the theater. He has hidden the real jewellery through the fake jewels used in Likay costumes. As Chat failed to capture Pong and is even shot by David, he is replaced by โดม สิงโมฬี. Ruffians storm the Likay theater again during a performance. Teacher Pong is shot by the ruffians with harpoons and killed. Chompoo is captured as she is wearing half of the real jewellery. The ruffians are led by Norman Chu, doctor Thongdee (ชาลี อินทรวิจิตร) and Rith Luecha. David and others Likay male actors (Note Chernyim...) are also captured. Tuan Tong and Suriwan storm the campment. Multiple fightings and shootings happen. Most of the protagonists die except Tuan Tong, Suriwan and his sister.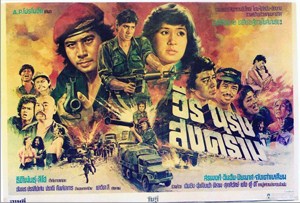 Year

: 1983



Thai title

:

วีรบุรุษสงคราม




English title

: Jungle heat



Rating

: 3/5


Director

:



Main actor

: Sorapong Chatree,Der Doksadao,Doo Dook Kradon,Supakorn Srisawat,Pipop Pupinyo


Main actress

: Piyamas Monayakol,Preeya Roongrueng,Sulaleewan Suwanthat
Thai movie วีรบุรุษสงคราม / Jungle heat was released in year 1983. It is a Thai / Hong Kong / Taiwanese coproduction. Multiple versions were released, i.e. a Thai version never released on any VHS / VCD format and targeting local Thai market, a Hong Kong / Taiwanese version for international market. The Thai version is lost but an incomplete version lasting 1h20mn was shown before in Thai film archives. The overseas version was released under the name of Jungle Heat. An IFD version lasts 1h17mn. It is available through various VHS versions in Japan (lasting 1h30mn), Philippines, Taiwan and China. Some Thai actors are still part of the international version such as Piyamas Monayakol, Pipop Pupinyo, Preeya Roongrueng. Main actors and actresses in Thai version are Sorapong Chatree, ฉิน ฮั่น, Piyamas Monayakol, ถัง เต้า เหลียน เฉิน ซิง, อุ้ย ผิง เอ้า, ฟาง เฟย เซิน, Preeya Roongrueng, Pipop Pupinyo, Sulaleewan Suwanthat, Der Doksadao, Doo Dook Kradon, Supakorn Srisawat. Sorapong Chatree is the main actor of the Thai version. During the Vietnam war, a few men are hired and trained to drive US trucks among Vietcong lines. A US captain hires Tony and his men, but the drivers are not aware of the risks. The drivers get a three weeks training. The drivers are going out to have fun at night time. One of them, Rick, meets bar lady Piyamas Monayakol and romance starts. A new member Chiang Sing joins them. Their trucks have brakes issues, so accident occurs. They are finally captured by the Vietcong (including Pipop Pupinyo) and tortured. The movie features many strong torture sequences such as acid pouring on the head, prisonners burnt with petrol by a rat on fire, scie usage... They succeed to escape. They complain to the lieutenant. As they need money, they finally go again to evacuate weapons as the war is just over but they are attacked by the same Vietcong members. Rick is missing. Piyamas misses him and blames Tony to have abandoned him. US soldiers cannot help as war is over. Tony and his men decide to act first. Following fierce fighting in a cave, Tony and his team release Rick. Being attacked by other Vietcong members, they get support from US lieutenant. War is over and the team has run out of money. Upset as the team spent money to save him, Rick joins a dangerous motorcycle competition. He loses his life while competing and Piyamas gets a lot of money, but she throws it away as money cannot replace the love she lost.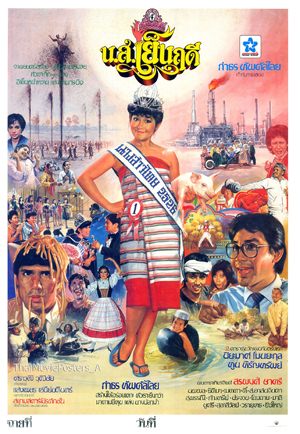 Year

: 1983



Thai title

:

น.ส.เย็นฤดี




English title

:



Rating

: 2/5


Director

: Kumtorn Tubkunlai



Main actor

: Sorapong Chatree,Toon Hiransap,Supakorn Srisawat,Sor Asanajinda,Prachuap Ruekyamdee


Main actress

: Piyamas Monayakol,Metta Roongrat,Thitima Sangkapitak,Suphanee Jitthieng,Malee Wetpraseri,Chosri Misommon,Sulaleewan Suwanthat



Buy now

:

A 70 years old man discovers he has a hidden daughter. Of course his daughter in law doesn't want to share the heritage with this girl and tries many stratagems...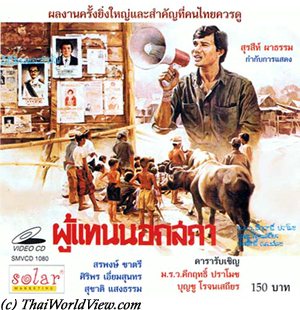 Year

: 1983



Thai title

:

ผู้แทนนอกสภา




English title

: The MP outside the Parliament



Rating

: 5/5


Director

: Surasee Phatham



Main actor

: Sorapong Chatree,Doo Dook Kradon,Supakorn Srisawat


Main actress

:



Buy now

:

After successful studies in Bangkok, Boonchai (บุญชัย) represents his party for member of Parliament election in rural Northeast of Thailand. Many other candicates register to the election to become member of Parliament. There are candicates of important parties with impressive list of diploma they got abroad but can they understand the poor people problems? There is a candidate backed up by the government, who is spending a lot of money to have huge billboards and is offering free gifts with his voting number. There is a funny candidate that wishes to clean the political dirt with a broom and bring light to democracy with a lantern. Boonchai has left Isan many years to study in Bangkok and has gone through the 1976 revolution. He got voting number 8. He announced to his girlfriend, who is a teacher lady, that he is trying to become member of Parliament to help the local people but she is worried as politics is a difficult and dangerous matter in Thailand. Some candidates give money for people to buy alcohol, some others give free medicine to buy the hearts and votes of local people but they don't bother to discuss with them and listen to their problems. They just promise more gifts to come. The money they spend to buy vote, they will get it back when they are elected. Boonchai is visiting villagers also on his small motorbike but he has no gifts to offer. He is not coming only for one day to change farmers life by bringing gifts but with ideas for the next four years to change their life. One taxi driver, seduced by his program, offers Boonchai to drive him anywhere he wishes. The government candidate doesn't care to visit the people as the "stupid buffalo" farmers can be bought with money. Meanwhile other candidates compete on gifs and on the biggest speakers to make their voice louder. They look like more fruit sellers! Boonchai is a local child of the region so he knows the farmers problems. He eats same food as farmers, works with farmers and propose them solution to improve their daily life and revenue increase by shifting various cultures all over the year. Villagers like his project up to the point that he starts to be a real political threat to the candidate backed up by the government. This latter decides to use bad tactics, i.e. villagers are threatened that they will not receive subsidies any more if anybody in a village votes for him, Boonchai is also accused to be a communist. Finally he is beaten by 4 tough men but it makes him more popular as many villagers support him. He is comforted to fight against adversity. The evil candidate tries to use drunkards to disturb his political meetings but they are expelled by his supporters. The evil candidate plans an outdoor cinema projection in order to disturb Boonchai's meeting hoping that people would prefer entertainment to serious politics. But it fails also. The evil candidate decides to send a team to kill Boonchai at night time when he is back from late political meetings. He succeeds to escape to assassination and villagers protect him. People voice is growing against bad politicians. Villagers provide him a gun to defend him-self. The evil candidate decides to use a hitman to get rid of Boonchai. Boonchai dies but he still wins the election as local people vote massively for him. Good men disappear and corrupted men remain... This movie gives a real image of Thai politics thirty years ago. But did nowadays Thai politics really improve? Former PM and politician MR Kukrit Pramoj appeared in this movie. Mr Kukrit showed up briefly at the beginning of the film, playing a party leader who gives a talk to the candidates. Not long after that, a new law prohibited political parties from attracting votes by playing in films.
---