Increase or decrease font size for easier reading : A+ A-
Songthong
Songthong (1948-1984) - สังข์ทอง สีใส
Songthong is famous for his comic roles due to his mashed face. He was a singer and a performer. His nick name was เทพบุตรหน้าผี (ghost son). He died in a car accident. His most famous movie was โทน (1970)
This Songthong movie page contains 22 records.
---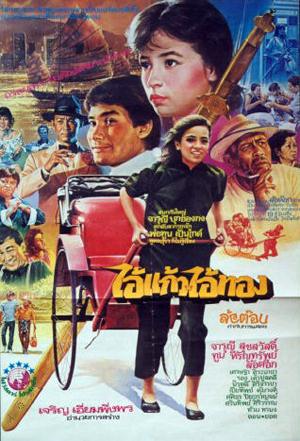 Year

: 1983



Thai title

:

ไอ้แก้วไอ้ทอง




English title

:



Rating

: 3/5


Director

: Lor Tok



Main actor

: Toon Hiransap,Songthong,Settha Sirachaya,Lor Tok,Nirut Sirijanya


Main actress

: Jarunee Sooksawad,Piathip Kumwong,Wiyada Umarin
Ai kaew Ai thong is a romantic comedy featuring Jarunee and Toon. Kaew and Thong are released from prison. Thong is 70 years old and has nowhere to go so Kaew invites him to stay together. His mother chases Kaew away as he sold old artifacts from the family home (แม่ด่า). They need to find ways to make a living such as waiters in a Chinese restaurant. They are finally expelled as food is spilled on customers. They find a new job in a house as gardeners. Maem is the house owner's beautiful daughter. The Chinese restaurant owners have a son Jun who is slightly retarted (ปัญญาอ่อน). They wish their son to marry Maem as her parents own land. So they need to teach him how to seduce a woman. It failed miserably as he falls from balcony into the pond. Kaew dives to help him and gets higher credit from Maem. Kaew and Thong simulate being prince and servant in front of other domestic helpers in order to enhance their status in the house towards Maem. Maem is a strong young lady (คนสวยปากร้าย). Kaew lies to Maem regarding a fake golden necklace in order to get a kiss. Jun parents hire a lady (Wiyada Umarin, veteran actress, often playing such role) to teach Jun how to perform husband duties on bed. As the golden necklace becomes dark after one day, their stratagem fails. Maem condemns them to dig a big hole. While digging, they find an old Chinese sword (ดาบ). The father sends Maem, Kaew and Thong to Hong Kong to sell it. As they cannot sell it, they have to find odd jobs to pay for food and accommodation. Maem is driving a rickshaw. In 1980 rickshaw usage in Hong Kong was already low. Thong is driving a kaido boat. Kaew is doing the tour guide on Cheng Chau island. They are waiting for the father to send tickets back home but the father is very avaricious and expect them to buy the tickets from the spade sale. Feelings start between Maem and Kaew. A ruffian Khun Seu (นักเลง) loves a singer (นักร้อง) and chases after her. Maem is involved as rickshaw driver and helps the singer to flee. To escape from Seu, the singer pays for their tickets back to Thailand. Jun cannot marry Maem anymore as he caught decease from little virtue woman. Knowing that they cannot sell the sword as the Chinese family linkage was broken, the father chases Kaew and Thong from his home causing Maem's despair as Kaew is a kind man (คนมีเมตตา). They finally find a last descendant in Thailand and gets 20M baht for the sword. Kaew can now ask for Maem's hand but performs a last trick to avaricious father. it is a typical good mood romantic comedy from 1980s decade featuring superstar Jarunee and Toon.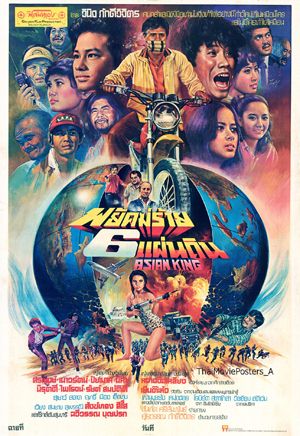 Year

: 1982



Thai title

:

พยัคฆ์ร้าย 6 แผ่นดิน




English title

: Asian King



Rating

: 3/5


Director

:



Main actor

: Sorapong Chatree,Sahat Piempongsan,Suchao Pongwilai,Songthong,Rith Luecha,Phairoj Jaising,Somchai Samipak,Nirut Sirijanya


Main actress

: Naowarat Yooktanun,Piyamas Monayakol,Suphanee Jitthieng,Chaweewan Boonprok



Buy now

:

Thai movie พยัคฆ์ร้าย 6 แผ่นดิน / Asian King was released in year 1982 and lasts 1h48mn (Thai PBS version is only 1h42mn as reduced version with smoking / drinking sequences blurred and violent or sexy sequences cut). It was released under VCD format by Lepso Studio. The movie was also released overseas under the name "Top Team Force" by Filmark movie. It was also released under the name "Deadly Hunt" under VHS format in Sweden by company Video World. An international police squad (Thailand, Indonesia, Malaysia, Hong Kong, Korea and Philippines) investigates on a crime ring called "Asian King". The Police squad (ตำรวจสากล) is led by Somchai Samipak. The "Asian King" gang is led by Bulap (Sahat Piempongsan) and เมือง อพอลโล่. In Hong Kong, Rith Luecha performs a robbery inside a jewellery. The owner is shot by Rith. David is against the shooting so he gets knockout by Rith. Rith and his men flee and meet with their local boss, Suchao Pongwilai. Police chase them but they succeed to escape by boat. David, arrested by Hong Kong police, is accused of international diamond robbery but released as proofs are not enough. Thai police follows him to spy his activities as they still have doubts on him. A whole international Police team is gathering to fight the Asian King gang. Win (Sorapong Chatree) is one of the Police team leader. Lady Napossa (Naowarat Yooktanun) joins the team as her jeweller father was killed by Asian King gang. David is back to Thailand as he wants to get revenge over the "Asian King" gang, who killed his family as retaliation. Diamonds are stolen again during a Bangkok diamond show despite the police presence. David saves Suwana's life (Piyamas Monayakol) by being shot instead of her. Catherine (Chaweewan Boonprok), part of Asian King team, gets the tasks to kill some male policemen. She targets David first but fails. Songthong is part of Thai police also. Rumours are heard that Asian King team needs to gather in Pattaya. Asian King team tries all ways to get rid of the special police force but to no avail. Asian King team's cache entrance is hidden under a hotel swimming pool. Two members are captured and Songthong is shot dead. Win and Napossa are also captured. The other members localise also the cache. All members succeed to escape. The Thai army comes to help the policemen to neutralize the Asian King tean. Through a final battle, many characters are injured or killed while assaulting the Asian King gang's fortress. Win's self sacrifice inside the fortress succeeds to destroy it. A Thai TV serie or Lakorn (ละคร) based on this story was also done in 2003. Despite a classic scenario, the highest value of this movie is to include the finest bunch of Thai actors from beginning of 1980s decade.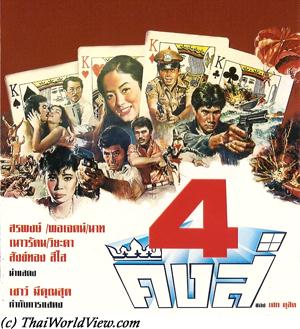 Year

: 1982



Thai title

:

สี่คิงส์




English title

:



Rating

: 3/5


Director

:



Main actor

: Sorapong Chatree,Nard Poowanai,Porjed Kaenpetch,Sahat Piempongsan,Kanchit Kwanpracha,Songthong


Main actress

: Naowarat Yooktanun,Wiyada Umarin



Buy now

:

The police is looking after a gang called "the four Kings" that extorts money from businessmen. The police is contacting a former repentant to get information but this one refuses to get involved in order to protect his family. Unfortunately, the "four Kings" gang, believing that the former repentant is helping the police, decides to kill him. They retaliate over his wife and daughter, who are killed. The former repentant then decides to fight "the four Kings" gang until death. A first version of this movie was released in year 1959. It featured Chaiya Suriyun and Amara Asavananda as main actors.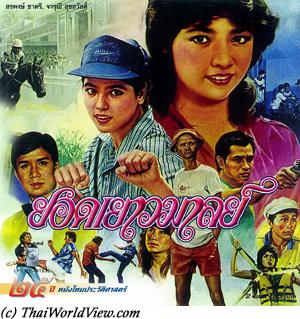 Year

: 1982



Thai title

:

ยอดเยาวมาลย์




English title

:



Rating

: 3/5


Director

:



Main actor

: Sorapong Chatree,Phairoj Jaising,Nirut Sirijanya,Songthong


Main actress

: Jarunee Sooksawad
Yot is a young lady that has fled her home because her father wants to force her for an arranged wedding. Not a love wedding but only planned in order that the assets of two rich families are not dispersed. She is now in Pattaya, hanging around and doing small jobs. She is wearing boy clothes and acts like a boy to avoid any problems. She meets a young man Tee Wa, who is renting watersport equipments on Pattaya beach. He recruits Yot to take care about his house. Yot can ride horses very well. As Tee Wa's friend has been injured by local mafia, Yot has to replace him as a jockey in a horse racing. She wins but her parents succeeds to find her path. They ask Tee Wa's help. Tee Wa convinces Yot to go back home and her parents agree to let her choose her mate. It will be Tee Wa...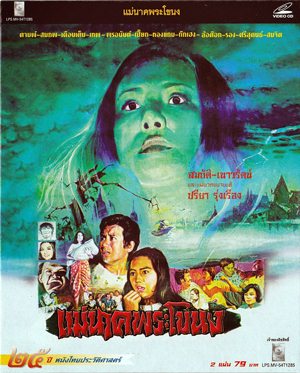 Year

: 1978



Thai title

:

แม่นาคพระโขนง




English title

:



Rating

: 3/5


Director

:



Main actor

: Sombat Methanee,Somphob Benjatikul,Dam Datsakorn,Lor Tok,Thep Thienchai,Uten Boonyong,Rong Kaomulkadee,Songthong


Main actress

: Preeya Roongrueng,Naowarat Yooktanun,Chosri Misommon,Somjit Sapsamruey
Thai movie แม่นาคพระโขนง was released in year 1978 and lasts 1h50mn. Preeya Roongrueng already played Mae Nak role in year 1959. She remained the most famous actress for this role. The 1959 version was very successful. It made more than 1M Baht in 1959, i.e. a huge amount for that period. So for this 1978 version, the movie director reused Preeya Roongrueng again hoping for a similar success. But 19 years have passed. In 1959 Preeya was 19 years old. For 1978 version, she was 38 years old. Preeya mentioned she was getting fatter for the role but it didn't matter as she was playing a ghost! The 1978 movie trailer is also making a reference to the 1959 version. It is Thot Kathin festival (ทอดกฐิน) so lady Somjit Sapsamruey is coming with her two daughters, i.e. Nak and Jampee (ตรีสุคนธ์ ยุกตะนันท์). Phi Mak (Sombat Methanee) and his younger brother Man (Somphob Benjatikul) love the same woman Nak (Preeya Roongrueng). Tui (Rong Kaomulkadee) is playing comic role as usual. Man loves Nak despite she is older than him. Pleum, subdistrict headman's son (ลูกกำนัน), has also interest into Nak. Mak asks Nak for wedding. Disappointed, his brother Man leaves for Bangkok to work there. Nak is pregnant since 2 months. Mak has to leave for Bangkok as he was selected to do his military duty as a soldier. Pleum (Dam Datsakorn) comes to harass Nak but Man is helping her. Naowarat Yooktanun, daughter of officer (นายทหาร), likes Mak but he misses his wife (ห่วงเมีย) and wishes to go home. While delivering, Nak dies (ตายทั้งกลม). Comic actor Thep Thienchai is present at the funerals. A master (อาจารย์) tries to get chin oil but he just makes Nak angry and gets strangled. Nak is upset that Naowarat has interest into Mak. Uten Boonyong wants to hire master Lor Tok to get rid of Nak. It is a complete failure as Lor Tok flees away. At nighttime, Pleum faces Nak. Mak is back home. Things get weird with Mak seeing Nak's arm extension to reach a lemon fallen under the house, food having pla ra taste, baby having Songthong face... Realising she is a ghost (ผี), Mak flees from home and goes to Man's home. Man explains what happened to Mak. They take refuge in the village Buddhist temple. A new master is called and warns that Nak is very powerful (วิญญาณดู่มาก). To neutralize Nak, the master gives a sacred thread to put around her neck. The master captures her spirit into a pot sealed with a sacred cloth. She has to accept her death (หมดเวรหมดกรรม). Mak promises to meet her during next life. The pot is thrown away in the river.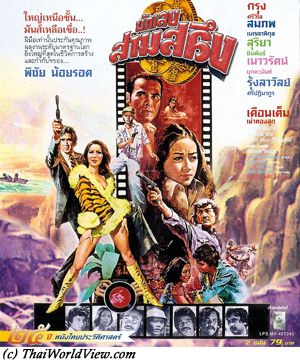 Year

: 1976



Thai title

:

นักเลงสามสลึง




English title

:



Rating

: 3/5


Director

:



Main actor

: Krung Srivilai,Songthong,Suriya Chinaphan,Somsak Chaisongkram,Kecha Plianvithee,Somphob Benjatikul


Main actress

: Naowarat Yooktanun,Deuan Tem Salitul,Runglawan Sripatimakul
Ket (Krung Srivilai) promises to his dying boss to go to Khao Kiaw to find the children he never had time to care of. Viwe (Songthong), an independant ruffian is wandering around Khao Kiaw. Kraison and his sister Mon are besieged in a restaurant by ruffians. Viwe agrees to help them but is asking for money as reward. Ket, having his lunch, helps them by shooting the ruffians. They all flee. Later in the village, Ket helps a young lady called Kaem (น้องสาวคนสวย) (จะไม่มีวาสนาเห็นขาอ่อนของฉัน) harassed by a few ruffians (Somsak Chaisongkram). Ket is looking for uncle Pran. Ket learns from Kaem that uncle Pran was shot a few months ago. Kaem brings Ket to meet Pran's children, i.e. Plaew (Naowarat Yooktanun) and Prai (Suriya Chinaphan). Kaem is Prai's girlfriend. Pracha (Kecha Plianvithee) is the ruffians leader. They all refuse to sell their land to Pracha. Pracha wants to know who is the man who resists to his ruffians. Plaew hires Ket to protect her fields (ไร่). Many beautiful "luk thung" (ลูกทุ่ง) are performed by Krung and Naowarat. Plaew bewares of Ket as he insolent (ทะลึ่ง). Pracha hires Viwe to kill Kraison. The ruffians take revenge over Ket by torturing him but this time Kraison helps to release him. Kaem loves Ket but Ket sees her as a young sister only (ที่ใครที่มัน). Prai is framed by Pracha's mistress and has to kill one of the ruffians to be able to flee away. Viwe asks for additional bonus to Kraison to avoid killing him. It ends up in a fight. Ket, Plaew and Prai threatens Pracha to stop harassing them for a last time but Pracha is preparing his revenge. While a Buddhist ceremony (ผ้าป่า) happens in the village, Plaew is kidnapped. Ket follows Pracha's ruffians in order to release her. Gun fights happen. Pracha and his ruffians are killed. Viwe, always helping people for money, is also shot dead. The movie end is a bit weird as it is discovered that Kraison killed many years ago Ket's brother so he has to revenge his dead brother. Ket is arrested by the police following his bad acts. Plaew promises to wait for him. Thai movie นักเลงสามสลึง (1976) or "the three ruffians" features many famous Thai actors from 1970s decade. Krung Srivilai was then at his zenith. A James Bond soundtrack is used. It lasts 1h50mn. The VCD has one audio track with Thai and one audio track with Lao. This movie is a mix of romance, action and features many songs.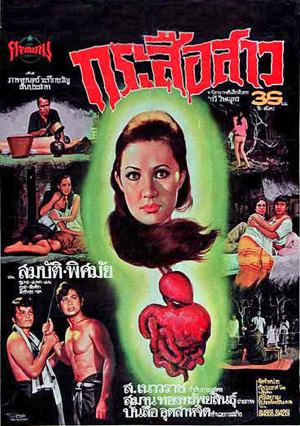 Year

: 1973



Thai title

:

กระสือสาว




English title

: will-o'-the-wisp



Rating

: 4/5


Director

: ส.เนาวราช



Main actor

: Sombat Methanee,Choomporn Theppitak,Sawin Sawangrat,Lor Tok,Songthong,Man Teeraphol,Tat Ekathat,Chao Klaewklong


Main actress

: Pissamai Wilaisak,Metta Roongrat,Sulaleewan Suwanthat,Orasa Isarangkul
Thai movie กระสือสาว / "will-o'-the-wisp" was released in year 1973 and lasts 1h43mn. The movie was never released under VHS/VCD/DVD format in Thailand. Thai movie กระสือสาว was released in 35mm film format and brought new Fx effects in 1973 such as double impression to show the spirit quitting the dead body. It took 3 to 4 months to be shot in the jungle. Thai Film Archives has still a 16mm copy as, in 1973, 16mm projectors were still popular in provinces. Thai Film Archives got it from a donation from a company showing outdoor movies in villages (หนังขายยา). The movie is a bit like the "Nang Nak" movie scenario. It was released under VHS format in Sweden with the original picture, Thai sound and with Swedish subtitles, under the name "Ghost of Guts Eater". The original movie is probably a bit longer as some still pictures show sequences are not present in the Swedish VHS. In the 1970s, a few Thai movie rights were sold in Scandinavia. This movie shows interesting traditional behaviors and patterns such as traditional baby delivery, staying above a hot pot after delivery (การอยู่ไฟ), 100 days ceremony after a relative death, vision of people without head indicating forthcoming death, hidden treasures kept by deity and signalled by an ignis fatuus, Kraseu ghost belief, love filters. Thai movie กระสือสาว is about a traditional folklore ghost called Kraseu (กระสือ). It is a filth-eating floating ghost with a head, a trailing heart and intestines. This ghost loves to eat cordon umbilical and placenta from newborn babies (ผีกระสือจะมากินรกเด็ก). Thai movie กระสือสาว scenario was written by ทวี วิษณุกร and released in two cartoon books in year 1968. Villagers found many dead chickens in their farm. They were eaten by a Kraseu ghost. Villagers followed the floating ghost and hit it critically. A grandmother (Sulaleewan Suwanthat) was in fact possessed by the ghost. Before dying, she gives a ring to her granddaughter, Bua Klee (บัวคลี่)(Pissamai Wilaisak), and asks her not to burn her corpse (so opposite of Thai tradition เผาศพ). Bua Klee then becomes possessed by the Kraseu ghost (ถูกวิญญาญกระสือ). Boon Muang (บุญเมือง)(Sombat Methanee) is her husband. Chat (ฉัตร)(Man Teeraphol), a local thug, still tries to seduce her. Phi Chood (จู๊ด)(Choomporn Theppitak), Boon Muang's closest friend, and Boon Muang chase Chat away. Bua Klee is now pregnant. The Kraseu spirit is inside the ring and is hungry (ไปหากิน). Bua Klee goes outside to look for filthy food and is identified by a villager. She is named as Krasao Sao (กระสือสาว) as the ghost has a young and pretty face! A fight erupts between Chat and Boon Muang as all villagers claim she is a ghost (ผีกระสือ). Boon Muang refuses (ไม่เชื่อ) such allegations but the villagers push him to verify if his wife is a ghost. So he hits her with a stick to chase the ghost but nothing is happening except tears from Bua Klee. A local shaman (หมอผี) Pradit (Tat Ekathat) invokes a dead spirit (ผีโขมดพราย) to take revenge on Boon Muang and Bua Klee. Yomatut, the hell guardian, comes to get his life as he is a nasty man (ลงนรก). Boon Muang decides to leave the village. They take refuge in a relative home, i.e. uncle Chaeng (Sawin Sawangrat). Bua Klee meets another Kraseu old ghost in the village. Bua Klee is delivering her baby in traditional Thai way by holding a rope attached to the ceiling. The Kraseu old ghost and its husband try to steal the baby. Boon Muang fends them off and hits back. The husband (ผีกะหังและกระสือแก่) dies and the Kraseu old ghost dies in the early sunshine. Boon Muang visits the sub district headman of Dong Dok Kaew area (Chao Klaewklong) to bring him some gifts from uncle Chaeng. Madeua (Metta Roongrat) is the daughter of the sub district headman and is fond of Boon Muang. While accompanied by Madeua, Boon Muang is shot in the arm by Chat. Madeua is disappointed to learn that Boon Muang is already married. She used love potions trick to make him forget his wife and son (เสน่ห์ยาแฝด). Meanwhile Bua Klee wishes to get a treasure (สมบัติ) by seeing an ignis fatuus. When a flame is coming from the ground, it is a spirit haven according to traditional belief. She can get the treasure by showing her nudity! But finally, she needs to give the treasure back to the guardian as she still needs to pay for karma (กรรม). Boon Muang and Madeua marry. Following Bua Klee's request, Uncle Chaeng goes to the subdistrict headman home. The son Chiep is also coming with a sacred thread to recover his father. On the way Chaeng and Chiep see each other without a head! This is a bad omen indicating a forthcoming death! Uncle Chaeng has to shoot Madeua to protect Chiep. The sub district headman wishes to avenge his daughter. Uncle Chaeng and Chiep are shot dead during the fight. Chood is beaten by Chat. Bua Klee finds uncle Chaeng and Chiep dead bodies. Both Chood and Boon Muang are captured by Chat and the sub district headman. Bua Klee interferes as a Kraseu ghost and causes the sub district headman and Chat to shoot each other. Boon Muang refuses to go back with Bua Klee as she is a Kraseu ghost. Following advice from a hermit, finally the body of the grandmother is burnt, and Bua Klee becomes a normal human being again.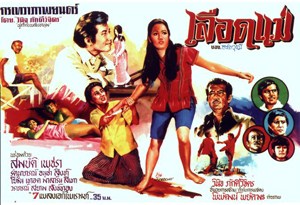 Year

: 1972



Thai title

:

เลือดแม่




English title

:



Rating

: 3/5


Director

:



Main actor

: Sombat Methanee,Choomporn Theppitak,Anucha Ratanaman,Songthong,Sithao Petcharoen


Main actress

: Petchara Chaowarat,Ratanaporn Intarakamhaeng,Malalin Bonnak
This 1972 Thai movie เลือดแม่ lasts 2h20mn. Its full version still exists among a Thai collector but it was never released through any official video format such as VHS, VCD or DVD. A 40mn sequence can be watched online. A Bangkokian man (Anucha Ratanaman) is lying to an upcountry girl (Ratanaporn Intarakamhaeng) about his love. Ratanaporn is then pregnant. Knowing that Anucha will not come back, she flees her home to avoid shame and ends up in a thieves' den. A baby girl is born. Years have passed. The baby girl is Petchara Chaowarat. While being an adult, she gets rescued by Choomporn Theppitak as she was getting threatened by ruffians. As Petchara wishes to know who her father is (she only has a pendant), she flees to Bangkok with Choomporn. Being aggressed by thugs, they get help from Sombat Methanee. Malalin Bonnak (มาลาริน) is Sombat's promised fiancee. As they have no place to go, Sombat helps them to stay at a friend's home. Malalin sees Petchara as a concurrent for Sombat's heart. Love emerges between Sombat and Petchara. Malalin and her mother makes a plan to denigrate Petchara. She is drugged while sleeping and a ruffian simulates leaving her bed while Sombat is just here. Choomporn learning this gives a lesson to Malalin. Her mother being sick, Petchara and Choomporn have to go back to their home town. Malalin's mother orders a ruffian to go also in order to kill Petchara as Sombat refuses to marry her daughter. The shootings go wrong in the village. Choomporn protects Petchara with his own body and dies. The ruffian gets injured by Petchara's stepfather, who also dies. Back to Bangkok as Malalin's mother refuses to pay anything to the ruffian, she also gets shot. Anucha, aware of the whole story, goes to the village with Sombat. Both love stories finally blossom, i.e. Sombat and Petchara, Anucha and Rattaporn. Seven songs are performed including singer Songthong.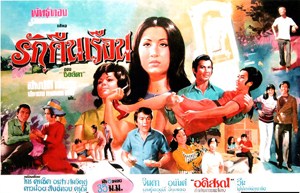 Year

: 1972



Thai title

:

รักคืนเรือน




English title

:



Rating

: 3/5


Director

:



Main actor

: Sombat Methanee,Prachuap Ruekyamdee,Songthong,Krai Kanchit,Daonoi Duangjai


Main actress

: Petchara Chaowarat,Somjit Sapsamruey,Chosri Misommon,Sisala Thongtara,Metta Roongrat,Orasa Isarangkul,Darunee Cheunsakul
Thai movie รักคืนเรือน was released in year 1972. Main actor is Sombat Methanee and main actress is Petchara Chaowarat. The movie is lost in Thailand but a sequence of one hour remains to be seen. The remaining sequence shows a high society party with Petchara singing a song. Petchara is then discussing with Somjit Sapsamruey, her mother. Her mother wants her to marry the son of a friend as they are poor. Veteran actors (Prachuap Ruekyamdee and Songthong), a doctor and a young man (ทม วิศวชาติ) are visiting them. Petchara and the young man appreciate each other. Veteran actress Chosri Misommon is playing a domestic helper. Sombat later on arrives. He is welcomed by Sisala Thongtara and Somjit, then also by Metta Roongrat and Petchara. Petchara is not so happy to meet Sombat. Somjit is feeling unwell and ends up at hospital. Certainly Somjit asks Petchara to really consider Sombat as engagement but Petchara loves already another man. Misunderstanding happens between Petchara and Sombat. A fire in the house happens. This is a romantic drama.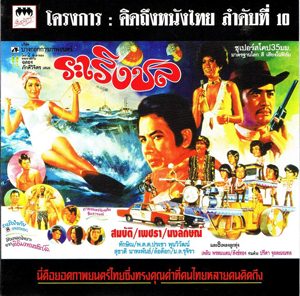 Year

: 1972



Thai title

:

ระเริงชล




English title

: Ra Rueng Chon



Rating

: 5/5


Director

: Chalong Pukdeewichit



Main actor

: Sombat Methanee,Songthong,Rujira Isarangkul,Lor Tok,Pan Borapet,Taksin Jampol,Paen Pleumsachai


Main actress

: Petchara Chaowarat,Somjit Sapsamruey,Marasri Isarangkul,Orasa Isarangkul,Wassana Chalakorn
Thai movie ระเริงชล was released in year 1972 and lasts 2h07mn. It was released under VCD format by XxX company in year 2001. Director is Chalong Pukdeewichit. The movie was found overseas and the picture is sharp and colorful. Unfortunately the first part of the movie (around 20 minutes) was missing. So in order to be able to release the movie, a remaining 35mm film was digitized. As the film reel was almost 30 years old, the colors were gone and scratches could be seen. But at least the first 20 minutes were recovered and VCD was released. Eight songs are featured including the group "Impossible" (วงดิอิมพอสซิเบิ้ล), Songthong and เพลิน พรหมแดน... Petchara wears extraordinary hats in this movie. Pak (Sombat Methanee) is back from overseas. Per his parents' arrangement, he needs to marry a young lady called Rareung (Petchara Chaowarat). His father (Rujira Isarangkul) and his mother (Somjit Sapsamruey) have a debt towards Thon (Lor Tok) and his wife (Marasri Isarangkul), who helped them financially. They must have gratitude (บุญคุณ) towards this family. It is the overseas student versus the upcountry lady (เด็กบ้านนอก). Pak is not willing to marry Rareung and wishes to break the engagement (ถอดหมั้น) as he has a fiancee, called Sopha (นงลักษณ์ โรจนพรรณ), still being overseas. The young lady, Rareung, is behaving like a hippy. If no wedding, Pak's father has to pay back the debt but he doesn't have the money. Pak agrees to work for Thon one year in order to pay back his father's debts. The engagement is maintained. They have to move back to Rayong. Pak met Pleun (เพลิน) as local architect and Sang (Songthon). Plaem (Orasa Isarangkul) is aggressed by ruffians including Pan Borapet. Pleun and Rareung help her on time. Sopha is back from USA and is willing to pay the 1M Baht debt. Pak refuses as he is not a thing that can be purchased. Rareung calls him "golden pimp" (แมงดาปิดทอง)! Pak is authorised by Thon to go to Sopha's birthday. A fight occurs during Sopha's birthday. Bouleu (พ.ต.ต.ประชา พูนวิวัฒน์) hires ruffians to beat Pak as he sees him as a rival. Rareung and his friends help him. Sopha's mother (ประพิศ พราวพรรณ) wishes her daughter to marry Bouleu, a rich businessman. Bouleu has a mistress already (Wassana Chalakorn). Den (ปรีดา จุลละมณฑล) has a car accident with Sopha so he tries to seduce her and comes to her house. Rareung's mother is suddenly dead. Thon has a mistress. Her brother Chu (Taksin Jampol) pushes her to become official wife. Pak refuses that Rareung's breaks her debt contract. Rareung is aggressed by three ruffians but Pak helps her on time. Bouleu hires Chu to recover some drugs fallen in the sea. A party (งานฉลอง) is organised to celebrate new bungalows opening so many families are gathering. Sopha knows she lost to Rareung. Bouleu proposes to help her by damaging the parachute. While Rareung is parasailing, Paen Pleumsachai shoots the parachutes and ruffians kidnap the ladies. They ask for 1M baht ranson to Thon. Bouleu is the mastermind behind. The ransom fails as the police intervenes. Chu is involved but he is doubled. Plaem (sister of policeman Den) and Thon's mistress are also captured. Police is about to storm the island where Bouleu and his team is hiding. Wassana is disappointed that Bouleu still loves Sopha. She warns Pak and the police regarding mines hidden under the beach. Bouleu shoots her. Police led by Den and Pak succeed to storm the HQ and to release the ladies. They have to flee as a time bomb shall destroy the HQ. A final fight occurs between Pak and Bouleu. Wassana harpoons Bouleu. Happy romance can happen between Pak and Rareung, between Den and Sopha, between Pleun and Plaem.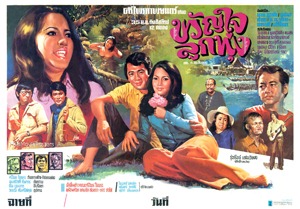 Year

: 1972



Thai title

:

ขวัญใจลูกทุ่ง




English title

: My sweet heart



Rating

: 3/5


Director

: ศรีไพร ใจพระ



Main actor

: Nard Poowanai,Kamthorn Suwanpiyasiri,Sukon Koewliam,Lor Tok,Chaiya Suriyun,Rujira Isarangkul,Op Boonthit,Paen Pleumsachai,Songthong,Sithao Petcharoen


Main actress

: Chosri Misommon
Thai movie ขวัญใจลูกทุ่ง / My sweet heart was released in year 1972 and lasts 2h27mn. Movie director is ศรีไพร ใจพระ. The movie was never released on VHS, VCD, DVD in Thailand. It is only available under 35mm film format, but it was very damaged with colors almost lost. ศรีไพร ใจพระ and บุปผา สายชล were famous singers (นักร้องลูกทุ่ง) since movies ชาติลำชี and มนต์รักลูกทุ่ง shot by รังสี ทัศนพยัคฆ์. They were husband and wife. Movie ขวัญใจลูกทุ่ง was the first movie directed and produced by ศรีไพร and featuring his wife บุปผา as main actress. Chaiya Suriyun was supposed to the main actor in this movie. He started to play in a few sequences, but problems occurred. So, the main actor was changed to Nat Poowanai, who was a new actor who just played in a few movies. Surprisingly Chaiya can still be seen on the movie poster and in a few sequences of the movie. Chot character, played by Chaiya, is killed after a fighting sequence where Chaiya is shot by ruffians. The movie features many actors and actresses such as Kamthorn Suwanpiyasiri, Chosri Misommon, Sukon Koewliam, Lor Tok, Chaiya Suriyun, Nard Puwanai, Rujira Isarangkul, Op Boonthit, Paen Pleumsachai, Songthong, Sithao Petcharoen, วงศ์ทอง ผลานุสนธิ์, พูนสวัสดิ์ ธีมากร, ทานทัต วิภาตะโยธิน,แคหลอ, ชูศรี โรจนประดิษฐ์, ขุนแผน, ถนอม นวลอนันต์, เปี๊ยก, พิม พิไลลักษณ์. 12 songs are featured in this musical movie. Kamthorn Suwanpiyasiri (ลูกกำนัน) wants to seduce Kratin (บุปผา สายชล). Kratin watches boat races with Champi (Chosri Misommon). Sithao Petcharoen is the referee. Uncle Khaem (Rujira Isarangkul) prevents Kratin to meet Yot (Nard Poowanai). He has already a planned engagement with Kamthorn as Yot is a poor man. Kratin is Khaem's granddaughter. Chot (Chaiya Suriyun) and Sri Phrai (ศรีไพร ใจพระ) arrive in the village. Thai boxing match free style is organized and Sri Phrai, despite being a weak opponent, wins. Khaem loses a lot of money. He is upset that Kamthorn makes profit on him. Sri Phrai wishes to marry Kratin. Kamthorn and his ruffians (including Paen Pleumsachai) agress Kratin. Phi Chot and his friends help. Kamthorn gets defeated but one of the ruffians shoots Phi Chot. Op Boonthit plays a Chinese merchant. Hippy Songthong arrives from Bangkok. Uncle Khaem wishes to marry Kratin with Songthong. He is fired as he misbehaves. Next day, a man similar to Songthong with a lady Lin, claiming to be Yot's girlfriend, is having a drink in a cafe. Khaem and his team capture him. The lady flees and meets Kamthorn, who tells her that Yot has already another girlfriend named Kratin. Songthong is covered with flour and chased away. Lin visits Yot and Kratin sees them together so it is causing a misunderstanding. Khaem has to excuse towards Songthong. As a revenge, Songthong is parading the uncle through the city. Following Kratin and Yot pleas, Songthong releases him. The movie ends up happily with uncle Khaem allowing Yot and Kratin to marry, Kamthorn having a romance with Lin.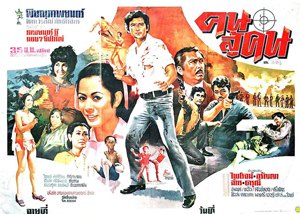 Year

: 1972



Thai title

:

คนสู้คน




English title

:



Rating

: 3/5


Director

:



Main actor

: Phairoj Jaising,Choomporn Theppitak,Chat Mongkolchai,Songthong,Paen Pleumsachai


Main actress

: Aranya Namwong,Marasri Bangchang,Sisala Thongtara,Donnapha Sophee,Darunee Cheunsakul
Thai movie คนสู้คน was released in year 1972. It features Phairoj Jaising as main actors and Aranya Namwong as main actress. It lasts 1h36mn. Two songs are featured in this movie. This is the first movie featuring Phairoj Jaising and Aranya Namwong together. Director is วิจารณ์ ภักดีวิจิตร. Often in 1960 or 1970s Thai movies, music from Italian spaghetti westerns (Ennio Morricone) or James Bond movies was used. Korakot (Phairoj Jaising) arrives in Udon Thani. The introduction sequence even shows old theater โรงหนังเฉลิมวัฒนา. Korakot is back to his village through a bus from Udon Thani. He gets robbed by two ruffians (นักเลงเจ้าถิ่น) including Yuan (Choomporn Theppitak). They steal a jewellery belonging to his mother. Krit (Chat Mongkolchai) rescues him. Some relief characters are played by Songthong and Sisala Thongtara (ศรีสละ ทองธารา). Krit's sister is played by "bad girl" Donnapha Sophee. Knowing his friend's problems, krit chases after the ruffians. Two are killed but Yuan succeeds to flee. Korakot is not able to hold a weapon or fight back (ใจต้องสู้). Khun Phiset is upset with Krit as two of his men were killed. Korakot shall go to Khun Phiset's home to get back his jewellery. On the way, he meets Plienjai, Khun Phiset's daughter (Aranya Namwong), expert in shooting with Daojai (Darunee Cheunsakul). Yuan claims he doesn't have it. Plienjai likes Korakot. Daojai and Krit (สุภาพบุรุษนักสู้) love each other. Yuan loves Plienjai also but it is not reciprocal so he tries to force her. Khun Phiset chases him away. Korakot gets a training from Krit (คนสู้คน). Yuan forges an alliance with another ruffian leader called Seua Sing (Paen Pleumsachai) to get revenge and plans to kidnap Plienjai. As they get pushed back by Krit and Korakot, Seua Sing prepares more men to join. Enticed to get back his mother's jewellery, Korakot is tortured by Sing and Yuan by being attached to a cross and forced to walk under harsh sun. Meanwhile Songthong is killed through an embuscade. Krit helps Korakot before a full dehydration. Korakot's mother is played by Marasri Bangchang. A double wedding happens, i.e. Korakot with Plienjai and Krit with Daojai. Yuan, Sing and their ruffians bring troubles to the party by kidnapping the ladies including Krit's sister. Korakot and Krit chase after the ruffians. Seua Sing rapes Krit's sister. As a bait, Korakot defies Yuan and defeats him while Krit releases the ladies. Through a final shooting, Seua Sing is shot by Krit's sister but she also dies. Newly-wed couples can now find happiness with the ruffians being neutralised.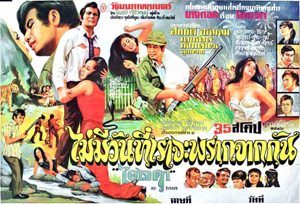 Year

: 1971



Thai title

:

วันที่เราจะพรากจากกัน




English title

:



Rating

: 4/5


Director

:



Main actor

: Sombat Methanee,Prachuap Ruekyamdee,Sithao Petcharoen,Songthong,Sawin Sawangrat,Sukon Koewliam,Chana Sriubon,Ruj Ronnapop


Main actress

: Aranya Namwong,Naowarat Watchara,Sopha Sataporn,Ratanaporn Intarakamhaeng
ไม่มีวันที่เราจะพรากจากกัน (There is no day we will split) was released in year 1971. The full movie lasts 2h27mn. The remaining film is in a poor condition. The image has no more color and is only tinted. Unfortunately the sound is distorted and barely hearable. A full movie summary is still available as some old Thai movie stars magazines can still be found nowadays. The movie remains famous for its 9 to 10 songs. A few songs are sung by Sithao Petcharoen and Songthong. One of the famous singer in this movie is กังวานไพร ลูกเพชร, a countryside singer (นักร้องลูกทุ่ง). He is acting as a couple with Naowarat Watchara in this movie. Main actors in this romantic movie are Aranya Namwong and Sombat Methanee. Interesting to see that Aranya Namwong is wearing big sunglasses that are back to fashion in decade 2010s. Other actors include Prachuap Ruekyamdee, comic actor Sukon Koewliam, Naowarat Watchara, Chana Sriubon, Sopha Sataporn, Ratanaporn Intarakamhaeng, Ruj Ronnapop. Kampee (Sombat Methanee) is orphan but gets patronized by his older sister Rampoei, who is married to rich merchant Vivat. Kampee (คัมภีร์) is engaged with Rewadee (Naowarat Watchara). He goes to study abroad. When he comes back, his fiancee Rewadee is going to marry Pinjo, who was a former friend. Kampee, disappointed, causes big arguments during the wedding, gets beaten and thrown away in the water. When he wakes up, he meets for first time a young woman called Ailada (Aranya Namwong), riding a bicycle and going to help him. Surprised, he leaves rashly by taxi (คนบ้า). Kampee leaves his home as Pinjo's father forces him to go to Sukhothai province. Rampoei wants Kampee to marry Walli, younger sister of Vivat. Kampee meets Ailada again in Phitsanulok train station and they argue again. Kampee shall be the head of forest guards in district Huay Krai. Kampee is welcomed by Plang (Prachuap Ruekyamdee), his assistant. Ailada is Plang's daughter! Kamnan Preuang (Sawin Sawangrat) is doing illegal business in the forest by cutting trees. Plaew, son of Kamnan Preuang, loves Ailada since they are kids. Plang and Kampee have a plan to stop those illegal activities. Having learnt this, Ailada informs Preuang. So Kampee's plan fails. Aware that Ailada is the one who disclosed the plan, Kampee has arguments with her but Ailada finally understands and recognises her mistake. Love starts to emerge. Walli is coming to visit Kampee. To get rid of Walli, Kampee claims he is already engaged with Ailada so she has mischievous behavior with Kampee! Kamnan Preuang and Plaew get agreement with Pinjo to use Rewadee to ease Kampee. Pinjo wishes to kill Kampee as he cannot stand to have Rewadee close to Kampee. It is discovered that Plaew is the real son of Plang and not Preuang. Plaew and Ailanda are then brother and sister! Plaew and Ailanda are looking for Kampee knowing he is endangered by Pinjo's plans to kill him. A thunderstorm happens. Kampee and Ailanda take refuge in a cave. A snake is threatening them. Plaew and Rewadee take refuge in a cave also. Pinjo misunderstands Plaew's intention to help Rewadee. He finally falls in the river and dies. Back from the forest, learning that Kampee and Ailanda plan to marry, Rewadee still tries to get back Kampee and simulates to have spent the night with him. It causes Ailanda's ire, who then flees away. Rewadee apologizes but it is too late. Ailanda is gone and Kampee is back to Bangkok. Kampee indulges in alcohol and finally accept his sister's proposal to marry Walli. Rewadee is pregnant with Plaew. As Ailanda is back to district Huay Krai, Plaew decides to stop Kampee's wedding with Walli to ensure Kampee can marry Ailanda! Plaew lies that Kampee made a young lady pregnant in district Huay Krai so he needs to assume. Finally Kampee and Ailanda are reunited.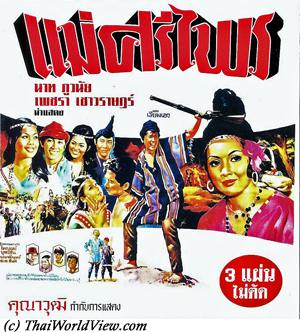 Year

: 1971



Thai title

:

แม่ศรีไพร




English title

:



Rating

: 4/5


Director

: Wichit Khunawut



Main actor

: Nard Poowanai,Sahat Piempongsan,Songthong,Sithao Petcharoen


Main actress

: Petchara Chaowarat,Metta Roongrat



Buy now

:

Celebration of the wedding day between Chan (Sahat Piempongsan), District Chief Officer (นายอำเภอ), and Konthong (Petchara Chaowarat) is ongoing but on nuptial night, the husband is drunk. Konthong is then kidnapped and transported on an elephant into the mountains. She is no idea why she has been kidnapped as her abductor refuses to disclose the truth (แล้วก็รู้เอง). The abductor is called Inton (Nard Poowanai). Aratae (Metta Roongrat) is taking care of Konthong (ผู้หญิงไทยดื้อ). Hillside villagers (คนดง, คนป่า) are very cheerful to Konthong. Inton is called father (พ่อ) as he takes care of the village. Chan is on the way to get back his wife using jeep to go through the mountains and being accompanied with a bunch of ruffians. The kidnapping is in fact Inton's revenge over Chan. Inton, Chan and Taptim were children who shared friendship during childhood. On Inton and Taptim's wedding day, Chan takes advantage that Inton is drunk to rape Taptim as he was jealous Taptim didn't marry him. Willing to kill Chan with a gun, Inton argues with Taptim and a lost bullet kills Taptim. Inton has to flee in the mountains. Inton finally doesn't rape Konthong (เห็นกับตาของจะเสียได้อย่างไร) as he has pity on her and proposes to send her back. How can Konthong go back? Who will believe she is still pure? She acknowledges she doesn't love Chan. So a romance starts between Inton and Konthong. One of the villagers, Tasuey, is chased by Inton from the village following a rape on a girl refusing to love him and her fiance's murder. The stranded villager meets Chan and his ruffians. He decides to lead them to the village to take his revenge on Inton. The movie features alternate sequences of fun, romance and sequences of the ruffians approaching the mountain village. It is a very long movie 2h54 released by company Phanmitr, who used the latest film reels available. The image is very damaged, red and green color with many vertical lines (เส้นฝนตกมาก) but still a pleasure to watch Petchara Chaowarat. To avoid endangering the villagers, Inton decides to flee temporary before Chan and his ruffians led by Tasuey reach the village. Konthong is following up. Aratae loves secretly Inton. Villagers refuse to disclose where Inton and Konthong are hiding. Chan uses persuasion to convince Aratae to tell the truth. If Chan gets back Konthong, his wife, then Aratae can get Inton, her secret love, back. Chan gets Aratae's virginity (ความสาว) as Inton gets his wife also. The ruffians chase Inton and Konthong inside the deep forest (ป่าลึก). As Konthong catches malaria and they run out of food, Inton has no other choice but surrender to Chan. Chan thinks of shooting Inton like a dog but finally changes his mind reminding their former friendship. He even forgives him (ให้อภัย) but Konthong shall stay with him. While Inton is going to the village with the mountain villagers, Konthong lies she is already pregnant so asks Chan to release her so her child can stay with her real father. While Inton and Konthong can have happiness together, Aratae has no choice but to stay with Chan (คนที่แพ้ต้องอยู่ด้วยกัน). A dozen of songs are performed including by famous singer Songthong, singers สมัย อ่อนวงศ์ and กิ่งดาว จันทร์สวัสดิ์. A funny comic encounter happens between comic actors Songthong and Sithao Petcharoen. Movie แม่ศรีไพร by famous director Wichit Khunawut was released in year 1971. It was adapted as Thai TV serie in 2010. It is the first played by Nard Poowanai. Mitr Chaibancha should have been the main actor but his accidental death prevented this.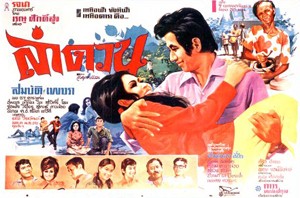 Year

: 1971



Thai title

:

ลำดวน




English title

:



Rating

: 3/5


Director

:



Main actor

: Sombat Methanee,Songthong,Pipop Pupinyo,Choomporn Theppitak,Sukon Koewliam


Main actress

: Petchara Chaowarat,Namgneun Boonnak
ลำดวน is a Thai movie released in year 1971 with Sombat Methanee and Petchara Chaowarat. The whole movie is 2h30mn long and features 7 songs. A 41mn sequence is still available online. This movie was lost in Thailand but a final copy was finally discovered in year 2013 in the house of a former outdoor projectionist. The below summary is based on the 41mn sequence. It is in 16mm format so there is no sound as such format requires live dubbing. Songthong is a temple boy. He is going to Bangkok to find a work and to sell newspapers on the street. Pipop Pupinyo is playing the father (he hasn't yet a shaved head, which will be his recognizable trademark in following movies). The mother is played by Namgneun Boonnak. First one hour is about the parents life. Namgneun Boonnak is sick and Sukon Koewliam takes care of her. Twenty years have passed. Lamduan (Petchara Chaowarat) and Thongdee (Sombat Methanee) meet in a garden. Thongdee is a temple boy also. Thongdee is singing to declare his love to Lamduan. Lamduan is seeing ghosts, i.e. her mother (วิญญาณแม่) and then herself. Thongdee is punching Choomporn Theppitak as he is harassing young ladies. Finally Lamduan is sent to a Buddhist temple to expel ghosts. After discussion with the abbot, she leaves the area and goes with Thongdee in order to start a new life.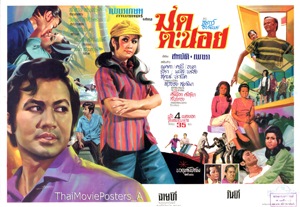 Year

: 1971



Thai title

:

มดตะนอย




English title

:



Rating

: 3/5


Director

: วิจารณ์ ภักดีวิจิตร



Main actor

: Sombat Methanee,Anucha Ratanaman,Rujira Isarangkul,Sukon Koewliam,Songthong


Main actress

: Petchara Chaowarat,Metta Roongrat,Darunee Cheunsakul,Manat Boonkiet



Buy now

:

Thai movie มดตะนอย was released in year 1971 and lasts 1h54mn. The movie was released under VCD format by company TripleX. The picture is quite damaged but still a bit colorful. This is the last found copy of the movie. Movie director is วิจารณ์ ภักดีวิจิตร. Thai actors and actresses featured in this movie are Sombat Methanee, Petchara Chaowarat, Metta Roongrat, ดรุณี ชื่นสกุล - Darunee Cheunsakul, Anucha Ratanaman, Rujira Isarangkul, Manat Boonkiet, พรชัย, Sukon Koewliam, ปราณีต คุ้มเดช, สุวัจชัย สุทธิมา, สีเผือก, ศรีสุริยา, Songthong. It even includes a few songs in 35mm format. Arriving in a beautiful mansion, young lady Motanoi (Petchara Chaowarat) wishes to meet the house owner Nai (Manat Boonkiet). She meets the daughter Kate (Metta Roongrat), who looks down on her. Chakeen (Anucha Ratanaman) is the son having a positive attitude towards Motanoi. Sukon Koewliam is the domestic helper. Motanoi is the recipient of the Apinat family's grandfather's heritage. Maen (Rujira Isarangkul), a lawyer, arrives to check the proof. Motanoi's father is Nikon Apinat. Whenever she marries, then the heritage becomes hers. She meets doctor Cheewan (Sombat Methanee), being her neighbour as she wishes to see his car. The mother wishes her daughter Kate to marry doctor Cheewan. The doctor complains to the mother about Motanoi. Motanoi has a strong character (เด็กกะโปโล) and is unruly (เกเร). It is Kate's birthday (บ้านผู้ดี). The son befriends Motanoi. Motanoi invites herself to Kate's birthday and performs a song at the party. The mother accuses Motanoi to ruin Kate's birthday party. Motanoi is back to her village and meets her old friends Songthong, Saeng Dao (ดรุณี ชื่นสกุล) and Sandon. His friends check if she has changed or not. Villager Sandon still loves Motanoi and refuses to let her belong to somebody else. Sandon performs a heart broken song. Fed up with her friends trying to catch her, she leaves the village with Chakeen. Cheewan meets Sandon as he hits him with his car. Sandon and Saeng Dao finally stay with the doctor. Motanoi leaves for overseas to study. Five years have passed. Young lady Nantaporn is back in Thailand. Maen's car is damaged so doctor Cheewan goes to pick her up but he is not aware that Nantaporn and Motanoi are the same person. The family's fortune is lost as the mother Nai is gambling. As Motanoi has a good heart, she allows them to stay in her house, but they still behave as high-so. Aware of the truth, Cheewan doesn't know how to apologize to Motanoi. Kate gives a love philter to Sandon, but it is acidic. Her plan fails as she is the one , who receives the acid in the face and not Motanoi. Saeng Dao tries to kill Motanoi as she is upset that Chee Wan is always sad because of Motanoi and keeps drinking. The mother has a lover, ruffian Nit. They plan to kill Motanoi to ensure heritage stays with them. Finally, the mother asks for money from the lawyer Maen. Nit and his men try to kidnap Motanoi. Fighting occurs and Cheewan is injured. Police arrive on time as the lawyer Maen alerts them. Motanoi takes care of Cheewan during his recovery. Love emerges while Kate, her mother and ruffians end up in jail. A remake, featuring Toon Hiransap and Apiradee Pawaputanon, was released in 1985.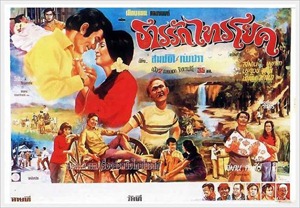 Year

: 1971



Thai title

:

ธารรักไทรโยค




English title

:



Rating

: 3/5


Director

:



Main actor

: Sombat Methanee,Prachuap Ruekyamdee,Paen Pleumsachai,Sawin Sawangrat,Pan Borapet,Songthong,Tat Ekathat


Main actress

: Petchara Chaowarat,Metta Roongrat,Wassana Chalakorn
Thai movie ธารรักไทรโยค was released in year 1971. Main actors and actresses are Sombat Methanee, Petchara Chaowarat, Prachuap Ruekyamdee, Paen Pleumsachai, Sawin Sawangrat, Metta Roongrat, Wassana Chalakorn, Pan Borapet, singer Songthong, Tat Ekathat. The movie is lost in Thailand but a dubbed sequence in 16mm format lasting 1h30mn was shown in Thai Film Archives. The movie takes place in Saiyok area, Kanchanaburi province. Multiple songs are featured. Trailer sequences show various action and romance scenes. The remaining film is in 16mm format but songs are in 35mm format so songs sequences have poor quality as 35mm film degrades faster in time. Prachuap is trying to seduce Metta. Petchara's father, Sawin, doesn't like people from Bangkok. Sombat and Prachuap are accused to be robbers.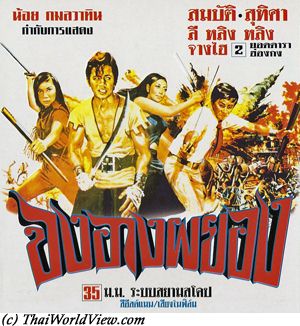 Year

: 1971



Thai title

:

จงอางผยอง




English title

:



Rating

: 4/5


Director

:



Main actor

: Sombat Methanee,Prachuap Ruekyamdee,Songthong


Main actress

: Suthisa Putnuch,Juree Osiri



Buy now

:

A Thai Chinese community is celebrating Chinese New Year (ตรุษจีน) though dances (รำ) and songs. Even Songthong is singing a few songs before being killed as suddenly the village is attacked. Hin is the leader of the pirates (โจร) who attack the village. Many villagers are captured or killed. Four children, two boys (Phet, Chiang Ho) and two girls (Kae, Lilin), promise to revenge their parents and punish Hin. The kids get separated. Fifteen years have passed. Seua and Kae love each other but their love is endangered as it is discovered Seua is Koeb's son. Koeb has cut Kae's mother arm during the village attack fifteen years ago. Their love becomes impossible. Back home Kae finds her mother dead. Chiang Ho and Lilin are back from China and ready for revenge. They meet Kae and look for Phet, the last friend. Phet has been raised by Hin and is called Praew. Hin, following the fall of Ayutthaya, has become lord of the province. The three friends attack directly Hin's fort but are defeated as Phet supports Hin, the pirate leader, and is now a traitor (ทรยศ). The two girls are captured as Seua also betrays Kae. Seua is the one who killed Kae's mother. Phet had to lie and simulates as he is an Ayuthaya soldier (งานของแผ่นดิน). He loves the king and the kingdom. Hin is making an alliance with Burma to sell canons (โจรขายชาติ). Phet's double game is disclosed. He is captured by Hin and his fingers are broken to prevent any fighting. Hopefully Chiang Ho can help and they flee from the fort. Lin takes care (รักษาพยาบาล) of Phet. They ask support from their old teacher but he refuses to believe that Hin is a traitor. Finally faced to the truth he decides to help. Surpassing the pain, Phet fights for the kingdom (ช่วยแผ่นดิน). Elephants are used to defeat Hin's soldiers. Despite being outnumbered, the fierce Siamese soldiers succeed to defeat the traitors and Burmese soldiers in order to save the King. Many sword fights and kung fu / Thai boxing fights typical from 1970s Hong Kong movies are featured. The King's face cannot be seen but Thai royal music is played to indicate his presence. This movie is really typical from years 1970s when patriotic movies were shot due to the communist threats at the Thai borders. The movie features two Hong Kong movies stars. It takes two years to shoot the complete movie. It was an expensive movie to make as real soldiers were used, a fort has to be built along a mountain and then destroyed by explosives.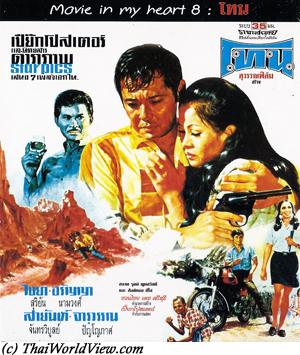 Year

: 1970



Thai title

:

โทน




English title

: Tone



Rating

: 4/5


Director

: Piak Poster



Main actor

: Chaiya Suriyun,Ruj Ronnapop,Sahat Piempongsan,Songthong,Sayan Chantaraviboon


Main actress

: Aranya Namwong,Jaruwan Panyopas



Buy now

:

Thai movie โทน / Tone is the first movie done by Piak Poster. It was released under VCD format by company XxX (Triple X). It features many Thai modern 1970s songs from 'The Impossible' group (วงดิอิมพอสซิเบิ้ล), some classical and traditional Thai songs, and even some American songs including 'Scarborough Fair' in Thai. The main characters are living in a provincial village, i.e. Pon (Chaiya Suriyun), Sang Thong (Songthong) and Nong Kulap (Jaruwan Panyopas). Sang is Pon's best friend following up everywhere. Pon loves Nong Kulap sincerely but Kulap sees him as a close friend only. She also needs to go to Bangkok to continue her studies, so they will be separated (ห่างกัน). Pon didn't do high studies and is living in a Buddhist temple with Luang Ta as a monk's attendant (ลูกศิษย์วัด). He was an orphan (เด็กกำพร้า). Ot (Sayan Chantaraviboon) is a Bangkokian young man visiting some relatives in the village. While having a drink, some ruffians (นักเลง) led by Amnat provoke him and a fight erupts. Pon is involved as he was just passing by and finally, he is helping Ot to get rid of the ruffians. The abbot wishes Pon to continue his studies in Bangkok. Ot proposes to help and Pon is now relocated in Bangkok. He meets Rut, Ot's elder brother (Ruj Ronnapop) and Daeng (Aranya Namwong), Ot's modern young sister. Daeng hates (เกลียด) Pon immediately. It seems Kulap has forgotten Pon. Sang is having quarrels with ruffians, who shot him. Ot meets Kulap randomly in Bangkok. Ot loves Kulap but Pon is not aware that Kulap is now in Bangkok. Daeng's boyfriend Long (Sahat Piempongsan) is a ruffian trying to take advantage of her. Hopefully Pon sees the stratagem and helps her. He gets injured. Daeng starts to see Pon's kindness and now loves secretly Pon. It is Ot's birthday (วันเกิด). Kulap (แฟน) comes to his birthday. It is the first Thai movie showing the 1970 youth with modern Thai and English music, dances and mini dresses. Daeng understands that Pon still loves Kulap and suffers. After a discussion between Pon and Ot, Ot accepts it (ทำใจ) and takes care about Daeng. Love story starts. Long is still cross with Daeng and Pon. He kidnaps Daeng and Kulap. Pon, trying to help, is also captured. Ot is chasing them. Long wishes to sell the two ladies to his friend Amnat. They will work as forced prostitutes. Daeng and Pon fail to escape and Long rapes Daeng. Thanks to Ot, Long is neutralized and is shot by Daeng. Pon shots Amnat so avenging his friend Sang Thong. It is time to forget the bad past and look forward to the bright future. Piak Poster began as a painter of movie posters. He painted 'Tone' movie poster. Tone was Piak Poster's first movie as director. The movie features seven songs. Songthong became famous thanks to the songs he performed in 'Tone' movie. It was the first movie in which the leading actress is raped. Thanks to the modern songs, 'Tone' movie reaped 6M Baht. It was the second biggest success in year 1970 after 'Mon Rak Luuk Thung' with Mitr / Petchara. It was also one of the first movie to use 35mm film instead of 16mm. 'Tone' movie was adapted two times for TV as a lakorn, i.e. in 1992 with Santisuk Promsiri and more recently in 2000s decade with Vinai Kraibutr and Metinee Kingpayome. Tone was the first movie in Thailand to break the monopoly of Mitr-Petchara movies. This movie is part of the first 25 films heritage list announced on October 4 2011, which is Thai Movies Conservation Day. The swimming suit worn by Aranya Namwong became a hit also as it shown the belly. All young ladies in year 1970 bought it. A promotional movie, lasting 17 minutes, shot in black and white, in 16mm format, can be seen online and is showing behind the screen sequences. The movie shooting was done over two years as Piak Poster liked perfection, details and used a lot of film. The film was developed in Japan and 11 copies travelled all over Thailand. It was two times more than usual.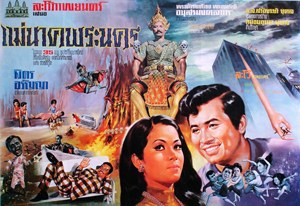 Year

: 1970



Thai title

:

แม่นาคพระนคร




English title

:



Rating

: 3/5


Director

:



Main actor

: Mitr Chaibancha,Sompong Phonmitr,Sukon Koewliam,Op Boonthit,Songthong


Main actress

: Aranya Namwong,Mom Chan Phuangwan,Sisala Thongtara,Kingdao Daranee,Chosri Misommon,Yaowaret Nisakorn
Thai movie แม่นาคพระนคร was released in year 1970. The movie is lost in Thailand but the movie is still available at the Thai Film Archives in Nakhon Pathom. Main actor is Mitr Chaibancha and main actress is Aranya Namwong. Other actors and actresses are Sukon Koewliam, Sompong Phonmitr, Mom Chan Phuangwan, Sisala Thongtara, Kingdao Daranee Op Boonthit, Chosri Misommon, Yaowaret Nisakorn, Songthong. Most of them are comic actors / actresses. So this 1970 version is more comic oriented (หนังผีตลก) than horror oriented. In this 1970 version, Nak also extends her hand but not to catch a lemon falling from the kitchen but to save somebody falling froma building. Mitr is playing Mak (มาก) and Aranya is playing Nak (นาค). The movie is taking place nowadays. Nak is hurt by a car driven by Doctor Mak, who is the reincarnation of soldier Mak from last century! The movie is lasting 145 minutes. The story is still available through old Thai magazines also.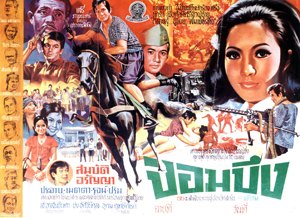 Year

: 1970



Thai title

:

จอมบึง




English title

:



Rating

: 3/5


Director

: Sor Asanajinda



Main actor

: Sombat Methanee,Prachuap Ruekyamdee,Ruj Ronnapop,Tat Ekathat,Songthong


Main actress

: Aranya Namwong,Metta Roongrat,Prim Praphaporn
Thai movie จอมบึง was released in year 1970. Main actors are Sombat Methanee and Aranya Namwong. The movie was never released on VHS / VCD / DVD formats in Thailand. The movie is still available in Thai Film Archives. Only reels 1-2-4 are available. Reel 3 is missing. It is lasting 1h22mn. Two partial reels (2-3) were also found in year 2013 thanks to a teacher and collector of old items in Songkhla area. The remaining sequence is lasting 28 minutes. It is in 35mm format as actors' voice can still be heard despite image and sound being in poor quality. The image is damaged due to water soaking (โดนน้ำ). The director is Sor Asanajinda. The movie features 16 songs according to the film poster. 6 songs have disappeared. Only 10 songs are left. Missing reel 3 in Thai Film Archives is about Sombat going to marry Prim. The ruffians lie to Sombat's father to invite him to the wedding party. They kidnap him to have a guarantee. The main actress Aranya Namwong is also captured by them. In reel 4, Sombat comes to help and rescue his father and Aranya. In a short online sequence, Aranya hits Sombat with her car. Finally, she accepts to take him in her car as he claims to be hurt. Prachuap Ruekyamdee is doing a massage to Metta Roongrat. Suddenly the car driven by Sombat arrives swiftly in their house property. Ruj Ronnapop seems to enjoy alcohol. Seeing Sombat and Aranya together causes a big ire to Metta. She tries to get back Sombat but to no avail.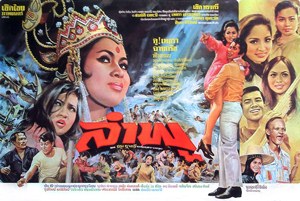 Year

: 1970



Thai title

:

ลำพู




English title

:



Rating

: 4/5


Director

: Cherd Songsri



Main actor

: Sombat Methanee,Choomporn Theppitak,Sawin Sawangrat,Lor Tok,Daonoi Duangjai,Songthong


Main actress

: Petchara Chaowarat,Prim Praphaporn
ลำพู is a Thai movie released in year 1970. 1h23mn is left so only three reels. Normally movies in decade 1960s~1970s often last two hours minimum. The picture is still colorful. The reels left are in 16mm format so the movie is mute as such format requires dubbing. Famous director Cherd Songsri is behind the camera. The below summary is based on understanding as there is no sound available. Choomporn (Choomporn Theppitak) and two young ladies, including Prim, have arguments in the market with local sellers. Few comics make fun of them. Sawin (Sawin Sawangrat), influential local man, is linked to Choomporn. Choomporn sees the comics during a fair and chases one of them. Petchara (Petchara Chaowarat) is dancing and wearing a beautiful traditional costume during this fair. Prim (Prim Praphaporn) is jealous of Petchara as Sombat (Sombat Methanee) is in relationship with Petchara. A few Isan songs are featured as singer is using a Kaen (แคน). The movie quits the countryside to the seaside where Sombat and Petchara have fun singing, playing unreal music instruments and playing in the water. Prim have arguments with Petchara while she is keeping her suitcase following her trip to seaside. Prim and Petchara are sisters? While Petchara is sick following overwork, her friends take care of her. Sombat is back from abroad. Prim wishes to become the official fiancee and to replace Petchara in Sombat's heart. She organizes Sombat's kidnapping but it fails. She finally drugs him. Meanwhile Petchara is kidnapped by Choomporn and Sawin. A huge storm is coming. Awaken, Sombat pushes back Prim and rushes to look for Petchara. People like Sawin struggles to bring their wealth with them but finally dies in house explosion following their greedy attitude. This movie is certainly one of the first Thai catastrophe movies. The movie includes real footage of a storm, i.e. Talumphuk storm in Nakhon Sri Thammarat on 27 october 1962. The severe storm called Talumphuk (ตะลุมพุก) devastated Pak Phanang coast and Talumphuk cape. It killed 769 inhabitants. Petchara falls from a passerelle during the storm. Sombat falls also during the storm. After the storm, many corpses can be seen. Sombat is looking for Petchara anxiously. She cannot be found. Petchara's friend blames Sombat. She is finally rescued by the hospital but her face is disfigured to the big delight of Prim. Petchara thinks about suicide but her mother prevents her. Sombat is still looking for Petchara despite her parents saying she has disappeared. Recognizing her clothes on a clothesline, he knows she is hiding in her parents' home. She refuses Sombat's love as she is now ugly. Sombat promises to take care and to pay for hospital bills regarding facial surgery. Prim hires Choomporn, promising sweet rewards, to pour acid on Petchara's face while she is recovering at hospital. He does so but does it on the wrong person! At a big party, Sombat is accompanied by Petchara back to her full beauty causing Prim's wrath. The movie stops here.
---