Increase or decrease font size for easier reading : A+ A-
Sompote Sangduenchai
Sompote Sangduenchai (1962) - สมโพธิแสงเดือนฉาย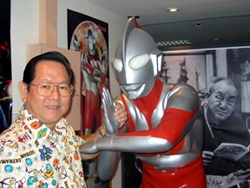 Producer-director Sompote Sangduenchai (also called Sompote Sands) has made movies covering the "Thai-style kaiju" and costumed Ultraman movies made in years 1970s and 1980s. In 2007, the Thai IP Court rules that Sompote Sangduenchai couldn't claim the rights for Ultraman products except for nine Ultraman movies that Sompote co-produced many years ago
This Sompote Sangduenchai movie page contains 9 records.
---



Year

: 1985



Thai title

:

ไกรทอง 2




English title

: Kraithong 2



Rating

: 3/5


Director

: Sompote Sangduenchai,Neramit



Main actor

: Sorapong Chatree,Sombat Methanee,Sor Asanajinda,Lor Tok,Lak Apichat,Der Doksadao


Main actress

: Ampha Pusit,Aranya Namwong,Supansa Nuengpirom,Duangcheewan Komolsen



Buy now

:

Thai movie ไกรทอง 2 was released in year 1985. It was released under VCD and DVD format by Tiga Company and lasts 1h33mn. The Betamax version lasts 1h49mn. The main difference is longer sequences with a Chinese master (อาจารย์). Main actors and actresses featured in this movie are Sorapong Chatree, Sombat Methanee, Sor Asanajinda, Lor Tok, Lak Apichat, Ampha Pusit, Aranya Namwong, Supansa Nuengpirom, Der Doksadao, Duangcheewan Komolsen. This time Kraithong faces a man, who has also the power to change himself into a fearful crocodile. Thong (Suphansa Nuengpirom) and Kaew (Ampha Nuengpirom) are Kraithong's wives. Wimala (Aranya Namwong) and Malaiwan (Duangcheewan Komolsen), former Chalawan's wives, are staying in a cave under the river. Sor Asanajinda is a powerful hermit. Sor asks Wimala (แม่นาง) not to disturb humans anymore. Meanwhile a crocodile takes away a baby and his father. The mother goes to Chinese shrine to ask help from a Chinese master (Lor Tok). Der Doksadao and เหี่ยว are playing medium assistants in the Chinese shrine. A funny and long sequence featuring the master showing his surnatural skills towards Der Doksadao is present in the betamax but cut in the VCD version. A government official offers a reward to kill the crocodile. The crocodile continues his rampage and attacks a floating market, humans and even a buffalo. Kraithong visits a master mentioning that crocodile Chalawan is back. The crocodile is in fact half human (Lak Apichat) half spirit (จระเข้ผีสิงห์). Lak agresses Chalawan's wives in the cave. The Chinese master, despite his supernatural skills, is killed by the crocodile. Some scenes where Lor Tok is featuring his flying skills are cut from VCD but present on the BetaMax. The crocodile then attacks the house where Thong and Kaew are living. After a rampage, Kaew is kidnapped by the crocodile played by Lak Apichat. Wimala wishes to use Lak to take revenge over Kraithong. Chalawan is back per incantations from Sor. He is upset that his wife Wimala replaces him so fast. So Wimala pushes Lak to kill Chalawan. Upset about Kaew, Kraithong heads towards the cave. He faces Lak, already injured by Chalawan, and succeeds to defeat him. Chalawan then defies him again. Following an epic fight, Chalawan is defeated again and Kraithong brings Kaew back.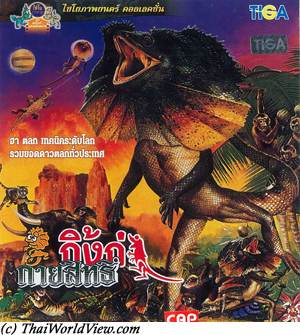 Year

: 1985



Thai title

:

กิ้งก่ากายสิทธิ์




English title

:



Rating

: 3/5


Director

: Sompote Sangduenchai



Main actor

: Lor Tok,Lak Apichat,Sithao Petcharoen,Der Doksadao


Main actress

:
This movie deals about a giant chameleon, which is the gardian of a magical diamond. It is stolen by an alien. The chameleon sent a "Yak" to get it back. Meanwhile the chameleon wanders through the human world and faces many weird aventures. He is facing a deadly crocodile frightening humans living on rivers, facing hunters that want to catch it etc...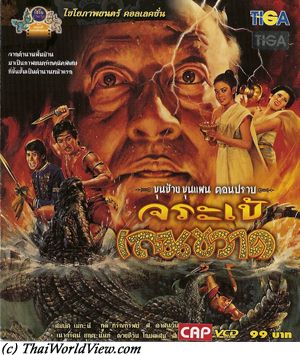 Year

: 1982



Thai title

:

ขุนช้างขุนแผน ตอนปราบจรเข้เถรขวาด




English title

:



Rating

: 3/5


Director

: Sompote Sangduenchai,Neramit



Main actor

: Sombat Methanee,Sor Asanajinda,Toon Hiransap


Main actress

: Naowarat Yooktanun,Duangcheewan Komolsen,Janthana Siriporn



Buy now

:

This movie is based on the folklore story "Khun Chang Khun Paen" (ขุนช้างขุนแผน) but only on a limited part of the whole story. During Ayutthaya period, a middle age man, Master Taen (อาจารย์เถร), has strong magic knowledge (วิชา) so can seduce women through spells and can transform himself into a ferocious crocodile. His young apprentice (ลูกศิษย์) can also become a fierce crocodile. Young ladies Simala and Soifa are the wives of noble Phra Phi but Phra Phi spends all nights with Simala. Soifa becomes very jaleous and asks Master Taen to help her. Master Taen uses black magic incantations. Simala and Phra Phi get tortured like voodoo puppets. Due to incantations (พิธี), Simala gets a defigured face so that Phra Phi goes back to Soifa. Phra Chumpoon, Phra Phi's brother, tries to defend Simila. Soifa asks Master Taen for a love filter to force Simala having an affair with Phra Chumpoon so that she can be repudiated by Phra Phi. Nothing happens but Phra Phi nevertheless chases her. Phra Chumpoon asks for his father's help. The father, Paen, sees that his son is under spell influence. Soifa starts to panic. The king orders to arrest Master Taen but Master Taen and his apprentice become crocodiles to kill the soldiers. A reward is offered to catch the crocodiles. Paen searches for evidence such as wax effigy inside the bedroom. But nothing found as Soifa hides it well but Paen succeeds to find it and breaks the spell (พิธีแก้) for Simala. Master Taen sends an evil spirit to fight Paen but Paen's baby spirit (กุมารทอง) helps him. Master Taen is arrested by Phra Chumpoon. He refuses to break the spell for Phra Pi. Simala and Soifa need to show their purity (บริสุทธิ์) by walking without pain on hot charcoal. Soifa fails (ความดีต้องชนะความชั่ว) and is chased in Northern Thailand. The two crocodiles continue their rampage until they are stopped by Paen and Phra Chumpoon. Master Taen is defeated and killed by Phra Chumpoon. Characters are similar to traditional theatre "Like" (ลิเก), i.e. the leading actor (พระเอก), the leading actress (นางเอก), the jealous girl (นางเอก), the funny and hilarious supportive maids (ตัวตลก). This is another movie from famous Chaiyo productions and produced by Sompote Sangduenchai. This is the fourth movie including crocodiles killing human again. The previous movies were Crocodile (จระเข้ - 1980), Kraithong (ไกรทอง - 1980), Kraithong 2 (ไกรทอง 2 - 1985). As often with Sompote productions, it includes light salacious content, humorous dialogues and kitsch Fx (Yak flying).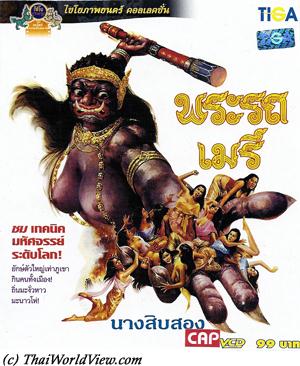 Year

: 1981



Thai title

:

พระรถเมรี




English title

:



Rating

: 3/5


Director

: Sompote Sangduenchai,Neramit



Main actor

: Toon Hiransap,Dam Datsakorn,Ron Rittichai,Sithao Petcharoen,Sompong Phonmitr,Sukon Koewliam


Main actress

: Ampha Pusit,Supansa Nuengpirom,Duangcheewan Komolsen,Janthana Siriporn,Metta Roongrat



Buy now

:

This movie is based on Southern Thai Local Literature. Twelve daughters are abandoned by their parents, who are too poor to educate so many children. The twelve daughters are rescued by a "Yak" woman who promises to take care about them as her own daughters. She deceived them and force them to drink a potion that transform the young girls into beautiful maidens. They escape and are rescued by a Prince, who falls in love with the youngest girl, called Sip Song. He agreed to marry the twelve girls. Once again, the "Yak" woman deceived and force them to drink a potion that makes them 8 months pregnant. The Prince, disappointed by this unexpected pregnancy, expels them and they are imprisoned in a cave, where the "Yak" woman has their eyes removed in order to make an ever young potion for her. Blind and with no food no eat, the ladies eat their new born babies except the son of Sip Song who is raised by a gentle "Yak". The son is called Phrae Rot Meri. Getting older he ran a cock fight to make a living for the 12 ladies. Becoming an adult, he has a deal with the Prince and goes to the "Yak" country to get more magic potions in order to get freedom for the 12 ladies including his mother. But the "Yak" woman is doing all possible tricks to stop him...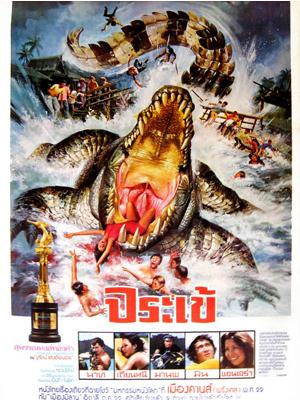 Year

: 1980



Thai title

:

จระเข้




English title

: Crocodile



Rating

: 2/5


Director

: Sompote Sangduenchai



Main actor

: Nard Poowanai,Manop Aussawathep


Main actress

:



Buy now

:

This movie could be the Thai "Jaws" movie. A giant crocodile is killing and frightening Thai people living nearby rivers. Two men, whose wives and daughter have been killed by the crocodile, decide to chase and eliminate it. Crocodile was be dubbed into English and given an international release throughout Europe (Sweden, Denmark, Germany...), Korea and in the United States. This movie is on the American Humane Association Unacceptable list due to a live crocodile being slashed with a knife.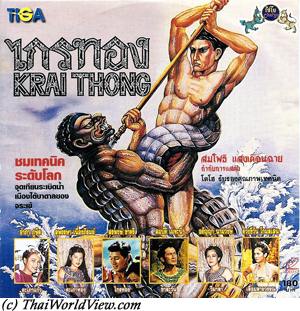 Year

: 1980



Thai title

:

ไกรทอง




English title

: Kraithong



Rating

: 3/5


Director

: Sompote Sangduenchai



Main actor

: Sorapong Chatree,Sombat Methanee


Main actress

: Ampha Pusit,Supansa Nuengpirom,Aranya Namwong,Duangcheewan Komolsen



Buy now

:

Kraithong is an old Thai tale based on an aggressive, violent and male-dominated world. Kraithong movie is based on Thai traditional folklore story relating a love story between a crocodile and human beings. A spirit living in the river has the possiblity to change himself into a crocodile. He uses his powers to terrify the population by killing inhabitants and kidnaps young girls for his harem. His name is Chalawan (ชาละวัน). One day Chalawan sees the two daughters of a rich local trader and falls in love with them. The two daughters are called Takao Kaew and Takao Thong. He kidnaps Takao Kaew and brings her to his cave under the river. The father is very angry and recruits a crocodile master (หมอจระเข้) called Kraithong. He promises to give his two daughters if Kraithong can stop Chalawan. Kraithong finds the way to Chalawan's underwater cave. A fight happens between Kraithong and Chalawan. Kraithong movie raises the Thai polygamy theme as Chalawan has already crocodiles wives in his underwater cave but still desires human being wives.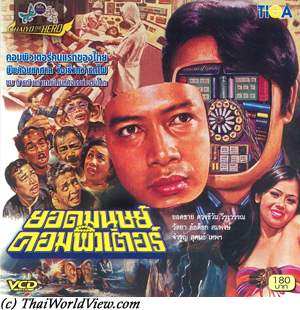 Year

: 1977



Thai title

:

ยอดมนุษย์คอมพิวเตอร์




English title

:



Rating

: 3/5


Director

: Sompote Sangduenchai



Main actor

: Yodchai Meksuwan,Lor Tok,Phirapon Piyawan,Thep Thienchai,Jamroon Nuatjim


Main actress

: Duangcheewan Komolsen



Buy now

:

Four boys are born with strange features, one has very big ears, one has a tail, one has very big hands, one has big nose sinus. Becoming friends, they spend most of their time playing and sleeping. Becoming adults, their fathers banish them from the village as they are doing nothing to help the community. Just as they leave, a local mafia gang threatens the villagers to get help to cultivate opium and to provide food for their members. Meanwhile one lady wants to marry one of the boys but wishes that he can remove his tail. He refuses. At night time, while he is sleeping, she cuts his tail. He flees away but looses a lot of blood. A crazy scientific professor finds and decides to save him by using technology. He becomes the Thai Six Million Dollar Man! He then gathers his three other friends to free the villagers from the mafia gang.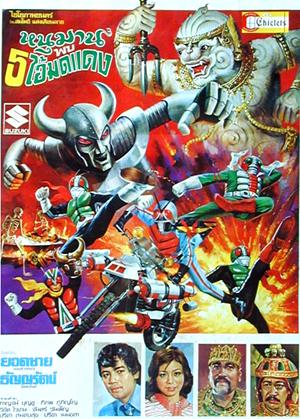 Year

: 1974



Thai title

:

หนุมานพบ 5 ไอ้มดแดง




English title

: Hanuman and the Five Kamen Riders



Rating

: 4/5


Director

: Sompote Sangduenchai



Main actor

: Yodchai Meksuwan,Phirapon Piyawan


Main actress

: Tanyarat Lohanan



Buy now

:

Producer-director Sompote Sangduenchai has made movies covering the "Thai-style kaiju" and costumed Ultraman movies made in years 1970s and 1980s. He has reused footage from other Kamen Rider movies so making this movie montage a little bit strange from time to time with a succession of sequences without link. There are kitsch fx effects from 1970s decade including super computers with many big lights and weird sounds. Those movies are under Chayo productions. All Chayo movies (ไชโยภาพยนตร์) have Sompote's specific touch. King Dark, monsters' leader, needs to drink blood from women or children. Hopefully the Five Kamen Riders (ไอ้มดแดง or red ants) can always stop them. Those Japanese characters are adaptated to Thai customs. The five Kamen riders always succeed to be there when problems with monsters (สัตว์ประหลาด) occur. King Dark refuses to drink blood dog so he needs to find a way to get rid of the Five Kamen Riders. Three men fall in hell (ตกนรก) as they stole Buddha statue heads. A kid tries to stop them but is shot dead. He is reincarnated into Hanuman. Sinners (ทำบาป) are punished and Buddha heads are restored. Yama (พระยม), the hell god, checks his hell book (บัญชี is a map!) and they are condemned to many torments. Sompote Sangduenchai's adaptation is certainly not a film for children as many naked women and men are tortured in the representation of Buddhist hell. The monsters help one of the sinners to escape hell in order to fight the Five Kamen riders. He succeeds to capture famous Doctor Wisut. Doctor Wisut refuses to help but the monsters kidnap his girlfriend Julie to coerce him. He has no choice but to accept doing a Frankenstein creature to fight the Five Kamen riders. The new creature has the same face as Frankenstein in foreign movies. A succession of fights take place and King Dark's aliens are defeated. King Dark needs to move to Ayuthaya (เมืองใหม่). The Doctor is forced again to do a machine to make monsters to catch young ladies for their blood. Their blood is not good as they eat bad food. So they break their promise by taking Julie's blood (กินเลือดสาวบริสุทธิ์จะมีอายุนาน, มีพลัง). The Five Kamen Riders are finally defeated by King Dark but Hanuman helps them (ทำให้ฟื้น). They make an alliance against the monsters. They enter in their headquarters then free doctor and Julie. King Dark flees and starts a rampage in Bangkok same as Godzilla. Nobody can stop him except Hanuman. Hanuman fights in a Thai relax dancing way (สบายสบาย) and defeats King Dark. The traitor is brought back to hell (ตกนรกอีก) and his head is cut (ทำบาปก็ต้องใช้บาป). The movie is worth as it is a Thai adaption of Japanese characters by famous director Sompote adding a lot of Thainess. A 1976 agreement limited Sompote's copyright to only nine movies made by Sompote Sangduenchai in the 1970s.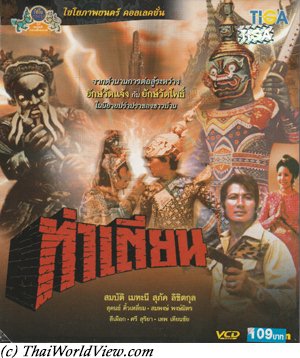 Year

: 1973



Thai title

:

ท่าเตียน




English title

:



Rating

: 4/5


Director

: Sompote Sangduenchai



Main actor

: Sombat Methanee,Sukon Koewliam,Thep Thienchai,Sompong Phonmitr


Main actress

: Prim Praphaporn



Buy now

:

Thai movie ท่าเตียน was released in year 1973 and lasts 1h40mn. It was released under VCD by company Tiga and features a colorful and sharp picture. Movie director is Sompote Sangduenchai. It was his first movie. Producer is Chaiyo Productions. The movie was successful and got 1.4M Baht revenue in Bangkok and 3M Baht in other provinces. Sompote got the movie idea when studying in Japan and seeing movies successes such as Daimajin and Godzilla. This modern movie even features film credit order at the end of the movie. A man is killed by a Yak statue as he was stealing a Buddha statue from a temple. A weird egg falls from space to the earth. The egg is rejected by a snake. It is eaten by a frog, but it causes stomach ache to the frog, so it is also rejected. The egg gets bigger and explodes. Inside the frog, there is a beautiful princess (นางงาม)(สุภัค ลิขิตกุล), named Shaba, wearing Thai traditional dress. The frog takes refuge in an elderly man's (คุณตา) home. Her gods' parents (including Prim Praphaporn) are missing their daughter. The father, Ma Sing, comes to earthen world to find her daughter. Thai comic actor Thep Thienchai appears with a western spaghetti music introduction. Allen (Sombat Methanee) and Sompong Phonmitr are scientists currently staying in a forest camp. The deity Ma Sing helps one worker, called Soda, attacked by a snake. To thank him, Allen promises to help him to find his daughter even if it is hard to believe it is a princess. Funny sequence occurs with Sompong watching two young naked ladies playing with water in a forest pond. A gorilla asks him to borrow his glasses to watch also. On the following morning, they split to look for the princess. Allen and Sompong go together but they are attacked by a rhinoceros and tiger. Ma Sing and Soda go together but they are attacked by small dragons (สัตว์ประหลาด). Soda is killed. The action is probably shot in Nan area as it features weird sand formation. Due to the danger, Ma Sing asks Allen (นาย) to go back. Sudden inondation occurs. Sompong is eaten by a crocodile. The uncle rescues Allen. Allen recovers in uncle's house thanks to the princess Shaba. The uncle tells her to be careful with Bangkokian people (ชาวกรุง, ใจบาป) but she trusts Allen. Allen and Shaba leave for Bangkok and visit Wat Arun. She goes to Wat Po with a Yak. She invites one of the Chinese guardian statues to join them. They arrive in hotel Dusit Thani. The Chinese deity wishes to go to massage (อาบอบนวด)! Misunderstanding occurs between the Yak and Chinese guardian so they start to fight (ยักษ์อาละวาด). The movie ends up by a Karma lesson.
---