Increase or decrease font size for easier reading : A+ A-
Sompop Wong Ko
Sompop Wong Ko (196x) - สมภพ วงศ์ก่อ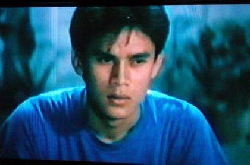 Sompop Wong Ko is one of the numerous Thai actors molded by Panna Rittikrai for action movies.
This Sompop Wong Ko movie page contains 7 records.
---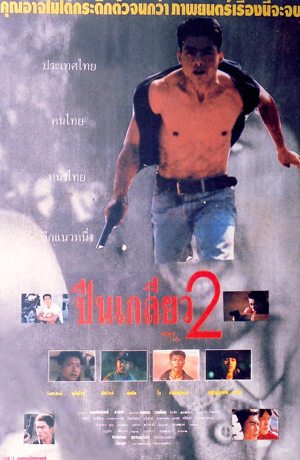 Year

: 1995



Thai title

:

ปีนเกลียว 2




English title

:



Rating

: 4/5


Director

:



Main actor

: Krissanapong Rachata,Jai Juntamooltree,Sompop Wong Ko


Main actress

:
ปีนเกลียว 2 is a Thai movie released in year 1995. This movie is a full packed action film. It was filmed in Khon Kaen area. The movie lasts 1h32mn. Such action movies were very popular in Isan area. Such movies are coming from Panna Rittikrai's trend. Action scenes are always real such as big jars broken on heads. Wut (Krissanapong Rachata / กฤษณะพงษ์ ราชธา) kills a ruffian per accident in a factory. His colleagues are chasing him by motorbikes and pickup car. Meanwhile the factory owner lies to the police telling them that Wut is a man addicted to drugs (ยาบ้า) so being a dangerous man. The chase starts in the forest and ends up in a market (หนีไม่รอด). Despite a rampage with shot guns, ruffians fail to kill him. Finally Wut surrenders to the police, who believes he is crazy with drugs. But the factory is in fact the one selling drugs! Wut finally flees by taking a policeman (สุรินทร์ สุขศีล / พัชรวัชร์ สุขศีล) in hostage. Wut tells the policeman that the factory ruffians have killed his friend and now want to get rid of him. He frees the policeman. Ruffians decide to follow Pom, Wut's girlfriend (ธัญญาลักษณ์ ราชธา), as Wut may takes refuge with her. Wut meets his girlfriend in a discotheque but ruffians led by Tom (Jai Juntamooltree) fail to kill him (ตามฆ่ากู) inside the discotheque. Some action even takes place in a theater (โรงภาพยนตร์แก่นคำ). The policeman follows them but the girlfriend helps Wut to neutralize him. Wut asks the policeman to check the factory as he is saying the truth. In fact Wut discovered that the factory where he was a truck driver was transporting drugs. Wishing to resign, the boss ordered to kill him but he succeeded to flee. Wut wishes to surrender (มอบตัว) but Tom tries to kill him. Tom kills Wut's girlfriend. Looking for revenge, Wut does a rampage in the factory and meets the policeman there. They are chasing the leader Sia (สมภพ วงศ์ก่อ) in his factory. The movie ends up with multiple shootings and hand-to-hand combats. Sia wishes to corrupt them through money but they are looking for justice (ความยุติธรรม). Sia ends being captured by the policeman and Wut doesn't do self justice.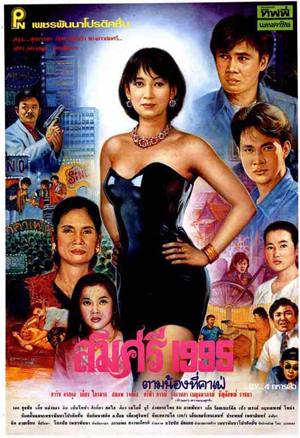 Year

: 1995



Thai title

:

สมศรี 1995 ตามน้องที่คาเฟ่




English title

:



Rating

: 3/5


Director

:



Main actor

: Sompop Wong Ko,Krissanapong Rachata,Jai Juntamooltree


Main actress

: Darin Kornsakoon
Thai movie สมศรี 1995 ตามน้องที่คาเฟ่ was released in year 1995 and lasts 82 minutes. This movie relates the plight of Isan migrants coming to Bangkok to earn money to support their family staying in remote villages. They often end up in low status jobs such as construction workers, server, singers... They are often abused. Relationships between couples are strained due to distance. Same acting team (Sompop, Krissanapong...) is featured as in Panna Rittikrai's action movies. Sri (Darin Kornsakoon) and Yot (Sompop Wong Ko) are going to marry. Sri's father has debts and has difficulty to reimburse as cows' value got down. Yot leaves the village to find a job and to help paying the debt. Mafia is giving them a warning. Krissanapong Rachata is also asking for 2000-baht debt. The father complains Sri is not helping enough. Sri leaves for Bangkok to find a job. She is aggressed in Bangkok and her bag is stolen. Luckily some other Isan migrants help her. She finds a job in a restaurant. She shares room with Pon. Pon's sister, a singer, Taew, has to accept Sia (เสี่ย) Jimmy's request to sleep with him. It is difficult for the restaurant owner to go against the influence of Sia Jimmy. Sri starts as server (เซิร์ฟเวอร์) with a 2000-baht salary and tips. She wishes to become a singer (นักร้อง). She sends money to her parents to support them to pay their debts. She forgets Sompop, who is still waiting for her letters. One of the orchestra musicians starts to have interest in Sri (คนบ้านนอก) as she has a good mindset. Aware of her singing skills, the manager promotes her as singer (นักร้องคาเฟ่). Yot, concerned of now receiving any news from Sri, decides to go back home. Jai Juntamooltree is a as customer. Yot learns from Sri's parents that she left to find a job to Bangkok. Sia Jimmy is interested by Sri but she refuses. He gives her one more chance to think about it. Sri's friends recommend her to back to countryside, but she refuses as she has not earned enough money to pay back the debt. Sri tries to find new excuses with Sia Jimmy but he is losing patience and tries to force her to follow him. Her friends interpose and the restaurant's owner has to calm down Sia again. Sri has no choice but to go back home. Meanwhile luckily Yot helps the musician aggressed by Jimmy's men. He brings Yot to Sri's house but she has just been kidnapped! Yot, the musician and his friends storm Jimmy's place. They defeat Jimmy's ruffians and Jimmy is arrested by Thai police. Yot and Sri can go back to countryside to marry.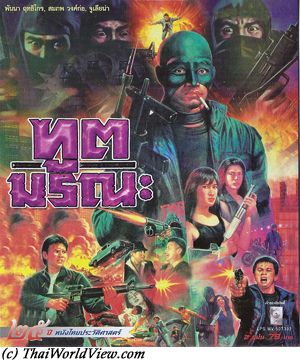 Year

: 1993



Thai title

:

ฑูตมรณะ มันส์เต็มพิกัด




English title

:



Rating

: 3/5


Director

: Panna Rittikrai



Main actor

: Panna Rittikrai,Krissanapong Rachata,Sompop Wong Ko


Main actress

:



Buy now

:

Thai movie ฑูตมรณะ มันส์เต็มพิกัด was released in year 1993 and lasts 1h18mn. It was released on VCD by Lepso (1h19mn) and of course on 35mm film (1h18mn). A man gives instruction to a hitman (มือปืน) by leaving a paper in a jar in a disaffected building. The hitman, wearing a mask, kills a few people in a house. Despite being busy with his girlfriend, Sia (เสี่ย) Manit has to meet Arun. Sia Manit uses Arun (Sompop Wong Ko) to convince villagers to sell their land as he plans to resell it to Japanese investors planning to build factories. Arun uses the local village leader (ผู้ใหญ่) to convince villagers. Each time, another buyer called Kamnoon had proposed more money than Arun, i.e. 150 000 baht for one rai so Arun is very upset. Some villagers such as Thaem (Panna Rittikrai) are not interested to sell (ไม่ขาย). Normally the land is only 40 000 baht per rai so there is certainly a hidden plan behind this offer. Sia Manit agrees to increase the price to 200 000 baht per rai. He calls his favorite hitman, i.e. his own girlfriend, for help also. Meanwhile Arun gathers his men including Jackie (Krissanapong Rachata). Arun sends his men to give a lesson to Kamnoon and to ask him to stop trying to buy the land. As a revenge, Kamnoon hires his usual masked hitman. Thaem and his friend Kon are facing Arun's ruffians but push them back. Kamnon's hitman starts to kill a few men linked to Arun. Sia Manit is very upset as Arun and his team always fail. Kamnoon proposes a deal to Sia Manit to share benefits but Sia Manit plans to trick him. Kamnoon asks his hitman to get rid of Sia Manit and Arun. Kot is killed. Sia Manit, his girlfriend, Kamnoon end up in the disaffected building and shoot at each other. The masked hitman intervenes and is in fact Arun! He shots Sia Manit, his girlfriend and Kamnoon hoping to get the whole deal for him. Thaem has called the Thai police. Refusing to surrender to Police, Arun gets shot. Such movie is precursor of Ong Bak movies with Tony Jaa. Panna Rittikrai is former B grade movies maestro and stunt choreographer of Ong-Bak. A Thai TV serie on Channel 7 with same title "ทูตมรณะ" was released in 1990 with Sorapong Chatree, Sombat Methanee, Rith Luecha, Suchao Pongwilai and Jarunee Sooksawad.



Year

: 1993



Thai title

:

อสูรกาย คนไม่ใช่คน




English title

:



Rating

: 2/5


Director

:



Main actor

: Panna Rittikrai,Krissanapong Rachata,Sompop Wong Ko,Kim


Main actress

:
Thai movie อสูรกาย คนไม่ใช่คน was released in year 1993 and lasts 1h22mn. It was released under VHS format. Kam and Panna Rittikrai are both novices (ลูกศิษ) of deceased master (อาจานร์). Panna and Kam have a fight as Kam claims Panna and the master were always unfair to him. Kam is defeated and flees. He is helped by an uncle and his daughter. He claims to have been attacked by robbers (โจรป่า) to get pity from them. The uncle provides him a methodology to become invincible, but he needs to spend one year in meditation. Meanwhile a group of friends including Krissanapong Rachata decides to spend good time in Loei area. Krissanapong meets there his uncle (Sompop Wong Ko). They cannot enter in the forest as it is deemed as a dangerous place. Finally, they convince the village leader (นายเจริญ สาดา) to let them go there. They are doing camping in the forest. They face another group led by Kim (กิม) trying to rob them. There is extensive comedy part in this action movie. The father is killed as Kam wakes up one year later after meditation. He has become an invincible monster with a green face. Her daughter wishes to revenge. Fighting occurs with the robbers. A few friends and robbers are killed by the monster (ผีดิบ). As they cannot defeat him, the first advice is to flee (หนีไป! Finally, they unite together to defeat the monster (ตัวปิศาส) but it fails. Panna comes back and brainstorms with the lady to find a solution. Krissanapong reuses the same herbal plants to become invincible and be able to fight again the green monster. He finally succeeds to defeat him.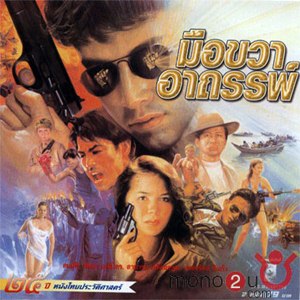 Year

: 1991



Thai title

:

มือขวาอาถรรพ์




English title

: Gold Fist



Rating

: 2/5


Director

:



Main actor

: Sombat Methanee,Panna Rittikrai,Sompop Wong Ko


Main actress

: Phetrat Srikaew



Buy now

:

Thai movie มือขวาอาถรรพ์ / Gold Fist was released in year 1991. Pan (Panna Rittikrai) and Wan (Sompop Wong Ko - สมภพ วงศ์ก่อ) are waiting and armed with guns. A trap is prepared to catch an armed convoy. A man with a gold fist (Sombat Methanee) wishes to get a special jewel transported. Ann's father is killed while protecting the jewel against robbery. Sombat needs to gather two emeralds (มรกต) to get special power. Ann wishes to revenge her father. Meanwhile ruffians attack a village where a traditional dance performance is happening. A young girl is kidnapped. During a pagan ceremony, she is stabbed by the leader Sombat to get her pure blood. Policewoman (Phetrat Srikaew) and ผู้คง Ton are sent to investigate on this case. Ann and her team are also looking for people having a gold fist. Being attacked, Ann gets help from Ton. Having located Pan and Wan, June and Denise play the silly tourists in order to be brought to Kanchanaburi. Champ (สามารถ พยัคฆ์อรุณ), a Thai boxer, is joining the group. The leader needs virgins (สาวพรหมจารี) to have pure blood and release the power from the two emeralds. Their attack to kidnap a young lady fails so they capture the policewoman by default. The two foreigners June and Denise are also kidnapped. Denise succeeds to escape and join other teammates chasing the ruffians. The ceremony (ทำพิธี) shall happen soon so the group has to rush in order to release June before she is stabbed by the leader with a gold fist...This movie features Thai actors / actresses (Panna Rittikrai, Sombat Methanee, สามารถ พยัคฆ์อรุณ, Phetrat Srikaew, เวย์น ฟอลโคเนอร์) and also American actors / actresses (Bobby Sands, Josette Prevost, Leslie Horan, Nancy Black, Corrine Foster) so certainly to appeal to both Thai domestic market and overseas market. It was Miss Thailand Phetrat Srikaew (เพชรรัตน์ ศรีแก้ว) 's first movie.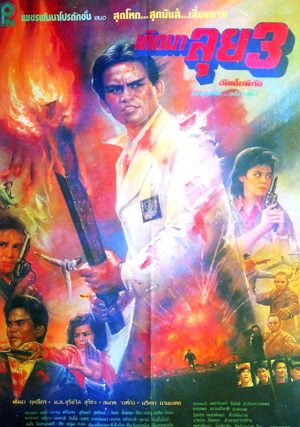 Year

: 1990



Thai title

:

เกิดมาลุย 3




English title

:



Rating

: 3/5


Director

: Panna Rittikrai



Main actor

: Panna Rittikrai,Sompop Wong Ko,Krissanapong Rachata,Jai Juntamooltree


Main actress

: Suriwan Suriyong
Thai movie เกิดมาลุย 3 was released in year 1990. It lasts 1h24mn. The first four minutes start with Panna Rittikrai presenting all actors and actresses in his movie. Panna kills a lawyer as he refuses to give him a testament. Afong (Suriwan Suriyong) is back from Hong Kong where she worked as lawyer assistant. Her former boss is dead and she gets death threats as she refused to forge a testament. 80% of the heritage goes to the daughter called Naen. Her former boss' new wife called Yen Feui wishes to get the whole heritage instead of only 20%. Wassana is the mother's name but she died already. A relative, subdistrict headman Jaem, brought the daughter to Tha Bo in Nong Khai province. Ruffians from Hong Kong led by Panna Rittikrai and accompanied by two tough bald guys are also looking for the lost daughter. All those people including local ruffians meet in Tha Bo. Subdistrict headman Jaem is upset with Vinai, local ruffian leader. The local ruffians led by Vinai decide to kidnap Naen (หลาน) to pressure him to sell his land. Panna and his two bodyguards interrupt as they are looking for the daughter also. Of course multiple fightings happen between all of the three groups as they have different interest. Afong's four friends take care of the two bald bodyguards and defeat them. Afong herself faces Panna Rittikrai through a fighting in white costume. She gets defeated. The four friends face Panna but gets defeated also. United, they finally defeat Panna through a daring final. The original movie features "Beat It" song from Michael Jackson but finally replaced by another music in the VCD certainly due to copyright issue. The movie ends up with some failed action sequences similar to Jackie Chan's movies. เกิดมาลุย movie franchise is a full action movies series. Other actors are สมภพ วงศ์ก่อ (Sompop Wong Ko), นริศรา, บรรลุ, สุรินทร์, น้อย, กิม.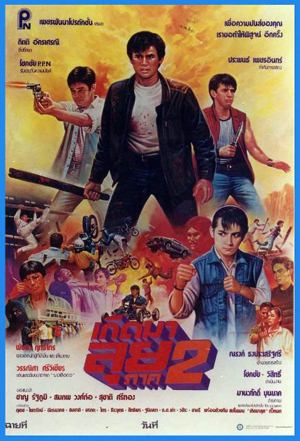 Year

: 1987



Thai title

:

เกิดมาลุย 2




English title

:



Rating

: 3/5


Director

:



Main actor

: Panna Rittikrai,Sompop Wong Ko


Main actress

: Vanessa Sriwichien
Thai movie เกิดมาลุย 2 was released in year 1987. Only 54 minutes and a 3 minutes trailer are left to be seen. Lung Saen Fong (ทนาย) and Panna Rittikrai go to Bangkok by bus. Lung (ลุง) Saen Fong has some important documents to give to Panna. He also gives him a watch. The bus is attacked on the way. Lung Saen Fong is kidnapped and Panna beaten. As Lung refuses to speak, they believe the documents should be with Panna. Three ruffians defeat Panna to steal the documents. Looking for Lung Saen Fong, Panna sells the watch to buy some food as his wallet was stolen by the ruffians. Lung is from Hong Kong and speaks Thai. His daughter is looking for him. Panna gets an additional colleague (Sompop Wong Ko) to work on this case as his boss is not so happy of his performance. In a club, Saen Fong's daughter and his friends show Saen Fong's picture in case something remembers him. On the following day, one of the friend is attacked by ruffians but policemen (ตำรวจสกล) Panna and Sompop chase them away. Meanwhile the ruffians decide to drug Saen Fong and to transport him away. A chase happens in tuk tuk and cart but they fail to catch the ruffians. Later on, Lung Saen Fong escapes while a ruffian is sleeping. This is trick to find where the real documents are hidden. Ruffians defeat again Panna and Sompop. They also kidnap Saen Fong's daughter called Anna (วรรณิศา ศรีวิเชียร). They have 3 days to provide them the documents. The documents are stored in a microfilm hidden in the watch. But Panna sold it to a dwarf before. He gave it to his father, who is not willing to sell the watch below 10000 baht! Following fights with the thugs, Panna and Sompop get the watch back. Finally final epic fightings happen between Panna / Sompop and the strong ruffians in order to release Anna.
---